Grandma's buttermilk cornbread is the old fashioned recipe everyone loves. Light and fluffy, easy to cut, and just the right amount of sweet! You can make this with or without buttermilk with my easy substitution.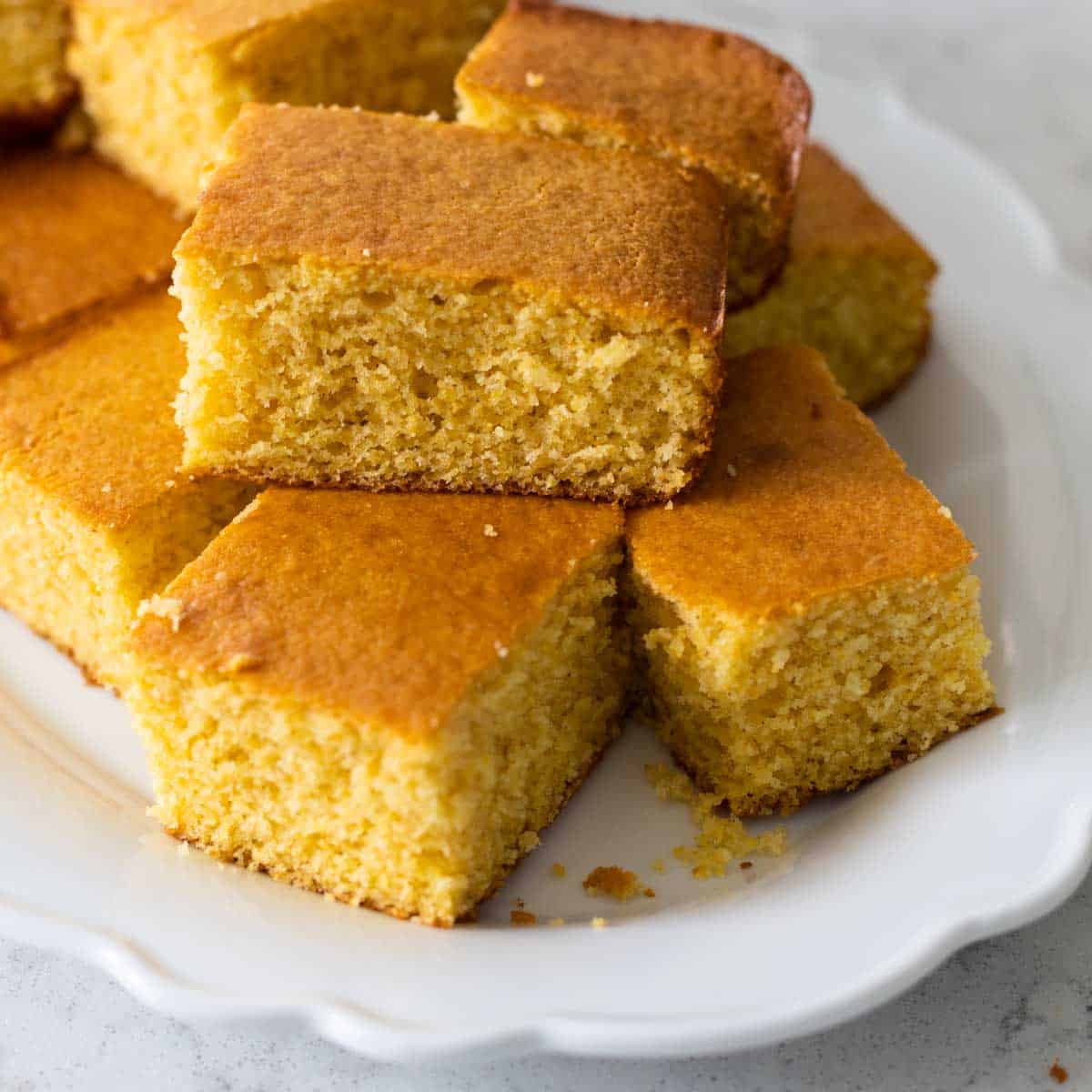 The best recipes are the ones that have been around for generations. Family-friendly hits proven over time.
Down south, you'll often hear about "Grandma's buttermilk cornbread" or "this is just like my grandma used to make!"
If you want a classic, old-fashioned recipe for buttermilk cornbread, this is definitely the one!
The good news? You can actually make this cornbread without buttermilk if you don't have any on hand. You'll likely have everything you need for my easy substitution already!
Jump to:
Why This is the Best Recipe
Buttermilk cornbread is a classic southern side dish to pair with a spicy chili, seasoned pork or fried chicken, or any comforting stew you're serving for dinner.
This easy buttermilk cornbread recipe is the best because:
Just Like Grandma's: This is a classic, old-fashioned recipe using the same simple ingredients bakers have been using forever!
Can Be Made Without Buttermilk: Sometimes you just don't have buttermilk on hand, be sure to see my notes on how to make it without!
8-inch Pan: I love skillet cornbread but baking this cornbread in a 8-inch pan (or a 9x13-inch pan if you double the recipe) is just so convenient and easy.
Light and Fluffy: The bread bakes up so nice and fluffy but still holds shape when you slice it into squares for serving.
Just the Right Sweetness: A mixture of sugar and honey makes this cornbread just the right amount of sweetness but you can adjust it. If you like your cornbread less sweet, just skip the honey.
Easy Variations: Don't miss my list of fun cornbread variations at the bottom!
Ingredients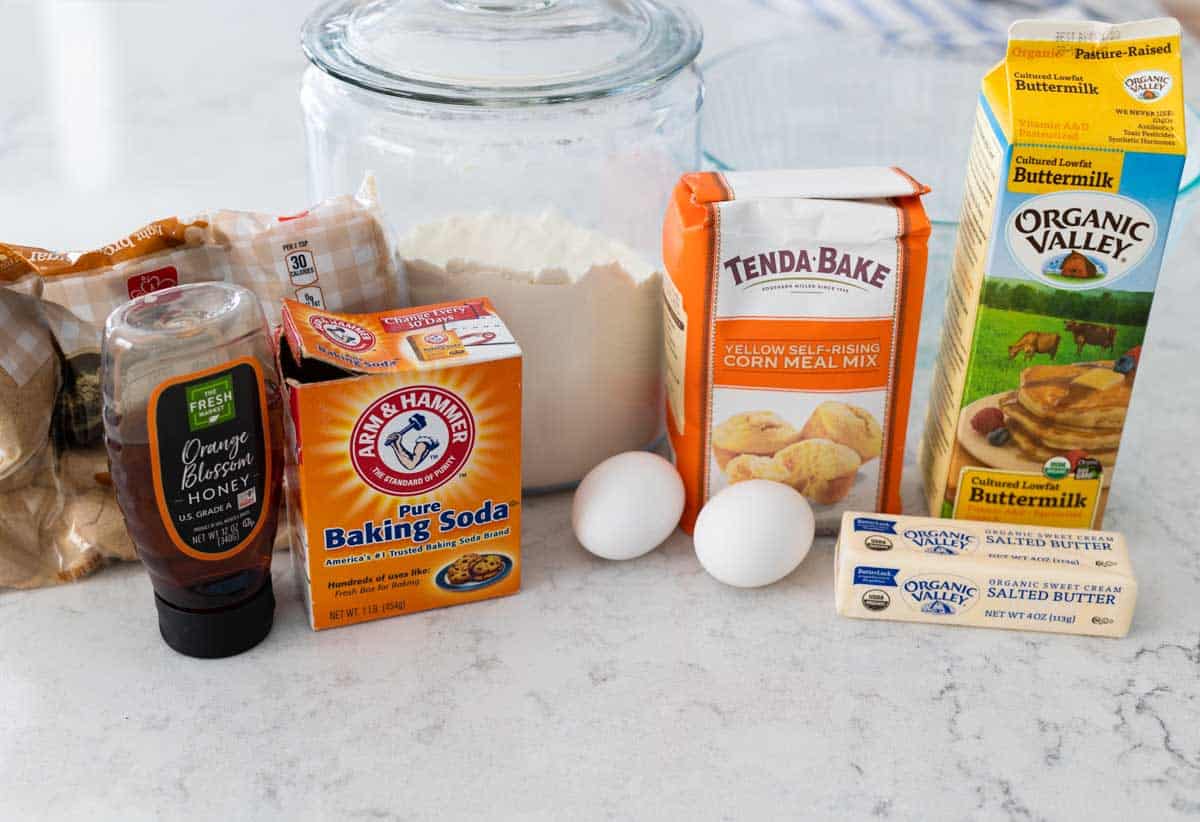 I just love making cornbread from scratch because look at how simple and wholesome the ingredients are!
Yellow Self-Rising Corn Meal
Flour
Buttermilk: I love to use organic buttermilk because it always lasts so much longer in the fridge. But, if you don't have any buttermilk on hand or don't want to use it, check out my notes in the next seciton.
Eggs
Butter
White Sugar & Brown Sugar: I love the flavor that this mix gives the bread but if you only have one or the other, that's ok too.
Honey
Baking Soda
How to Make Cornbread Without Buttermilk
Sometimes you just don't have buttermilk on hand and don't want to run to the store.
Maybe you don't like buying a single-purpose ingredient for a recipe.
In any case, if you want to make cornbread without buttermilk, all you need to do is:
Measure 1 cup milk in a measuring cup
Add 1 tablespoon fresh lemon juice or white vinegar and stir
Let the mixture sit for 5 minutes
Stir again and then use in place of the buttermilk in the recipe
So easy, right?
Whisk the Sugars and Butter
The first thing to do is melt the butter and add it to a large mixing bowl.
Add the brown sugar, white sugar, and honey and whisk it in.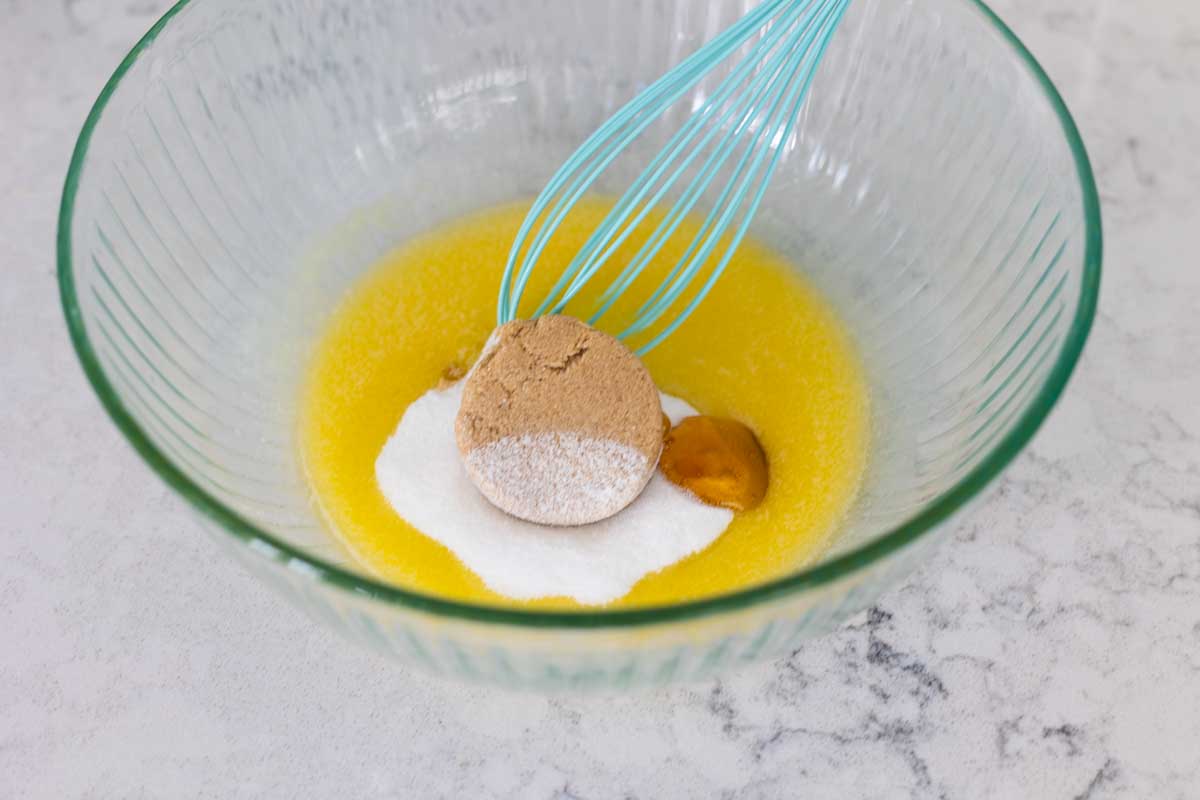 Add the Buttermilk or Buttermilk Substitute
Add the buttermilk or buttermilk substitute and whisk it in until smooth. This will cool down the melted butter before you add the eggs.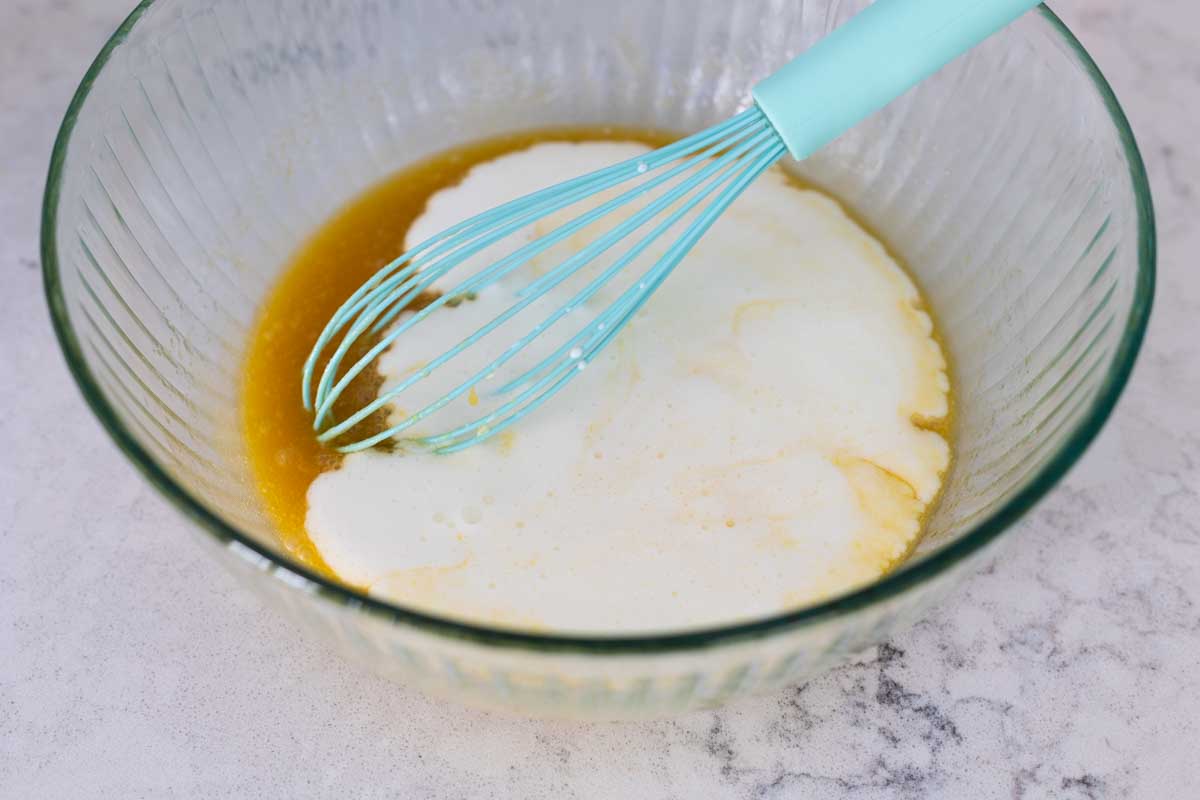 Whisk in the eggs until the mixture is smooth.
Add the Cornmeal and Flour
Add the cornmeal, flour, baking soda, and salt and whisk the batter all together until smooth.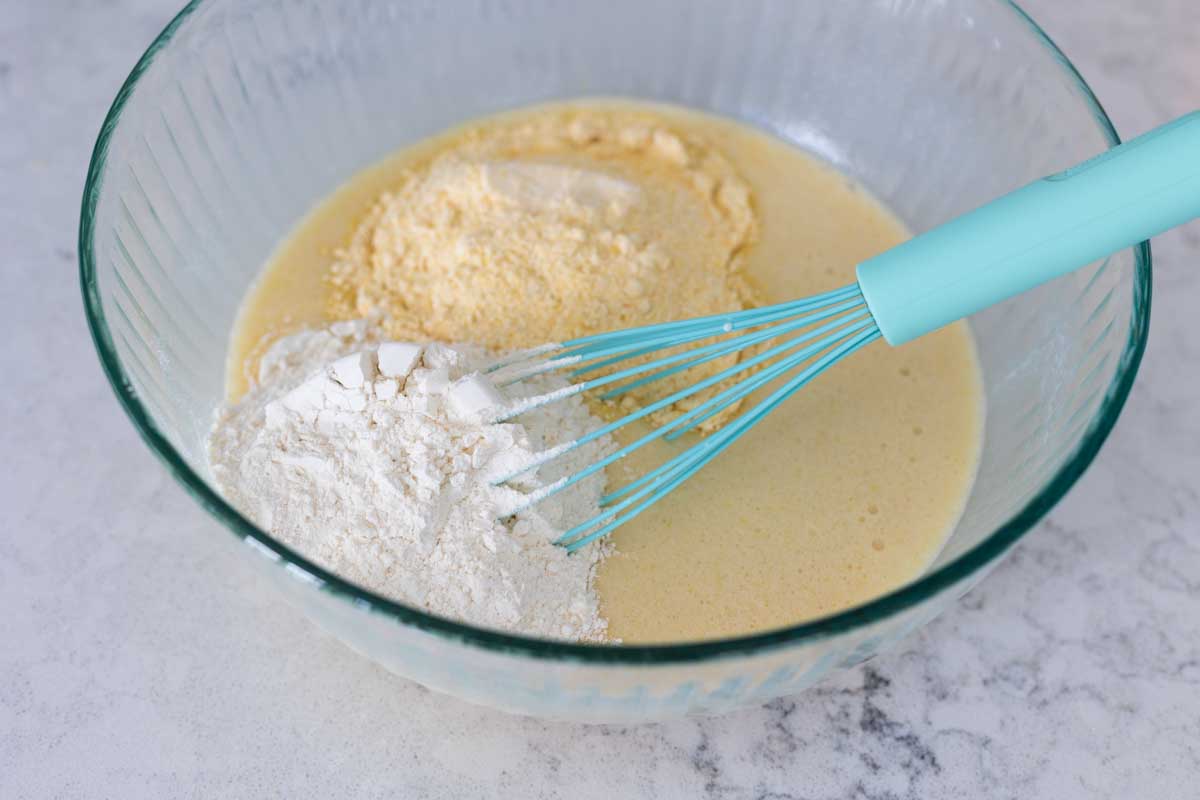 Baking Instructions
Preheat the oven to 375°F.
Rub softened butter all around the inside of an 8-inch baking pan and pour the cornbread batter in.
Be sure to level it off and nudge it into all four corners so the bread bakes evenly.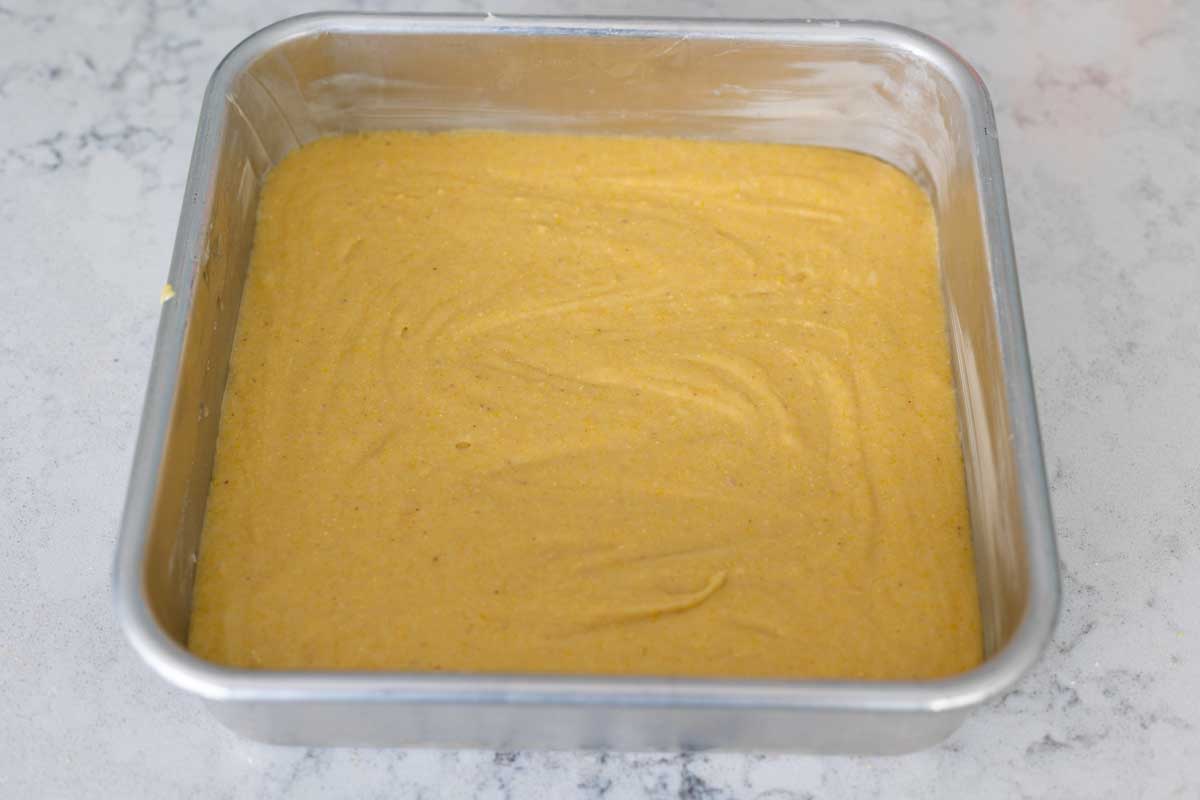 Bake the buttermilk cornbread for 30 minutes or until the bread is golden brown and starting to pull away from the edges of the pan like this: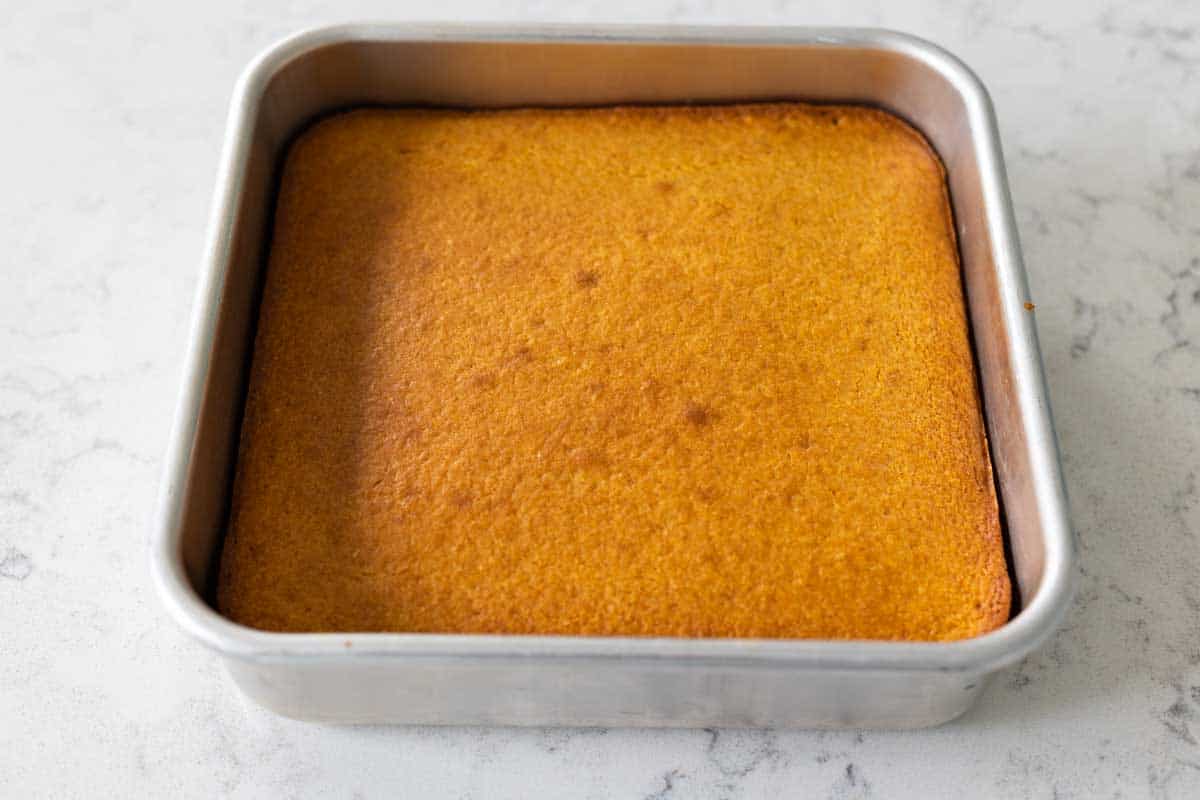 Make Ahead Tips
This hearty quick bread can be made up to 24 hours in advance. Simply cool it and keep it in an airtight container on the counter.
You may wish to warm it in the oven before serving.
You could freeze the cornbread and thaw it in the fridge overnight. Definitely pop it in the oven to reheat before serving.
Serving Suggestions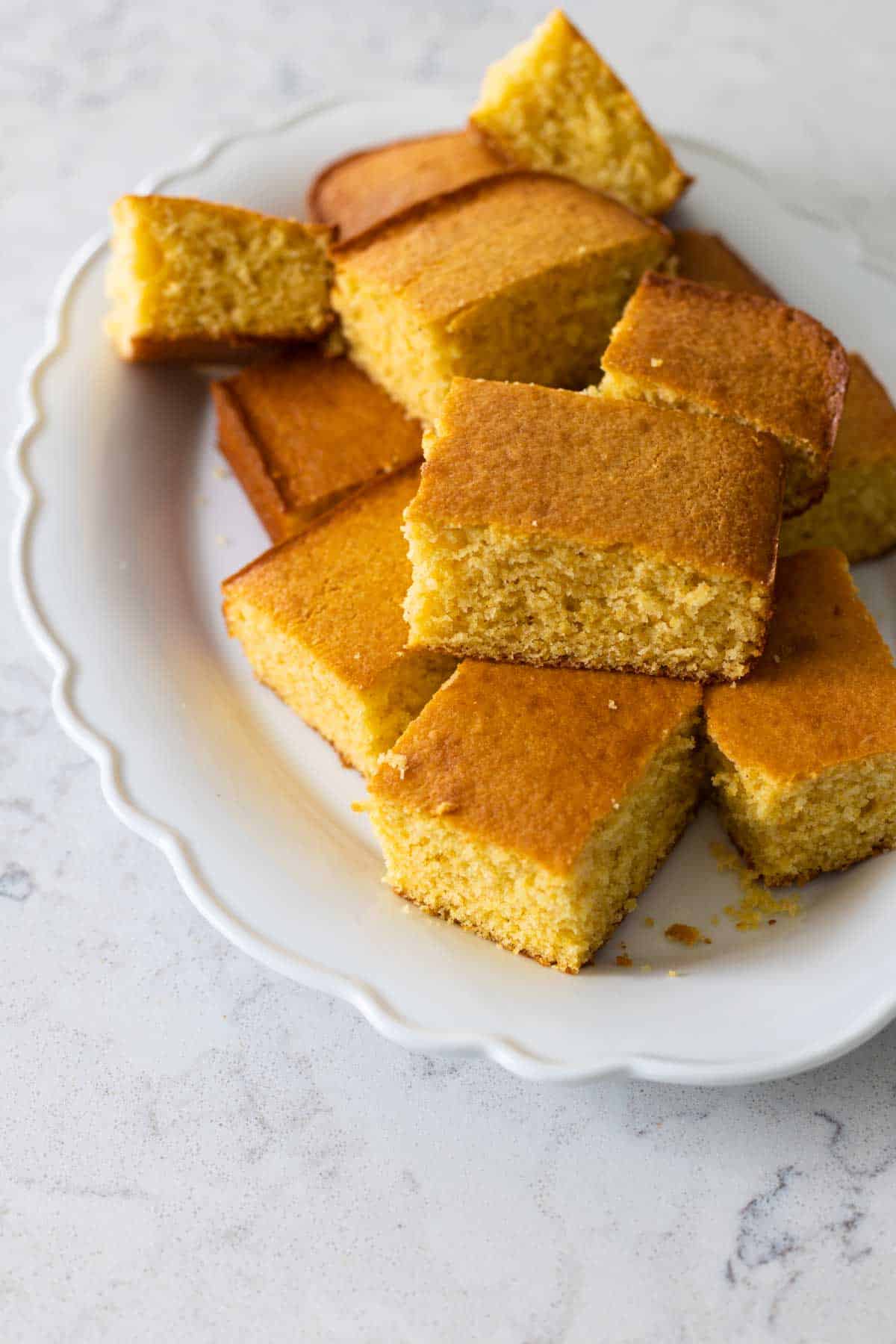 Slice the cornbread into squares and serve it warm from the oven.
The classic way to eat buttermilk cornbread is to drizzle more honey over the top and add a pat of melting butter.
Variations
This easy recipe would be wonderful with these delicious flavor variations:
Buttermilk Cornbread with Real Corn: Drain a small can of canned corn and stir it into the batter before baking. This gives amazing texture.
Jalapeño Cheese Cornbread: Add a minced jalapeño and 1 cup of shredded cheddar to the batter before baking for a spicy cornbread.
Buttermilk Herb Cornbread: Add 1 tablespoon of fresh thyme or 1 - 2 teaspoon of dried thyme to the batter. Rosemary would also be delicious.
What to Do with Leftover Cornbread
It's hard to imagine there being any leftovers of this family-friendly buttermilk cornbread but if by chance you have a few squares left at the end of the meal, be sure to save them.
You can turn the leftover cornbread into delicious crispy homemade cornbread croutons and pair them with homemade buttermilk herb dressing for a delicious salad the next day.
📖 Recipe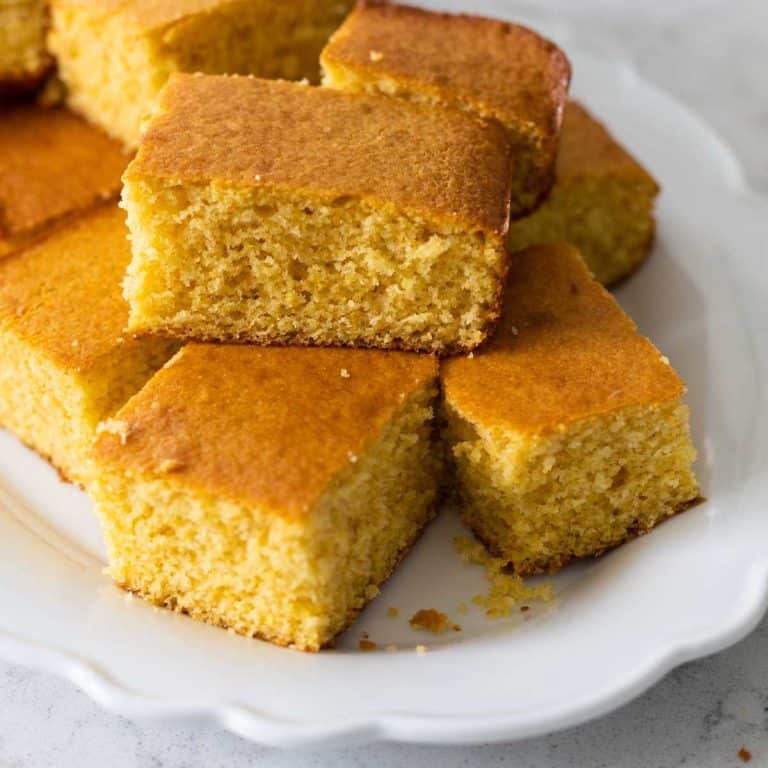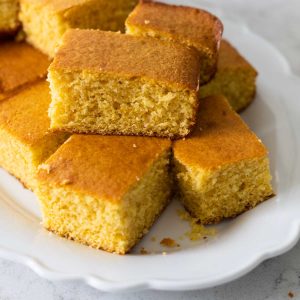 Grandma's Buttermilk Cornbread
This classic southern buttermilk cornbread recipe can be made with or without buttermilk (see the notes for the easy substitution.) Serve it warm with a drizzle of honey and butter.
Ingredients
8

tablespoons

(1 stick) salted butter + 1 tablespoon butter for greasing the pan

⅓

cup

white sugar

⅓

cup

brown sugar

1

tablespoon

honey

1

cup

buttermilk

or buttermilk substitution in Notes below

2

eggs

½

teaspoon

baking soda

1

cup

cornmeal

1

cup

all-purpose flour

¼

teaspoon

salt
Instructions
Preheat the oven to 375°F. Grease an 8 x 8-inch baking dish with 1 tablespoon softened butter. Set aside.

Melt the butter in the microwave on HIGH and pour it into a large mixing bowl. Add the white sugar, brown sugar, and honey to the bowl and whisk until smooth.

Measure the buttermilk and add the baking soda to the cup, stir it in. Pour the mixture into the batter bowl and whisk to combine. This will cool down the butter before you add the eggs.

Crack the eggs into a small bowl or measuring cup to check for shells. Add to the batter bowl and continue to whisk until smooth.

Add the cornmeal, flour, and salt to the mixing bowl and whisk it together until combined.

Pour the batter into the prepared baking pan. Smooth it into each of the 4 corners and level the top. Bake for 30 minutes or until golden brown and the cornbread has pulled away from the edges of the pan.

Serve warm or cool to room temperature.
Recipe Notes
How to Make Cornbread without Buttermilk
If you don't want to make cornbread with buttermilk or you've run out and don't want to turn to the store, just use this easy substitution:
Pour 1 cup milk into a measuring cup. Add 1 tablespoon lemon juice or white vinegar and stir. Let sit for 5 minutes and then use in the recipe instead of the buttermilk.
Save This Recipe to Your Recipe Box
Find this delicious recipe next time you visit by saving it to your very own recipe box on my site. All your favorites stored in one easy place!