Make this pulled pork in the oven or slow cooker, get the best pulled pork rub recipe, and learn how to reheat pulled pork you've made ahead. This makes the perfect dinner to feed a crowd or you can freeze it in smaller portions for easy family dinners.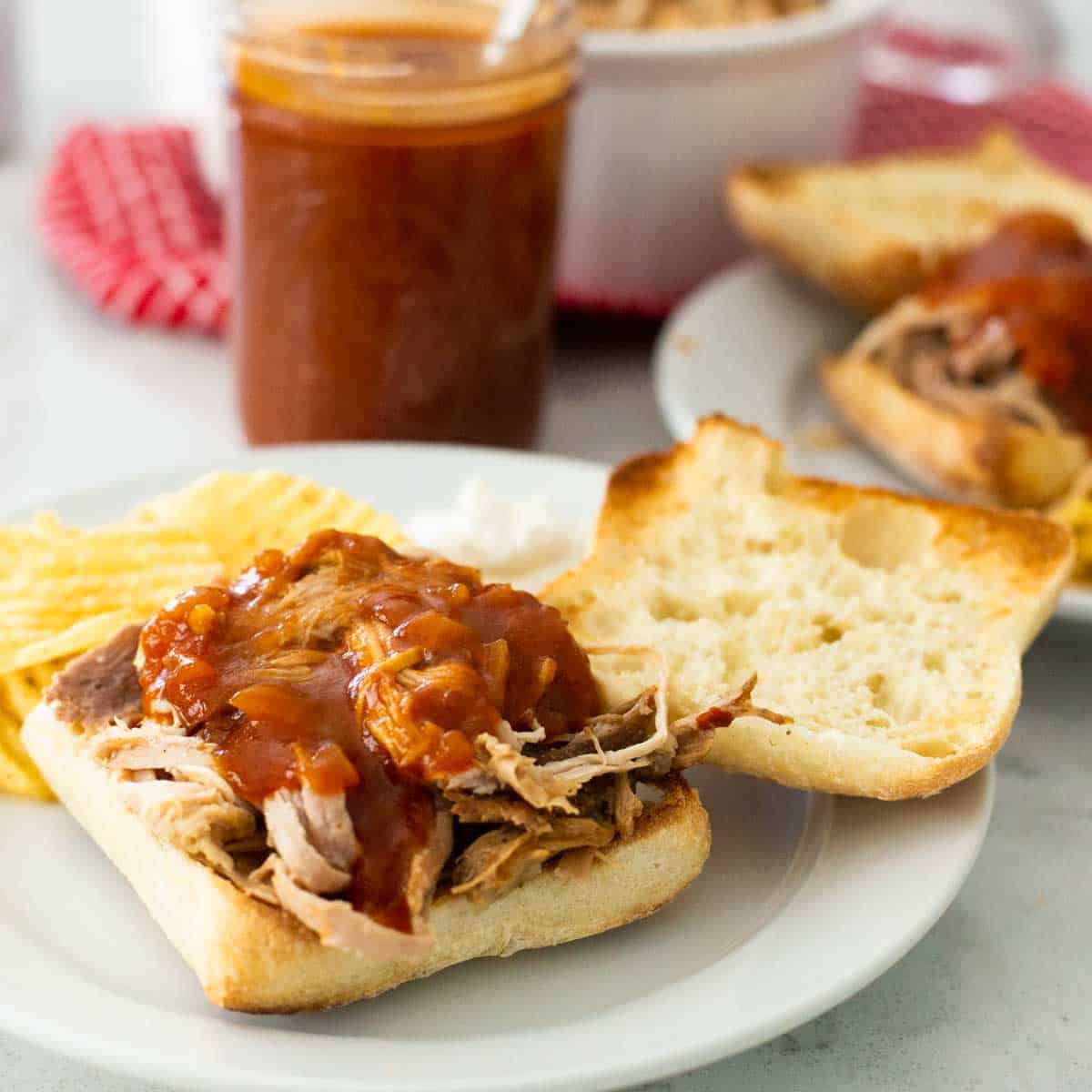 Whether you want to feed a hungry crowd for a backyard party or you need an easy dinner to grab from your freezer on a busy night, make ahead pulled pork freezes wonderfully and can be reheated in a pinch.
This pulled pork recipe is my favorite because the large roast can be stretched into several meals for my family.
Depending on my schedule, sometimes I cook it in the oven to get crispy edges to the roasted pork, sometimes I just pop it into a slow cooker and get about my day as it cooks.
Learn how to make the perfect pulled pork, freeze it for later, and what to serve with it on the side in the notes below.
Not in the mood for BBQ? You might be more interested in my Mexican pulled pork carnitas.
Jump to:
Why This is the Best
This flexible pulled pork recipe is the best because:
Oven or Slow Cooker: You can choose how you want to cook it depending on your schedule, I love it both ways!
Not Too Spicy: The pulled pork rub that gets slathered over the roast before cooking is so delicious and very kid-friendly. The final pulled pork isn't too spicy for kids but could be adjusted if you like it hot.
Tender and Juicy: Both cooking methods keep the roast nice and tender, no dried out pork here!
Freezes Well: I love to freeze it in smaller portions for making lots of dinners during the season.
Feeds a Crowd: The recipe is easily adjusted for a larger or smaller pork roast and is perfect for a party.
Ingredients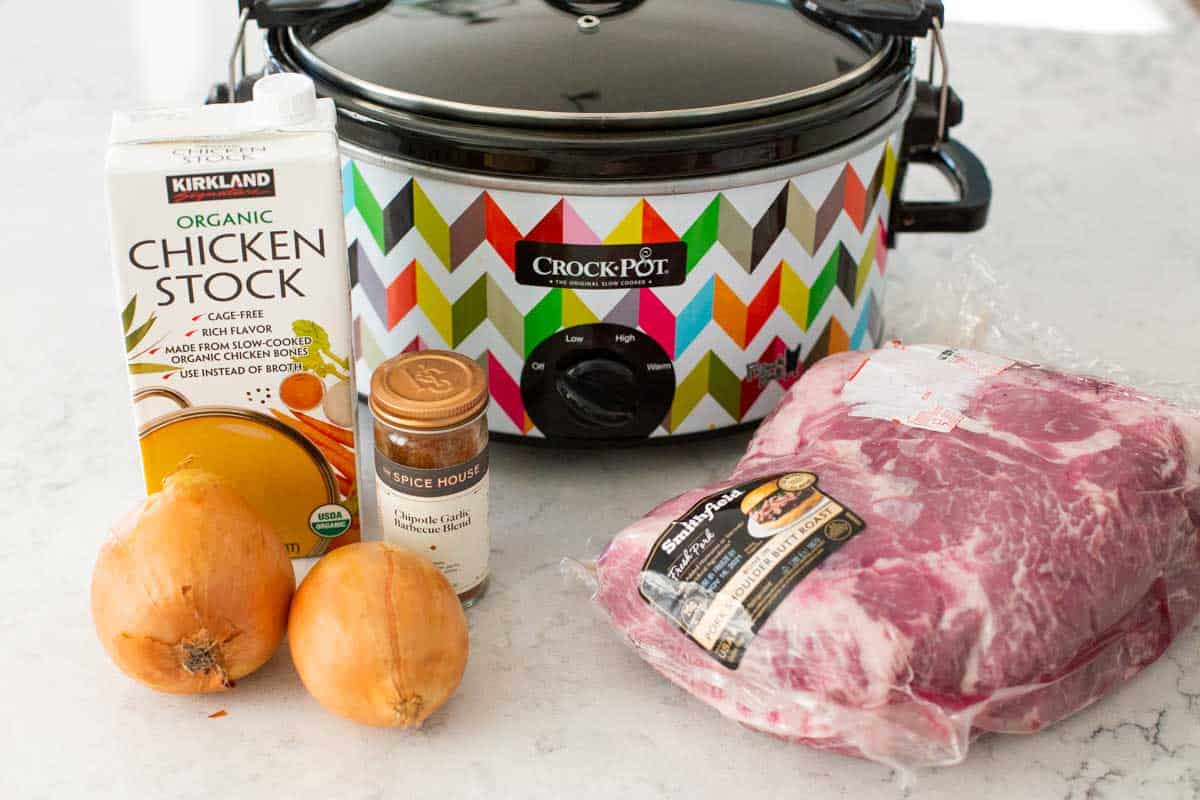 The base ingredients for this shredded pork are so easy:
Pork Shoulder Butt Roast: Depending on where you buy your meat, the roast can go by a lot of different names. I've used both bone-in and boneless, but the bone-in is a lot more tender and delicious.
Chicken Stock or Water
The Best Pulled Pork Rub: See note below.
Best Pulled Pork Rub
It is crucial to season the pork before you add it to the pot for cooking.
As the pork roasts over several hours, the seasonings flavor the meat and make it extra delicious.
This pork rub recipe uses both dry spices and fresh onion to form a wet paste that gets slathered over the roast.
To make it, you will need:
Onion
Minced Garlic
Olive Oil
White Wine Vinegar
Brown Sugar
Cumin*
Oregano*
*I've included the recipe for using individual spices but sometimes when I'm feeling extra-lazy, I use a prepared mix of chipotle barbecue rub instead of the individually measured spices.
If you have a special blend you love, it is ok to add it into the mix but definitely still use the fresh onion and garlic!
Should You Rinse the Pork?
There has been a lot of recent debate over whether or not you should rinse your raw meat before cooking.
Since this recipe cooks for such a long time, rinsing isn't absolutely necessary but my husband still prefers when I take this extra step.
If you decide to rinse your meat, use cold water on low pressure to reduce splashing and be sure to scour your sink after the roast is in the oven.
I place the roast on a clean plate in my sink and just gently drizzle the cold water over the sides to rinse it.
Always pat it completely dry with paper towels before applying the rub to the sides.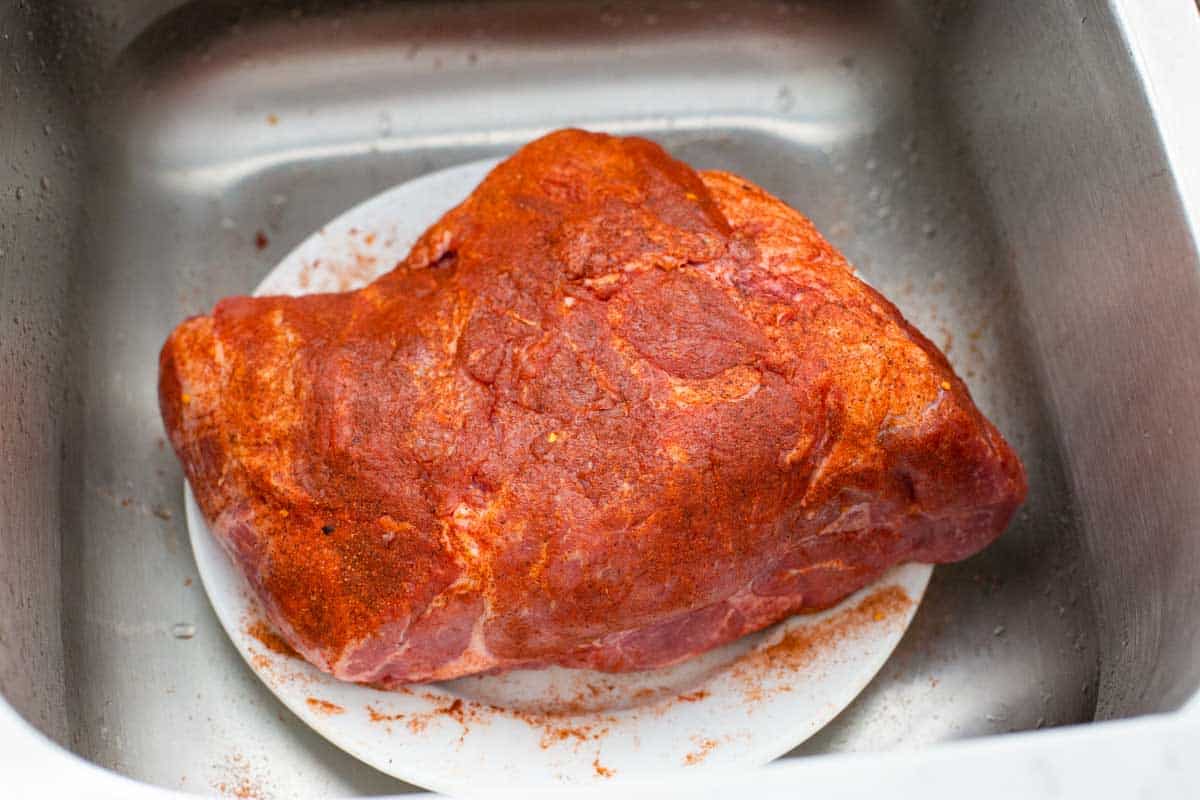 Which is Best: Oven or Slow Cooker?
I've made this pork both in the oven and in my slow cooker and there are pros and cons to both methods.
Use the Oven If:
You want crispy edges to the finished meat. There is no way to get this in a slow cooker without transferring to the oven which can be a messy process.
You'll be home to watch it.
You are willing to turn it over once every hour.
You have a heavy dutch oven with a well fitting lid.
You're eating it for at least one meal before freezing it.
Use the Slow Cooker If:
You want to set it and forget it until it is done.
You want to cook it overnight.
You won't be home to watch it.
You prefer tender meat with no crispy edges.
You're prepping it for the freezer immediately.
Be sure to check the recipe card for full cooking instructions for both methods.
Make Ahead Freezer Tips
If you are prepping the pork ahead for a future meal, there are a few tricks to ensuring it remains tender.
Before you freeze the pulled pork be sure to:
Shred the meat.
Let the meat completely cool.
Split it into smaller portions if you want to be able to heat just enough for a single dinner without thawing the whole batch.
Store it in an airtight container.
Reheating Pulled Pork
To avoid your pork drying out during the reheating process, it is best to let the frozen pork thaw in the fridge overnight.
Cooking it from frozen requires more heat over a longer period and has a greater chance of overcooking the pork.
Starting the warming process with already thawed meat means less time in the oven or microwave.
For a large portion of pork, I like to store it in an aluminum pan that can go straight to the oven.
For smaller portions, I prefer using plastic baggies. Once the meat has thawed, I transfer it to my favorite glass dishes with lids for reheating.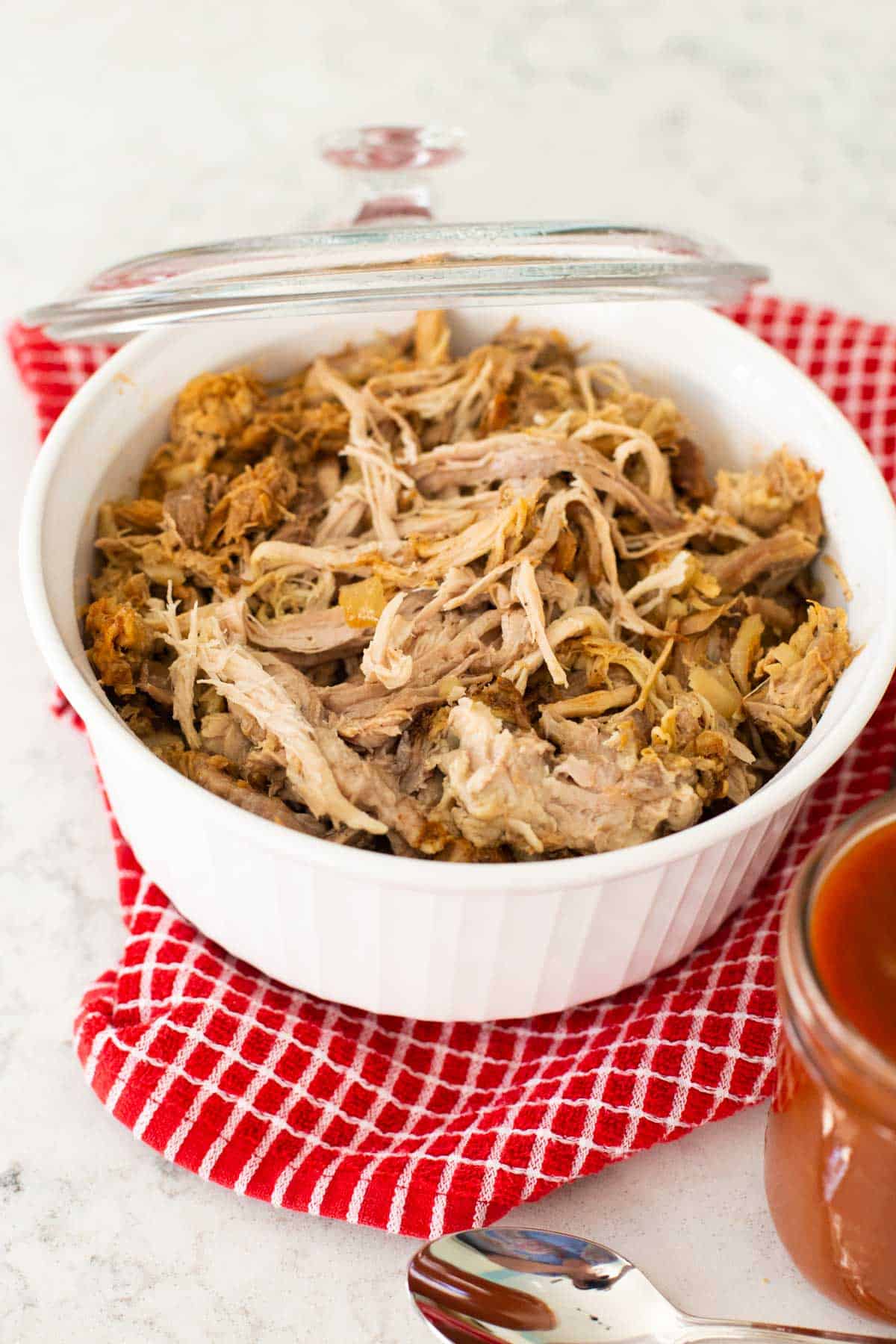 To reheat the pulled pork, be sure to drizzle a little chicken stock over the top to help steam the meat and keep it tender as it warms.
Keep it covered and cook at just 250°F until it is warmed through.
Serving Suggestions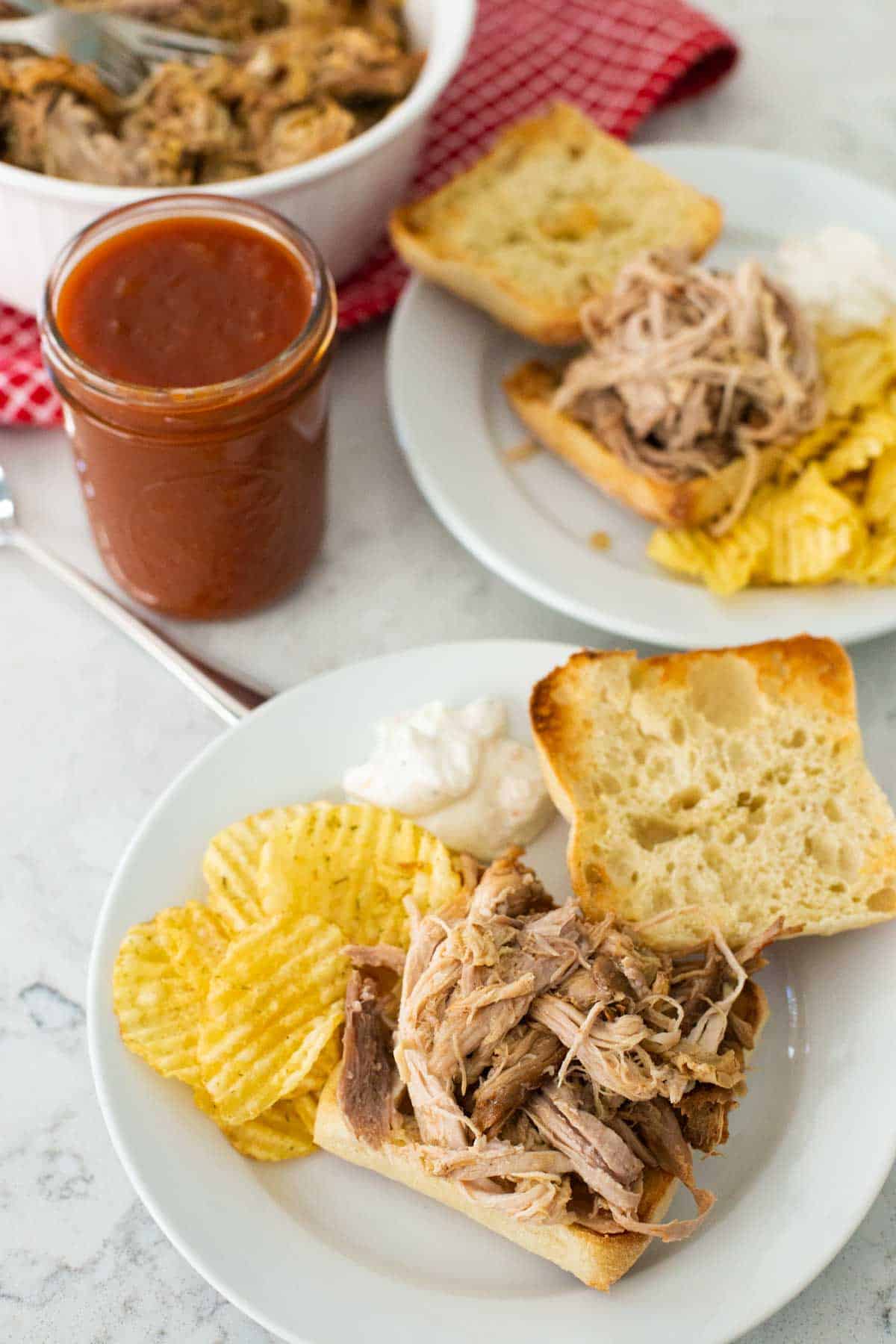 There are 3 ways I love to serve pulled pork:
Pulled Pork Plate: A traditional Southern way to serve barbecue, serve the pulled pork on a plate with several delicious sides to go with it.
Pulled Pork Sandwiches: Piled high on a toasted bun, with or without BBQ sauce and coleslaw. You could also turn it into pulled pork sliders just like this BBQ chicken slider recipe.
Pulled Pork Stuffed Potatoes: Top a baked potato with a pile of pulled pork just like these chicken taco chili potatoes. Add BBQ sauce, shredded cheddar and a dollop of sour cream and fresh green onions or chives.
If you're looking for a super smart meal plan trick, save some of the leftover pork to make my easy Cuban sliders another night!
Pulled Pork Sides
If you decide to make a pulled pork plate with sides, you need super delicious ideas to go with it!
These are some of our favorite pulled pork sides:
📖 Recipe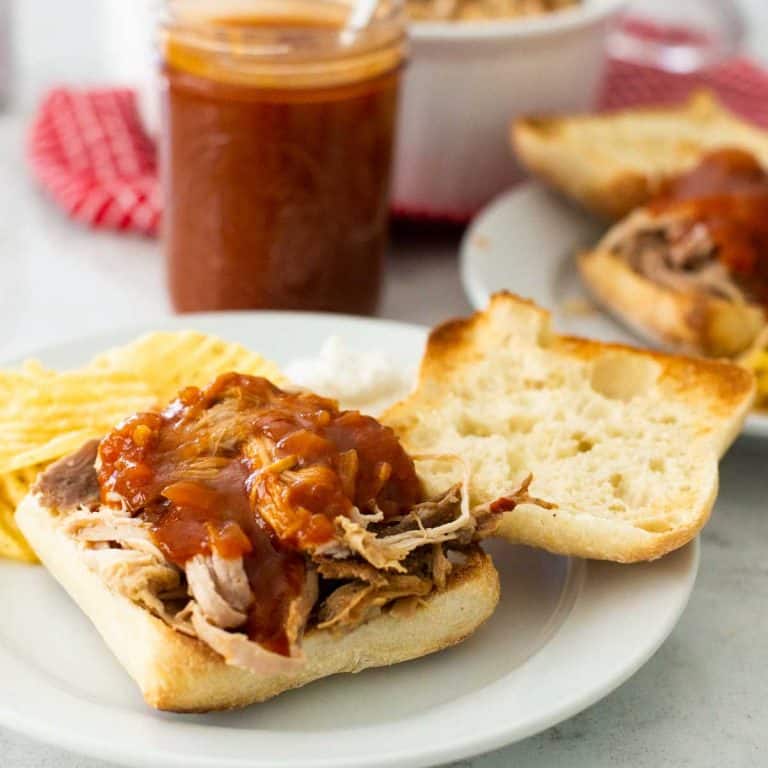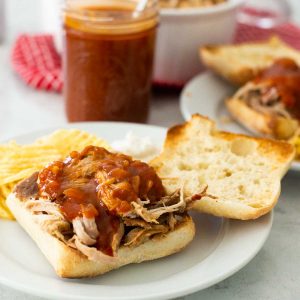 Pulled Pork
This is the best pulled pork recipe for the oven or slow cooker. Seasoned with a delicious pulled pork rub before it is cooked, enjoy it with or without BBQ sauce drizzled over the top.
Ingredients
1 (5-7)

pound

pork shoulder

bone-in is a great choice but boneless would work too

1

onion

½

cup

brown sugar

3

tablespoons

olive oil

2

tablespoons

white wine vinegar

1

tablespoon

minced garlic

1

tablespoon

kosher salt

2

teaspoons

fresh ground pepper

2

teaspoons

ground cumin

1

teaspoon

dried oregano
Instructions
Prepare the Pork Rub
Cut the onion into quarters and add it to the bowl of a food processor fitted with the steel blade. Add the brown sugar, olive oil, white wine vinegar, garlic, salt, pepper, cumin, and oregano to the bowl. Pulse until all the ingredients are evenly combined.

Place the pork on a clean plate or baking sheet. Pat it dry with paper towels. Pour the spice rub over the pork and work it all over the surface of the roast.
Pulled Pork in the Oven
Preheat the oven to 300°F.

Place the prepared pork roast in a dutch oven and add 2 cups of water. Don't pour the water over the pork or it will rinse the seasonings off, just drizzle it along the side of the pork.

Place the lid on the dutch oven and roast for 6 - 7 hours. Turn the pork over once every hour to ensure it cooks evenly.

Once the pork is fork-tender, remove the lid and increase the oven to 425°F. Cook for an additional 20 minutes to get nice crispy edges.

Let the pork rest for 15 minutes before shredding with forks.
Slow Cooker Pulled Pork
Place the prepared pork roast in the bowl of a slow cooker. Drizzle 1 cup of water into the bottom of the pot, being careful not to rinse the spices off the roast itself.

Cook on LOW heat for 9 - 10 hours or on HIGH for 6 - 7 hours or until the roast is fork tender.

Let the pork rest 15 minutes before shredding with forks.
Recipe Notes
Make Ahead Freezing Tips
Pulled pork is a great make-ahead meal. If you want to prepare it in advance, shred the pork and let it cool completely before you store it in an airtight container in the freezer.
A disposable aluminum pan is a great way to store the shredded pork and makes reheating it very easy.
How to Reheat Pulled Pork
Let the frozen pork thaw in the fridge overnight. Add ¼ cup - ½ cup chicken stock to the pan, cover with aluminum foil, and bake at 250°F until the pork is warmed through.
Save This Recipe to Your Recipe Box
Find this delicious recipe next time you visit by saving it to your very own recipe box on my site. All your favorites stored in one easy place!