Make a simple homemade bbq sauce to top our favorite spicy pulled pork recipe. Stuff it inside an easy baked sweet potato for a simple and delicious dinner.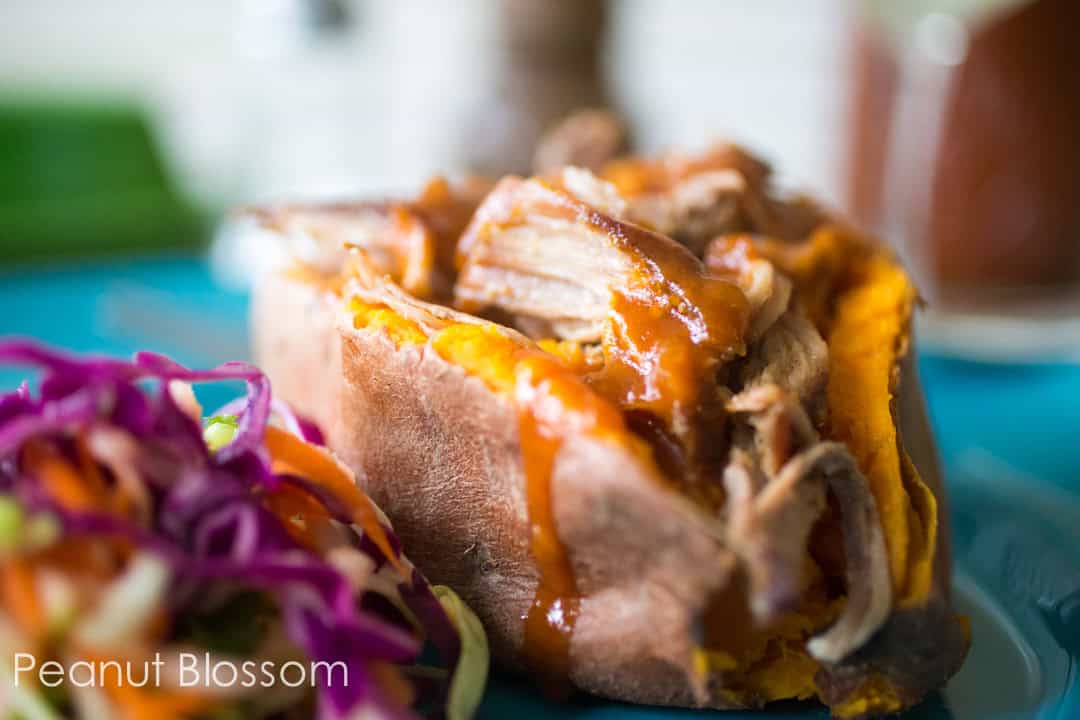 This month, the North Carolina Pork Council challenged me to share my favorite bbq pork recipe. I've been a little stumped over this challenge for weeks. How do I make a bbq recipe and make it fit with our Weight Watchers program??
Finally, inspiration hit me earlier this week. The problem with traditional bbq isn't so much the meat itself it's the portions, the sugar-laden sauce, and the sides. Here in North Carolina, you see hush puppies, mac and cheese, starchy buns, potato chips, etc. offered as the sides to bbq plates.
So for this challenge, I decided to make my favorite spicy pulled pork in my dutch oven and then I focused on improving the other elements:
I made a homemade bbq sauce so I could control the ingredients.
Instead of the fried sides, I made baked sweet potatoes in the crockpot. (SO EASY!)
I experimented with a veggie-heavy coleslaw with a lightened up vinaigrette dressing.
First up was the pork itself. I started with a 5-pound boneless pork butt. I mixed up a blend of spices and used my food processor to puree onion, garlic, and a few other things to make a pasty rub for the meat.
I baked it low and slow in the oven in my dutch oven pot for 6 hours. You can find the full recipe for the pork here.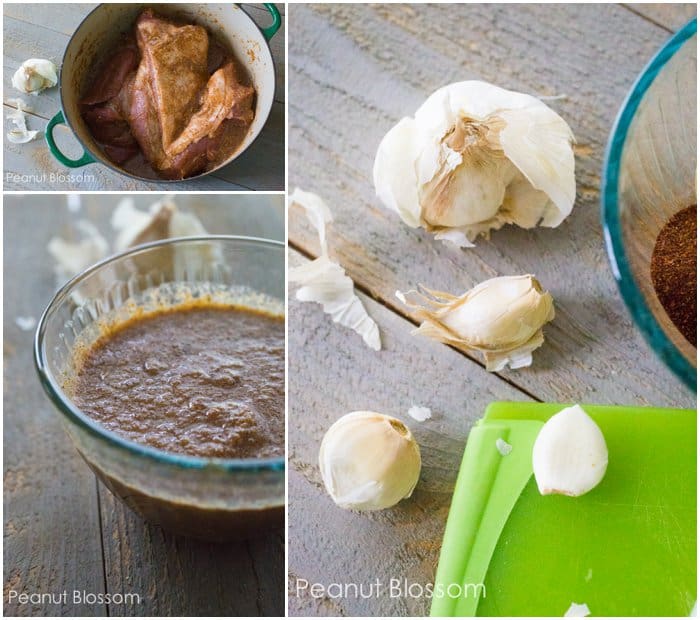 Once I had the pork in the oven, I experimented with baking sweet potatoes in the crockpot. This trick is phenomenal!!
I lined the crockpot with tin foil. Carefully washed and scrubbed the sweet potatoes, pricked them a couple of times with my fork tines, and laid them in a single layer in the crockpot. Covered and cooked on Low for 6-7 hours and they were perfectly tender.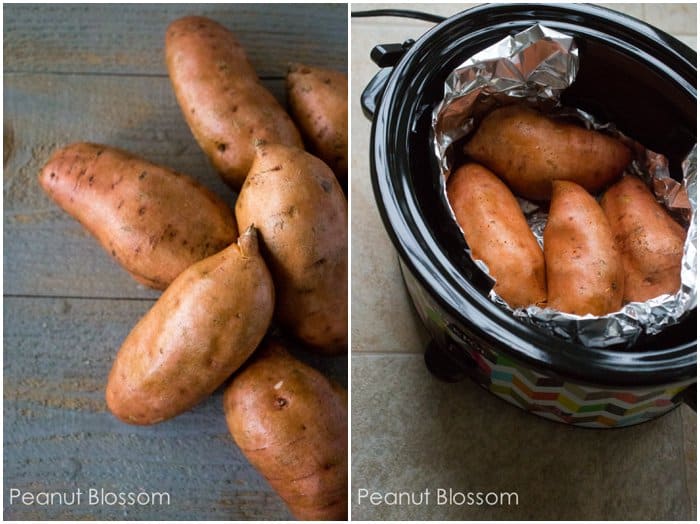 Then I whipped up a batch of this fresh and colorful apple carrot coleslaw with vinaigrette dressing. Recipe coming soon!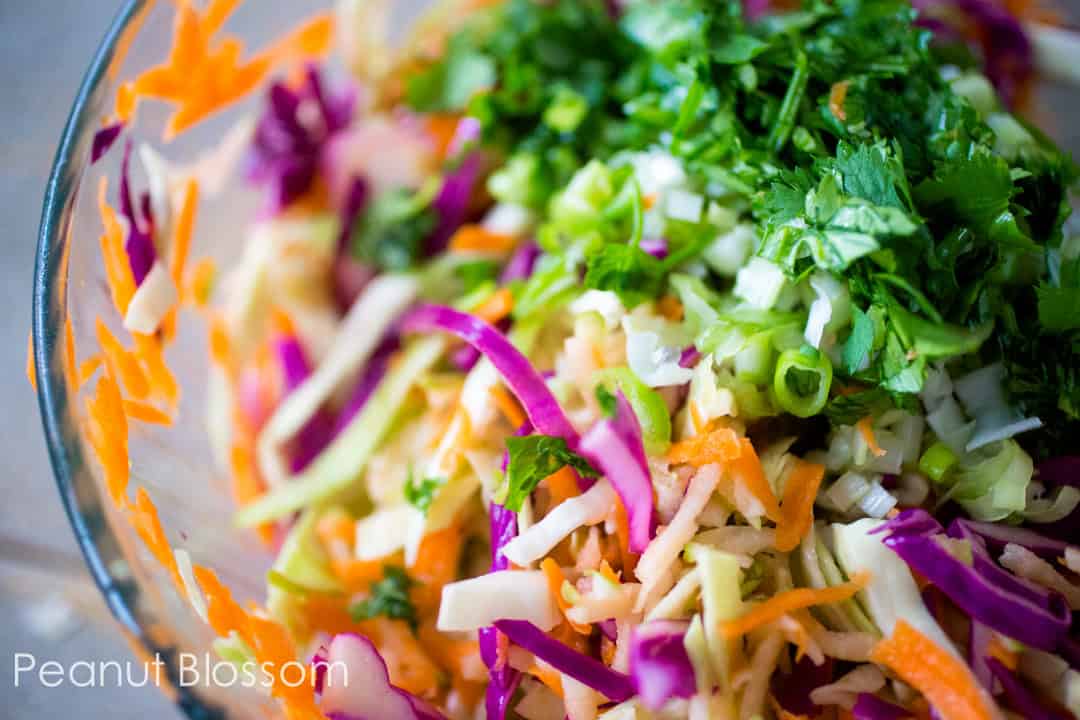 Lastly, I tried a new-to-me recipe for making homemade bbq sauce. I recently had the honor of meeting Virginia Willis at the Type A blogging conference in Atlanta. Virginia did a cooking presentation in honor of her new book "Lighten Up Y'all" and shared her lightened up version of bbq sauce.
In her quest to lighten up southern classics, she lost 35 pounds while developing her book! I love how each recipe shares the nutritional information needed to calculate Weight Watchers points. So handy!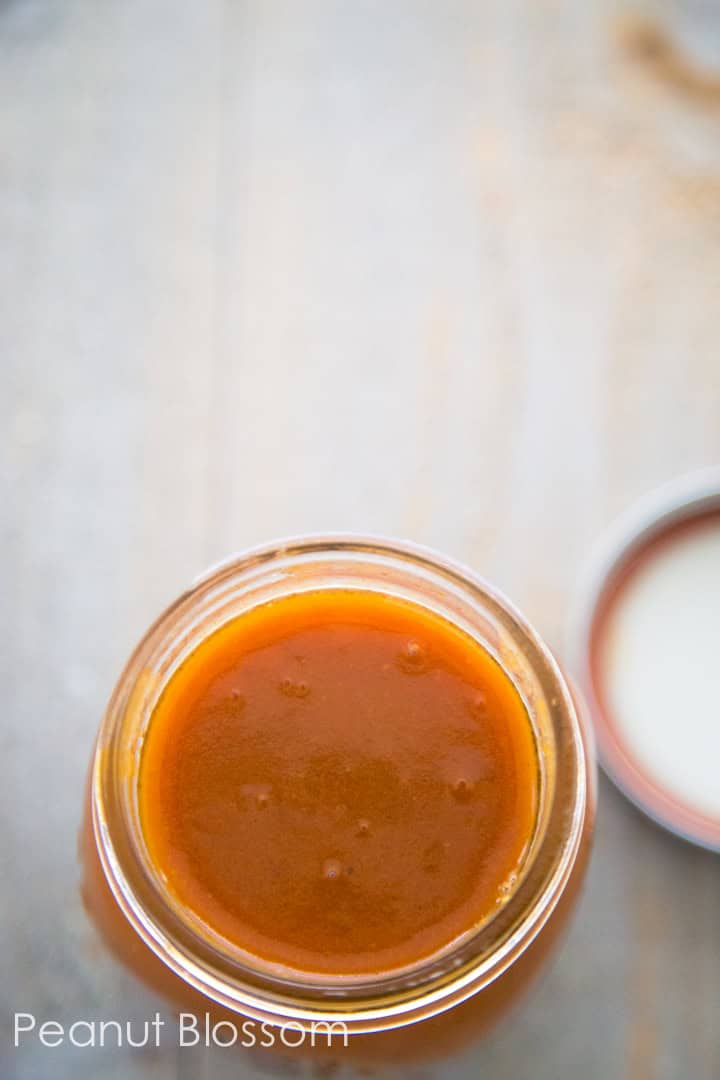 The recipe was super easy and made a huge batch. Virginia says it keeps well in the fridge for a long time because of the high vinegar content. Be sure to scroll down to the bottom to get the full instructions.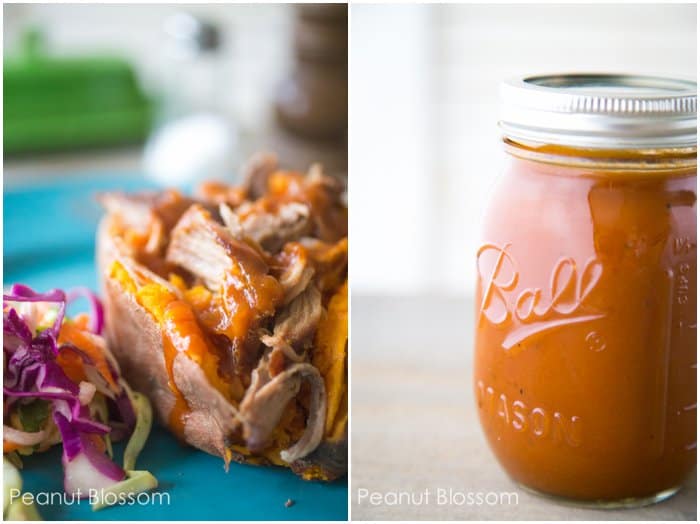 Once the pulled pork was fork-tender and ready for shredding, I split open the sweet potatoes, filled them with a modest portion of the pork, and put just a tablespoon or so drizzle of the bbq sauce over the top.
We served the slaw on the side, but if you like that cold crunch, you could put it right on top of the pork!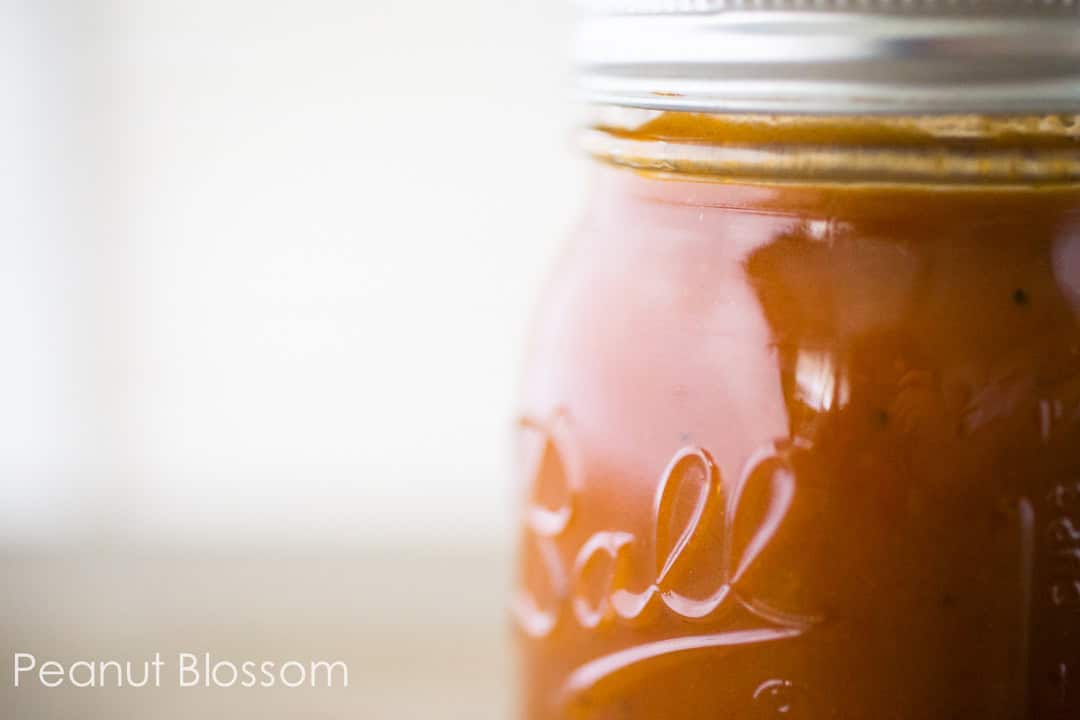 Tim commented on how this was one of the more filling and comfort food-y type things we've had in a while. The sweet potatoes paired perfectly with the spicy pork and bbq sauce. I enjoyed the flavors more than just a simple pulled pork sandwich!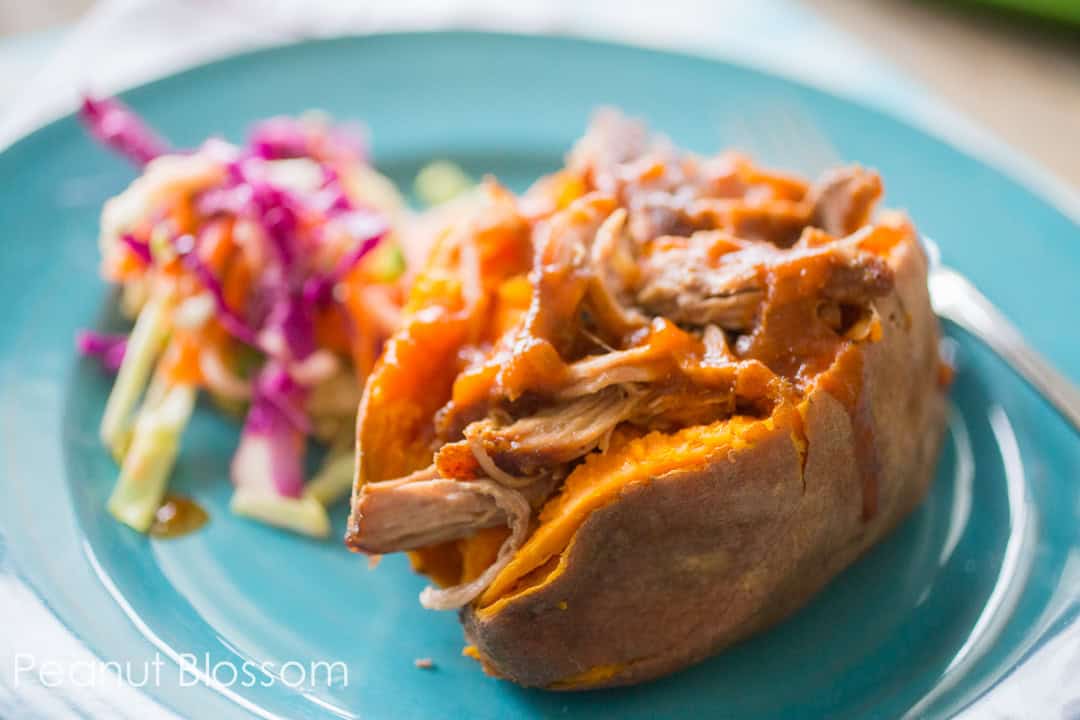 Thanks for the inspiration, Virginia!
You can find her book "Lighten Up, Y'all" here and be sure to check out her blog here!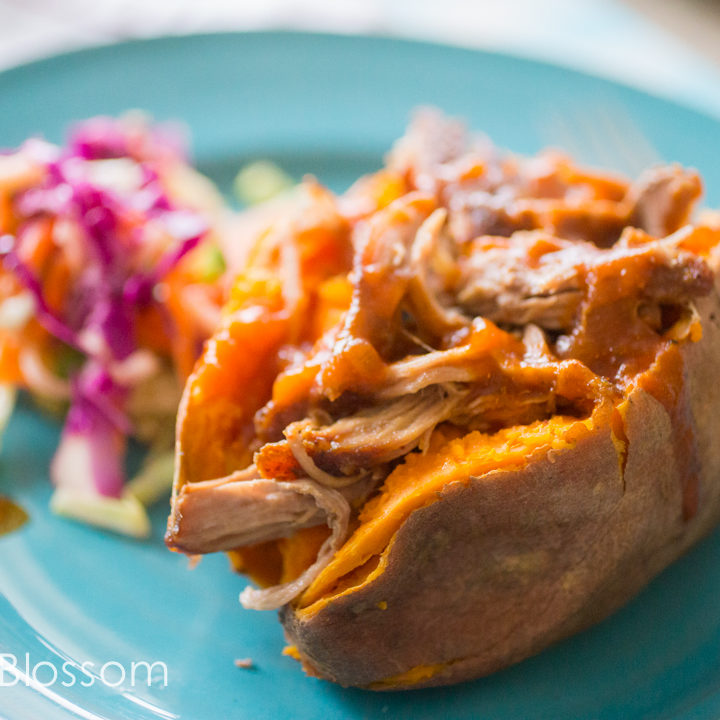 Homemade Barbecue Sauce
Want to lighten up your summer BBQ? Try this healthy version of BBQ sauce over your pulled chicken or pork. This recipe comes with permission from Virginia Willis' "Lighten Up, Y'all."
Ingredients
1 tsp canola oil
½ sweet onion, very finely chopped
1 ¼ cups ketchup
1 cup apple cider vinegar
¼ cup Worcestershire sauce
2 tbsp Dijon mustard
1 tbsp brown sugar
Juice of ½ lemon
1 tbsp fresh ground black pepper
Instructions
Heat the oil in a medium saucepan over medium heat. Add the onion and simmer until soft and melted, 5 to 7 minutes. Add the remaining ingredients. Bring to a boil, decrease the heat to simmer, and cook until flavors have smoothed and mellowed, about 10 minutes.
Store in an airtight container in the refrigerator. It will last for months.
Our other favorite classic southern recipes: