Cheesy cornflake potatoes, or "funeral potatoes," are made with hash browns and cheddar cheese and have a buttery corn flakes topping. You can bake them in the oven or in the Crock Pot using my special tricks for keeping them crispy!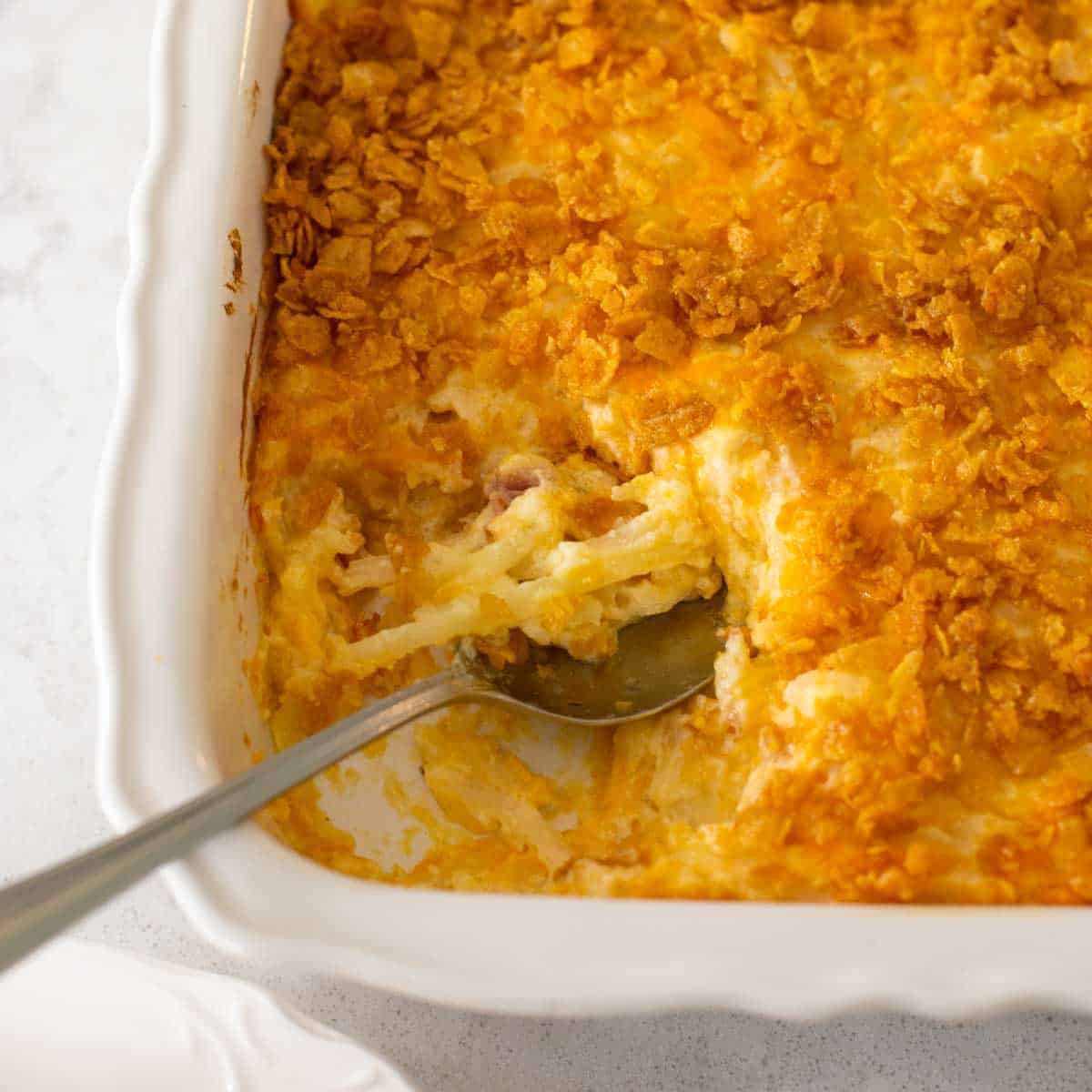 I firmly believe some of the best recipes come from classic American church potlucks. Generations of women have known just the right way to comfort fellow parishioners at funeral brunches and celebratory picnics alike.
The best example ever of a church casserole?? These cheesy cornflake potatoes, otherwise known widely as "funeral potatoes."
Prepared hash brown potatoes from the refrigerator section are mixed with a creamy sauce, shredded cheese, and then baked with a buttery cornflakes cereal topping that gets amazingly crispy in the oven.
You could also use my clever twist to make funeral potatoes in the Crock Pot, this makes them even easier to add to a holiday buffet menu.
My family loves to serve these cheesy potatoes as part of an Easter brunch or Christmas dinner but they would make a hearty addition to any special meal all year long.
Jump to:
Ingredients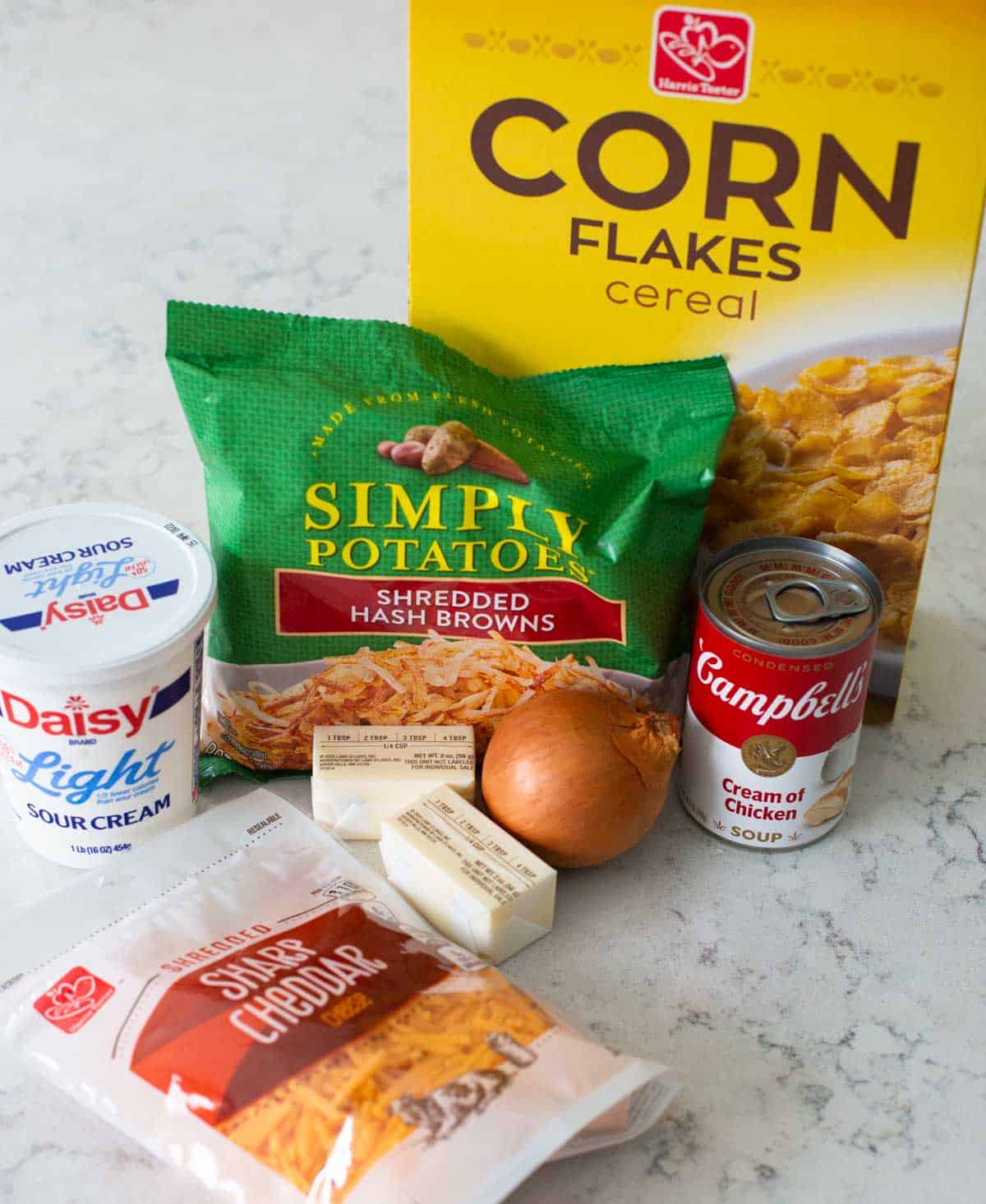 A few prepared ingredients along with some fresh chopped onion give this potato casserole oodles of flavor:
Shredded hash browns potatoes: I used the kind you find in the fridge section of the grocery store. If you prefer to use frozen, you'll want to let them thaw first.
Sour cream: I like cooking with Light sour cream, but regular works great, too.
Cream of chicken soup: If you prefer not to use a canned recipe, you could always make your own cream of chicken soup substitute from scratch.
Shredded cheddar cheese: This is the classic flavor for cheesy potatoes but you could substitute Monterey jack or Swiss cheese, too.
Fresh onion: I love the way a real onion tastes in this casserole but in a pinch you could add dried onion powder.
Butter
Cornflakes cereal
Hot sauce or cayenne pepper: Just a dash gives a boost of flavor but doesn't make the potatoes spicy.
Seasoned salt
Fresh cracked pepper
Mix the Shredded Potato Base
First, prepare the potato base of the casserole.
In a large mixing bowl, stir together the cream of chicken soup, sour cream, hash browns, shredded cheese, diced onion, and seasonings.
Spread the mixture evenly in a 9 x 13-in baking dish. (For Crock Pot instructions, see the section below.)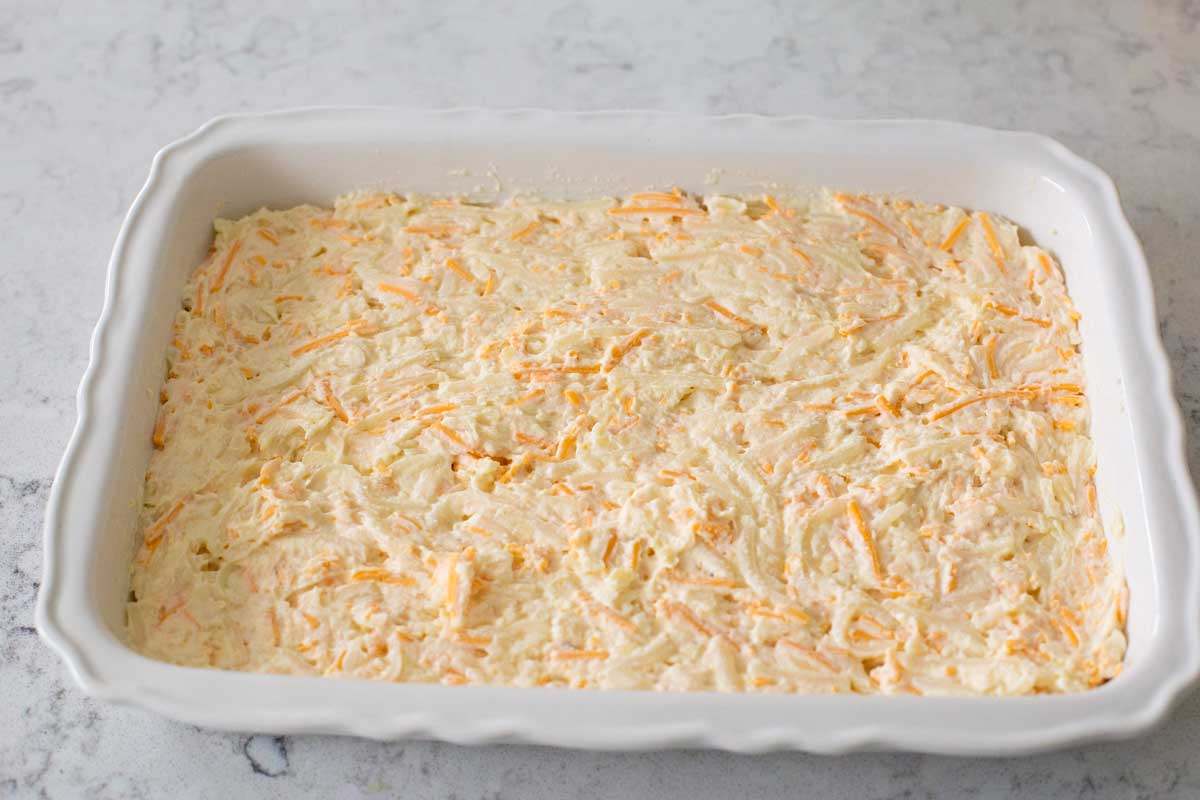 Add the Cornflake Topping
Melt the butter in a microwave safe measuring cup and add the cornflakes cereal. Mix together with a fork until the cereal is coated in butter.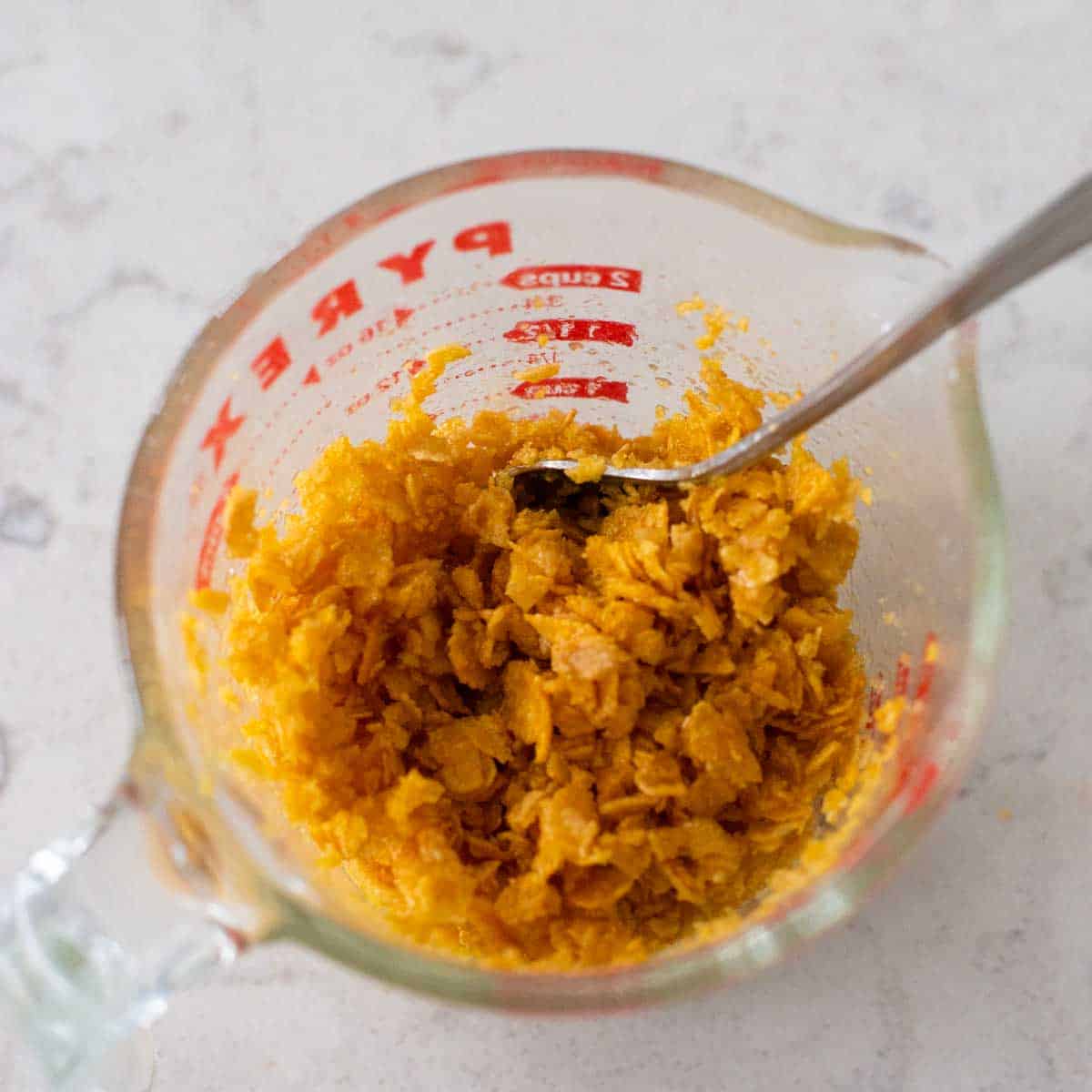 Sprinkle the corn flakes evenly over the potatoes and bake at 350°F for 40 - 50 minutes or until the potatoes are bubbling hot and the cornflakes are golden brown and crispy.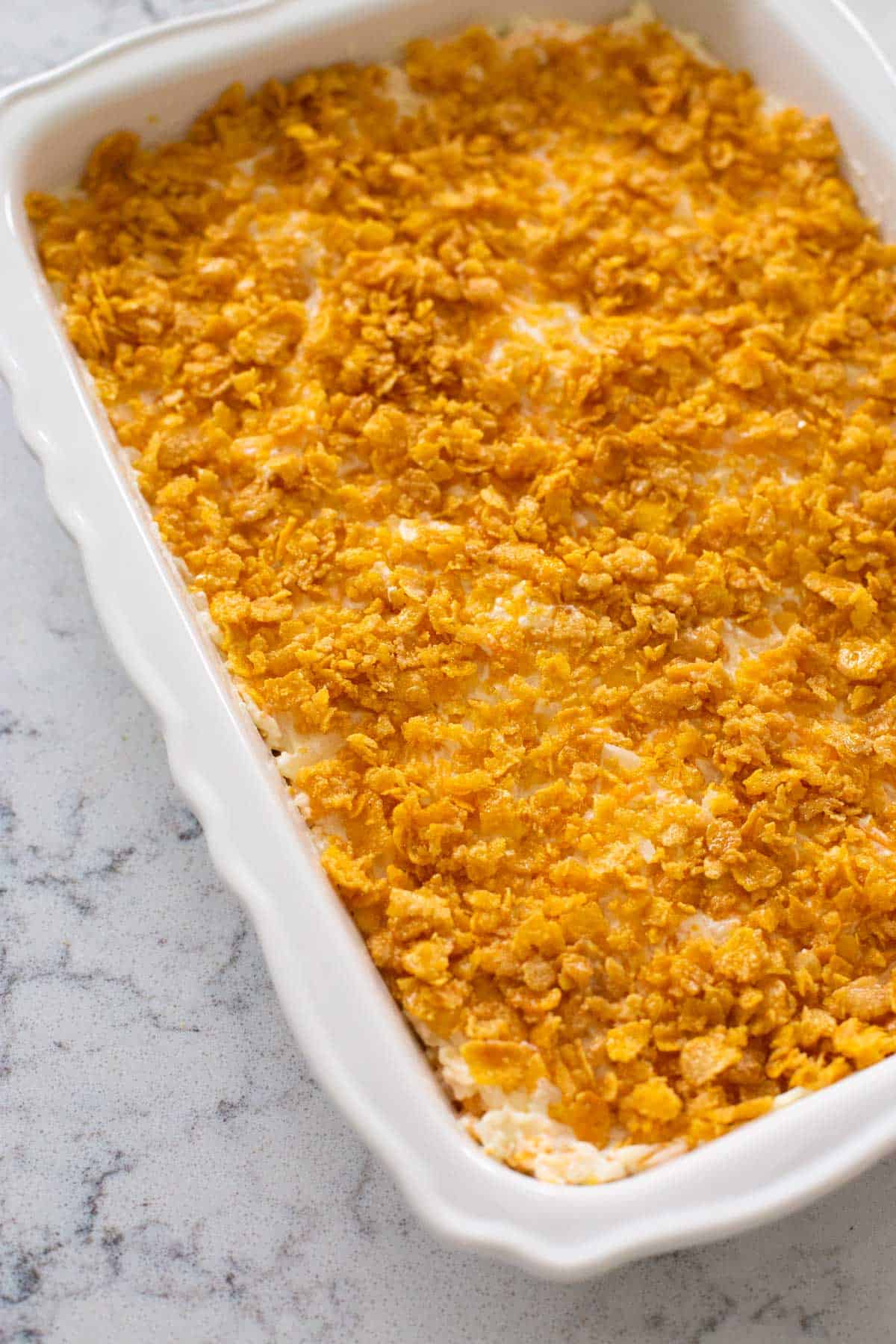 See how easy that is?? No wonder all those church ladies turned to this recipe: delicious AND quick to prepare.
How to Make Crispy Funeral Potatoes in the Crock Pot
If you want a totally hands-free casserole to add to your buffet, a slowcooker comes in really handy.
You can bake the cheesy potatoes perfectly in a Crock Pot with this tip but the trick is knowing how to keep the cornflake topping from getting soggy.
If you tried to place the cornflakes over the potatoes in the slowcooker, the steam from the potatoes will add too much moisture to the cereal topping.
Instead, I recommend following the same trick I use for my Crockpot green beans casserole:
First, spray the bowl of your slowcooker with cooking spray. Then add the layer of potatoes. Cover and cook on HIGH for 3 - 4 hours or on LOW for 5 - 6 hours.
DO NOT put the cornflakes on top. Instead, combine the cereal and melted butter as directed but then spread the cereal out on a large baking sheet. Bake at 350°F for 5 minutes or until the cereal topping is crispy.
Place the cornflakes in a serving bowl with a spoon right next to the slowcooker for your guests to spoon hot cheesy potatoes and the top with freshly crispy cornflakes as desired.
Make Ahead Tips
You can prepare the entire dish up to 24 hours in advance with these tips:
Spread the potatoes in the baking dish, cover and keep refrigerated.
Let the chilled potatoes come to room temperature for 30 minutes before baking.
Wait to combine the cornflakes and butter and sprinkle over the potatoes until just before baking.
Alternatively, you could bake the entire casserole, let it cool and the refrigerate covered overnight. The cheesy potatoes reheat beautifully if you let them come to room temperature before baking again.
I don't recommend trying to freeze this dish, the cream and melted cheese could easily separate during the thawing process.
Variations
This classic cheesy potatoes casserole is perfect as-is, but it would be a fun side dish to play around with a few tasty variations:
Herby Potatoes: Mix in some fresh parsley, chives, or thyme with the potato mixture.
Spicy Potatoes: Mix in a little diced red pepper and add a couple shakes more of hot sauce or some crushed red pepper flakes to the potato base before baking.
Veggie Potatoes: Add some chopped baby spinach and frozen corn kernels to the potato base before baking.
More Potato Side Dishes
A festive family meal needs a delicious potato side dish. These easy potato recipes are just perfect: