Homemade seasoned salt takes just a minute to mix together and will quickly become your essential spice blend for everything from frozen potatoes and chicken to popcorn and seasoned pretzels.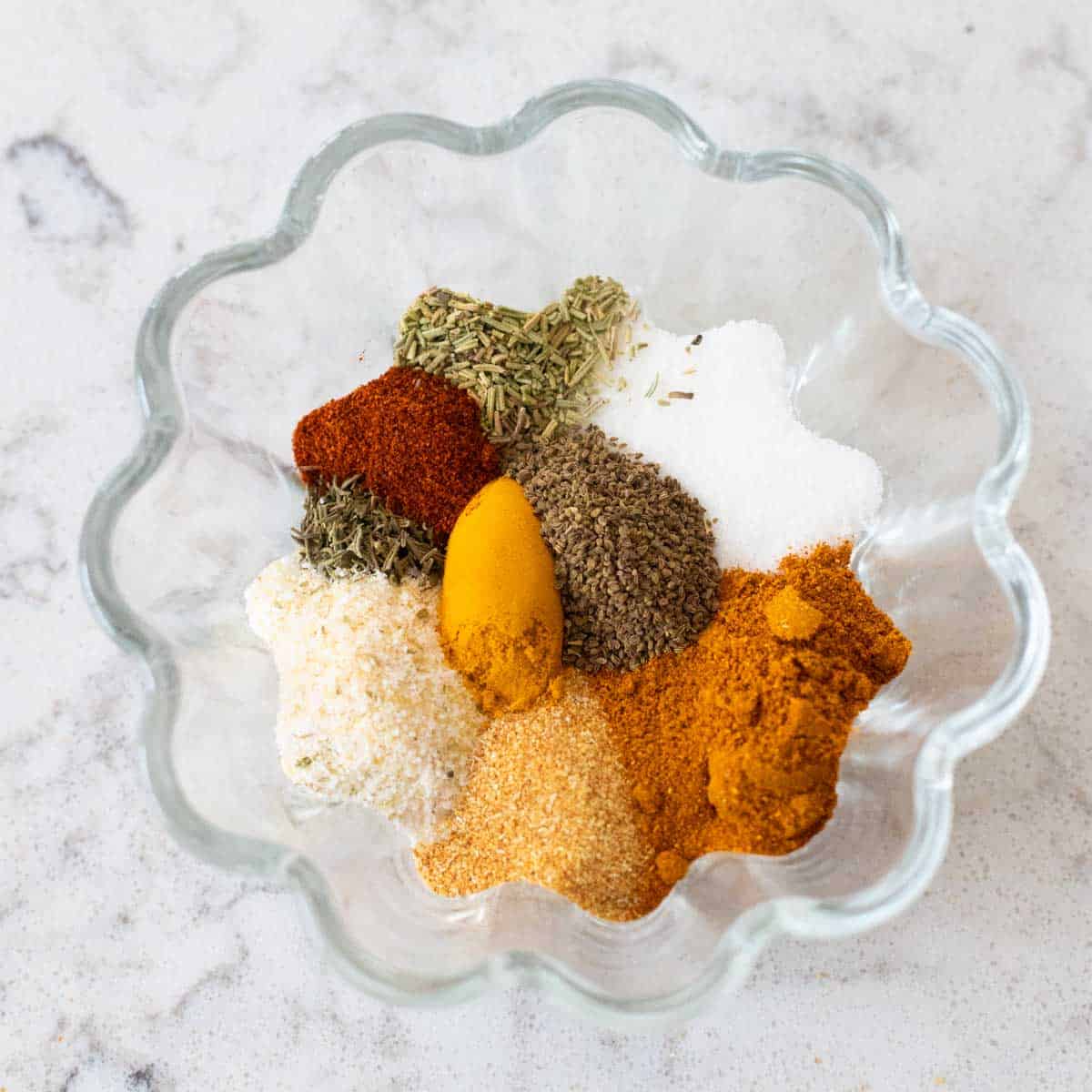 Homemade seasoned salt has been one of my go-to kitchen shortcuts for so many years.
This handy seasoning is one my family turns to again and again. It is a copycat recipe from a famous spice shop that used to be near our house but closed a couple years ago.
I decided to try to mimic the flavors since we loved it so much and it turns out the homemade version is even better than the original!
Take a minute to mix it together and use it on my favorite chicken tenderloins recipe. You're sure to be as hooked as we are.
Jump to:
Why This is the Best Recipe
Our family just loves the convenience of seasoned salt. We sprinkle it on lots of things for a boost of flavor. After trying several commercial varieties, I believe this is the best seasoned salt recipe because:
Perfect Balance: The seasonings have just the right balance between savory with a hint of spice and just a small kick of sweetness. Not one single seasoning stands out but they all work together so well.
Complements Most Savory Foods: From chicken to potatoes to popcorn, you're going to find so many ways to use this seasoning.
Appetizing All-Natural Color: The beauty of using a seasoned salt like this one is that it adds just a touch of golden color to your savory foods because of the natural turmeric in the mix.
Barely Sweet: Yes, there's a tablespoon of sugar in the mix but this is not a "sweet" spice blend. That hint of sweetness just accents all the rest of the spicier flavors.
Ingredients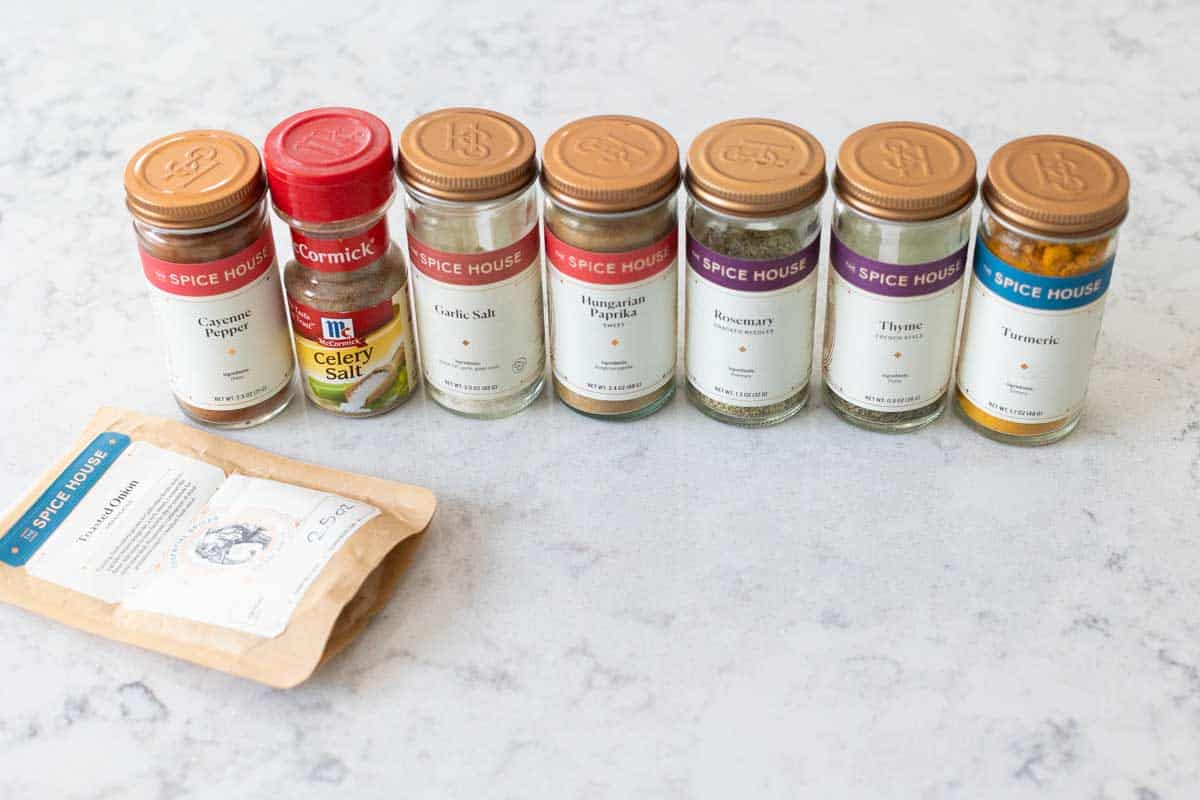 If you cook at home as much as I do, chances are likely that your spice rack has everything (or almost everything) you need to make this homemade seasoned salt.
Rather than get out all those jars every time you cook, why not have the convenience of the pre-mixed seasoned salt at your fingertips??
To make it, all you need is:
Cayenne Pepper: I promise this isn't too spicy, but if you want it to be, go ahead and add double or triple the cayenne pepper to the mix. Cayenne is an amazing natural flavor enhancer that boosts everything you add it to.
Celery Seed
Garlic Salt
Onion Powder
Paprika
Rosemary
Thyme
Turmeric: This adds a really pretty golden hue to the salt and eventually to the food you add it to.
Sugar
Table Salt: I usually use kosher salt for all my cooking, but since this seasoned salt is meant to be sprinkled on food, table salt has a smoother flow.
Measure the Spices
First, measure all the spices and the sugar and add them to a small mixing bowl.
Mix them together with a spoon or fork until they are well combined.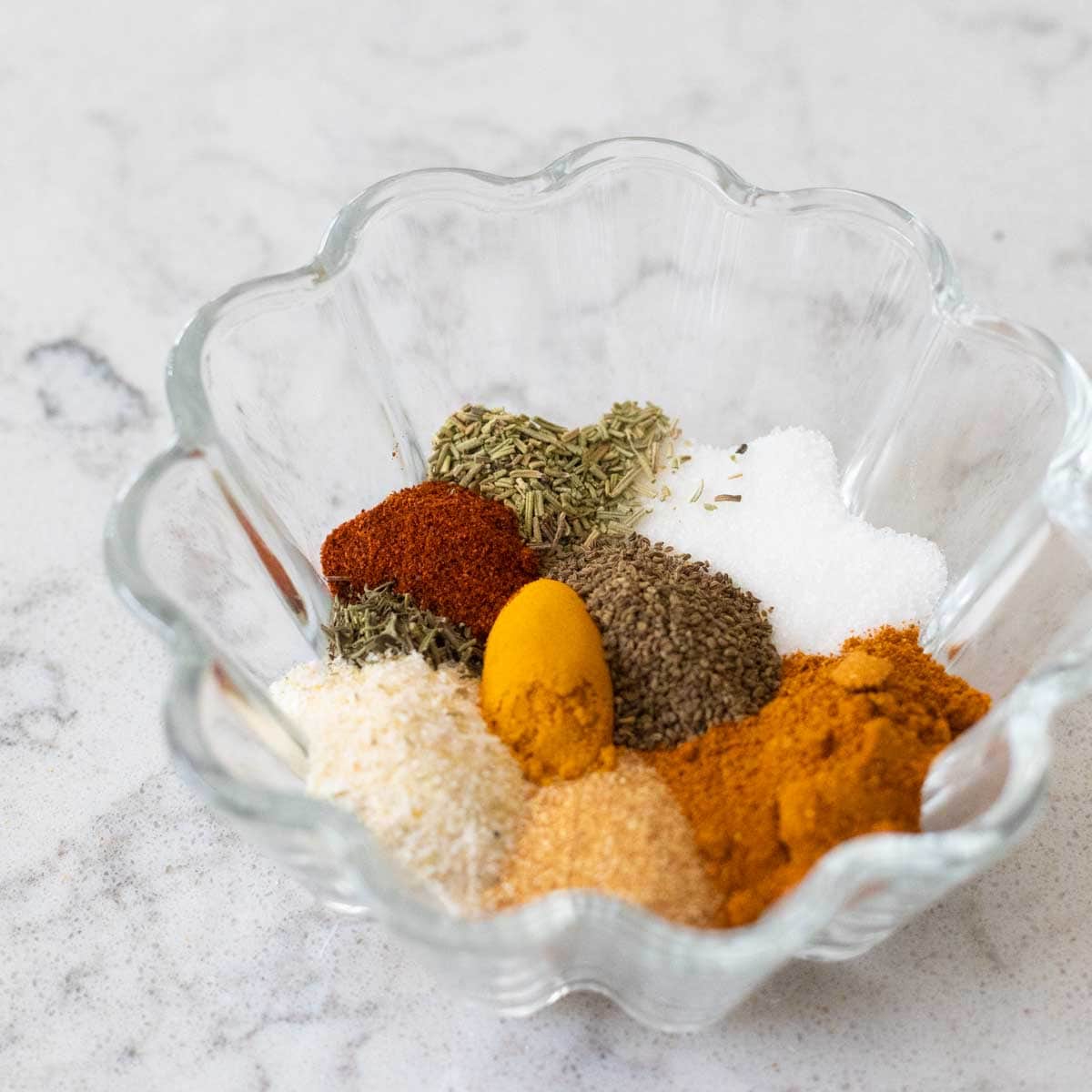 Add Table Salt
Add the table salt to the spices and stir it in really well.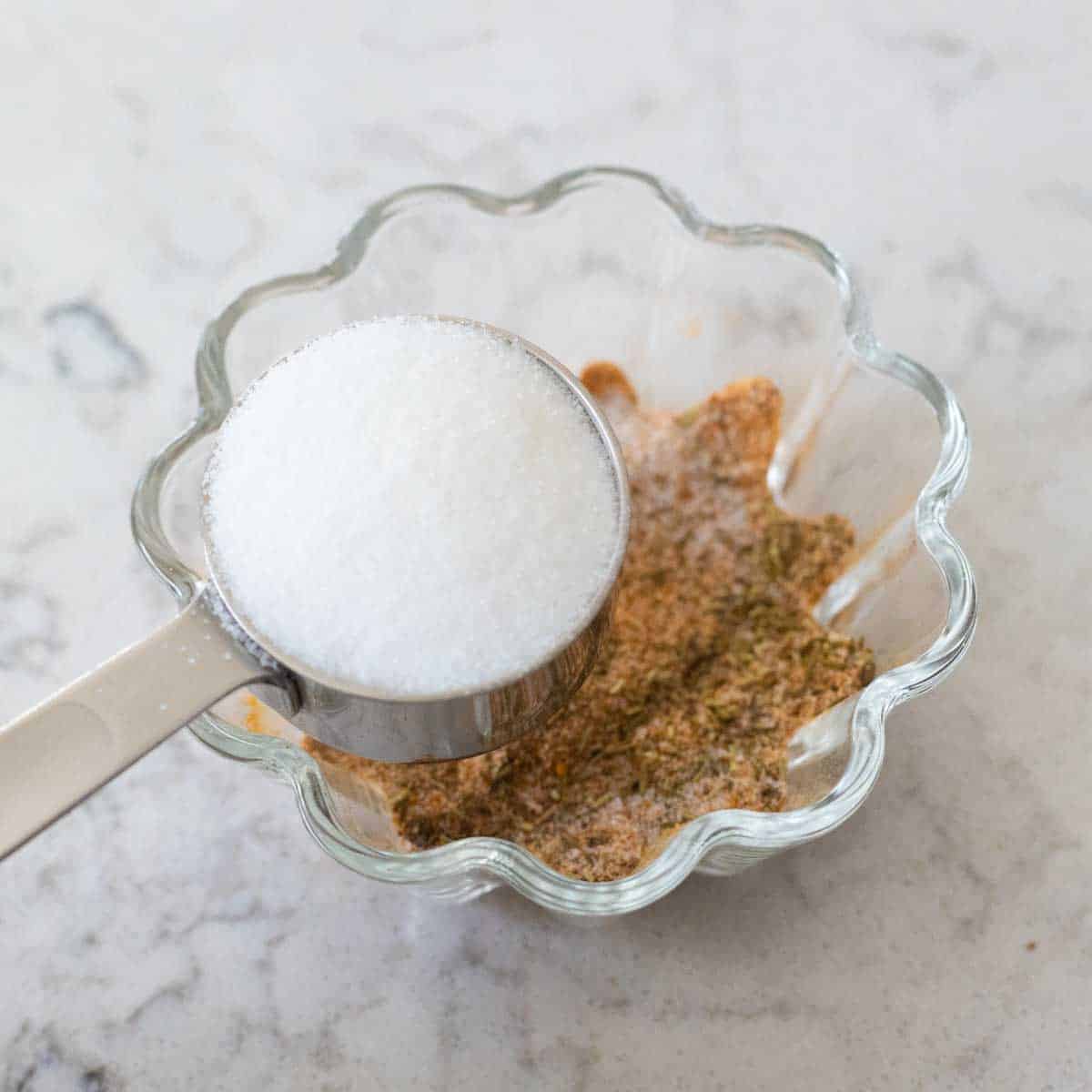 How to Make a Smoother Seasoned Salt
This is the finished seasoned salt just after I mixed it.
Notice how you can see the larger clumps of rosemary and thyme in the mix?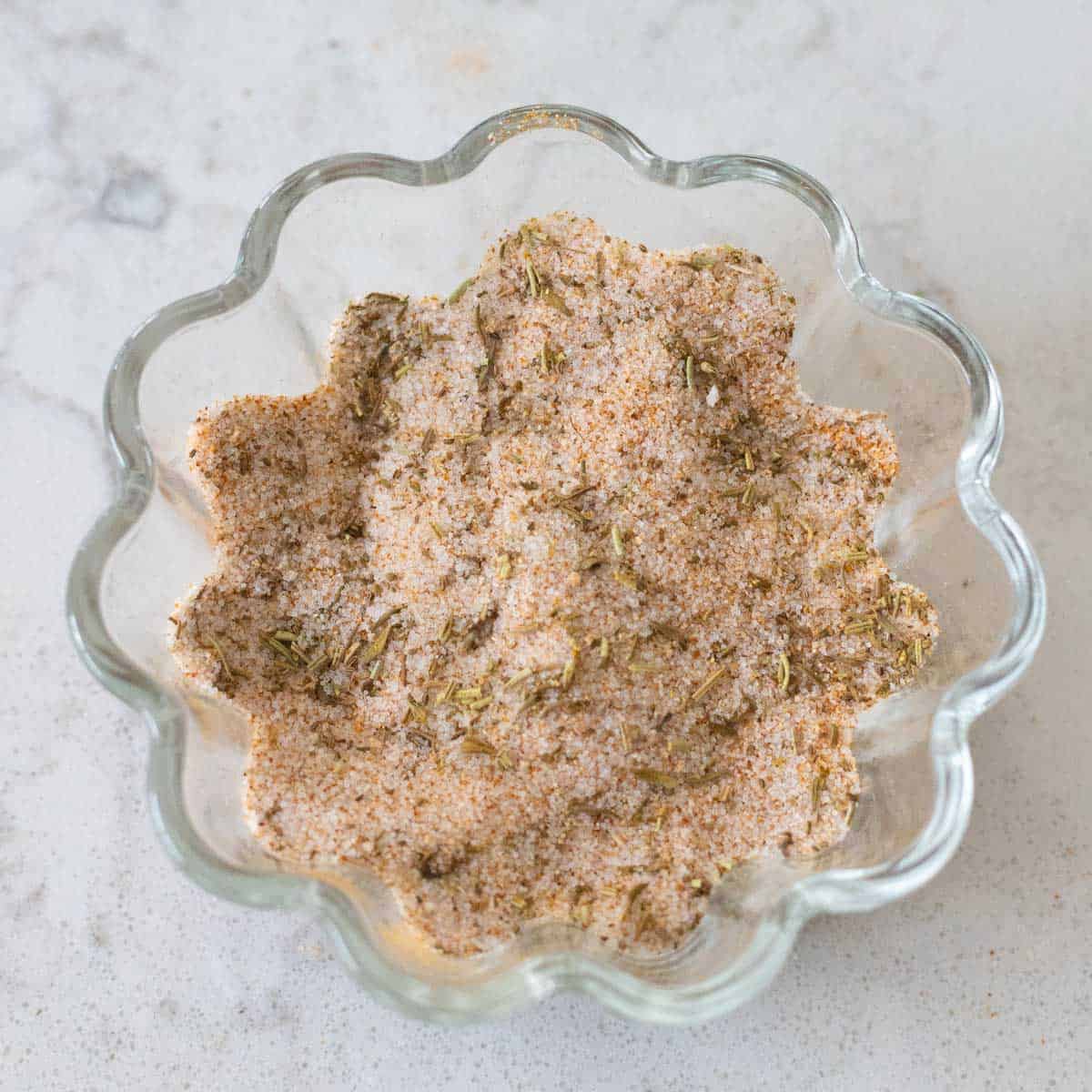 That visual texture can add a really appealing look to whatever you use this seasoned salt to enhance but it can clog up the holes on a shaker lid on a spice jar.
If you prefer to have a smoother flowing salt from your shaker, it might be worth the effort to crush the rosemary and thyme before you add them to the mix.
Hand Crush: You can place them in a zip top bag and roll a rolling pin over them or crush them with a cooking mallet or mortar and pestle.
Spice Grinder: If you happen to have a spice grinder like this one here, run the seasoned salt through that to give it a smoother texture.
Storage Tips
If you plan to cook with your homemade seasoned salt frequently, you might want to keep it in a spice jar with a shaker lid right next to the oven.
You could also store it in a mason jar in the pantry.
For a super fast and space saving storage solution, just mark a zip top baggie and roll it up. You can keep several bags of homemade spices in a smaller space than multiple jars.
This is especially handy if you like to measure with different size measuring spoons.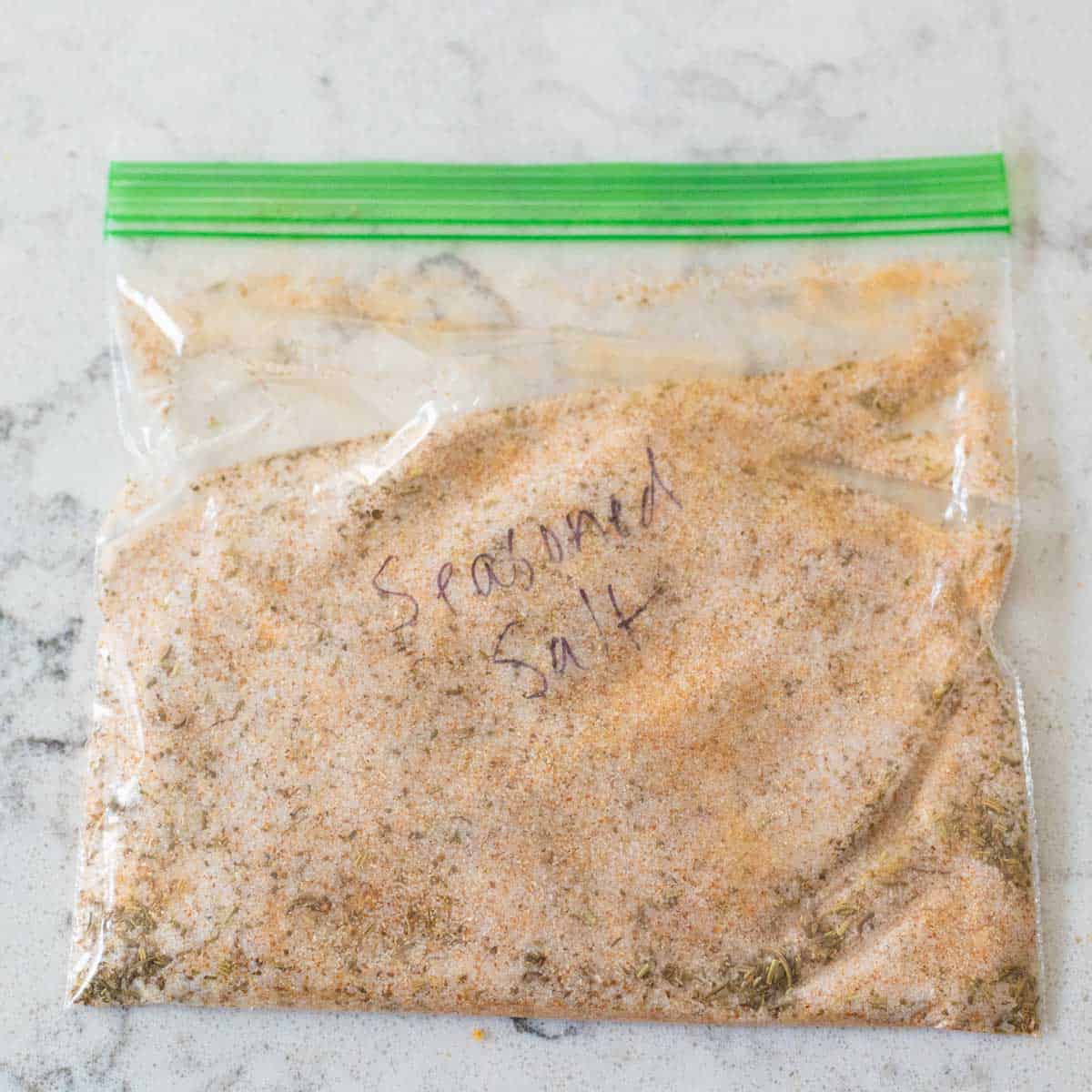 Serving Suggestions
Now that your seasoned salt is ready to go, you're probably wondering what you can use it on.
In our family, we like to sprinkle homemade seasoned salt over frozen french fries, tater tots, etc. to give them a boost of flavor. It would be especially tasty on my oven roasted mini potatoes.
Liven up plain chicken with a sprinkle of seasoned salt. This recipe works great with my healthy chicken tenderloins in the air fryer.
Use seasoned salt over popcorn with butter or to make a simple batch of seasoned pretzels for your next movie night.
Seasoned salt is also a key ingredient to several party dips including my favorite dill dip for veggies.
More Homemade Spice Blends
Some spice blends are just so much better when you mix them yourself.
Two more of my very favorites includes my homemade blackening seasoning for chicken, pork, fish, and steak.
I also always keep a batch of my Caribbean jerk seasoning ready to go for jerk chicken.
📖 Recipe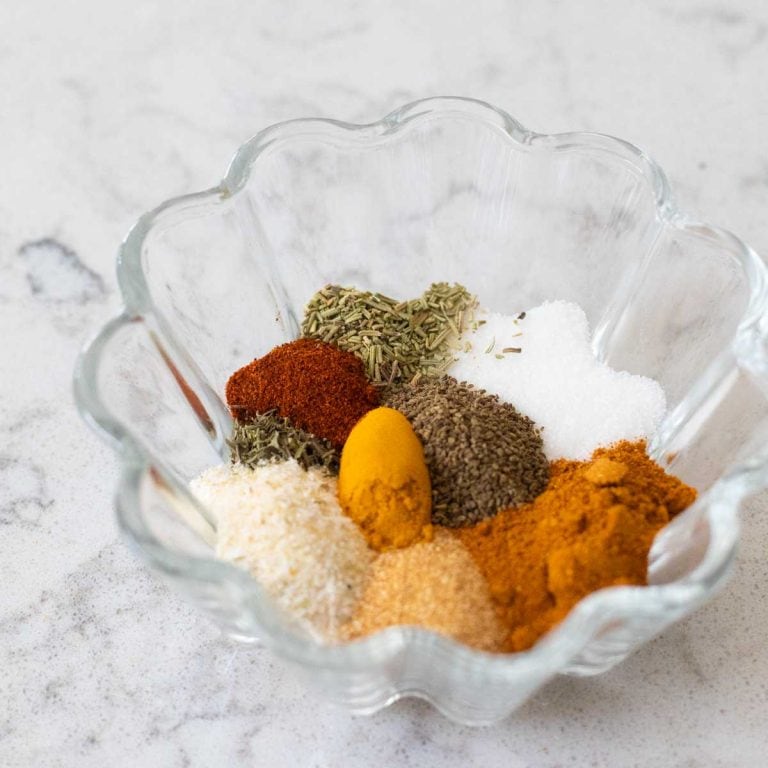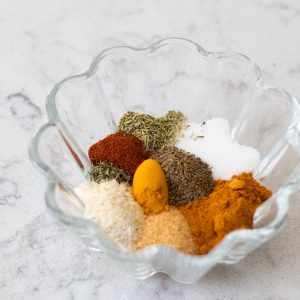 Homemade Seasoned Salt
This essential homemade seasoned salt is similar to Penzey's Seasoned Salt. A touch of turmeric and paprika give a lovely color to whatever you sprinkle it on. Perfect for seasoning frozen potatoes (fries, tater tots, or wedges) before baking, sprinkling on these fantastic chicken tenderloins, or making your next batch of popcorn extra tasty.
Ingredients
1

tablespoon

sugar

1 ½

teaspoon

garlic salt

1 ½

teaspoon

onion powder

1

teaspoon

paprika

½

teaspoon

rosemary

½

teaspoon

thyme

½

teaspoon

celery seed

½

teaspoon

turmeric

¼

teaspoon

cayenne pepper

¼

cup

salt

regular table salt

1

teaspoon

cornstarch

optional, see Notes below
Instructions
Add the sugar, garlic salt, onion powder, paprika, rosemary, thyme, celery seed, turmeric, and cayenne pepper to a small mixing bowl and mix together with a fork.

Add the table salt and cornstarch if using. Mix them into the seasonings with a fork.

Store in an airtight container like an empty spice jar, mason jar, or plastic baggie. The blend will be good for several months if stored in a cool, dark place.
Recipe Notes
How to Prevent Caking:
If you add the optional 1 teaspoon cornstarch to the mix, it will help prevent the spices from clumping together as it stores in your pantry.
Alternatively, you could simply use a fork to break up the clump before shaking/measuring it when you want to use it if you prefer to leave the cornstarch out.
For a Smoother Salt:
If you don't want larger clumps of rosemary and thyme to potentially clog the holes of a spice jar shaker lid, you may want to take one more step to make this a smoother salt blend.
Before mixing all the spices together, add just the rosemary and thyme to a small plastic ziptop baggie and seal the bag closed. Crush the herbs by pounding them with a cooking mallet or small kitchen hammer. Alternatively, you could run the entire spice blend through a spice grinder if you have one.
Save This Recipe to Your Recipe Box
Find this delicious recipe next time you visit by saving it to your very own recipe box on my site. All your favorites stored in one easy place!