Caribbean Jerk seasoning, also known as Jamaican Jerk, is an easy spice blend to make at home for sprinkling over chicken, shrimp, fish, or pork. Warm and a little bit sweet but not too spicy, this is a great addition to your dinner routine.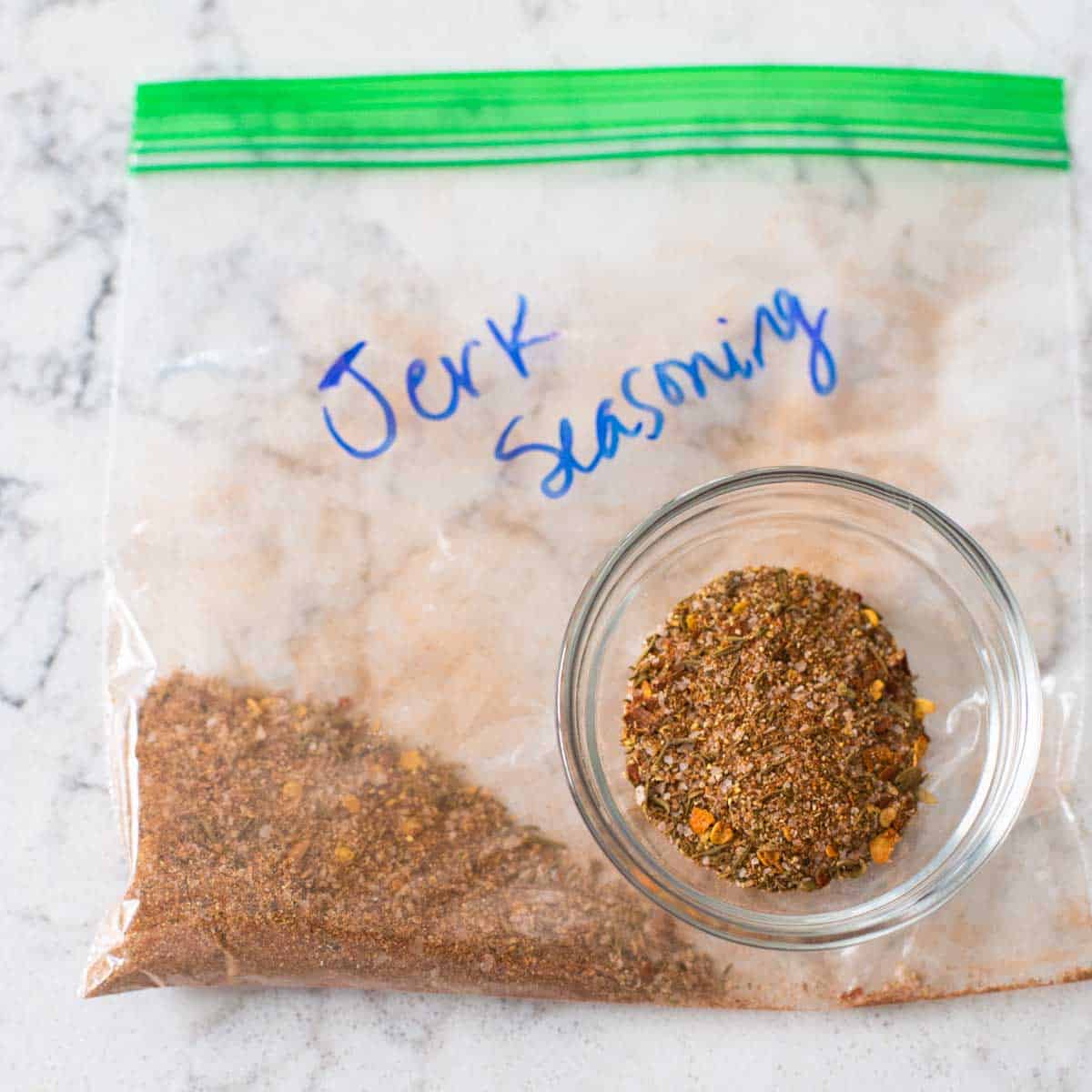 Whenever I spot Caribbean jerk chicken on a menu at a restaurant, I'm immediately drawn to the dish.
I've always loved how the warm and not-too-spicy spice blend added to chicken or fish pairs with grilled pineapple and bell peppers.
I usually keep a jar of pre-mixed Jerk Seasoning in my spice cabinet to keep things easy, but when I don't have time to run to the store, this is an easy spice blend to mix up using spices I usually have stocked in the pantry.
If you're interested in making my jerk chicken quesadillas for dinner tonight, you can have this spice blend ready to go in just minutes.
Jump to:
Is Jerk Seasoning Spicy?
This is one of my favorite reasons for using Caribbean Jerk seasoning on my dinner recipes: it adds so much flavor to the dish, a tiny bit of heat, but isn't a hot spicy that would trigger my kids.
In fact, if you pair Caribbean Jerk with the right dishes, it can actually add a bit of warm sweetness to the meal.
What Goes with Caribbean Jerk Flavor
My favorite proteins to use with a homemade Caribbean Jerk seasoning blend include:
Chicken
Shrimp
Pork Tenderloins
Then I pair those seasoned proteins with:
Pineapple
Bell Peppers
Sweet Onions
Tomatoes
Corn
Potatoes
Ingredients
To make homemade Caribbean jerk seasoning, you'll need a few spices in your pantry.
This is a convenient spice blend to make from scratch if you already have them on hand like I do.
But it is important to consider whether you'd save money by buying a pre-mixed jerk spice blend at the store or if it is worth making from scratch at home.
Thankfully, all the spices on the list are used fairly heavily on recipes throughout my site so you will definitely find other ways to use each of them.
White Pepper: This is not the same ingredient as black pepper and has a unique flavor that is important to the spice blend.
Dried Onion Powder
Cayenne Pepper
Allspice
Black Pepper
Thyme
Cinnamon
Garlic Salt
Crushed Red Pepper Flakes
Kosher Salt
Dried Orange Peel*
Dried Lemon Peel*
*While the spices on the list are all essential, the dried orange and dried lemon peel I would consider to be optional. If you don't have them on hand, just make a note to add some fresh orange and lemon zest to your jerk marinade or dinner recipe.
Storage Tips
Once you've measured all the ingredients and stirred them together, you'll have about ¼ cup of jerk seasoning to store.
You could store it in an airtight jar like a mason jar or spice jar.
However, since I measure my spice blend with teaspoons or tablespoons, I simply stored mine in a plastic zip top baggie which makes it easy to get my spoon in for measuring.
It's not the fanciest solution, but it is practical, budget-friendly, and space saving in my pantry.
Unless you plan to make a lot of jerk recipes, don't increase the quantity of the spice blend. You'll only want to store it for 6 months or the spices will lose their vibrancy.
¼ cup of seasoning blend will make about 6 dinners that require 2 teaspoon spices each.
How to Use Jerk Seasoning
The easiest way to use homemade jerk seasoning is to toss your protein with a little bit of olive oil to coat it and then sprinkle the spice blend over the top and cook.
This method is perfect for seasoning chicken tenderloins, roasted shrimp, or even crispy salmon in the air fryer or grilled tilapia.
But one of my favorite ways to use it is to make my air fryer jerk chicken with peppers mix for dinner one night and then use the leftovers to make jerk chicken quesadillas on another night!
📖 Recipe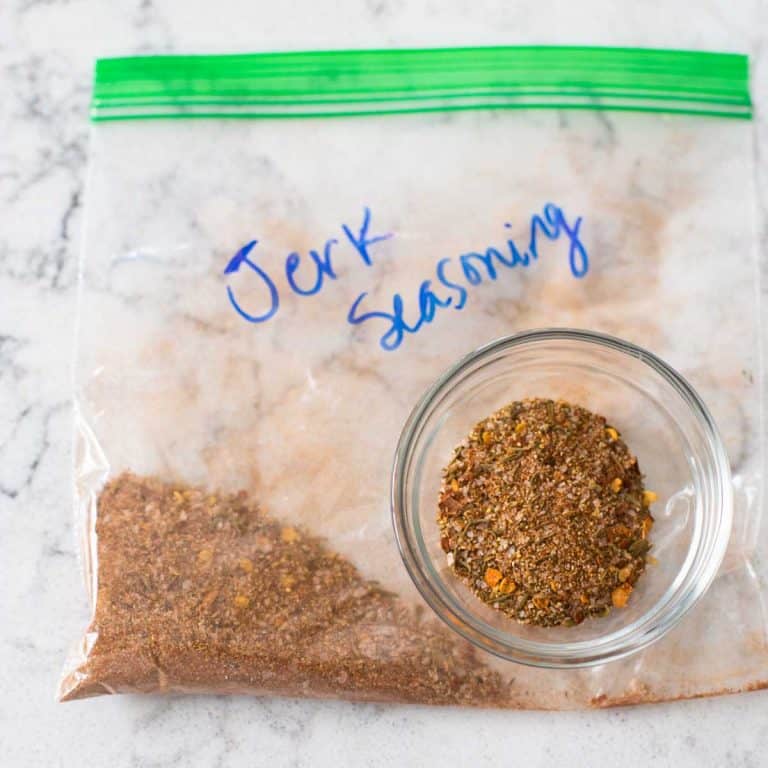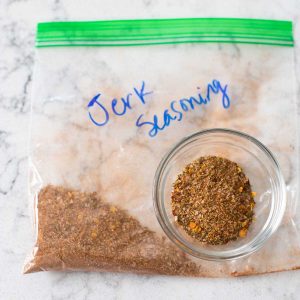 Caribbean Jerk Seasoning
This easy Caribbean Jerk seasoning blend is perfect for sprinkling over chicken, fish, shrimp, or pork for a warm spiced dinner that isn't too spicy.
Ingredients
1

teaspoon

ground white pepper

1

teaspoon

dried onion flakes

1

teaspoon

onion powder

1

teaspoon

cayenne pepper

1

teaspoon

ground allspice

1

teaspoon

black pepper

1

teaspoon

thyme

½

teaspoon

ground cinnamon

1

teaspoon

garlic salt

1

teaspoon

crushed red pepper flakes

1

teaspoon

kosher salt

Pinch

of dried orange peel

Pinch

of dried lemon peel
Instructions
Mix together in a small bowl. Keep in an airtight container for up to 6 months.
Save This Recipe to Your Recipe Box
Find this delicious recipe next time you visit by saving it to your very own recipe box on my site. All your favorites stored in one easy place!