This easy recipe for roasted pineapple and peppers is a great side dish for healthy dinners like grilled teriyaki chicken or fish.

Right about this time every year I start to get super sick of hearty casseroles, winter stews, roasted meats, and chili and start craving fresher tropical type foods. I'm sure it is a desperate attempt to take a mental vacation out of the snow and cold and into the sunshine but if ever there was a recipe that actually worked towards that goal it would be this one!
I found this recipe for roasted peppers & pineapple in an old Rachael Ray cookbook. It was part of a peanut butter noodles dish that was a huge hit with the family. The noodles part was a little too time consuming for me to try again regularly, but the roasted veggies stuck. This is a surprisingly versatile combination!
I roast a huge pan of this mix and then use it in the following:
- Served over white rice with terriyaki meatballs (premade from Costco!)
- As a side dish with multiple preparations of chicken
- Taco toppings for ground turkey browned up with traditional taco seasonings
- Over a bed of romaine with shredded rotisserie chicken for a tropical tasting salad
- And really, any recipe for peanut-y asian noodles would probably go absolutely fantastically with this.
The sweet juicy pineapple is a perfect compliment to the peppers & onions. Be sure to roast them long enough that the onions get nice and charred--the "burnt" black ones are the tastiest! Unbelievably sweet and savory all at the same time.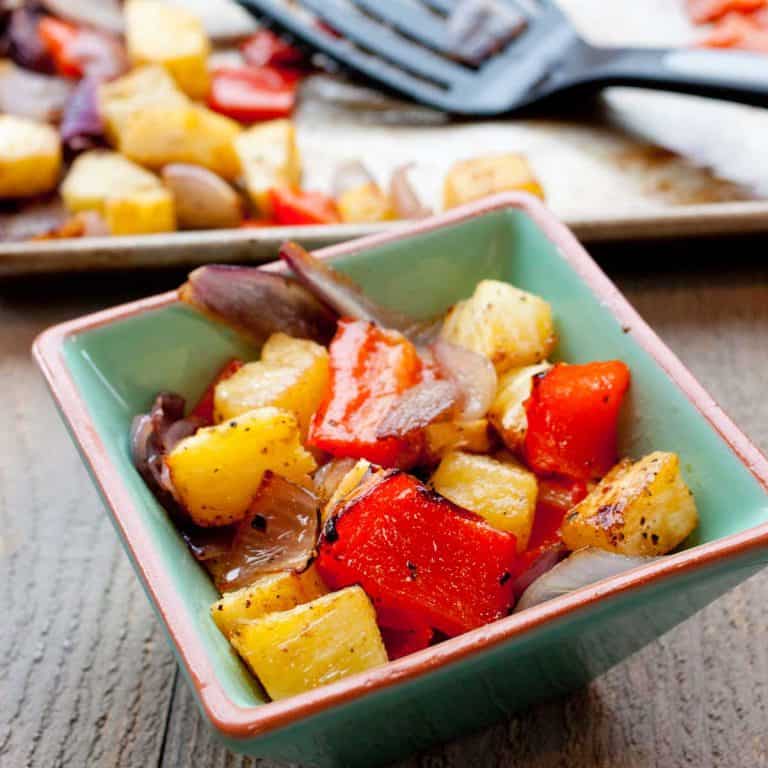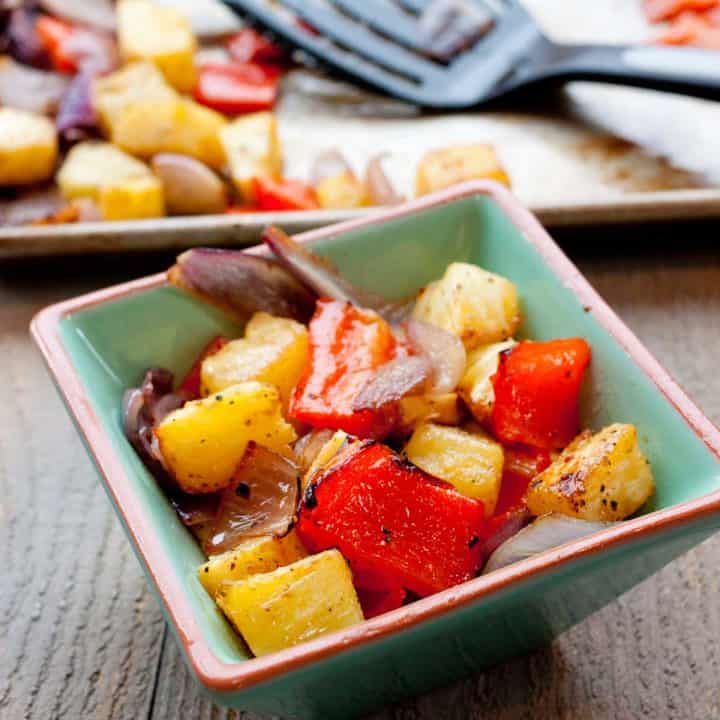 Roasted Peppers and Pineapple
This easy pan of roasted peppers with sweet roasted pineapple makes an amazing side dish for any meal.
Ingredients
2 red bell peppers, seeded and cubed
2 red onions, chopped into chunks
1 pineapple, cored and cut into chunks
2 - 3 tbsp olive oil
Salt and Pepper to taste
Instructions
Preheat the oven to 450°F.
Chop all the veggies and the pineapple into large bite-sized chunks. Toss on a rimmed baking sheet with olive oil. Sprinkle liberally with salt and fresh cracked pepper.
Roast for 40 minutes, tossing mixture with a spatula every 10 minutes to prevent burning on the bottom. Continue to roast until the mixture begins to char.
Serve warm or at room temperature.