This easy recipe for roasted pineapple and peppers is a great side dish for healthy dinners like grilled teriyaki chicken or fish.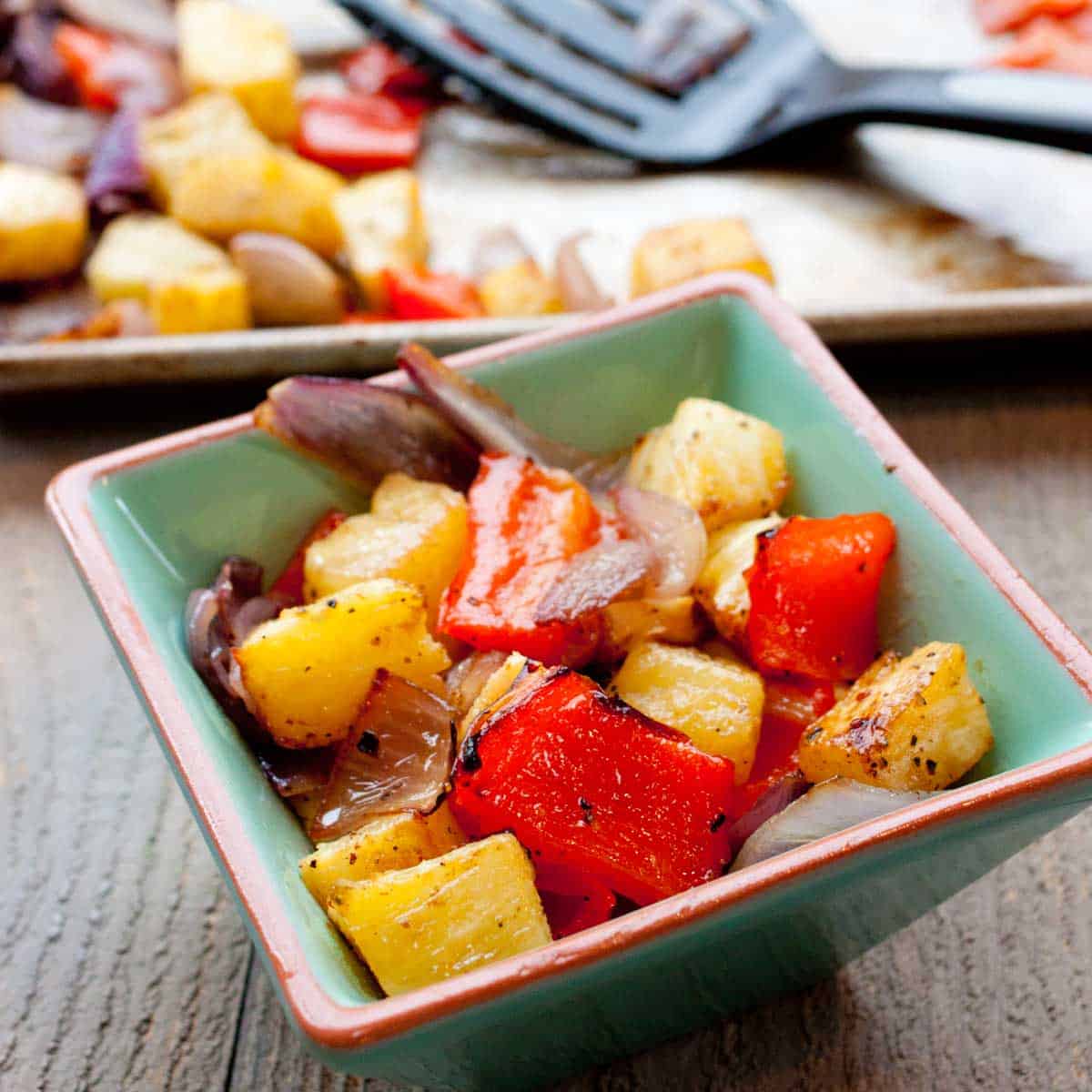 Right about this time every year I start to get super sick of hearty casseroles, winter stews, roasted meats, and chili and start craving fresher tropical type foods.
I'm sure it is a desperate attempt to take a mental vacation out of the snow and cold and into the sunshine but if ever there was a recipe that actually worked towards that goal it would be this one!
This recipe for roasted peppers & pineapple was originally part of a peanut butter noodles dish that is a huge hit with my family.
The roasted veggies were so delicious, I started to make this as a healthy side dish all by itself!
The sweet juicy pineapples pair so well with the more savory red bell peppers and it goes great with a wide variety of dinner ideas!
Jump to:
Ingredients
You barely need a recipe for this dish, once you've made it you'll be able to make it again and again. The ingredients list is so easy:
Bell Peppers: Any color will do but I love red since they are sweeter.
Fresh Pineapple: Canned pineapple will not work as well for this recipe, you definitely need fresh to hold up to the roasting.
Red Onion: I sometimes substitute a yellow onion. Green onions would be good, but don't try to roast them. Simply sprinkle them over the top at the end.
Olive Oil
Salt & Pepper
Roast the Veggies
This easy sheet pan recipe cooks all the vegetables together at once.
Simply toss the chopped peppers, onion, and pineapple in the olive oil and spread them in an even layer on a large baking sheet with room to space everything out a bit.
If the pan is overcrowded, the veggies will steam rather than char and roast.
Get your oven super hot, 450°F, so you can get that delicious char on the edges.
The sweet juicy pineapple is a perfect compliment to the peppers & onions. Unbelievably sweet and savory all at the same time.
Serving Suggestions
I roast a huge pan of this pineapple and peppers mix and then use it in the following:
Great Tip for Leftovers
If you have any roasted pineapple and peppers leftover from your first meal, you could always chop them up and stir them into this easy fresh pineapple salsa.
The roasting will give the salsa an even deeper flavor and lets you use up a small amount on grilled chicken or fish.
More Healthy Side Dishes
Looking for other easy veggie side dishes? Don't miss these healthy recipes for dinner.