You can prep this easy honey garlic chicken thighs recipe in just 5 minutes. Store the marinated chicken in the fridge overnight or bake it immediately for a deliciously simple dinner idea. When baked in the oven, the boneless skinless chicken thighs develop a delicious golden brown color and are fall-apart fork tender.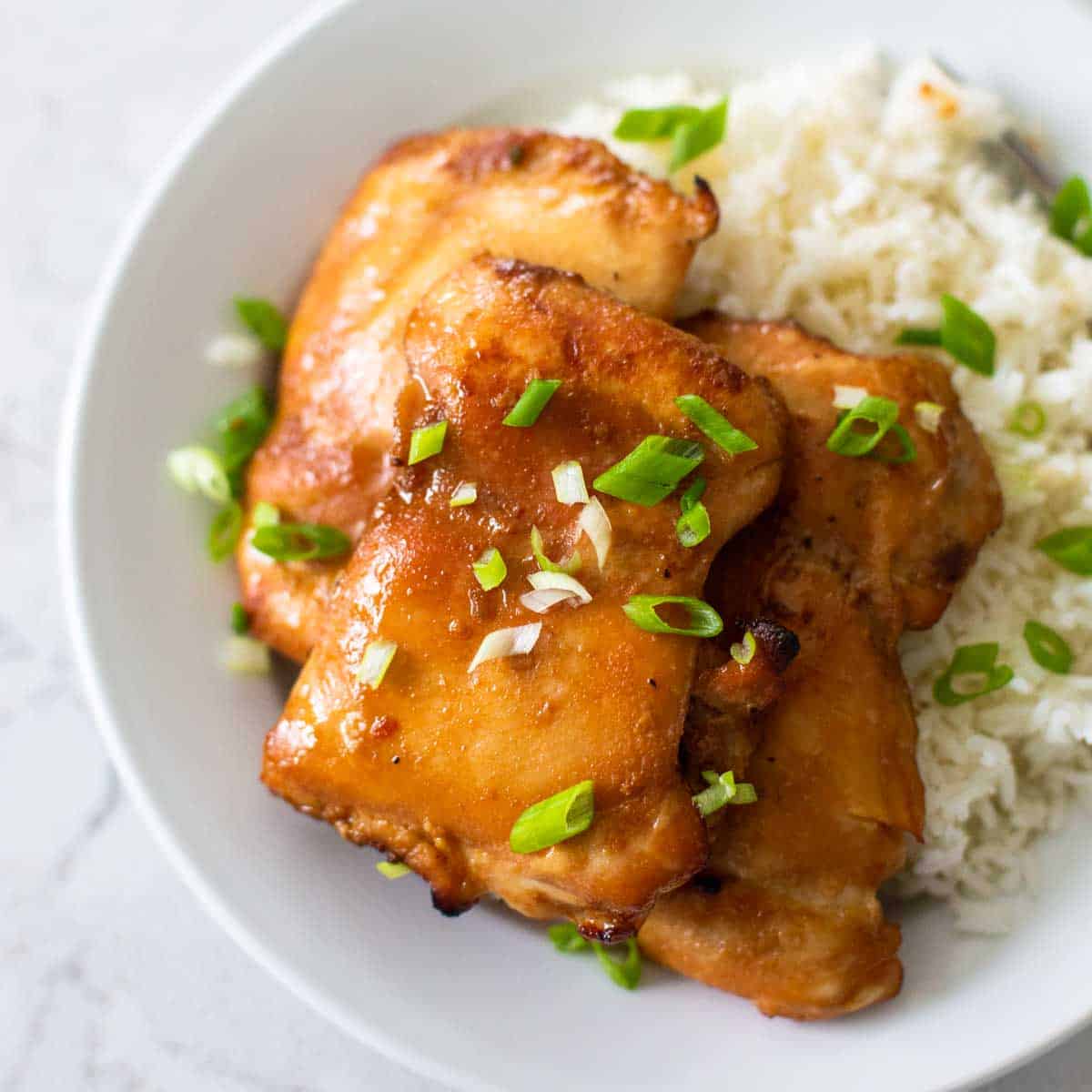 Everyone needs a Go-To 5-ingredient baked chicken recipe for super busy nights.
This honey garlic chicken thighs recipe is totally my "I'm too tired to cook" fix.
In less than 10 minutes, I can have chicken baking in the oven and a couple of cups of jasmine rice cooking in my Instant Pot and then dinner is hands-off while I help the kids with their after school stuff.
I've been making this recipe for so long but it was hiding inside this recipe for Thai peanut butter noodles. Since I actually use it for several different kinds of dinners beyond that yummy pasta dish, I thought it finally deserved it's own post.
Jump to:
Ingredients
The best part of this recipe is the short list of ingredients you probably already have in your pantry: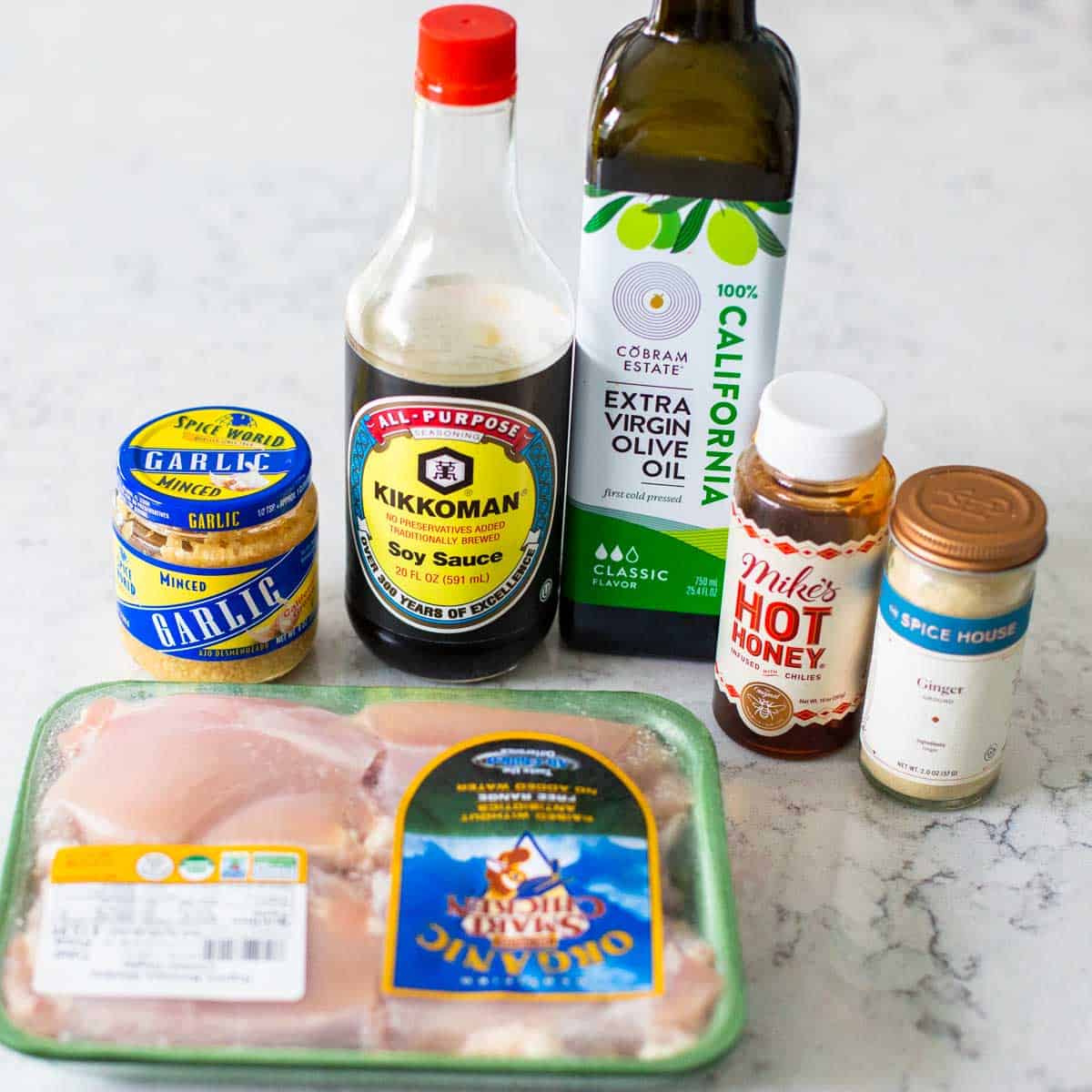 Olive oil
Soy sauce
Minced garlic
Dried ginger
Honey: I used plain honey for years, but I'm now obsessed with Mike's Hot Honey seasoned with chiles. It adds just the right amount of heat to this dish without being too spicy. Use whatever honey your family enjoys. You can read more about my favorite ways to use hot honey here.
See recipe card for quantities.
Instructions
Step 1: Marinate the chicken
You can make the marinade and add the chicken anywhere up to 24 hours before you plan to cook dinner.
OR you can even make the marinade, add the chicken, and store in the freezer for up to 6 months. Just thaw it in the fridge overnight before you plan to cook it.
If you're cooking it now, preheat the oven to 425°F before you get going.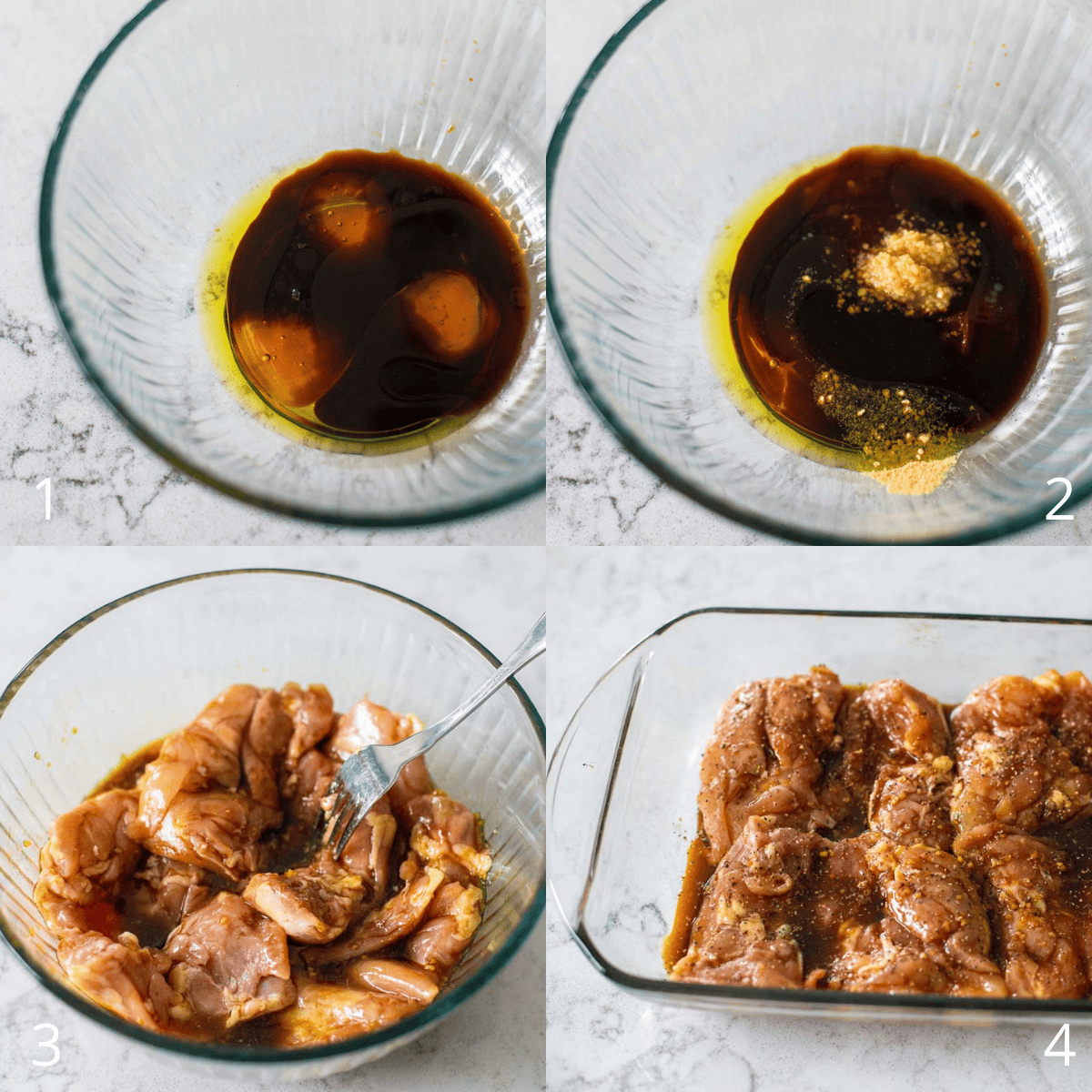 Combine the olive oil, soy sauce, and honey in a large mixing bowl. Whisk them together to combine and dissolve the honey into the sauce.
Add the minced garlic and ginger and stir.
Add the chicken thighs to the bowl and gently turn to coat.
Place the chicken thighs in a baking dish in a single layer and scrape all the marinade sauce over the chicken.
Sprinkle with a pinch of salt and pepper.
Step 2: Bake the chicken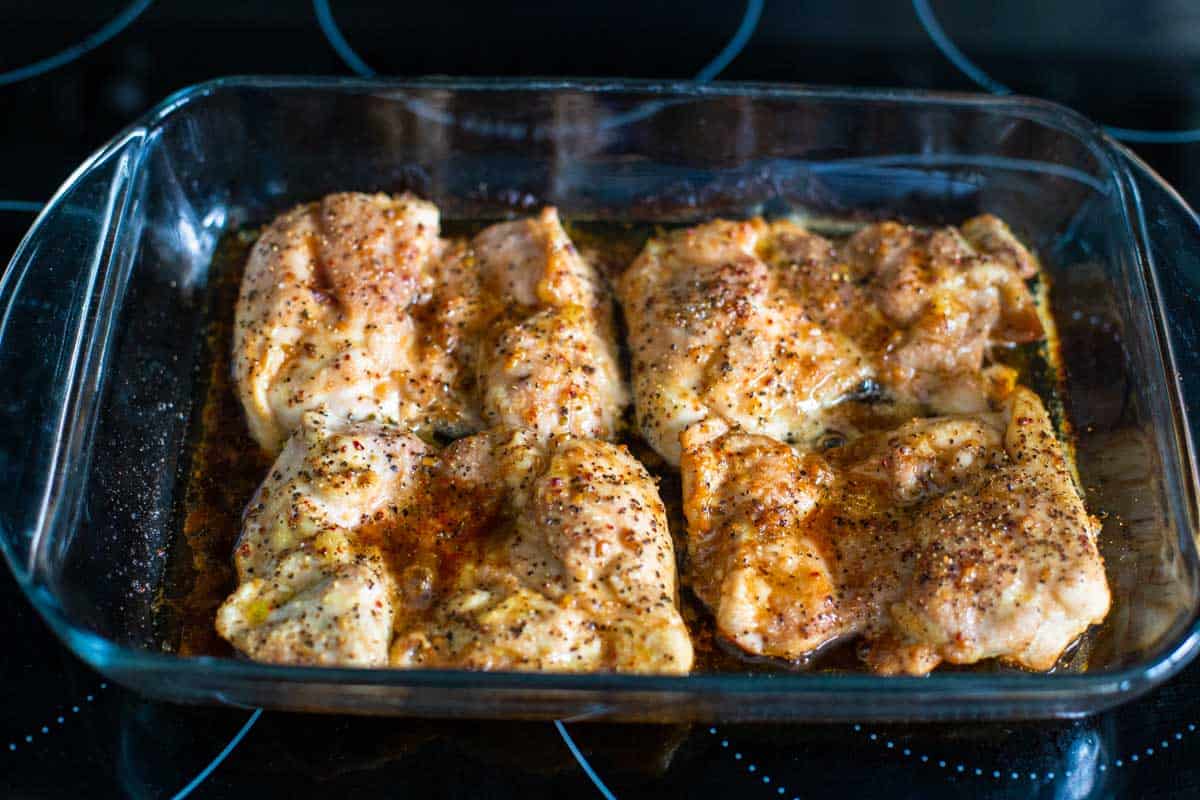 Chicken thighs require more time to cook than chicken breasts or tenderloins. To make sure they brown properly, you should turn the chicken once or twice as it cooks.
I place the chicken smooth side down for the first round of baking. This allows the bottoms to brown up before finishing the perfect golden brown top.
Turn the chicken every 15 minutes and cook until they read 185°F at the thickest part of the thigh.
The should be golden brown and slightly charred along the edges like this: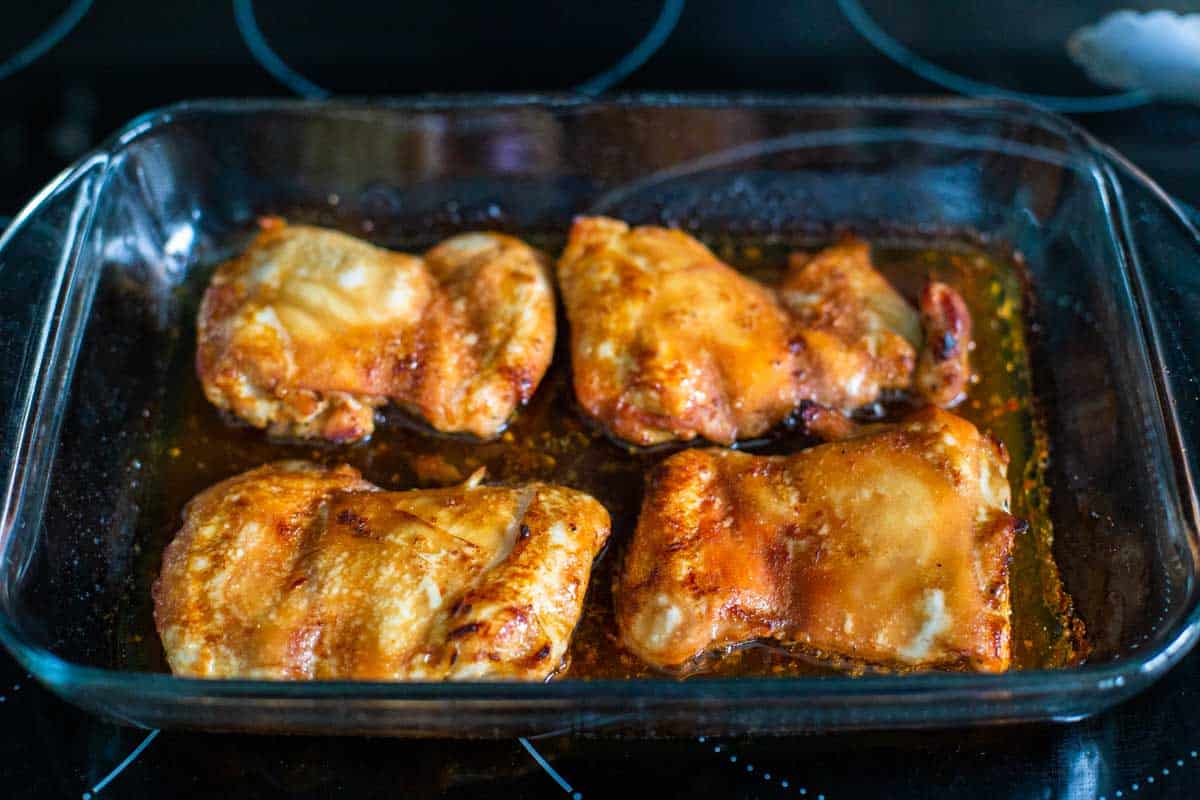 Hint: Turning the chicken allows both sides to absorb the flavors of the marinade. If your chicken is looking too dry, just turn it over and let the sauce coat it again.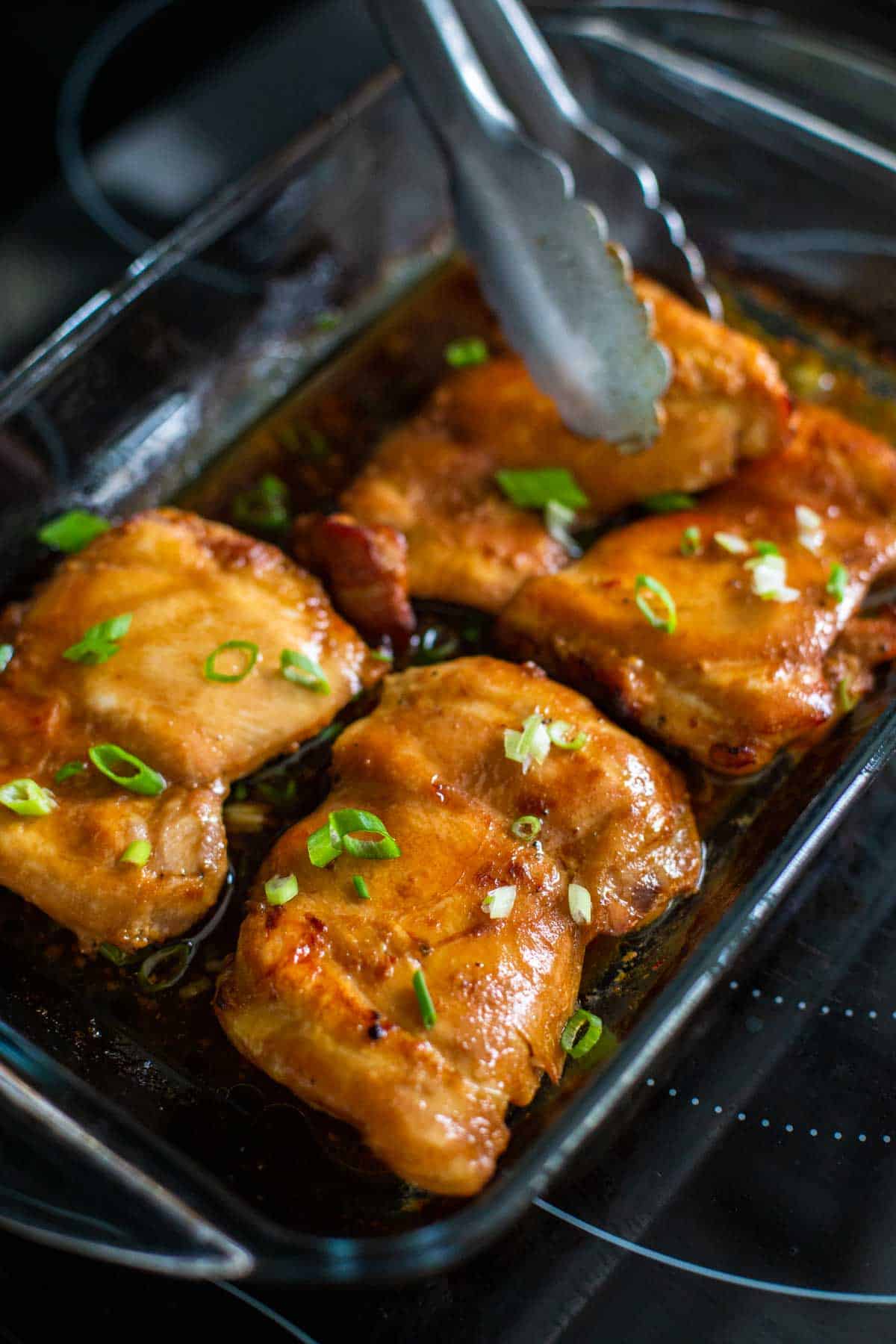 Substitutions
If you prefer to cook leaner cuts of meat, you could substitute chicken thighs for boneless skinless chicken breasts or chicken tenderloins. Definitely adjust the total baking time because they will cook much faster.
Crockpot and Instant Pot Variations
Crockpot honey garlic chicken: Cooking this recipe in a slowcooker would allow you to double (or even triple) the quantities for a larger crowd. Cut the chicken into cubes before tossing with the marinade and cook for 2 - 3 hours on HIGH.
Instant Pot honey garlic chicken: You need at least 1 cup of liquid for the Instant Pot to work, double the marinade even if you don't plan to double chicken and add enough chicken stock or water to make it a full 1 cup. Cook on HIGH pressure for 15 minutes. You can thicken the sauce with a bit of cornstarch if desired.
Serving Suggestions
This recipe makes just the right amount of chicken for topping our favorite peanut butter noodles recipe.
If you're serving it over rice, you may wish to double the recipe for a larger portion. We love to make this easy Instant Pot jasmine rice while the chicken bakes.
Honey garlic chicken would be a perfect protein swap for any of these family-favorite recipes, too:
📖 Recipe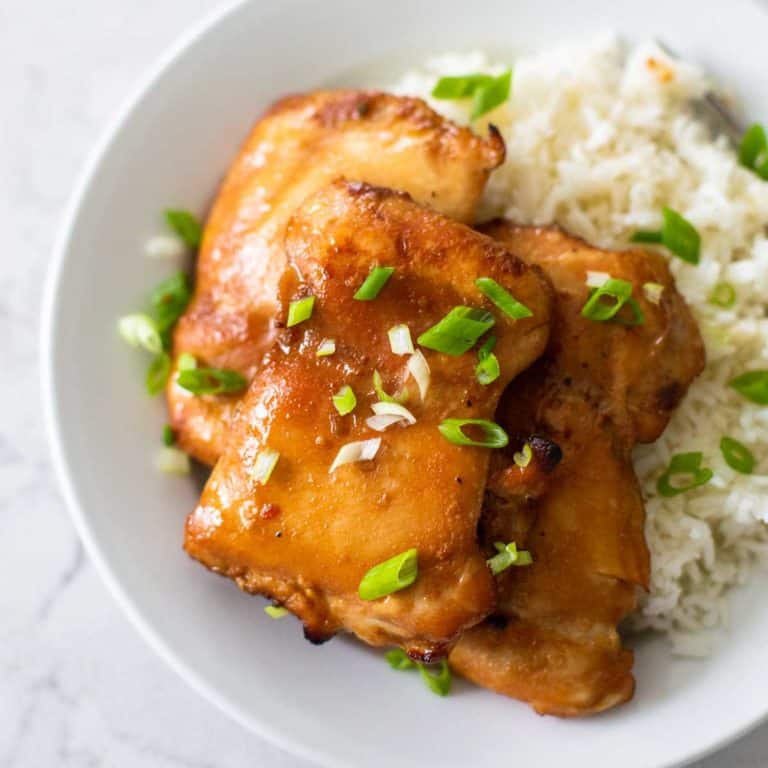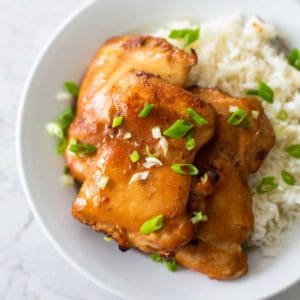 Honey Garlic Chicken Thighs
Prep this honey garlic chicken in 5 minutes for an easy oven baked dinner your family will love. Serve over rice or peanut butter noodles for a special treat.
Ingredients
1.5

lb

about 4 boneless, skinless chicken thighs

2

tablespoons

olive oil

3

tablespoons

soy sauce

3

tablespoons

honey

2

cloves

garlic

½

teaspoon

dried ginger

Sprinkle of salt & pepper
Instructions
Preheat the oven to 425°F.

Mix together the olive oil, soy sauce, honey, garlic, and ginger in a medium mixing bowl. Add the chicken thighs and toss to coat in the dressing.

Place the chicken smooth side down in an 8x11-inch baking dish. Scrape all the dressing from the mixing bowl over the chicken with a spatula. Sprinkle with salt and pepper.

Bake for 30 - 35 minutes, flipping the chicken over every 15 minutes to brown it on both sides.

The chicken should be very tender and read 185°F at the thickest part with a food thermometer.
Recipe Notes
Make Ahead Tips:
You can assemble the marinade and add the chicken up to 24 hours in advance. Store it in an airtight container in the fridge until you're ready to bake.
You can also freeze the raw, marinated chicken for later. Simply thaw in the fridge overnight before baking.
Save This Recipe to Your Recipe Box
Find this delicious recipe next time you visit by saving it to your very own recipe box on my site. All your favorites stored in one easy place!