This Chinese noodles recipe has budget-friendly ground pork and an easy spicy peanut sauce. You can have it on the table in just 20 minutes -- most of that time is just waiting for the pasta pot to come to a boil!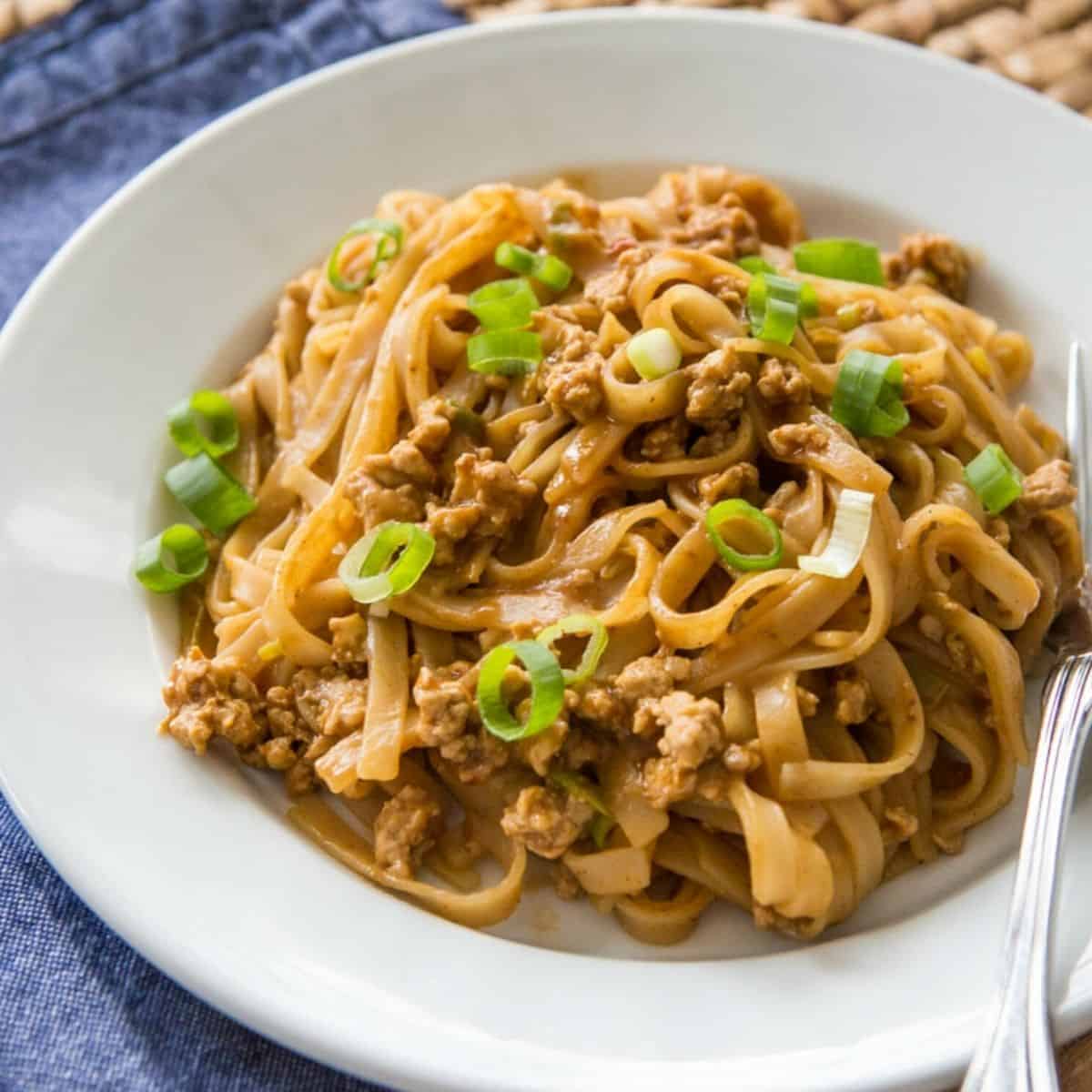 This is one of our Classic Peanut Blossom Family Recipes. I originally published this Chinese noodles recipe in late 2013. Little did I know then how often I would end up making it over the coming years!
Because it is such a huge fit with our entire family, it deserved some updated photos and slightly revised instructions. I hope you'll give it a try for your family soon and that they love it as much as we do!
I get recipe inspiration from truly unique places sometimes. This recipe came to me from our school bus stop! A neighbor friend (Hi, Barb!) swore to me that this Chinese noodles recipe is so popular with her 3 boys she has to double batch it every time she makes it! With a glowing review like that combined with a simple list of ingredients, this absolutely sounded so awesome I had to give it a try.
I was a little nervous at first because the Peanut insists she doesn't like peanut butter or peanut flavored things. Ha on me with the nickname I suppose. There's only 2 tablespoon of peanut butter in this whole dish but it definitely is a present flavor. I decided to sneak it into the sauce when she wasn't looking. I piled her bowl high with pork--she's my carnivore--and pulled out the big guns. . . "You know, Mrs. P says that this is her family's very favorite dinner. Her boys love it so much she makes it all the time!"
Score one for peer pressure! She took one bite, paused, and gave me a wide-eyed two thumbs up. She even asked for seconds. I asked if she liked it enough for me to make again and got a hearty "Yes!"
Little Pea, my peanut butter addict? Took one look and ran screaming. I know she'll come around eventually. Handyman Tim wasn't around for this but I know he's going to love it. So thank you so very much for introducing us to another winner, Barb!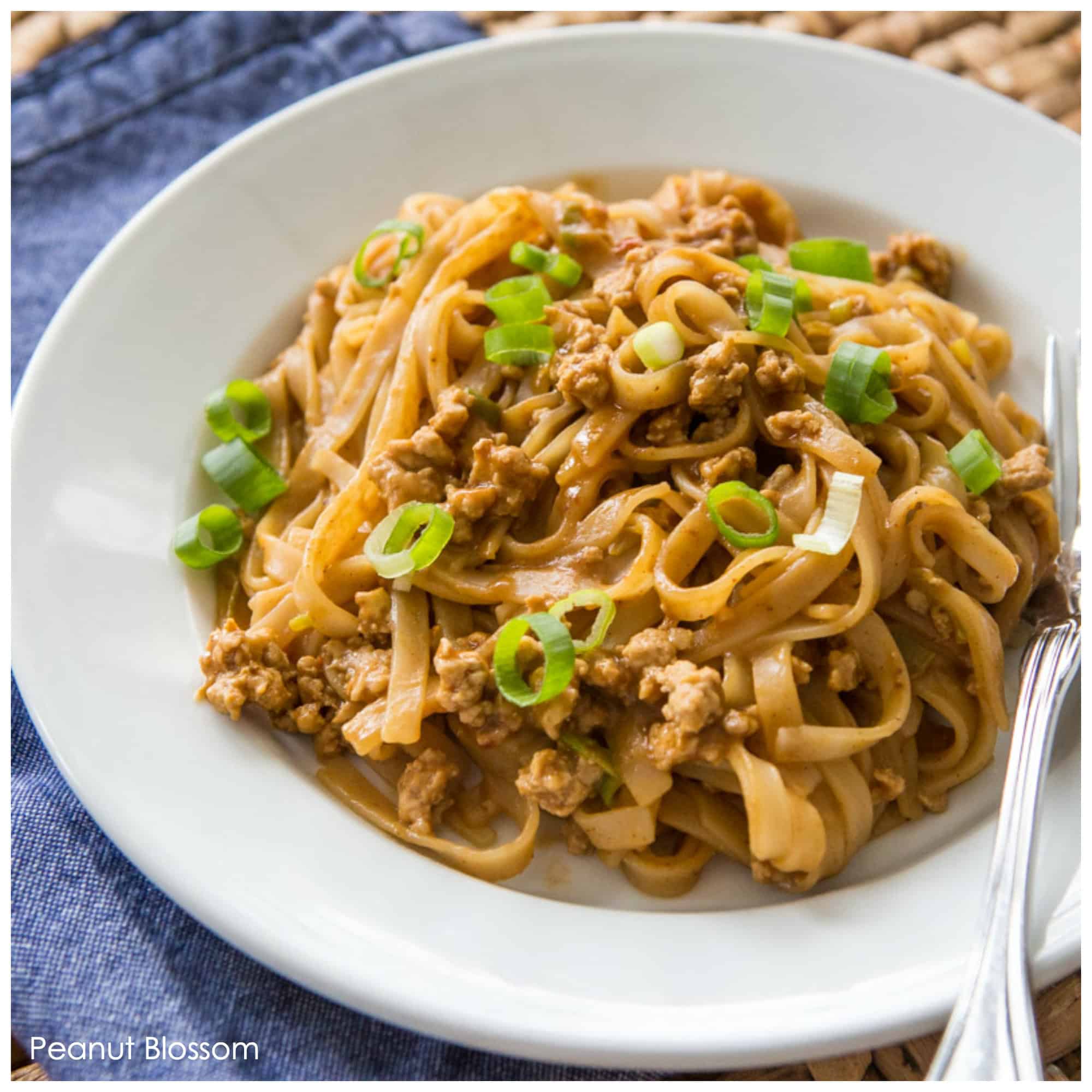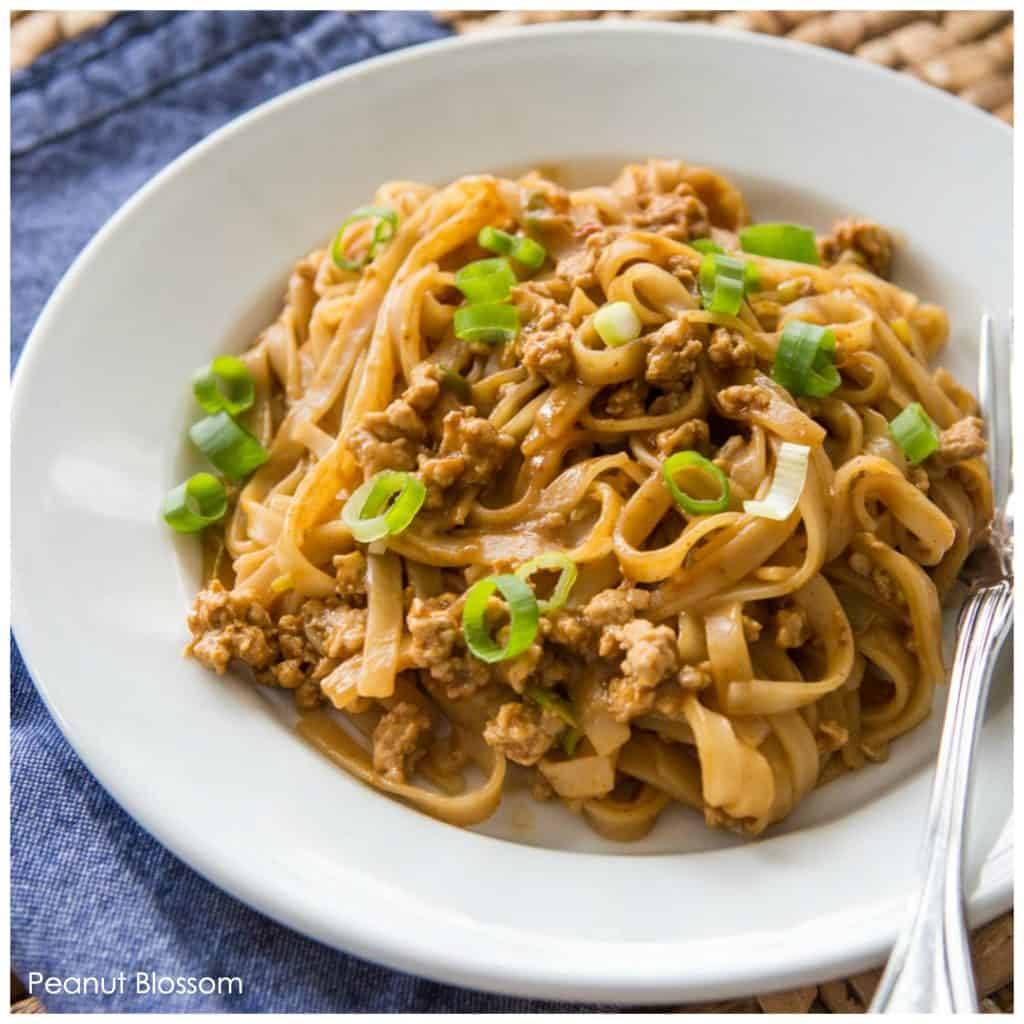 Our favorite Chinese noodles recipe with pork & spicy peanut sauce
This quick and easy dinner recipe is just perfect for the nights you're craving take-out but need to make dinner at home. I labeled this a "20-minute Meal" because a large pot of water can take a while to come to a boil. But to be honest, it is much closer to a 10-minute or 15-minute recipe because the pork and sauce take so little effort and come together super quickly. You'll spend most of that time waiting on the water to boil and the pasta to cook.
This Chinese noodles recipe is one of Tim's all-time favorites and has become a standard part of our routine. He requests it nearly weekly. It is so budget-friendly and easy, I can hardly say no! I keep everything ready to go in my pantry, we usually only need to pick up ground pork and fresh green onions at the store when we feel like making it.
Looking for more quick dinner ideas?
We love easy meals for busy nights. Don't miss some of our favorite quick dinner recipes: