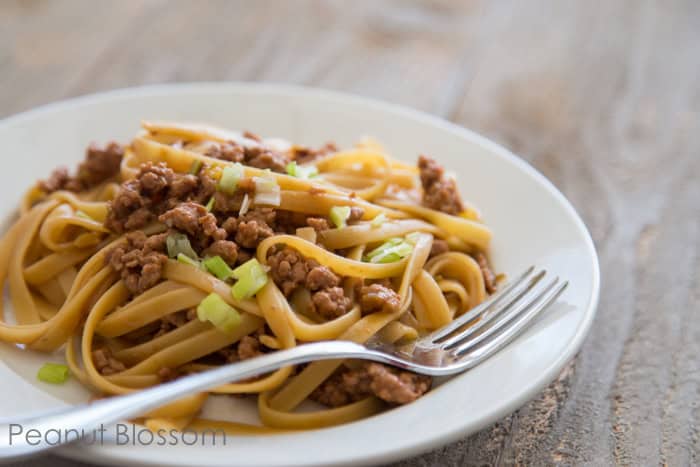 I get recipe inspiration from truly unique places sometimes. This recipe came to me from our school bus stop! A neighbor friend (Hi, Barb!) who swore this dish is so popular with her 3 boys that she has to double batch it every time she makes it. The ingredients sounded so awesome, I had to give it a try.
I was a little nervous at first because the Peanut insists she doesn't like peanut butter or peanut flavored things. Ha on me with the nickname I suppose. There's only 2 tbsp of peanut butter in this whole dish but it definitely is a present flavor. I decided to sneak it into the sauce when she wasn't looking. I piled her bowl high with pork–she's my carnivore–and pulled out the big guns. . . "You know, Mrs. P says that this is her family's very favorite dinner. Her boys love it so much she makes it all the time!"
Score one for peer pressure! She took one bite, paused, and gave me a wide-eyed two thumbs up. She even asked for seconds. I asked if she liked it enough for me to make again and got a hearty "Yes!"
Little Pea, my peanut butter addict? Took one look and ran screaming. I know she'll come around eventually. Handyman Tim wasn't around for this but I know he's going to love it. So thank you so very much for introducing us to another winner, Barb!

_______________________________________________________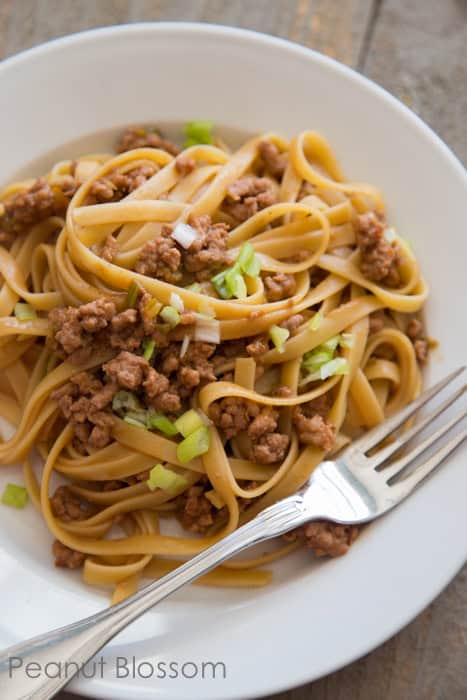 Chinese Noodles with pork & spicy peanut sauce
Adapted from Williams-Sonama Pasta, Noodles & Dumplings
Ingredients:
1 cup low-sodium chicken broth
1/4 cup hoisin sauce
1/4 soy sauce
1 tbsp canola oil
1 lb ground pork
Heavy sprinkle of red pepper flakes
3/4 cup minced green onions, both white & green parts
1 tbsp minced garlic
1/2 tsp ginger powder
2 tbsp creamy peanut butter
1 lb linguine shaped pasta
Method:
Assemble the sauce: combine broth, hoisin sauce, and soy sauce together in a mixing cup.
Heat 1 tbsp canola oil in a large sauté pan over medium heat. Brown the pork until no longer pink, breaking it up with the back of a spoon as you go. Add the red pepper flakes, half of the green onions, garlic, and ginger. Stir to combine. Heat until fragrant.
Pour in the pre-mixed sauce and add the two tablespoons of peanut butter. Stir to combine. Heat until sauce bubbles and thickens and then reduce heat to low and keep warm.
Boil the pasta according to package directions. Drain the noodles and then add them to the sauce pan. Toss together with a pair of tongs so that the noodles are all coated with sauce.
Garnish with remaining green onions and serve.
Serving Note: We had lots left over and I find that peanut butter sauces tend to go dry in the fridge overnight. I always store the remaining food with just a splash of chicken broth or soy sauce (or both!) so that when reheated the liquid helps rejuvenate the moisture of the noodles. Just heat and re-toss!