This spicy peanut butter noodles recipe is made with budget-friendly ground pork and an easy spicy peanut sauce. You can have it on the table in just 20 minutes -- most of that time is just waiting for the pasta pot to come to a boil!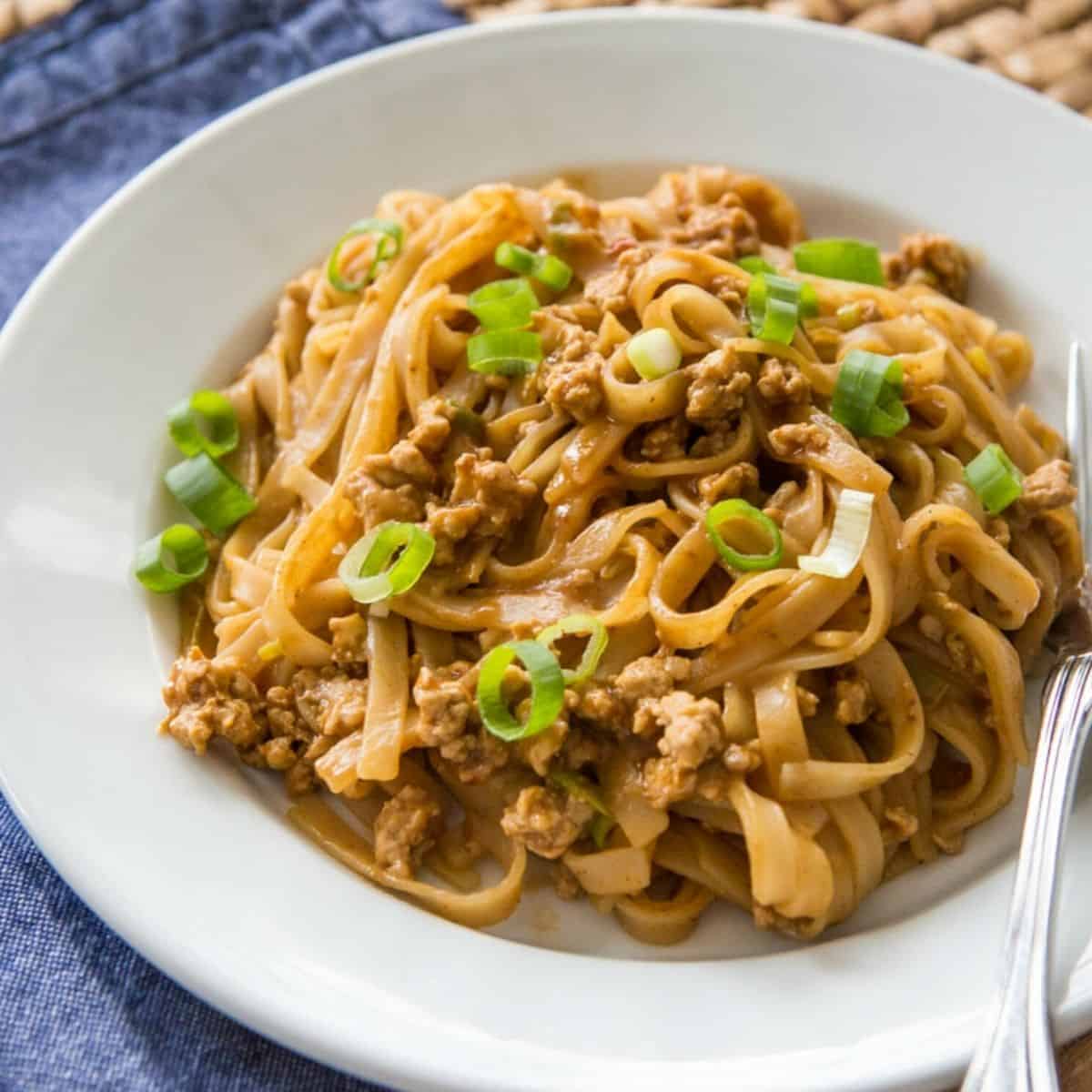 Ask my husband what he wants for dinner, chances are likely this spicy peanut butter noodles with ground pork will be the first thing he says.
It is one of his all-time favorite dinners and I never mind because it takes just 20 minutes or less and is SO easy, even on busy weeknights.
With grocery prices soaring, I also love that this recipe includes a budget-friendly ground pork to help us save money on our grocery bill.
I keep all the ingredients on hand in my pantry, the only fresh items I need to add to my shopping trip is the pork and a bunch of fresh green onions. That makes the whole dish so very affordable in a pinch!
Jump to:
Why This is the Best Recipe
This dinner recipe has been an essential part of our rotation for over a decade.
I make it so frequently because it is:
Budget-Friendly: With about $5 of fresh ingredients, it is so easy to add into my meal plan even on tight weeks.
Quick Dinner Recipe: I can make the entire dish in under 20 minutes and most of that time is just waiting for the pasta pot to come to a boil. It really only takes 10 minutes of hands-on time so I can be helping with homework on the side.
Better than Take-Out: The spicy peanut sauce is so rich and filled with flavor. You could use rice noodles for a more authentic texture, but we love using regular linguine or fettuccini pasta for a heartier dish.
Flexible: We love the flavor of the ground pork, but you could easily substitute ground turkey, ground chicken, or ground beef if you prefer. Buy what's on sale or choose a lighter protein.
Easy to Adjust the Spice Level: I make this recipe fairly spicy for my family because they love it but if you prefer a milder flavor, just reduce the amount of crushed red pepper flakes you add!
Almost a One Pot Meal: The spicy peanut sauce gets prepared in a large skillet, the pasta gets boiled in a pot. Toss it all together and you're done!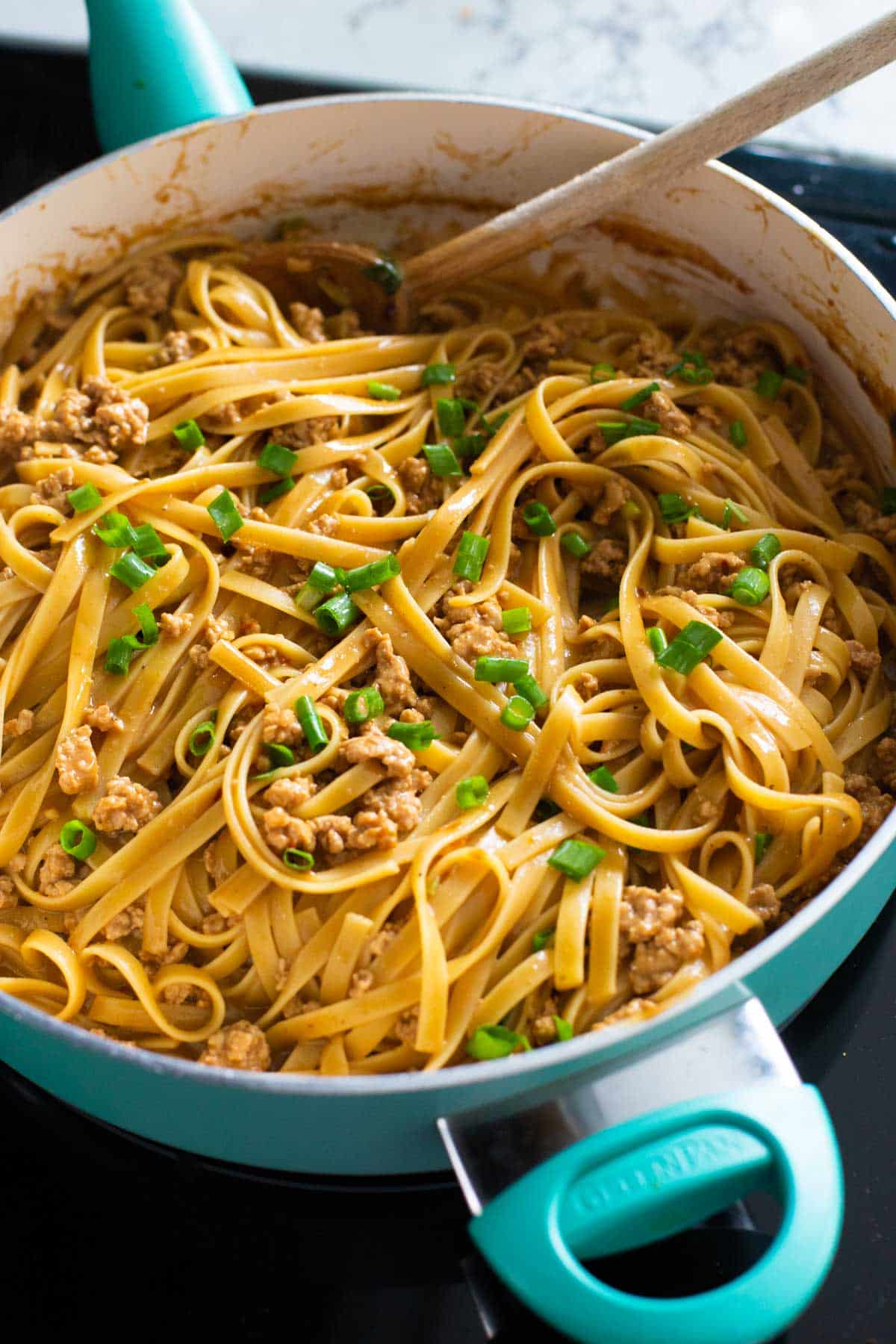 Ingredients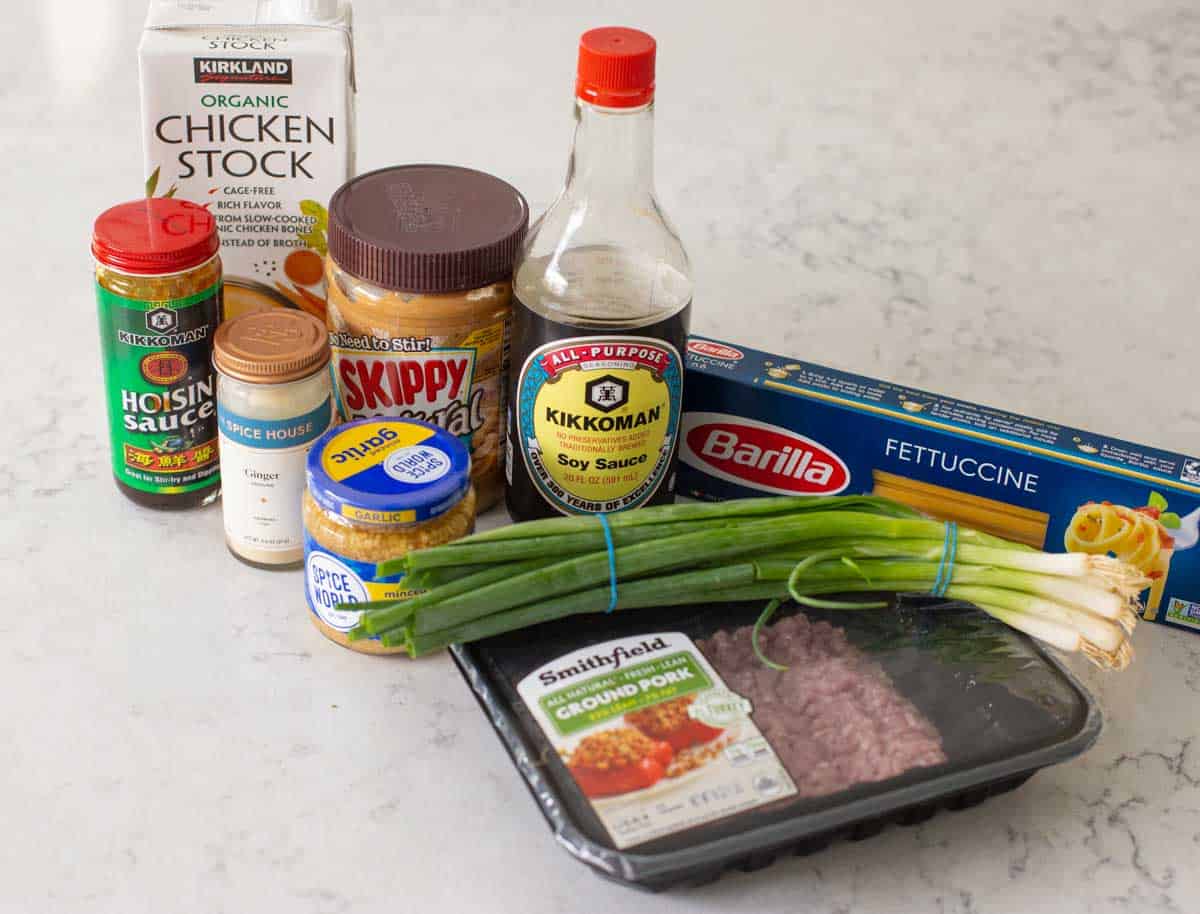 Pantry Ingredients to Keep on Hand:
If you keep these ingredients ready to go in your pantry, you'll have everything you need to make it with very little notice:
Long Pasta: You could use fettuccine, linguine, thicker spaghetti, or rice noodles for this dish. I stock up with whatever is on sale.
Soy Sauce
Peanut Butter: I always use creamy style, but crunchy peanut butter would work great, too. The added peanuts would give a wonderful texture to the sauce.
Hoisin Sauce: There's always a jar of this in my fridge.
Boxed Chicken Stock
Minced Garlic
Dried Ginger
Crushed Red Pepper Flakes
Fresh Ingredients to Add:
Then when you're ready to add it to the menu, you just need to buy:
Ground Pork: You can substitute any ground meat you prefer.
Green Onions: You could substitute a regular onion if you prefer, but I love the sprinkle of fresh green onions over the top.
Make the Peanut Butter Sauce
The first thing to do is put a large pot of water over HIGH heat to boil so you can cook your pasta.
Waiting for the water to boil takes the longest out of everything else on this list!
Meanwhile, prep the peanut butter sauce: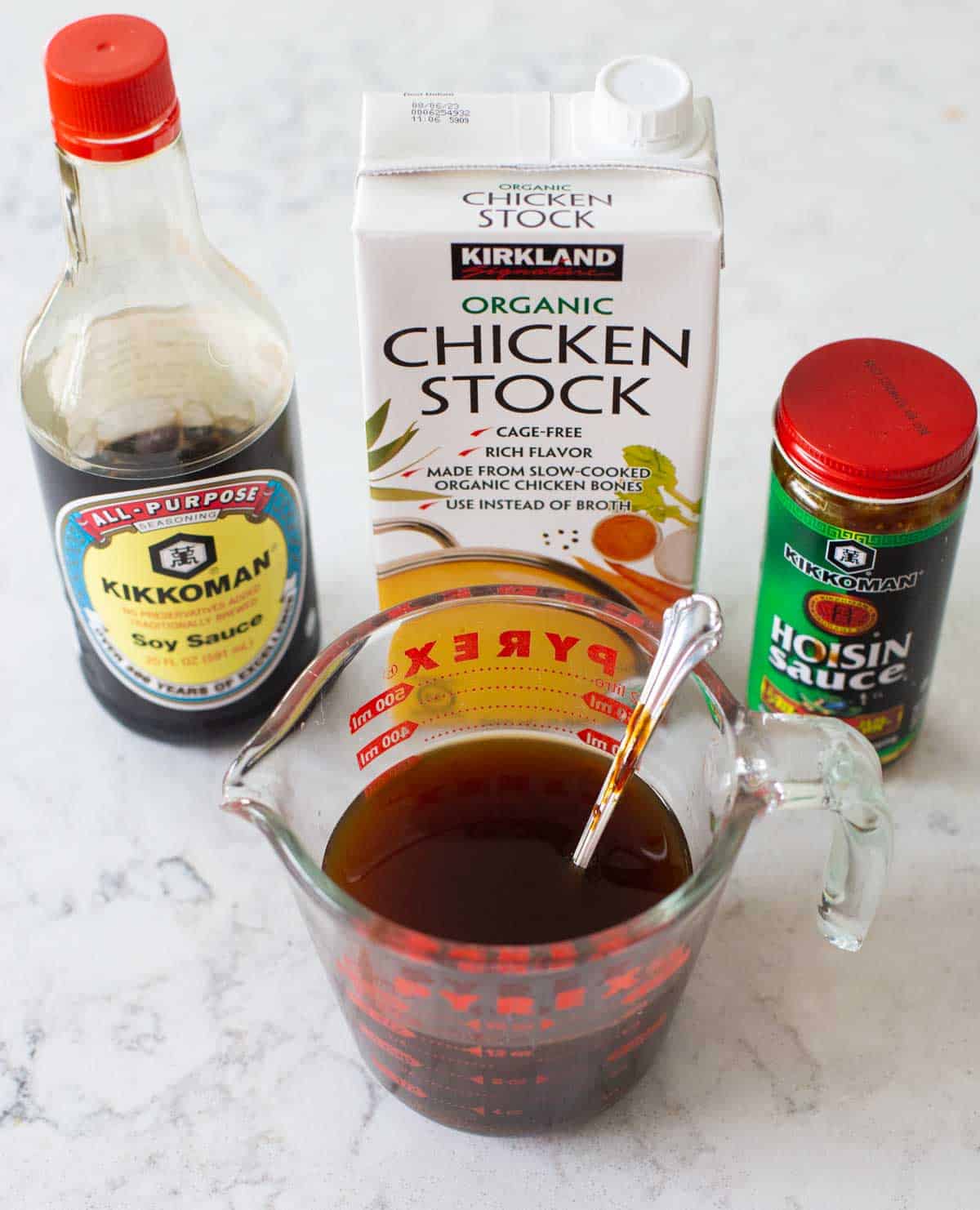 To keep the sauce extra easy, I always pre-measure the liquids so I can just pour them in when the pork is ready.
Mix together the chicken stock, soy sauce, and hoisin sauce in a measuring cup and set it near the stove.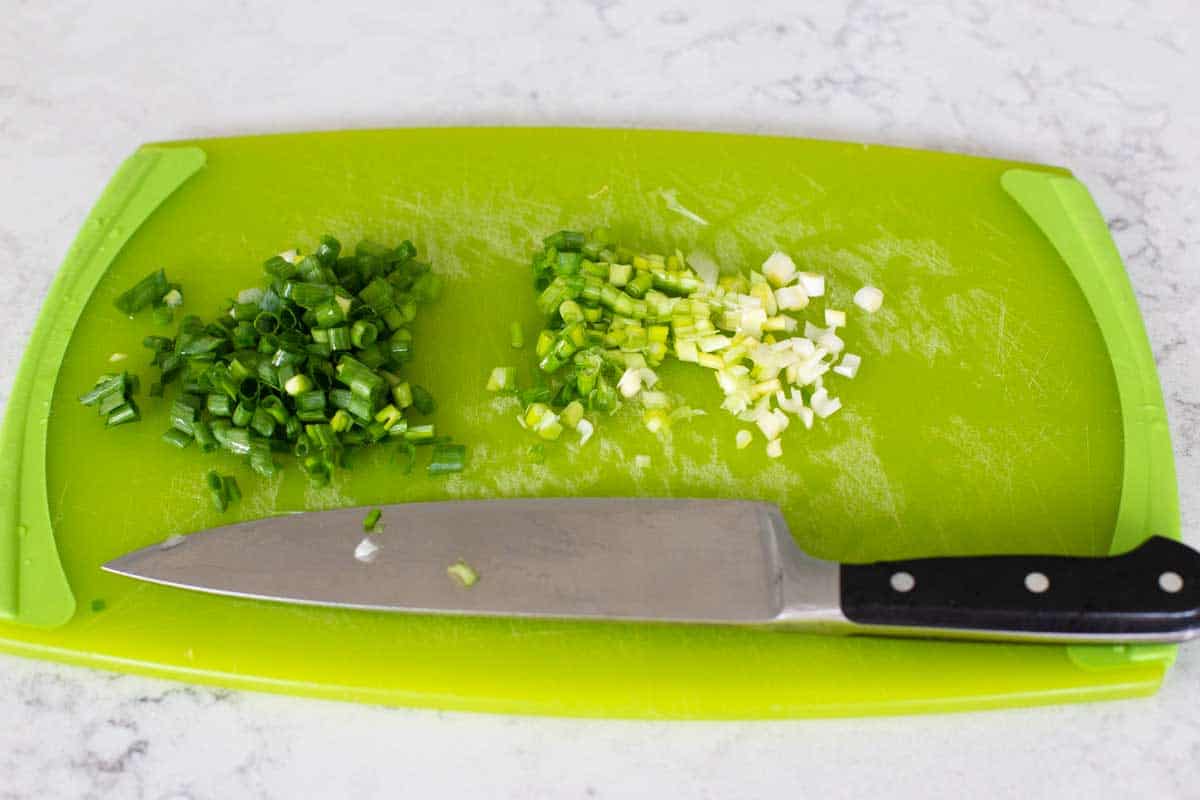 Chop the green onions.
You'll want to add the white ends and just a bit of the greens to the pan with the pork to cook, but reserve the green tops for sprinkling fresh over the final dish at the end.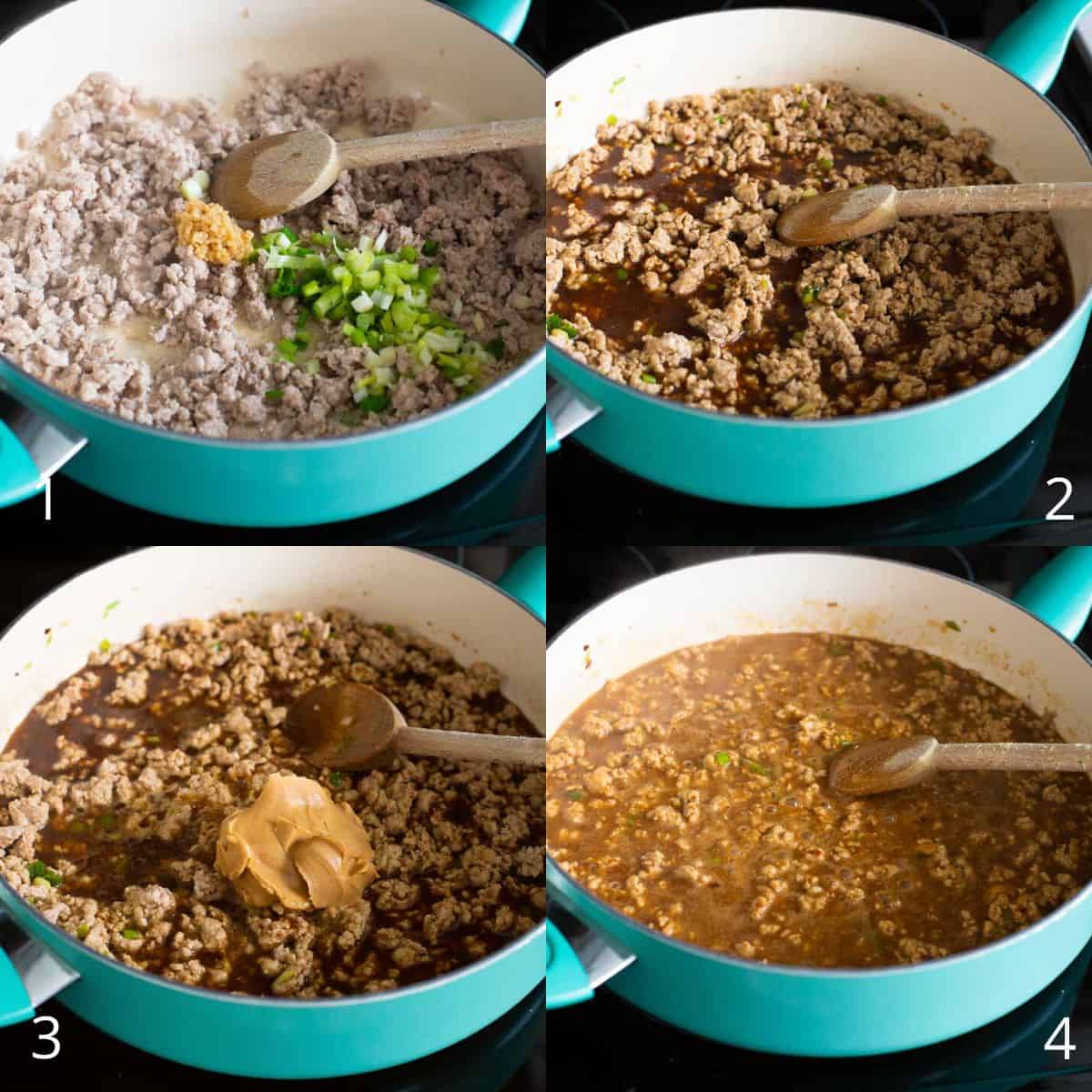 Brown the ground pork in a large skillet over medium-high heat. Crumble it as it cooks until it is no longer pink.
Add the whites and a bit of the greens from the green onions, the minced garlic, crushed red pepper flakes, and dried ginger to the skillet and stir it together. Cook for 1 minute or until fragrant.
Pour in the prepared cup of liquids and stir everything together.
Scoop the peanut butter into the skillet and stir it gently until it melts into the sauce.
Reduce the heat to low and let the peanut sauce bubble until the pasta is finished cooking.
Toss with Pasta
Drain the pasta and add it directly to the skillet for tossing in the peanut butter sauce.
Let the pasta sit for a minute or two, it will absorb the sauce and everything will thicken wonderfully.
If it gets too thick, you can add a tablespoon of chicken stock to loosen it up.
Sprinkle with the reserved fresh green onions and serve immediately.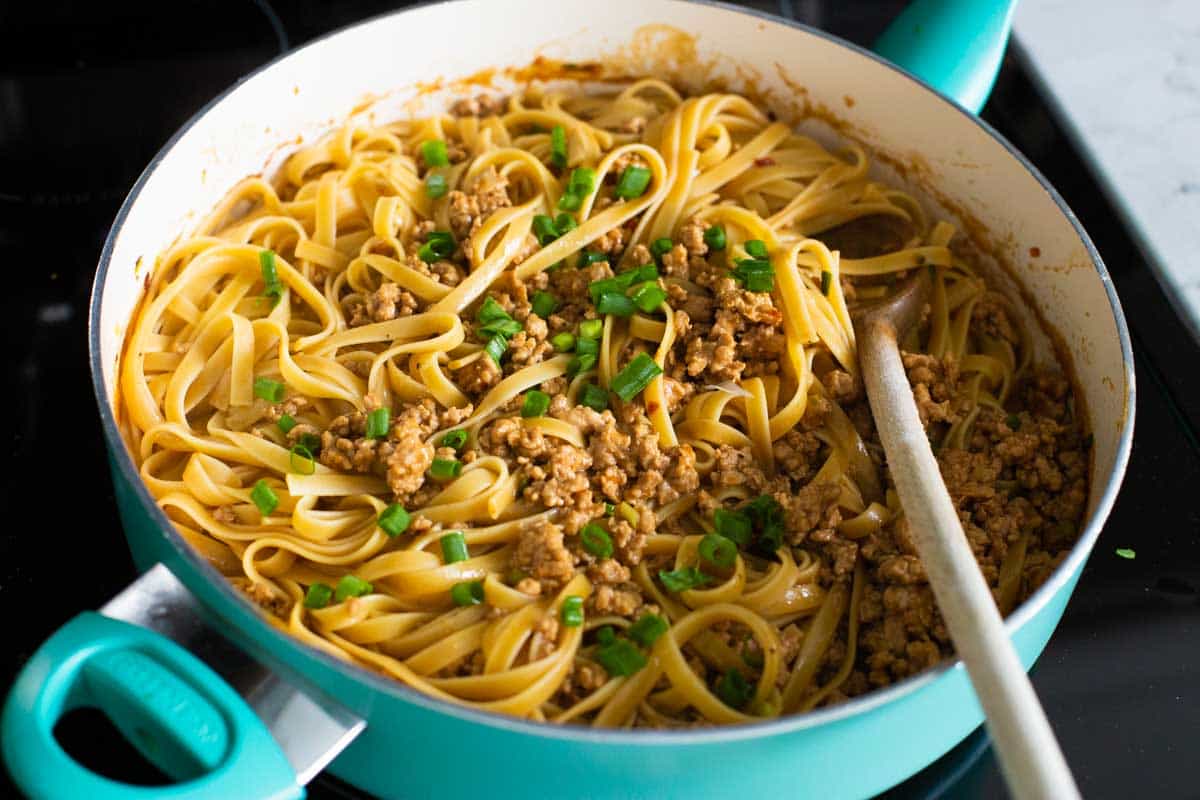 Serving Suggestions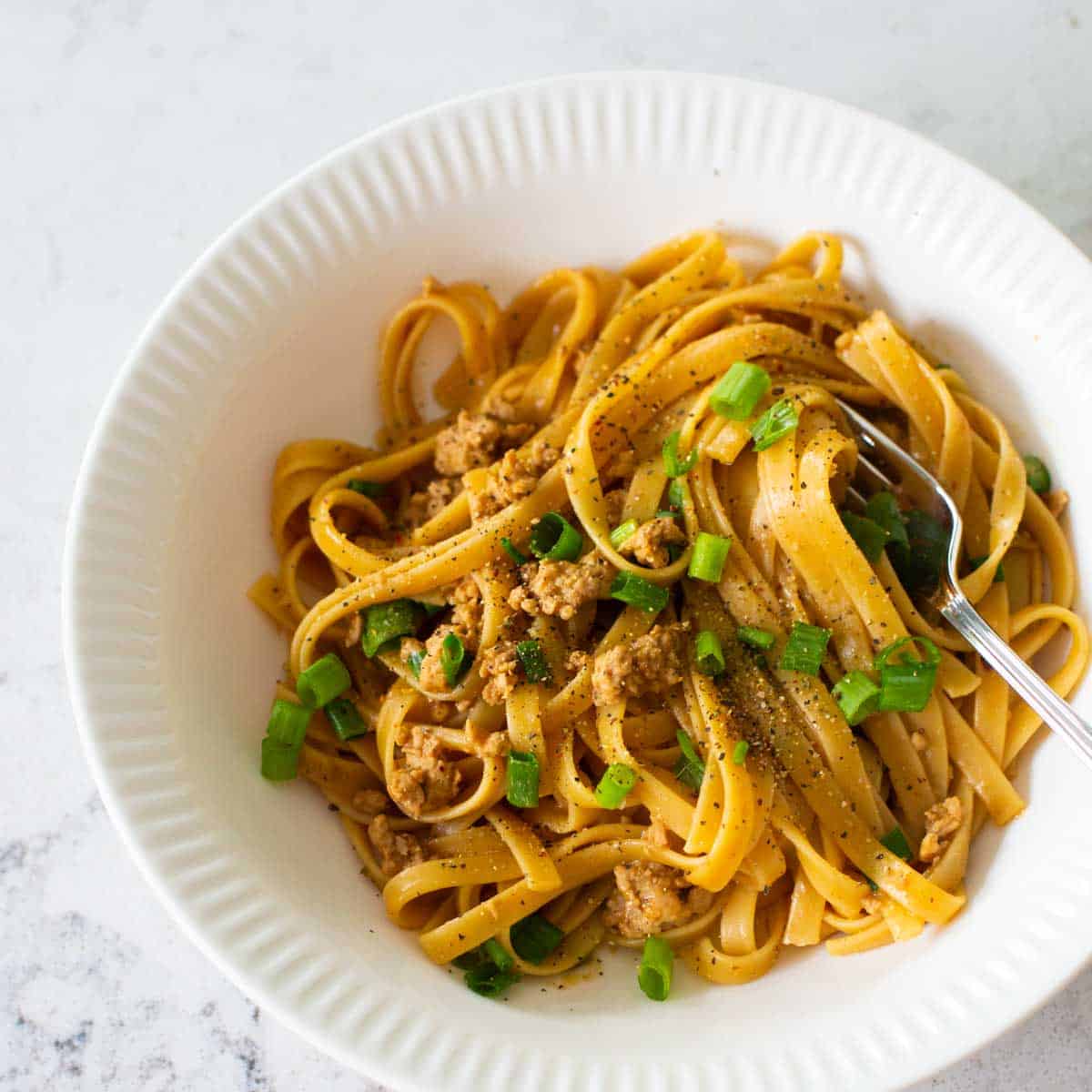 On our busiest nights, I serve this dish as-is but if you'd like to add more vegetables, it would pair perfectly with my roasted green beans or roasted peppers and pineapple as a side dish.
Veggie Variations
If you really want to add more veggies to the recipe, you could also consider:
Broccoli: Crispy roasted broccoli florets would be delicious, but a steamed bag of frozen broccoli could be stirred into the sauce, too.
Peas: If you want to add frozen peas, simply add them to the colander where you plan to strain the pasta. The heat from the boiling water will cook them perfectly as you pour the pasta into the colander and the peas can then be added to the skillet with the noodles.
Yellow Onions: You can skip the green onions and chop up a yellow onion instead. Add that to the skillet with the ground pork and cook until softened.
And if you love this recipe, be sure to check out the Asian peanut butter pasta with honey garlic chicken, too.
Make Ahead Tips
We think this easy recipe is best served immediately when you've made it.
However, you could store leftovers in the fridge for up to 3 days.
You will discover that the noodles absorb most of the liquid and may become dry as it sits in the fridge, simply add a tablespoon or two of chicken stock or even soy sauce before you reheat the dish in the microwave.
More Quick Dinners
We love easy meals for busy nights. Here are a few more of our family favorites:
📖 Recipe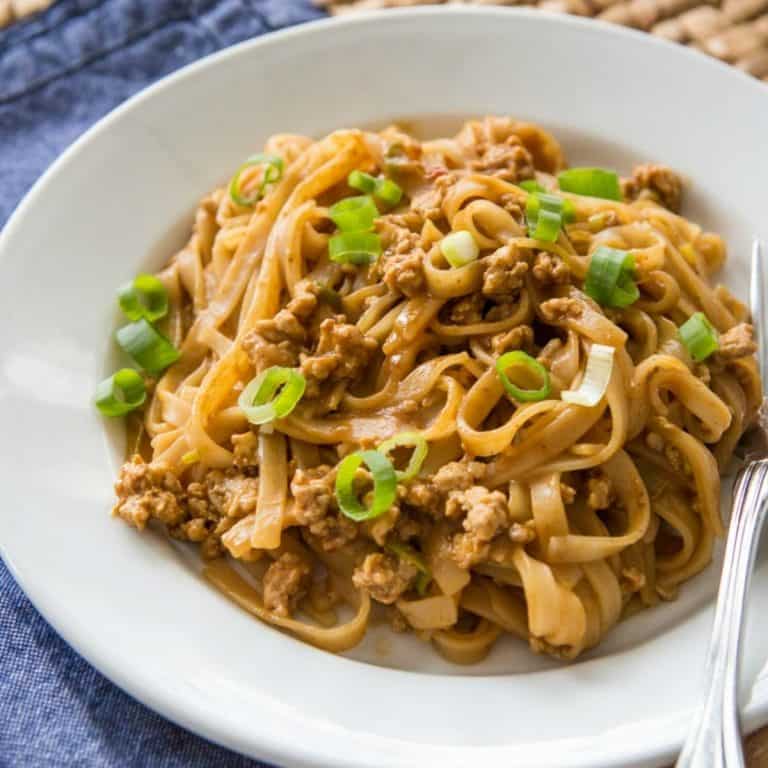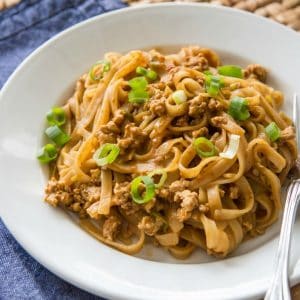 Spicy Peanut Butter Noodles with Pork
This super easy 20-min meal is perfect for a busy weeknight. The creamy  Chinese pork with spicy peanut butter noodles is delicious with rice noodles or regular pasta. Whatever you have on hand!
Ingredients
1

cup

low-sodium chicken broth

¼

cup

hoisin sauce

¼

soy sauce

1

tablespoon

canola oil

1

lb

ground pork

Heavy sprinkle of red pepper flakes

¾

cup

minced green onions

both white & green parts (about 3-4 onion stalks)

1

tablespoon

minced garlic

½

teaspoon

ground ginger

2

tablespoon

creamy peanut butter

1

(14 oz) package of rice noodles

or 1 (16oz) package of linguine pasta
Instructions
Set a large pot of water to boil for the pasta. Cook the noodles according to the package directions and drain. While you're waiting for the water to boil, start assembling the pork and sauce.

Assemble the sauce: Use a fork to whisk together the chicken broth, hoisin sauce, and soy sauce together in a glass measuring cup. Set near the stovetop.

Brown the pork: Heat 1 tablespoon canola oil in a large sauté pan over medium heat. Brown the pork until no longer pink, breaking it up with the back of a spoon as you go. Add the red pepper flakes, half of the green onions, garlic, and ginger. Stir to combine. Heat until fragrant.

Pour in the pre-whisked sauce and add the two tablespoons of peanut butter. Stir to combine. Heat until sauce bubbles and thickens and then reduce heat to low and keep warm while the pasta finishes cooking.

Add the drained noodles to the sauté pan and toss together with a pair of tongs so that they  are all coated with sauce.

Garnish with remaining green onions and serve.
Recipe Notes
Serving Note: Any leftovers tend to get dry in the fridge overnight. I always store the remaining food with just a splash of chicken broth or soy sauce (or both!) so that when reheated the liquid helps rejuvenate the moisture of the noodles. Just heat and re-toss!
Save This Recipe to Your Recipe Box
Find this delicious recipe next time you visit by saving it to your very own recipe box on my site. All your favorites stored in one easy place!