Asian chicken pasta salad has a zippy Asian chicken marinade, orzo pasta, and lots of fresh vegetables: baby spinach, carrots, celery, and more!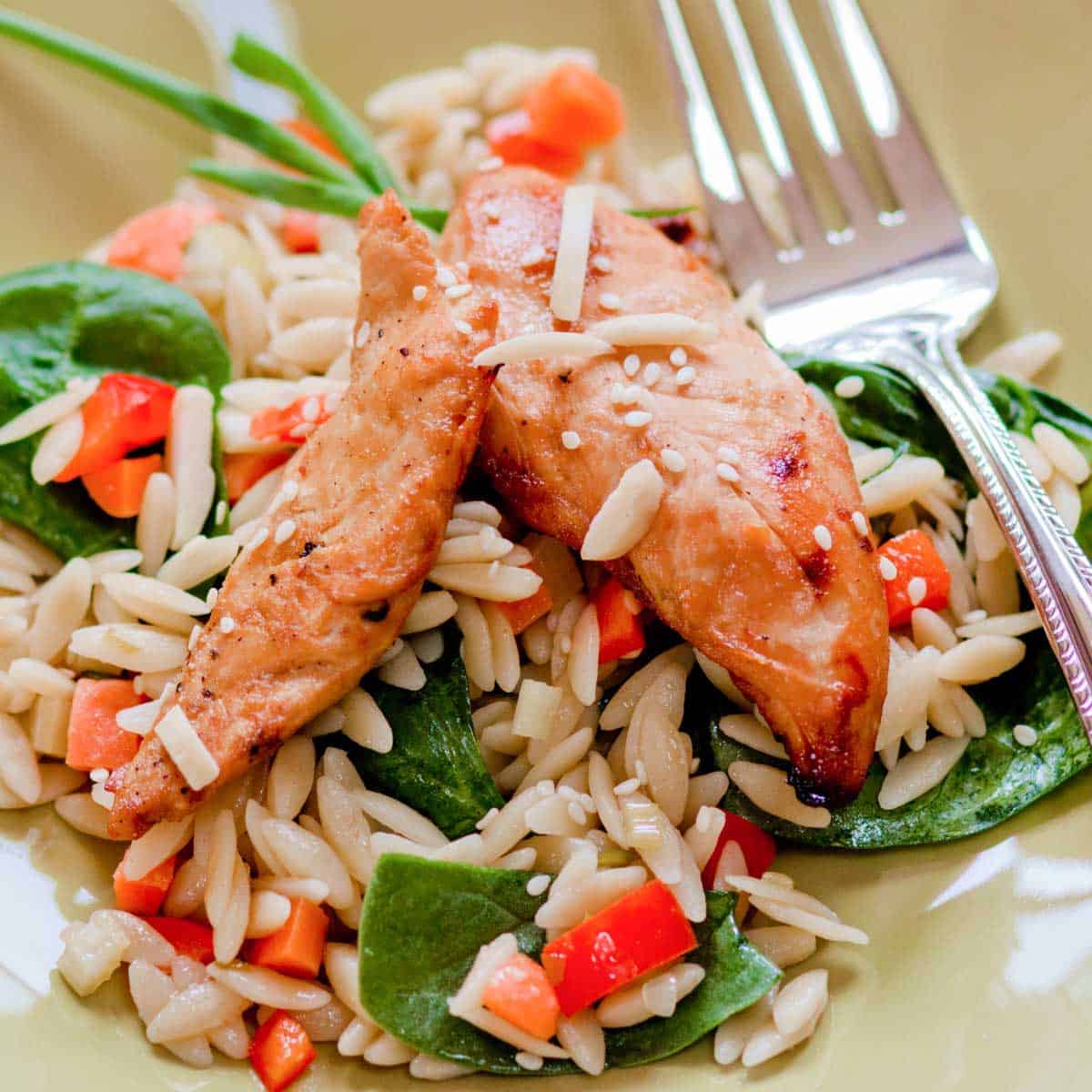 I love using orzo for a chilled chicken pasta salad because it makes the entire dish so easy to fork and eat!
The chicken marinates in just half of a savory Asian dressing while the other half is reserved to dress your final pasta salad.
Oodles of fresh veggies are chopped and mixed in which give a delicious crunch to each bite.
You can prep everything ahead of time and just toss the pasta salad together before serving or let it mingle in the fridge for a couple hours so the flavors have time to blend together.
Jump to:
Ingredients
This easy pasta salad is filled with fresh veggies and a zippy Asian-inspired marinade:
For the Asian Marinade:
Canola oil
White vinegar
Soy sauce
Sesame oil
Fresh lime juice
Brown sugar
Ground ginger
Minced garlic
Salt and pepper
For the finished pasta salad:
Chicken tenderloins
Orzo pasta
Carrots
Red pepper
Celery stalks
Green onions
Prewashed baby spinach,
Slivered almonds
Sesame seeds for garnish (optional)
Prepare the Marinade
Mix all ingredients for the marinade/dressing together in a small bowl.
Pour half of the mixture into a large zip top bag. Place the chicken tenderloins into the marinade in the bag and seal.
Move chicken around in bag to coat in marinade and store in refrigerator until ready to broil. 
Keep the other half of the dressing in a bowl for serving with the salad.
Prepare the Pasta Salad
To make orzo salad, bring a large pot of water to boil.
Cook pasta according to package directions until al dente.
Drain completely and pour cooked orzo into a large bowl.
Top with onions, carrot, red pepper, and celery.
Pour the other half of the dressing (the reserved dressing) over salad and toss to coat completely. Store in refrigerator until ready to serve.
Cook the Chicken
To cook the chicken tenderloins, heat your oven broiler on high.
Place the chicken onto a broiler pan coated with cooking spray. Flip the chicken half way through cooking time so it browns on both sides.
My pieces were relatively small and only took 15 minutes, adjust as needed for the size of your chicken.
Alternatively, you could cook the chicken in your air fryer if you prefer.
Assemble the Salad
To assemble the pasta salad, pour the baby spinach into a large serving dish, add orzo salad and toss gently to combine.
Top the salad with toasted almonds. Place the cooked chicken over the top and sprinkle with sesame seeds for garnish.
More Pasta Salad Recipes