Light & zesty Asian vinaigrette for a teriyaki chicken salad with sliced plums, crisp sugar snap peas, and crunchy almonds.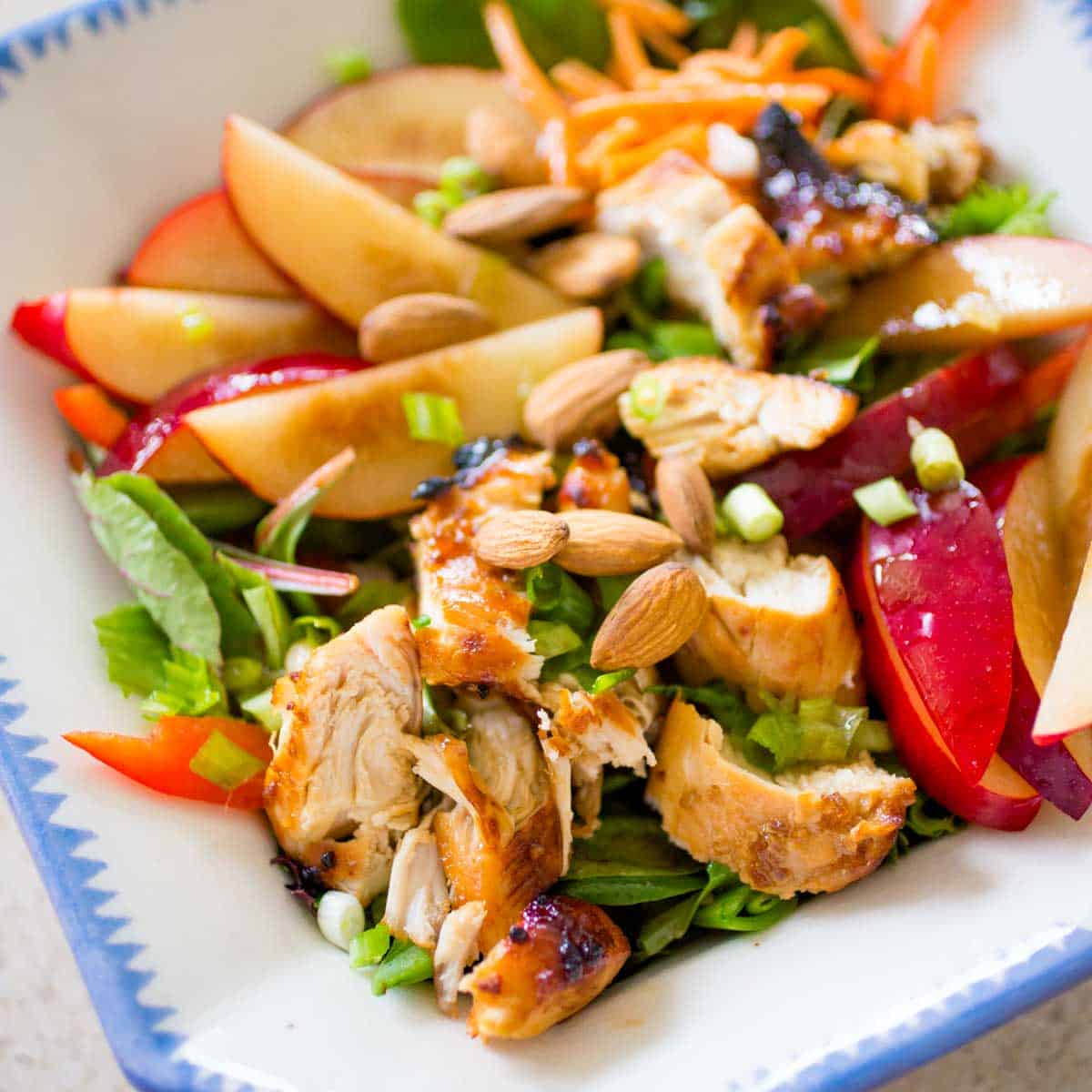 As a stay at home mom, it is so easy to fall into the rut of eating junk or leftover mish mash for lunch.
As part of a cleaner, healthier approach to eating, I've been putting extra effort into my own meals to make them more exciting and healthy. Who cares if no one else is around to enjoy them??
The daytime is the best time for me to experiment with flavors before I try them on my kids.
This Asian lime vinaigrette ended up being an amazing discovery for a simple teriyaki chicken salad. It's a great homemade dressing to keep on hand in the fridge.
Jump to:
Ingredients
The ingredients for the salad dressing are very easy:
Canola oil
Rice vinegar
Toasted sesame oil
Soy sauce
Dried ginger
Minced garlic
Fresh lime
Build Your Salad
The other day I made a big batch of teriyaki chicken tenderloins to use on top of salads throughout the week.
I raided the fridge and came up with an impromptu Asian chicken salad recipe that featured many of the veggies just hanging out in my kitchen.
All you need for this Asian chicken salad is:
A green lettuce or spinach base
Chopped teriyaki chicken
Sliced red peppers
Chopped fresh pea pods
Sliced plums or clementines
Slivered almonds
Fresh green onions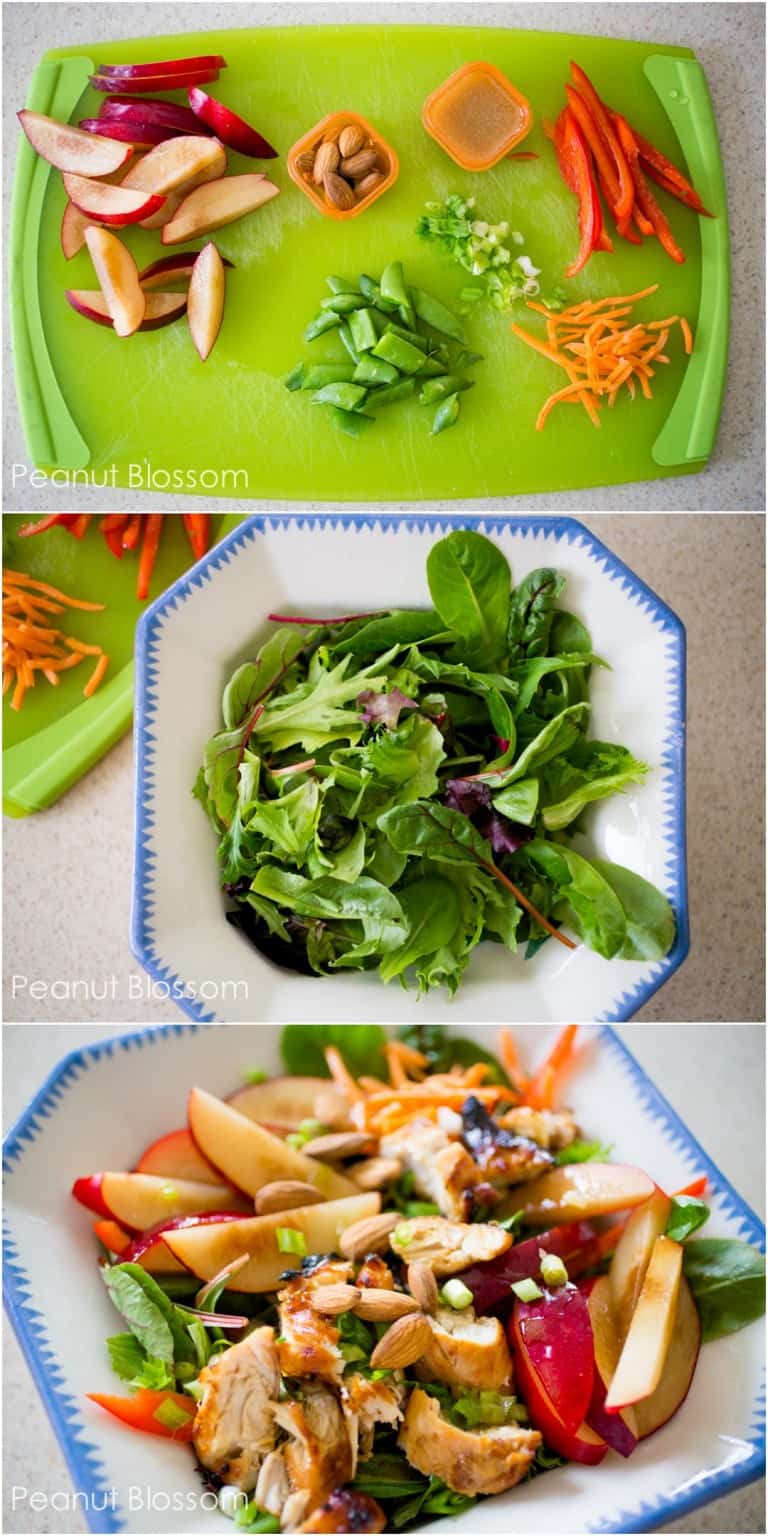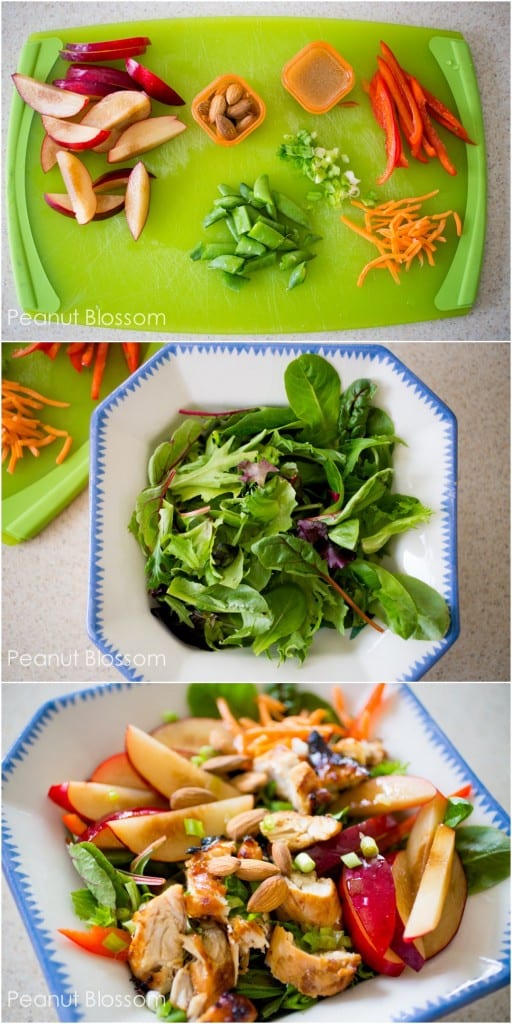 Make Ahead Tips
I did all the prep work on Monday morning and have had leftovers for easy access for several days in a row.
Knowing the chicken and yummy salad is just a quick toss away has ensured I've avoided heading out for drive thru or sustaining myself on peanut butter sandwiches eaten over the sink!
I recommend storing all the salad ingredients separately in the fridge.
I keep the salad dressing in a mason jar with the lid for easy shaking before I drizzle over a spoonful or two on my salad.
More Homemade Dressing Recipes
Looking for more variety for your salads? Don't miss these other super-easy homemade salad dressing ideas: