This fresh strawberry vinaigrette is the perfect salad dressing to drizzle over chicken and fresh fruit and lettuce.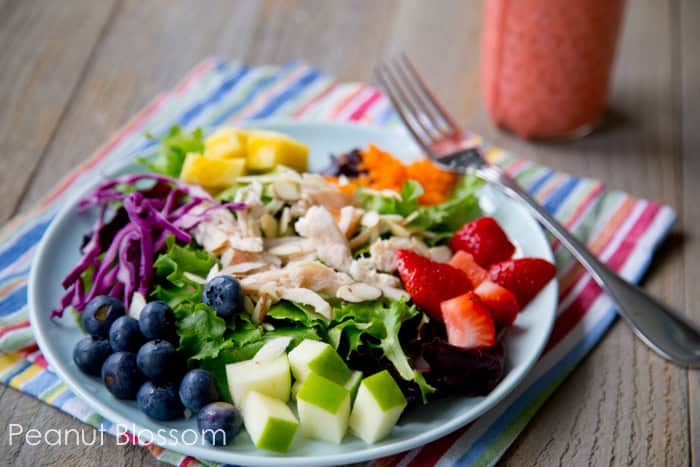 Taking care of ourselves is one of the most important and the most difficult things to execute for many moms. It is all too easy to pour all energy into caring for our little ones, but everyone suffers if there is nothing left in your reserves at the end of the day.
I'm so pleased to be teaming up with Melissa & Doug on the Taking Care of YOU series heading into summer. With the kids home from school, the task of carving out time for our own health poses even more of a struggle. I'm excited to bring you easy and manageable ways to keep your energy up now and throughout the year.
So tell me, what's your biggest challenge? Finding time for fitness? Eating well? How do you carve out some "me time" in a hectic family schedule?

Little Pea had an absolute riot with her lunch!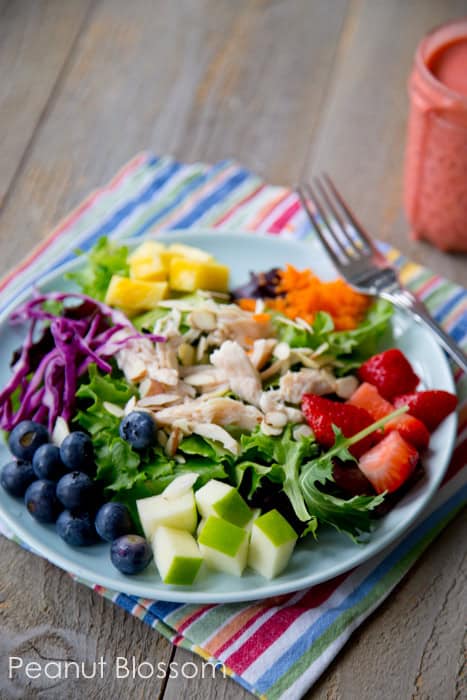 One of my family new year resolutions was to increase the amount of fruits and veggies my family eats. You can read about why this goal is important to me here. I've had hits and misses over the last few months, but I judge all new recipes based on their fruit+veg factor.
I love the idea of teaching balanced eating to kids via the rainbow of flavors. (i.e. the more colorful your plate is, the healthier your dish.) I realized, this goes for mom, too! Now that we're heading into summer, I'm taking full advantage of the fresh seasonal produce and decided to fix this rainbow salad for myself for daily lunches.
What takes this plate from good to great is all in the salad dressing. I usually do not prefer berry vinaigrettes. I find them too sickly sweet. They don't do much for the salad in my opinion. This homemade version takes seconds to make and is the perfect balance of sweet & savory. It complements all the fruits and veggies and would make this dish entertainment worthy if you were having company.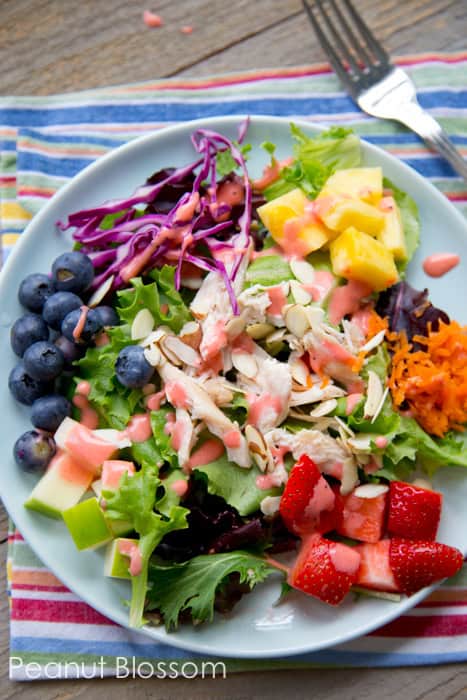 For the salad:
Ingredients:
Lettuce base, use whatever you prefer.
Strawberries
Shredded carrots
Chopped pineapple
Chopped green apples
Blueberries
Shredded purple cabbage
Cooked, chopped chicken (We especially love this easy chicken tenderloin air fryer recipe.)
Sliced almonds
Prepare all the ingredients but be sure to store them separately in the fridge! They will stay fresher longer and they allow you to mix and match throughout the week.
That dressing is such a fantastic shade of pink, my daughters couldn't resist at least trying it!