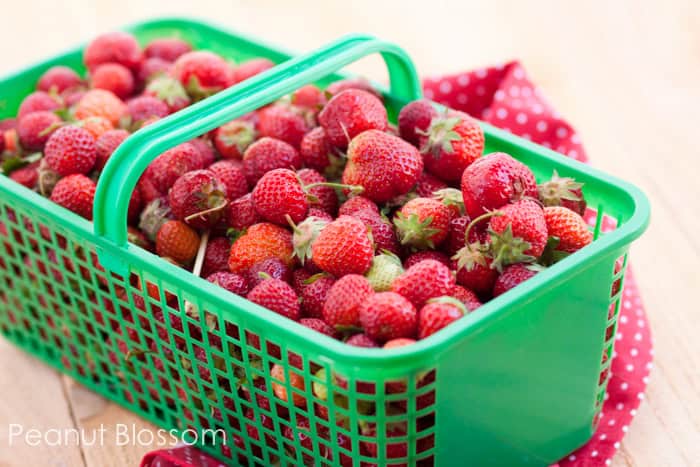 Our strawberry picking adventure went quite well if you ask me. Granted, the Peanut spent more time running through the fields with friends than she did actually picking the berries, but it was still a fun morning. We brought home two full baskets of tiny but very sweet strawberries.
I know from previous years' experience that I need to move quickly on processing the berries or too many turn moldy far faster than I would have guessed. So the very afternoon we brought them home, I set to work turning them into freezer jam.
I tried a new recipe this year purely by accident. The first two years I've made freezer jam, I used this recipe. When I was at the grocery store the other week, I picked up a container of pectin marked specifically as a freezer jam version. I didn't realize it was a different brand and size than I normally use until I looked up my recipe.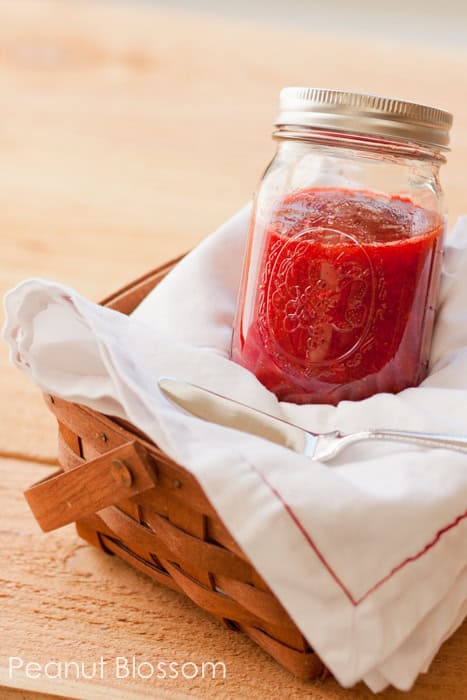 I know jam is one of those fairly specific type recipes that you can't really mess with if you want it to work. So I went to the Ball web site for their version. It just happens to use significantly less sugar than my original version. I was a little worried I wouldn't like how it turned out, but although it is definitely different, it is equally tasty.
So, if you've never made freezer jam before both methods are easy. The Sure Jell version is sweet and slightly runny (in a good way). The Ball version is more strawberry-like, a little more tart, and has a slightly more jelly-like texture. It also uses way more berries and therefor takes a little longer to make because you have more washing, hulling, and mashing to do.
As my grandma used to say: "It's six of one, half a dozen of another." Take your pick, either one is going to be delicious and both are ridiculously easy!
__________________________
Sure.Jell's Strawberry Freezer Jam
the original recipe I've used for 2 years
Ingredients:
2 cups crushed strawberries (buy 1 qt. fully ripe strawberries)
4 cups  sugar, measured into separate bowl
3/4 cup water
1 box SURE.JELL Fruit Pectin
Method:
Rinse 5 (1-cup) plastic containers and lids with boiling water. Dry thoroughly. Stem and crush strawberries thoroughly, 1 cup at a time. Measure exactly 2 cups prepared fruit into large bowl. Stir in sugar. Let stand 10 min., stirring occasionally.
Mix water and pectin in small saucepan. Bring to boil on high heat, stirring constantly. Continue boiling and stirring 1 min. Add to fruit mixture; stir 3 min. or until sugar is almost dissolved. (A few sugar crystals may remain.)
Fill all containers immediately to within 1/2 inch of tops. Wipe off top edges of containers; immediately cover with lids. Let stand at room temperature 24 hours. Jam is now ready to use. Store in refrigerator up to 3 weeks or in freezer up to 1 year. Thaw in refrigerator before using.
Ball's Strawberry Freezer Jam
the new one I tried for 2011, super fruity!
Ingredients:
5 cups crushed strawberries
6 tbsp Ball RealFruit Instant Pectin
2 cups sugar
Method:
In a large bowl, combine pectin and sugar.
In a separate bowl, crush the fresh, washed and hulled strawberries with a potato masher. Measure out 5 cups of berry mixture.
Add berries to the pectin/sugar mixture. Stir for 3 minutes to combine. Ladle into storage containers. Let set on counter for 30 minutes and then store in refrigerator or freezer up to one year.