This easy strawberry freezer jam is perfect for beginners! It is a simple no-cook strawberry jam recipe that doesn't even require special canning skills.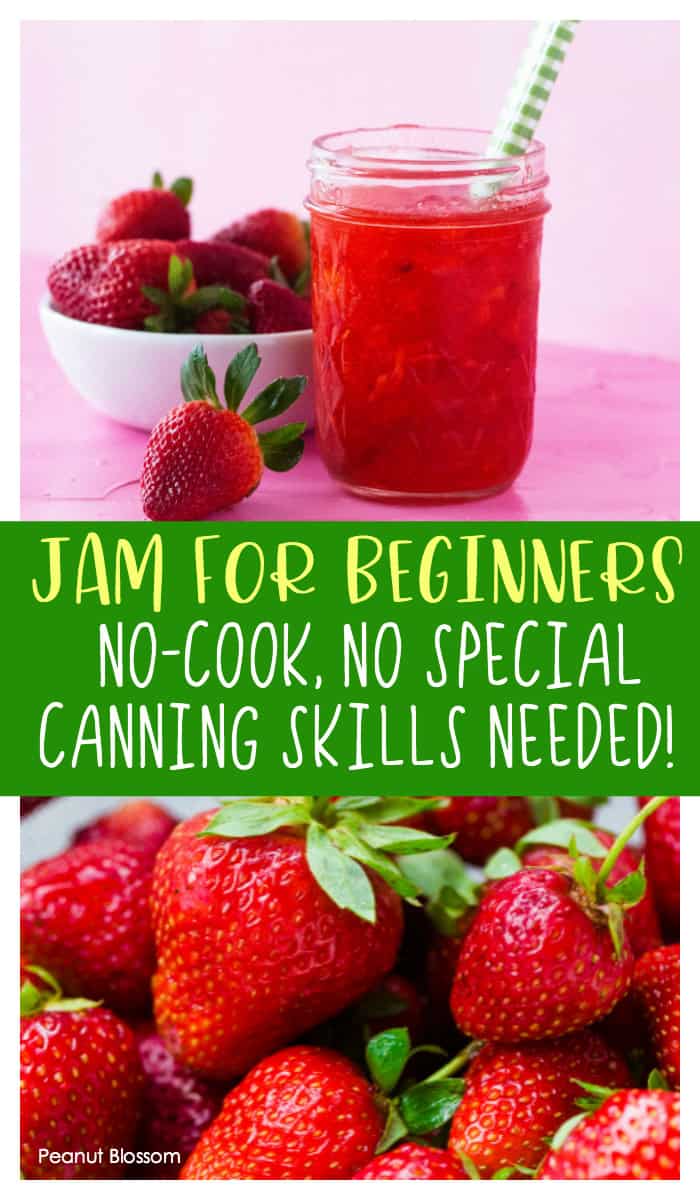 This strawberry freezer jam recipe is another classic from my archives. I originally published this post in 2011 and I've been making it almost every year since.
Our family loves homemade strawberry jam so much that I even included it in my next cookbook! (You can check out The Ultimate Kids' Baking Book right here.)
When the girls were little, I would take them strawberry picking so they could see the fields where the berries come from.
Granted, the Peanut would spend more time running through the fields with friends than she did actually picking the berries, but it was always a fun family outing.
When I first started making strawberry freezer jam, I was super intimidated and worried I would screw it up. You hear those horror stories about mason jars exploding from the things growing inside!
But after nearly 10 years of making this recipe, I can promise it is so much easier than you'd think. It is really pretty hard to screw it up.
What is freezer jam?
If you've never had freezer jam before, it is much thinner and saucier than normal store-bought jelly or jam which has a more gelatinous texture. The runniness is precisely why we love it so much. Strawberry freezer jam practically melts on top of hot toast or pancakes. We use it as a syrup, a sauce, or a filling.
Freezer jam is so much easier to make than traditional canning recipes. You simply wash and mash the fruit, stir in some sugar, and then dissolve the pectin in boiling water and stir it into the fruit. You can fill any freezer-safe container you have with the jam, absolutely NO special canning skills required.
Since you're storing it in the freezer, there's no need to worry about the traditional preserving methods that help if you wanted it to be shelf-stable.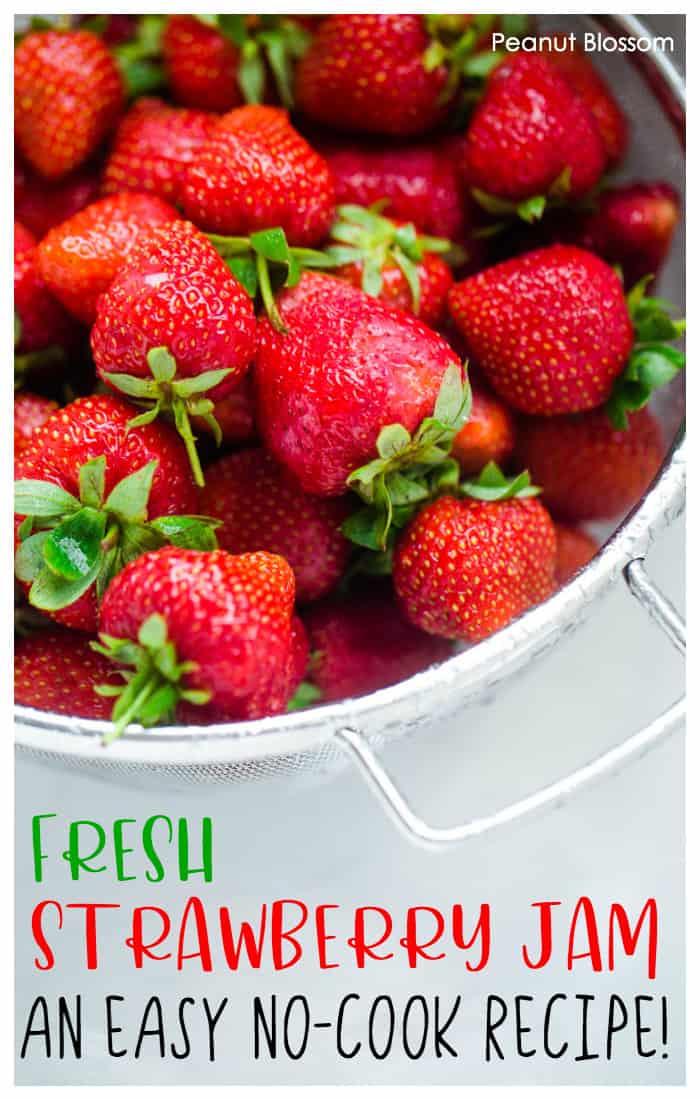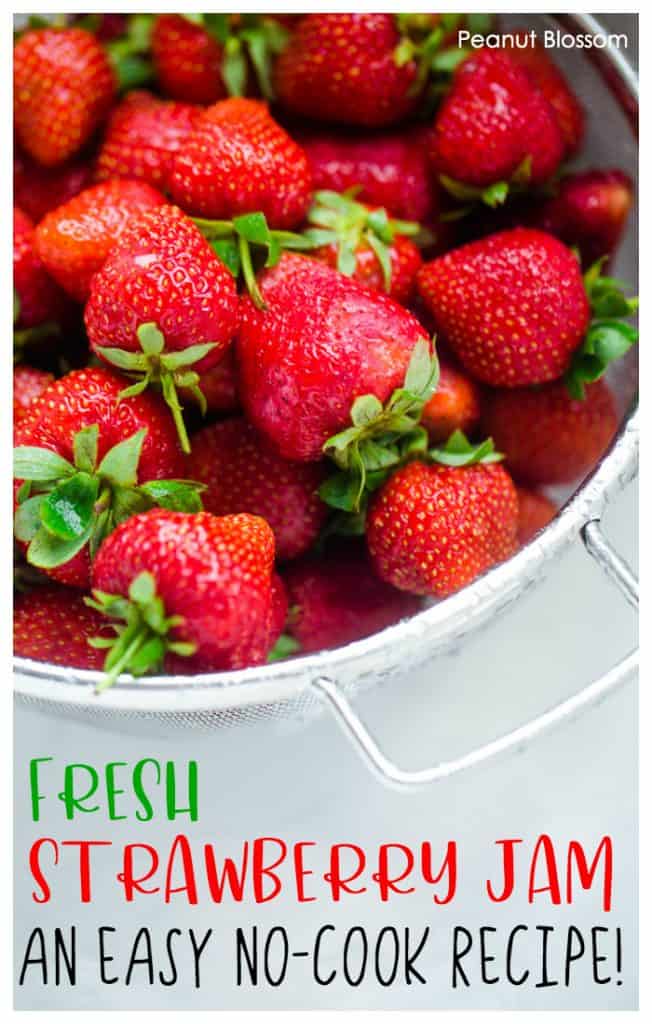 What kind of containers should I store my freezer jam in?
I have always used these small jelly jars but you can use any freezer-safe container you prefer. I recommend dividing the recipe into smaller portions for freezing so you don't have to thaw and use one giant portion all at once. It lasts for 3 weeks in the refrigerator, so unless your family eats a lot of jam in a short amount of time, you'll prefer to be able to just thaw what you need.
Can kids make this recipe?
Absolutely! This strawberry jam recipe is so easy the kids could definitely do it on their own. The only tricky step is dissolving the pectin in the boiling water, so if you feel more comfortable you could do that step yourself.
What can you use homemade jam for?
I highly recommend making a batch of this while you can still find fresh berries at your market. I've done it with off-season berries and it still turns out fine, but the fresh local strawberries always make the best tasting jam. If you make a batch of it this summer, you can then use fresh strawberry jam all year long to make:
The best PB&J's you will EVER have.
Strawberry filled cupcakes or layer cakes
Strawberry flavored buttercream frosting
Strawberry syrup covered pancakes or waffles
Strawberry coffee cakes
Strawberry-filled muffins or pastries
Strawberry ice cream sundaes
Or, if you buy a copy of The Ultimate Kids' Cookbook, you'll find a recipe that uses the strawberry jam to make amazing chocolate covered strawberry brownies that are just adorable for Valentine's Day or Christmas!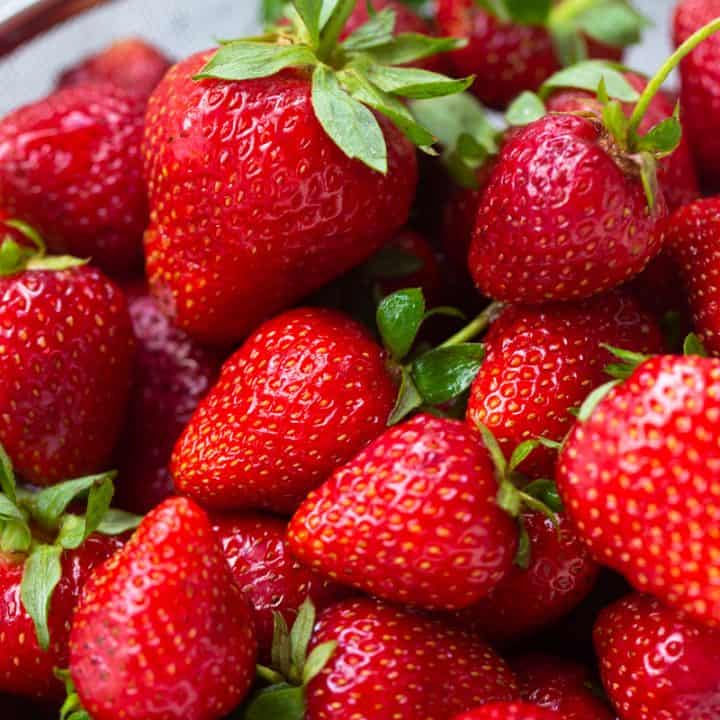 Strawberry Freezer Jam
This easy strawberry freezer jam is perfect for beginners or kids to make during peak strawberry season.
Ingredients
2 cups crushed strawberries (from 1 qt. fully ripe strawberries)
4 cups sugar
¾ cup water
1 box Original SURE.JELL Fruit Pectin
Instructions
Prepare 5 1-cup containers to hold your jam. Wash them in hot soapy water and dry thoroughly with a clean towel.
Wash and drain the strawberries. Remove the stems and crush the strawberries with a potato masher. It might be easier to work in smaller 1-cup batches of berries at a time rather than try to mash the whole batch at once.
Measure exactly 2 cups prepared mashed fruit and juices into a large bowl. Stir in the sugar and let stand for 10 min., stirring occasionally.
Mix water and pectin in small saucepan. Bring to boil over high heat, stirring constantly. Continue boiling and stirring for 1 min until the pectin is completely disolved. Add the pectin and water to the fruit mixture and stir for 3 min. or until sugar is mostly dissolved. (A few sugar crystals may remain.)
Fill all containers immediately to within ½ inch of tops, be sure to leave that extra space since the jam will expand as it freezes. Clean up any splashes of jam from the top edges of the containers with a damp paper towel or clean cloth. Immediately cover the containers with their lids.
Let stand at room temperature for 24 hours. Jam will then be ready to use. You can store it in the refrigerator for up to 3 weeks or in the freezer for up to 1 year. You'll need to thaw it in the refrigerator before using to make it spreadable again.
Looking for more fresh strawberry recipes?
I love to use up all the fresh berries when they are in season. Here are a few of my very favorite fresh strawberry recipes:
Looking for more great freezer jam flavor variations?
We just love homemade jam. Once you've tried it, you're ruined for store-bought jelly forever! If you want to branch out from this delicious strawberry jam, don't miss our other favorite freezer jam flavors:
Coming soon: Cherry freezer jam!
Original photo from the July 11, 2011 post: