This homemade strawberry lemonade recipe is easy enough for a kid's lemonade stand and they can make it all by themselves! Customers will love this fresh lemonade recipe as one of the delicious options along with a classic lemonade.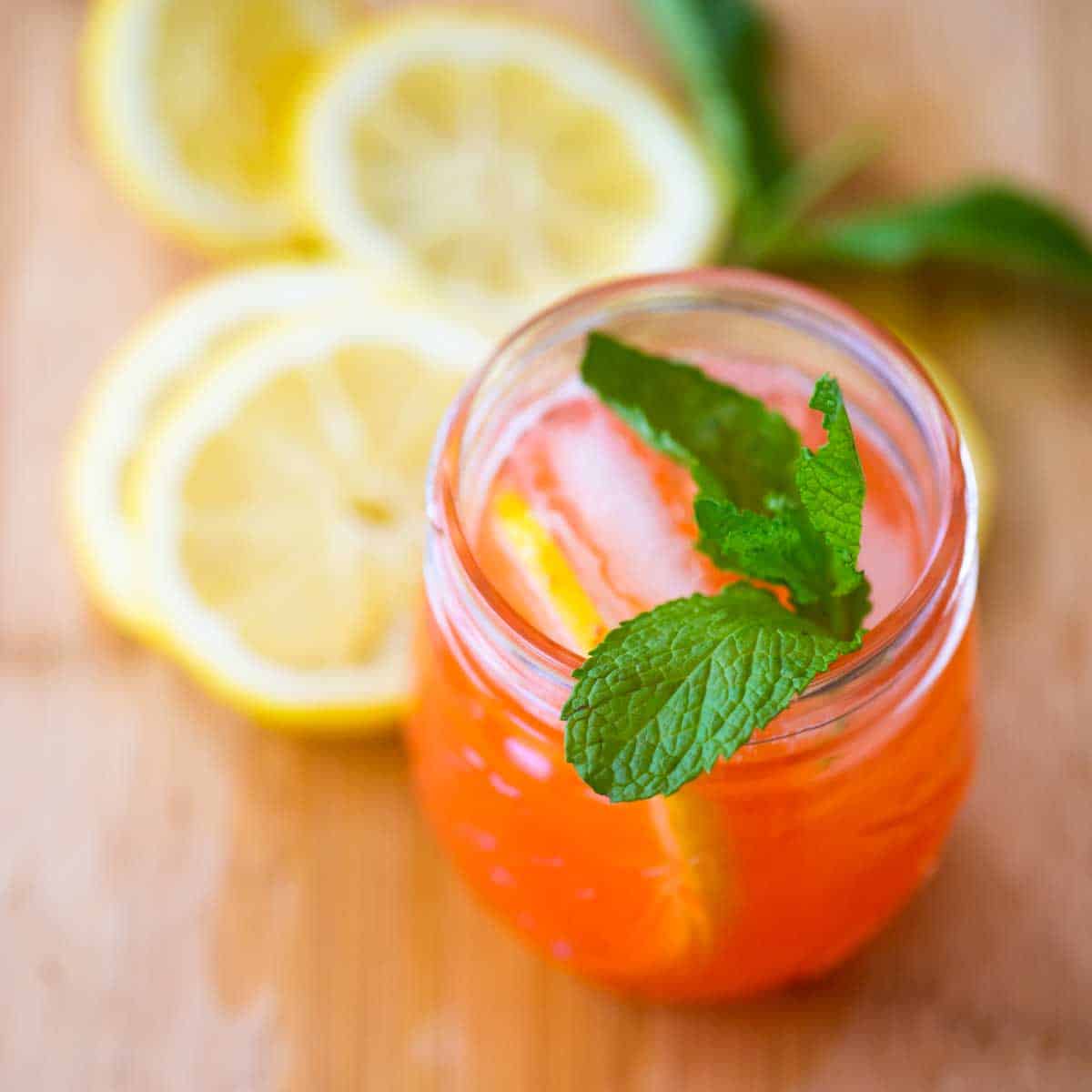 Every summer my kids and I love to buy bottles of premade pink lemonade for the nights we grill out on the patio. I try to buy the brand that has the fewest amount of ingredients, but even still "pink" isn't exactly a real flavor.
I think one of the very best parts about cooking with kids is introducing them to what an all-natural, homemade version of some of their favorite foods looks like when you make it from scratch.
My girls were surprised to hear that the pink lemonades they love often have raspberry flavoring to give it that color.
I thought it would be fun to try making a homemade strawberry lemonade recipe with them this spring so they could see the fresh ingredients involved in making their favorite summer drink.
It has quickly become one of our very favorite fresh strawberry recipes, I hope you love it too!
Jump to:
Why This is the Best Recipe for Kids
There are lots of great recipes for kids to make but I think this is the best lemonade recipe for kids because:
Sweet Whole Fruits: This from scratch lemonade uses real lemons, real strawberries, and is a great way to show kids how old fashioned lemonade is really made.
Fun Variation: With sweet strawberries in the mix the lemonade has such a pretty color.
Quick and Easy: There are just a few simple steps to having a pitcher ready to serve.
PERFECT for Beginners: This easy recipe is a great introduction for your kids to use a knife and citrus juicer (or fork and their hands) and does NOT require the use of more advanced kitchen tools.
Ingredients
You only need to pick up a few items to make this easy homemade lemonade recipe:
Fresh Lemons
Fresh Strawberries: You can use frozen strawberries if you prefer but you'll need to let them thaw first.
Sugar
Fresh Mint: (optional)
Fresh or Frozen Strawberries
This strawberry lemonade is at it's best when you can buy fresh strawberries from your local pick-your-own farm or farmer's market.
This year, I just couldn't wait. Our strawberries are just barely coming into season here in the Carolinas and the farmer's market hasn't opened yet. I had to buy a quart of strawberries from the grocery store instead but it still worked out great.
If you need something to brighten up a dreary long winter, you could easily make this strawberry lemonade recipe with frozen strawberries that have been thawed, too.
It would make a fun treat to enjoy with a tropical-themed dinner menu to spice things up!
Squeeze the Lemons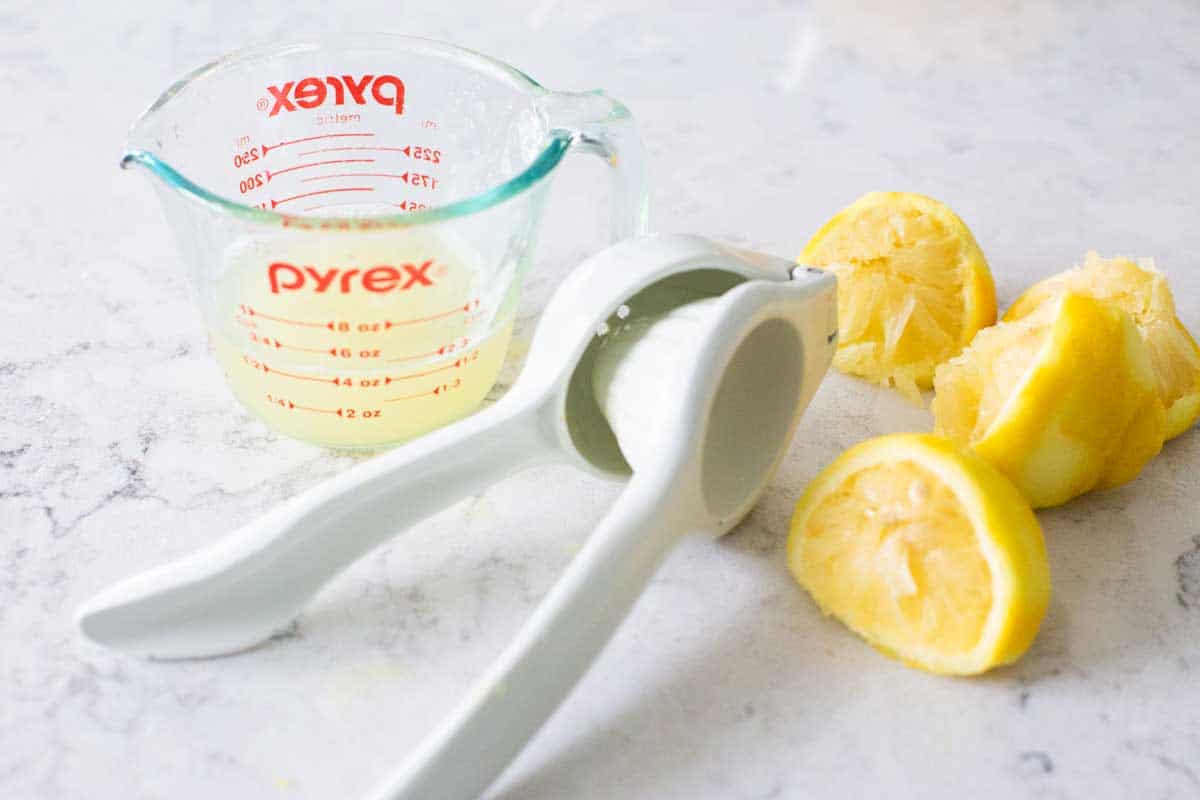 Cut the lemons in half and squeeze the juice into a liquid measuring cup so you can be sure to have the right ratio of lemon juice to sugar.
I like to prick the flesh of the lemon with a fork with one hand while holding the fruit in my other hand and squeeze the juice into the cup below.
A handheld citrus juicer also makes easy work of squeezing lemon juice.
NOTE: Be sure to strain all the lemon seeds out of your juice before using in the lemonade. You can use a fork to fish them out of the juice or pour the lemon juice through a strainer over the lemonade pitcher.
Puree the Strawberries
Rinse the strawberries well and then cut the green leafy tops off each strawberry.
Add the berries to a blender and process them until smooth.
Pour the strawberry puree through a strainer over the lemonade pitcher. This will help catch all the seeds so you have a nice smooth lemonade.
Stir the Lemonade Together
Finally, add the sugar to the pitcher and stir it into the lemon juice until it has dissolved.
Add the water and stir the lemonade together.
Make Ahead Tips
To keep things nice and fresh, I would make the lemonade just a day or so in advance of when you will need it.
You may find the strawberry juice settles as it sits in the fridge, simply give it a good stir and you're ready to go.
How to Garnish Lemonade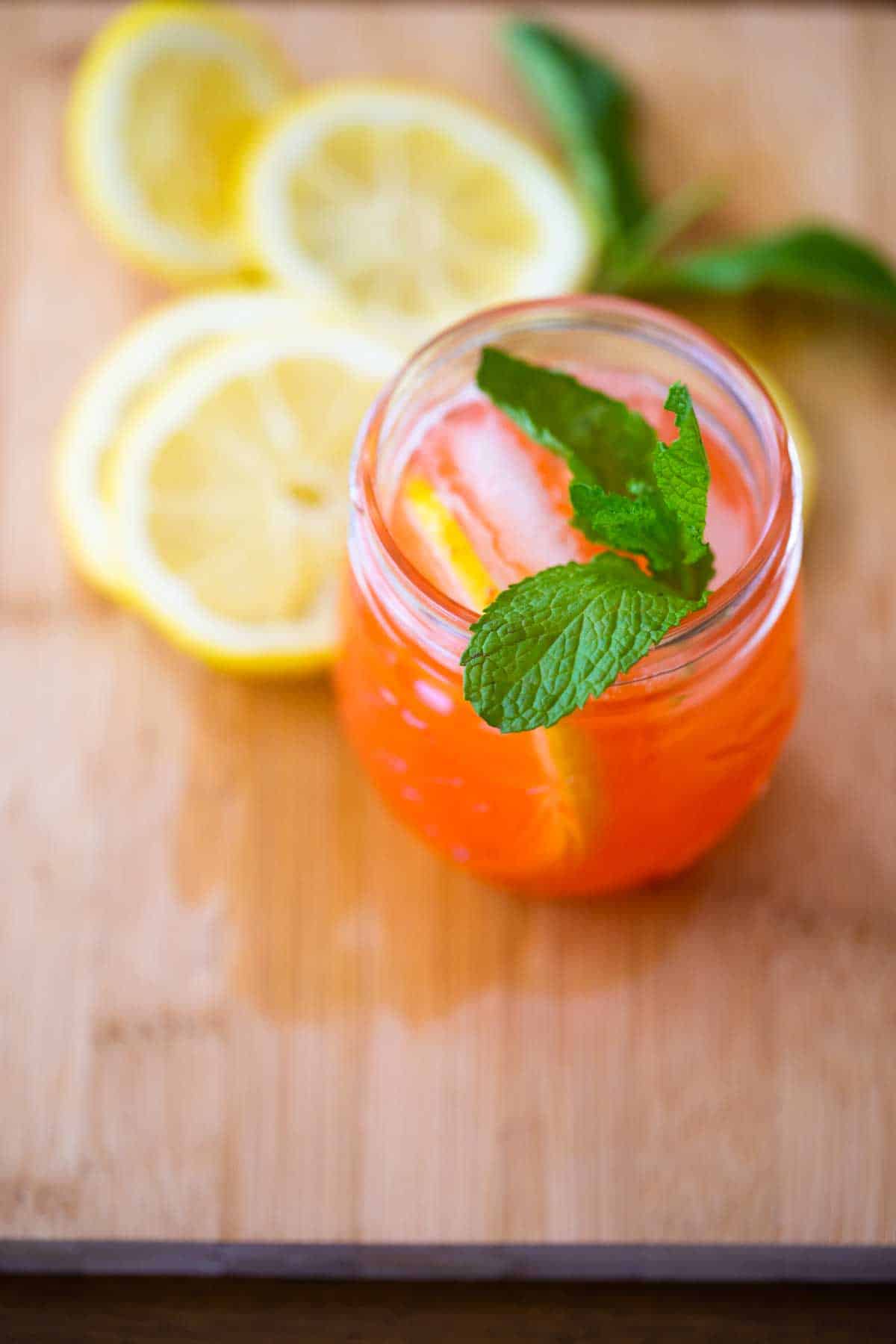 To "garnish" a glass of lemonade means you'll decorate the cup of lemonade with something fresh and pretty to make it more appealing.
The obvious choice would be to add some whole strawberries or lemon slices to your cup so guests know the flavors to expect.
If you want to add a fun spin to the lemonade, try adding a sprig or two of one of the following fresh herbs:
Easy for Kids to Make
Kids are totally capable of making this easy strawberry lemonade all on their own.
The simple tasks they will need to do include:
Wash the strawberries and trim the tops off with a butterknife
Puree the strawberries in a blender
Pour the strawberry puree through a fine mesh colander into a bowl to remove the seeds
Wash the lemons and cut them in half with a butterknife 
Squeeze the lemon juice into a pitcher
Measure and pour the water and sugar into the pitcher
Add the strawberry puree and pour
I wrote the recipe below to match the same format as my cookbook for kids.
I want you to be able to print this recipe off and hand it to your child. Let them take the lead on making it and wait for them to ask you for the help they need.
If you think they will enjoy being in charge in the kitchen, you might want to check out this simple Italian dinner menu I wrote to go with this strawberry lemonade.
More Easy Recipes for Kids
If your kids have fun with this easy lemonade recipe, they'll have a blast whipping up some delicious desserts or even dinner for the family!
Get your kids started in the kitchen with these easy tips:
📖 Recipe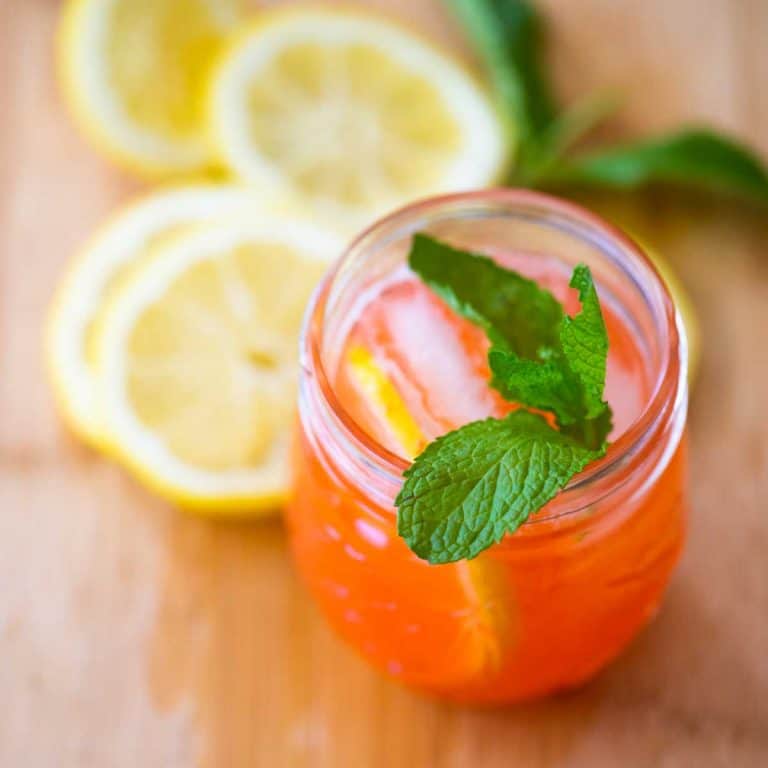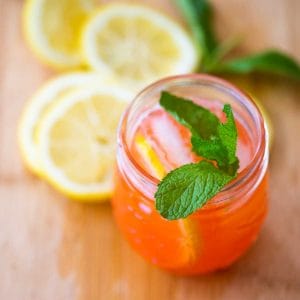 Strawberry Lemonade
This easy strawberry lemonade recipe is perfect for kids to make for a lemonade stand. Pair this sweet pink lemonade variation with a pitcher of classic lemonade for a fun variety!
Ingredients
1

cup

freshly squeezed lemon juice

from about 5 lemons

2

cups

fresh strawberries

¾

cup

sugar

3

cups

cold water

Fresh mint for serving

optional
Instructions
Set out the pitcher you plan to use for your lemonade.

Rinse all the lemons and pat them dry with a towel. Cut one lemon in half at a time using a butterknife. Squeeze the juice from the lemon into a liquid measuring cup. Repeat with all the remaining lemons.

Remove any lemon seeds from the juice with a spoon. Pour the lemon juice into your pitcher.

Rinse the strawberries under cold water and drain them. Cut off all the green tops with a butterknife and place the berries in the pitcher of a blender. Put the lid on the blender and then puree the strawberries until smooth.

Pour the strawberry puree through a mesh colander over the pitcher to remove the seeds and pulp.

Measure the sugar and add it to the pitcher. Stir it together with a long-handled spoon until the sugar dissolves.

Measure and add 3 cups of water and stir.

Store the strawberry lemonade covered in the refrigerator until serving. Garnish with fresh mint leaves if you like.
Save This Recipe to Your Recipe Box
Find this delicious recipe next time you visit by saving it to your very own recipe box on my site. All your favorites stored in one easy place!