Every parent needs easy breakfast ideas for kids on a hectic and busy school morning. Whether you're running out the door to eat in the car or have a little more time to heat a frozen breakfast up in the microwave, I've got the best busy morning breakfasts for families.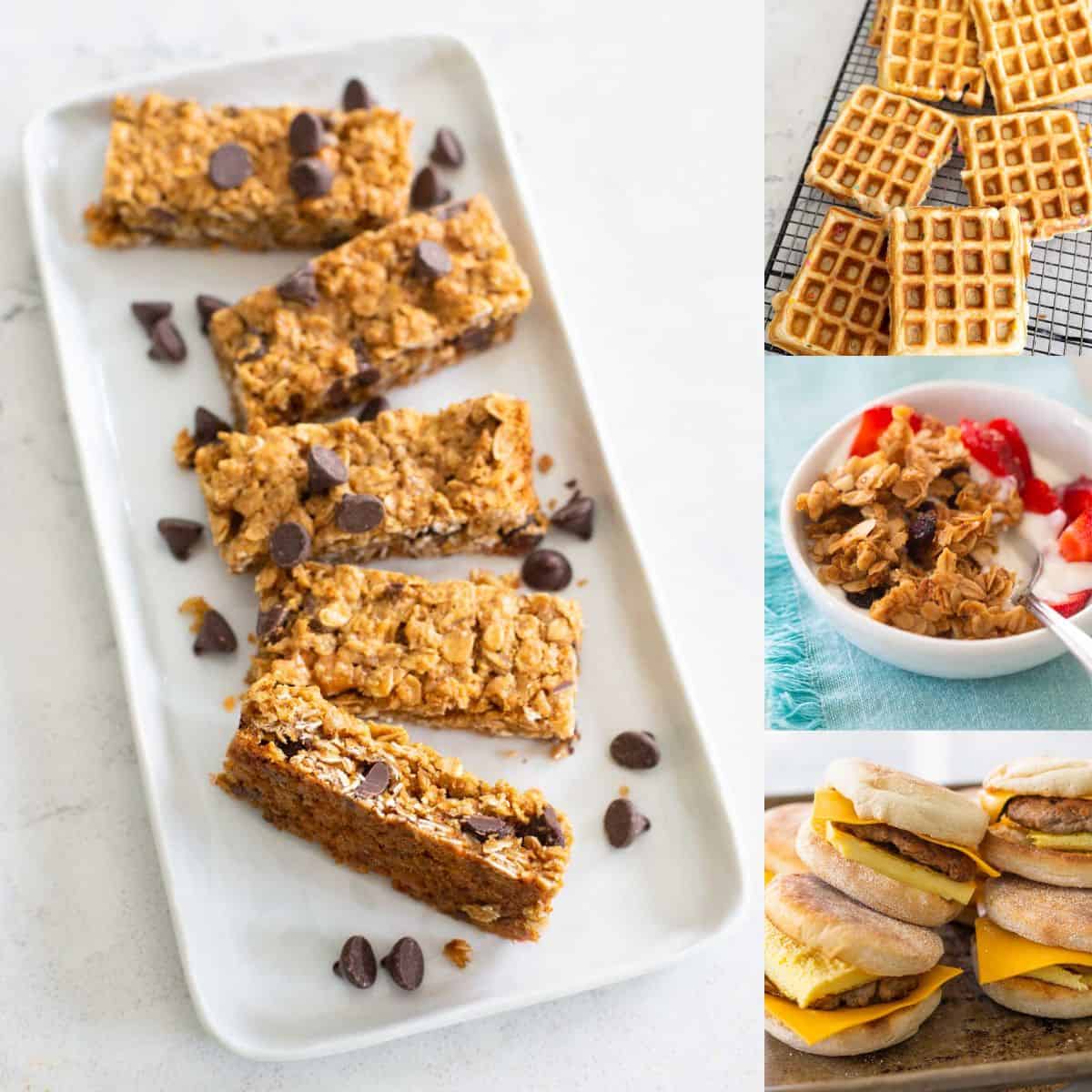 While most parents dread the daily chore of packing their kids' school lunches, I know that figuring out a healthy meal to start the day before you've even had your coffee can be just as tricky.
These easy breakfast ideas for kids will help ensure your family has something filling on their tummies before they walk through the school door.
I've got delicious breakfasts that can be prepped in 5 minutes or less, easy freezer breakfasts that just need to be reheated, and yummy make ahead breakfasts you can whip together on a Sunday afternoon for easy eating all week long.
Jump to:
Why These are the Best Recipes
Busy school mornings can be such a challenge. I believe these are the best breakfast ideas for kids because:
Easy to Prep: Got 5 minutes? I got you. Have a little more time? I've got ideas for that. I know how hard it is to get kids out the door, these breakfasts will meet you where you're at.
Kid-Friendly: I've had my share of picky eating challenges, these recipes have been tested on both my daughters and are the best of the best!
Hearty and Filling: Listen, I love a muffin or coffee cake, too. But I try to save those for the weekend and make sure that our school morning breakfasts have at least some protein and some fiber so that it sticks with them until lunchtime.
Easy Breakfasts in 5 Minutes or Less
On a super busy school day morning when everyone is scrambling to get ready, you need an easy breakfast you can grab and eat in 5 minutes or less.
Some of these suggestions are even travel-friendly breakfasts your kids could eat in the car on the way to school.
Cereal with Milk or Instant Oatmeal Packets
There's a reason a bowl of cereal is such a popular breakfast! It is easy to mix up the flavor, it takes less than a minute to prepare, and kids usually love it.
Instant oatmeal packets are a little tricker to get kids on board with. I've found they go over much better if I add some chopped nuts, dried raisins or cranberries, or even chopped up apples to the bowl.
Toast Plus Spread
When I say "toast" it could be a slice or two of any kind of bread, an English Muffin, or a bagel.
The important part is to combine it with a spread that has a bit of protein in it:
Peanut Butter Toast with or without Honey
Toast with Cream Cheese and Jam
Avocado Toast
Toast with Nutella and Sliced Strawberries
Toast with Almond Butter and Blueberries
Yogurt and Granola
A simple yogurt parfait is always a great idea because you can mix and match the flavor of the yogurt with the flavor of the granola and the type of fresh fruit or nuts you add to it.
My homemade granola has almonds and raisins but you could easily mix that up to include pecans and dried blueberries or make it completely nut-free and add other dried fruits you love.
Homemade Granola
This deliciously crispy homemade granola has hints of cinnamon and vanilla, crunchy almonds, and chewy raisins. Perfect for topping a yogurt parfait for an above-average weekday breakfast or a special addition to your brunch menu.
GET THE RECIPE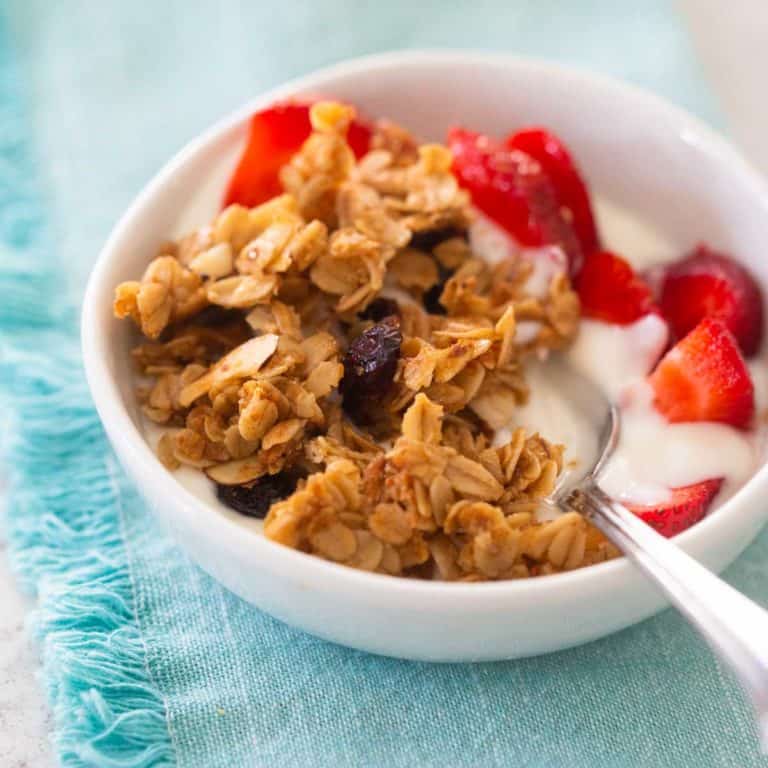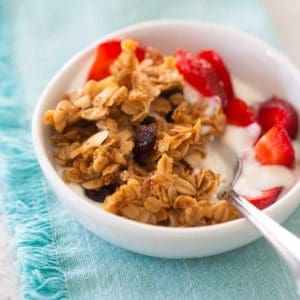 Hard Boiled Eggs
Everyone should learn how to hard boil eggs because they are such the perfect quick breakfast or protein-filled snack. My kids even enjoy them in their lunchboxes once in a while.
You can prep a batch once a week and enjoy them all week long.
Hard Boiled Eggs
Make perfect hard boiled eggs for Easter egg dying or turning into deviled eggs or egg salad. Light and fluffy yolks and tender, well shaped egg whites for any dish.
GET THE RECIPE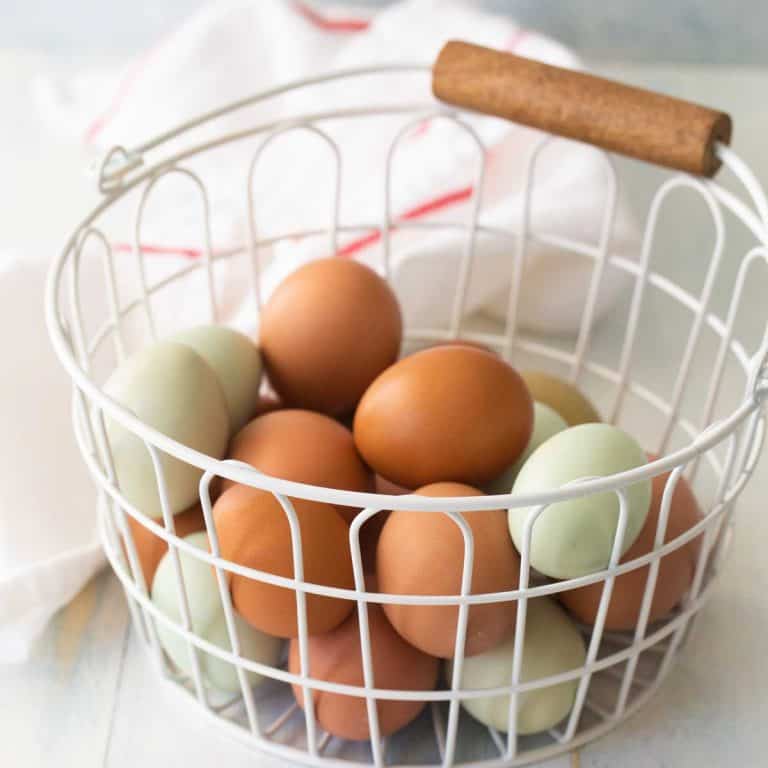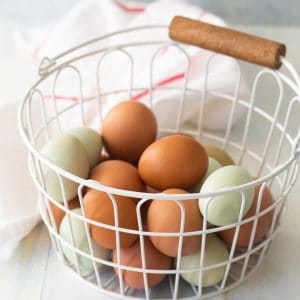 Trail Mix and Fruit
If you need a quick breakfast the kids can take in the car, cereal and milk is a challenge. The perfect alternative is to offer a baggie of dried cereal trail mix like my Apple Cinnamon Chex Mix with yogurt covered raisins and dried apple chips.
Pair it with a piece of fresh fruit and a milk box with a straw.
Apple Cinnamon Chex Mix
This sweet Chex Mix has all the flavors of a classic hot apple pie with dried apple chips and yogurt covered raisins mixed with cinnamon Chex baked with apple cider.
GET THE RECIPE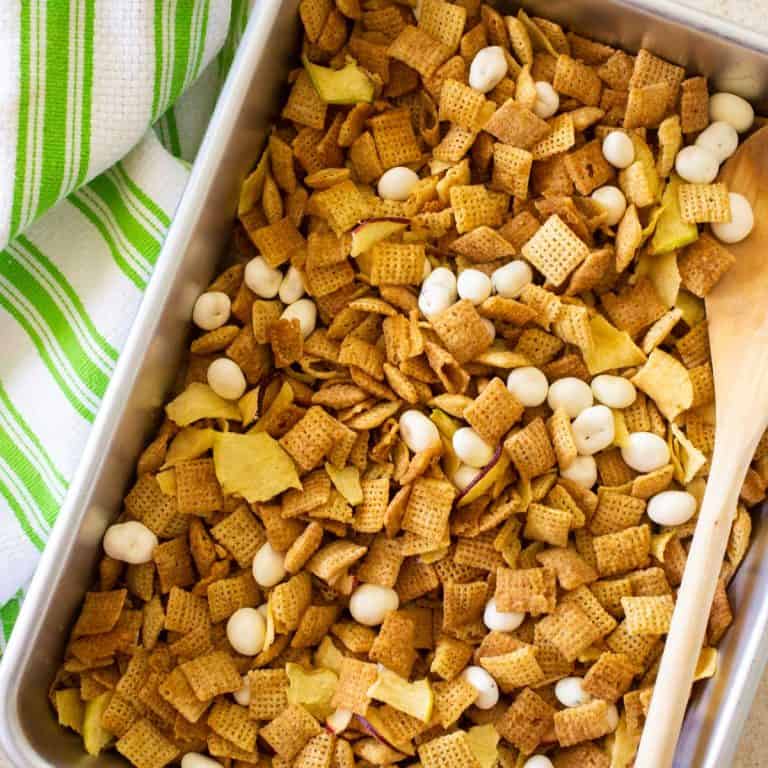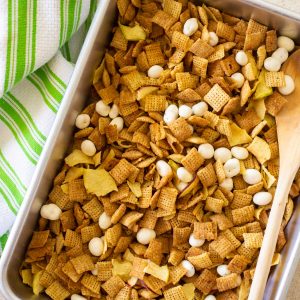 Make Ahead Freezer Breakfasts
If you have a little time to prep some food for your freezer, you can make ahead a hot breakfast your kids can just reheat in the microwave and eat on the go.
My family loves when I make a big batch of these hand held breakfast items so they can start their day with a hot meal.
They come in extra handy during test season when I want my kids to have a hearty protein-filled breakfast to give them energy for exams.
Breakfast Burritos
This is quite possibly the most popular breakfast recipe on my entire site!
My freezer-friendly breakfast burritos are filled with sausage, eggs, and potatoes (in the form of tater tots!) The kids help me assemble them to bake and freeze so we can reheat them in just a minute in the microwave.
Make-Ahead Breakfast Burritos
This big batch of spicy egg and sausage breakfast burritos are perfect for feeding a crowd or keeping on hand for busy weekday mornings.
GET THE RECIPE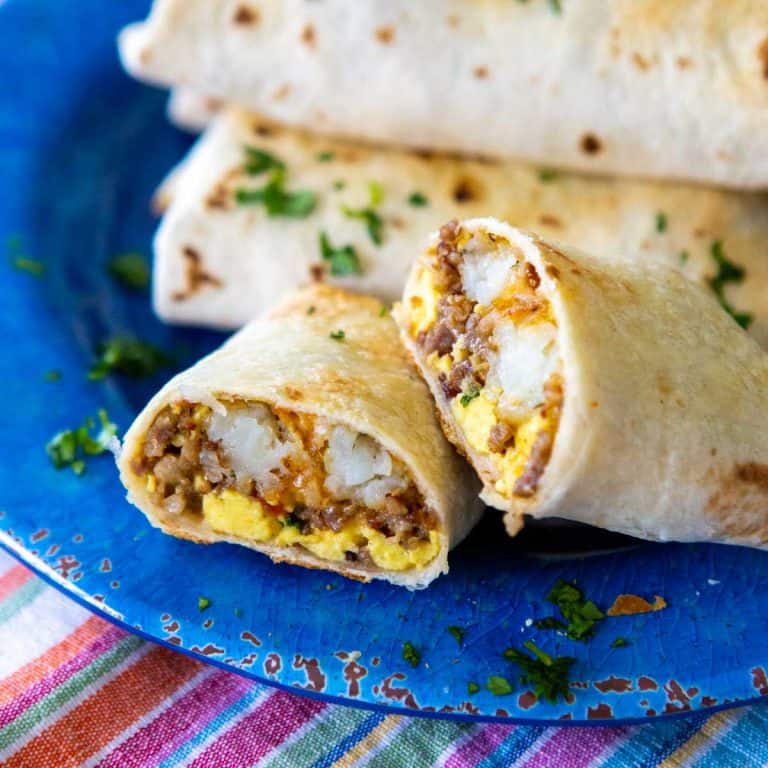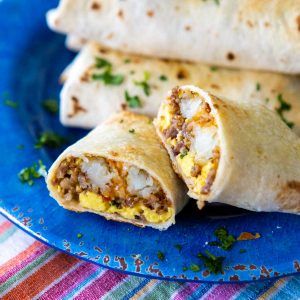 Frozen Breakfast Sandwiches
When I tested this frozen breakfast sandwiches recipe, it was important to me to figure out the perfect breakfast sausage to go with it.
It turns out my homemade turkey breakfast sausage made from just regular ground turkey meat and some seasonings was the perfect fit!
Frozen Breakfast Sandwiches
These delicious egg, sausage, and cheese frozen breakfast sandwiches are perfect for making in a big batch for easy school morning breakfasts. They also would make a great breakfast for a crowd, simply reheat them in a big batch in the oven so they are ready to serve all at once.
GET THE RECIPE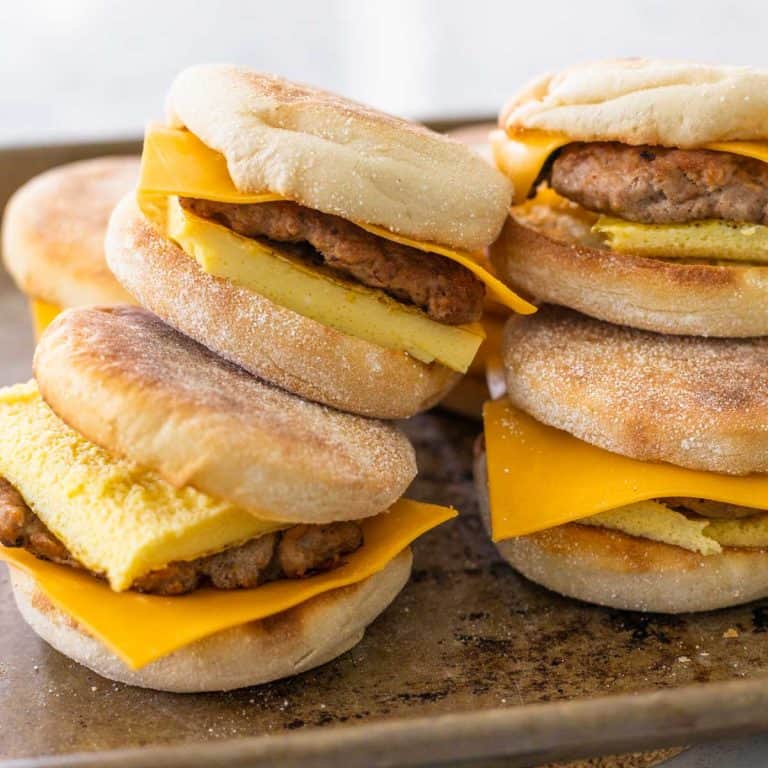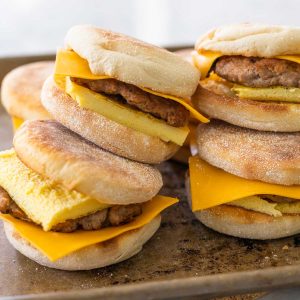 Buttermilk Waffles
Griddle up a big double batch of buttermilk waffles. Let them cool completely and you can freeze them. We just reheat them right in the toaster and they come out perfectly warm and crispy.
For a school morning breakfast, I'd suggest trying these toasted with peanut butter, cream cheese, or another more-filling spread.
Easy Buttermilk Waffles
These sweetly spiced vanilla buttermilk waffles are a perfect make-ahead breakfast for busy mornings or for a relaxing weekend brunch. Kids can reheat them in the toaster for fresh and crispy waffles all week long.
GET THE RECIPE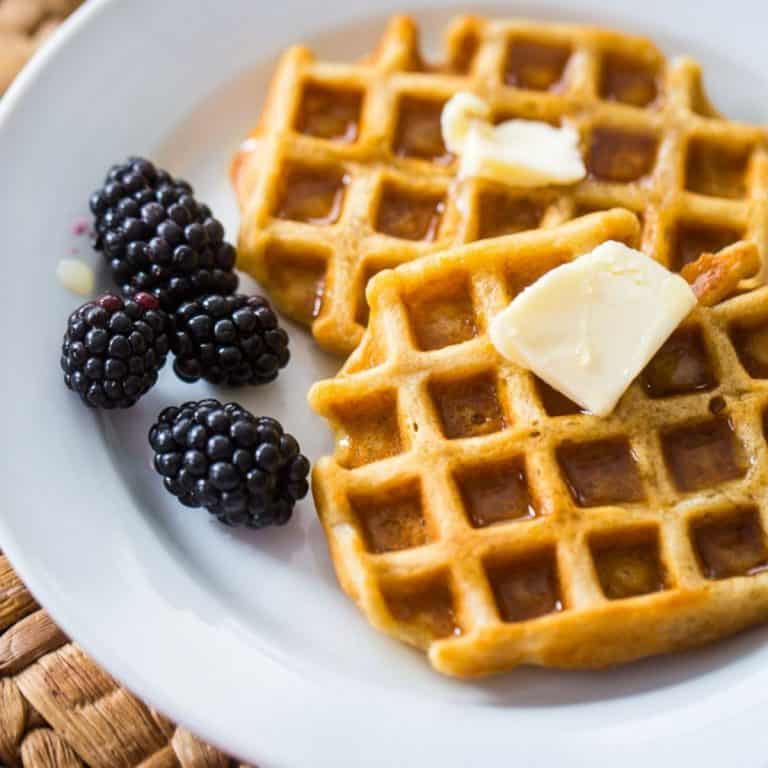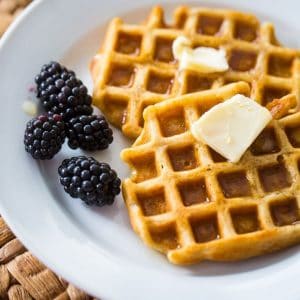 Buttermilk Waffles
Just like my buttermilk waffles, you can prep a batch of pumpkin pecan waffles in advance and freeze them.
My kids love the sweet pumpkin flavor, I love that I can add chopped pecans to the batter for a bit of protein in the mix.
Pumpkin Pecan Waffles
Delicious homemade pumpkin pecan waffles are an easy recipe for your waffle maker and can be made ahead for a busy week or frozen for a holiday breakfast. Serve them with a dusting of powdered sugar or maple syrup but a handful of butterscotch chips really puts the recipe right over the top!
GET THE RECIPE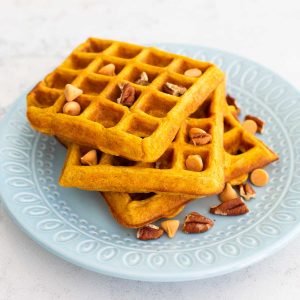 Make Ahead for the Week
If you have some time on Sunday afternoon, you can prep a week full of breakfasts in just one easy baking session.
From egg patties to baked oatmeal, here are my kids favorite make ahead breakfasts:
Baked Egg Patties
It takes just 5 minutes to prep a batch of my baked egg patties on Sunday afternoon. Slice them and store them in the fridge for quick reheating the rest of the week.
We like them on a toasted English muffin but they work great rolled into a tortilla or eaten just plain in a rush.
Baked Egg Patties
Easy baked egg patties are the perfect make ahead protein for adding to a quick breakfast sandwich or wrap on a busy morning. Mix up the seasonings for fun variations on a delicious breakfast that you can store in the fridge or freezer.
GET THE RECIPE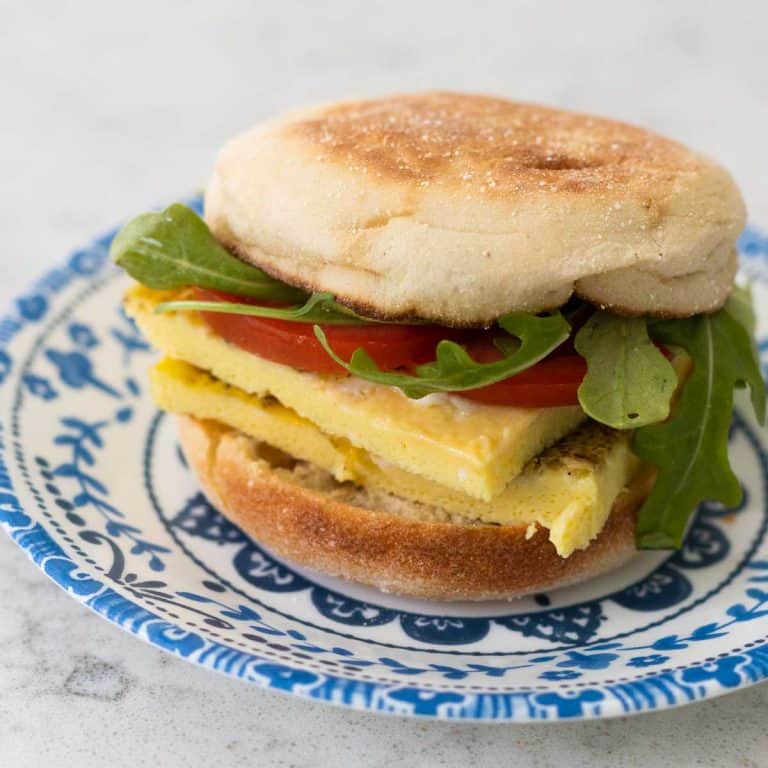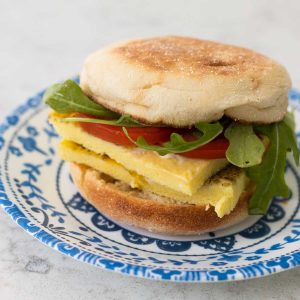 Lemon Blueberry Baked Oatmeal
If your kids don't like the texture of the instant oatmeal packets, they may prefer this more solid lemon blueberry baked oatmeal.
You can bake it in a 9 x 13-inch baking pan and slice it into squares for reheating in the microwave each morning before school.
Lemon Blueberry Baked Oatmeal
This lemon blueberry baked oatmeal is a time-saving and delicious breakfast option for busy families. Packed with tangy lemon and sweet blueberries, it can be prepared ahead of time, ensuring a healthy way to start the day, even on hectic mornings.
GET THE RECIPE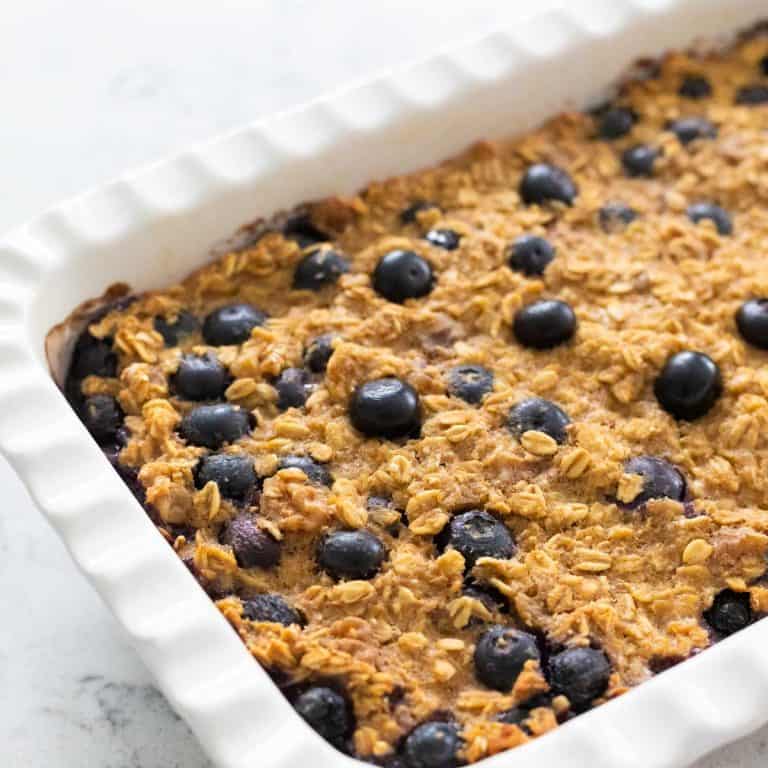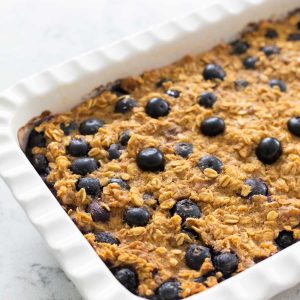 Peanut Butter Granola Bars
My kids have never once turned down the chance to eat these homemade peanut butter granola bars filled with loads of oats, peanut butter, and mini chocolate chips.
Peanut Butter Granola Bars
These yummy homemade granola bars are filled with protein and just the right amount of sweetness. Creamy peanut butter and chocolate chips make them a treat!
GET THE RECIPE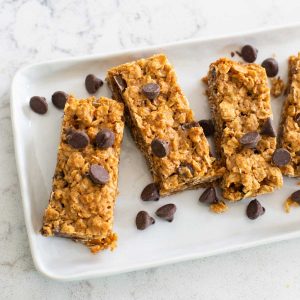 More Kid-Friendly Breakfast Ideas
With a little more time on your hands, your kids would love these easy breakfasts, too.
My daughter learned how to make eggs in basket and shared all her best tricks for kids.
We love making protein smoothies filled with fruit and nuts for my kids to drink on the go.
Banana zucchini bread has been a fruit + veggie breakfast treat my kids have loved since they were tiny.
Blueberry scones are so easy, your kids can have them ready to go in the oven before it has even finished preheating!
Breakfast Ideas for Kids Who Hate Breakfast
Ok, so you've got one of those kids. I totally get it, I was one myself for a while.
Not everyone enjoys traditional breakfast foods like toast and eggs.
Who said you have to eat breakfast foods for breakfast?? The important part is to get something on their tummy before they walk out the door.
If that sounds like your kid, here are a few things you could try:
Savory Nibble Plate
Mix and match some cheese and crackers with a few raw veggies or my peanut butter apple dip with salted pretzels.
You could even try a cheese-based veggie dip and let them spread it on pieces of toast or bread. My spinach dip and poolside dip both have lots of veggies in the mix and my chicken enchilada dip even has lean white chicken meat.
Leftover Dinners from Last Night
You could heat up a portion of almost anything you had for dinner the night before.
A "breakfast" taco? Sure! Some chicken and rice? Why not.
This is an especially great way to use up leftover that won't stretch for a full meal for the family.
More Recipes for Kids
Feeding your kids is a full-time job! Planning for a healthy breakfast, lunch, and dinner can be so tiring.
Let me help make that important task easier with these easy recipes for kids: