Delightful lemon blueberry baked oatmeal is a wholesome breakfast that is bursting with tangy lemon and juicy blueberries. A great make ahead breakfast recipe for busy school weeks or lazy weekend brunches.
As we head into exam weeks for our kids at school, all the notes are coming home: "Feed your kids a good breakfast!!"
Studies have proven that kids perform best at school with full bellies and now is a good time to make sure they have a stick-to-your-ribs breakfast to start the day.
This homemade lemon blueberry baked oatmeal is perfect for school mornings. You can make a batch on Sunday and then reheat it for several days during the week.
Filled with fresh fruits and nuts for flavor, the hearty oatmeal will give them a steady release of energy all morning long.
But honestly? This easy breakfast casserole is so delicious, it would be right at home on a weekend brunch table. Serve it with a pretty fresh fruit platter, peppered bacon, or even yogurt parfaits for an elegant brunch menu everyone will love.
Jump to:
Why This is the Best Recipe
Convenient: You can prep this recipe and reheat portions for breakfast for several days.
Healthy: Blueberries are a superfood! Combine that with heart-healthy oats, this is a breakfast you'll feel great about feeding your family.
Delicious: Fresh blueberries give a burst of sweet and tangy flavor to the baked oatmeal. They are the perfect combination.
Low in Sugar: There is just 3 tablespoons of brown sugar in the entire batch of baked oatmeal.
What is the Texture of Baked Oatmeal?
If you've never tried baked oatmeal before, you may be surprised by the texture.
Traditional oatmeal has a thin, soft consistency and is often eaten with a spoon.
Baked oatmeal can be sliced and will hold its shape. You can eat it with a fork and it will require chewing.
It is much, much softer than a granola bar or homemade granola but much more firm than regular oatmeal. The texture is a little closer to a hearty cake.
Ingredients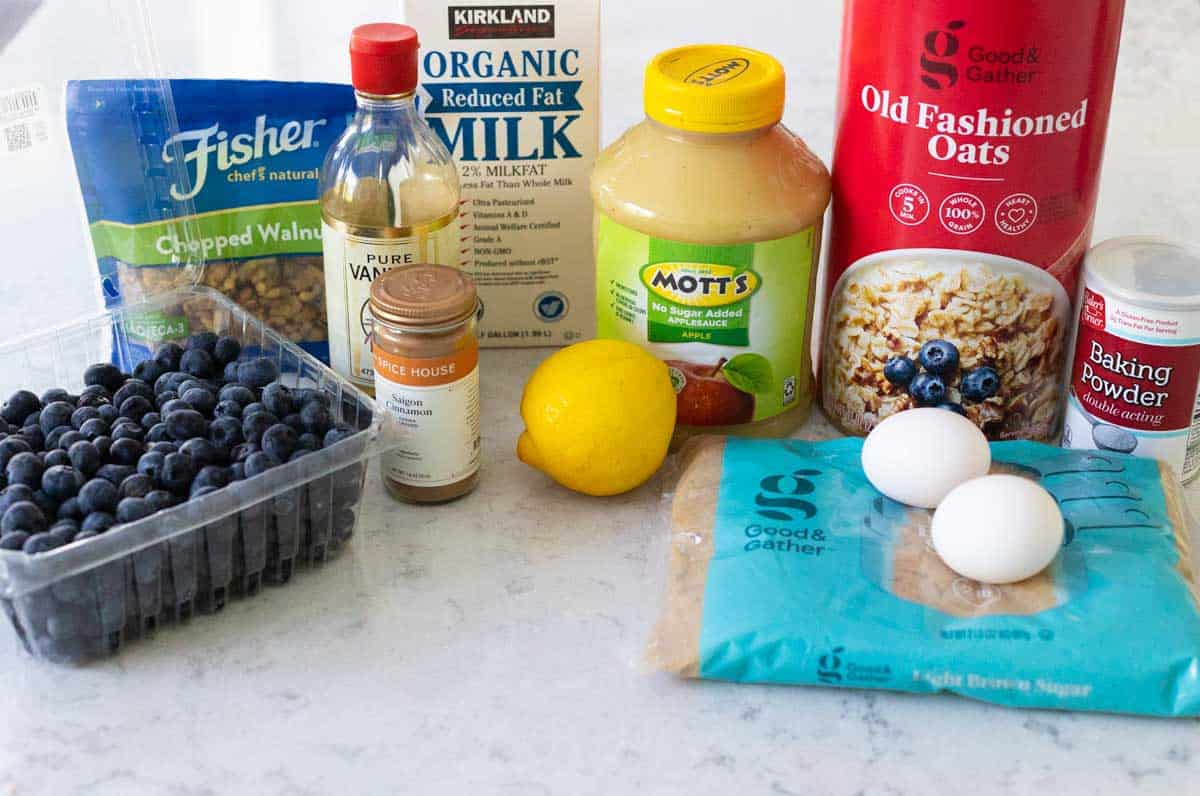 This easy breakfast casserole only needs a few ingredients to make it:
Old Fashioned Oats
Blueberries: I recommend using fresh blueberries. If you want to use frozen blueberries, just know that the juices may run more and turn the dish a purple color.
Fresh Lemon: You'll use both the zest and the juice.
Walnuts: You could substitute pecans or leave the nuts out to make this nut-free.
Milk
Eggs
Unsweetened Applesauce: If you're not worried about the sugar content, a sweetened applesauce is a great way to boost the overall sweetness of the dish.
Brown Sugar
Cinnamon
Vanilla Extract
Baking Powder
Salt
Butter
Mix the Oatmeal Together
To make the lemon blueberry baked oatmeal, we start by mixing together the oatmeal the night before.
The casserole will sit overnight in the fridge which allows the oats to absorb the liquid and soften before baking.
First, combine the dry ingredients:
Add the oats, walnuts, brown sugar, cinnamon, baking powder, and salt to a mixing bowl and stir them together.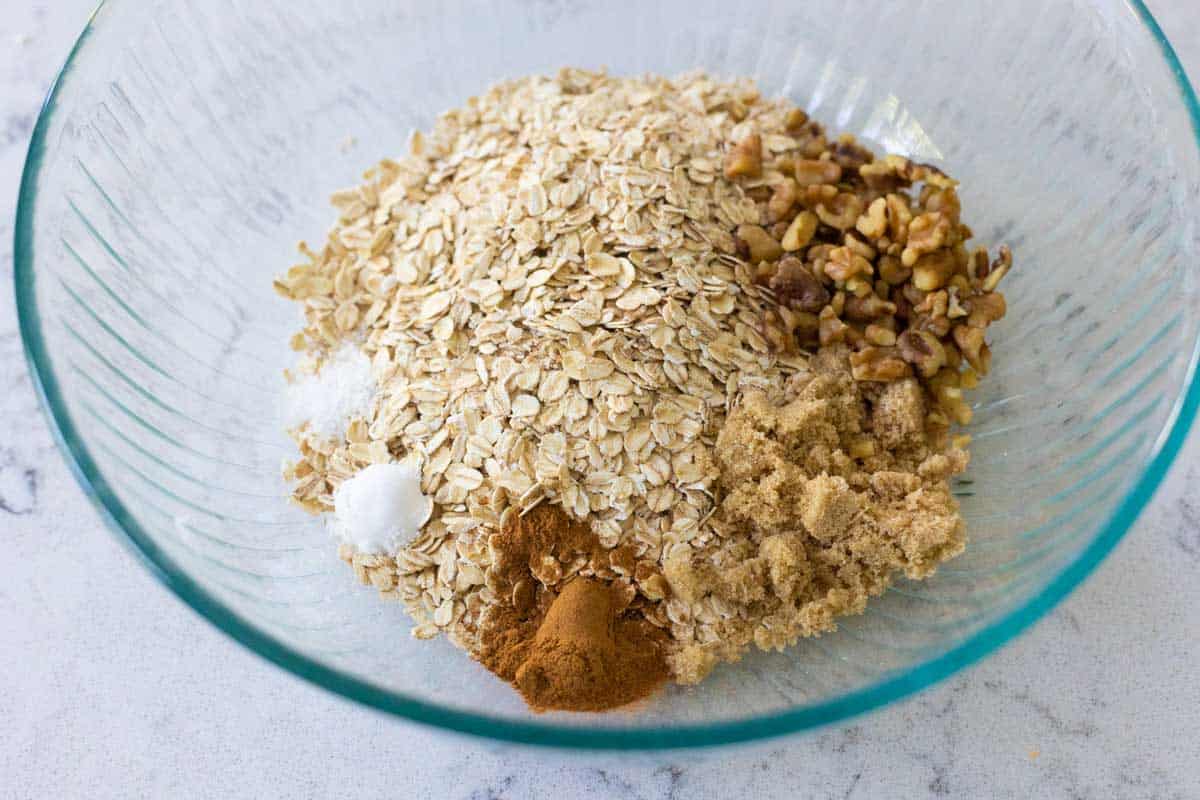 Then add the wet ingredients:
Add the applesauce, milk, eggs, lemon zest, lemon juice, and vanilla extract to the bowl. Stir everything together.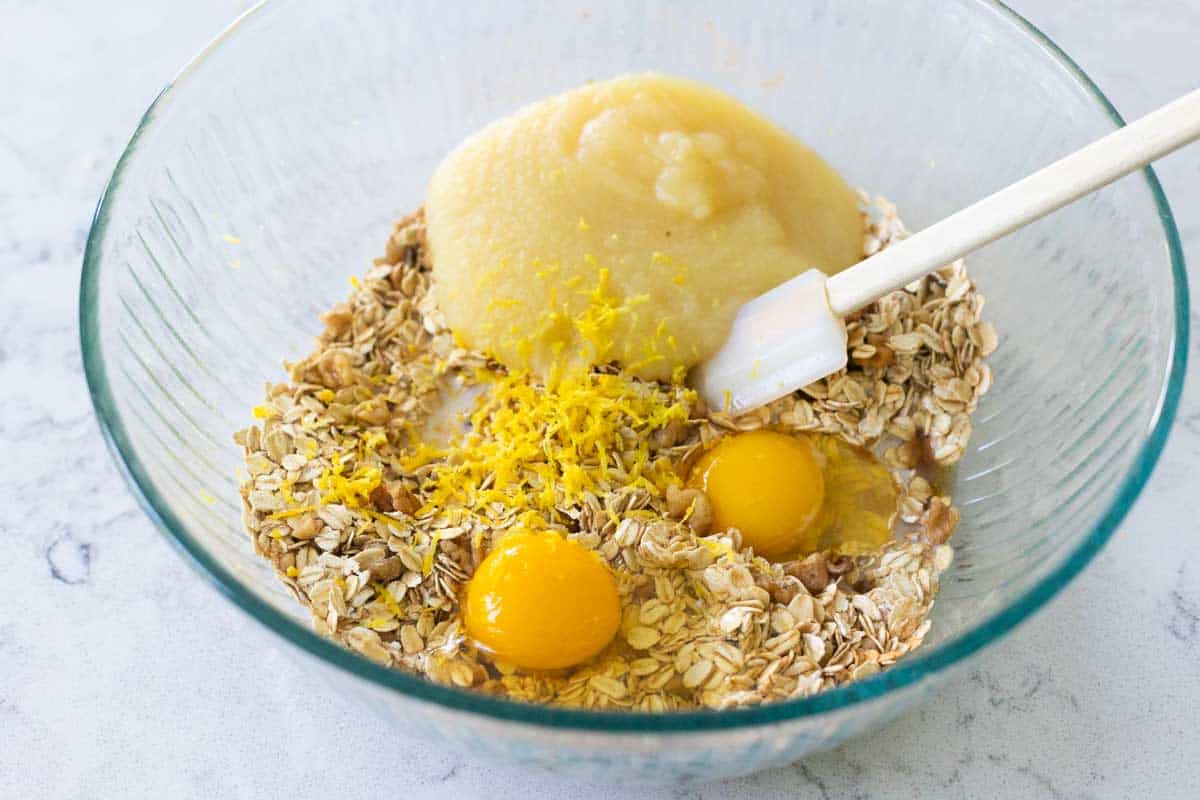 The very last step is to gently fold in the fresh blueberries.
They are fairly delicate and you don't want to crush them. So we save them for the very last step.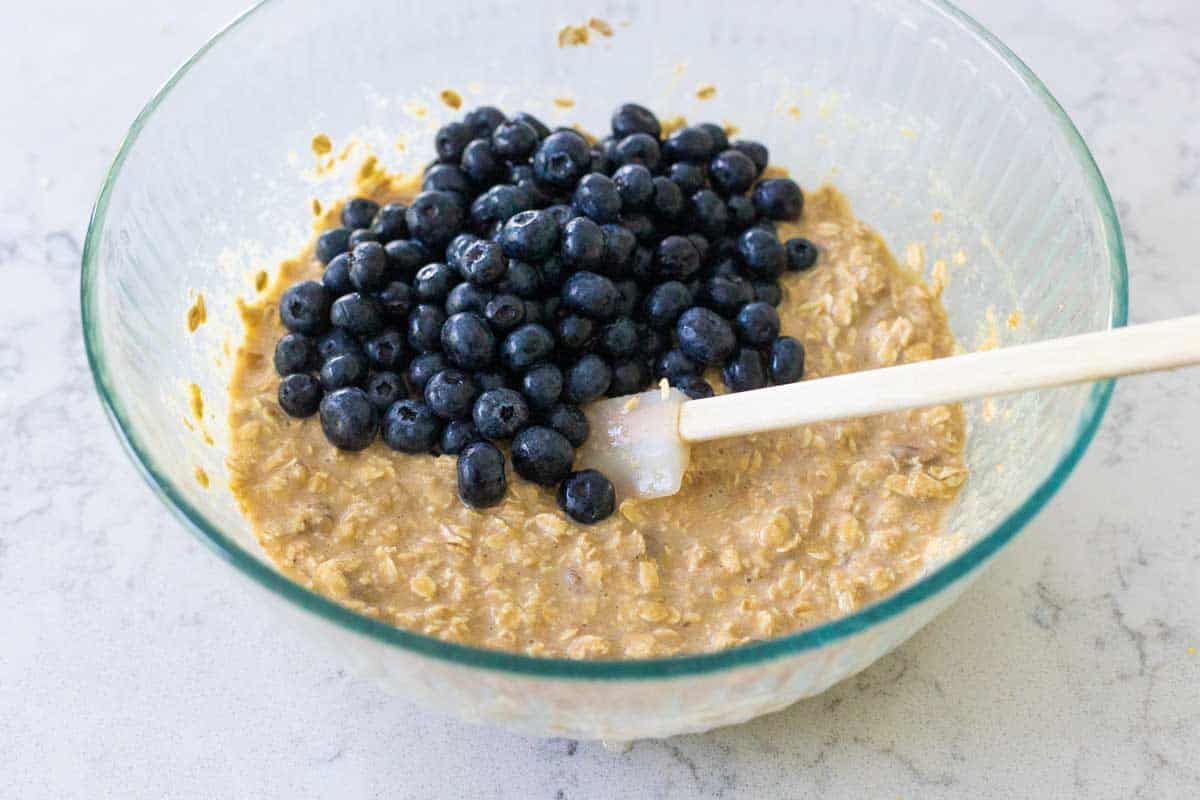 Spread in a Buttered Baking Dish
Spread softened butter around the inside of the 7x11-inch baking dish you plan to bake this in.
Pour the blueberry oatmeal into the dish and spread it out evenly.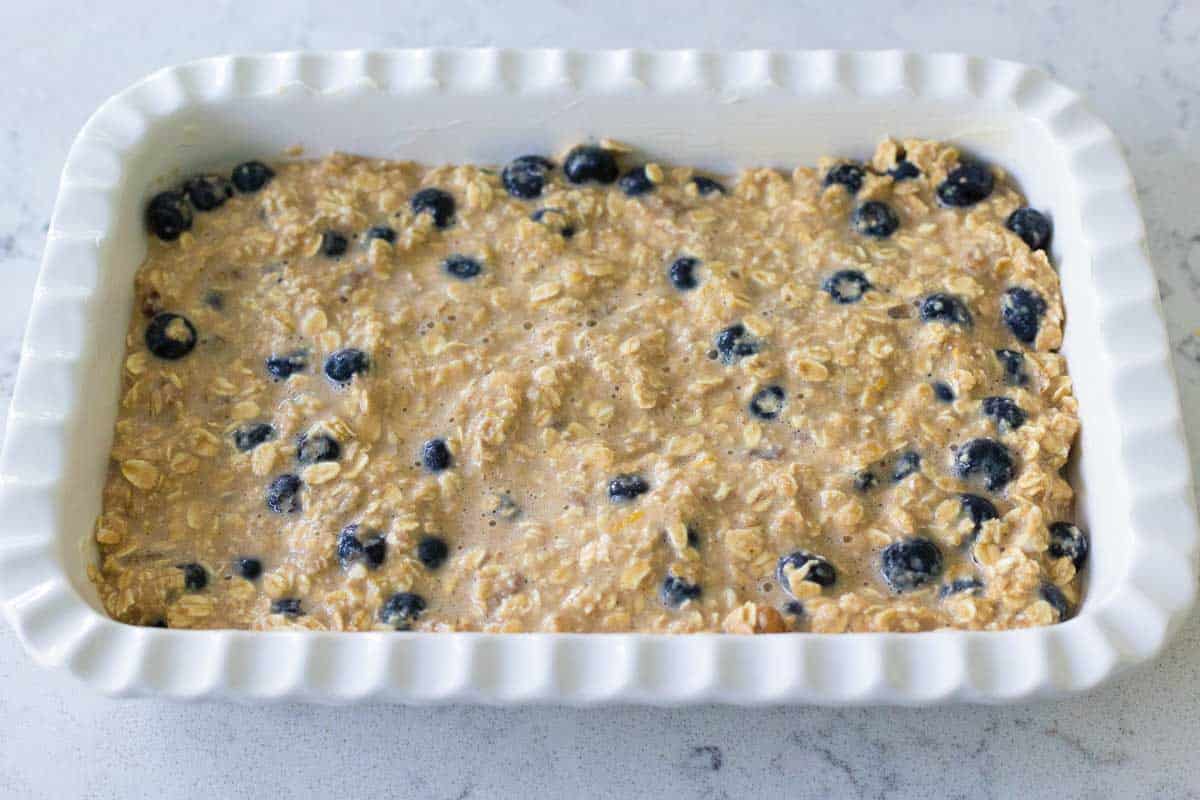 Chill Overnight
Cover the dish with plastic wrap and store it in the fridge overnight.
The oats will absorb most of the liquid and the oatmeal will "puff" up a bit in the fridge.
Food Styling Tip: For pretty presentation, you can press a few more whole blueberries into the top of the dish so that they peek out a little more once the oatmeal has baked.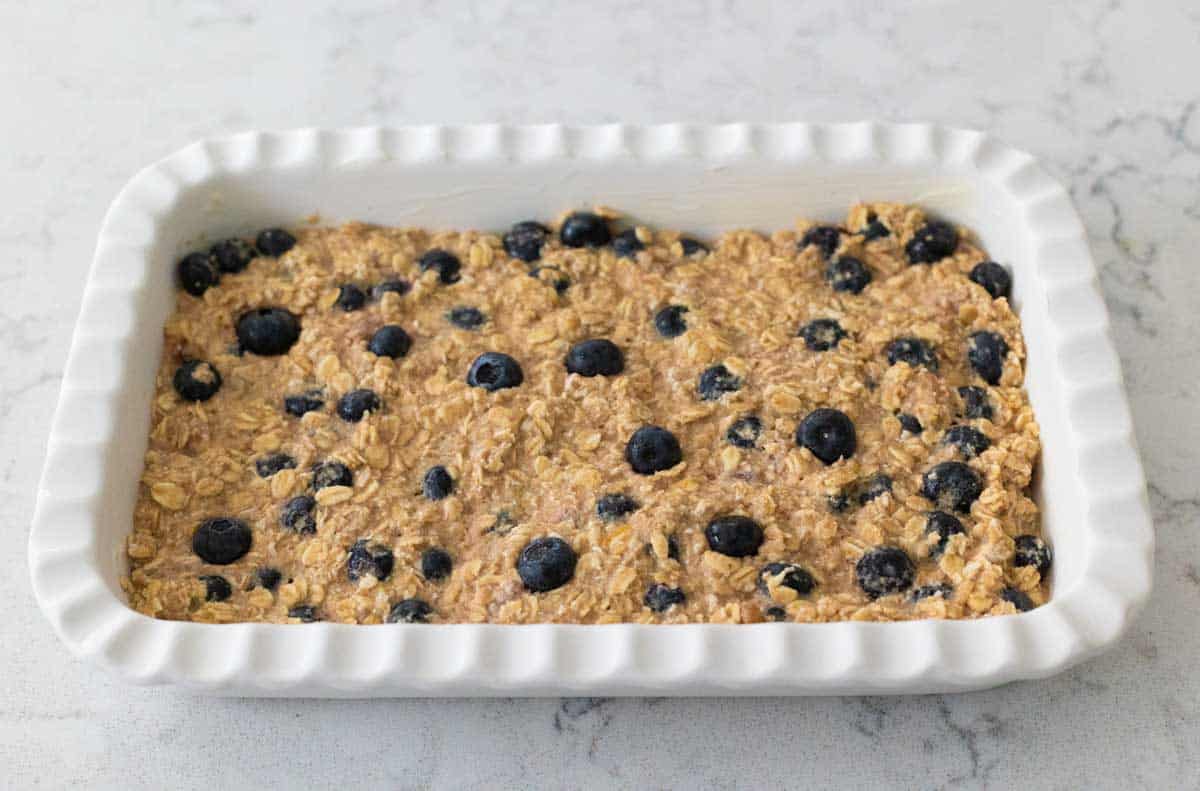 Baking Instructions
Preheat the oven to 350°F.
Bake the oatmeal for 30 minutes or until the top is golden brown.
Let it sit for 5 minutes before you try to slice and serve it so that it sticks together a little better.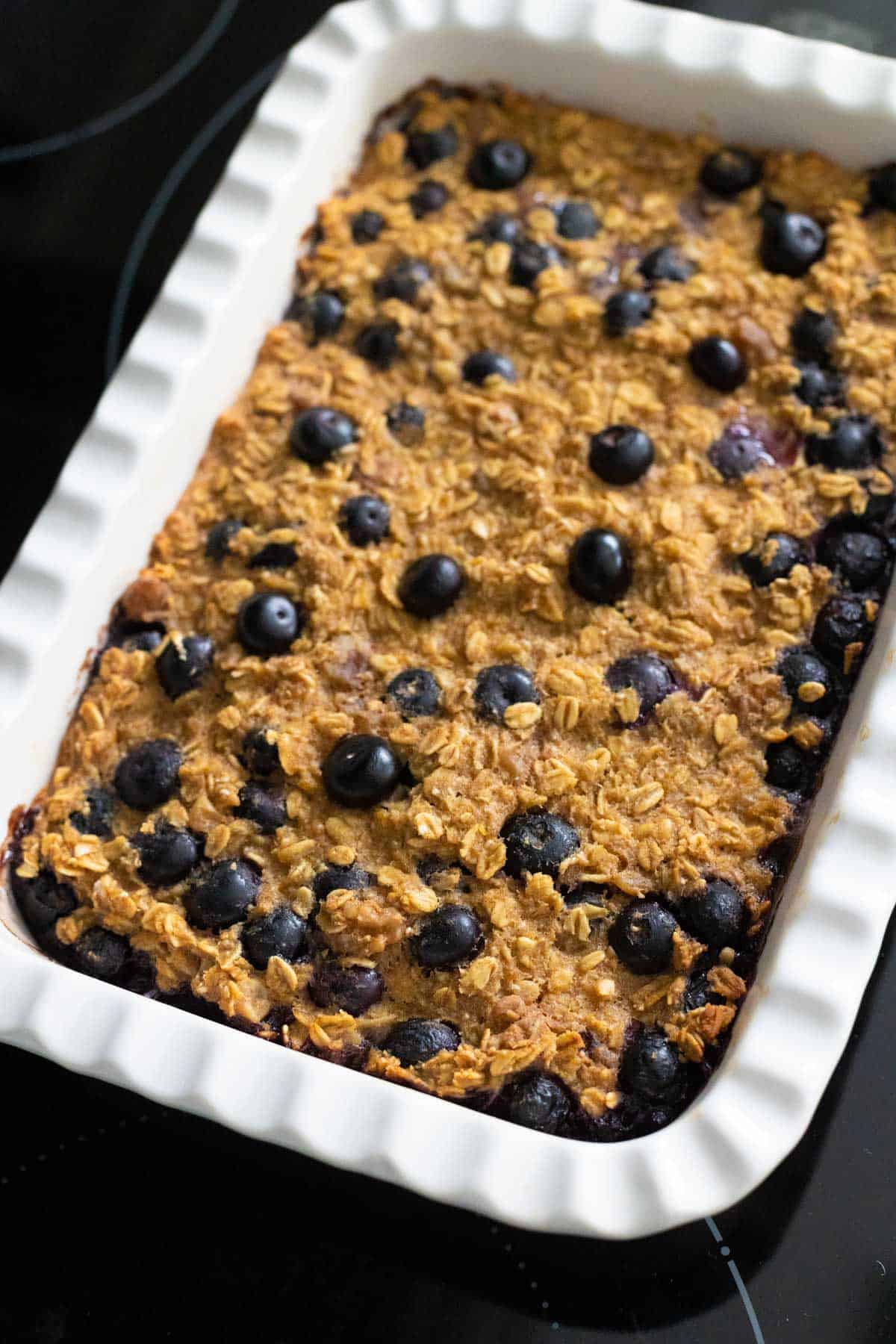 Serving Tips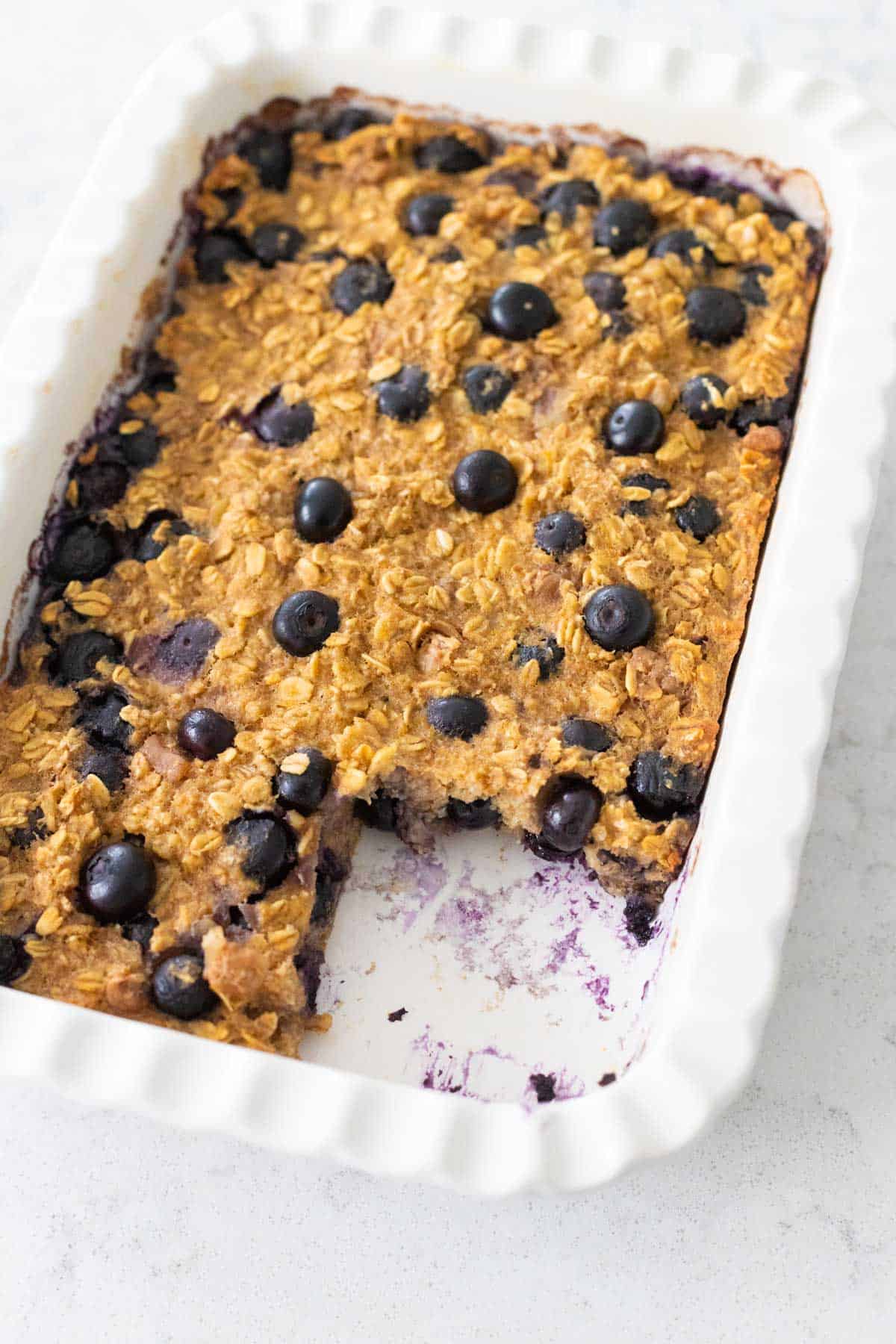 This lemon blueberry baked oatmeal tastes the very best warm and fresh from the oven. The oats have a wonderful crispy texture on the outside and the blueberries burst with warm juices.
It would make an amazing weekend brunch with peppered bacon. To add a little sweetness, you could add just a dollop of blackberry jam or even peach jam on top of the oats.
If you're serving this dish as a school morning breakfast, you may want to add a hard boiled egg for extra protein.
Make Ahead Tips
This is an amazing make ahead breakfast for a busy work week.
Store the baked oatmeal in the fridge with plastic wrap or aluminum foil covering the dish.
You can simply reheat single portions of the oatmeal in the microwave for breakfast each day.
However, if you're in love with that amazing crispy top like I am, I suggest warming a sliced square of the oatmeal through in the microwave for 40 seconds - 1 minute and then popping it into an air fryer or toaster oven for a minute to crisp up.
Variations
This lemon blueberry oatmeal is a great way to use fresh summertime blueberries, but you could make easy tweaks to this recipe and enjoy it all year long:
Cherry Baked Oatmeal: Use pitted cherries in place of the blueberries. I always have a bag of frozen cherries ready for things just like this.
Peaches and Cream Baked Oatmeal: Substitute diced fresh peaches for the fresh blueberries. You could use heavy cream in place of the milk for a decadent dish.
Berry Baked Oatmeal: Use a mix of strawberries, blackberries, and blueberries.
Banana Blueberry Baked Oatmeal: Add 1 mashed ripened banana to the oatmeal
Brown Sugar and Pecans Baked Oatmeal: Skip the fruit altogether and double the brown sugar. Use pecans instead of walnuts.
Apple Cinnamon Baked Oatmeal: Use diced apples in place of the blueberries and a pinch more of the cinnamon.
More Breakfast Ideas for Your Family
If you're looking for more delicious recipes for your family, don't miss some of my other favorites:
📖 Recipe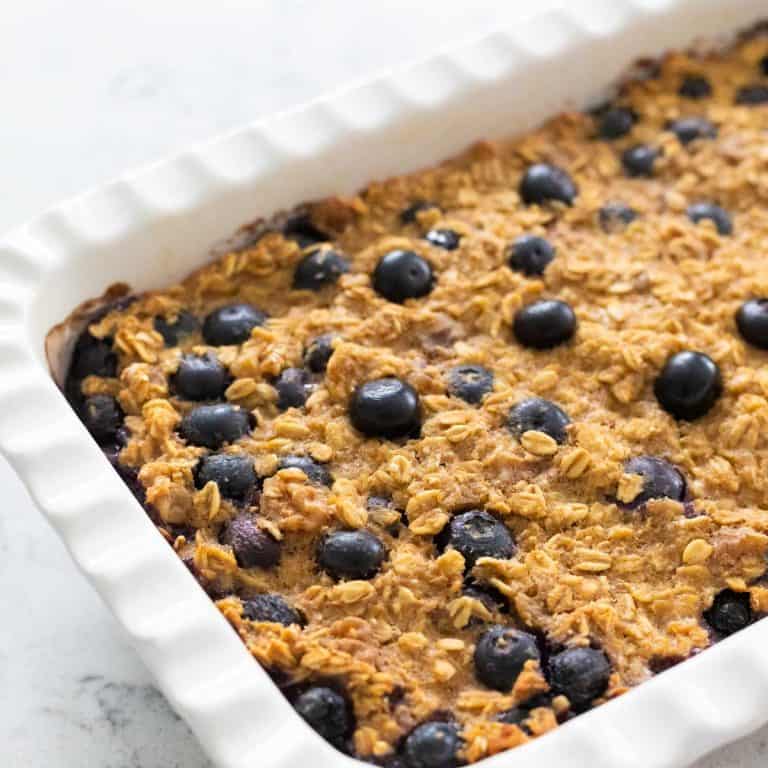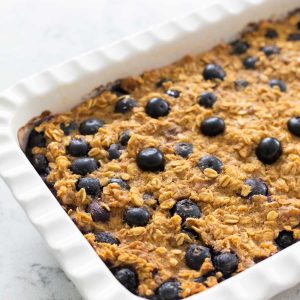 Lemon Blueberry Baked Oatmeal
This lemon blueberry baked oatmeal is a time-saving and delicious breakfast option for busy families. Packed with tangy lemon and sweet blueberries, it can be prepared ahead of time, ensuring a healthy way to start the day, even on hectic mornings.
Ingredients
2

cups

old fashioned oats

¼

cup

chopped walnuts

3

tablespoon

brown sugar

1

teaspoon

cinnamon

½

teaspoon

baking powder

¼

teaspoon

salt

¾

cup

milk

1

cup

unsweetened applesauce

2

eggs

Zest from 1 lemon

Juice from 1 lemon

2

teaspoon

vanilla

2

cups

blueberries

fresh or frozen

1

tbsp

softened butter

for the baking dish
Instructions
The Night Before:
In a large mixing bowl, add the oats, walnuts, sugar, cinnamon, baking powder, and salt. Use a spatula to stir them together until evenly combined.

Pour in the milk, applesauce, eggs, lemon zest, lemon juice, and vanilla. Mix everything together until well combined.

Add the blueberries to the bowl and gently fold them into the oat mixture.

Rub 1 tablespoon softened butter around a 7 x 11-inch baking dish. Scrape the blueberry oatmeal mixture into the pan and spread it into an even layer.

Cover the dish with plastic wrap and chill in the fridge overnight.
Bake In The Morning:
Preheat the oven to 350°F. Bake for 30 minutes or until the lemon blueberry baked oats are golden brown. Let rest for 5 minutes before slicing to serve.

OPTIONAL: To boost the lemon flavor, you could zest a second lemon and sprinkle it over the fresh baked oatmeal just before serving.
Recipe Notes
Reheating Tips:
If you want to make this on Sunday evening for easy breakfasts during the week, you can reheat single portions easily. Just microwave for 1 minute or until heated through to the center.
To retain the crispy edges, I recommend heating in the microwave first and then giving it 1 minute in a toaster oven or air fryer to crisp up the outside.
Save This Recipe to Your Recipe Box
Find this delicious recipe next time you visit by saving it to your very own recipe box on my site. All your favorites stored in one easy place!