Learn how to make homemade granola for sprinkling over yogurt with fresh fruit and you'll always have a quick and easy weekday breakfast. It's even delicious enough to serve a large bowl at your weekend brunch with an assortment of fresh berries for your guests to build their own yogurt parfaits.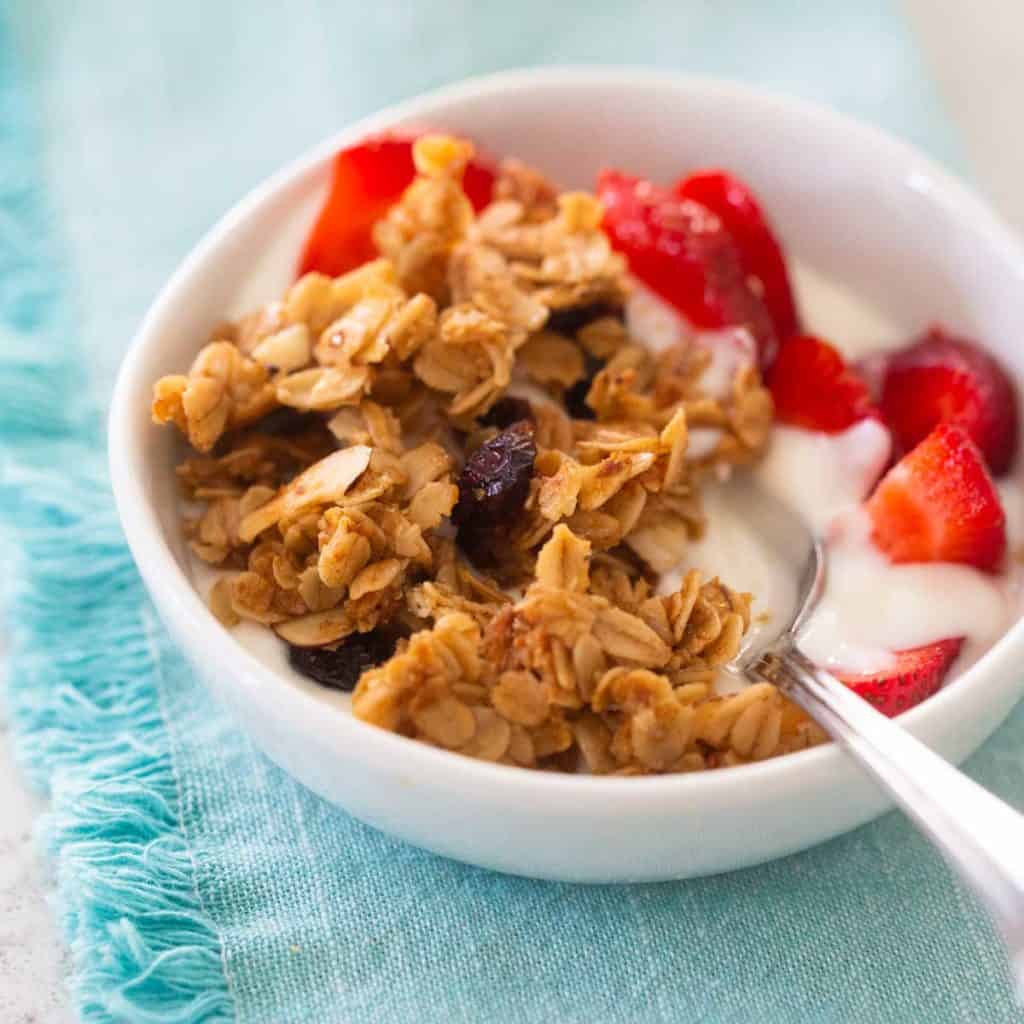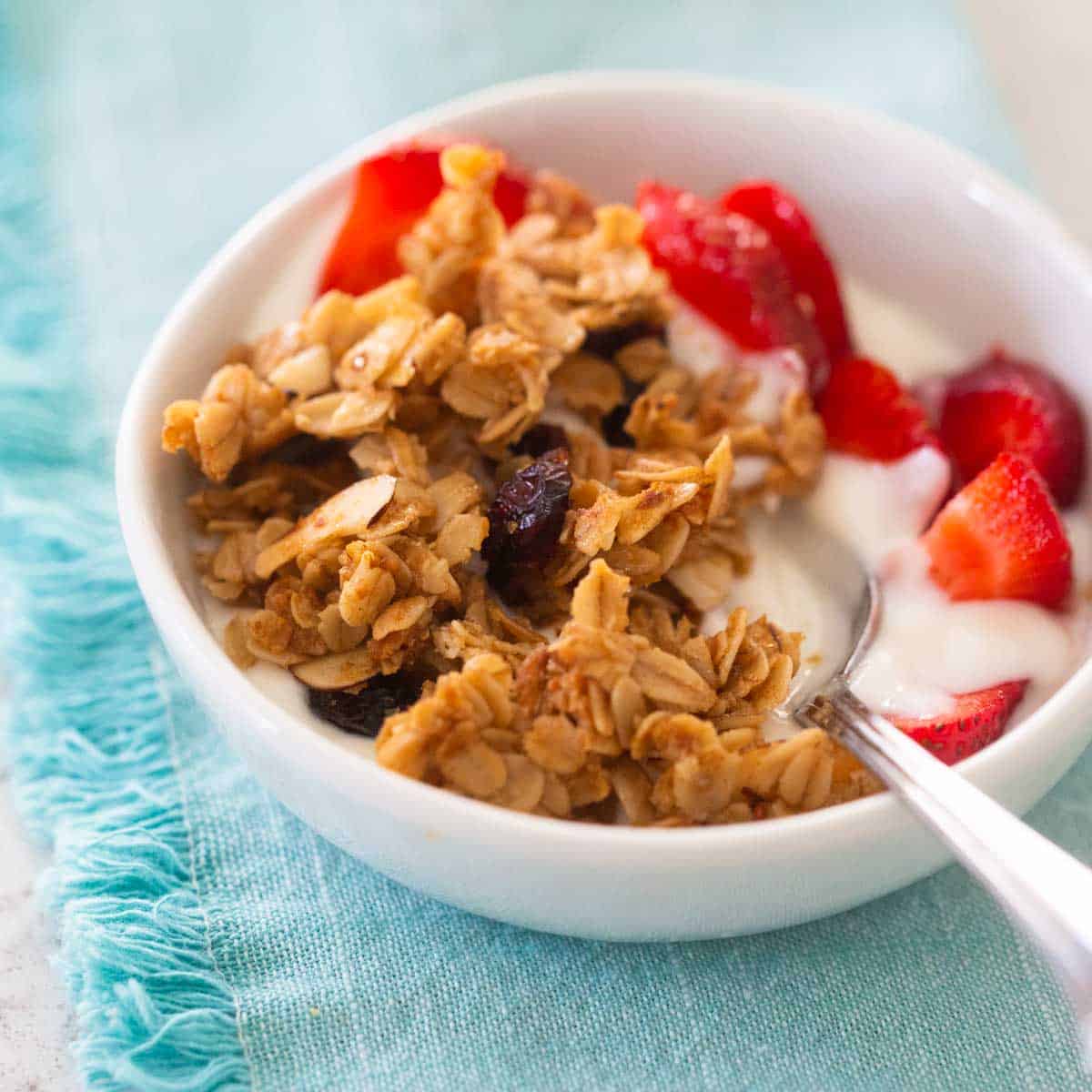 Do you reserve yogurt topped with oats and honey for an average weekday breakfast?
Maybe you don't consider homemade granola when you're planning a festive celebratory brunch, but this recipe is so delicious the first time I had it was at a baby shower with friends.
I still remember begging the hostess for the recipe so I could go home and make my own homemade granola for snacks and topping my yogurt.
I've been making this classic granola recipe for the last 15 years and I still love it just as much as the first time I tried it.
Why Does This Recipe Work?
No funky ingredients: You won't need to buy a specialty oil you never use in anything else. I bet most everything is in your pantry right now.
Mix & Match: You can easily substitute the nuts and dried fruit to match your favorite flavors. Be sure to check out my substitutions list at the bottom.
One Bowl, One Pan: Mix it all in a single bowl, bake it all on a single baking sheet. This is a super low-mess, easy prep recipe.
What You Need to Make It: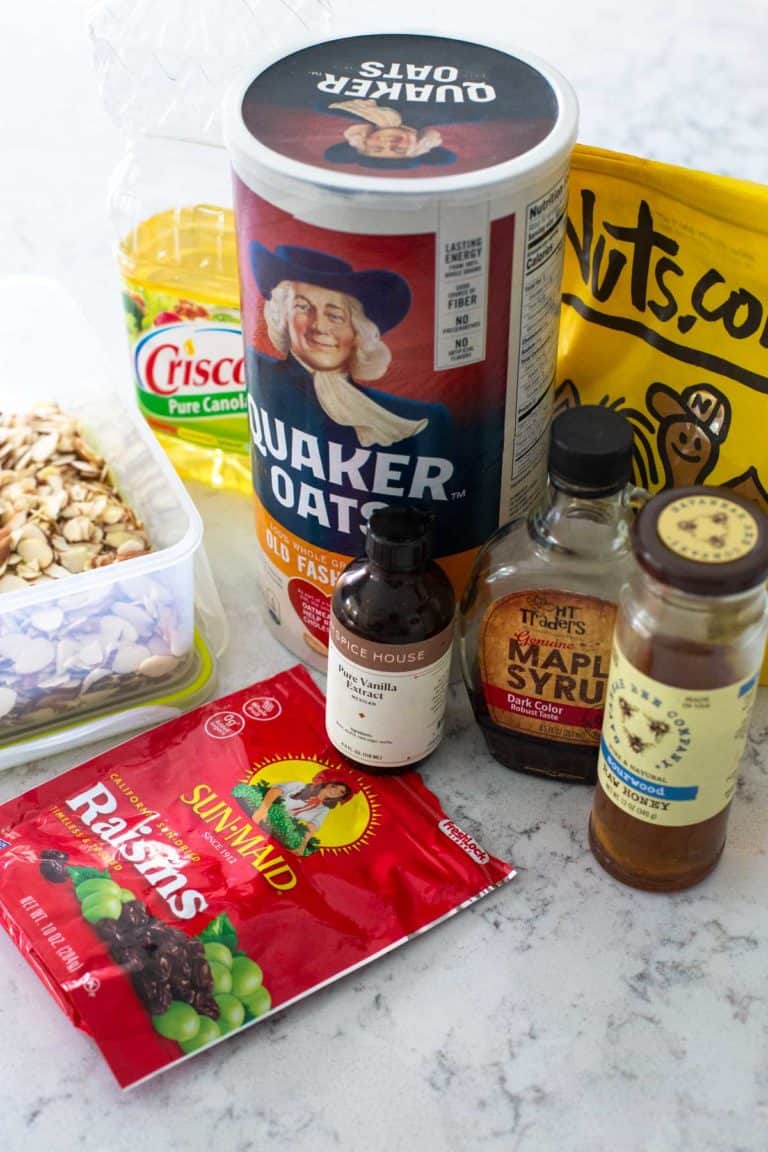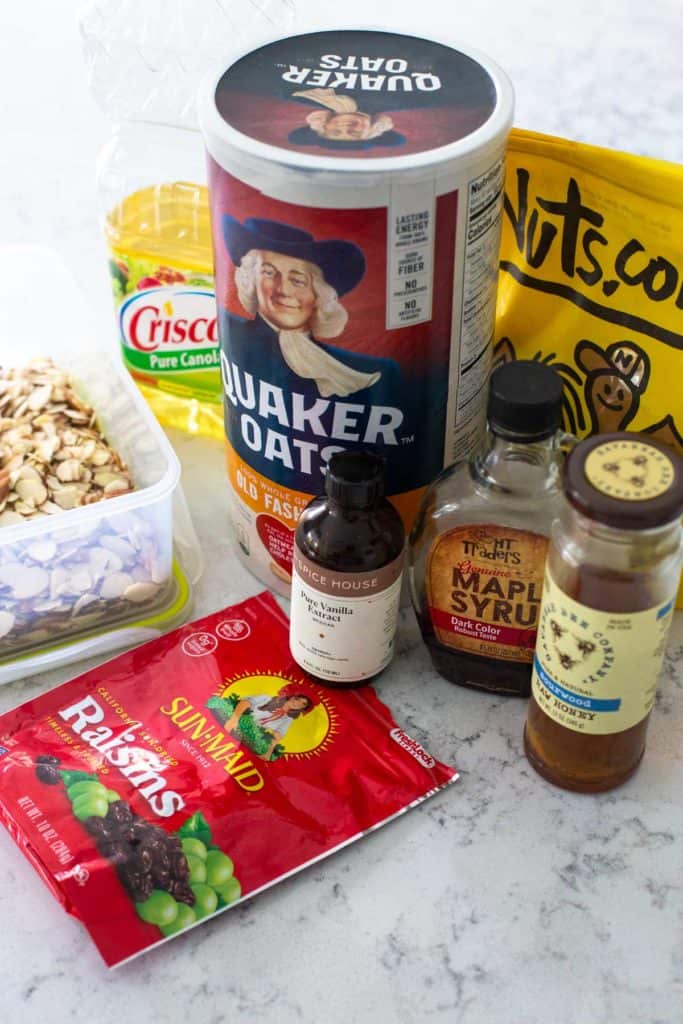 The ingredients for making homemade granola are very simple:
Old Fashioned Oats: I love to keep a big tub of Quaker Oats in my pantry so I always have enough for making the granola. Do not try to substitute quick cook oats, they won't hold up to the baking process.
Canola Oil: Even though I love it, don't try to substitute with olive oil, it will leave a funny flavor.
Honey & REAL Maple Syrup
Brown Sugar
Raisins and Your Favorite Chopped Nuts: I used sliced almonds for this batch but I've also loved pecans and hazelnuts. I sometimes swap the raisins with dried cranberries.
Vanilla & Cinnamon
How to Make Granola:
Before you get started, preheat the oven to 325°F.
Lay out a large baking sheet lined with parchment.
Step 1: Mix the Dry Ingredients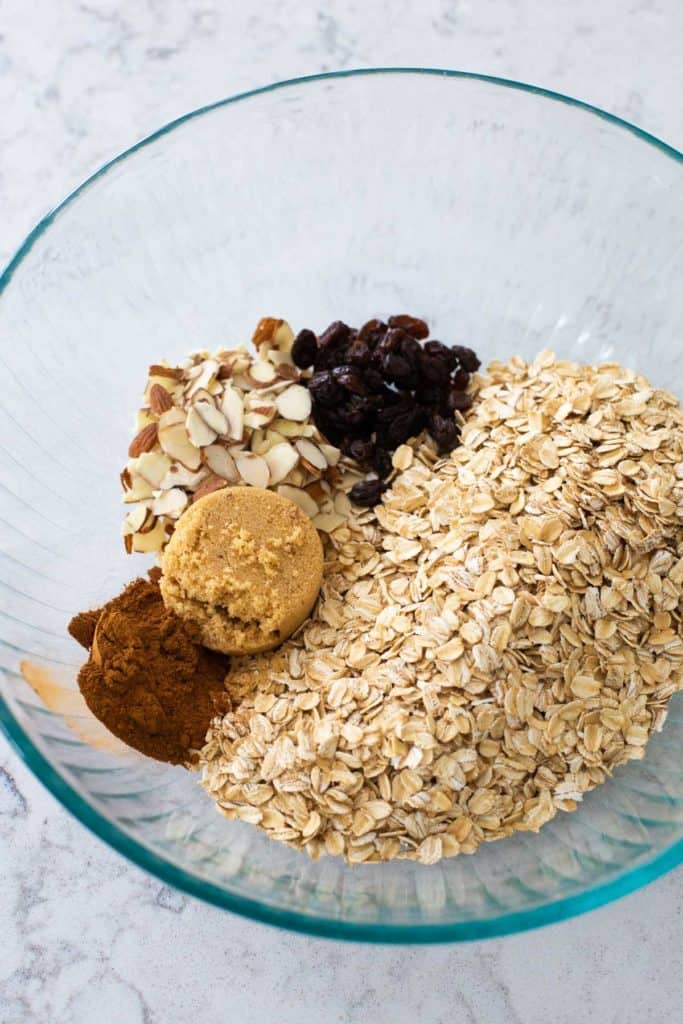 In a large mixing bowl, add the old-fashioned oats, brown sugar, cinnamon, sliced almonds, and raisins.
Stir together to combine.
Step 2: Stir in the Wet Ingredients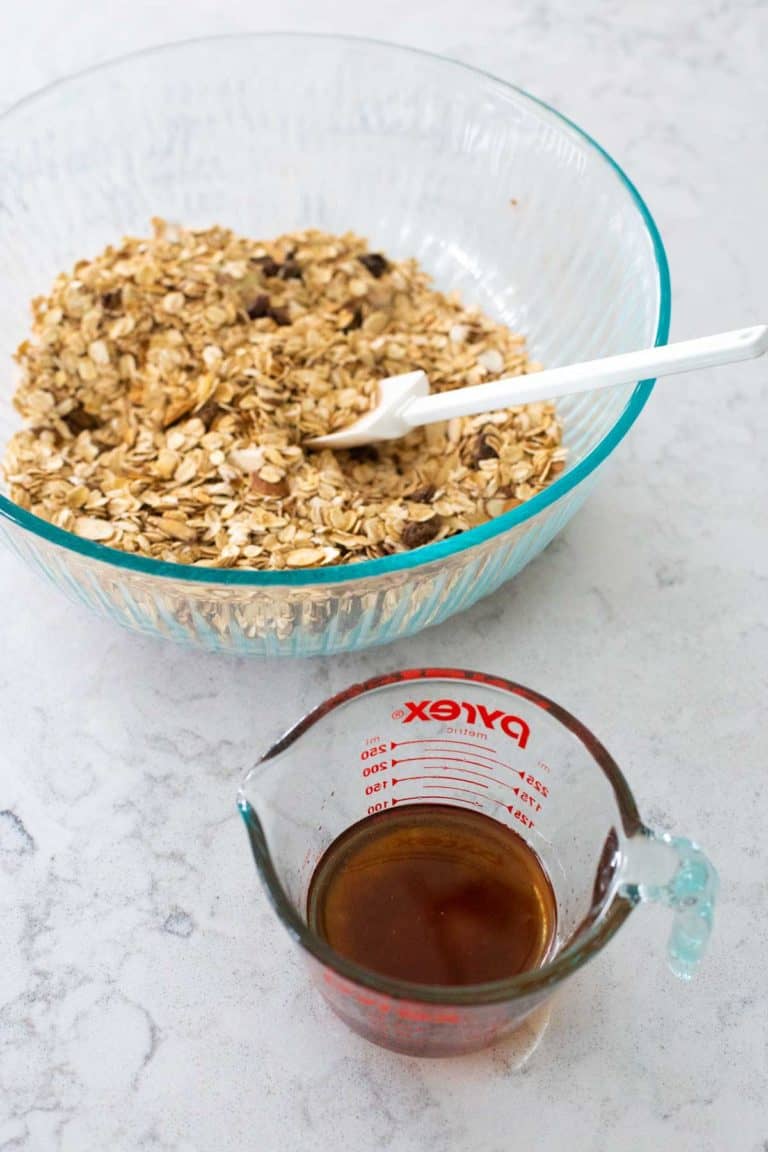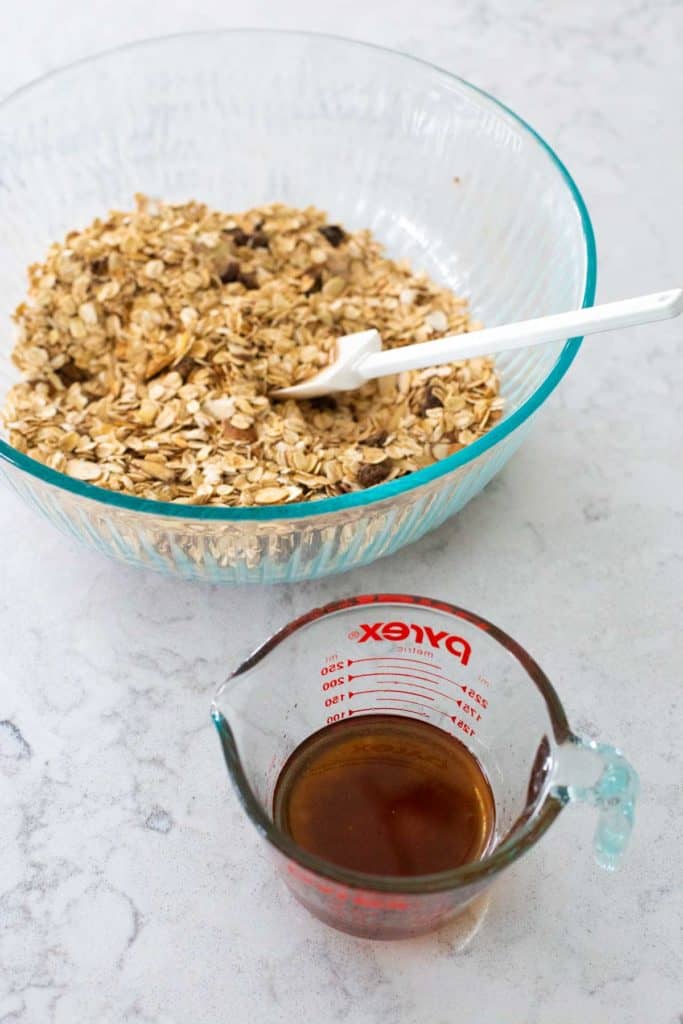 Add the canola oil, maple syrup, and honey to the mixing bowl.
Stir to combine.
Make sure there are no dry pockets of seasonings and that all the oats, fruit, and nuts are covered in the maple and honey mixture.
Step 3: Spread and Bake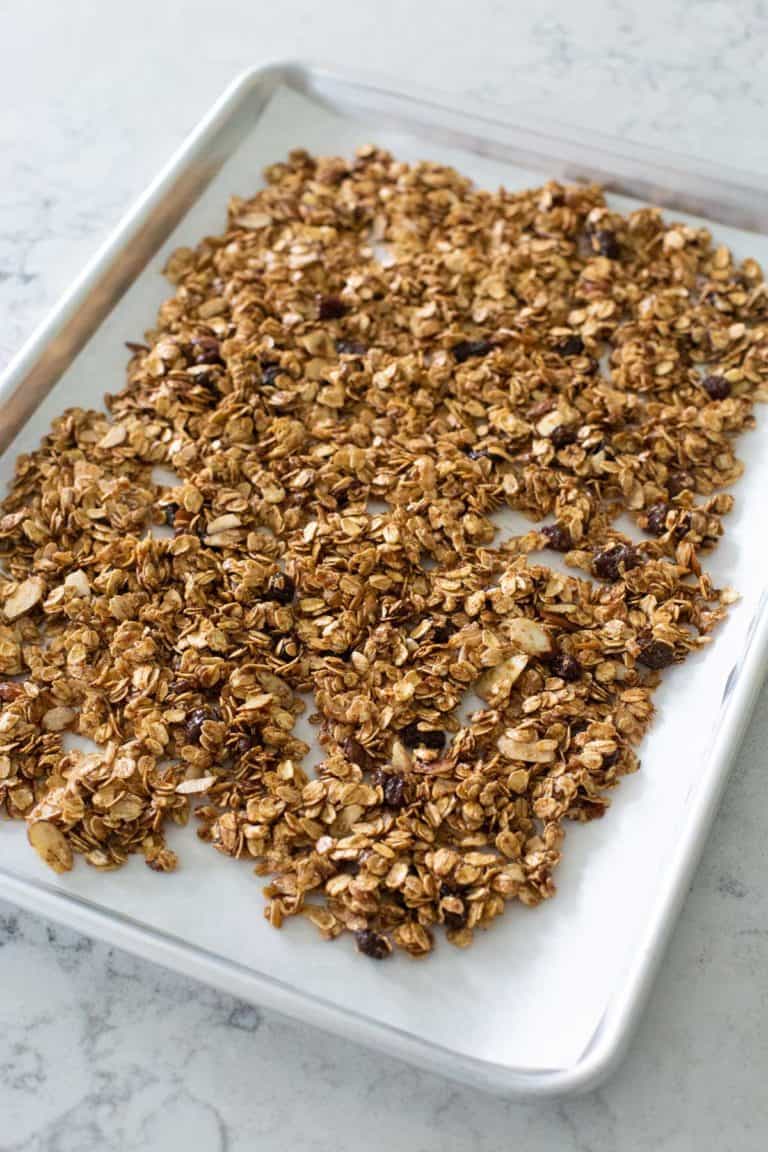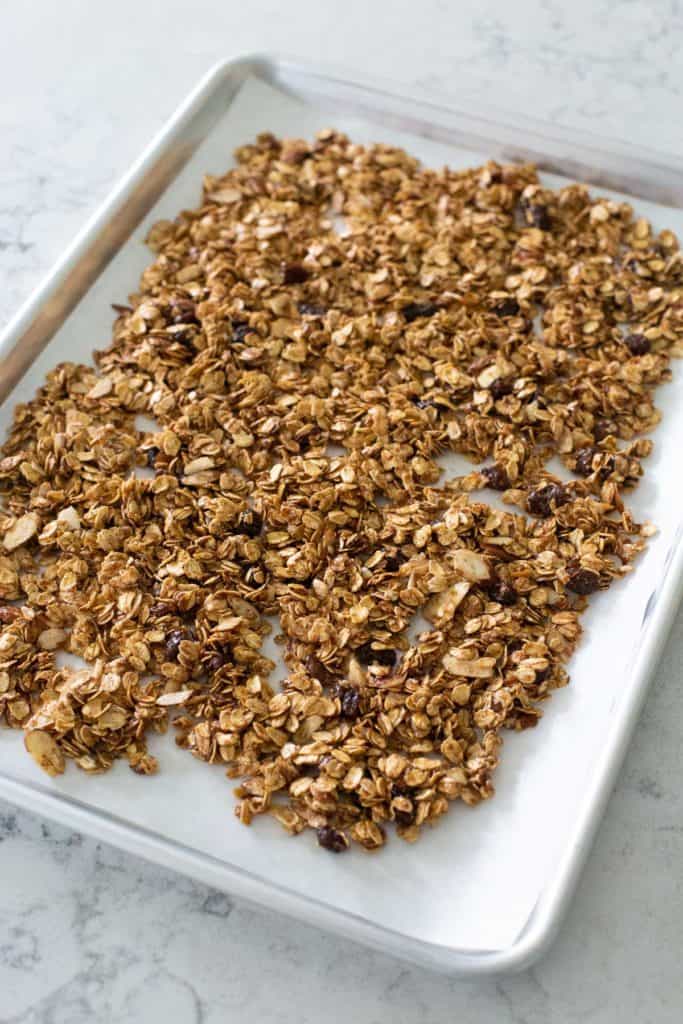 Spread the granola mixture in an even layer on the baking sheet you prepared earlier.
It's ok to tap it down with the back of your spatula if needed.
Bake the granola for 10 minutes. Gently stir the granola and spread it back into an even layer, then bake for an additional 10 minutes.
DO NOT TOUCH OR STIR the baked granola when it comes out hot from the oven.
If you want to have delicious large chunks of granola for easy snacking, you want to let the granola cool first.
Once the granola has completely cooled, gently break it up into large chunks and store it in an airtight container for up to two weeks.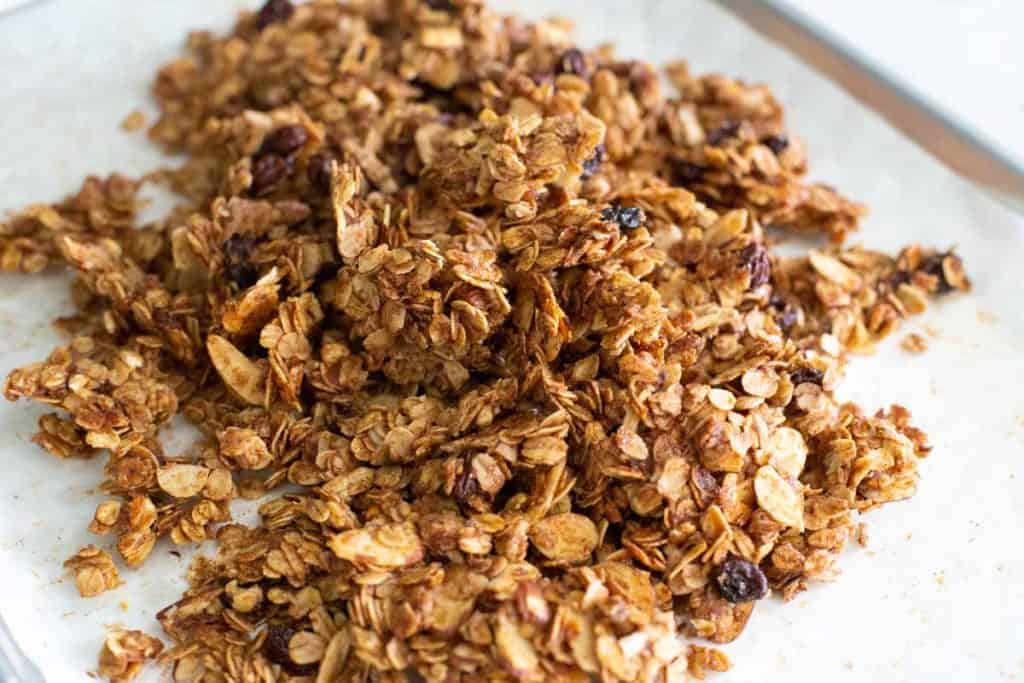 Recipe FAQs and Substitutions:
Can I substitute olive oil for canola oil?
While these two oils may be easily interchangeable for many recipes, this is not one of them. Olive oil will leave a funny taste to your granola. Stick with the plainer tasting canola oil.
Can I use artificial maple syrup instead of real syrup?
I strongly prefer how real syrup bakes in recipes but in a pinch, artificial syrup could be substituted.
Can I make this nut-free?
Absolutely! The dried nuts and dried fruits are completely optional ingredients. You can omit them completely or change which ones you want to add.
Serving Suggestions: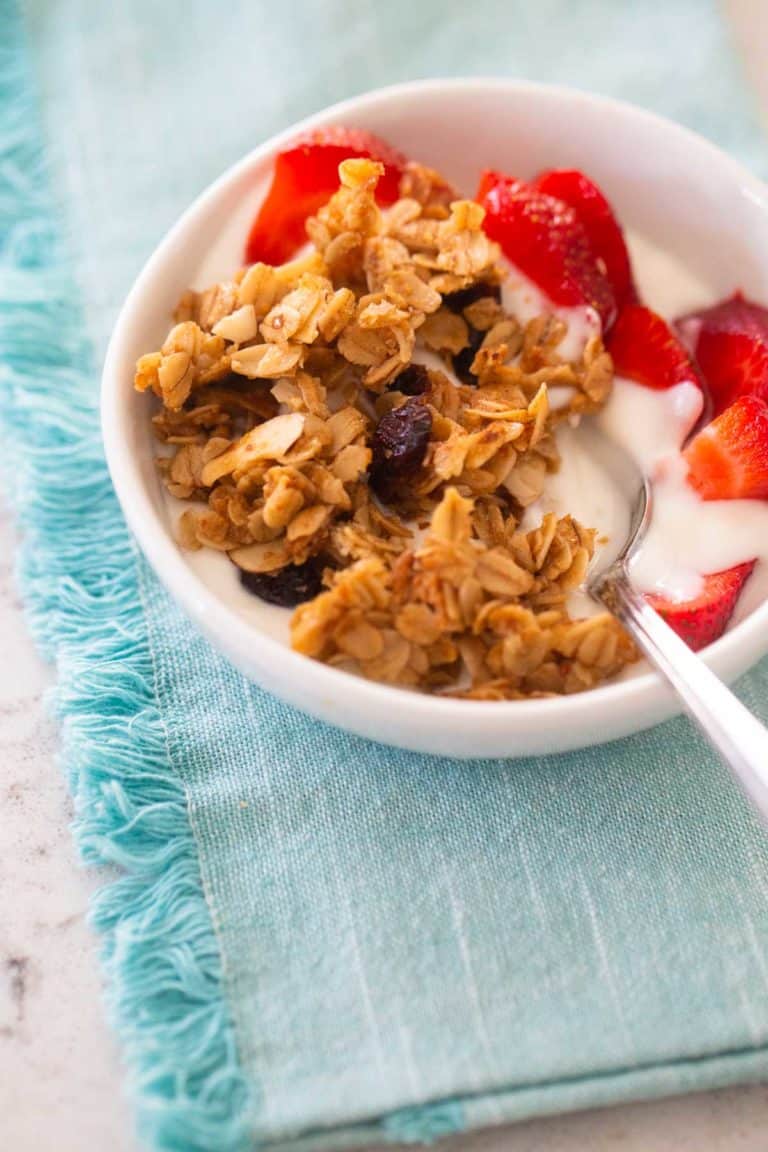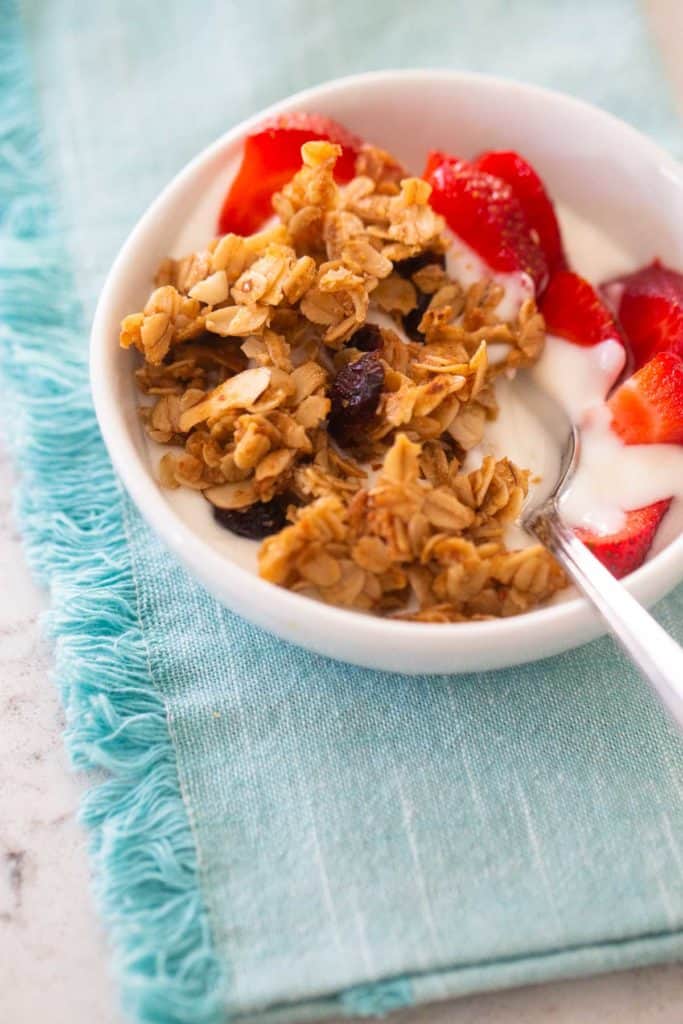 This is one of my current favorite breakfasts for every day of the week.
I buy large tubs of vanilla yogurt and serve my morning dish sprinkled with this granola and whatever seasonal berries I have on hand.
For a special brunch, serve the granola in a large bowl with a serving spoon.
Then be sure to set out:
A variety of yogurt flavors in individual cups or a couple large tubs, I love the French-style yogurt flavors from Oui by Yoplait, they'd be especially pretty on a brunch table
Fresh fruits
Small bowls of mini chocolate chips
Pretty bowls for building parfaits
Spoons
More Easy Breakfast Ideas:
If you've tried this homemade granola recipe or any other recipe on PeanutBlossom.com please don't forget to rate the recipe and let me know where you found it in the comments below. I love hearing from you!
FOLLOW along on Instagram @peanut.blossom as well as on Pinterest and Facebook.