This easy chocolate croissant recipe is perfect for beginner bakers to make for a special weekend brunch. Kids can make them for Mother's Day breakfast in bed or will love adding them to the Easter or Christmas morning buffet!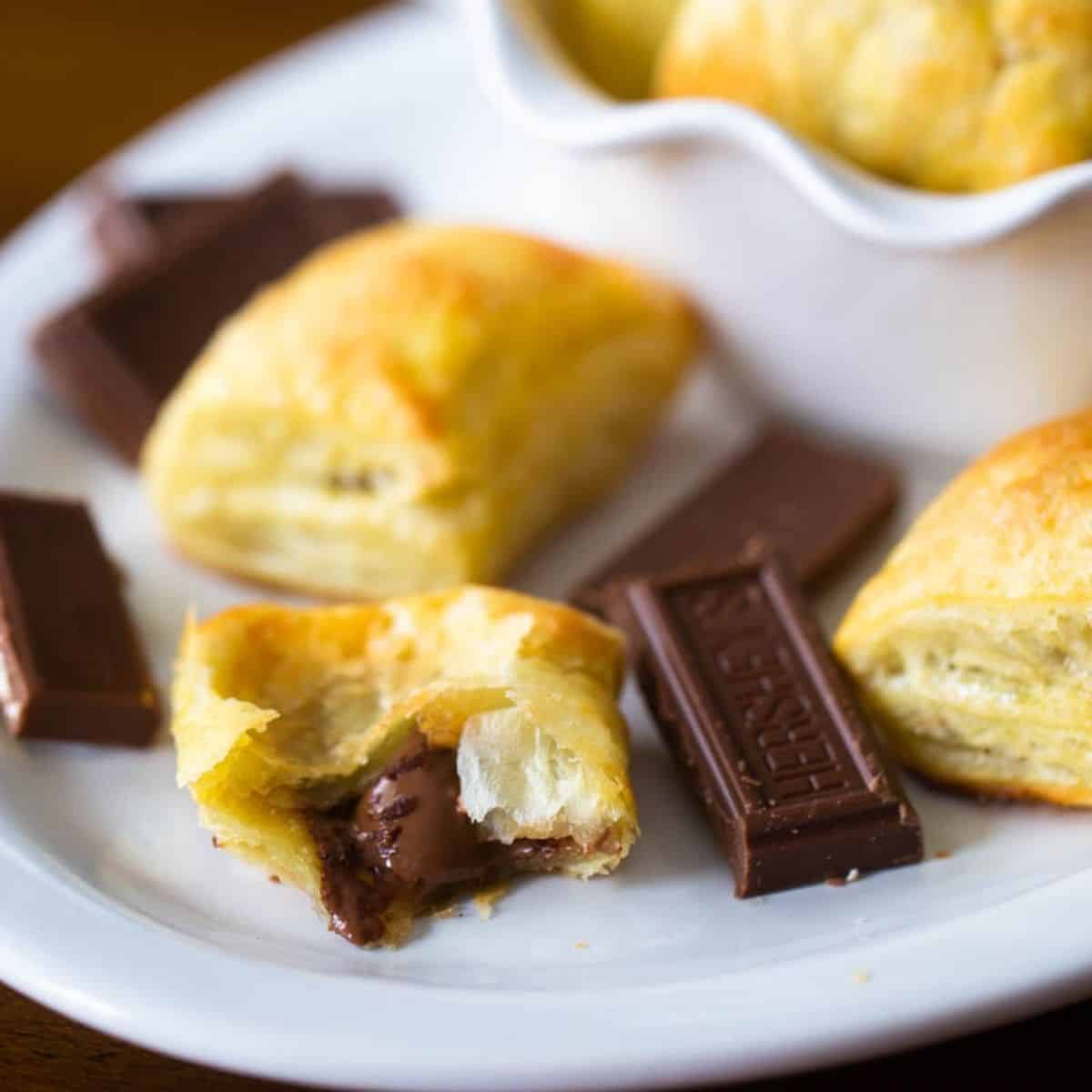 The best recipes for baking with kids have simple ingredients but a big pay-off at the end.
One of the first things I taught my girls how to bake when they were just starting out were these crazy easy chocolate croissant puffs.
While homemade croissants sound exactly the opposite of beginner-baker-easy, this particular chocolate croissant recipe has just 2 main ingredients but tastes like you spent all day in the kitchen.
They are just perfect for little hands to feel super important in the kitchen.
They're also so delicious, you'll find yourself making them for an easy addition to any festive brunch you're planning!
Jump to:
Ingredients
The best part of this recipe is how easy it is to keep all the ingredients on hand for last-minute baking!
All you need is:
Puff Pastry: I buy the Pepperidge Farm package that has 2 3-fold sheets of dough inside each box. I've also spotted it at Trader Joe's. You can use whatever brand of puff pastry you can find at the grocery store. You'll usually find it in the freezer by the Cool Whip and frozen berries in a small rectangular box.
Hershey's Chocolate Bars: You could use a fancier chocolate if you prefer, but honestly Hershey's melts perfectly and the pre-scored squares are the just-right shape for this recipe.
You'll also need an egg for the egg wash.
What is Puff Pastry?
If you haven't worked with it before, puff pastry dough is made by folding a butter-rich dough over and over and over to create tons of very thin layers inside a smooth rolled dough.
The buttery dough puffs up when baked as the butter melts and the moisture steams causing pockets of air between all those very thin layers of dough.
The final baked texture is light and crispy and way better than refrigerated crescent rolls.
Don't be tempted to substitute crescent rolls for this recipe, they are too thick and doughy. The puff pastry texture is absolutely perfect and worth the extra step.
Making puff pastry from scratch is very difficult so the frozen prepared dough is the perfect kitchen shortcut and is easy for even beginner bakers to look like a rockstar!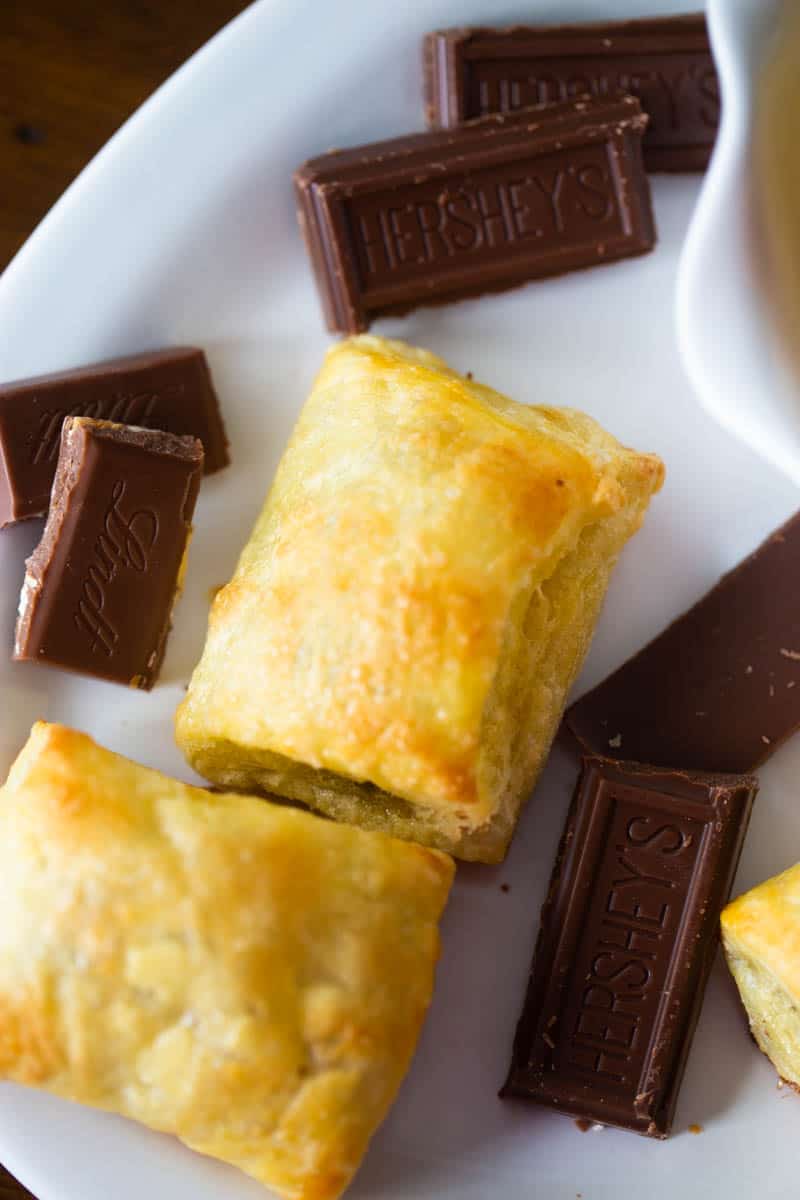 How to Use the Puff Pastry
The first step to baking chocolate croissants is to thaw the puff pastry.
While frozen, the sheets of buttery dough will be stiff as a board. Thaw the puff pastry in your fridge for 3 - 4 hours before you plan to bake.
If you forgot to the thaw the dough ahead of time, I've also thawed it on my counter for 15 minutes or until it is just softened enough to unfold the sheets without breaking them.
However, the puff pastry needs to still be cold when it gets baked or it won't get that signature flaky finish in the oven. So don't let the dough sit on your counter until it becomes room temperature.
Assemble the Chocolate Croissants
Once the puff pastry is softened enough that you can gently open it up, unfold one sheet onto a baking mat or cutting board.
Roll it lightly with a rolling pin to smooth out the creases from the folds just a bit.
Use a pizza wheel to cut the dough into 12 equal pieces, 3 rows of 4.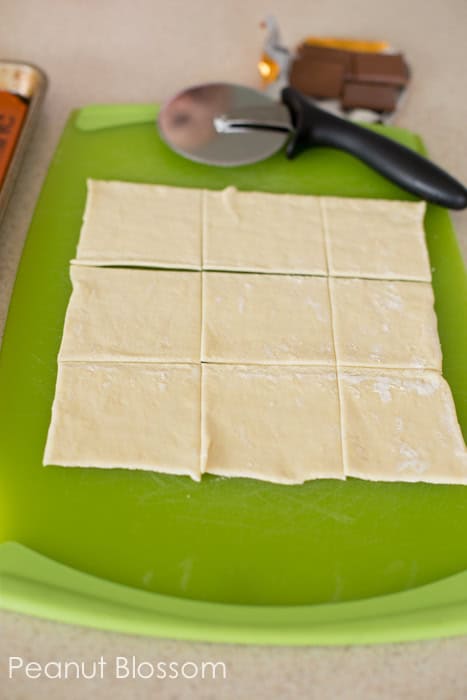 Break one little rectangle of Hershey's chocolate for each puff square. Set the chocolate in the middle but off to one side of the square.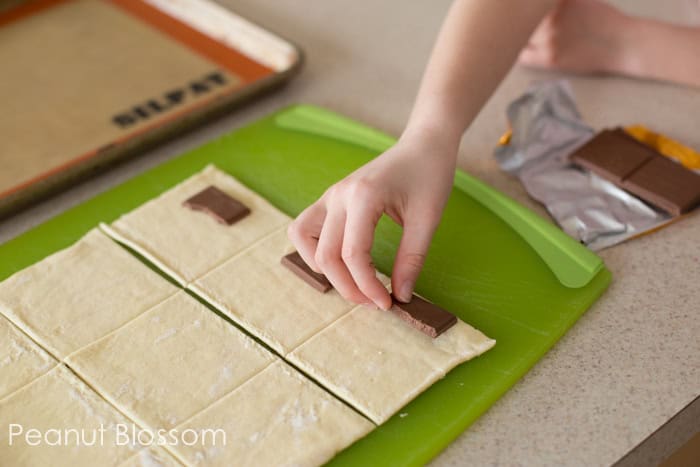 Fold the dough over to form a rectangle around the chocolate and use a fork to pinch the edges closed.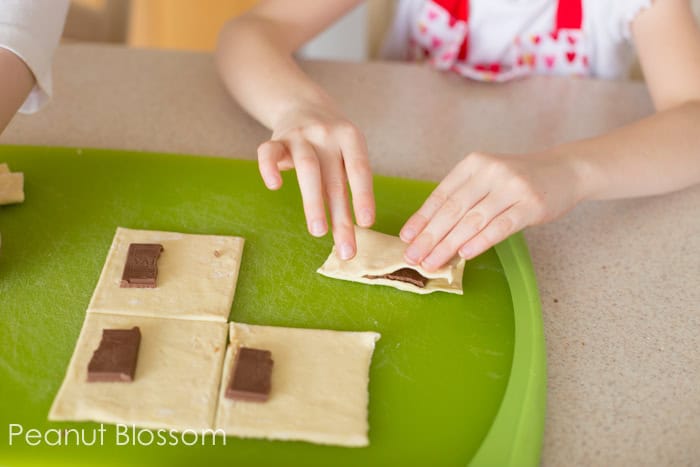 Line the croissants up on a baking sheet lined with parchment paper as you go.
Brush and Bake
Whisk together one egg with a tablespoon of water in a small bowl. Use a pastry brush to paint a bit of the egg wash over each puff before baking.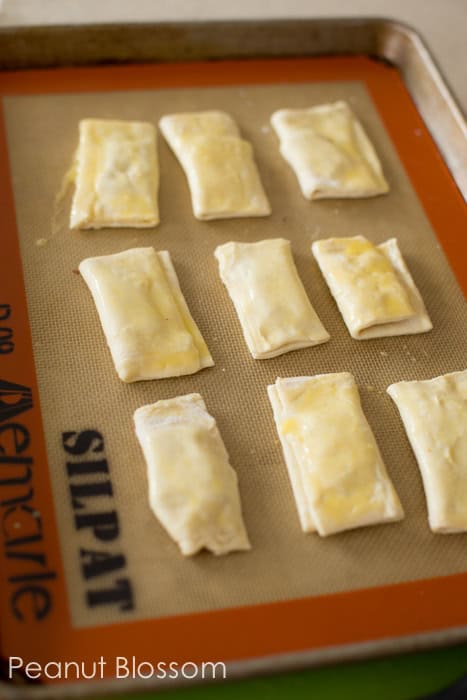 This will help the chocolate puffs get a beautiful golden brown color.
Bake them at 400°F for 12 - 14 minutes.
And then do your best to not totally burn your tongue by eating them too fast! Give them at least 5 minutes to cool down before you try one.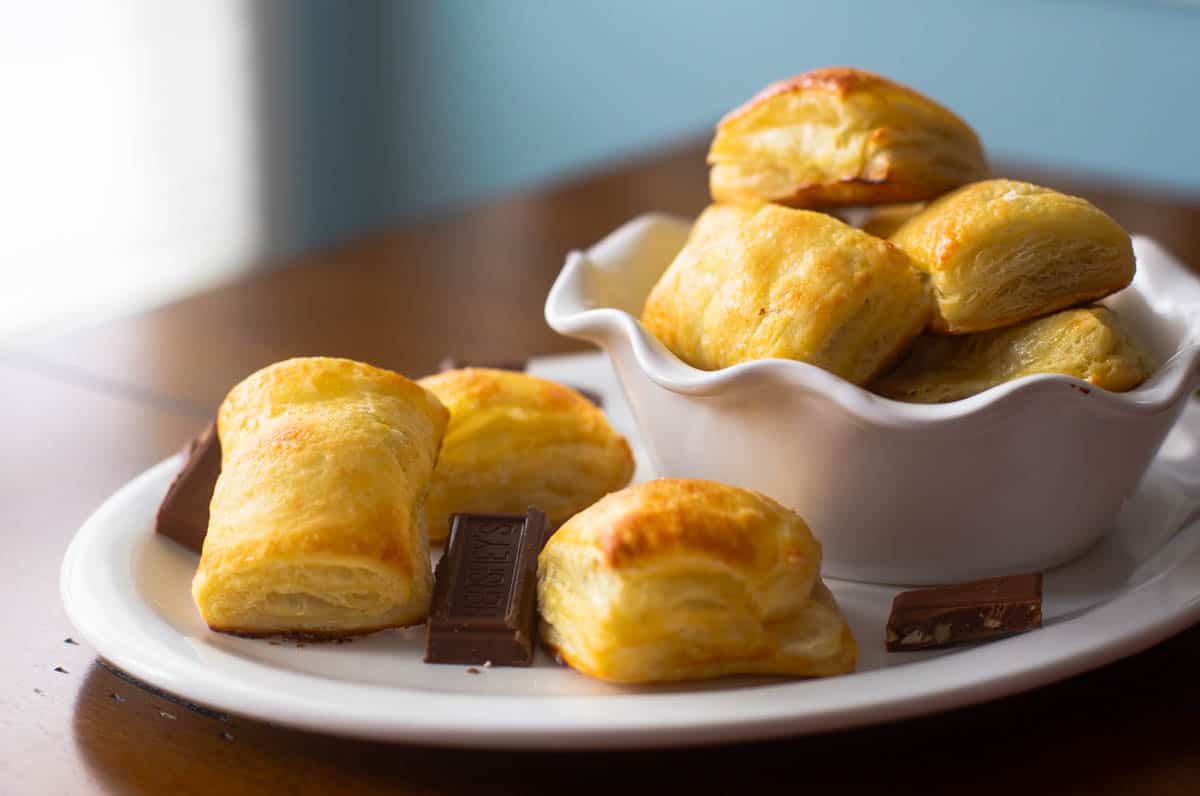 Tips for Baking with Kids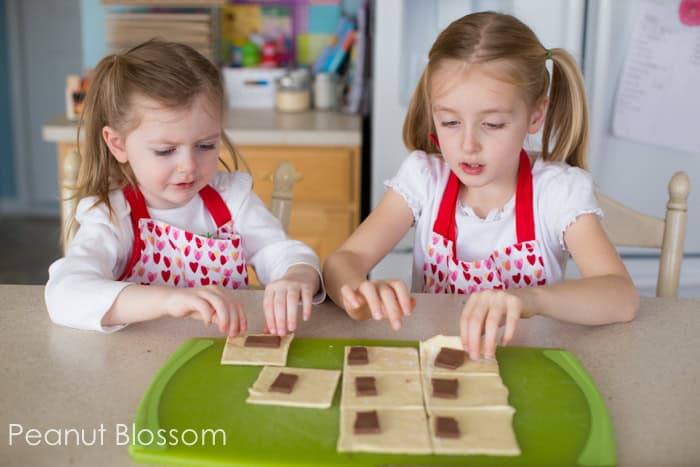 The toughest lesson with these yummy chocolate puffs is patience!
Watching them rise and bake in the oven was near torture for the kids. Being told they had to wait for the molten chocolate to cool before gobbling them up put them right over the edge!
If your kids enjoy baking these delicious chocolate puffs, you don't want to miss The Ultimate Kids' Baking Book:
More Easy Breakfast Recipes
Looking for more easy ideas to bake with your kids? These delicious breakfast recipes are perfect for a weekend brunch:
📖 Recipe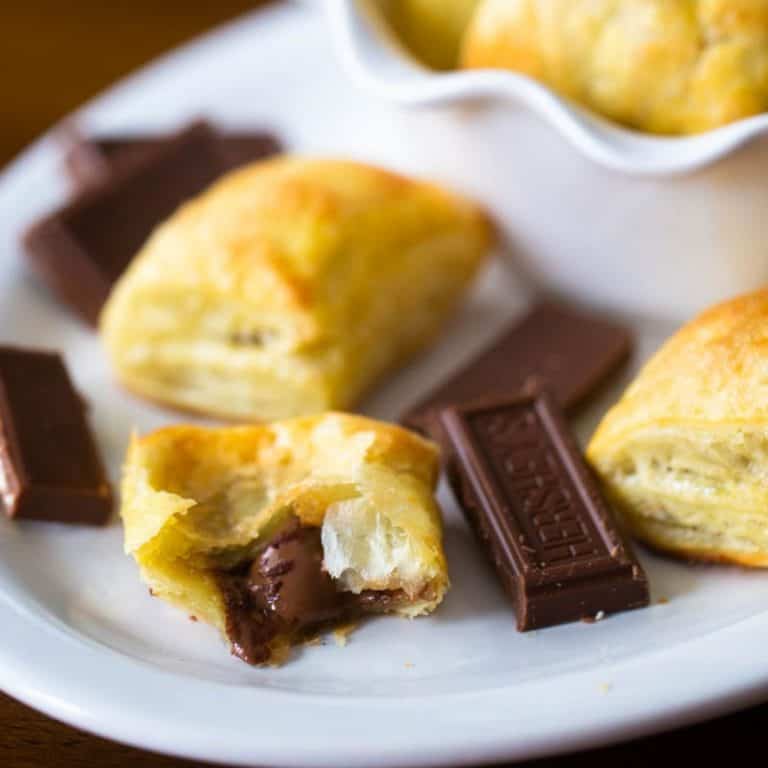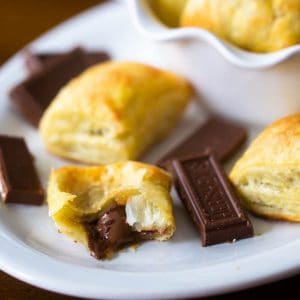 Easy Chocolate Croissants
The best beginner baker recipe for young kids to make! This chocolate croissant recipe has just 3 ingredients but tastes like you've been in the kitchen all day.
Ingredients
1

package frozen puff pastry

thawed

1

package Hershey's chocolate bars

1

egg
Instructions
Preheat the oven to 400°F.

Set out a cookie sheet and line it with a sheet of parchment paper.

Sprinkle a table spoon full of flour on a large cutting board. Unfold one sheet of the thawed puff pastry over the floured surface and gently roll the dough out with a rolling pin.

Use a pizza wheel cutter to cut the dough into 12 sections (3 rows of 4.)

Unwrap the chocolate bar and break it into small pieces. Place one square of chocolate on each square of pastry dough. Fold the square of dough over to form a pocket around the chocolate and pinch the edges together. Place the finished square on the prepared cookie sheet.

Repeat with the remaining squares of dough and chocolate.

Crack the egg into a small bowl. Use a fork to gently whisk the egg until it is smooth and yellow. Add 1 tablespoon of water to the egg and whisk it in to form an egg wash.

Use a pastry brush to paint some of the egg wash over each of the chocolate puffs.

With oven mitts on both your hands, place the cookie sheet in the oven. Bake the puffs for 12 -14 minutes or until the pastry is golden brown.
Save This Recipe to Your Recipe Box
Find this delicious recipe next time you visit by saving it to your very own recipe box on my site. All your favorites stored in one easy place!