These easy hot cross biscuits with a delicious cream cheese frosting cross on top are a fun way to celebrate Easter with kids. A perfect biscuit recipe for beginning bakers.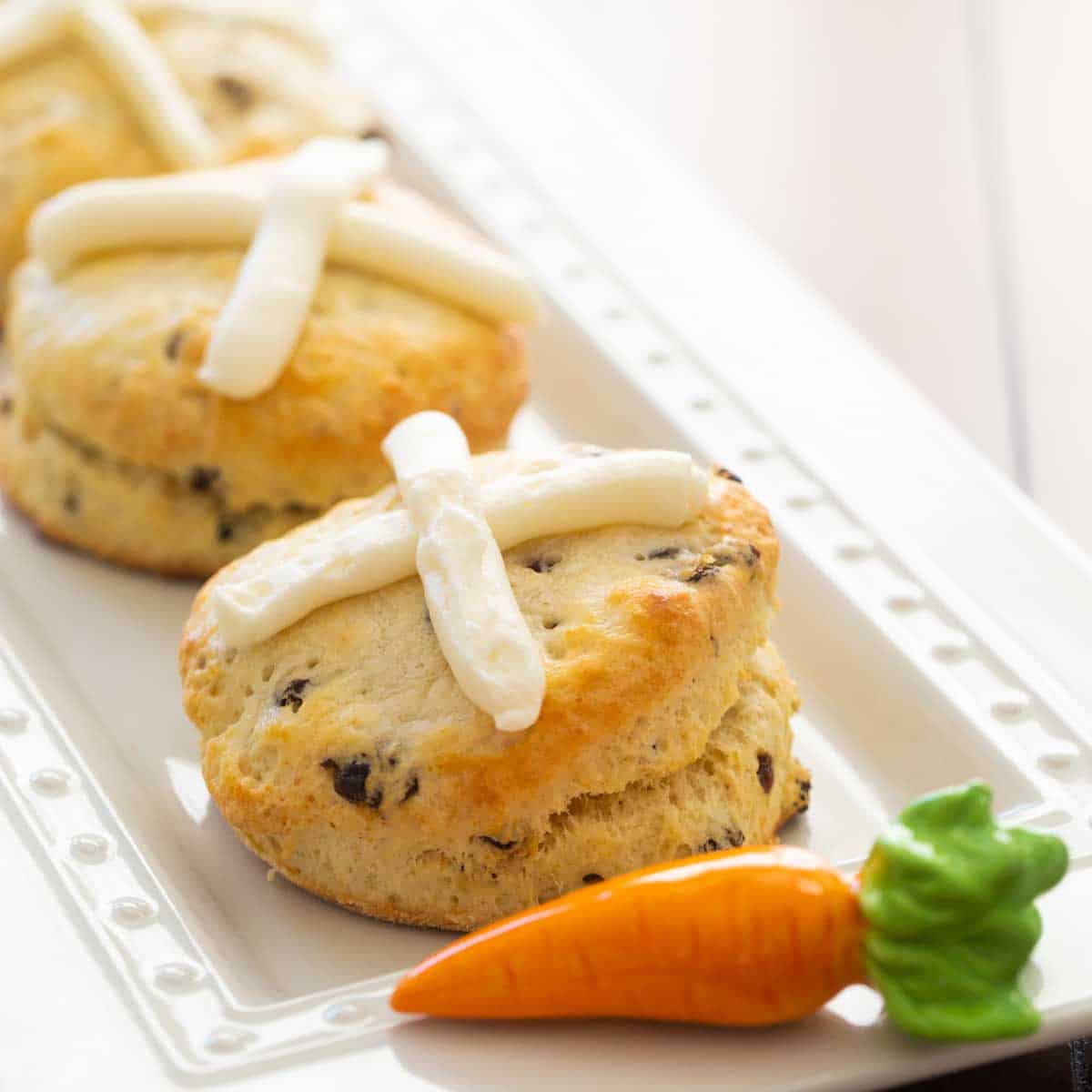 Classic holiday recipes make my heart so happy. I love introducing old traditions to my kids, knowing so many generations have celebrated the Easter season with hot cross buns brings an extra special feeling to that recipe.
Just because a recipe is a classic, doesn't mean we can't have a little fun with it.
This fun twist on the traditional hot cross bun recipe involves a homemade flaky biscuit topped with a simple cream cheese frosting cross.
I've been making this recipe every single Easter for over a decade. When my girls were still super picky, they would lick the frosting cross off first before hand-picking each and every currant out of the hot cross biscuits. It drove me crazy but I continued to make them because I loved them so.
Now, it just doesn't feel like Easter without these hot cross biscuits on the table.
I made them early this year so I could share the recipe with you and the girls both squealed: "We're still going to make these ON EASTER, right??"
That is the power of a traditional recipe--it gives our families something to anticipate at every holiday.
Jump to:
Why We Eat Hot Cross Buns at Easter
The icing cross on top of a hot cross bun represents the cross that Jesus died upon.
According to tradition, families eat hot cross buns on Good Friday, the day of Jesus' death, to remember the sacrifice He made.
Since the bun involves a sweet icing cross on top, our families feels they are more appropriate to be enjoyed on Easter Sunday as part of our celebration.
Difference Between This Recipe and a Traditional Hot Cross Bun
Traditional hot cross buns are a yeasted roll filled with currants and a thin icing cross on the top.
That version of this Easter tradition is just as delicious. If you're looking for a recipe for the yeasted bun, I included my favorite in The Ultimate Bread Machine Cookbook.
It is a great way to try your hand at using a bread machine to make dough that you form and bake in your oven.
Ingredients
I love the simple list of ingredients required to make these homemade biscuits.
Buttermilk: The key to the flaky biscuits is using buttermilk. If you don't have any on hand, you can make your own by mixing 1 tablespoon of lemon juice into 1 cup of milk. Stir them together and let it sit for 5 minutes before using.
Dried Currants: These are the traditional dried fruits for a hot cross bun. You could substitute dried raisins but I recommend chopping them into smaller pieces before using so they mimic the size of a currant.
Lemon: Mostly used for the zest but great if you need to make homemade buttermilk.
Egg
Butter
Flour
Sugar
Baking Powder
Salt
You will also need a few ingredients for the cream cheese frosting crosses:
Butter
Cream cheese
Powdered sugar
Vanilla extract
The recipe card below includes just enough of each ingredient to decorate the biscuits. But if you are planning to make a carrot cake for the holiday, you could also just use a little reserved icing from that recipe.
How to Make the Biscuits
In a large mixing bowl, add the flour, sugar, baking powder, and salt. Whisk them together. Add the lemon zest and whisk it in.
Cut the cold butter into small cubes. Add it to the bowl and use your clean fingers to pinch the butter into the flour. Work quickly and lightly, you don't want the butter to melt in your fingers.
Continue to pinch and stir the flour and butter with your fingers until the butter is completely incorporated and the flour starts to stick together like small peas.
Stir in the dried currants and then make a well in the flour.
Measure the buttermilk in a measuring cup and then whisk the egg into the milk. Pour the mixture into the well in the flour. Use a fork to stir the ingredients together. Make sure there are no dry pockets of flour.
Sprinkle some flour onto a large cutting board or work surface. Pour the biscuit dough onto the flour. Rub your hands with a bit of flour so the dough doesn't stick to your fingers and then gently knead the dough together. Gently pat out the dough so that becomes a 1-inch thick circle.
Use the bottom of a drinking glass (about 3-4 inches) to cut circles of biscuits out of the dough. Place the biscuit rounds on your prepared baking sheets.
Knead together the dough scraps and pat it out again. Keep cutting circles of dough until you've used everything up.
Brush the tops of each biscuit with a little more buttermilk.
Bake the biscuits at 425°F for 10 - 12 minutes or until golden brown.
Make Ahead Tips
I have made these biscuits the night before more years than not.
I prepare the biscuit dough, cut the biscuit rounds, and place them on my baking sheet.
I cover them tightly with plastic wrap to keep all the moisture in. Then on Easter morning, I brush the tops with buttermilk and bake them fresh.
If you want to bake them completely the night before, just store the baked hot cross biscuits in an airtight container and frost them fresh on the day you want to serve them.
Make the Frosting Crosses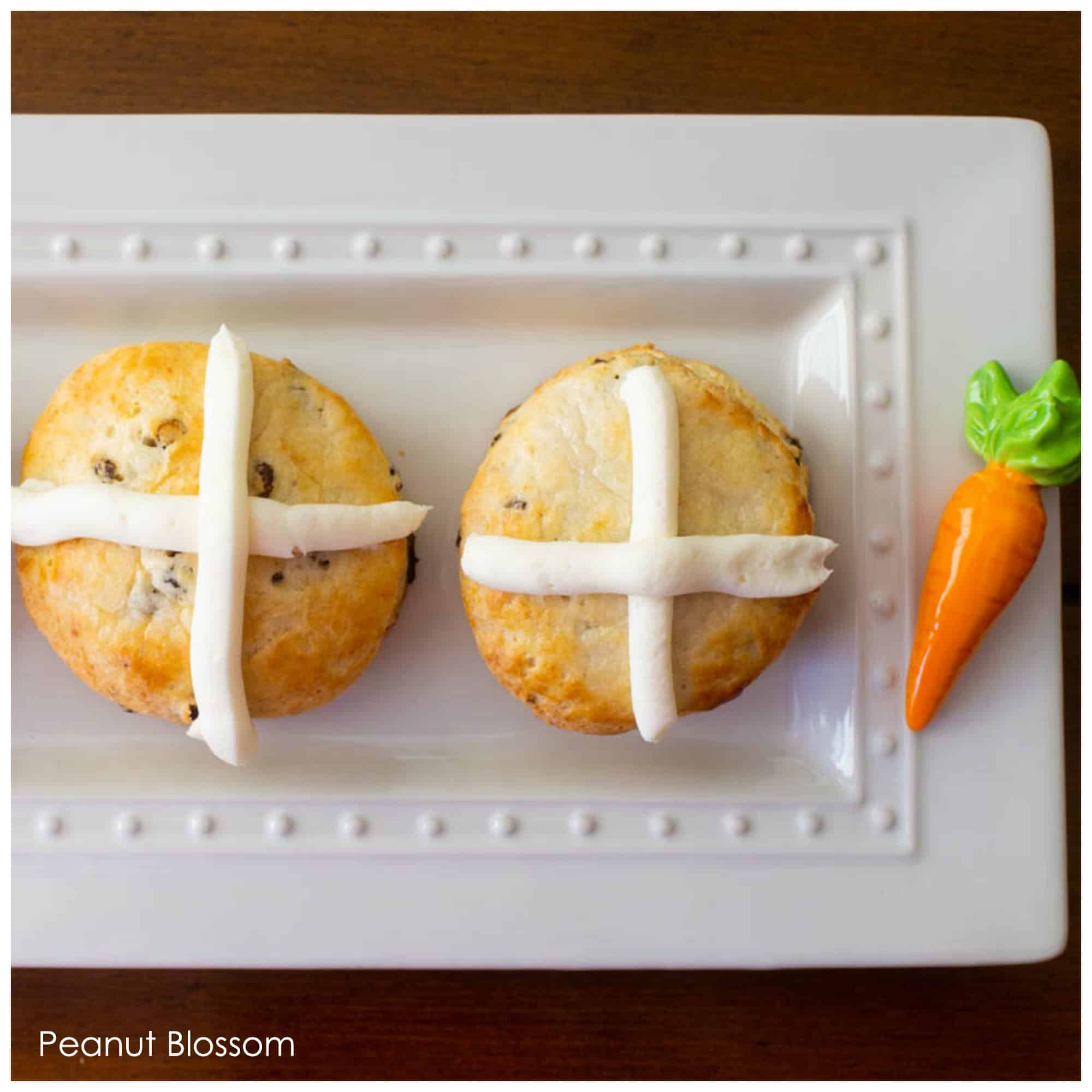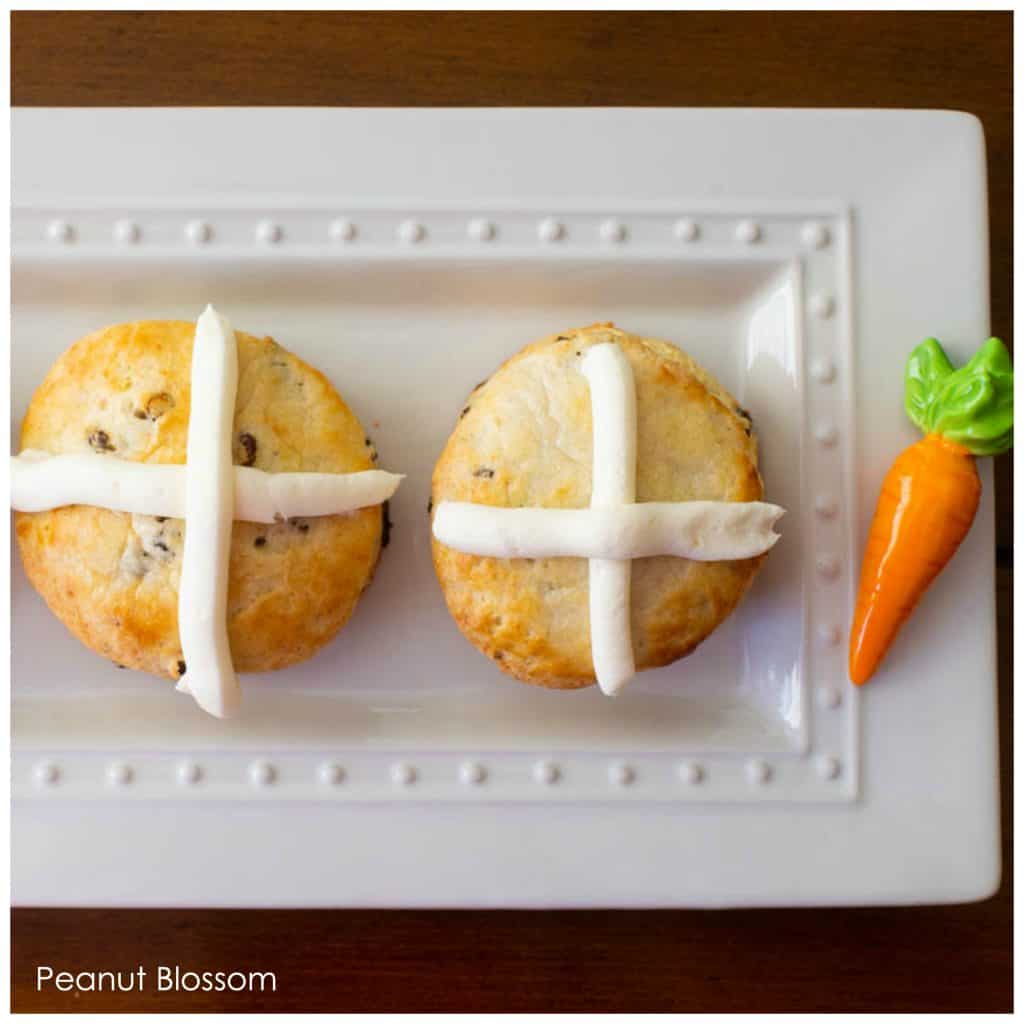 Once the biscuits have completely cooled, add the cream cheese frosting to a plastic baggie, snip off a corner, and pipe on the crosses.
If you try to rush this and decorate warm biscuits, the frosting will melt.
If you prefer to skip the cream cheese crosses, you could also serve the biscuits with a bowl of homemade lemon curd which would taste amazing with the currants.