Easy Easter potluck ideas for celebrating the holiday with family and friends on a budget. Whether you're building a buffet table menu at home or bringing a dish to pass at the church potluck, get all the easy recipes you need here.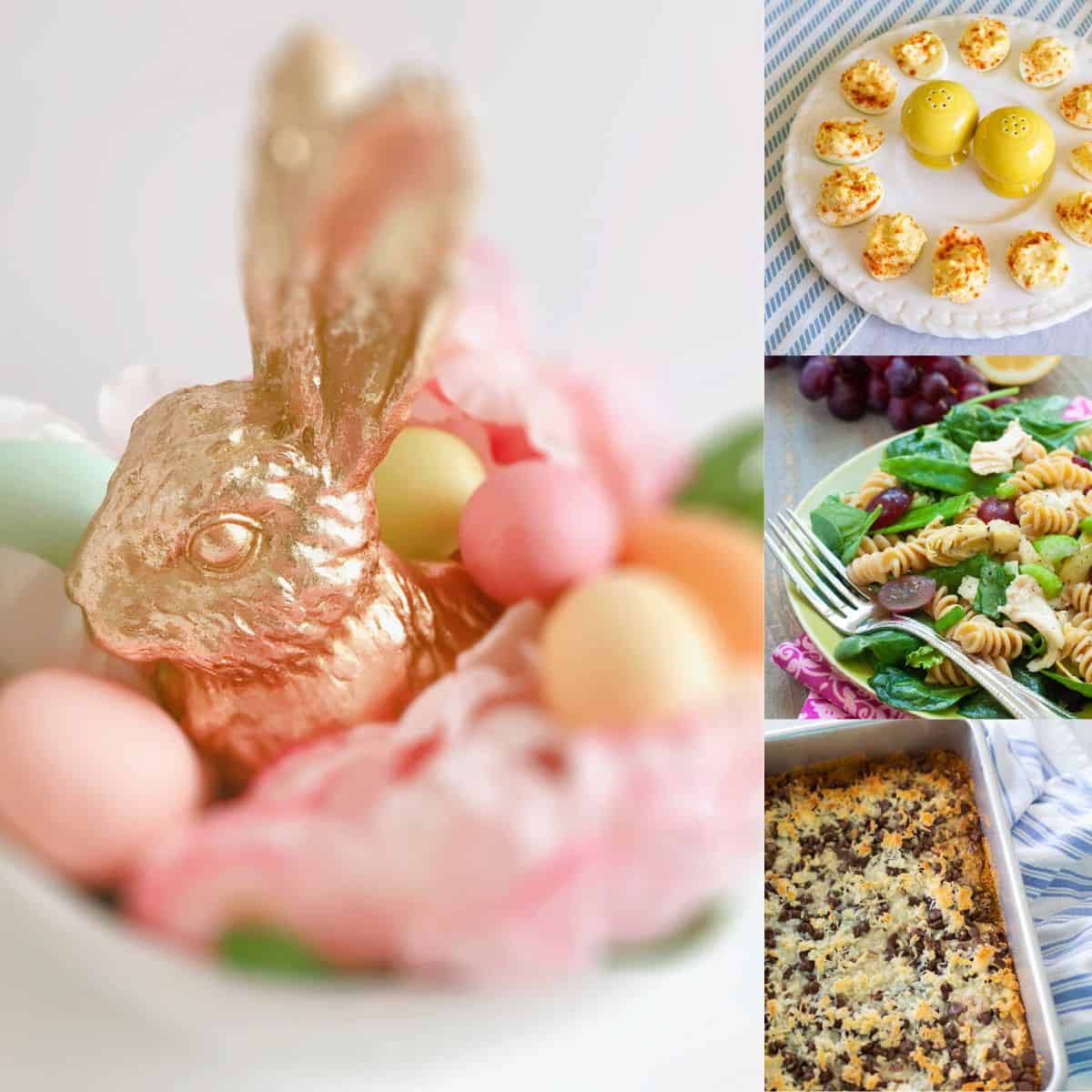 If there's one tip I could give you for how to make hosting a special Easter brunch in your home easier to manage, it would be to give your guests the joy of contributing to the meal by hosting an Easter potluck.
For a truly festive table overflowing with the season's best, it is infinitely easier to have many hands make light work of the feast.
If you're hosting, offer to cook the main dish that will work as the center of the menu and everyone else can contribute an easy potluck side dish or travel-friendly dessert to add to the buffet. I recommend my easy Crockpot spiral ham for a buffet table or my mustard glazed ham with pineapples for a show-stopping main dish.
When you share the work with guests, it ensures that everyone can focus on what makes the day truly special and relax a little more with loved ones--including YOU.
What to Bring to a Potluck
If you're invited to a potluck and are wondering what you should bring, here is my best advice on how to pick the best potluck recipes:
1. Travel-Friendly
You want dishes that won't spill or slosh around in the car (like soups or punch) and aren't in danger of breaking apart (like delicate puff pastry appetizers.)
Something a little sturdier or that travels in an easy dish would make a best pick.
2. Consider the Temperature
The best potluck recipes are delicious when served at room temperature because they'll be sitting on a buffet table for a long time.
If you want to bring a hot dish, consider a Crockpot recipe (but make sure there will be an outlet available and YOU should bring the recipe in the slowcooker) or a casserole that can be popped in the oven for a quick reheating.
3. Easy Upgrades
The potluck host is going to be doing a lot of the work before you arrive and even more after you leave with the clean-up. When you're asked to bring a single dish, try to put a little bit more thought and effort into the item to show you care.
There are lots of easy store bought items you could grab and just add something small that is homemade to go with it.
For example:
If you're going to bring a fruit tray from the grocery store, add an easy homemade fruit dip.
If you're going to bring a veggie tray, how about a simple cold dip for parties?
You could even bring a box of crackers and this homemade pimento spread that takes just 5 minutes to stir together.
Don't Forget These Potluck Items
The most important thing to remember when bringing a dish to an Easter potluck is that you want to be sure your item is ready to enjoy without any work from the host.
This means that in addition to bringing your recipe, you will also bring:
A pretty container for serving the food: A bread basket for rolls, a pretty tray for the appetizers, or an attractive salad bowl for the food.
Any serving tools needed: Don't forget to pack the spatula, spoon, knife or serving fork guests will need to transfer your food from the serving dish to their plate. Don't count on the host having enough for every dish on the table.
Necessary condiments or seasonings: Does your recipe go really well with a certain dip or mustard or butter or honey? Bring those along in a serving cup as needed.
Fresh garnishes: For the final touch before your food is added to the potluck table, think about adding a sprinkle of something fresh and green like parsley or chives or adding an edible flower garnish to make your platter pretty.
Napkins and/or plates: There's a good chance the potluck host will already have these ready for the Easter brunch but call ahead in advance and offer to bring those too. Your host may appreciate the help in providing all the party ware necessary for guests to eat the brunch items.
More Party Planning Tips
Whether you're the guest or the potluck host, keep in mind that the most important part of your party planning is knowing that your Easter brunch is an awesome chance to love your neighbor.
Our world is better off when we gather together to celebrate and spread joy. With that in mind, anything that goes "wrong" is just a minor detail.
If this is your first time hosting a brunch, don't miss my easy party planning tips for beginners:
More Easter Recipe Ideas
Looking for more easy Easter recipes for your holiday?
Whether you're baking with kids or looking for an easy dinner idea for your family, here are a few of my favorites: