Strawberry jello pretzel dessert, or strawberry pretzel salad as you've heard it called at many a church potluck or backyard party, is made with a sweet cream cheese layer spread over a crispy pretzel crust and topped with cool strawberry Jell-o filled fresh strawberries.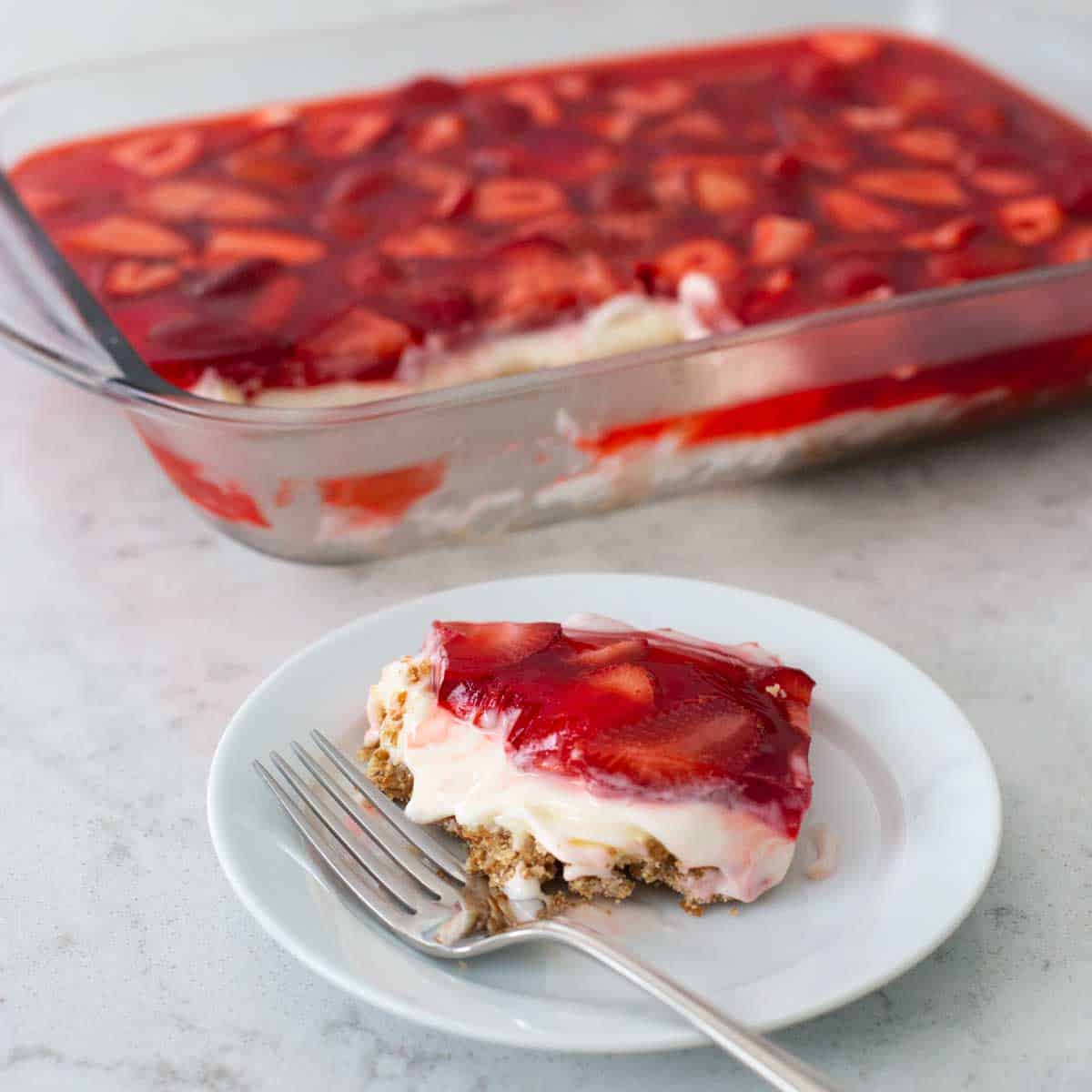 "It's just not Easter unless there's strawberry jello pretzel salad on the table."
I asked my friends for some fresh ideas for my holiday table this year and had so much fun seeing their list of essentials for their family.
My sweet friend Cristy shared that her whole family looks forward to this strawberry pretzel dessert every spring and I was intrigued.
She sent me her family recipe for this classic strawberry pretzel salad for testing and my whole family fell in love with that salty, crispy pretzel crust topped with sweet cream cheese and a layer of red Jell-O with fresh strawberries on the top.
Make it as-is for Easter or Christmas but you could also add fresh blueberries with the Jello-O for a fun red, white, and blue variation for 4th of July or Memorial Day.
It keeps well in the fridge and can be made a day in advance, which makes this the perfect make-ahead dessert for a party and one of my favorite fresh strawberry recipes ever.
Jump to:
Is it a Salad or is it Dessert?
If you're feeling confused about whether this recipe is for strawberry pretzel salad or strawberry pretzel dessert, it all depends on where your people are from.
If you have roots in Minnesota or if your family comes from the South, you have probably heard this dish called a pretzel salad.
Home cooks everywhere else would reasonably call this a jello dessert.
Since it is often served as part of a celebratory meal like Easter or a potluck dinner, guests may eat it as a side dish right alongside the mains from your large buffet spread.
However, it could also be held and served as part of the dessert course after the dinner is over.
That's the beauty of sweet "salads," it's all up to you how you want to use them.
Ingredients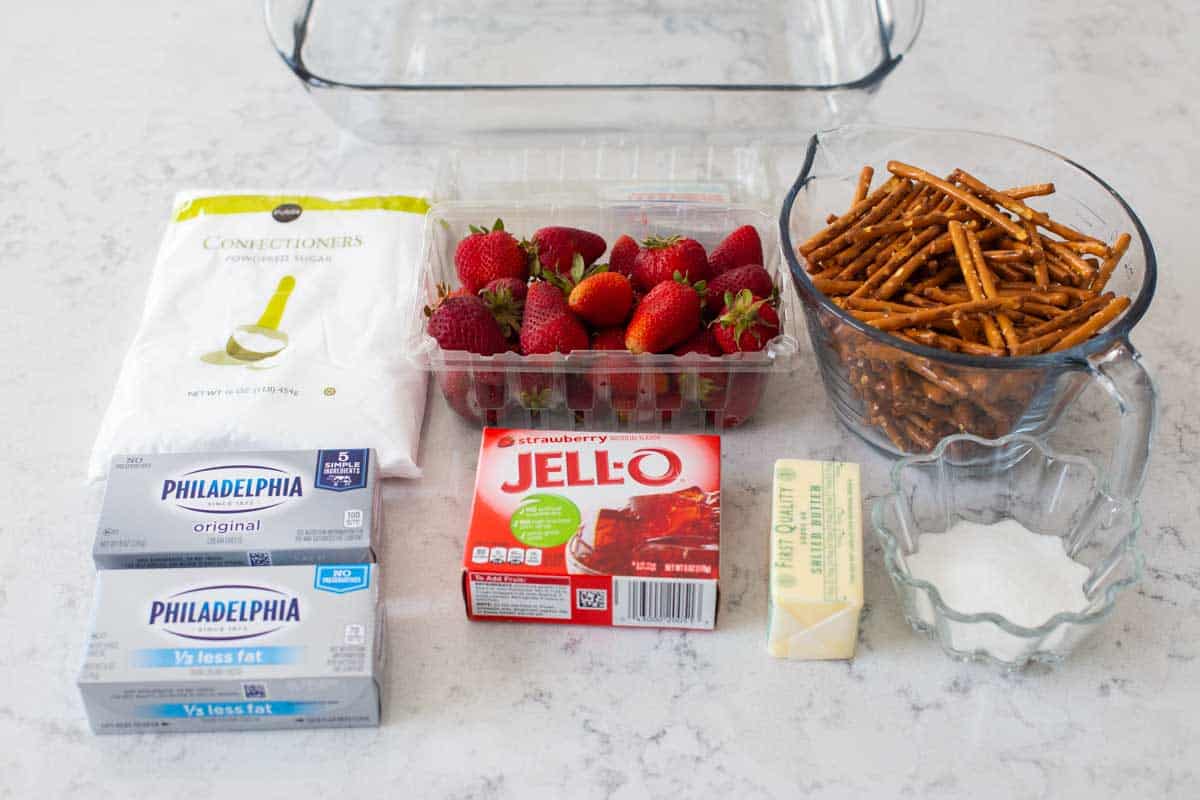 While many versions of this recipe involve Cool Whip, I love that Cristy's family's version just uses cream cheese for a thick, creamy layer in the middle.
All you need to make it is:
Pretzel Sticks
Strawberry Jell-O
Cream Cheese: I used one full-fat cream cheese and one ⅓ less fat and the filling was on the softer side. If you want your torte to hold a perfect shape when sliced, be sure to use 2 full-fat cream cheese packages.
Powdered Sugar
Fresh Strawberries
Butter
Sugar
How to Make a Pretzel Crust
Preheat your oven to 350°F while you prepare the pretzel crust.
Measure 4 cups of pretzel sticks and add them to a zip top bag. Seal the bag and use a rolling pin to crush them into crumbs.
You should be able to get approximately 2 ½ cups of crumbs for your recipe.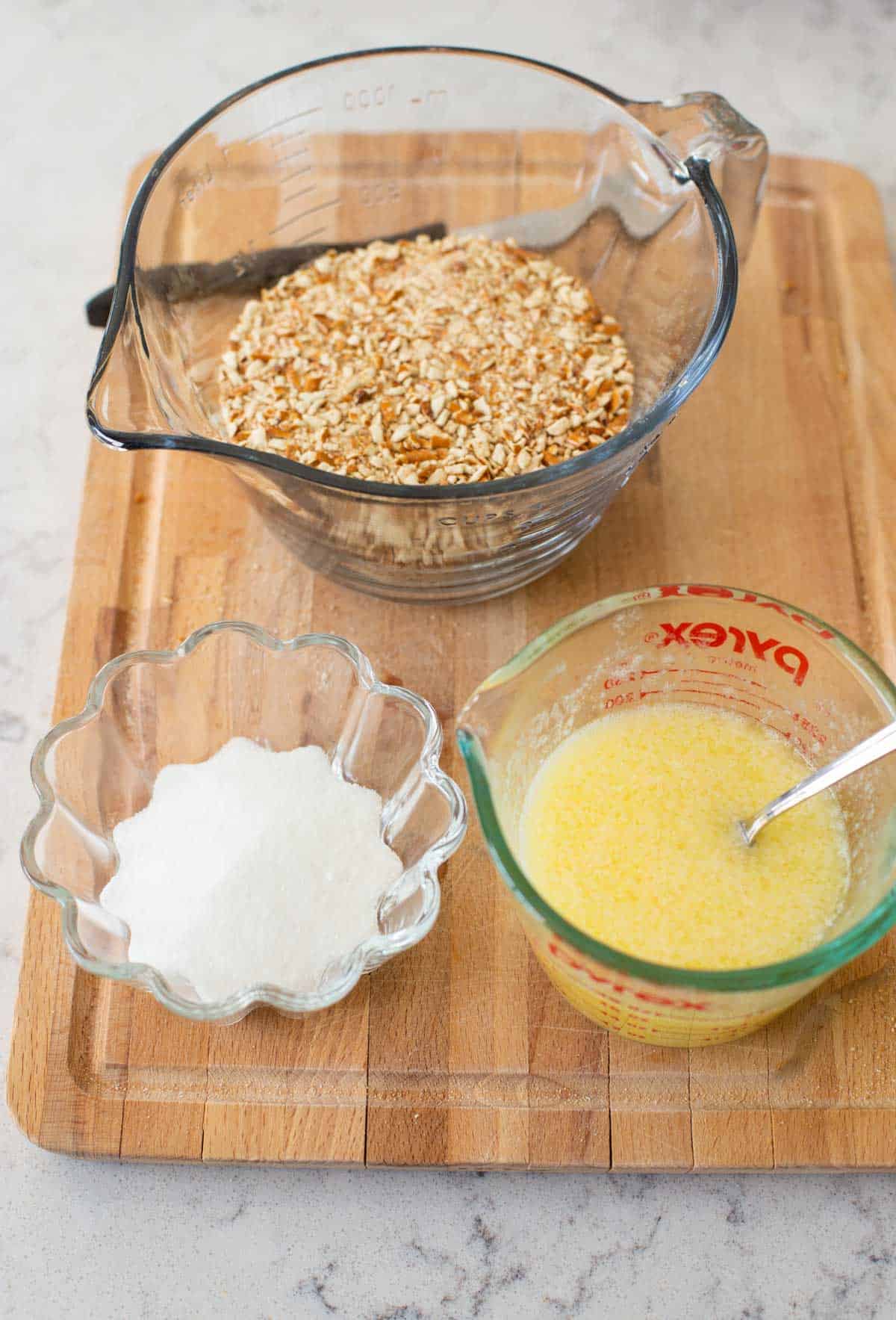 Combine melted butter, sugar, and crushed pretzels until everything is evenly mixed and the crumbs have all been dampened by butter.
Pour the mixture into a 9 x 13-inch baking pan sprayed with cooking spray.
Pat the crumb mixture evenly in the bottom of the dish to form your crust.
Bake for 15 - 20 minutes or until the pretzel crust is golden brown.
Allow it to completely cool before attempting to top it with anything or the crust will crack.
Prepare the Cream Cheese Filling
In a large mixing bowl, add the softened cream cheese and powdered sugar.
Use a hand mixer to beat them together on medium speed until completely smooth.
Layer the Strawberry Salad
Spread the prepared cream cheese filling over the completely cooled pretzel crust and CHILL for 30 minutes.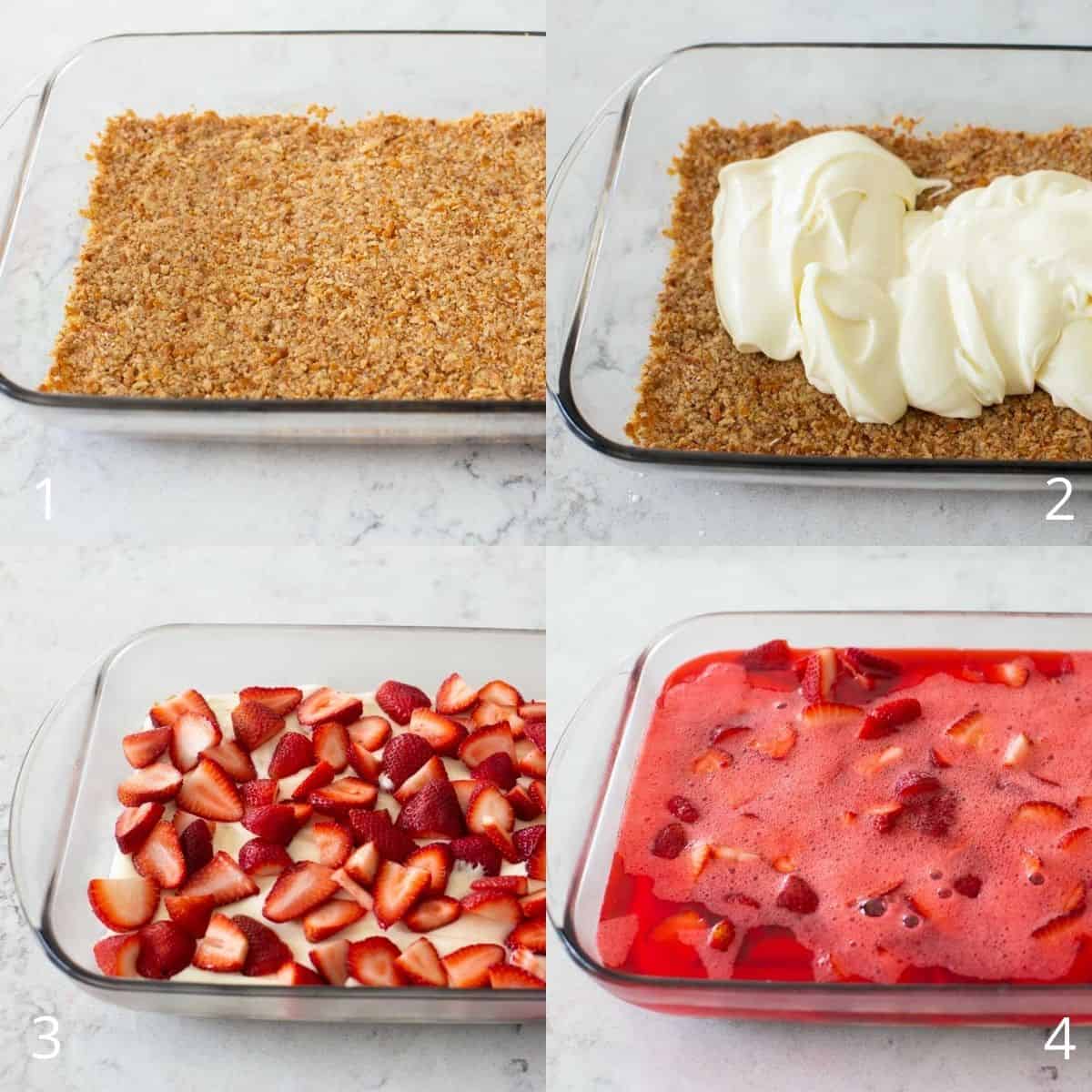 Top the cream cheese with sliced strawberries.
Combine the gelatin packet with boiling water and stir until the powder has dissolved. Let cool for 10 minutes before pouring over the strawberries.
Chill and Serve
Transfer the dish to the fridge and let chill for four hours before serving.
This whole recipe can be made the day before and covered with plastic wrap.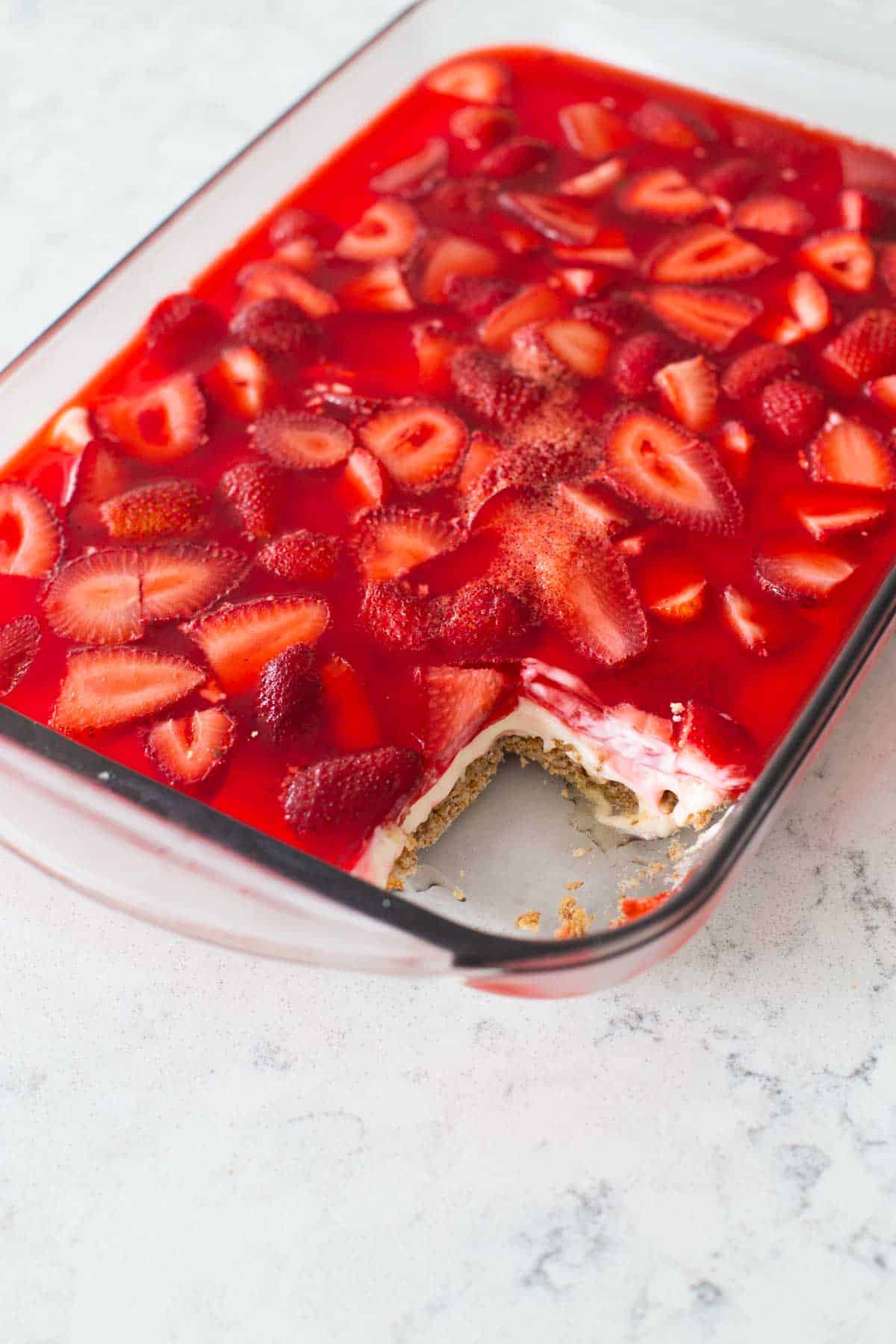 Serve slices of strawberry pretzel salad as is or if you want to be extra fancy, you could top each serving with a dollop of whipped cream or Cool Whip.
Top Tips for Success
There are a few key tricks to making sure this recipe turns out perfectly:
Completely Cool Each Layer: If you try to spread the cream cheese on a hot crust or pour boiling jello over the cream cheese, you're going to end up with a melted mess. Be sure to completely cool the pretzel layer and let the jello mixture cool to room temperature before assembling the recipe.
Seal the Pretzels with Cream Cheese: Be sure to spread the cream cheese layer right up to the edges of the baking dish to form a protective layer against the jello. If there's a gap, the strawberry jello will puddle down below into the pretzels and you won't have that pretty stripe when you slice each piece.
Don't Let the Strawberries Dry Out: If you want to prep them ahead, slice the strawberries and keep them in a covered bowl until needed. Or, simply slice them just before topping the cream cheese. If you slice and let them sit out, they'll dry out and be unattractive in the top layer.
More No Bake Desserts
Technically, the pretzel crust needs to be baked but since it only takes 15 minutes and the rest of the layers are simply prepped and chilled, I still count this as a no bake recipe.
I love how easy a no bake dessert is when I'm entertaining. They can usually be made the day before.
Guests love this simple lemon torte all spring and summer but this no bake easy tiramisu is my personal favorite!
Another classic southern dessert is this easy banana pudding (with no bananas!)
📖 Recipe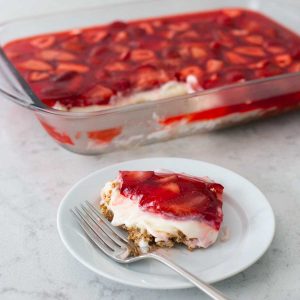 Strawberry Jello Pretzel Dessert
Cool and creamy strawberry pretzel salad is the classic summer torte you've had at many church potlucks and backyard parties. Made with a salty pretzel crust and topped with a sweet layer of cream cheese and refreshing strawberry flavored Jell-O and fresh strawberries, this dessert is always a hit at a picnic.
Ingredients
4

cups

pretzel twists

measure them first then crush and measure 2 ½ cups of crumbs

8

tablespoons

(1 stick) butter

¼

cup

sugar

2

(8 oz) packages of cream cheese

1

(16 oz/1 pound) box or 3 ½ cups confectioners sugar

1

quart

4 cups fresh strawberries, washed and sliced

1

(6 oz.) box strawberry Jell-O

2

cups

boiling water
Instructions
Preheat the oven to 350°F. Spray 9 x 13-inch pan with cooking spray and set it aside.

Add the pretzels to a large ziptop baggie and crush them with a rolling pin. Add them to a medium sized mixing bowl and combine with the melted butter and sugar until the crumbs are evenly dampened. Press the pretzel crumbs into the bottom of the prepared dish and press them firmly into all four corners of the pan to form the crust.

Bake the pretzel crust for 15 - 20 minutes or until golden brown. Let the crust cool completely before assembling the torte.

Add the softened cream cheese and powdered sugar to a mixing bowl and beat them together with a hand mixer on medium speed until evenly combined and smooth. Use a spatula to spread the mixture over the cooled crust.

Cover and chill in the fridge for 30 minutes to let the cream cheese layer set.

Combine the packet of Jell-O mix with the boiling water in a mixing bowl. Stir until the powder has dissolved into the water. Let the Jell-O cool for 10 minutes.

Meanwhile, top the cream cheese layer with a single layer of sliced strawberries.

Pour the cooled Jell-O over the top and chill for 4 hours before serving.
Recipe Notes
Make Ahead Tips:
This dish can be made up to 24 hours in advance and kept covered in plastic wrap in the fridge. It will not freeze well.
Save This Recipe to Your Recipe Box
Find this delicious recipe next time you visit by saving it to your very own recipe box on my site. All your favorites stored in one easy place!