This delicious copycat Chicken Salad Chick Grape Salad recipe is the perfect dish to bring to a potluck or serve as a side dish for your festive brunch. Sweet cream cheese dressing, fresh grapes, topped with brown sugar and crispy pecans, it is the perfect partner for chicken salad!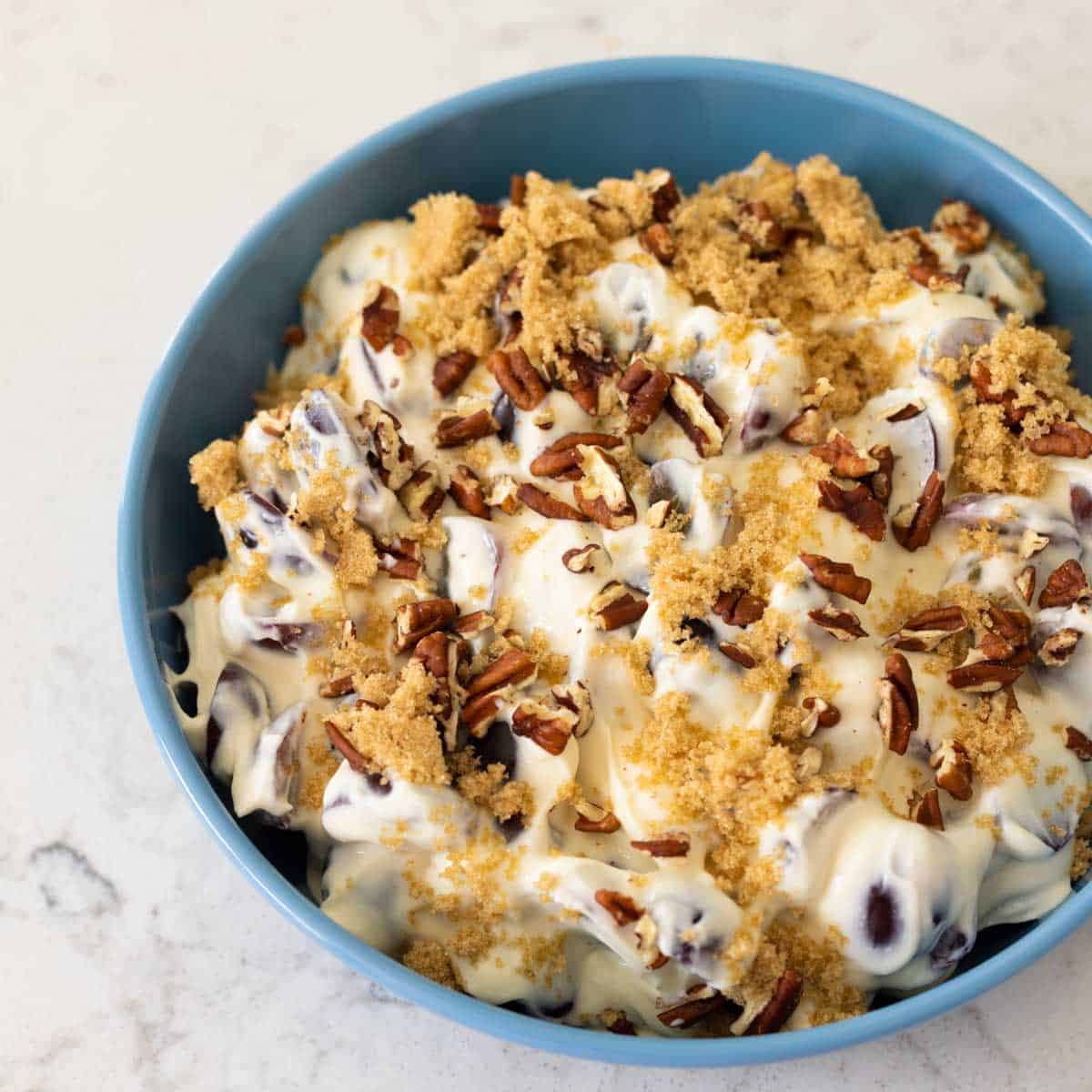 There is a little restaurant near my daughter's school called Chicken Salad Chick, do you have one near you?
We stopped in one afternoon to check it out and I couldn't believe the entire menu was filled with different flavors of chicken salad.
Turns out, this is a crazy-popular restaurant chain in our area. Once I tried their seasonal cranberry chicken salad, I could easily understand why.
On top of the delicious chicken salads they offer, the menu had an interesting side dish option listed -- the Chicken Salad Chick Grape Salad.
I didn't know what it was, but gave it a go. It turned out to be my favorite part of the whole meal!
With the holidays coming up around the corner, I had to try making this at home. It is the perfect side dish to add to your brunch menu!
Jump to:
Why This is the Best Recipe
It's no secret that I love classic sweet salads as part of our holiday menu. I love to sneak in Snicker Salad for Thanksgiving and Pistachio Fluff for Christmas.
This delicious grape salad with a sweet cream cheese dressing is a perfect addition to my repertoire because:
Filled with Fresh Fruit: Yes, it is more dessert than side dish, but it is loaded with fresh grapes so I don't mind one bit letting my kids enjoy it for a special meal.
Sweet & Juicy: The grapes pop in your mouth and are so juicy. This is the perfect complement to a savory dish on your menu.
Thick and Creamy: The cream cheese dressing is sweetened with sugar and vanilla and is the perfect addition to the grapes. If you want yours just a little less creamy, I recommend adding more grapes and increasing the ratio of fruit to dressing.
Perfect Crispy Texture: With fresh crispy grapes at the base and then crunchy pecans sprinkled over the top, this salad has the perfect texture.
Make Ahead Friendly: You can prep this dish up to 24 hours in advance with my easy prep tips listed below! This makes it great for getting some of the work done ahead of time before a holiday.
Ingredients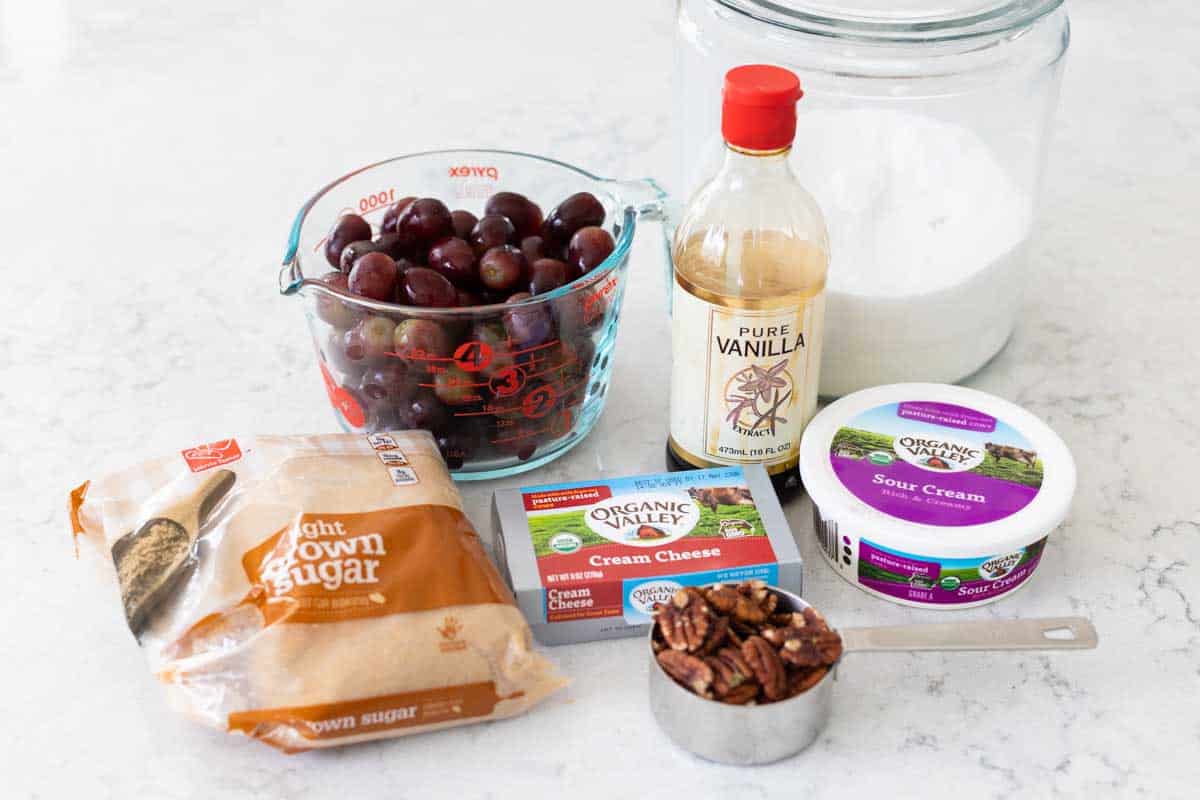 This delicious creamy side dish is made with just a few very simple ingredients:
Fresh Red Grapes: I love the color red grapes add to the salad. You could do a mix of half green and half red if you want some variety. That could be a fun twist for Christmas!
Cream Cheese: I used an organic full-fat cream cheese for extra richness for the holiday. You could substitute a low fat cream cheese if you want to lighten things up but the dressing won't be as creamy.
Sour Cream: Same as the cream cheese, I chose a regular full-fat sour cream for richness for the holiday. Light cream cheese will also work but the dressing might be a bit thinner.
Vanilla
Sugar & Brown Sugar
Chopped Pecans: These are a fairly essential part of the recipe for texture. You could substitute walnuts if you prefer.
Make the Cream Cheese Dressing
This recipe is so very quick and easy!
First, add the softened cream cheese, sour cream, white sugar, and vanilla extract to a large mixing bowl.
Beat them together with a hand mixer on medium-high for 2 minutes.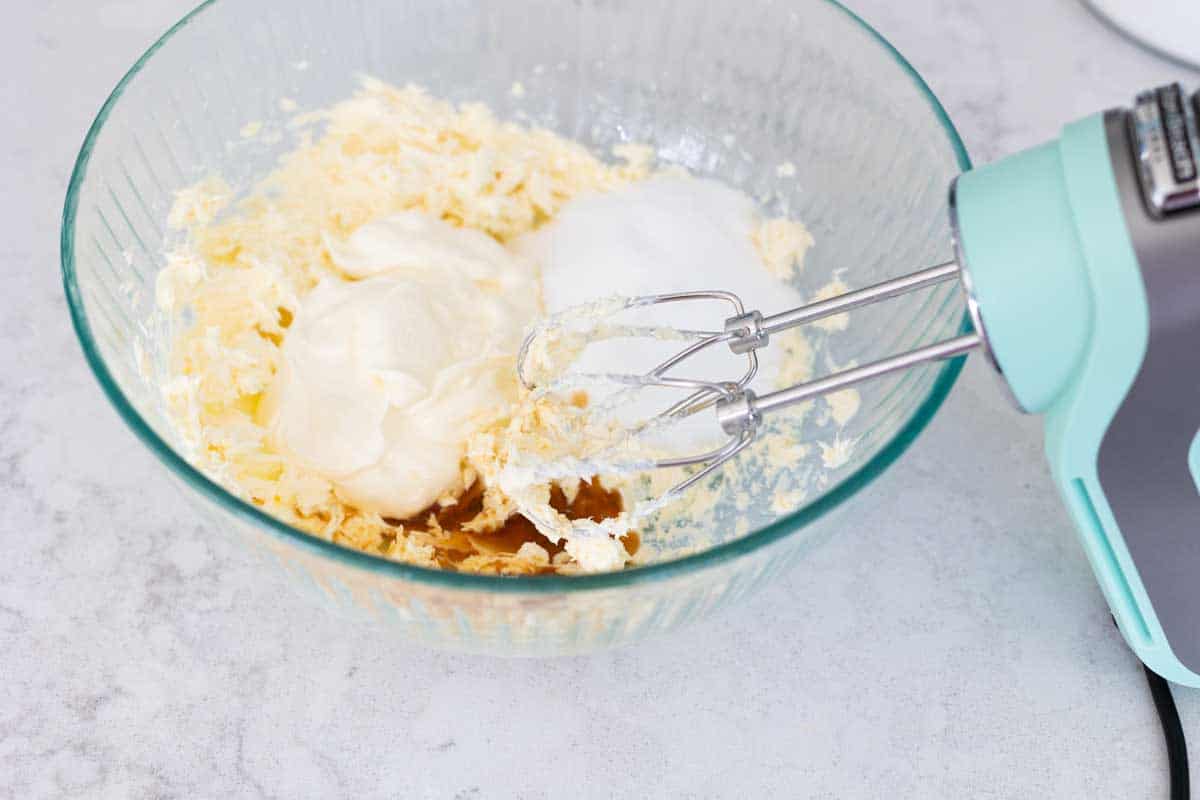 Scrape the sides of the bowl as you go to make sure everything is incorporated well.
The dressing should get nice and smooth and thicken up as you beat it.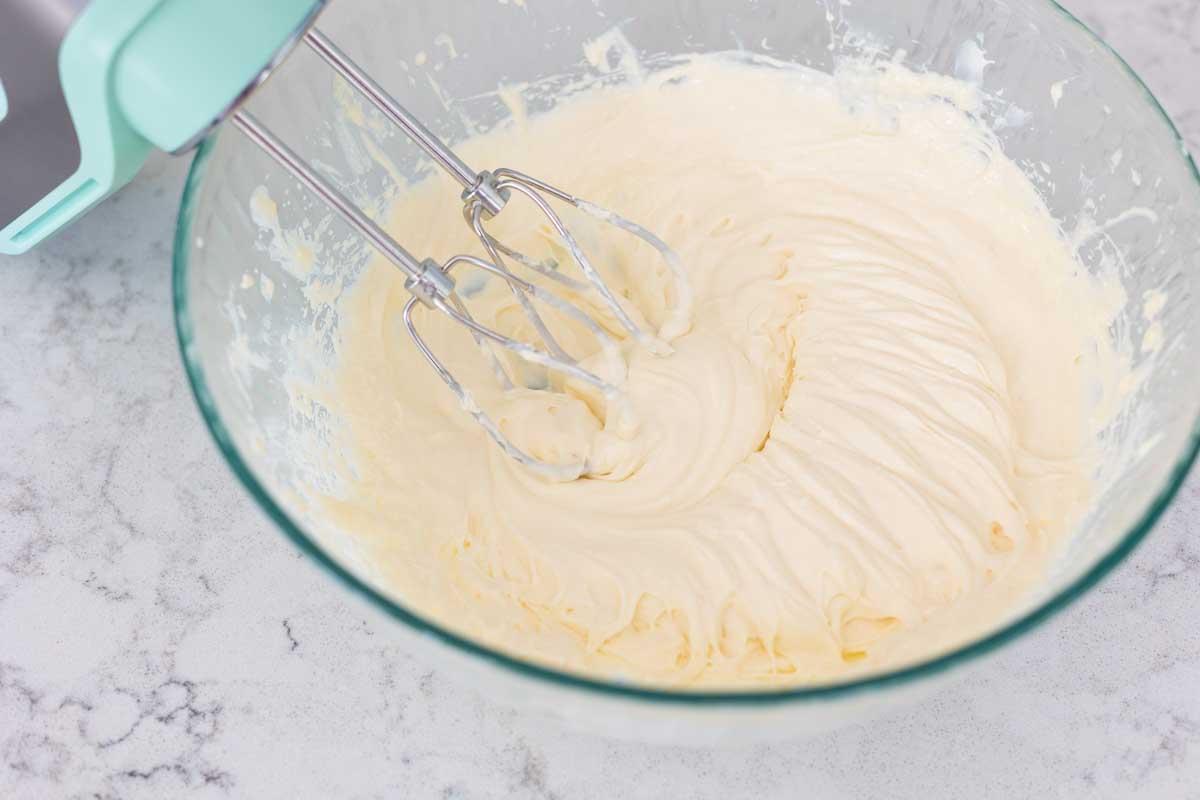 Add Fresh Grapes
Be sure to take the time to cut your red grapes in half lengthwise before adding them to the salad.
This makes the dish easier to eat for your guests and could also prevent choking if you have little kids at the meal.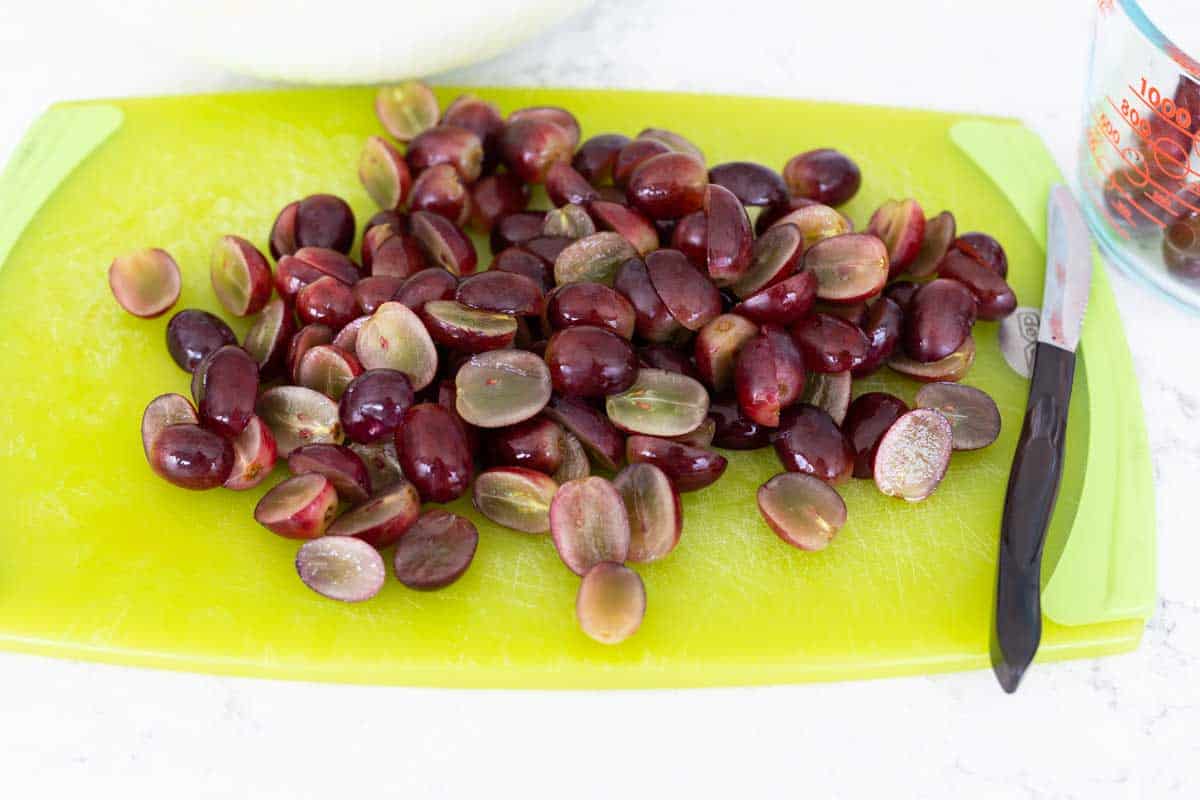 Add the grapes to the cream cheese dressing and gently stir them in.
The grapes should all be nice and coated with the cream cheese.
I loved the creamy ratio you see here, but if this is too much dressing for you, add another cup or two of red or green grapes.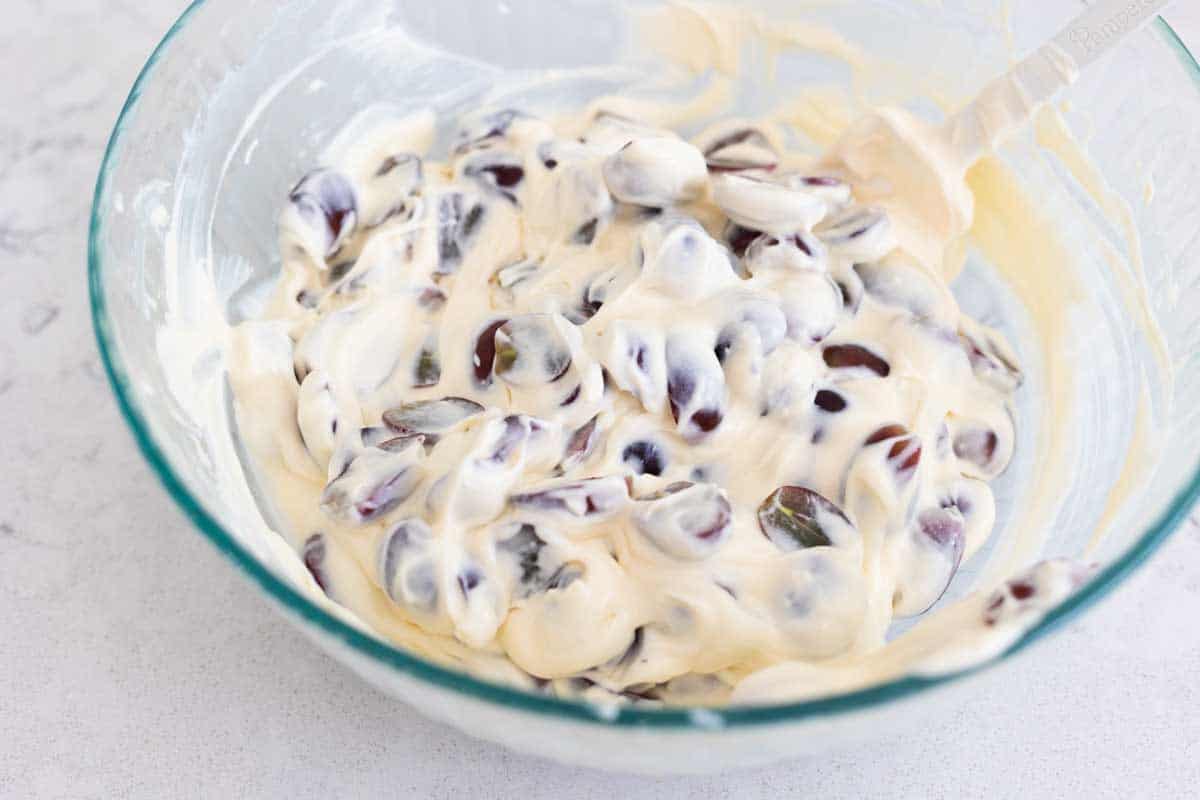 Top with Pecans and Brown Sugar
Transfer the grape salad to your serving bowl and cover it with plastic wrap.
Chill in the fridge until just before you're ready to serve it.
Then, crumble the brown sugar over the salad and scatter the pecans over the top.
This is important to do at the last moment to keep the nuts crispy and prevent the brown sugar from dissolving into the cream cheese dressing.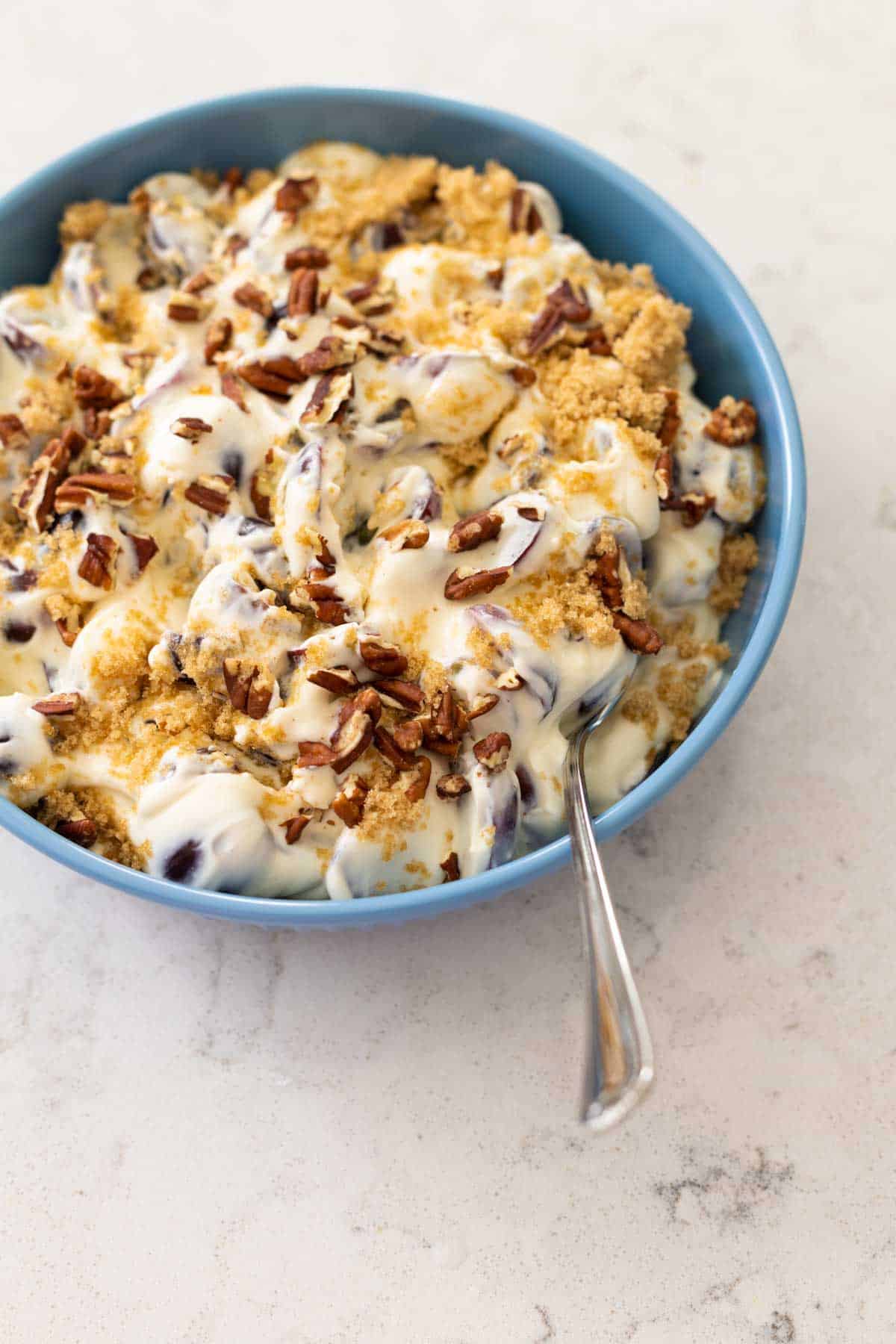 Make Ahead Tips
If you want to make the grape salad the day before your party, you have two fantastic options:
1. Assemble the Dressing
You could prepare the cream cheese dressing and pre-cut the grapes. Store them in separate air-tight containers in the fridge.
Then just stir them together and top with the brown sugar and pecans right before serving.
This is a great option if you want to try to make things 2 days in advance because the juices from the grapes won't thin out the dressing.
2. Assemble the Grapes & Dressing
Make the cream cheese dressing and cut the grapes. Stir them together and store in an airtight container in the fridge.
Do this method only if you plan to serve within 24 hours so the juices from the grapes don't thin the dressing.
Top with the brown sugar and pecans right before you set the dish on the table.
Why Does the Brown Sugar Go on Top?
Honestly, I thought that part was a little odd. Why wouldn't the brown sugar be stirred into the cream cheese dressing?
It turns out, this little trick is brilliant.
I recommend sprinkling the brown sugar on top instead of beating it into the dressing because:
Pretty Presentation: Your guests will immediately know this is a sweet dish, not one made with mayo.
Texture & Flavor: The little bits of crispy brown sugar add a nice texture and sweet pop of flavor to each bite.
Color: The cream cheese dressing would end up a more yellow-toned dressing and the bright white creamy color is so pretty with the red grapes.
When to Serve This Recipe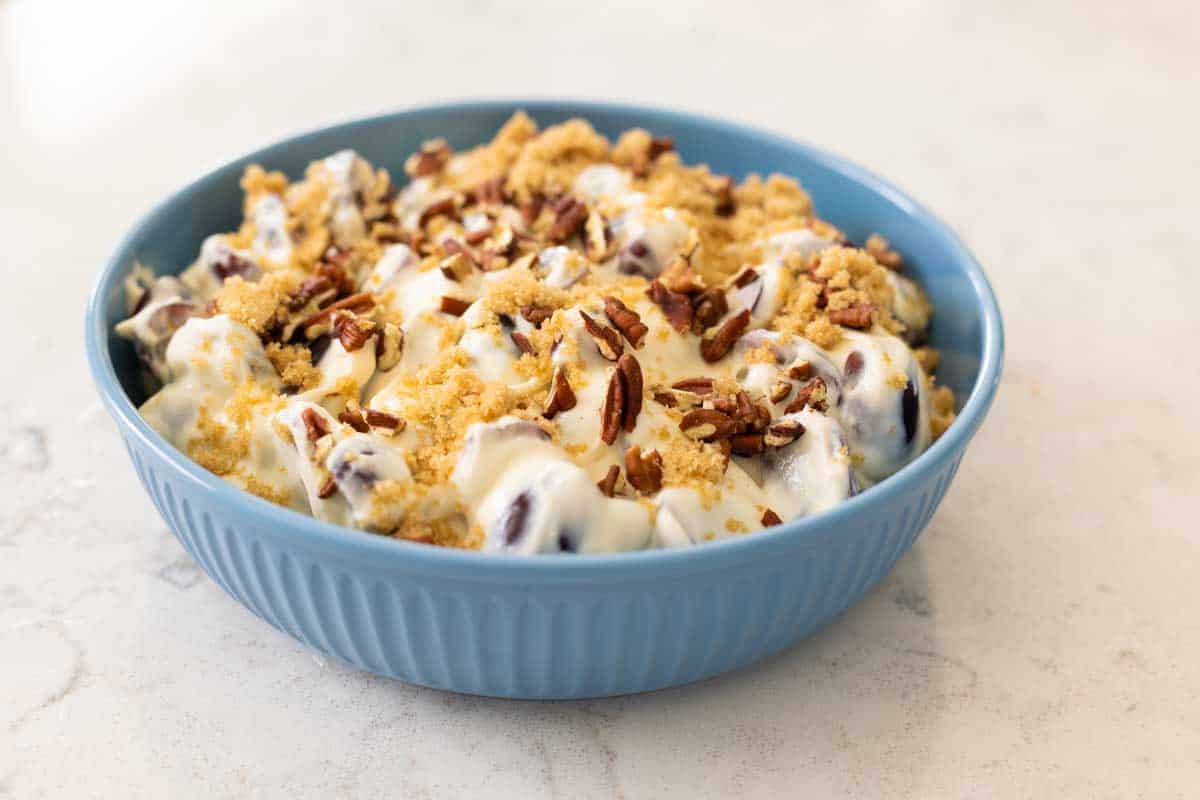 I'm pretty sure that Chicken Salad Chick added this popular grape salad to their menu because it is the perfect side dish to add to a festive brunch.
You could serve this for:
Potlucks
Bridal Showers
Baby Showers
Graduation Parties
Easter
Thanksgiving
Christmas
Mother's Day
Or just about any time you want to serve your family something extra special
Serving Suggestions
For the rest of your menu, this sweet and creamy grape salad would be the perfect side dish to go along with my favorite chicken pasta salad. You could leave the grapes out of that recipe and all the crispy veggies would still be a perfect partner for this dish.
You could also serve this with a traditional party menu with finger sandwiches like cranberry chicken salad and egg salad.
More Sweet Salads
Is the idea of serving a sweet salad new to you?
These are so fun to make for a holiday meal. If you love this grape salad, you won't want to miss my other sweet sides.
One part side dish, one part no-bake dessert. No matter how you serve these, they will surely be a hit at your party:
📖 Recipe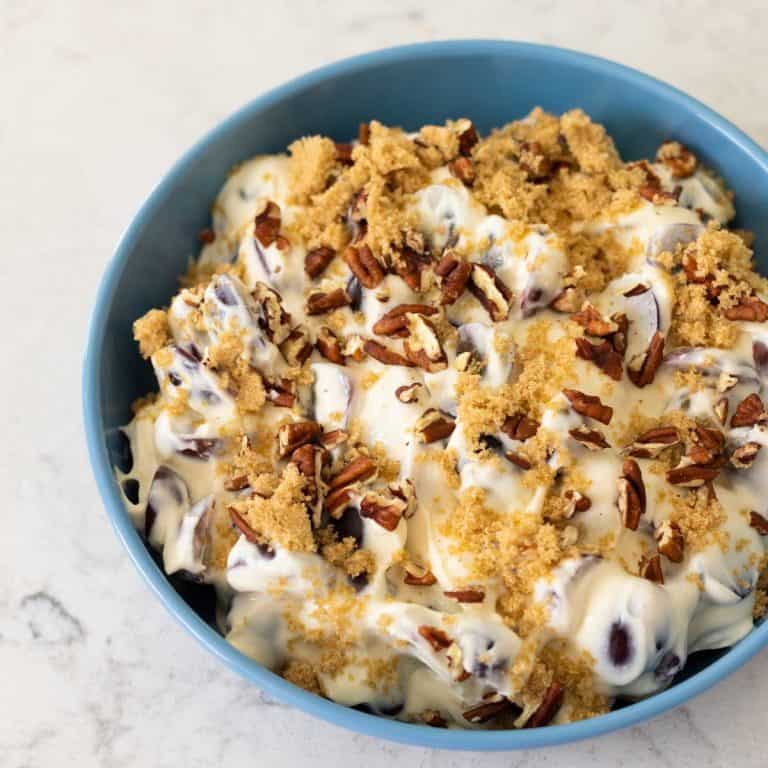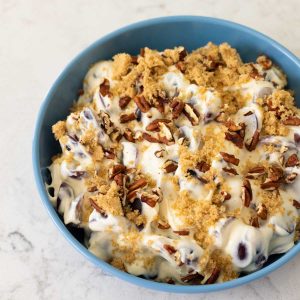 Chicken Salad Chick Grape Salad
This copycat of the famous Chicken Salad Chick Grape Salad recipe is the perfect dish to bring to a potluck or serve as a sweet side dish for Easter or a festive brunch. The sweet and creamy dressing is made with cream cheese and brown sugar and topped with crispy pecans for awesome crunch.
Ingredients
4

cups

(2 pounds) seedless red grapes

halved

1

(8 oz) brick of cream cheese

softened

1

cup

(8 oz) sour cream

½

cup

sugar

2

teaspoons

vanilla

½

cup

pecans

chopped

2

tablespoons

brown sugar
Instructions
Rinse the grapes and let them drain until they are completely dry. Cut them in half lengthwise with a paring knife and set them aside.

Add the cream cheese to a large mixing bowl and beat it with a hand mixer until smooth.

Add the sour cream, sugar, and vanilla to the mixing bowl and beat them toggether on high for 2 minutes or until thick and smooth. Be sure to scrape the sides of the bowl as you go.

Add the grapes to the mixing bowl and fold them into the cream cheese mixture with a spatula.

Scrape the grapes and cream cheese into a pretty serving bowl and cover with plastic wrap. Chill in the fridge until you're ready to serve, at least 15 minutes or as long as 24 hours.

Sprinkle the chopped pecans and brown sugar over the top of the bowl just before serving. This keeps the pecans crispy.
Recipe Notes
Make Ahead Tips
You can make this grape salad in advance, up to 2 days ahead of time with these tips:
24 Hours in Advance:
Make the cream cheese dressing, stir in the grapes. Keep in an airtight container for 24 hours.
2 Days in Advance:
Make the cream cheese dressing and cut the grapes but store them in separate airtight containers for 48 hours. This prevents the juices from the grapes making the dressing too thin as it sits.
Save This Recipe to Your Recipe Box
Find this delicious recipe next time you visit by saving it to your very own recipe box on my site. All your favorites stored in one easy place!