Cranberry chicken salad with jalapeños is inspired by the seasonal recipe at Chicken Salad Chick. Don't wait for the holiday season, you can enjoy this creamy and spicy chicken salad all year long.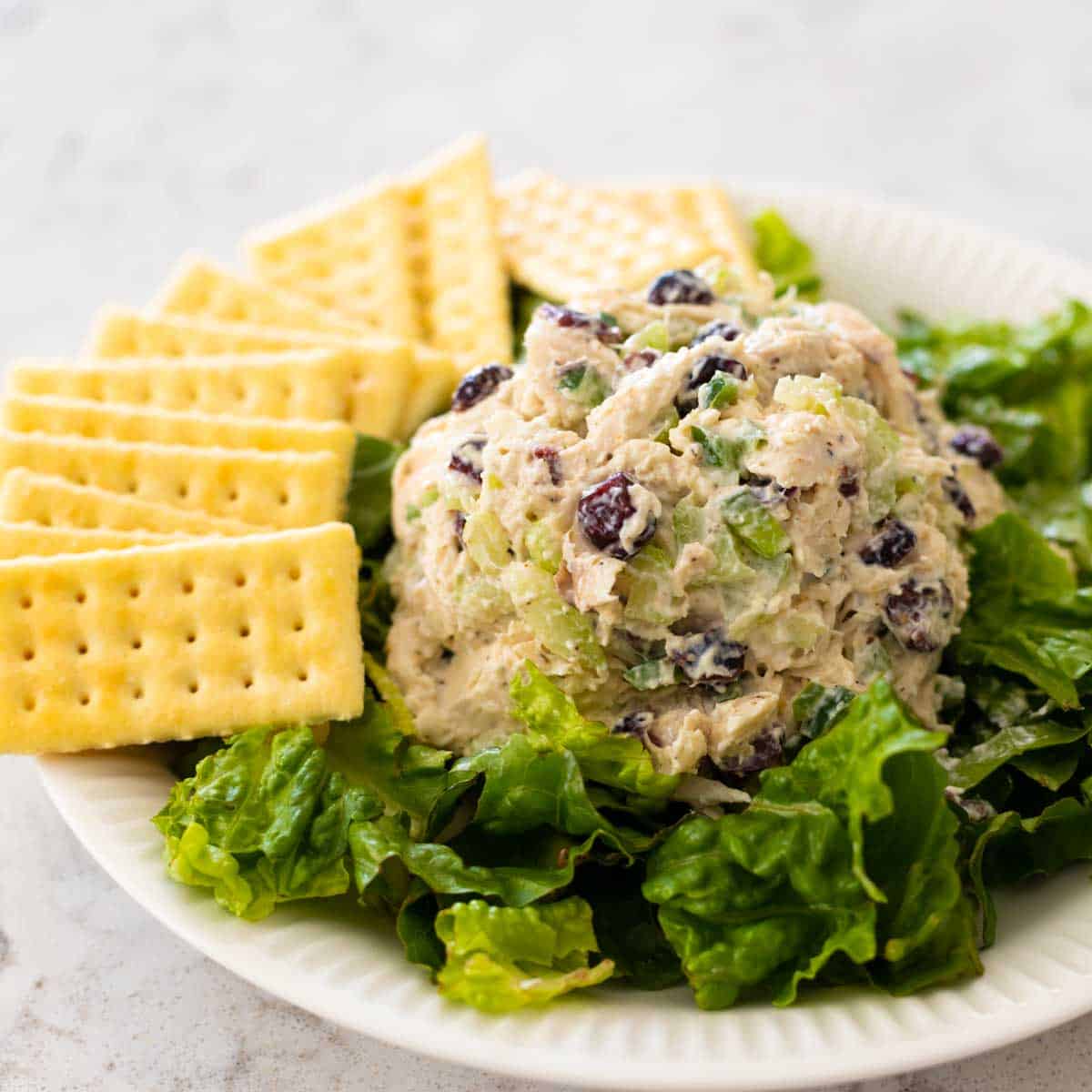 My first visit to Chicken Salad Chick introduced me to the wonders of this awesome grape salad recipe.
But obviously the star of the show was my chicken salad entree. I was lucky enough to have the option to order the cranberry jalapeño chicken salad they had available for the holiday season.
This limited edition chicken salad is usually only available in December. But you can make it at home any time of year in just a few minutes.
Jump to:
Why This is the Best Recipe
There are dozens of ways to mix up a classic chicken salad, but I think this is the best cranberry chicken salad recipe because it has spicy bits of jalapeños stirred into the mix.
Lots of Flavor: Sweet cranberries, spicy jalapeños, and crispy crunchy celery stirred together with a tangy dressing give this chicken salad so much flavor!
Perfect Texture: If you like a little crunch to your chicken salad, you'll love the crispy celery and chewy Craisins with the tender chicken meat.
Make Ahead Friendly: The jalapeños give the most flavor to the dressing when it has had a chance to chill for a while. You'll need at least an hour but this is an awesome make ahead recipe because it tastes amazing the next day.
Ingredients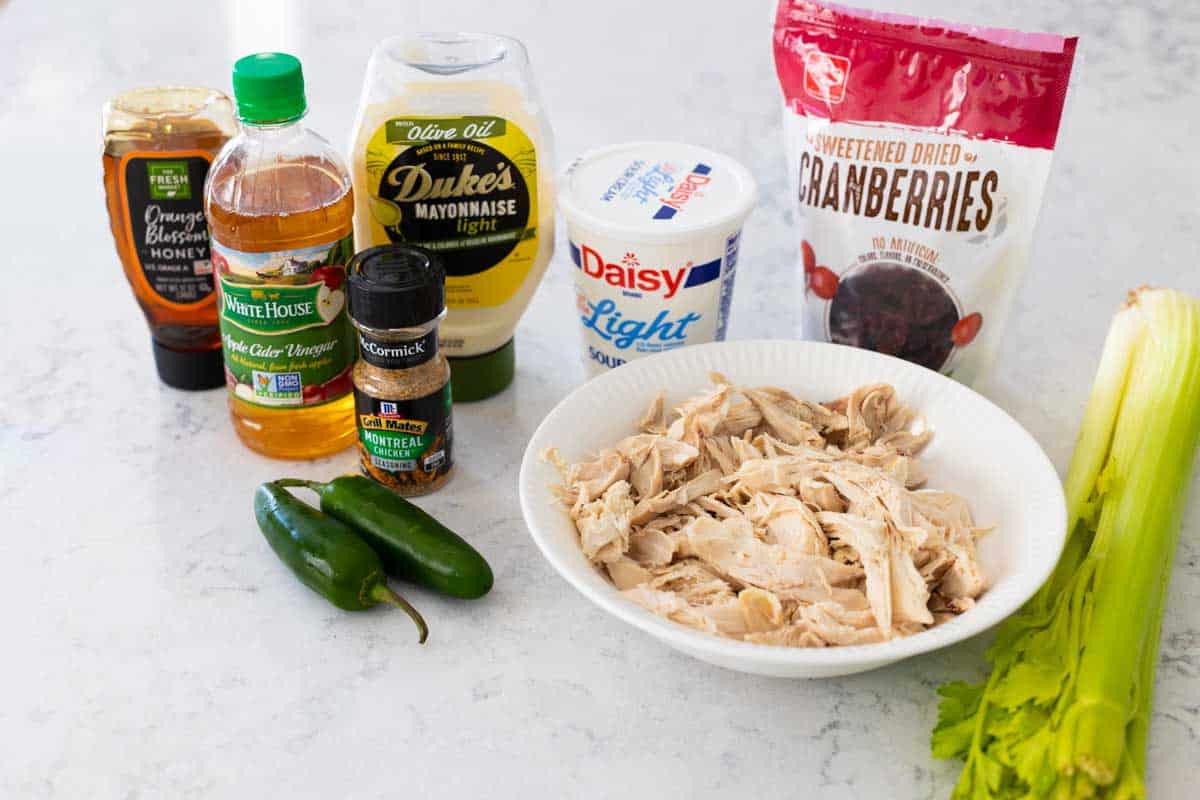 The ingredient list for this cranberry chicken salad recipe may look a little longer at the start but most of the items are probably already in your pantry right now.
Fresh Ingredients:
Chicken: I use a rotisserie chicken to keep it easy. You could cook and shred any white chicken meat you prefer.
Fresh Celery
Fresh Jalapeños: Be sure to see my notes on how to use this ingredient below.
Sour Cream or Yogurt: You'll only need a tablespoon but this ingredient gives the dressing a nice tangy flavor.
Pantry Ingredients:
Dried Cranberries
Honey: You can use regular sweet honey or give it even more kick with hot honey.
Apple Cider Vinegar
White Wine Vinegar: If you don't want to buy an extra vinegar, I'd recommend using just double the white wine vinegar and skipping the apple cider vinegar.
Chow Chow or Pickle Juice: I know this sounds odd, but adding a splash of juice from my homemade chow chow recipe or your favorite jar of pickles is the secret ingredient that makes any chicken salad taste AMAZING.
Mayonnaise: I don't recommend using Miracle Whip here. You'll want a classic mayo like Duke's.
Montreal Chicken Seasoning: This handy seasoning is loaded with unique ingredients that give the chicken salad that perfect copycat flavor. It has a mix of garlic, onion, parsley, red pepper, paprika, orange peel, and green bell pepper.
How to Adjust the Heat from the Jalapeños
If you've never used fresh jalapeños in a recipe before, there are two important things you should know:
Fresh jalapeños can vary from mild to spicy depending on how you chop them.
Be extra cautious to NOT touch your eyes until you've been able to thoroughly wash your hands after prepping the jalapeños.
The strong heat from the pepper actually comes from the seeds and the ribs.
Mild Spice
Cut the stemmed top off the jalapeños and then slice them in half along the length.
Use a spoon to scoop all the ribs and seeds out of the peppers and discard.
Medium Spice
Cut the stemmed top off the jalapeños and then slice them in half along the length.
Use a spoon to scoop all the ribs and seeds out of HALF of the peppers and discard.
Hot and Spicy
Just cut the stemmed top off the jalapeños. Then mince the peppers with the ribs and seeds and all.
How to Mince Jalapeños
To mince the jalapeños, slice each half of the pepper into very thin strips.
Then mince them into very small pieces.
As you can see in this photo, I removed the seeds and ribs before chopping the jalapeños. I wanted my chicken salad to have a mild spice.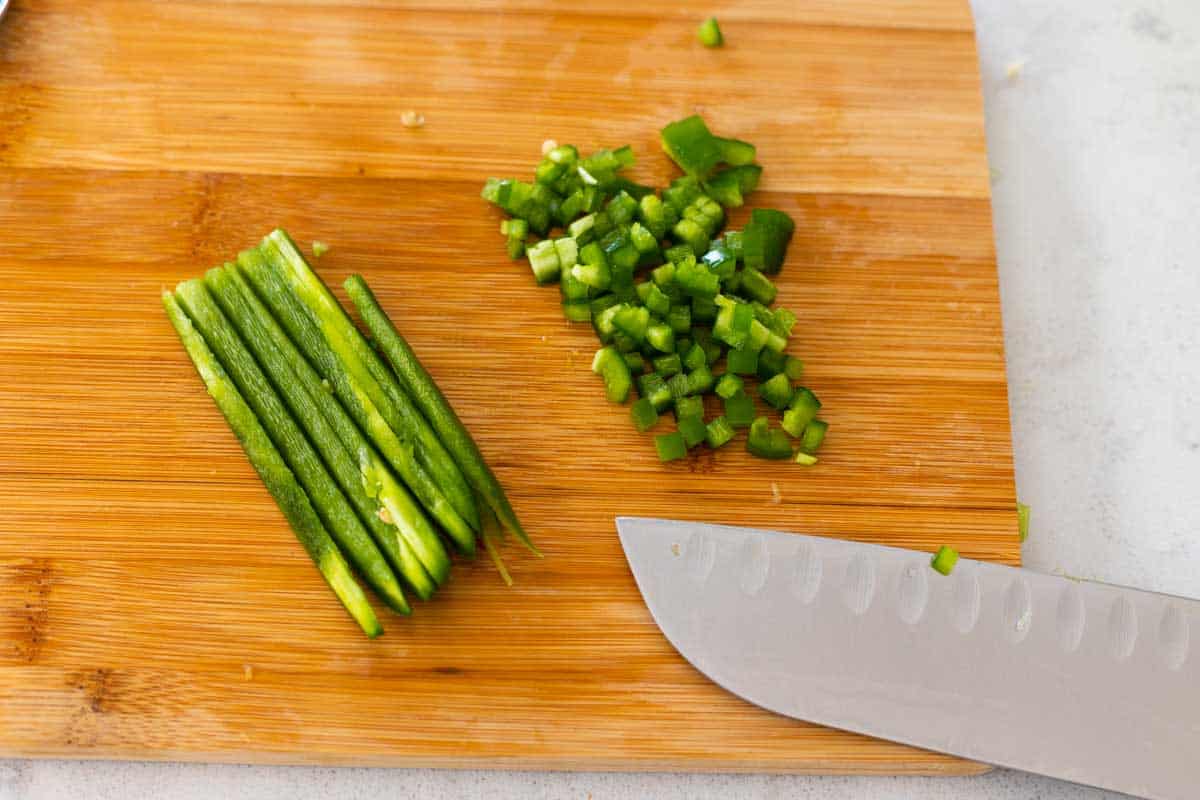 Mix Chicken with Fresh Vegetables
Cooked chicken is a very delicate meat. It is very important that you don't over stir it or the meat will fall apart.
A good chicken salad has nice big chunks of chicken in it so it isn't too mushy.
Add the chopped chicken, dried cranberries, minced jalapeños, and minced celery to a large mixing bowl.
Gently toss it all together.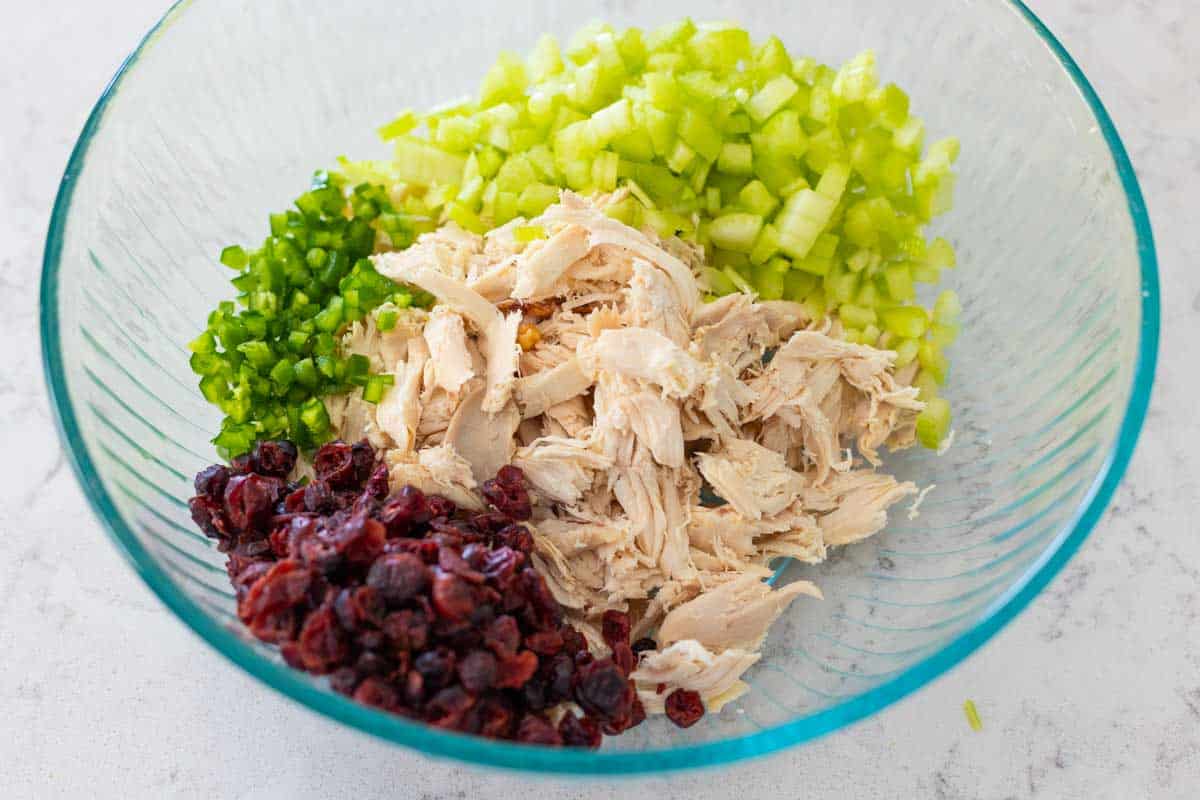 Season the Chicken Salad
Sprinkle the Montreal chicken seasoning, honey, both vinegars, the pickle juice, and the sour cream or yogurt into the mixing bowl.
Gently stir it all together.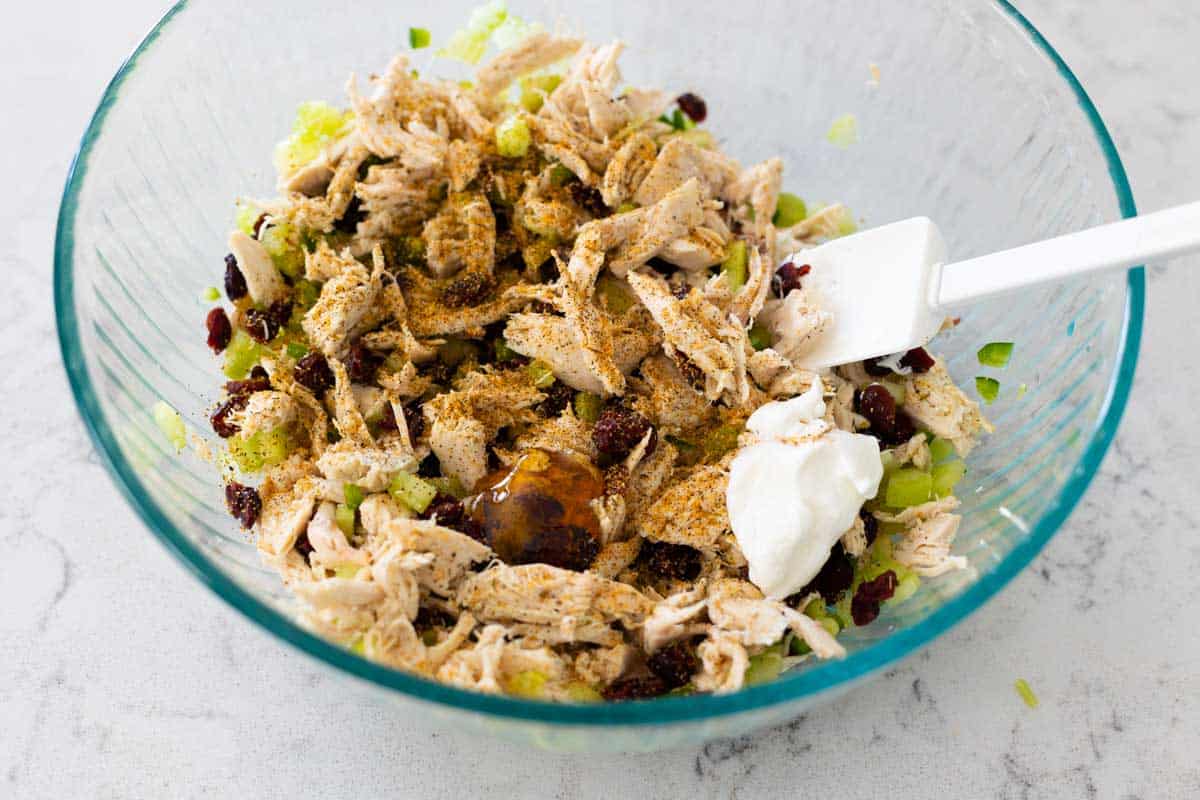 Perfect Chicken Salad Dressing
The final step is to add the mayonnaise and adjust the seasoning.
Personally, I prefer my chicken salad to have just a scant amount of dressing. Enough to hold the chicken salad together but not too goopy.
If you are a big fan of mayo, go ahead and add more. You just might need to adjust the seasonings if you add more than the 1 cup I recommend in the recipe card.
I add the mayo slowly. You can always add more, but you can't take it out. Gently toss and fluff the cranberry chicken salad until you have the amount of dressing you love.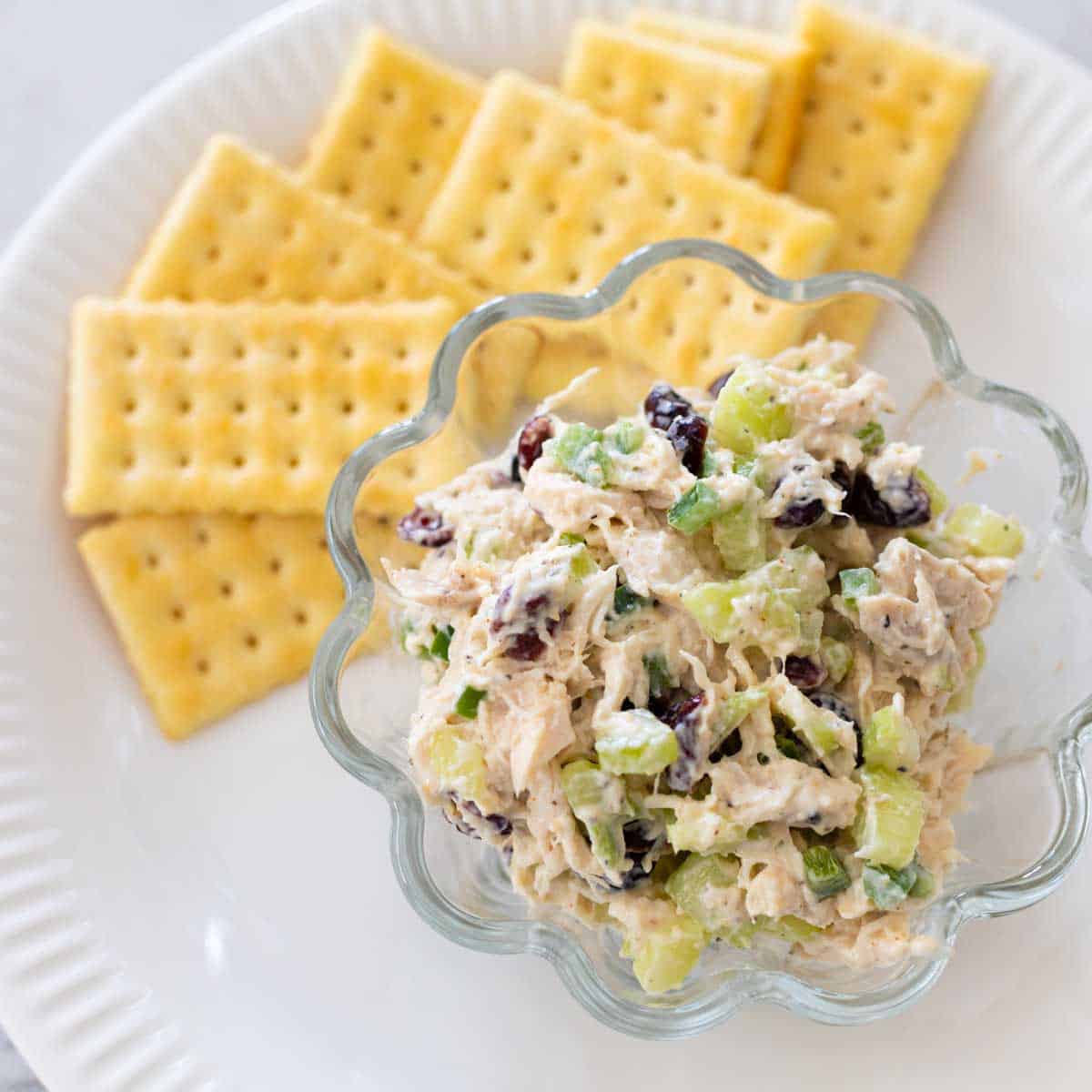 NOTE: Take a taste of the chicken salad. Does it taste like it is "missing" something? Chances are you skipped my suggestion to add the chow chow relish or pickle juice.
That briny ingredient adds tang, salt, and SO much flavor. If your final dish just doesn't taste right, I strongly encourage you to give this a try.
Make Ahead Tips and Storage Info
My favorite part about this recipe is how amazing the cranberry chicken salad tastes the next day once the jalapeños have had a chance to flavor the dressing.
Store the prepared chicken salad in an airtight container in the fridge for up to 5 days.
Do not try to freeze the chicken salad, the vegetables and dressing will make the dish too watery when it thaws.
Serving Suggestions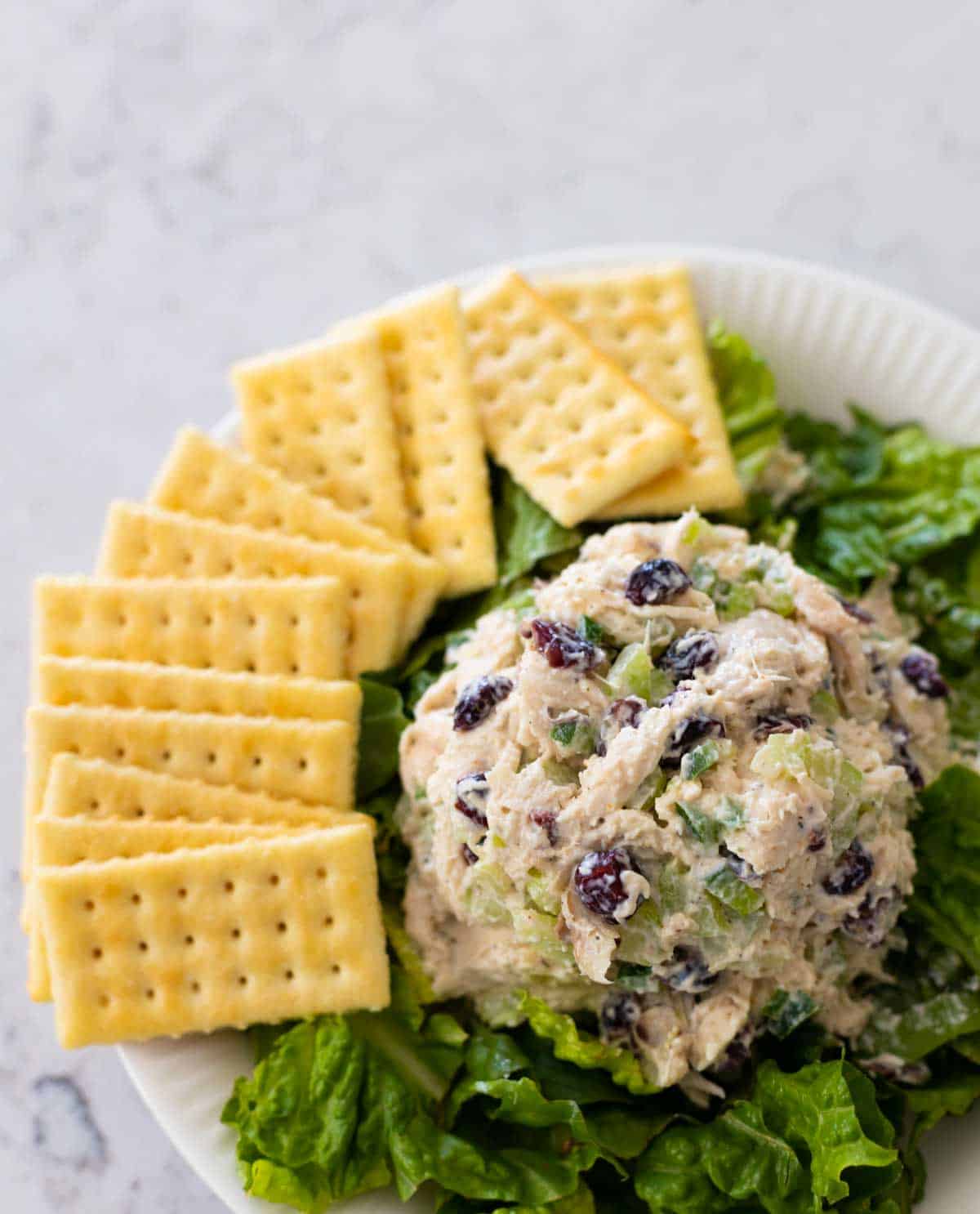 There are so many ways you could enjoy this sweet and spicy cranberry chicken salad.
Cranberry Chicken Salad with Lettuce: Pile up your favorite salad greens on a plate. Add a scoop of the chicken salad on top. Garnish with crispy butter crackers.
Cranberry Chicken Salad Sandwich: Grab some croissants from the bakery or enjoy this on a fresh homemade bread.
Cranberry Chicken Salad Crostini: Make a batch of crispy crostini and serve the chicken salad in a bowl. Let friends top the toasts for chicken salad bites.
Cranberry Chicken Salad Snacks: Just pack a small container of the chicken salad with your favorite crackers for an easy snack on the go.
More Chicken Salad Recipes
If you love making chicken salads for work week lunches, don't miss these other favorite recipes:
📖 Recipe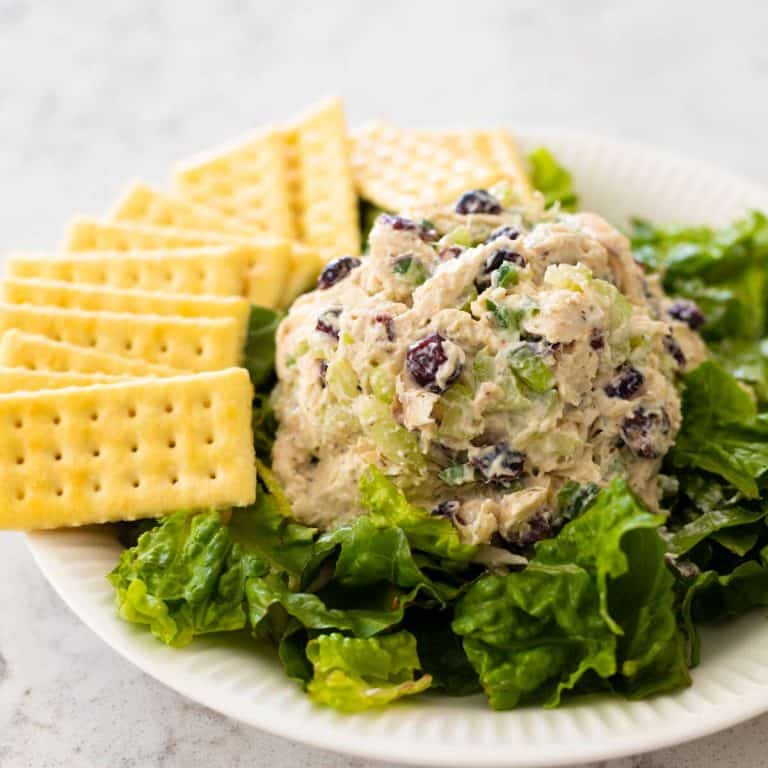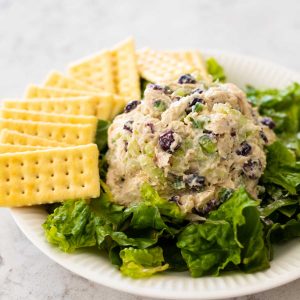 Cranberry Chicken Salad with Jalapeños
This creamy cranberry chicken salad has an awesome kick to it with minced jalapeños stirred into the mix. The dried cranberries add texture and sweetness to your chicken salad sandwich. This festive salad is great any time of year piled on a croissant or served on a leafy green salad with crackers.
Ingredients
1

rotisserie chicken

skinned and shredded, about 4 cups of chicken

3

stalks celery

minced

2

jalapeños

minced (keep the ribs and seeds if you want it spicy)

1

cup

dried cranberries

1 ½

teaspoon

montreal chicken seasoning

1

tablespoon

honey

or hot honey if you want it spicier

1

tablespoon

apple cider vinegar

1

teaspoon

white wine vinegar

1

tablespoon

juice from a jar of chow chow or pickles

1

tablespoon

sour cream or Greek yogurt

1

cup

mayonnaise

Salt & Pepper to taste
Instructions
Add the chicken meat to a large mixing bowl. Stir in the minced celery, minced jalapeños, and dried cranberries, being careful to not overwork the chicken meat so it doesn't fall apart.

Sprinkle the Montreal chicken seasoning over the top. Drizzle the honey and add the apple cider and white wine vinegars. Strain the chow chow or pickle juice from the jar and add it to the mixture.

Add the sour cream or yogurt and gently toss the mixture together. This gives the salad a lovely tangy flavor.

Stir in just enough of the mayonnaise to help the chicken salad stick together. You may not need the whole cup of mayo. However, if you love your chicken salad extra creamy, go ahead and stir in the entire cup.

Season the cranberry chicken salad with salt and pepper to taste and chill for at least 1 hour for the flavors to mingle. The chicken salad tastes even better the next day which makes it a great make-ahead dish.
Save This Recipe to Your Recipe Box
Find this delicious recipe next time you visit by saving it to your very own recipe box on my site. All your favorites stored in one easy place!