This quick and easy challah bread machine recipe is perfect for making a simple challah loaf for a family dinner or slicing up for amazing French toast. Cube the bread for the lightest and fluffiest bread pudding.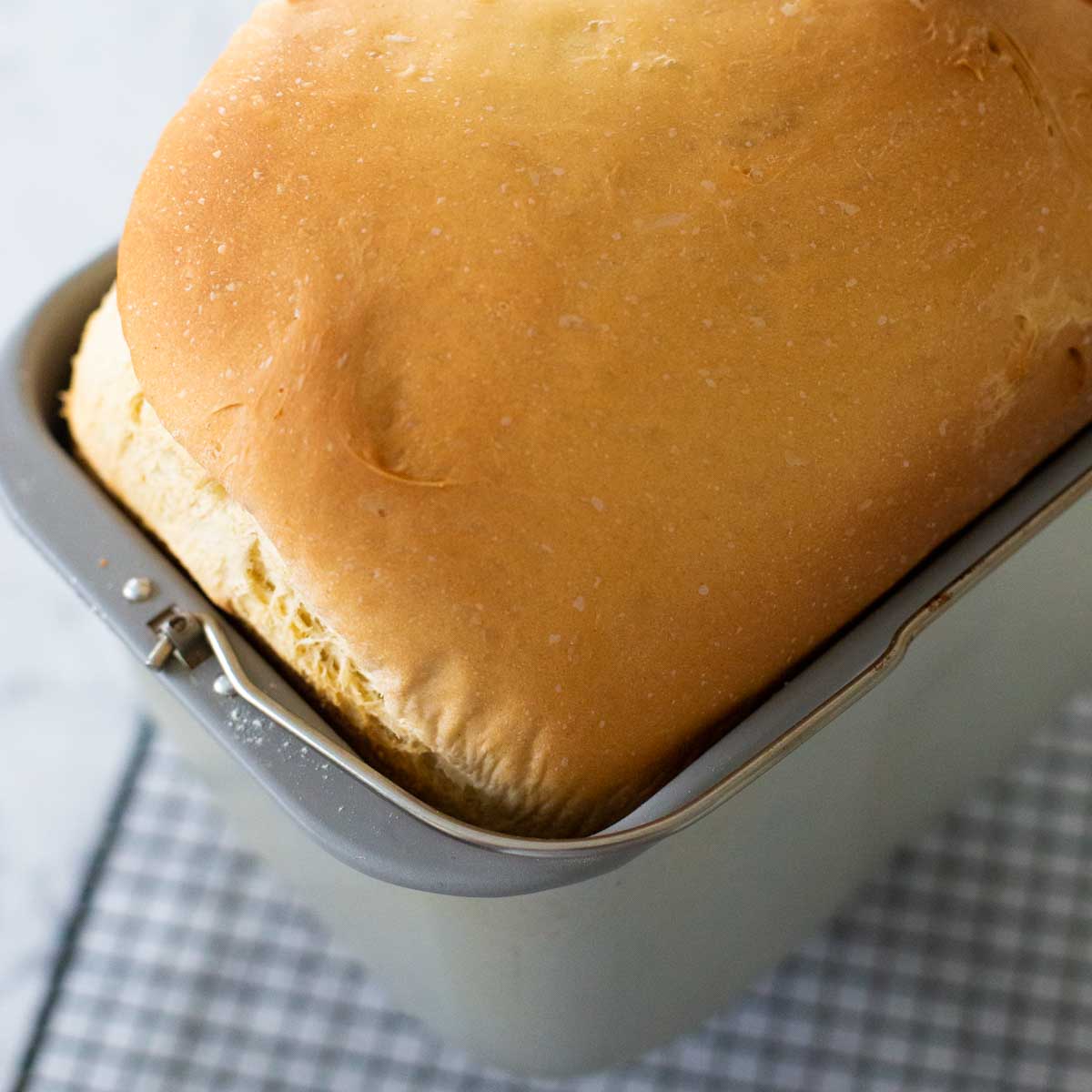 I've been using challah bread as the key ingredient to my fluffy French toast recipe forever! Readers have often asked me where to find challah bread, it's not always available at their local grocery store.
If you've wanted to try challah bread for French toast or one of these amazing bread pudding recipes but can't seem to find it, it takes just 5 minutes to pop the ingredients into a bread machine pan and bake your own.
The loaf can be frozen and used later if you want to make your special breakfast even easier.
Jump to:
What is Challah Bread?
As I was writing The Ultimate Bread Machine Cookbook, this question came up with the test readers I asked for feedback.
Challah bread is a traditional Jewish egg bread that is made from water, eggs, oil, and sweetened with just a little honey. The loaf is light and fluffy with a delicate crust and has a beautiful golden color.
Often challah breads are braided and then coated with a sprinkle of poppy seeds, especially when they are served as part of a special holiday celebration.
This particular challah recipe is for a simple loaf meant to be enjoyed on a busy day.
If you have more time, you could add the same ingredients to the bread machine and select the DOUGH program and braid and bake the bread in your oven.
The Difference Between Challah and Brioche
This was the key detail that seemed to confuse many of my readers. While challah and brioche have a very similar texture, there is a one main difference between the two:
While the challah bread is made with more eggs and oil, a brioche is a butter based bread and is sweetened with regular sugar rather than the honey.
Ingredients
The short list of ingredients makes this bread machine recipe extra easy: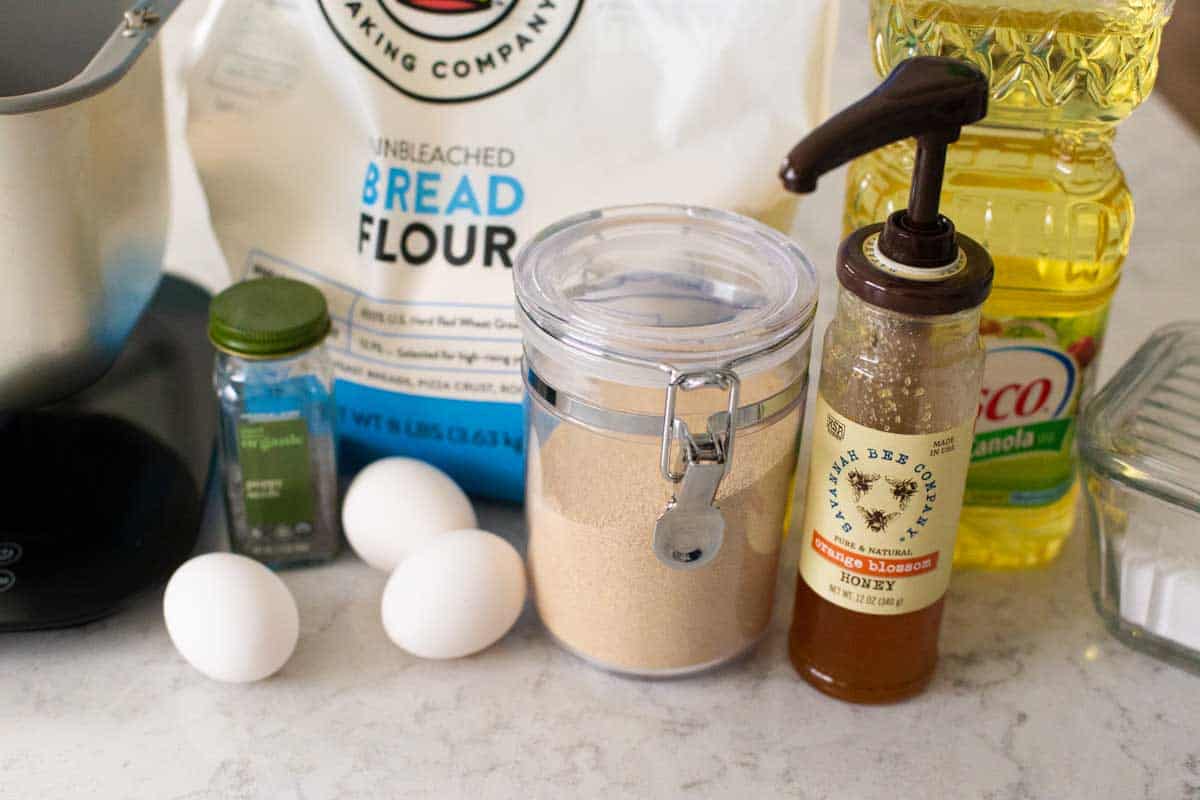 Bread Flour
Eggs
Canola Oil
Honey
Instant Yeast
Salt
Be sure to check the recipe card for quantities and full instructions.
Add the Wet Ingredients First
As with every bread machine recipe, you want to add the wet ingredients to the bread pan first.
Be sure you have the paddle attachment in place before you begin!
Add the water, oil, eggs, and honey to the pan.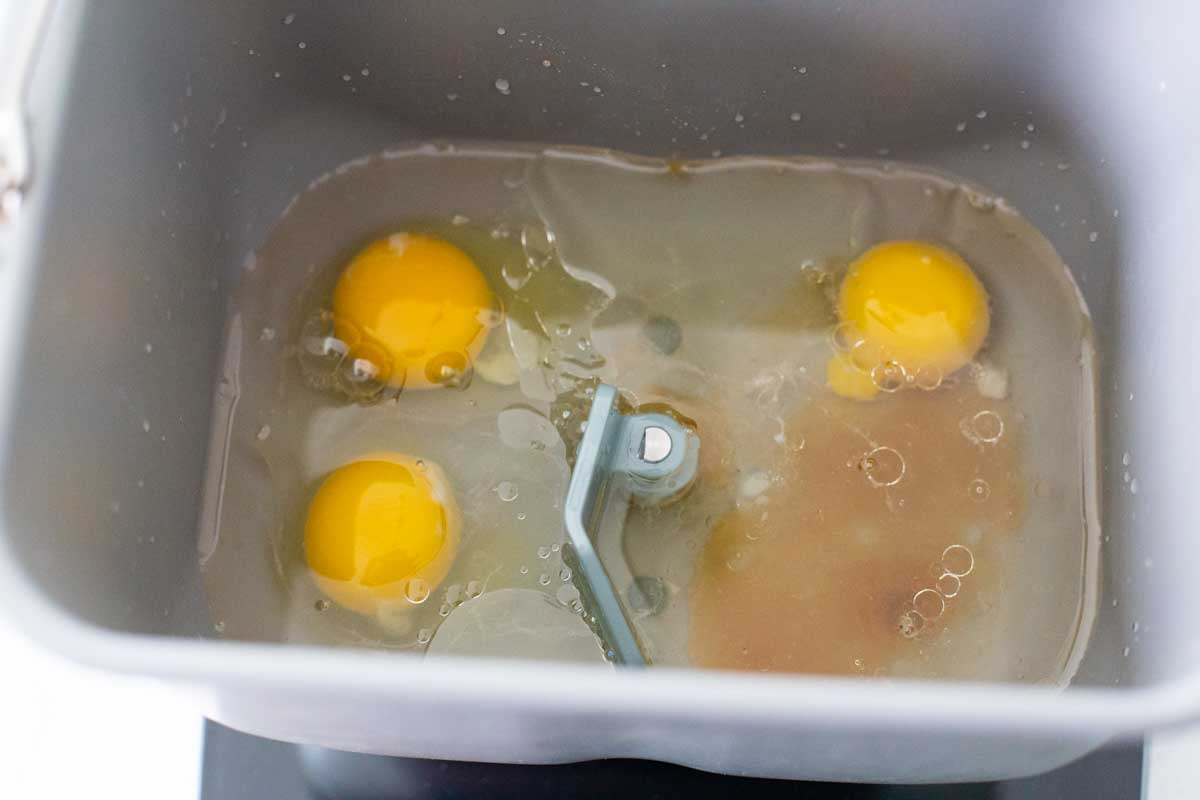 Add the Dry Ingredients
Next, add the dry ingredients right on top of the wet ones.
Add the flour, salt, and yeast.
I always add the salt around the perimeter of the pand and make a small well to add the yeast in the center like this: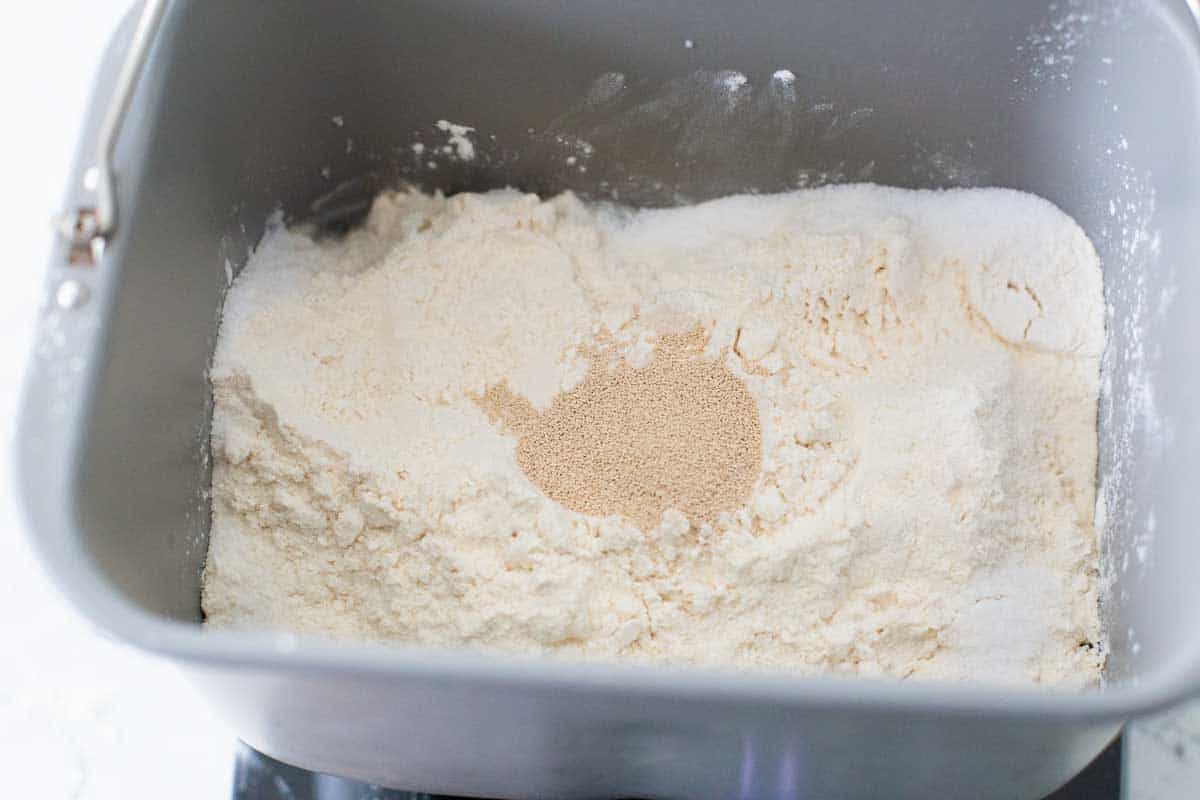 Watch the Texture
Pop the bread pan into your bread machine and select the Basic/White program.
Keep an eye on it as it mixes, the dough starts out fairly wet and the machine may have trouble mixing in the corners of the pan. Use a silicone spatula to scrape the corners if needed.
As the machine kneads the dough, it should form a smooth ball that is slightly sticky when pressed but not sticky enough to cling to the walls of the pan.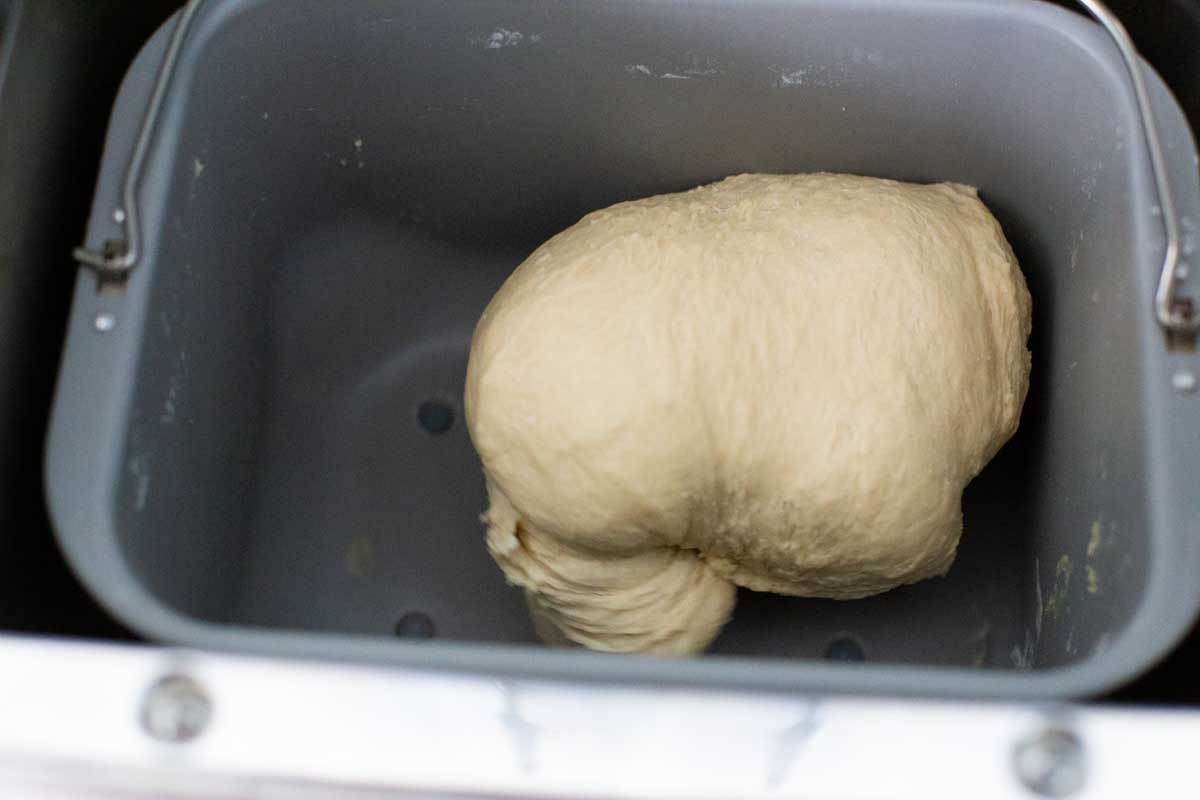 If your bread is sticking to the pan, add a little more flour just 1 tablespoon at a time, waiting for a minute between each addition.
If your bread is too dry, add more water just 1 teaspoon at a time until the dough comes together.
You can remove the paddle after the second rise which makes your bread easier to release from the baking pan.
The entire baking cycle should take about 3 hours and you'll have a warm, golden brown challah loaf: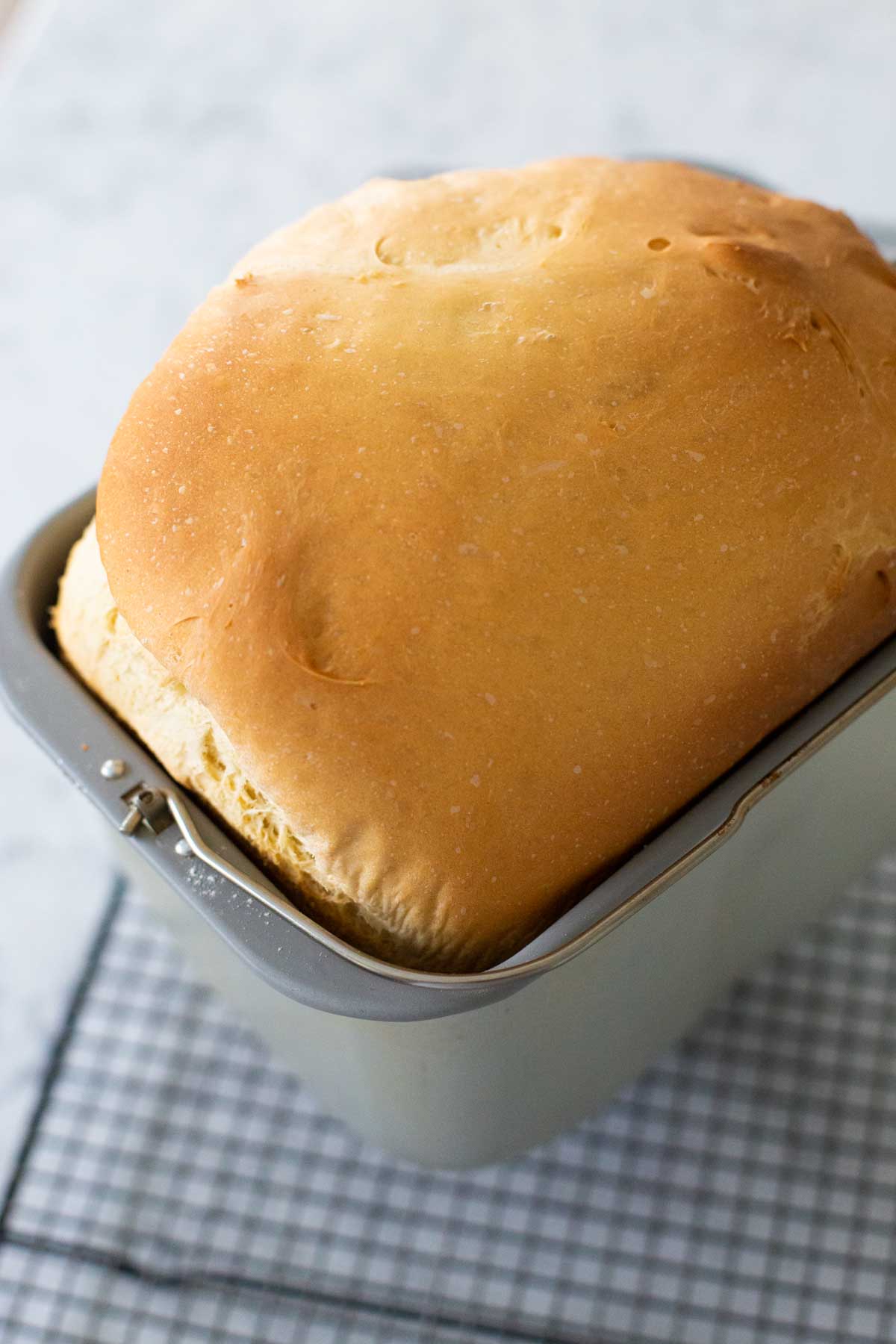 Storage Tips
Remove the bread from the pan within the first 5 minutes or so to prevent it from steaming and getting soggy on the bottom.
Let the loaf cool completely before storing in an airtight bag at room temperature for to 3 - 5 days.
The challah bread can also be frozen to be enjoyed later.
Otherwise, you could use challah bread to make delicious French toast or use it as a substitution in most bread pudding recipes:
More Bread Machine Recipes
Looking for more delicious bread machine recipes? You can find all my favorites here:
📖 Recipe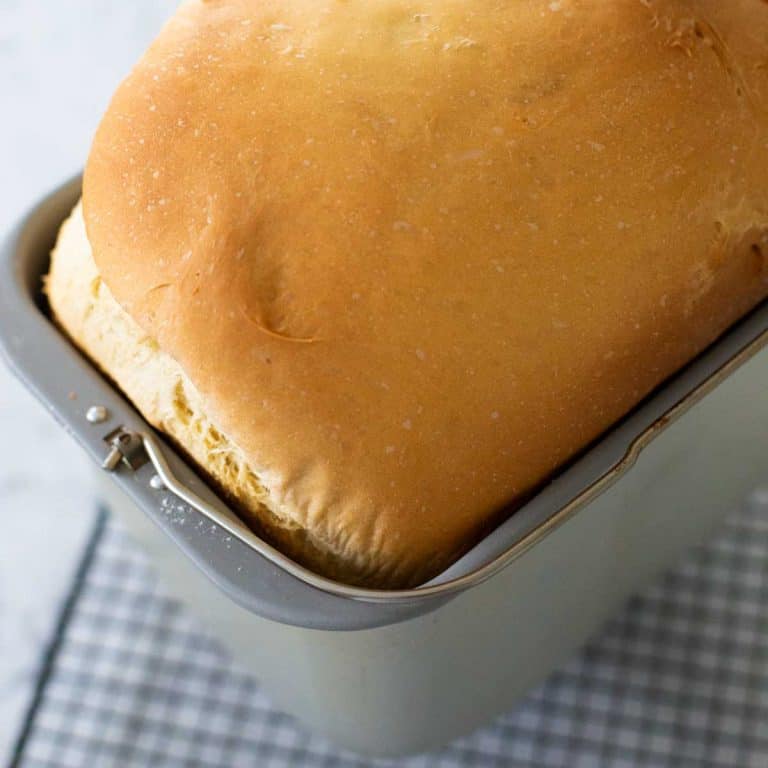 Bread Machine Challah Bread
This challah bread loaf is the easiest homemade bread to enjoy for Hanukkah. The dough could be braided and then baked in the oven if you prefer, but the simple bread machine loaf is wonderful as well. This traditional Jewish egg bread makes absolutely amazing French toast and bread puddings as well.
Ingredients
1

cup

water

2

eggs plus 1 egg yolk

1 ½

tablespoons

honey

¼

cup

canola oil

4

cups

(548 g) bread flour

2

teaspoon

salt

2

teaspoon

instant yeast

OPTIONAL: 1 tablespoon poppy seeds
Instructions
Add the ingredients to your bread machine's baking pan in the order listed from water to yeast.

Choose the Basic or White program setting based on your machine's options. Select the coordinating setting for your loaf size on your machine and press "Start."

When the loaf is done, remove it from the bread pan and transfer it to a wire rack to cool for at least 30 minutes before slicing.

OPTIONAL: 1 tablespoon of poppy seeds can be sprinkled over the dough before the third rise if desired.
Save This Recipe to Your Recipe Box
Find this delicious recipe next time you visit by saving it to your very own recipe box on my site. All your favorites stored in one easy place!