Serve this easy panettone bread pudding with a drizzle of homemade amaretto cream sauce for an unforgettable Christmas breakfast or dessert. The top is delicate and crispy with a rich custard filling studded with sweet dried fruits. Don't miss the make-ahead tips to help you get it prepped quickly.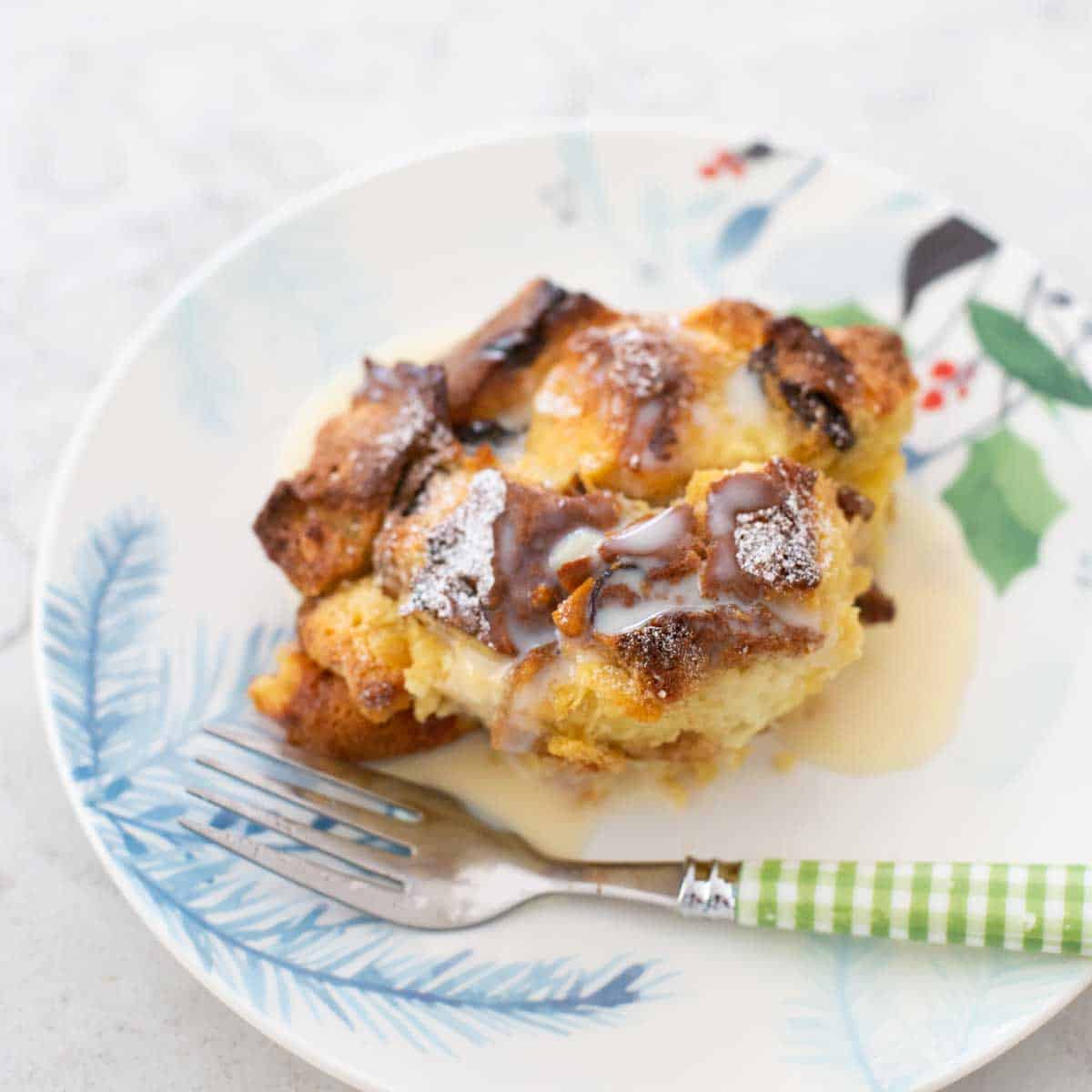 Have you spotted the boxes of panettone Christmas bread at your local grocery store yet?
For me, that is one of the first signs that Christmas is coming. I get so excited every year when I first find the store shelves filled with my favorite holiday bread.
Though it is absolutely delicious eaten plain as it is, my favorite thing to do with a fruit filled panettone is to turn it into a delicious Christmas treat.
Jump to:
Is Bread Pudding a Breakfast or a Dessert?
It's Christmas -- you decide! I have served it to happy family members as both a Christmas morning breakfast and a festive Christmas dessert.
The egg-filled custard base let me justify it as a breakfast bake.
The crispy powdered sugar top and sweet amaretto sauce poured over the top totally qualifies as a gorgeous dessert.
What is Panettone?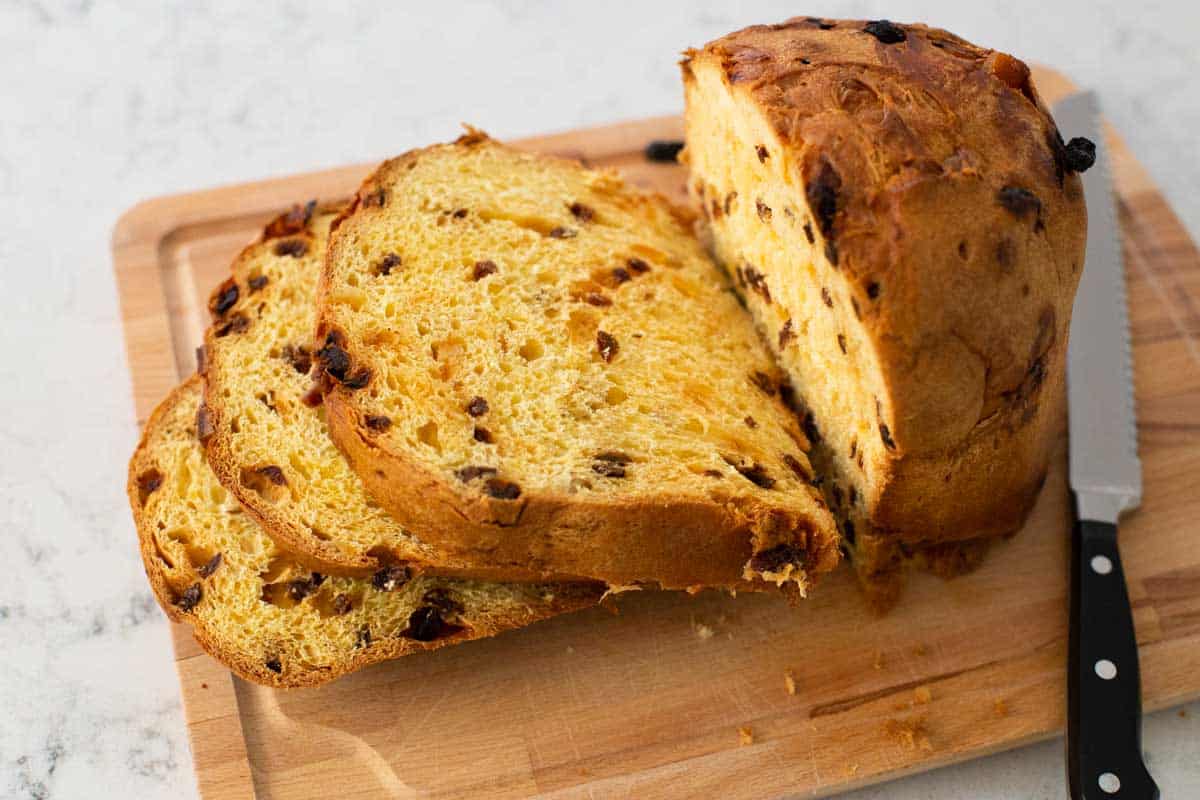 I was first introduced to panettone when I was living in Milan, Italy during the Christmas season. My office hosted a holiday party for the employees and they served large trays filled with chunks of panettone as one of the treats. I instantly fell in love with it and have sought it out every year since.
Panettone is a traditional Italian Christmas bread that features an eggy dough filled with dried fruits. Once baked, it has a light and airy texture, very similar to brioche, and the flavor has hints of citrus and delicate spices.
Ingredients
The ingredients for this bread pudding are very simple: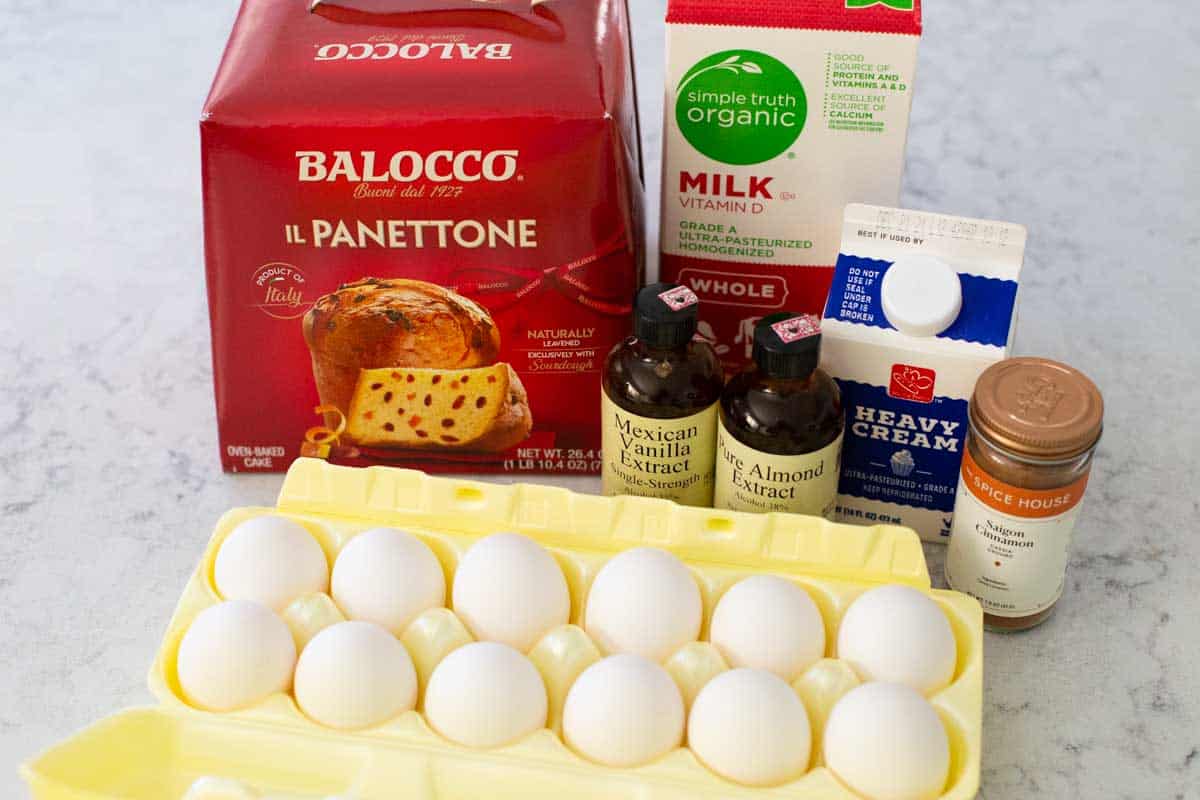 Panettone: You can usually find traditional boxes of Italian panettone at the grocery store starting in late October and running through the Christmas season. There are two main brands most commonly available--Balocco and Bauducco. I've found them at World Market, Fresh Market, and even on Amazon. Just be sure to get the 2-pound package (or 2 1-pounds.)
Eggs
Milk & Heavy cream
Vanilla & Almond extracts
Cinnamon
Make-Ahead Tips
My favorite part about this recipe is how easy it is to prep ahead of time. This comes in very handy if you want it to serve as an easy Christmas morning breakfast or holiday brunch item.
Grease a 9 x 13-inch baking dish with softened butter.
Unwrap the panettone and remove the paper wrappings. Slice it into thick 1-inch slices and then cube the slices.
Scatter the bread cubes evenly in the pan.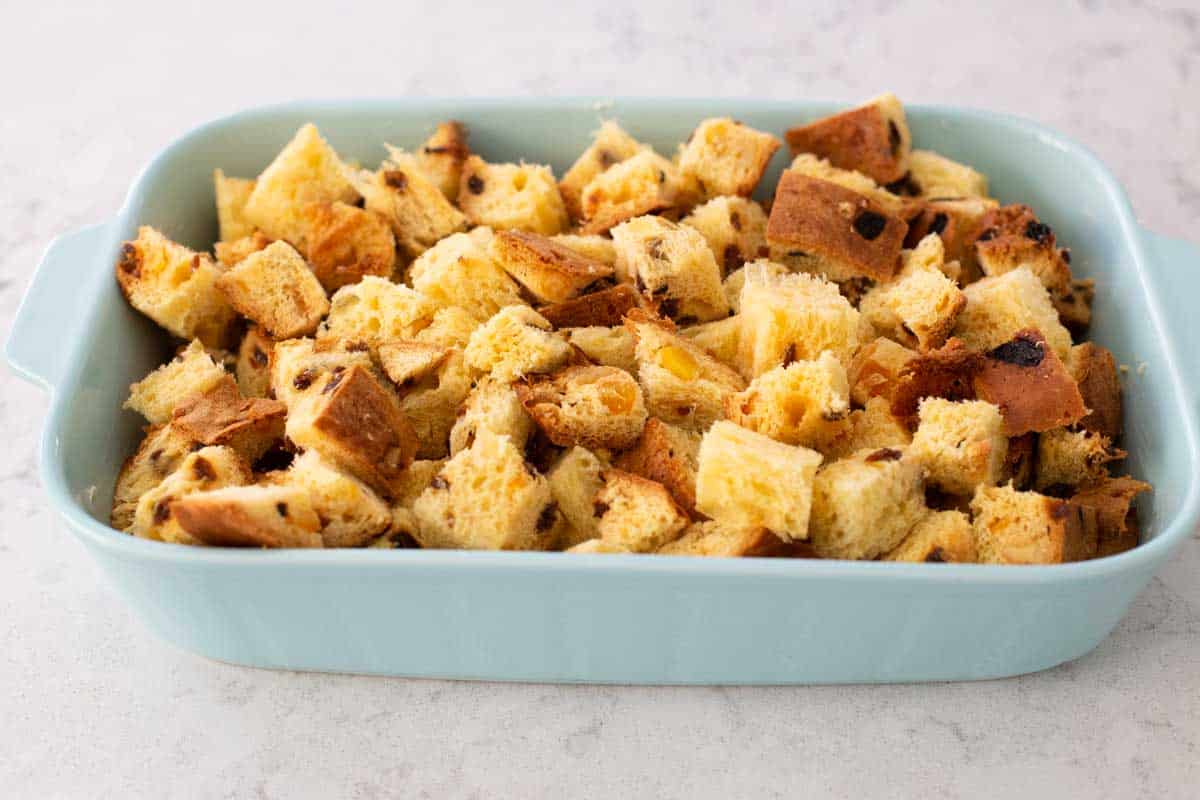 If you are prepping this dish ahead of time and plan to bake it the next day, cover the dish with plastic wrap and store it at room temperature.
You can prepare the custard filling ahead of time as well. Just be sure to store it separately from the bread dish. Keep it covered and store in the fridge for easy pouring before you bake it.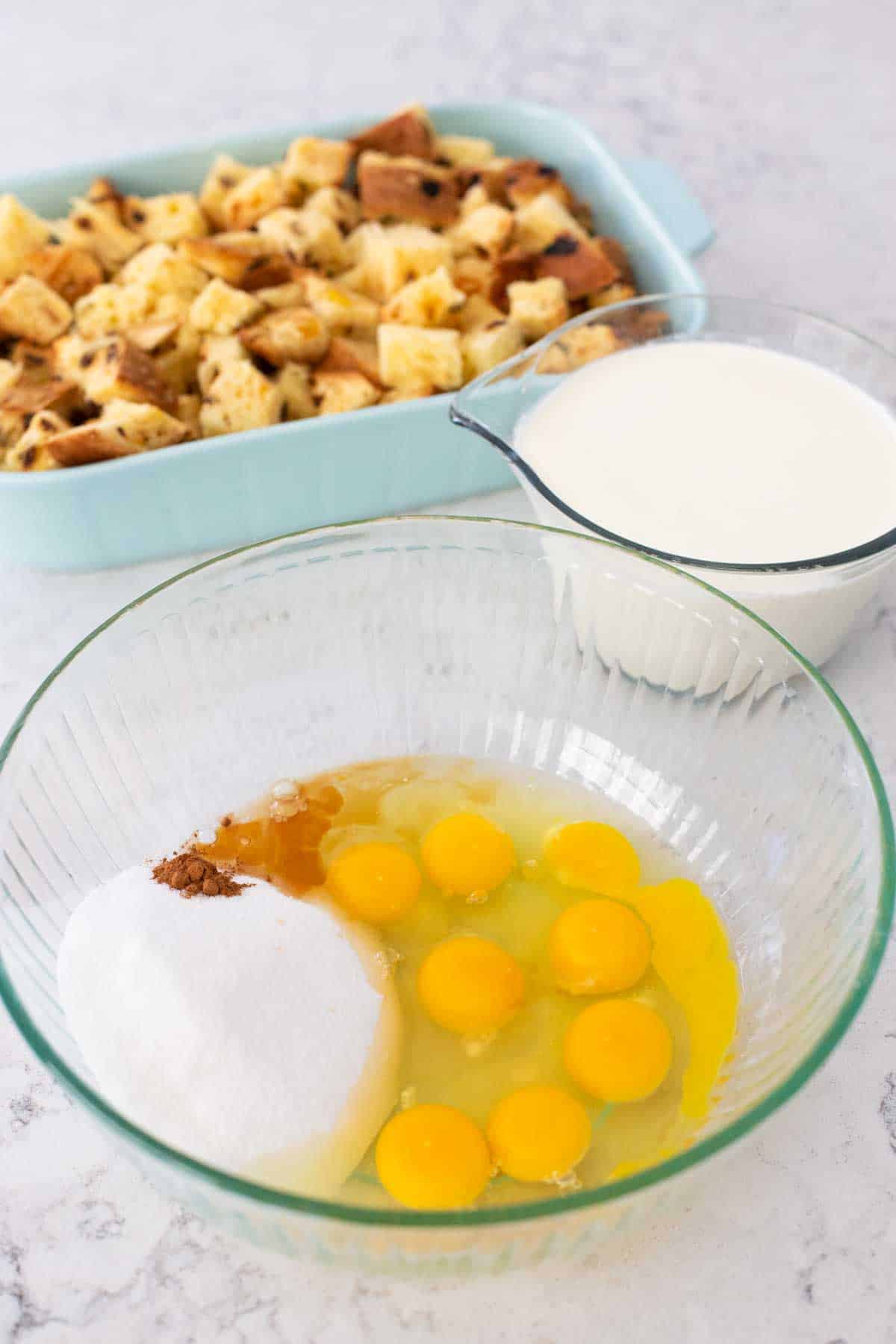 To prepare the custard, simply whisk together the eggs, sugar, milk, heavy cream, vanilla and almond extracts, and cinnamon.
How to Assemble the Bread Pudding
When you are ready to bake the panettone bread pudding, pour the prepared custard over the bread cubes in the baking dish.
Gently pat the bread down into the cream so that every single cube is coated in sauce.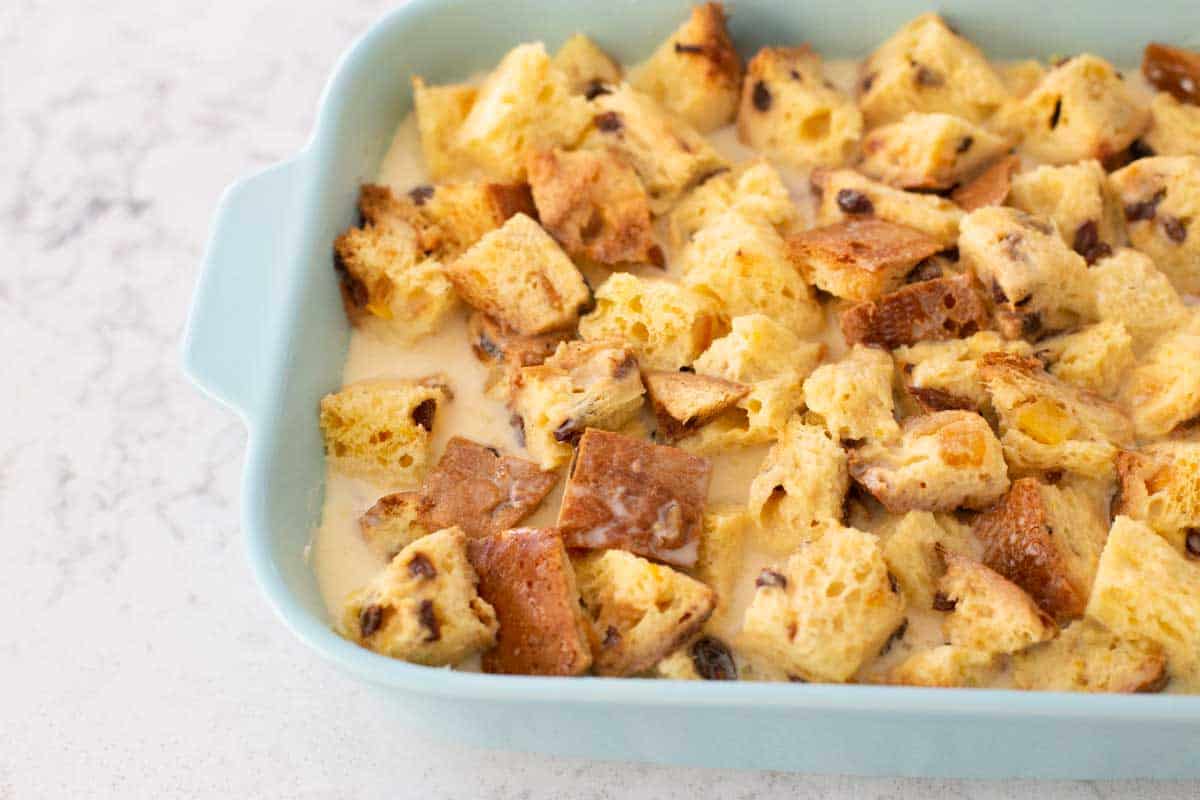 Let the dish stand for at least 15 - 20 minutes while the oven preheats. This allows the bread to absorb as much of the custard filling as it can before baking.
Baking Instructions
Preheat the oven to 350°F.
Bake the bread pudding for 45 minutes or until the top is golden brown and toasted and the custard has completely set.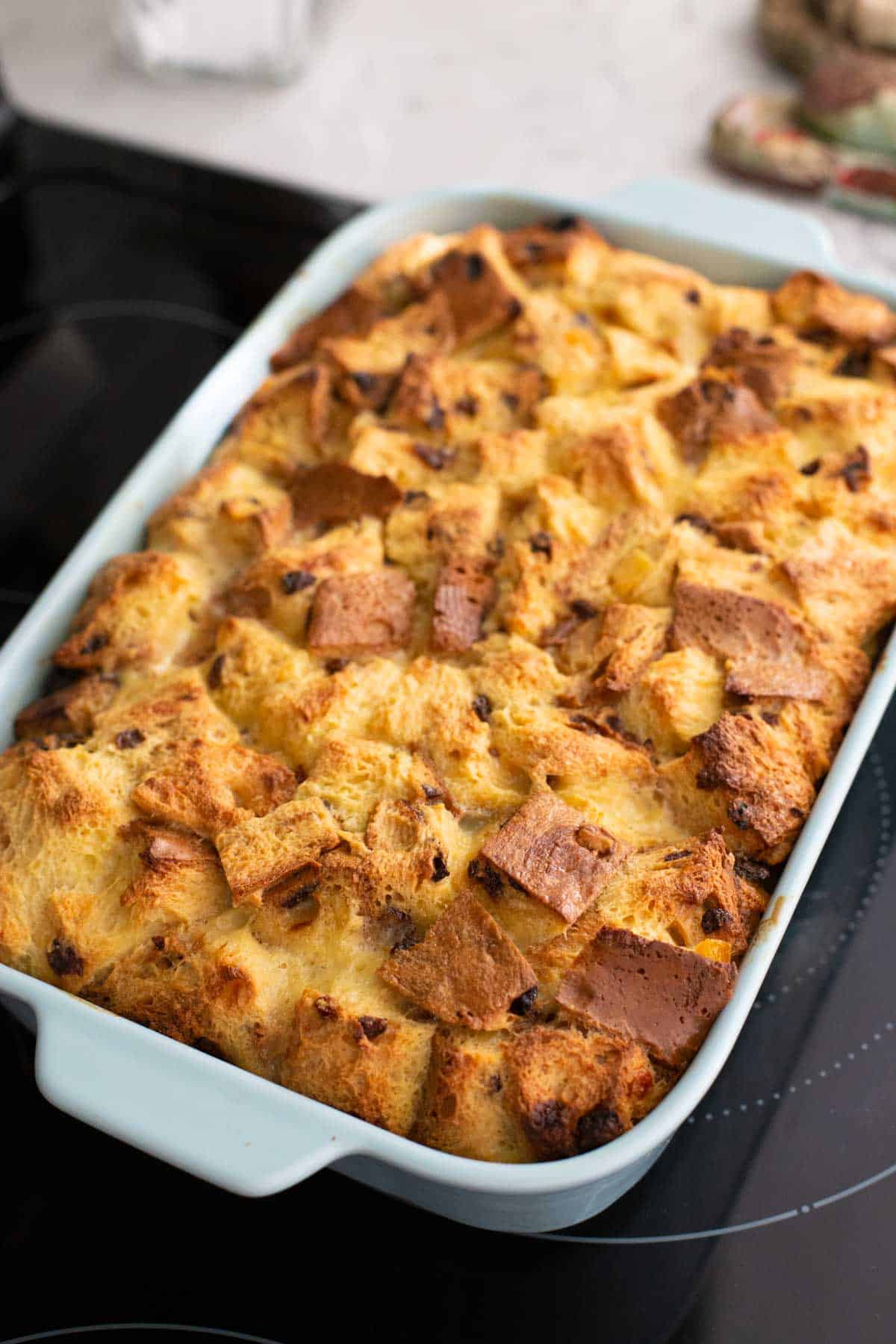 If the top begins to brown faster than the custard can set, you can loosely cover it with aluminum foil while it continues to bake.
Serving Suggestions
The panettone bread pudding is most delicious when served still warm from the oven, dusted with powdered sugar and servings drizzled with this super-easy amaretto cream sauce or this delicious vanilla creme anglaise would be amazing, too.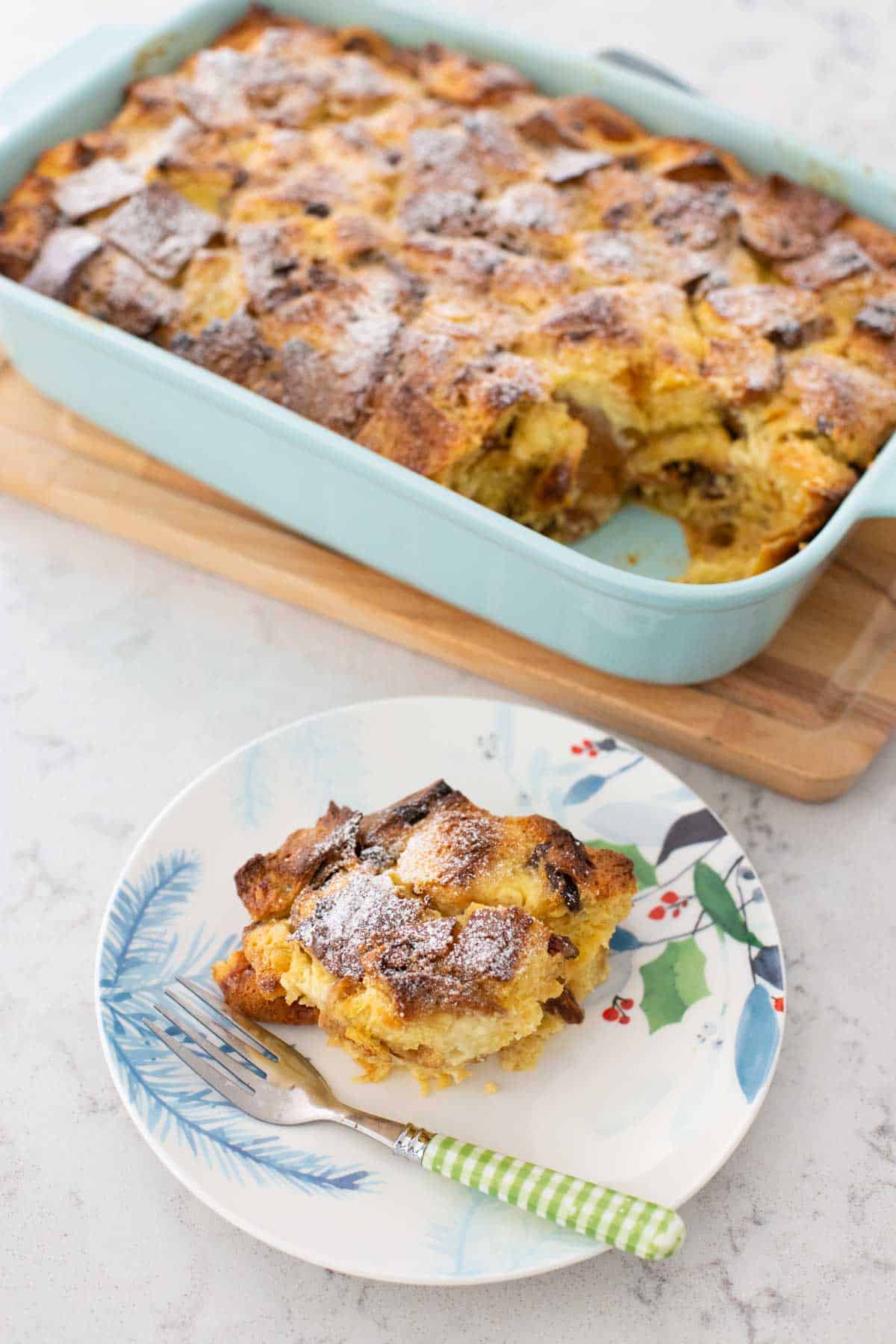 Variations
Though this recipe is nearly perfect as is, there are a few fun variations you could play with for your family:
Chocolate Panettone: Sometimes you can find a chocolate panettone where the bread part itself is flavored with chocolate powder. You could substitute that for the traditional fruit-studded version.
Add Almonds for Crunch: Stir in ½ cup of sliced almonds into the custard. Don't scatter them over the top, they are likely to burn over the full bake time.
Add Golden Raisins: For more fruity flavor, a ⅓ cup of golden raisins would be delicious in the custard.
More Christmas Breakfast Ideas
Looking for more delicious ideas for Christmas morning? You might also enjoy:
More Christmas Dessert Ideas
Need more ideas for Christmas dessert? You may also enjoy:
FAQ
Can you freeze panettone bread pudding?
Since the base of the bread pudding has so much dairy between the eggs and cream, I don't recommend trying to freeze the bread pudding. The filling could separate and the texture would be compromised.
📖 Recipe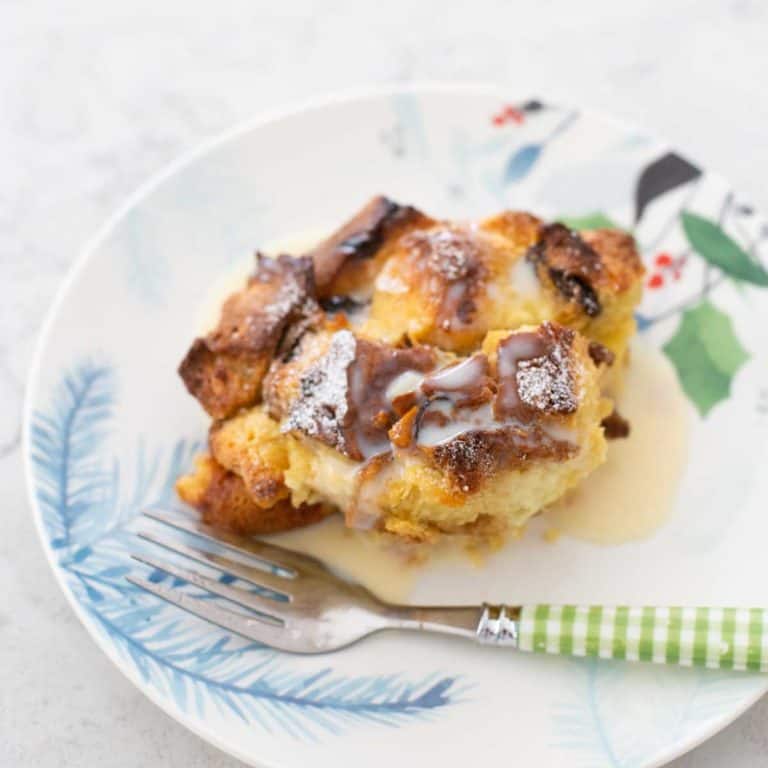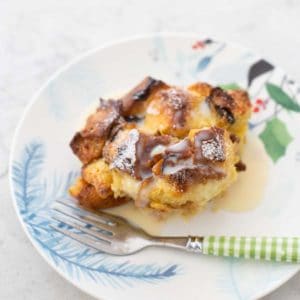 Make-Ahead Panettone Bread Pudding
This delicious panettone bread pudding can be served as a Christmas breakfast or a holiday dessert. Warm and fresh from the oven, dust it with powdered sugar and drizzle each serving with a bit of easy homemade amaretto sauce or vanilla creme anglaise.
Ingredients
1

loaf panettone bread

cut into 1-inch cubes

8

eggs

1 ½

cups

heavy cream

2 ½

cups

milk

1 ¼

cups

sugar

1

teaspoon

vanilla

½

teaspoon

almond extract

½

teaspoon

cinnamon

½

cup

sliced almonds
Instructions
Grease a 9 x 13-inch baking pan with softened butter all around the bottom and sides. Scatter the cubes of panettone evenly across the baking dish.

In a large mixing bowl, whisk together the eggs, cream, milk, sugar, extracts, and spices. Pour the mixture over the panettone and gently press down on the bread cubes to submerge them in the custard.

Let the bread pudding stand for 30 minutes before baking or you can cover it with plastic wrap and store in the fridge for up to 2 hours.

Sprinkle the sliced almonds over the top of the pudding.

Preheat the oven to 350°F.

Bake the bread pudding for 45 minutes or until it has puffed up and is set in the center. Serve while it is still warm.
Recipe Notes
Overnight Casserole Instructions:
If you want to prepare this the night before for a holiday or special brunch, you can grease the baking pan and scatter the bread. Cover with plastic wrap and keep on the counter.
Whisk together the custard mixture and store separately in the fridge. Pour it over the prepared bread in the morning and bake as instructed.
Save This Recipe to Your Recipe Box
Find this delicious recipe next time you visit by saving it to your very own recipe box on my site. All your favorites stored in one easy place!