Homemade amaretto creamer can be used to make DIY holiday coffee at home or is thick and creamy enough to be drizzled over a wide variety of Christmas desserts. Made in under 10 minutes, keep this delicious almond flavored sauce in your fridge for easy entertaining this holiday season.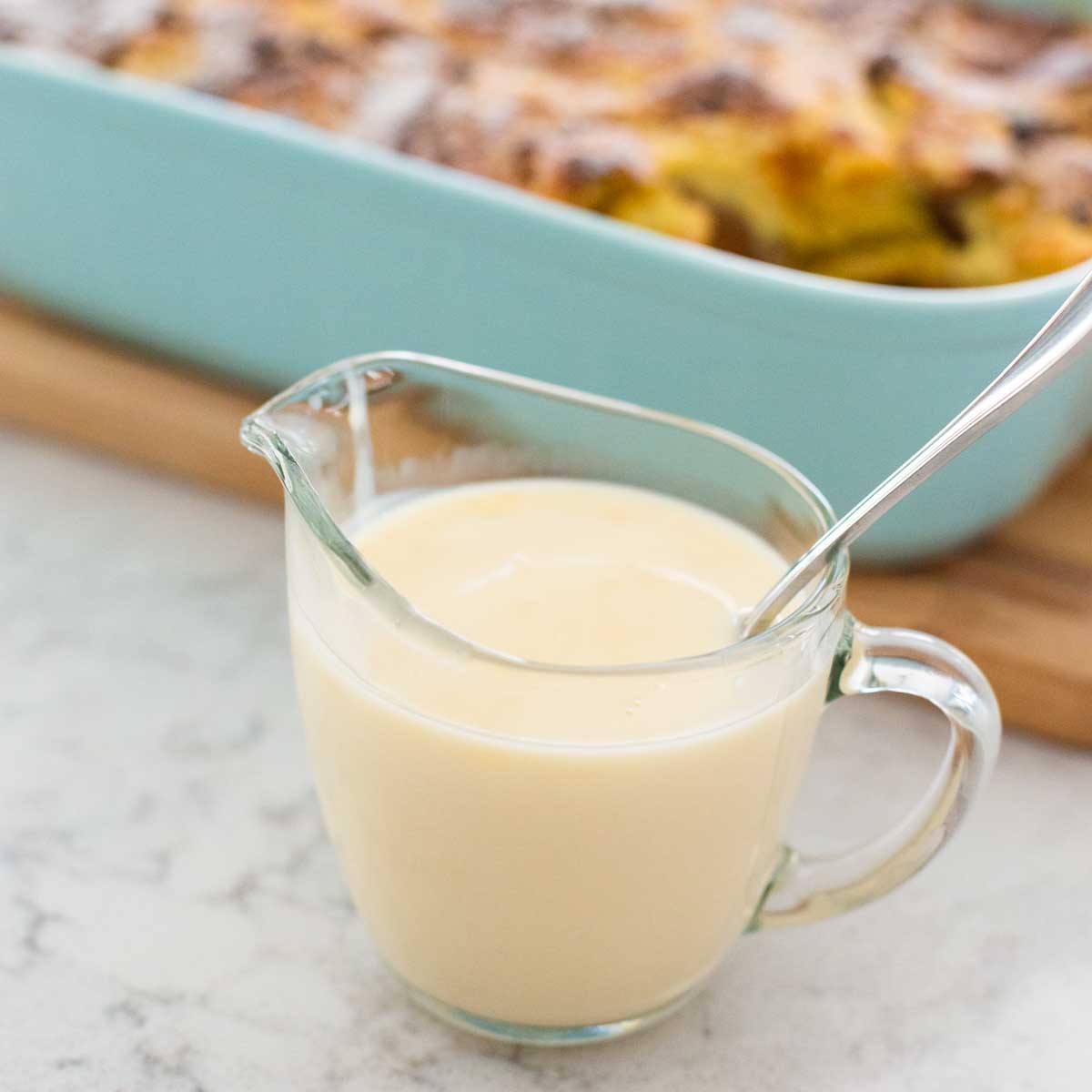 Looking to save a little money on the expensive coffee shop holiday coffees this season?
You can treat yourself to the most delicious Christmas coffee right at home in just minutes with this amazingly delicious amaretto creamer.
The recipe is thick and rich enough to be used as a simple dessert sauce over easy Christmas desserts, too.
Not a single drop will go to waste once you take your first taste. You're sure to think of even more ways to use it!
Jump to:
What Does Amaretto Creamer Taste Like?
Amaretto is an Italian liqueur made from almonds in the town of Saronno, Italy. It has a deep, rich almond flavor with a touch of sweetness.
Amaretto creamer is a simple dessert sauce that is rich and creamy and flavored with real amaretto liqueur. It has hints of almond and is thick enough to be used either as a coffee creamer or dessert sauce.
Why This is the Best Recipe
If you've ever purchased the processed amaretto coffee creamer at the grocery store, you might not want to look at what's included on the ingredients label.
This is the best recipe because:
REAL Ingredients: The list of ingredients is short and sweet. You can pronounce everything and feel far better about what you're stirring into your holiday coffee.
Delicately Sweet: The sauce is just the perfect sweet touch to coffee or dessert without overpowering the flavor.
Creamy & Rich: A little goes a long way, you won't need to add very much of the creamer to make a big difference in your treat.
Fast & Easy: The whole recipe should take less than 10 minutes to prepare and is the perfect festive finishing touch to keep on hand.
What Is In Amaretto Coffee Creamer?
Though the ingredient list is super short, there are a few substitutions you should be aware of: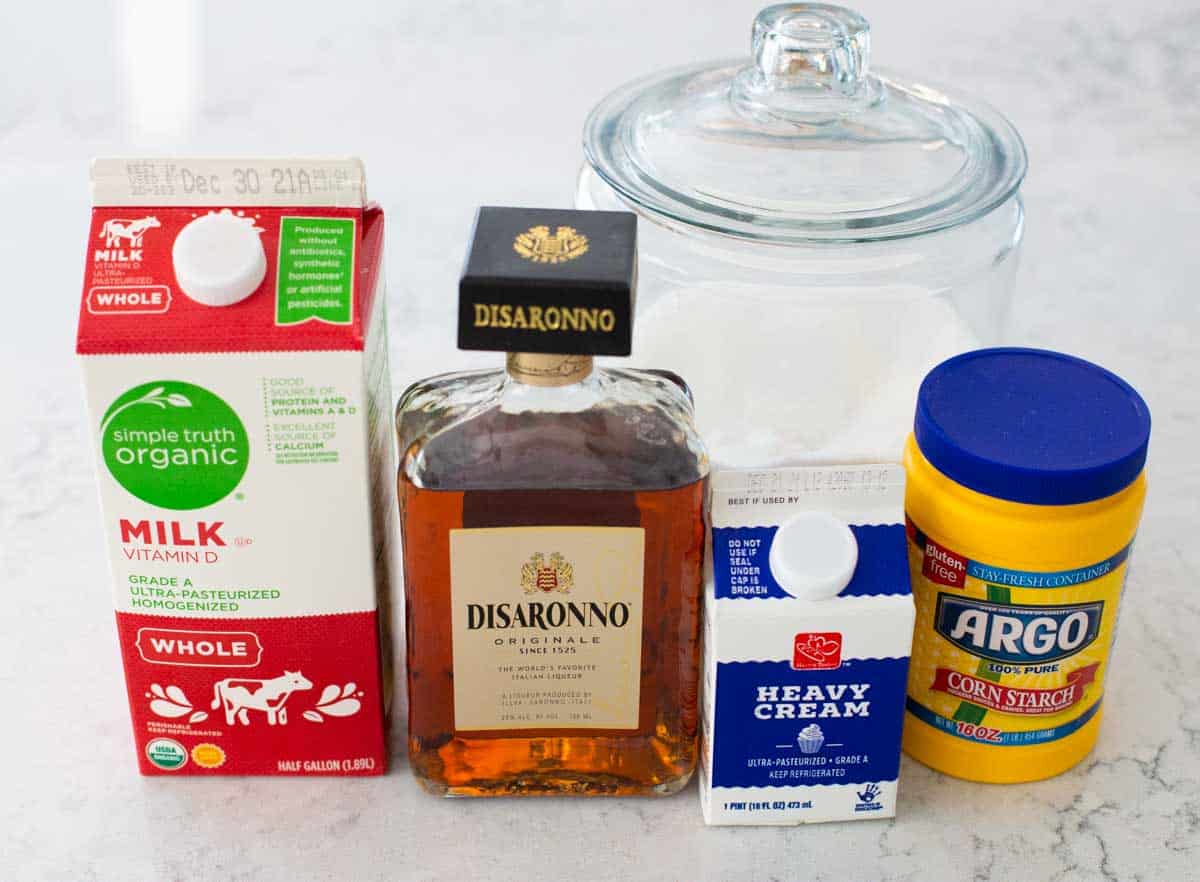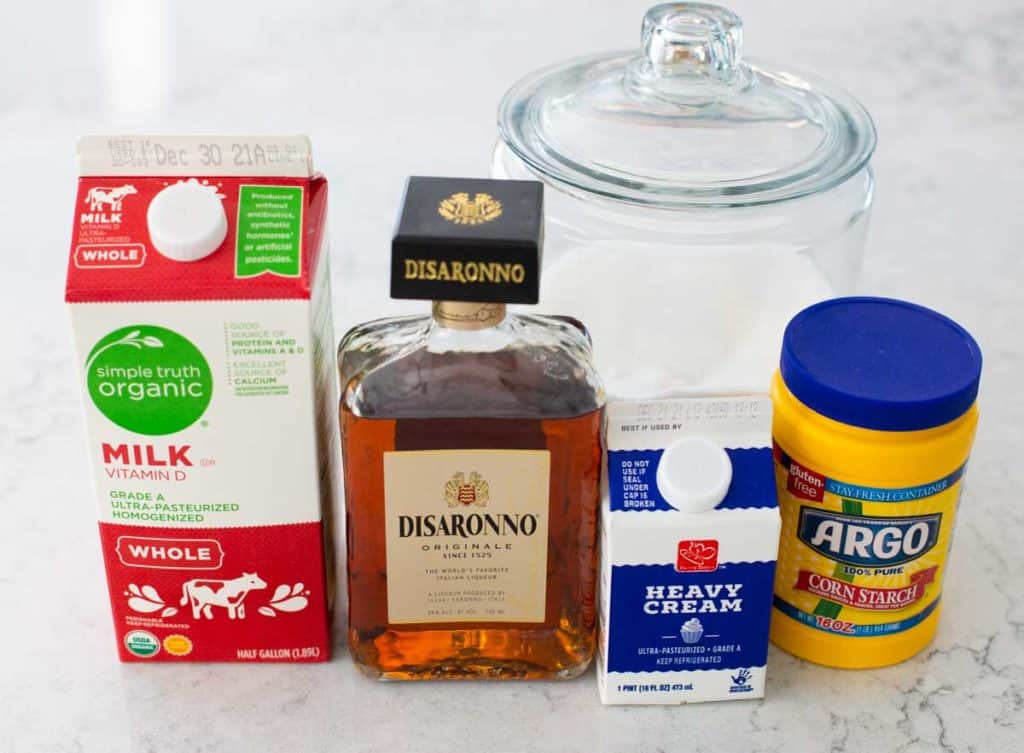 Milk & Heavy Cream: I prefer a combination of whole milk and heavy cream. If using as a coffee creamer, you could substitute half and half or a lighter milk if desired.
Sugar: I don't recommend substituting brown sugar for this recipe. Stick with regular sugar.
Amaretto Liqueur: The alcohol in the liqueur will be cooked for 2 minutes but that won't be enough to burn it off. If you prefer a non-alcoholic sauce, you can substitute almond extract or prepared amaretto flavoring.
Cornstarch (optional): The cornstarch serves to thicken the sauce. This is ideal if you plan to use it for drizzling over a holiday dessert. If you plan to use it as a coffee creamer, you can omit the cornstarch if you prefer.
How to Make Amaretto Cream Sauce
First, add the milk, heavy cream, and sugar to a heavy-bottomed sauce pan and whisk them together.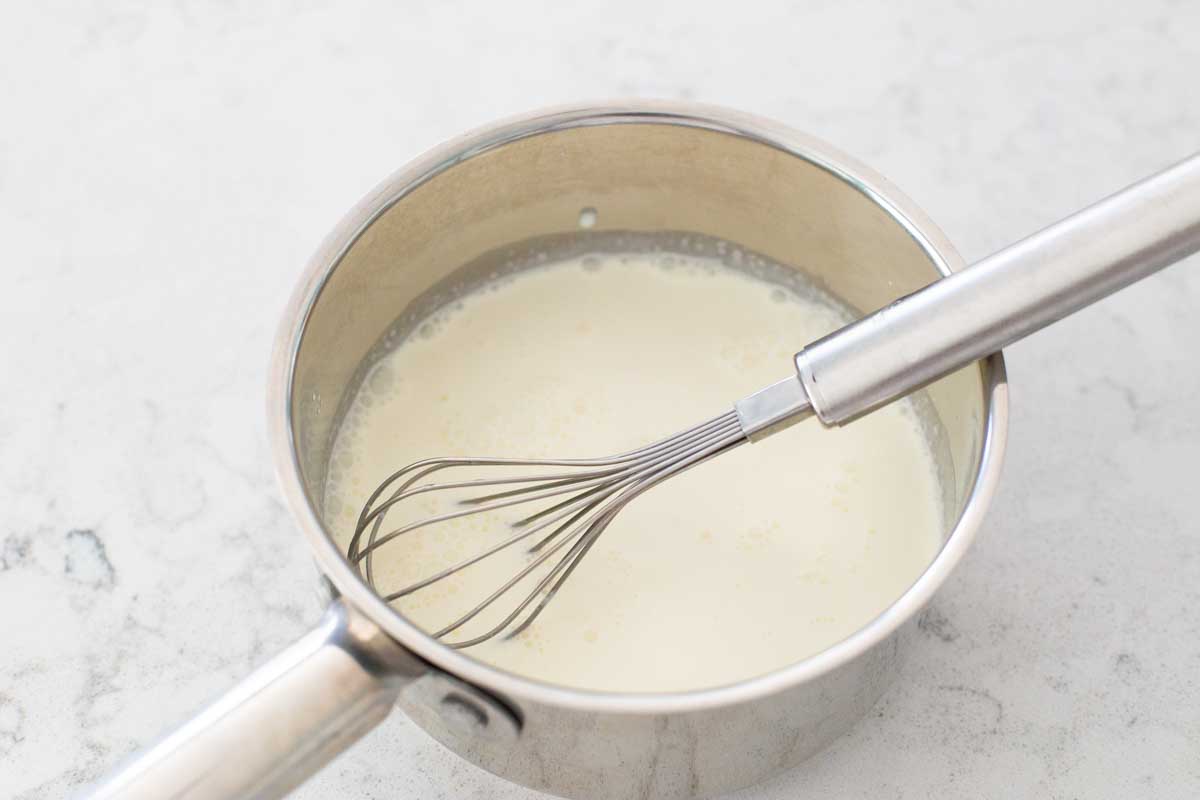 In a liquid measuring cup, measure the amaretto.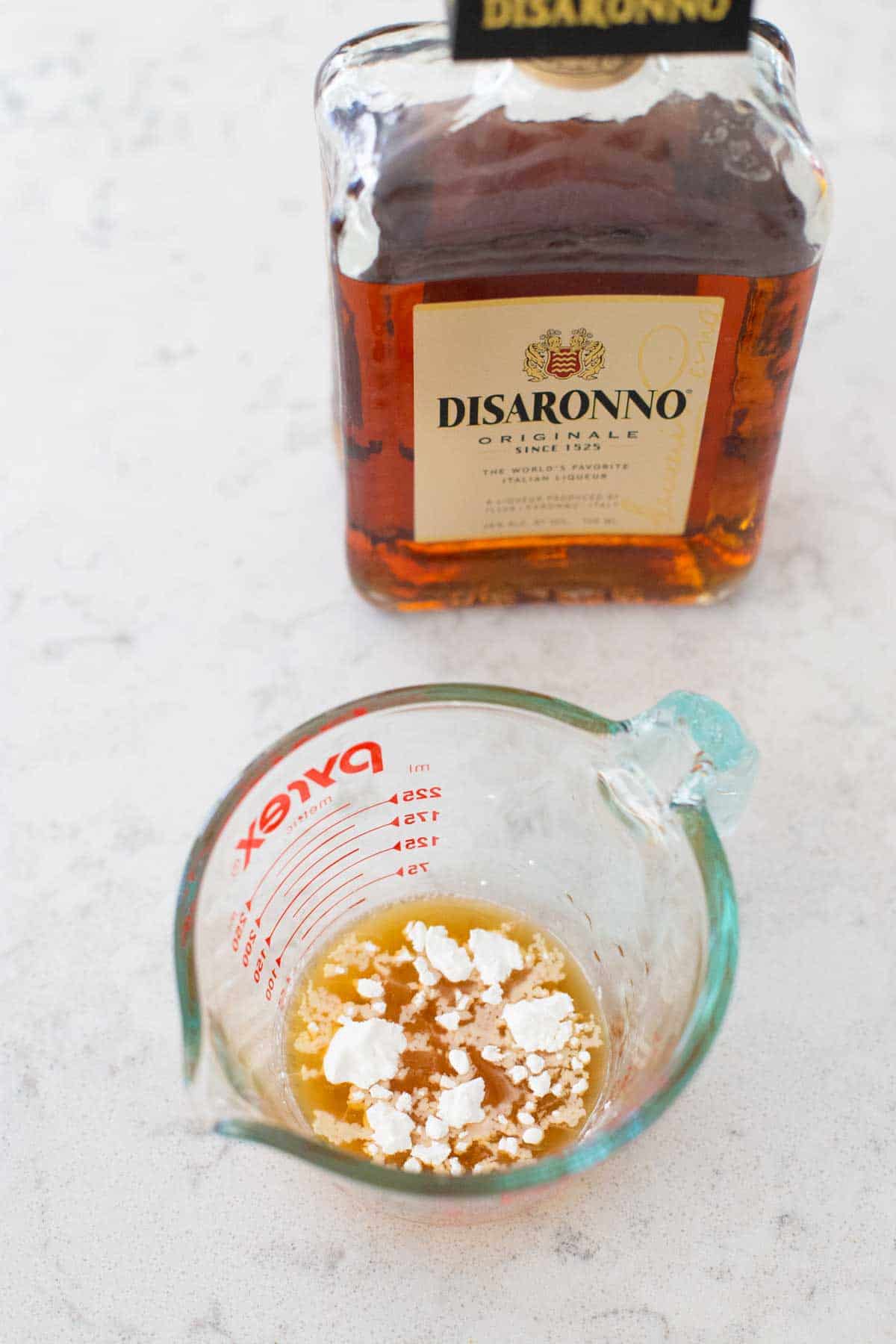 Add the cornstarch (if using) and whisk it together with a fork.
Whisk in the amaretto to the cream mixture and place the saucepan over a burner set to medium-high heat.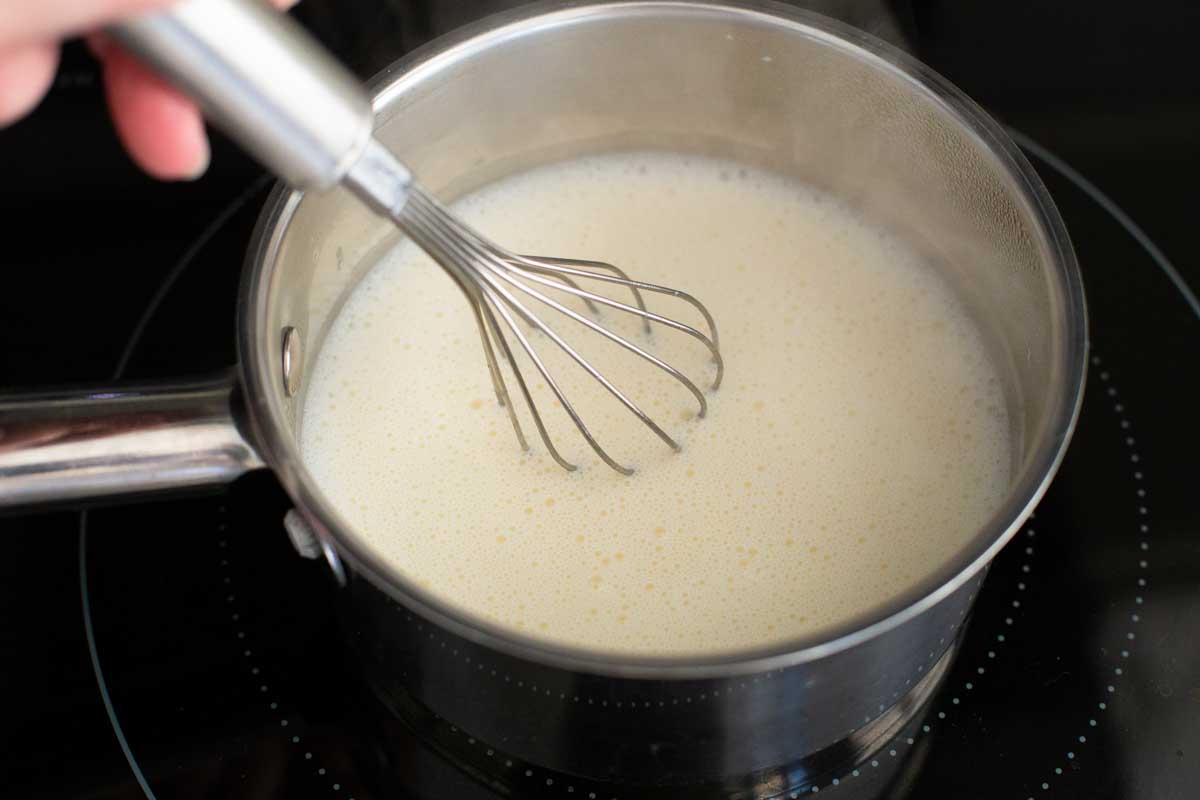 Bring the mixture to a gentle bubble and then simmer the amaretto cream for an additional 2 minutes or until the sauce begins to thicken.
TIP: Be sure to whisk or stir it the entire time so that it doesn't burn or stick to the bottom of your pan.
Storage Tips
Keep the prepared amaretto creamer in an airtight container, like a mason jar with lid, in the fridge for up to 3 days.
How To Use Amaretto Creamer
This amaretto creamer is thick enough to be used as either a coffee creamer or a simple dessert sauce.
There are a wide variety of serving suggestions you could choose:
Holiday Coffee Ideas
You could keep a jar of this coffee creamer in your fridge for both hot and iced coffee beverages. Simply drizzle a little into your morning cup or after dinner coffee.
If you're entertaining this holiday season, you'll love my easy make-ahead DIY Christmas coffee station where this amaretto creamer would be a perfect addition:
Amaretto Desserts
If you prefer to use the creamer as a simple dessert sauce, the sweet almond flavor would complement anything that features chocolate, cherries, or cinnamon.
My favorite way to use it is drizzled over a serving of panettone bread pudding. It pairs perfectly with the sweet dried fruits and crispy browned topping.
FAQ
Is it safe to serve amaretto creamer to kids?
This amaretto cream sauce recipe does feature actual amaretto liqueur. The alcohol content will not burn off in the short time the sauce cooks. Since the recipe is intended to just be delicately drizzled over a dessert, I would feel ok serving it to my children ages 10+ but parents should discuss any concerns with their pediatrician.
📖 Recipe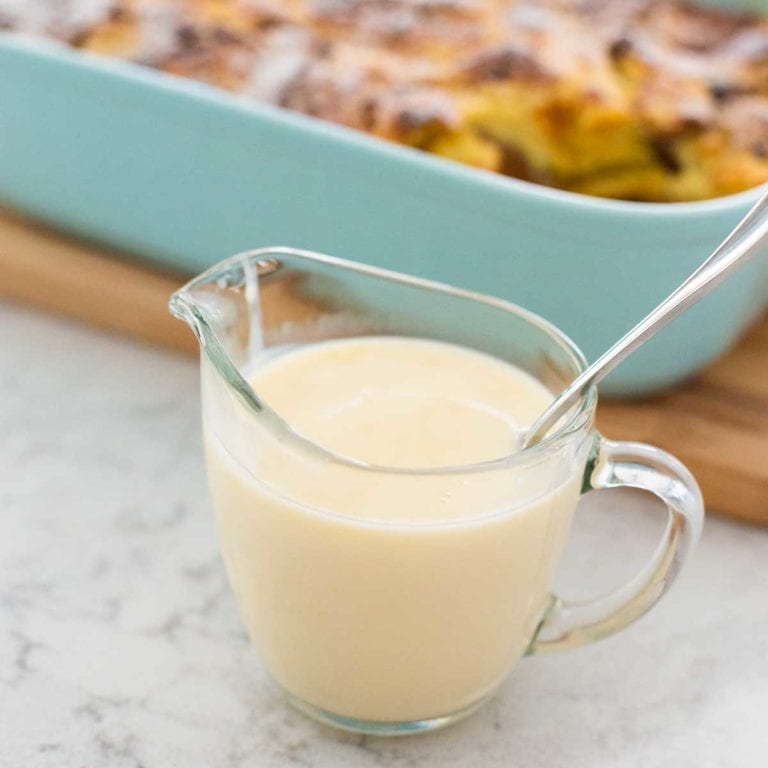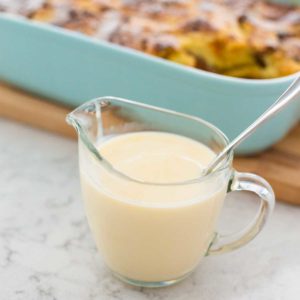 Homemade Amaretto Creamer
This rich and creamy amaretto sauce can be used as a coffee creamer or for drizzling over a variety of holiday desserts. Whip up a batch in under 10 minutes and keep in the fridge for 3 - 4 days.
Ingredients
½

cup

heavy cream

½

cup

milk

3

tablespoon

sugar

¼

cup

amaretto liqueur

2

teaspoon

cornstarch
Instructions
Pour the cream, milk, and sugar into a heavy bottomed saucepan. Whisk them together and bring to a boil over medium heat.

Whisk together the amaretto and cornstarch in a measuring cup until the cornstarch has dissolved. Whisk it into the cream mixture in the saucepan.

Simmer the sauce over medium-low heat, stirring constantly for 2 minutes or until the sauce has thickened.

Serve the sauce over your dessert while it is still warm or chill it and use in your iced or warm coffee.
Recipe Notes
Serving Suggestions:
1. Drizzle this delicious sauce over easy desserts during the holidays:
Panettone bread pudding
A simple poundcake
Chocolate flourless torte
Your favorite bundt cake
2. Use it as a coffee creamer all during the holiday season. Works great for iced coffee or hot coffee. You could even add it to a DIY Christmas coffee station for a party.
Save This Recipe to Your Recipe Box
Find this delicious recipe next time you visit by saving it to your very own recipe box on my site. All your favorites stored in one easy place!