Don't miss these holiday coffee station ideas for your next party. Set up a Christmas coffee bar for your guests to mix and match their own flavored coffee drinks.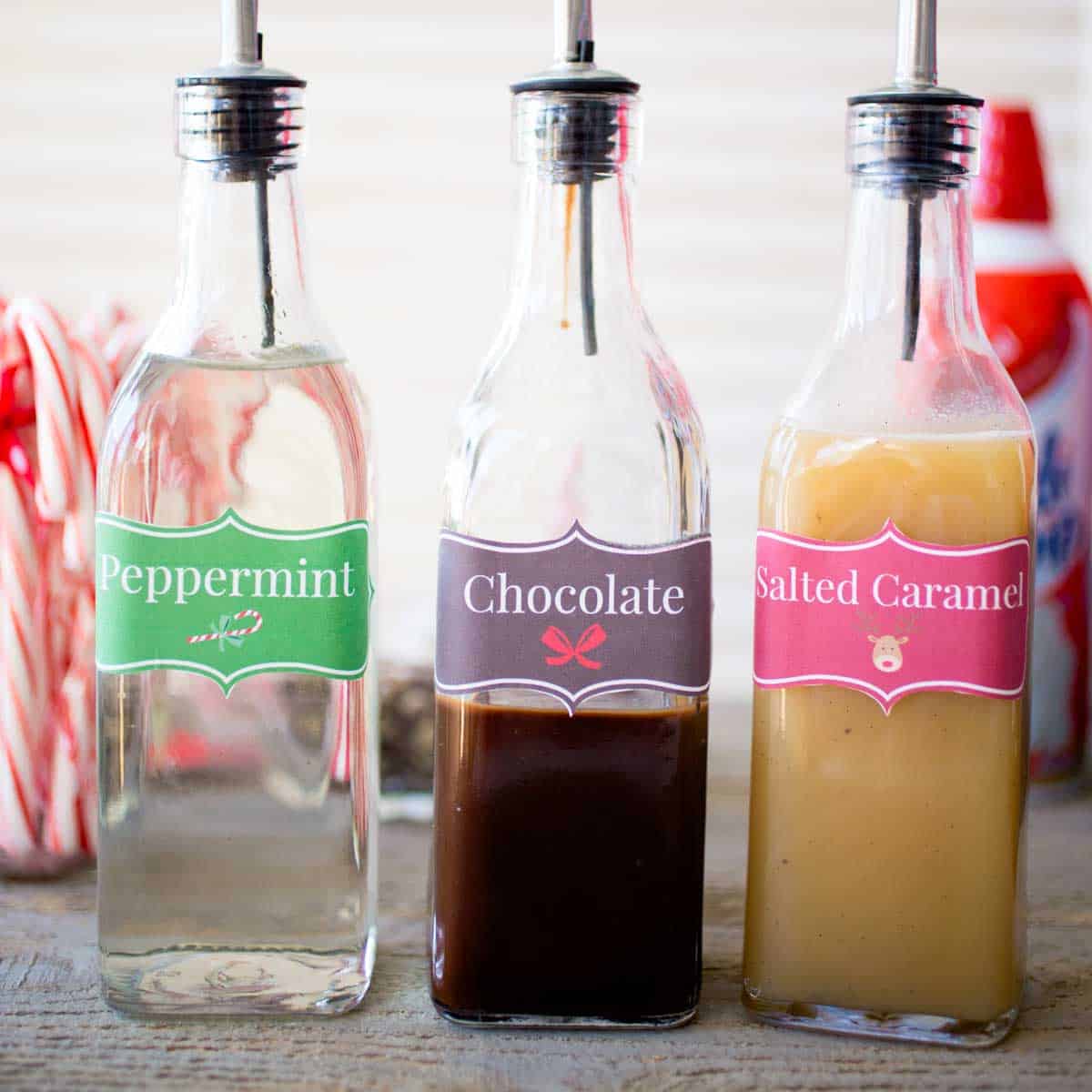 Handyman Tim is the big coffee drinker around here. I'm more of a whipped cream and homemade caramel syrup with a splash of coffee kind of girl.
I usually only indulge with the popular holiday drinks from Starbucks when I'm out running errands.
So what better way to spoil your Christmas party guests than by treating them to a festive Christmas coffee bar right at home?
I took just a few minutes to pull together a handful of items to make a sweet and simple holiday coffee bar. Everything can be made far in advance (like right now!) and stored in your fridge for weeks so you can pull it out in a pinch.
Imagine how delighted your family and friends will be whipping up a homemade peppermint mocha or my very favorite Caramel Brûlée latte!
Want something a little more kid-friendly? Don't miss the Ultimate Hot Cocoa Bar!
Jump to:
Step 1: Assemble the Ingredients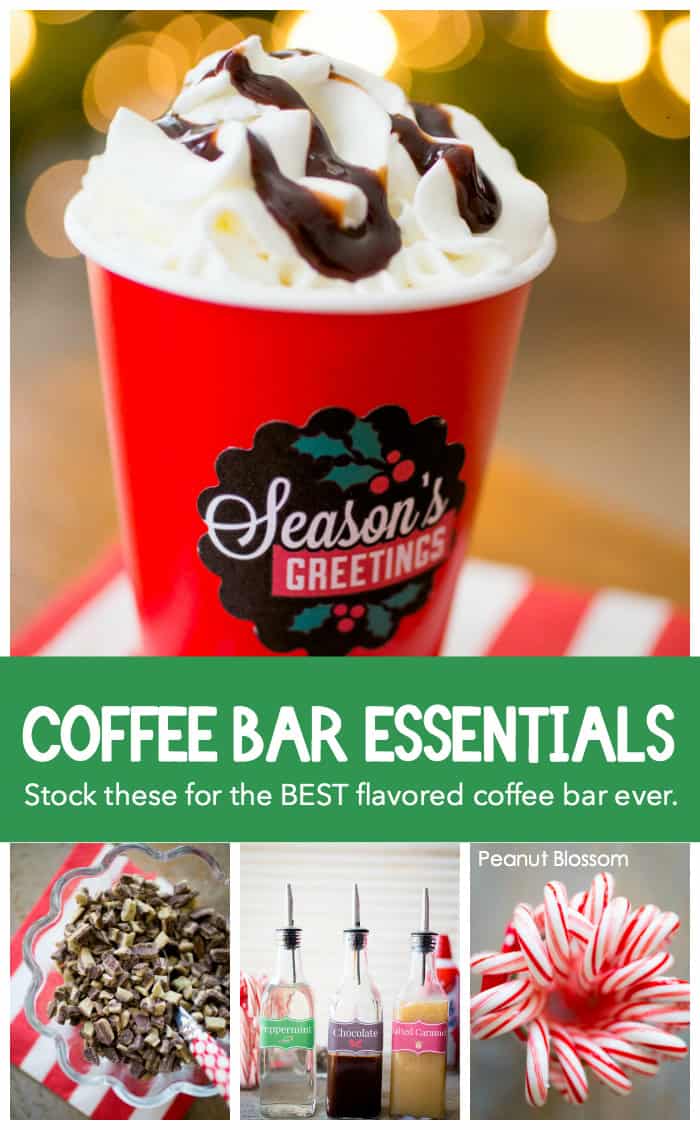 I definitely wanted to lay out everything guests needed to be able to assemble my two favorite treats:
Homemade Peppermint Mocha
Copycat Caramel Brûlée Latte
Coffee Station Supplies
Make sure to have everything your guests will need to mix their coffees:
Instant Coffee Pod Maker like Kuerig
1 package of French Roast K-cups or 1 carafe of premade regular black coffee
1 package of Decaf K-cups or 1 carafe of premade decaf coffee
1 package of French Vanilla K-cups or 1 carafe of premade French vanilla coffee
1 jar of homemade peppermint syrup
1 container of chocolate syrup: your favorite store brand or homemade
1 jar of homemade sea salt and vanilla bean caramel sauce
2 canisters of whipped cream
Scalded milk in a carafe to keep warm
Miniature candy canes or a bowl of crushed candy cane bits
Crushed Andes Candies
Festive cups & napkins
While I was at the store picking up the supplies, I grabbed 3 cheap plain-glass drizzle bottles.
It took only a few minutes for me to decant the store-bought container of chocolate syrup into one for presentation. Then I filled the other two jars with my own homemade versions of the peppermint syrup and caramel syrup.
I did a quick little design and printed out the labels on sticker paper. If you like mine, you can print them right here.
Helpful Tools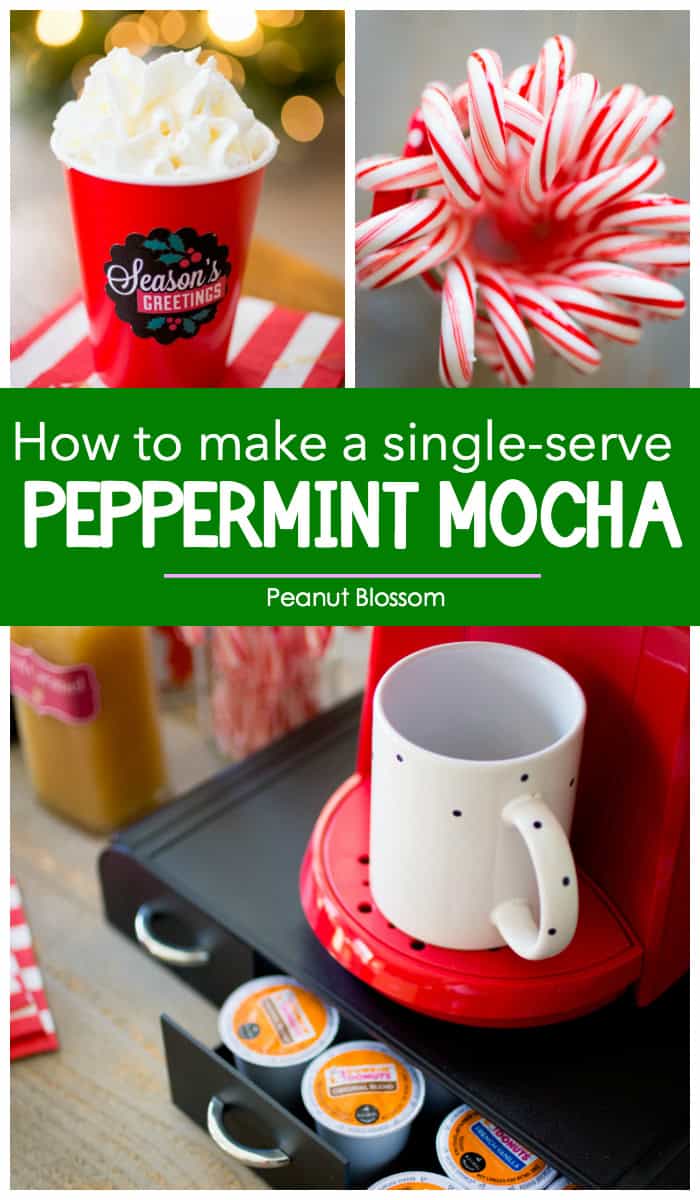 Step 2: The Holiday Coffee Instructions
You may want to leave little recipe suggestion signs at your coffee station, but otherwise, just leave it up to your guests to mix up their own preferred combinations.
If they need a little help, this is how I mixed my two favorite knock-off Starbucks holiday drinks:
Homemade Peppermint Mocha Recipe
Your guests can mix together these ingredients for a knock-off peppermint mocha:
coffee flavor of their choice
a splash of the scalded milk
a drizzle of the chocolate syrup
a drizzle of the peppermint syrup
top with whipped cream, Andes candies or peppermint candies
Homemade Caramel Brûlée Latte Recipe
To make their own knockoff caramel brûlée latte, your guests can mix the following ingredients:
coffee flavor of their choice (Vanilla is recommended)
a splash of the scalded milk
a generous drizzle of the salted caramel syrup
top with whipped cream and another drizzle of caramel syrup