This ultimate Crockpot hot cocoa recipe includes a classic hot cocoa recipe along with five fun hot cocoa flavor variations including tips for creating an adult hot cocoa bar with festive liqueurs. Set up a drink station they'll remember with the delicious toppings ideas, too!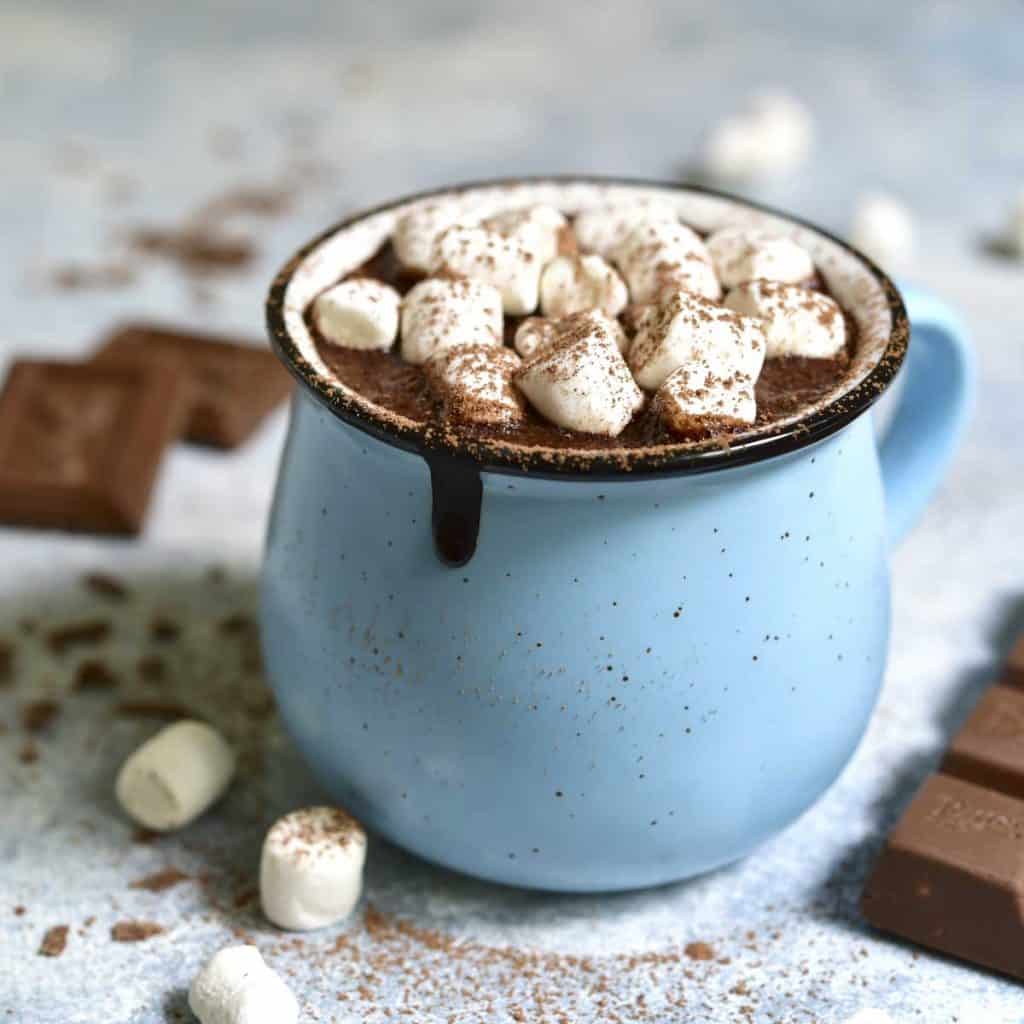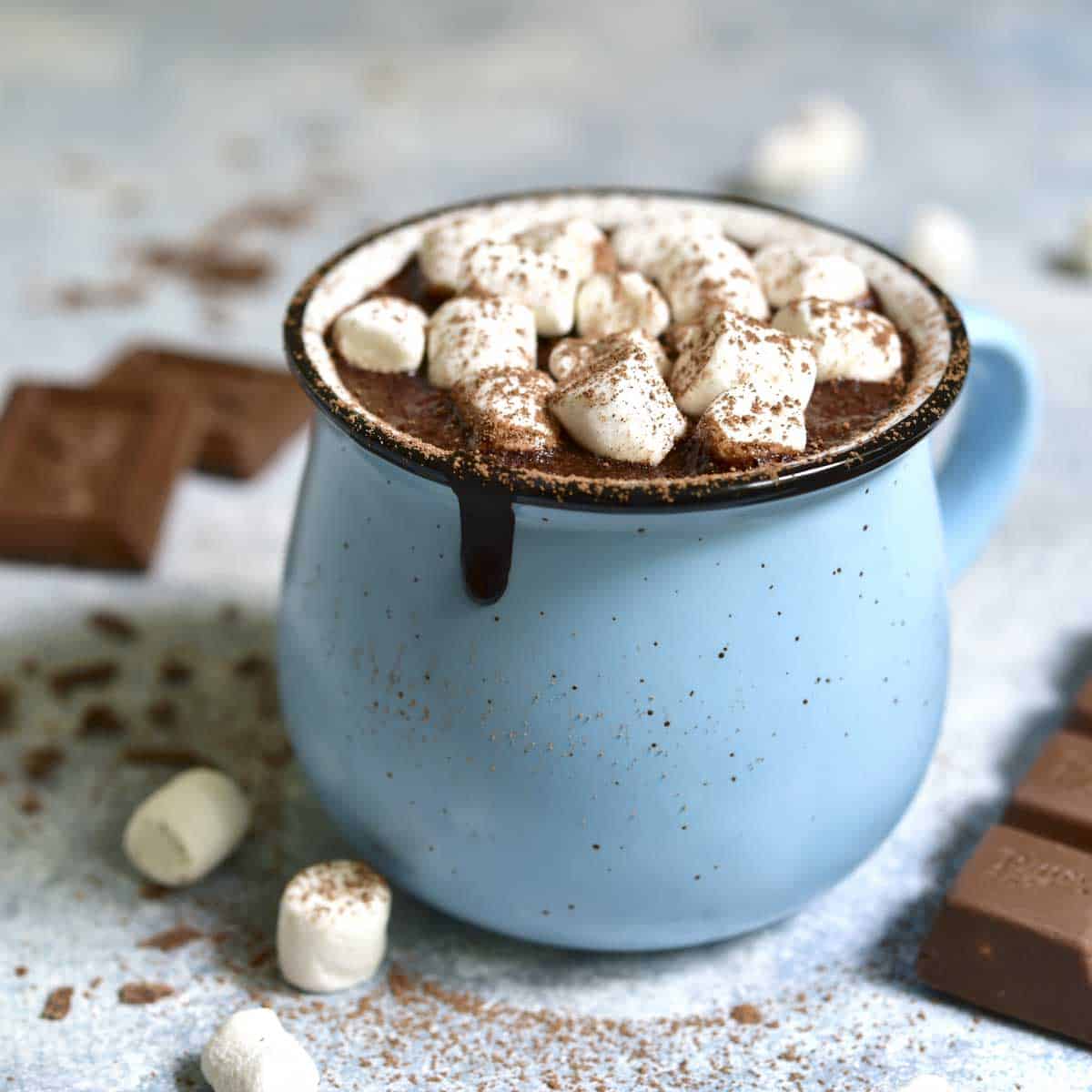 Have you ever tried real-deal homemade hot chocolate?? If all you've ever tasted is the powdered packet kind, you're missing out.
I remember the first time I ever tried it, I was certain that the Christmas party hostess that served it was a miracle worker. She kept a big slowcooker filled with homemade hot chocolate on her kitchen counter and we were able to refill our cups the whole time we were there.
I tried it on my own family for Christmas Eve because I love how the Crockpot keeps the cocoa warm for refills as we have our movie marathon.
Whether you're hosting a big open house style party or just want to treat your family for Christmas, this recipe includes kid-friendly flavor variations along with all the tips you need to create a grown-up adults only hot cocoa bar!
Jump to:
Why Use a Crockpot?
Not only does the Crockpot keep your hot chocolate hot all night long, but the entire cocoa recipe is made right in the bowl of your slowcooker saving you from dirtying another pot in your kitchen.
During the busy holiday season, I'm always looking for shortcuts to fewer dishes to wash!
Another benefit of using the Crockpot is that the milk is warmed gently over time so you don't need to worry about scalding it. The chocolate will have a chance to melt gently into the cocoa.
All you need to do is whisk it now and then! Easy peasy.
Why You'll Love It
This is the ULTIMATE homemade hot chocolate recipe because I don't just stop at the classic recipe.
I also include:
5 Kid-Friendly Flavor Variations
Grown Up Hot Cocoa Tips & Tricks
All the Toppings Ideas You'll Need
Mix and match the mix-ins or toppings to make a custom cocoa for your party. Or better yet, lay out some of the options for your guests to mix and match their own creation!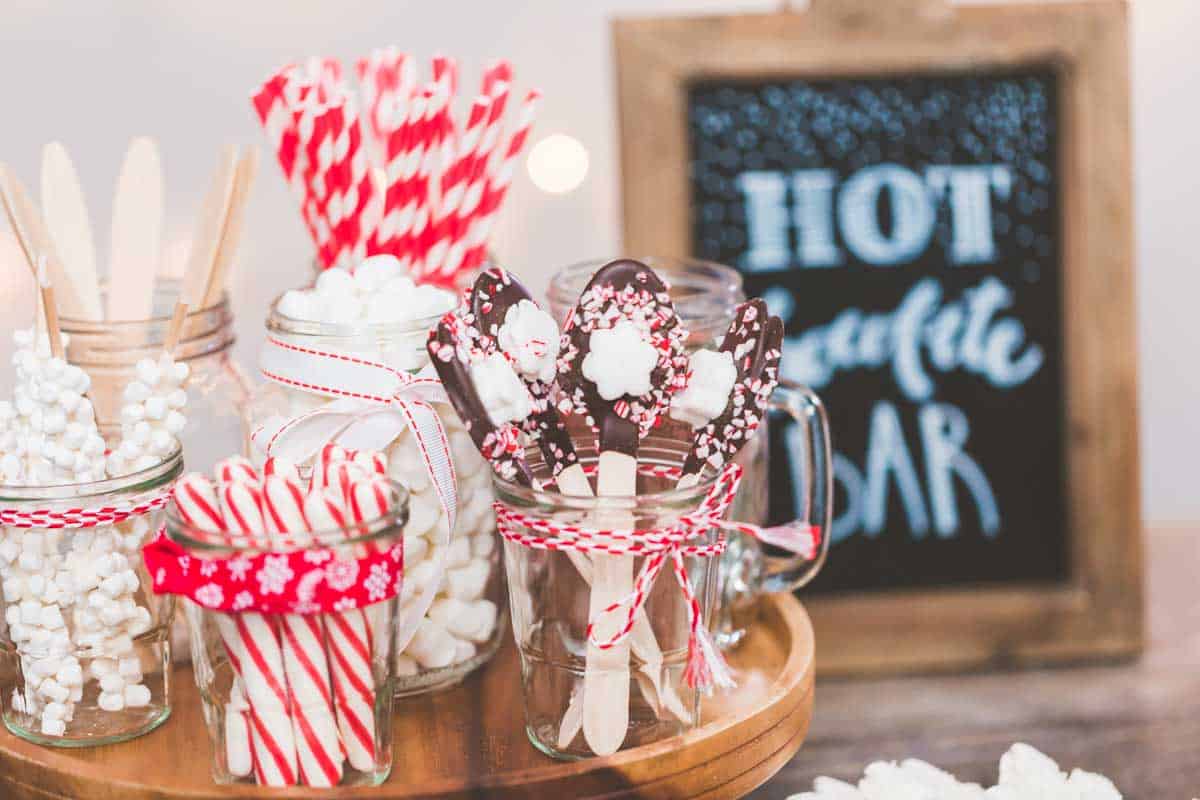 Classic Hot Cocoa Ingredients
This hot chocolate recipe does not use condensed milk. The ingredients are very simple:
Whole Milk (smoother and creamier, the chocolate will melt into it much better!)
Half and Half
Real Chocolate: Bars or chocolate chips
Powdered Unsweetened Cocoa: Much stronger in flavor than traditional cocoa packets
A Dash of Espresso: Just for depth of flavor, don't worry this isn't coffee-flavored
Sugar
Vanilla
5 Hot Cocoa Flavor Variations
The traditional recipe is so delicious you could just stop there. But, sometimes it is more fun to try something new!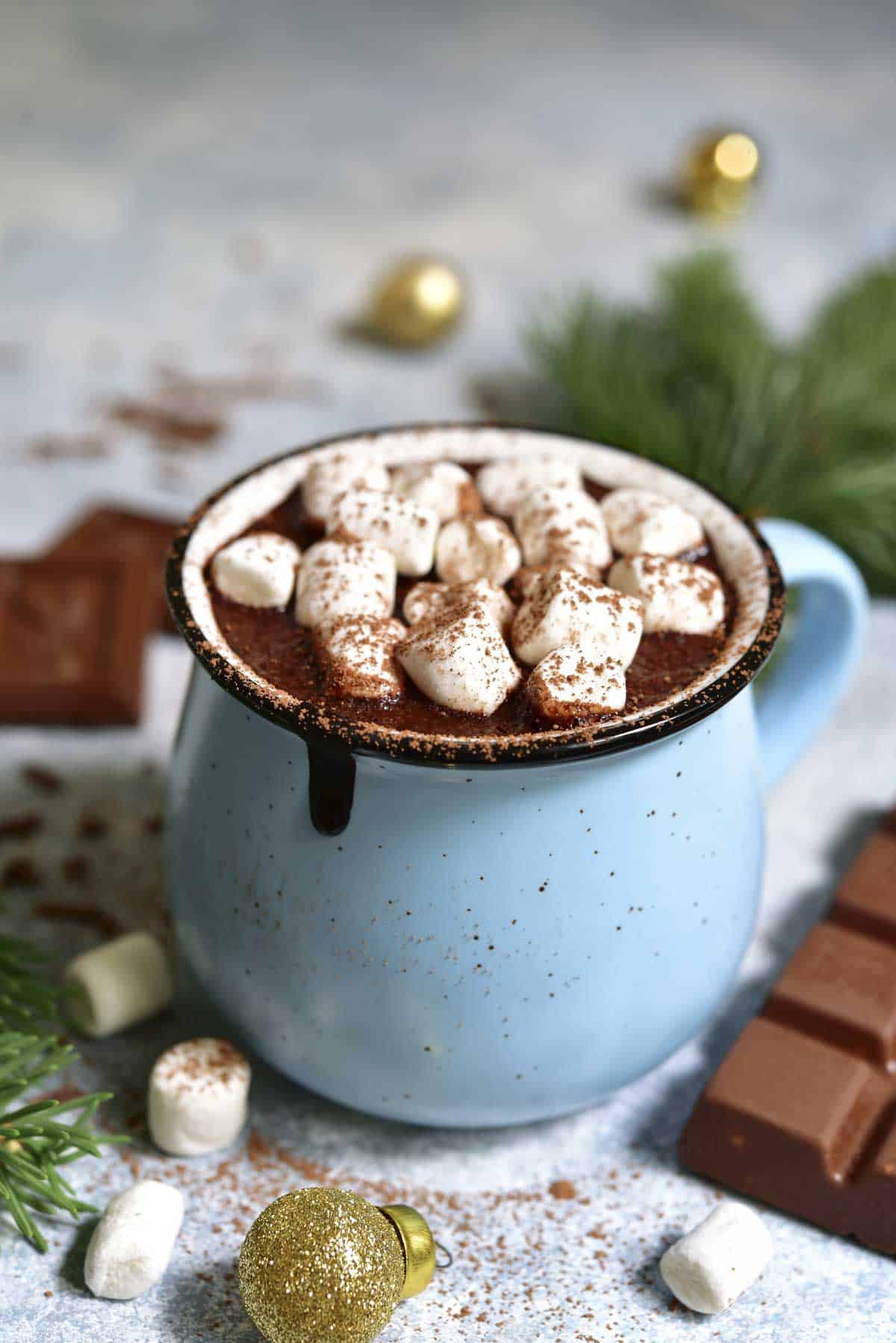 These kid-friendly hot cocoa flavors would be perfect for the whole family:
1. Peppermint Hot Cocoa
Simply add ½ cup crushed candy canes to the mix and let them melt in.
2. Salted Caramel Hot Cocoa
Add ¼ cup homemade salted caramel sauce or ¼ cup prepared caramel and 1 teaspoon salt.
3. Toffee Hot Cocoa
Add ½ cup chopped toffee bits and let them melt into the cocoa.
4. Hazelnut Hot Cocoa
Add ¼ cup Nutella. This will thicken the hot cocoa and you may need to add a bit more milk to smooth it out.
5. Mexican Hot Chocolate
Inspired by our favorite Mexican hot chocolate cookies. Add 1 teaspoon cinnamon and ¼ teaspoon cayenne to the mix with the cocoa powder.
Grown-Up Hot Cocoa
If your party is for grown ups or you want to add something a little extra special for the adults at your family gathering, you could add 1 tablespoon of your favorite liqueur to each adult's mug before serving.
There's a broad range of delicious liqueurs that would pair well with hot chocolate.
Some of my favorites include:
Raspberry liqueur (Chambord)
Orange liqueur (Grand Marnier)
Irish Cream (Bailey's)
Hazelnut liqueur (Frangelico)
Almond liqueur (Amaretto di Saronno)
Hot Cocoa Bar Topping Ideas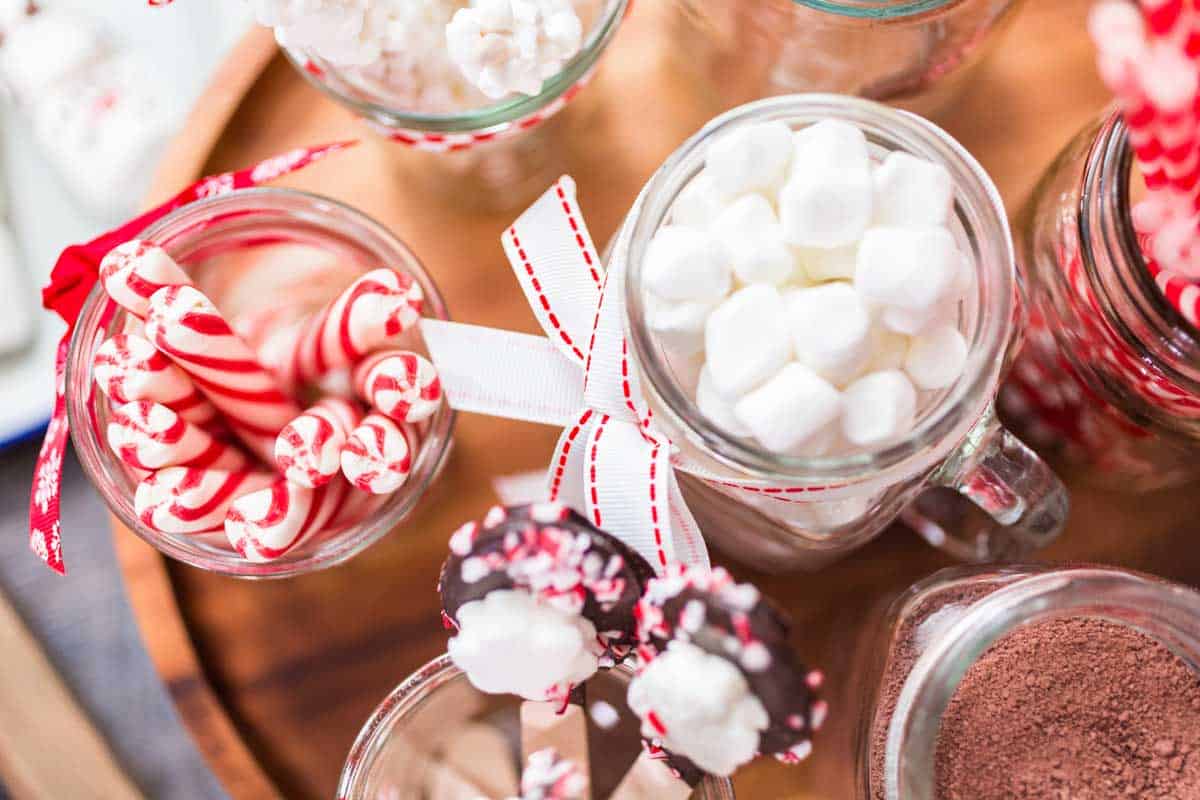 The final step to making this truly the ULTIMATE hot cocoa bar is so easy:
Simply add several fun toppings to mason jars or bowls. Tie a few holiday ribbons for flair and you're all set!
Hot cocoa toppings that would work really well:
Marshmallows: Giant, mini, or homemade cut into fun shapes!
Peppermint sticks or candy canes
Festive chocolate coated spoons coated in candy
Whipped cream: Homemade or a canister
Caramel sauce for drizzling
Chopped toffee bits
Mini chocolate chips
Sprinkles
Extra instant espresso powder for the grown-ups to mix mocha: Be sure to label it so the kids don't get confused!
Serving Tips
Once you have all your toppings arranged for the hot cocoa bar, here are a few extra things to keep in mind:
Ladle: Set out a ladle on a resting plate so guests can scoop a serving of cocoa and then have a place to put the dirty ladle so they can close the lid of the Crockpot to keep everything hot.
Mugs: Set out plenty of mugs or disposable coffee cups with lids.
Jar of Spoons: Guests may want to mix in their toppings to the cocoa itself. Set out a container of plenty of clean teaspoons.
Beverage Napkins: Little square napkins are perfect for cleaning up drizzles and spills. Keep a nice stack handy.
Make-Ahead and Storage Tips
The hot chocolate can actually be made up to 3 days in advance of your party and simply reheated in the Crockpot if you desire.
This is a handy trick if you know you won't have enough time to prepare it before the party.
Simply make the hot cocoa, let it cool, and then store it in the fridge. Reheat it on either LOW or HIGH heat, making sure to whisk it occasionally.
Party Ideas for Serving
When would you make Crockpot hot chocolate?
How about as part of an easy Christmas breakfast with some easy quick breads and fresh fruit?
Or how about on Christmas Eve with a big platter of homemade Christmas cookies?
Any time you want to spoil your friends and family this holiday season is a perfect time for making this easy recipe.
If you've tried this Crockpot hot chocolate or any other recipe on PeanutBlossom.com please don't forget to rate the recipe and let me know where you found it in the comments below. I love hearing from you!
FOLLOW along on Instagram @peanut.blossom as well as on Pinterest and Facebook.
📖 Recipe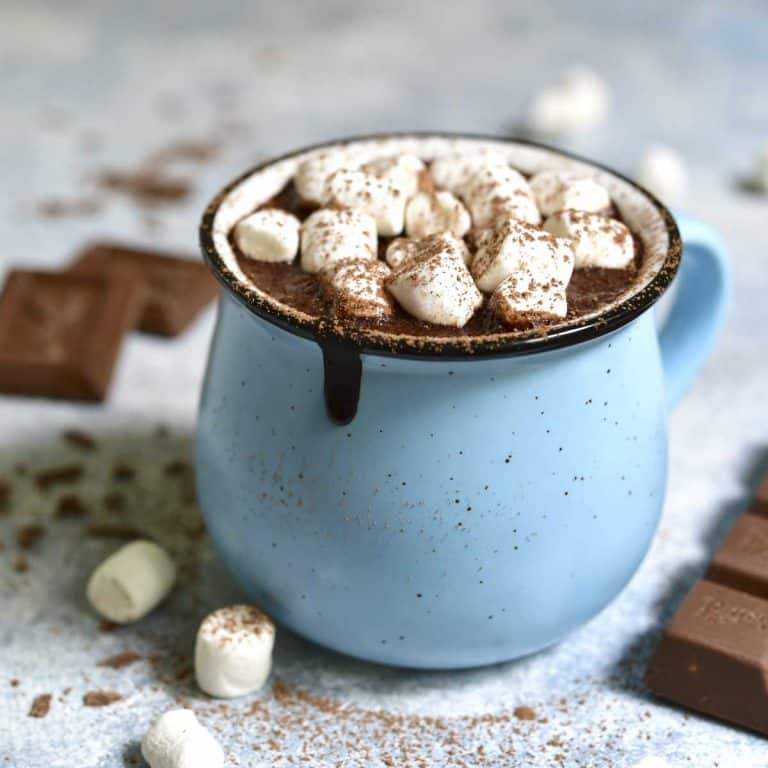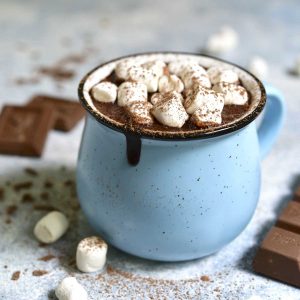 Ultimate Crockpot Hot Chocolate
This easy Crockpot hot cocoa recipe is perfect for a holiday open house or Christmas Eve! Set up the ultimate hot cocoa bar with one of these fun flavor variations and plenty of festive toppings for guests to mix and match their own custom mug.
Ingredients
Classic Hot Cocoa
3

cups

whole milk

1

cup

half-and-half

6

ounces

bittersweet chocolate OR 1 cup chocolate chips

3

tablespoon

sugar

1

tablespoon

unsweetened cocoa powder

like Hershey's cocoa

2

teaspoon

vanilla

1

teaspoon

instant espresso powder

Pinch

of kosher salt
Flavor Variations
Peppermint Hot Cocoa: Add ½ cup crushed candy cane pieces

Salted Caramel Hot Cocoa: Add ¼ cup homemade salted caramel sauce

SEE NOTES or prepared caramel and 1 teaspoon salt

Toffee Hot Cocoa: Add ½ cup chopped toffee bits

Hazelnut Hot Cocoa: Add ¼ cup Nutella

may need to thin it out with another splash of milk

Mexican Hot Chocolate: Add 1 teaspoon cinnamon and ¼ teaspoon cayenne

Grown-Up Hot Cocoa: Add 1 tablespoon of your favorite liqueur to each mug before serving. See post for flavor suggestions.
Hot Cocoa Bar Toppings Ideas:
Marshmallows

Whipped Cream

Sprinkles

Candy Canes/Peppermint Sticks

Crushed Peppermints

Caramel Sauce for Drizzling

Mini Chocolate Chips
Instructions
Whisk together all the ingredients in the bowl of a 3 qt slowcooker.

The cocoa powder will not whisk into the milk smoothly until the mixture has begun to warm up a little bit. Turn the CrockPot on LOW to let it begin to warm through. Wait 5 - 10 minutes and then whisk again to smoothly combine the cocoa powder into the milk.

Whisk again every 10 minutes or so until the chocolate has melted completely and been evenly combined with the milk.

Cook on LOW for a total of 2 to 3 hours or bump the heat up to HIGH for a total of 45 minutes.
Recipe Notes
Storage Tips:
You can refrigerate any leftovers for up to 4 days.
How to Reheat:
Simply simmer gently in a saucepan over medium-low heat while whisking to prevent the milk from scorching on the bottom of the pan.
Save This Recipe to Your Recipe Box
Find this delicious recipe next time you visit by saving it to your very own recipe box on my site. All your favorites stored in one easy place!