This post is sponsored by Huggies®. As always, all thoughts and opinions are my own.

I am a big fan of making holiday treats from scratch. I love nothing more than to whip out my stand mixer and craft up something jaw dropping. However, the older my kids get the more stressed I've started to feel around the holidays. Finding time for those from-scratch goodies gets harder and harder every Christmas and I finally decided that this year I'm cutting myself some major slack. This is the year of the simple semi homemade Christmas cookie! You know what I'm talking about: those cookies that are made of mostly store-bought ingredients that you spruce up with just a tiny bit of effort and fun.
My girls love to be my baking buddies. I realized that if I rely on store bought ingredients, we can have an awesome time in the kitchen together with me feeling a whole lot less pressure for the results of our efforts. On a recent Sunday afternoon, I gathered the supplies for making an entire cookie tray's worth of treats:
Gingerbread cut outs
Frosted sugar cookies
Peanut Blossoms
Fun Fact: I've been writing Peanut Blossom, the blog, for 8 years and never once have I shared a Peanut Blossom cookie recipe. In all honesty, my kids had never even eaten a Peanut Blossom until this baking day. They are now officially my girls' newest favorite.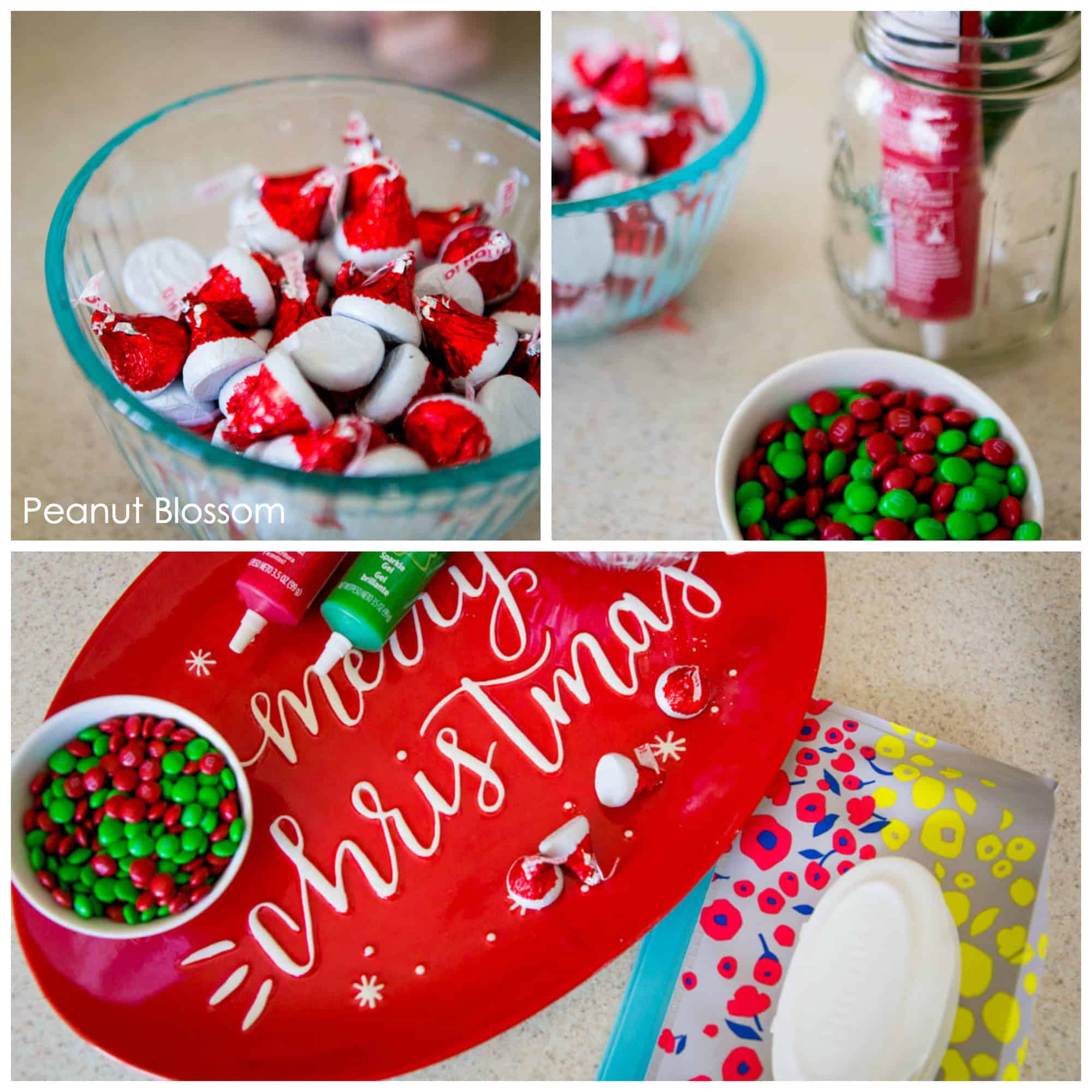 I lined up everything we'd need for our baking day: candies, sprinkles, prepared frosting gel in tubes, chocolate candy kisses, and a package of Huggies® Wipes for quick and easy clean up in-between stages.
I found 3 flavors of cookie mix in the baking aisle at the store: peanut butter, gingerbread, and sugar. By relying on the pouches of mix, we were able to have both girls stirring up the batter at the same time. What a huge time saver that was. It reduced the number of dirty dishes we made and put my girls in charge of making their own cookies with minimal help from me. Win, win!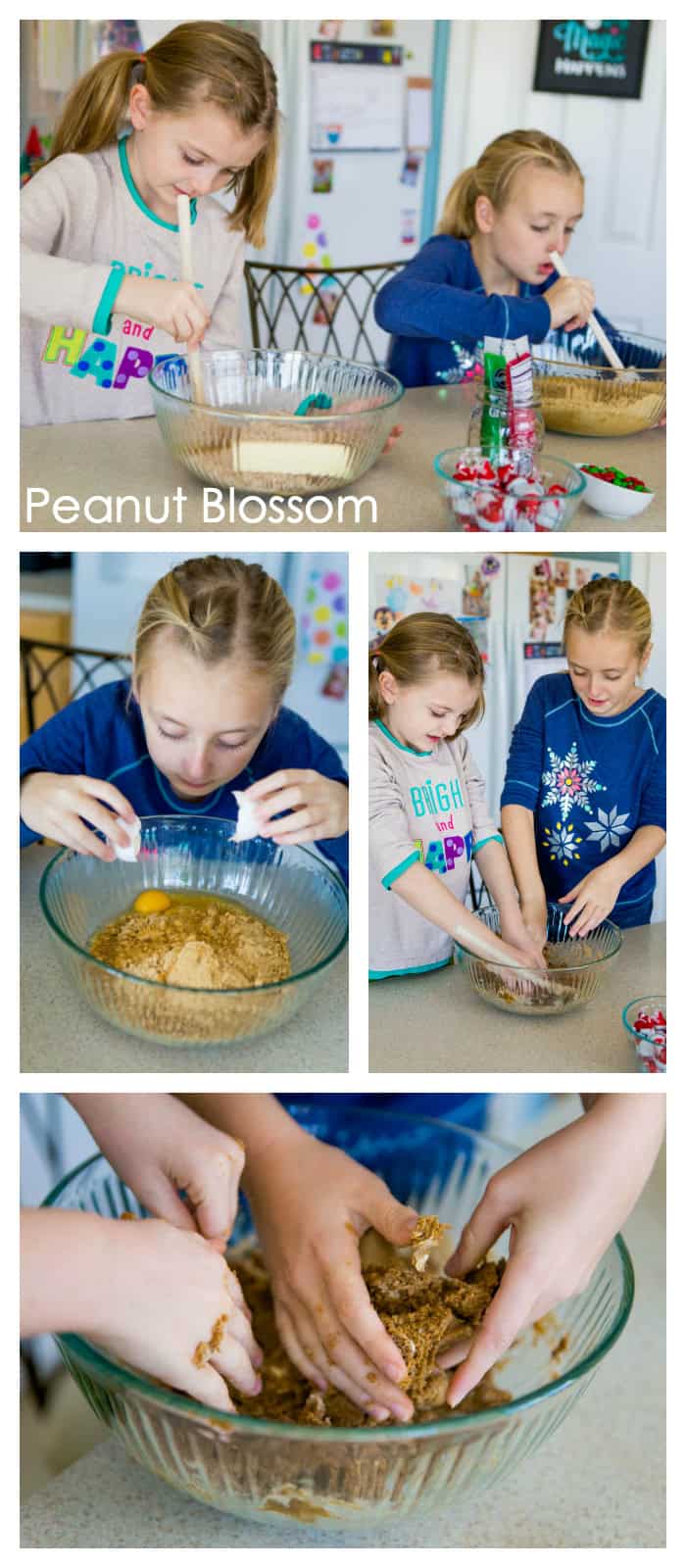 I confess I almost never make gingerbread cookies with my kids. By the time we make a from-scratch dough, roll it out, cut it out, bake it up, and then decorate them I am DONE. And so are the kids. And we end up with a mountain of dough or blank cookies when we run out of steam. The cookie mix pouch only required water, an egg, and a stick of softened butter to come together and made such a small amount of dough that it was perfectly doable in our short afternoon.
That said, mixing in the butter wasn't as easy as the pouch suggested and after a few stirs of the spoon, I told the girls to just get their hands in there to mix instead! Within seconds, the dough started to come together and they had so much fun squishing it with their bare hands instead of using the spoon.
We dumped the cookie dough onto a well floured baking mat and I let the girls roll it out by taking turns. While one girl rolled the dough, the other was rolling up the peanut butter balls for the Peanut Blossom cookies. As they went back and forth between the batches, we did a simple wipe down using Huggies® Wipes to keep our hands neat. At one point, I even had to use a wipe to clean flour off of Little Pea's forehead! That girl loved this activity and really got into the joy of making a mess.

I think the hardest part on the girls was waiting for the gingerbread to cool before they could decorate it. I distracted them by putting them to work unwrapping the chocolate kisses for the Peanut Blossoms. And of course there was plenty of sampling of the different candy decorations to make sure they were "just right."

I couldn't believe how many cookies we were able to mix together by using such simple mixes and ingredients. The cookie tray turned out super cute and it was just the right amount of treats for us to manage in an afternoon. We plan to do another big baking day at the start of the Christmas break from school so that we have a nice variety of treats for the family that will be coming in to visit.
Check out the list of 10 semi homemade Christmas Cookies that made our list below. I can't wait to try the Graham Reindeers and the Caramel Pretzel Bites! I know the girls are going to love them, too.

P.S. Have your kids been busy making adorable holiday messes lately? If so, enter the Huggies® #hugthemesssweepstakes on Twitter or Instagram for a chance to win $2500! Imagine how many cookie trays you could fill with that prize! Check out all the details and enter the sweepstakes here.
And don't forget to check out Huggies® on Facebook, Instagram, and Twitter!
Be sure to check out our other messy fun projects here:
Get in the dirt: 5 Earth Day projects for kids
20 Ice cream sundae combinations
Kids Kitchen Cook-off Competition

10 Semi Homemade Christmas Cookies the Kids Can Help Bake:
Festive Oreo Truffles: fun for the kids to help roll with their hands. Like playdoh for the cookie tray.
Peppermint Bark Cookies: my kids loved being in control of these cuties.
Christmas Crack: cookies made out of saltines? They are the BEST thing on the cookie tray.
Gingerbread cut outs: use store bought dough mix and your favorite frosting.
Peanut Blossoms: use store bought dough mix and chocolate kisses candies.
Sugar cookie cut outs: use store bought dough mix and your favorite frosting.
Caramel pretzel bites: a classic Christmas treat, so easy and crunchy.
Reindeer Grahams: using graham crackers & pretzels, you have to see how cute they are!
Melting snowman cookies: A perfect use for those sugar cookies!
Santa's swirl sugar cookies: using a log of sugar cookie dough and lots of sprinkles. Easy and fun!