Keep the ingredients for this easy saltine cracker toffee recipe ready to go in your pantry as a fantastic back-up if another holiday recipe doesn't work for you! You'll be ready with a fantastic treat in minutes.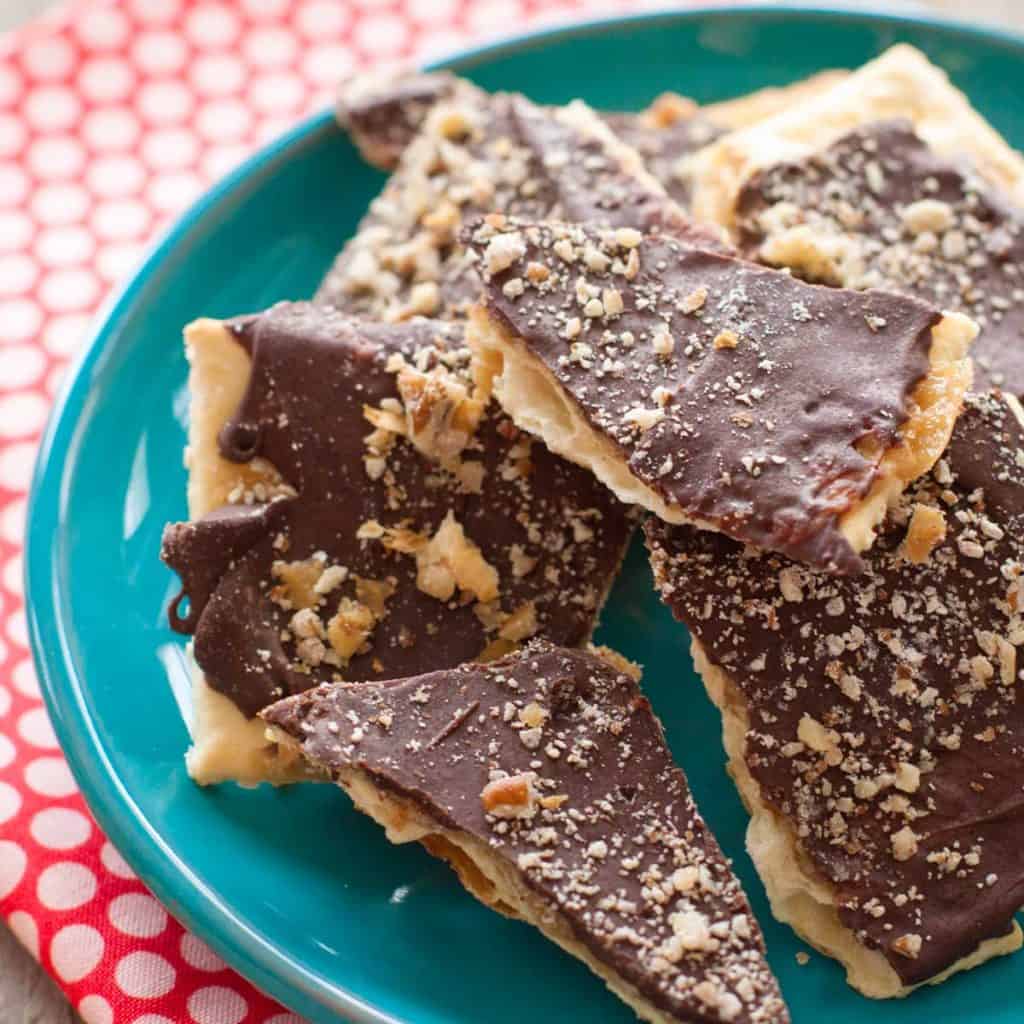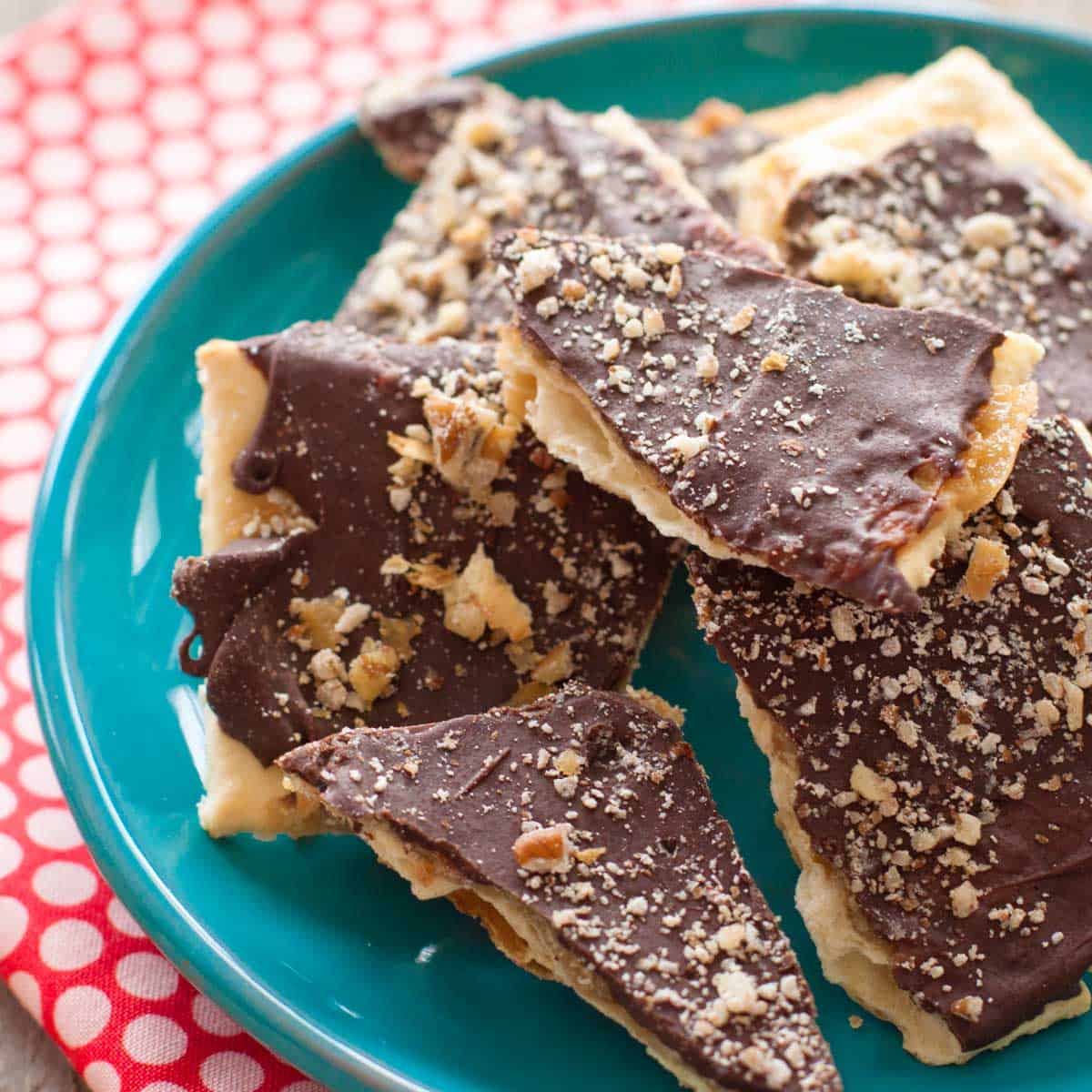 It's Cookie Swap Season and I've been super busy in my kitchen this week. I was happy to be invited to two separate swaps this year and am thrilled with the chance to meet some new friends.
For years my playgroup hosted a cookie swap and I always brought these lovely buttery pecan rounds. When everyone else is bringing chocolate, I felt it was a nice break in the action!
It is my tried and true, totally reliable recipe. Handyman Tim loves them so much he could finish an entire pan of them fresh out of the oven by himself. They are ridiculously easy to whip together and since they are a drop cookie, there's no fussing over cutouts or decorations.
They have been the perfect cookie swap cookie.
Until this year.
I have a brand new oven. I had to make the switch from gas to electric and we now have one of those double ovens with a smaller top oven and a medium sized bottom oven. I obviously have not worked out the temperature differences or airflow or something. Because my beloved butter pecan cookies? They were an absolute bust for me this year. I burned the first pan, under cooked the 2nd, and had to watch the third pan Like A Hawk to get those photo ready ones above!
That is just not the kind of fussing you need to do when you're baking 6 dozen cookies for a swap. Not to mention the dough turned out more delicate than usual and they all would have broken in transport. If you're looking for a recipe that is quick and relatively easy and are more familiar with your oven than I am with mine, I still highly recommend these. Just maybe for keeping around your own home for sharing. You can find the recipe here.
I came "this" close to chickening out of attending the swap altogether. I had 6 hours left before the party and NOTHING on hand for a new recipe. Thank goodness for Handyman Tim. He suggested I make a couple batches of Christmas Crack instead: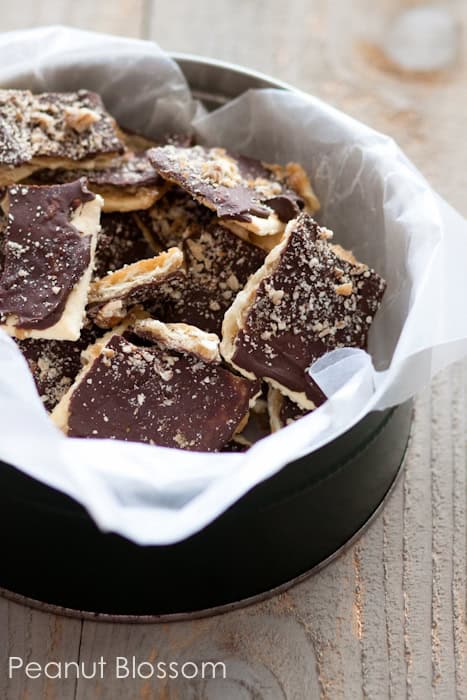 Are you familiar with this treat? It's also known as saltine cracker toffee. I believe it gets it's name from it's utterly addictive powers. Brown sugar, butter, crackers, and chocolate chips. I had the equivalent of 6 dozen cookies done with about 20 minutes of hands-on time. Boom!
The best news of all? After I placed my tray of treats on the buffet table at the swap and headed into the hostess' kitchen, I heard someone call out: "WHO brought the Christmas Crack?!?" with lots of follow up: "Ooooh!"s. Score!
I usually look at Cookie Swaps as a chance to bring out the big guns with my baking but life with really little kids gets in the way of marathon baking sessions! I love having these easy but show stopping treats to fall back on during this phase.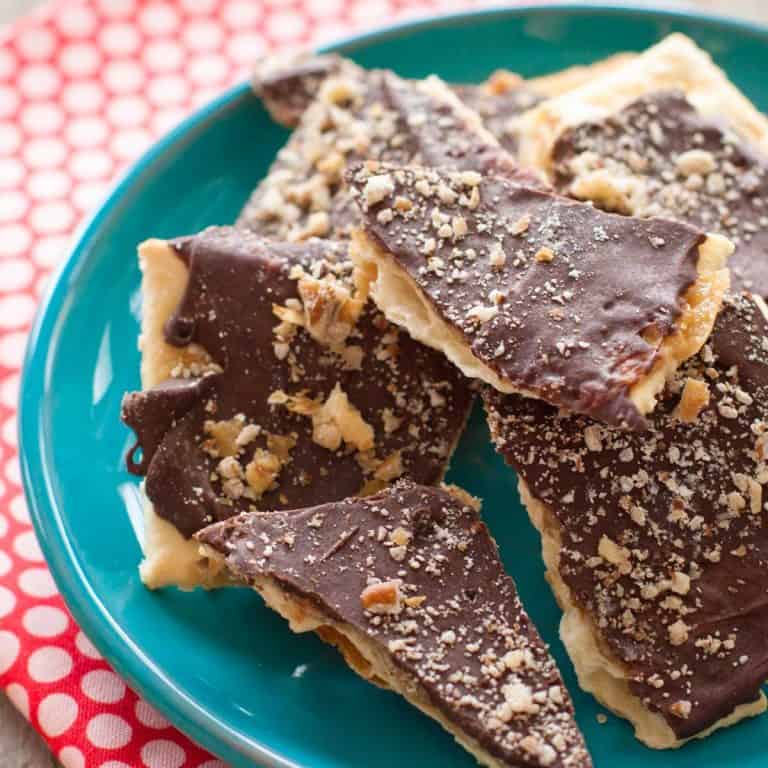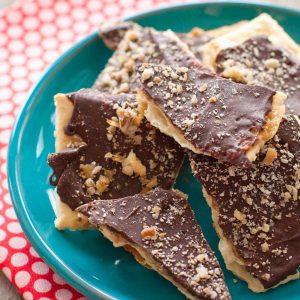 Chocolate Saltine Cracker Toffee
This classic Christmas cookie tray treat is super-easy and only takes a few minutes of prep work to bake. It is the most addictive sweet at the holidays!
Ingredients
2 ½

sticks butter

1 ¼

cup

brown sugar

48

saltine crackers

1 ½

cups

chocolate chips
Instructions
Preheat your oven to 400°F. Line a jelly roll pan with tin foil and spray with non-stick cooking spray. Place saltine crackers in 8 rows of 6 in a single layer.

In a saucepan, melt the butter and brown sugar together. Stir constantly. Once combined, bring to a rolling boil. As soon as it begins to boil, time it for 3 minutes exactly and continue to stir and scrape the sides of the saucepan constantly.

Pour the melted butter/sugar combo over the crackers. Spread gently and evenly over the surface of all the crackers. Try not to disturb their places, you want them to remain in a single layer and not overlap.

Place gently in the oven and bake for 5 min. Remove carefully, the sugar will have bubbled up significantly but will quickly settle. Sprinkle the chocolate chips evenly over the top. Allow to rest for a few minutes until all the chips are nice and shiny. Spread them with a knife or flat spoonula like you would for frosting.

Refrigerate for 2 hours. Then break into pieces and serve.
Recipe Notes
I personally LOVE adding chopped toasted almonds or pecans to the top of the chocolate before it has set. Something to consider if you want to make it a bit more fancy.
Save This Recipe to Your Recipe Box
Find this delicious recipe next time you visit by saving it to your very own recipe box on my site. All your favorites stored in one easy place!