Festive M&M cookies loaded with cornflakes and old fashioned oats have tons of crunch and freeze well. They are the perfect make ahead cookie for any holiday season, simply mix the colors of the M&M candies!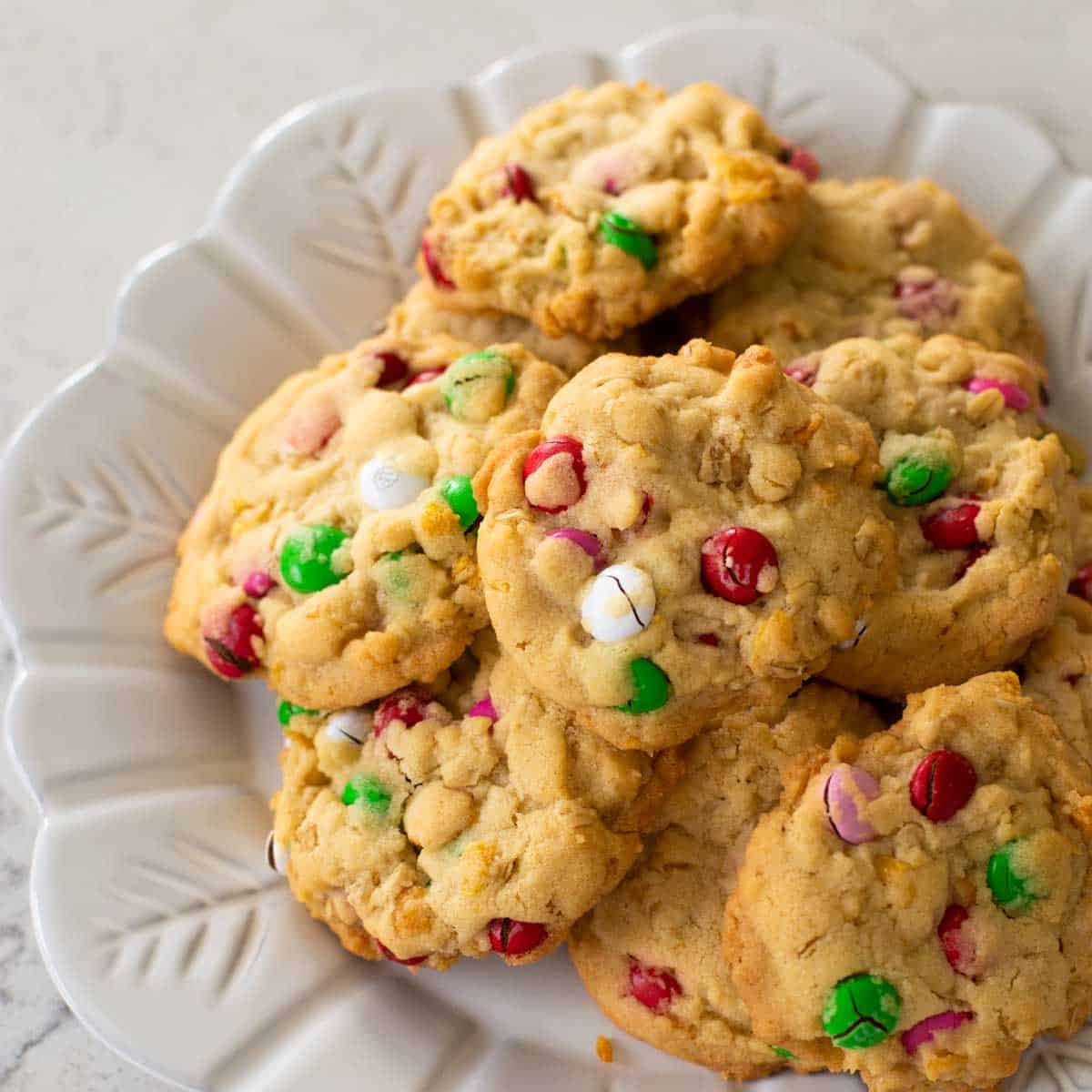 These delicious M&M cookies are one of our all-time favorite holiday cookies to bake any time of year.
Loaded with cornflakes and old fashioned oats for a delicious chew, the crispy cookies are fun to make for any holiday just by changing the colors of M&M candies you use.
Bake a batch and store them in your freezer, they are even more delicious cold from the fridge!
Jump to:
Why This is the Best Recipe
Out of all the treats I made for Christmas last year, this cookie recipe was my family's very favorite.
The kids asked me to make a second batch when they discovered the container was empty.
We loved these festive M&M cookies so much because:
Tons of Awesome Crunch: If you like a crispy cookie with lots of chew from the oatmeal and cornflakes, you will love these hearty cookies.
Freeze Well: To make the cookies last longer, we kept them in a bag in our freezer. I had planned to save them for Christmas Eve but they were long gone before then. My kids enjoyed eating them cold, straight from the freezer.
Easy to Make: The cookie dough is really simple to mix together and the dough is simply dropped by spoonfulls. No rolling or cutting required.
Easy to Mix the Colors: You could make festive red and green cookies for Christmas; red, white, and blue cookies for the 4th of July; pink and red cookies for Valentine's Day; orange and black cookies for Halloween; or pastel cookies for Easter. Just buy a seasonal bag of M&M candies and you're good to go.
Ingredients
You probably have most of the ingredients ready to go in your pantry.
All you need to bake these cornflake candy cookies is:
Flour
Old Fashioned Oats
Cornflake Cereal
Festive M&M Candy
Butter
Sugar
Brown Sugar
Canola Oil
Egg
Vanilla
Baking Soda
Festive M&M Colors
I can't resist buying the seasonal packages of M&M candies for holiday baking whenever I see them.
But sometimes I get a little busy and the holiday will pass before I've had a chance to use them.
I just keep the bags in my baking stash and have discovered that sometimes the color mixes work even better for a holiday they weren't originally intended for!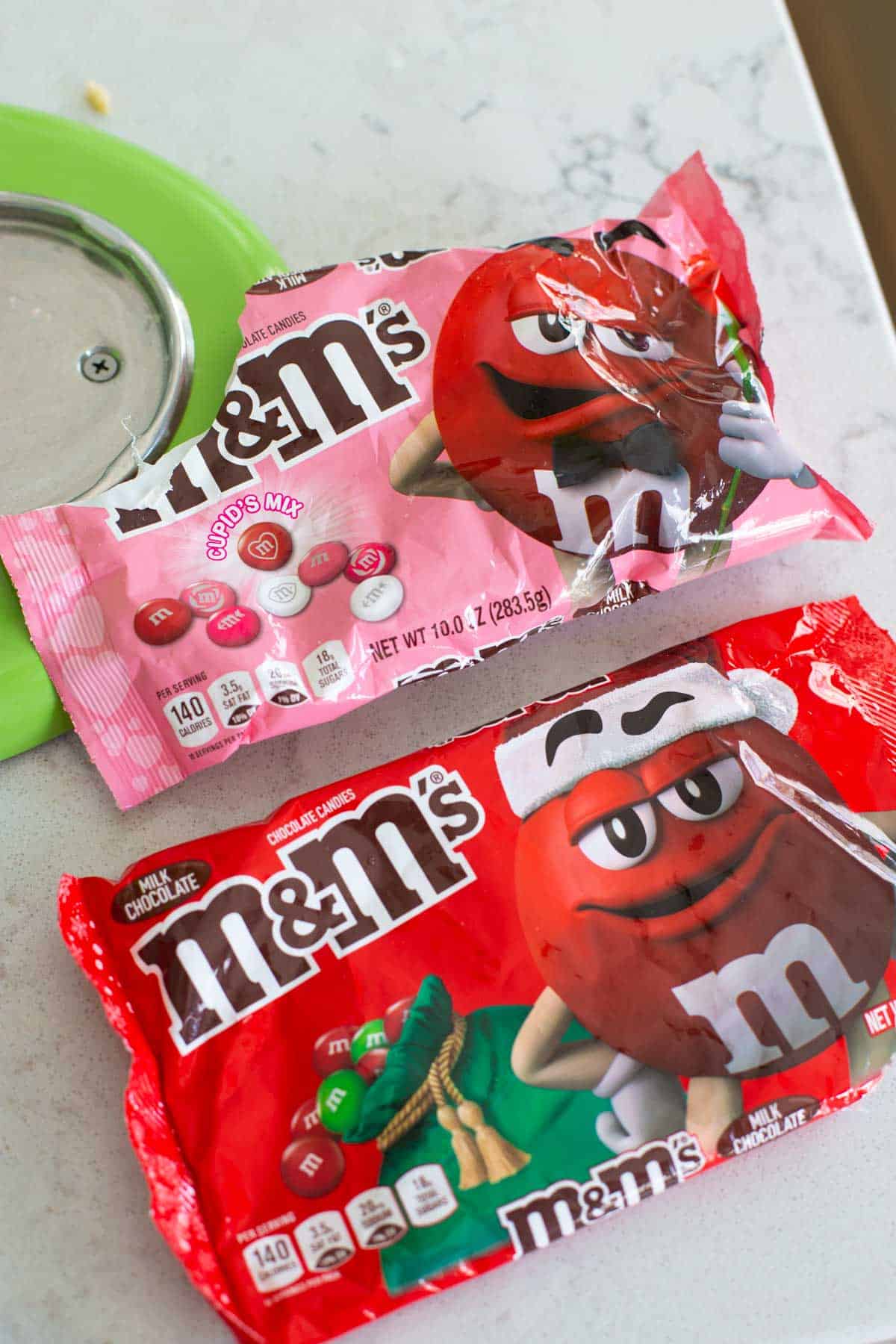 For this batch of cookies, I made a Grinch-inspired cookie with an adorable Cindy Lou Who theme using pink, white, red, and green.
I just mixed one bag of Valentine M&Ms with one bag of Christmas M&Ms and they looked so cute!
Make the Cookie Dough
The M&M cookie dough is so easy to mix in a stand mixer.
Simply cream the butter and sugar.
Add the canola oil, egg, and vanilla and beat them in.
Add the flour, salt, and baking soda and mix them in.
Then, be sure to mix the oatmeal, cornflakes, and M&M candies in with a spatula so you don't break up the candies too much.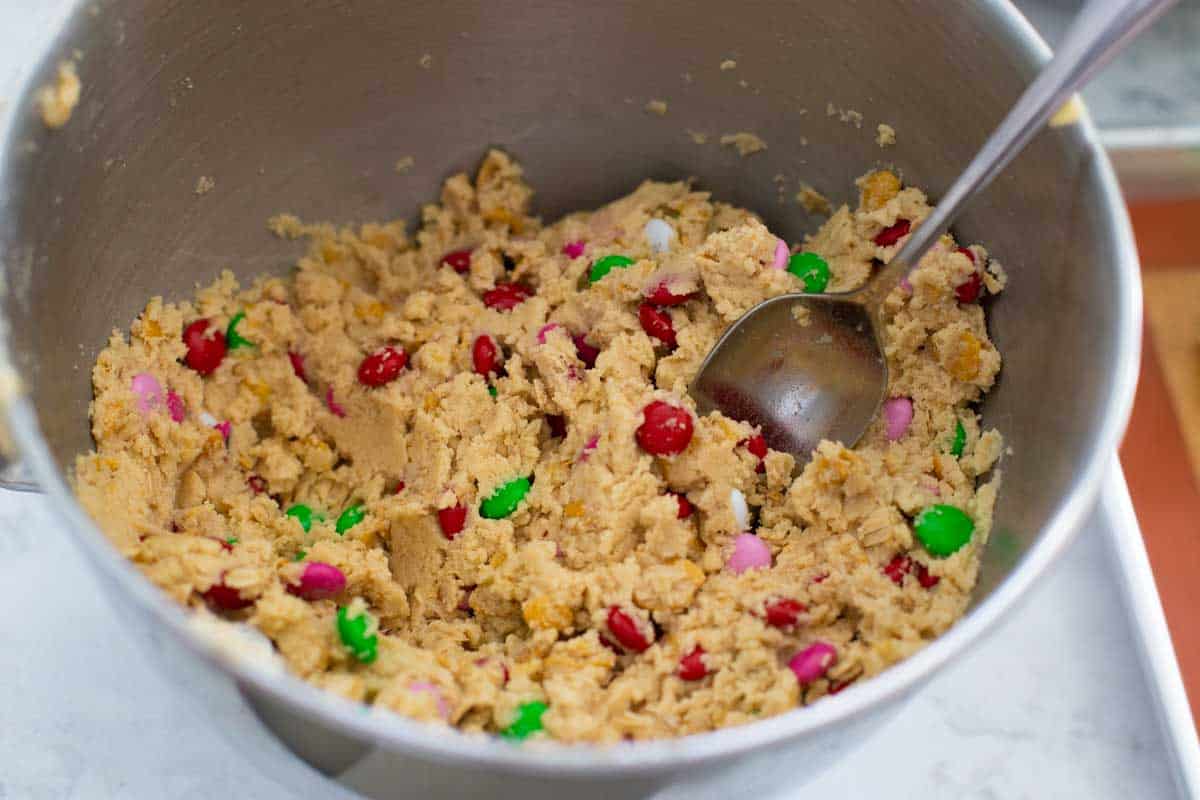 Bake the Cookies
To bake the cookies, preheat your oven to 350°F.
Line a baking sheet with parchment paper or a silicone baking mat.
Drop the cookies by large spoonfuls leaving 2 inches of space between the cookie balls.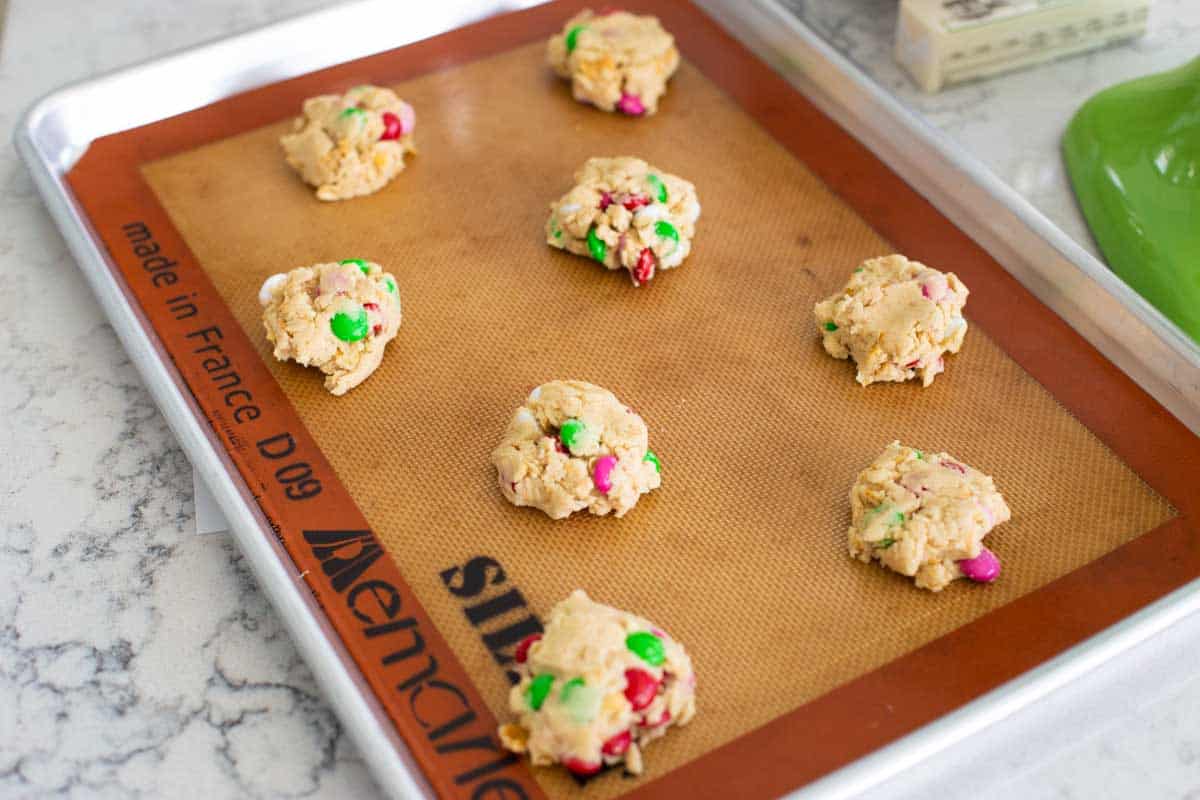 Bake the cookies for 15 minutes and then let them rest on the hot pan for 5 more minutes so they can set up before you try to transfer them to a cooling rack.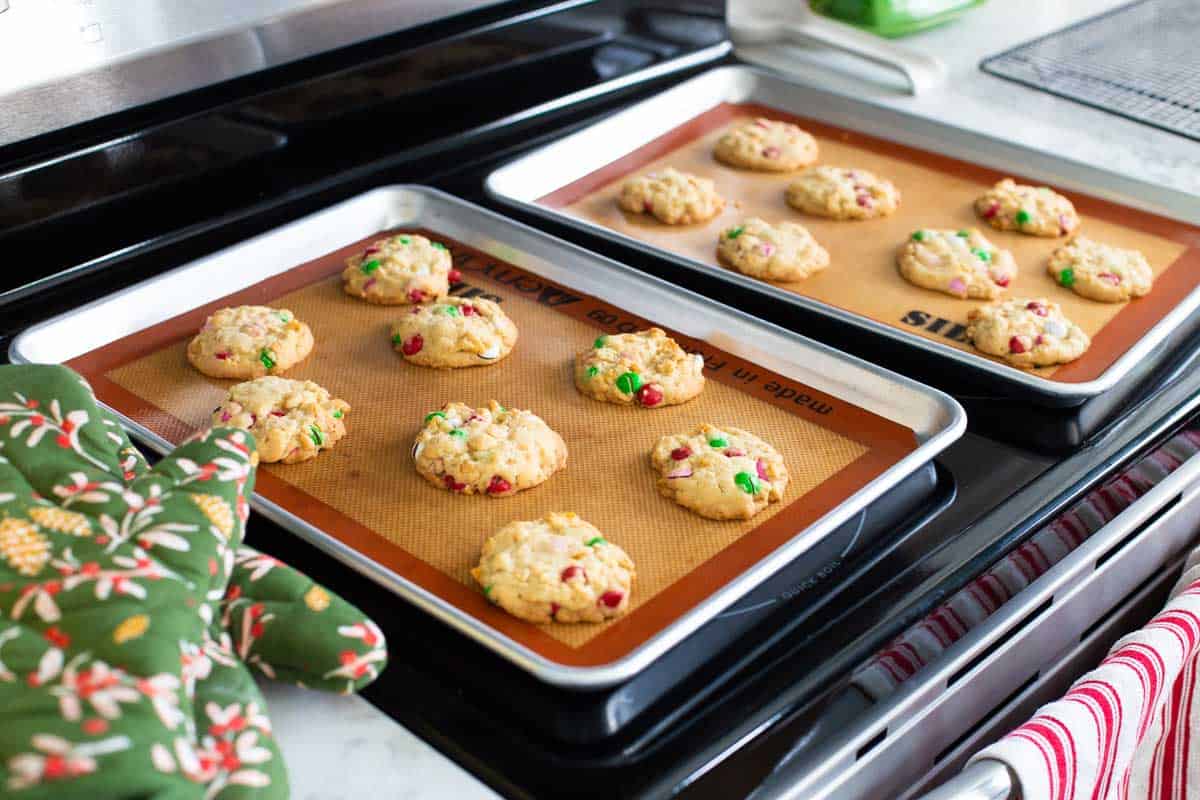 Make Ahead Tips
The best way to make these cookies ahead of time is to bake the entire batch as directed and then freeze the finished cookie.
Simply package them in an airtight container or zip top baggie and freeze them for up to 6 months.
You can keep them in an airtight container on your counter and they will keep fresh for up to 5 days.
More Freezer-Friendly Cookies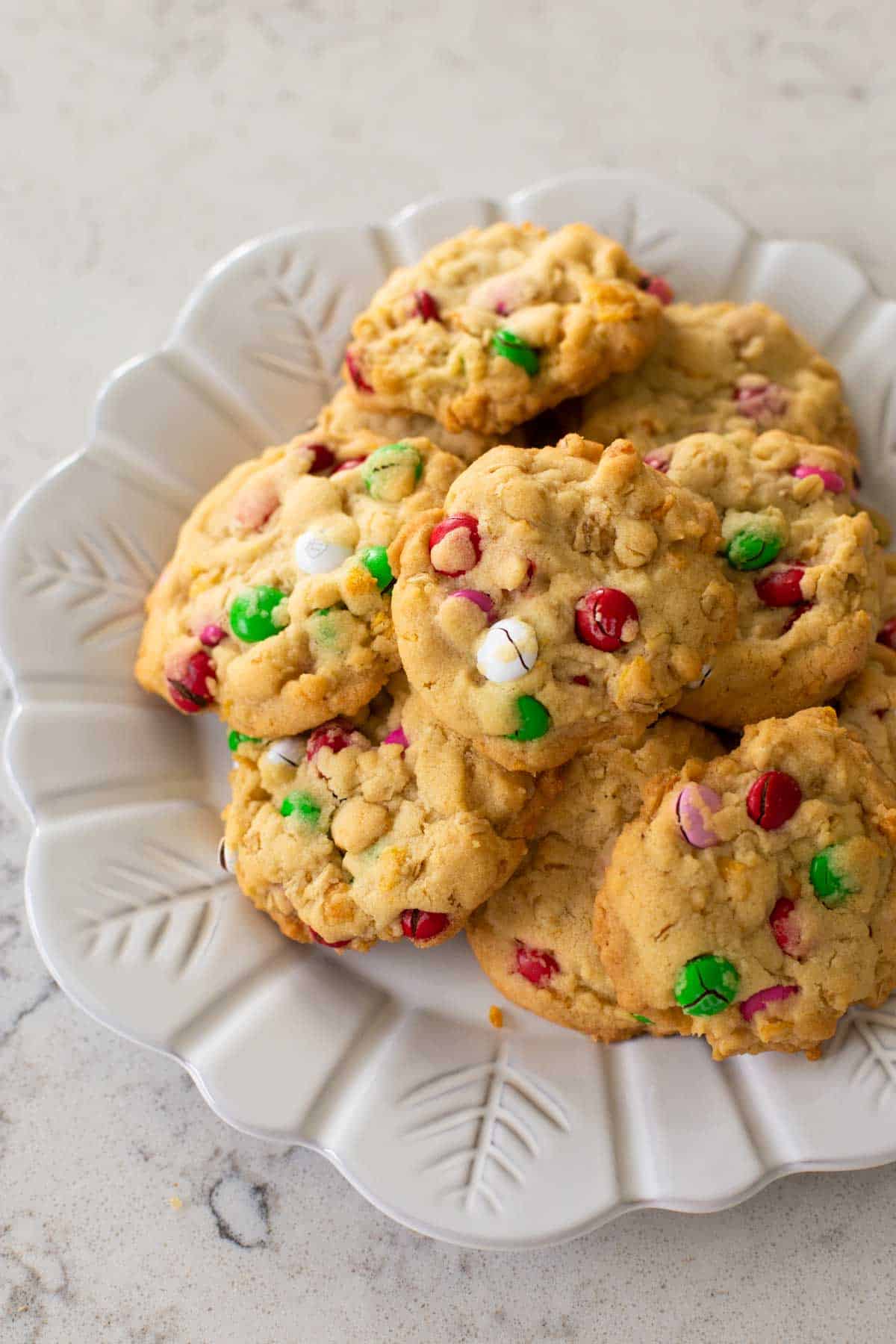 If you're looking to do a little advance baking for a holiday or you love to keep baked goodies in the freezer for surprise treats, you would also love my bake-from-frozen chocolate chip walnut cookie recipe.
My husband insists that my chocolate peanut butter cookies taste better cold from the freezer and that's how we always store them.
My gingerbread cookie recipe makes a huge batch. I like to freeze the dough, divided in thirds for small batches of gingerbread cookies when we want them.
And the crunchy peanut butter sandwich cookies come together a lot faster if you bake the cookies ahead of time and freeze them. Just make the filling and serve!
📖 Recipe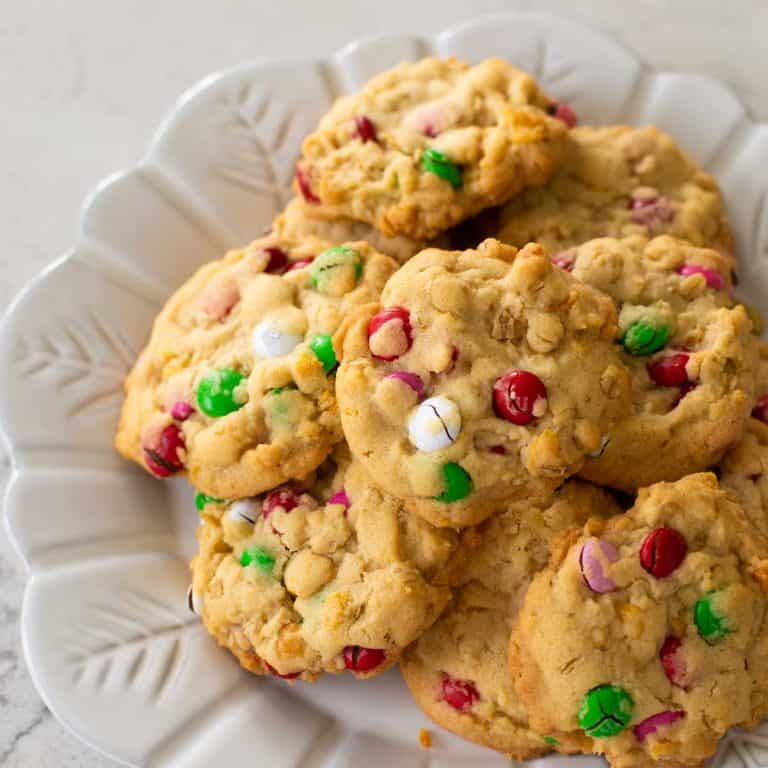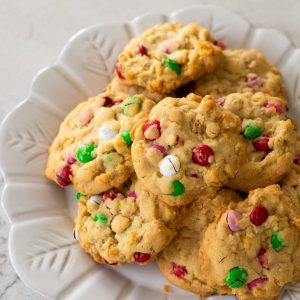 Festive M&M Cookies
Adorably festive and perfectly crunchy, these delicious M&M cookies have cornflakes and oats for a wonderful texture. Mix and match the colors of candies for any holiday. Bake them ahead and freeze for easy entertaining later.
Ingredients
1

cup

(2 sticks) butter

softened

1

cup

sugar

1

cup

brown sugar

1

cup

canola oil

1

egg

room temperature

1

tablespoon

vanilla

3 ½

cups

flour

1

teaspoon

salt

1

teaspoon

baking soda

1

cup

old fashioned oats

1

cup

cornflakes

2

(10 oz) bags M&Ms, festive colors
Instructions
Preheat the oven to 350°F.

Cream the butter and sugar in the bowl of a stand mixer fitted with the paddle attachment, about 3 minutes until they are fully incorporated.

Add the canola oil, egg, and vanilla to the butter mixture and beat them until just combined.

Add the flour, salt, and baking soda to the mixing bowl and beat them in on medium-low speed until just combined.

Add the oatmeal, cornflakes, and M&M candies and stir them in by hand with a spatula so the candy coating doesn't break.

Spoon balls of cookie dough onto a baking pan lined with parchment paper, leaving 2 inches of space between each cookie ball.

Bake for 15 minutes. The cookies should rest on the hot baking pan for 5 more minutes before being transferred with a spatula to a cooling rack.
Recipe Notes
Make Ahead Tips
The cookies can be kept in an airtight container at room temperature for up to 5 days.
You can freeze the baked cookies up to 6 months.
Save This Recipe to Your Recipe Box
Find this delicious recipe next time you visit by saving it to your very own recipe box on my site. All your favorites stored in one easy place!