Crunchy peanut butter cookies are filled with a sweet, creamy peanut butter filling to make the most delicious homemade peanut butter cookies sandwiches you've ever had!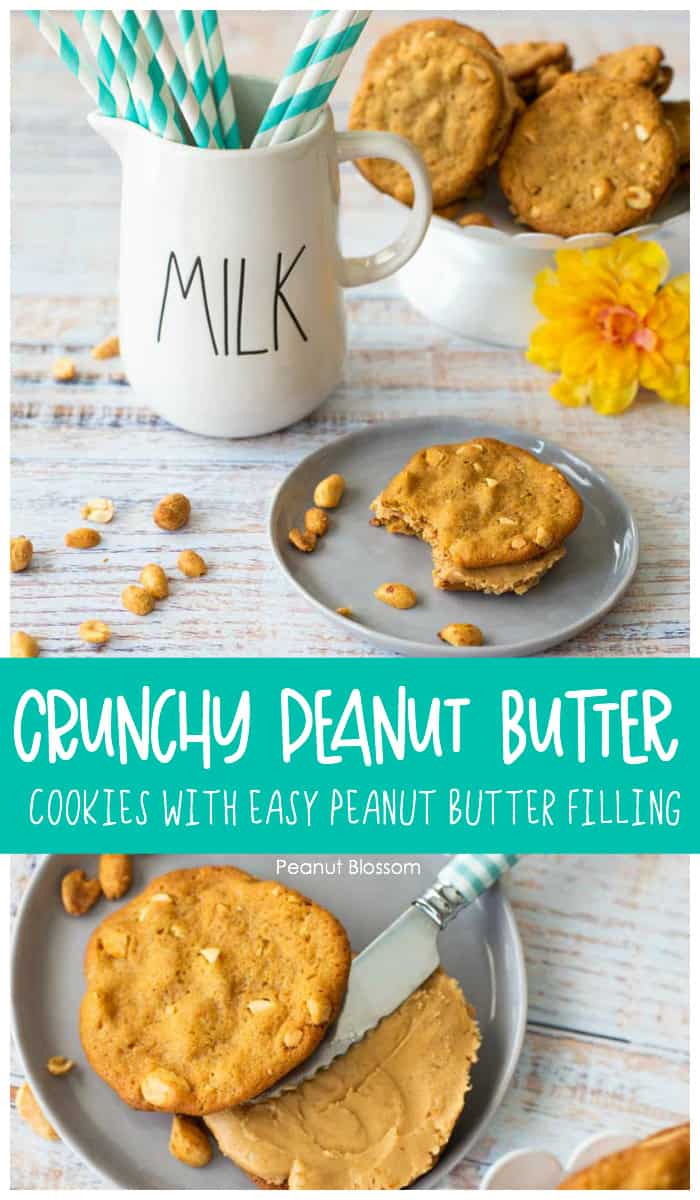 You might be from Minnesota if:
It's "a hotdish," not a casserole.
The "salad" on your Thanksgiving table has Snickers bars mixed in.
You've been accused of being "Minnesota Nice" but it only makes you smile bigger.
As a Wisconsin girl married to a Minnesota boy, there's been a fair amount of rivalry in our marriage over the last 18 years. He knows how to push my buttons and I may be guilty of threatening to not serve dinner if he calls it a hotdish one more time.
But when I saw "The Great Minnesota Cookie Book" at the library, I literally laughed out loud and stopped in my tracks. Minnesota is the home to Land O' Lakes butter, Betty Crocker cookie mixes, and the masters of baked goodies--General Mills' Chex and Cheerios cereals.
With uber-cold winters that last from September to May, the fine bakers of Minnesota have a looooong season to spend cozied up in their kitchens.
If ANYONE knows a good cookie, it has to be a Minnesotan. I grabbed that cookbook off the shelf so fast it made my girls' heads spin.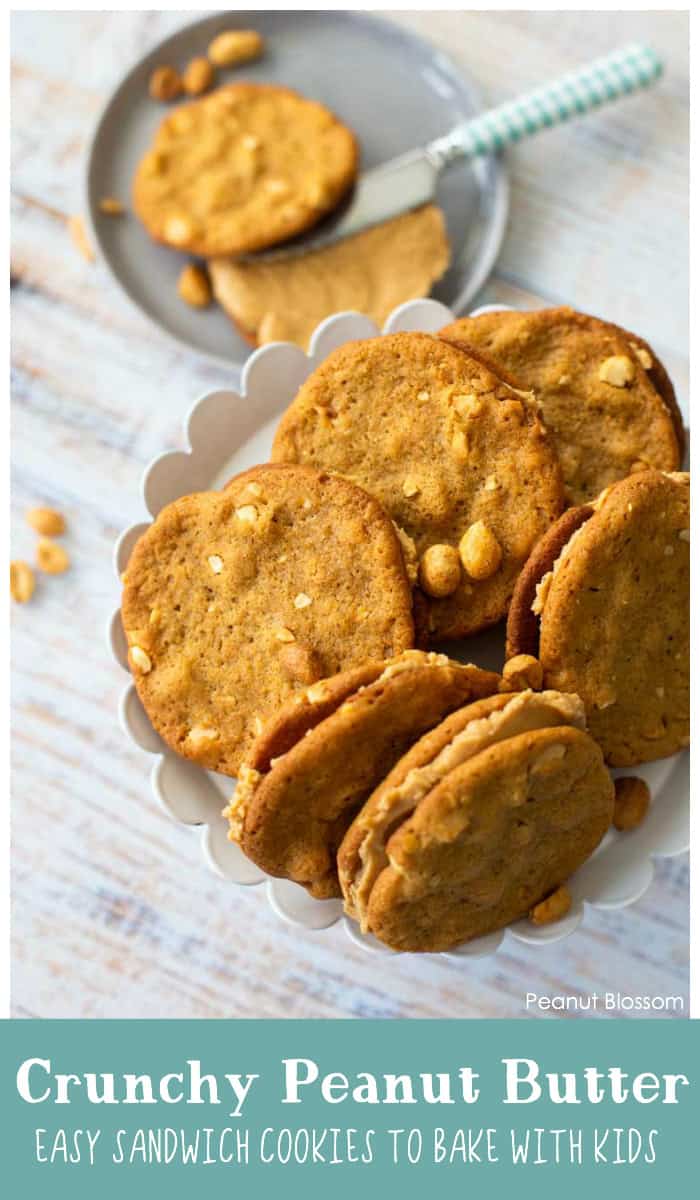 Flipping through the pages of the cookbook, I spotted these crunchy peanut butter cookies sandwiches and paused. As much baking as I've done over the last year for The Ultimate Kids' Baking Book, I couldn't remember the last time I made a simple but glorious peanut butter cookie.
My mom didn't bake a ton when we were young, but she made amazing peanut butter cookies as part of her rotation. I don't know why they aren't a more steady part of our baking habits. I realized my girls have probably never had one aside from our favorite peanut butter blossom cookies.
I'm all about the texture lately. As much as I love classic peanut butter cookies, I was totally drawn to this recipe because it features two super-thin crunchy peanut butter cookies sandwiched together with a smooth and creamy peanut butter filling.
Two cookies into one peanut butter cookie sandwich?? Isn't that a bit much?
I was initially worried the peanut butter cookie sandwiches would be too much cookie for us. Pairing up two cookies into one seems like overkill, but since each half of the sandwich is actually so thin and we spread just a thin amount of filling in between, they ended up being simply perfect.
The peanut butter cookies are crunchy but still chewy, exactly how I love them.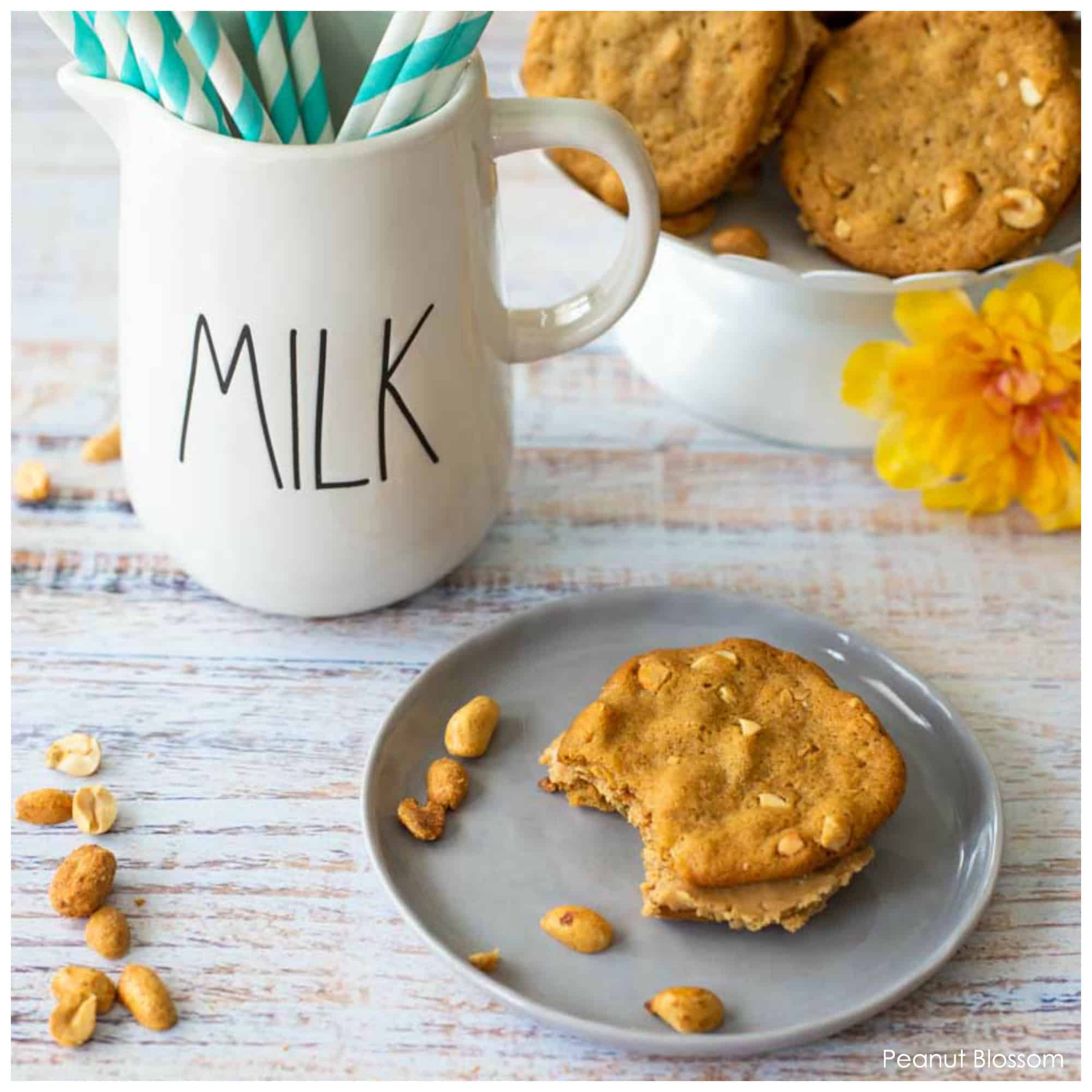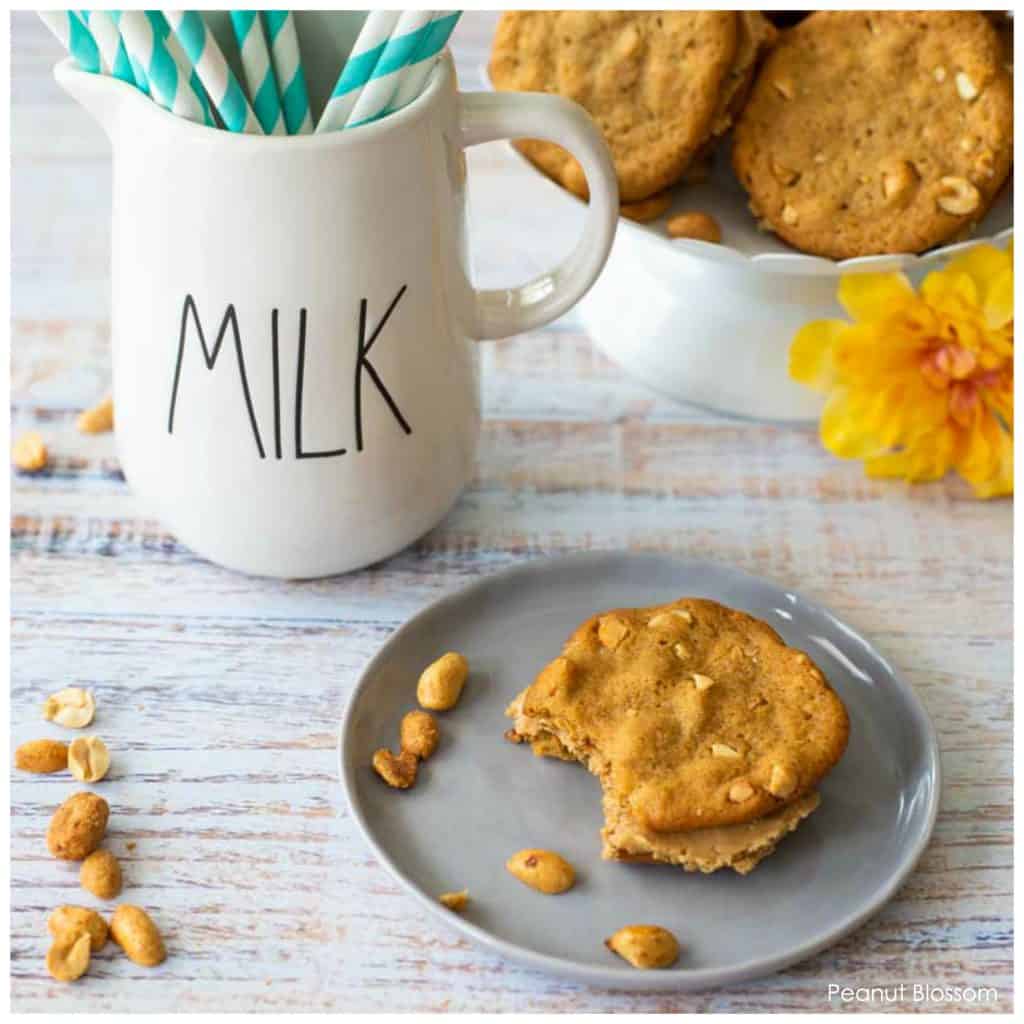 Are these peanut butter cookies too peanut butter-y?
I was also worried the cookies would have too much peanut butter flavor. The Peanut only likes peanut butter in fluffernutter sandwiches. She's not a huge fan of the texture or strength of the peanut butter on its own. She won't even eat Reese's Peanut Butter Cups. Crazy, I know.
The peanut butter filling is mixed with powdered sugar and just a tiny bit of dried ginger which gives it a little tiny kick and keeps it from being too peanut butter-y. I can't believe I just said that, is that really a thing?? I guess it is for her.
She took one bite and her eyes went super wide. She absolutely LOVED them. When I asked why these were ok when other peanut butter things are not, she said it was because they were sweeter than just straight-up peanut butter. She also adored the crunchy texture, just like me.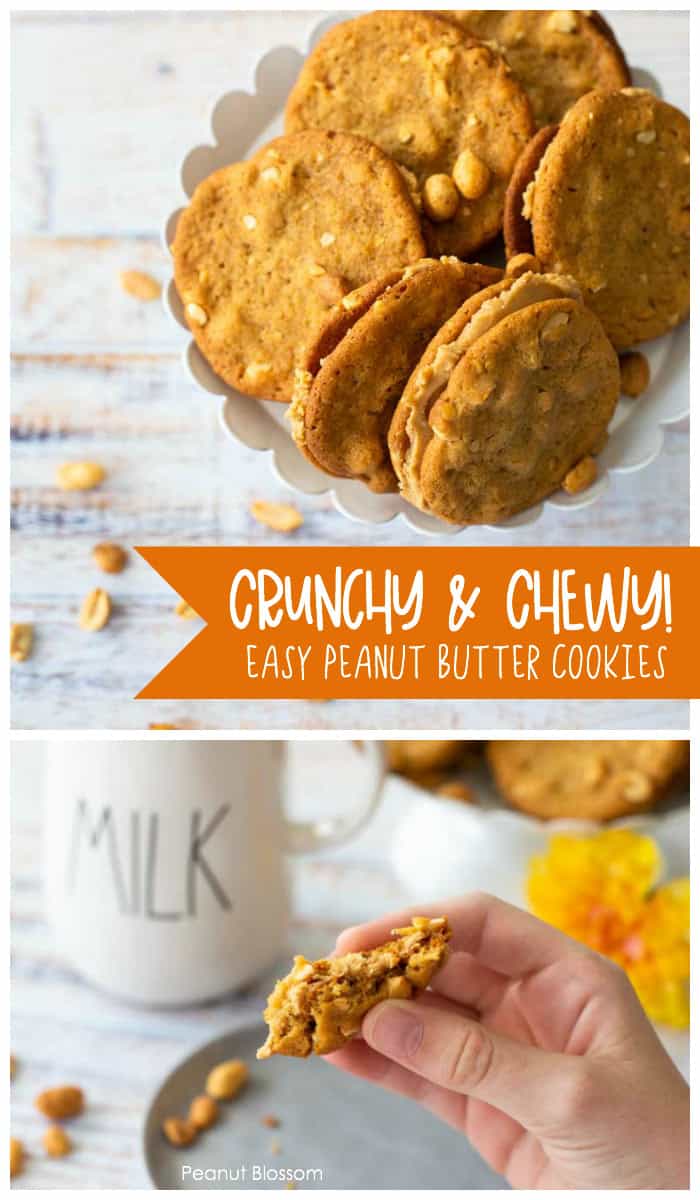 How to make the best-ever crunchy peanut butter cookies sandwiches with kids:
Get your little bakers involved with preparing these peanut butter cookies. There are so many tasks even the youngest kids can help with:
Put them in charge of measuring and chopping the peanuts in a food processor.
(Nervous to let them chop? Check out my tips here.)
Have them pat and form the cookie balls into flat discs on the cookie sheets.
Hand them a spatula and leave them in charge of mixing the filling.
Ask them to pair up matching sized cookies for the sandwiches.
Work together to spread the filling and form the sandwiches.
Don't miss our favorite cookies to bake with kids:
Have a blast baking with your kids this season. Here are our favorite family cookie recipes: