The best kitchen tools for kids are durable, easy to use, and most importantly COLORFUL! This is the perfect gift guide for your little chef, bundle a kid-friendly kitchen tool with the very best cookbook for kids for the best birthday party present idea ever!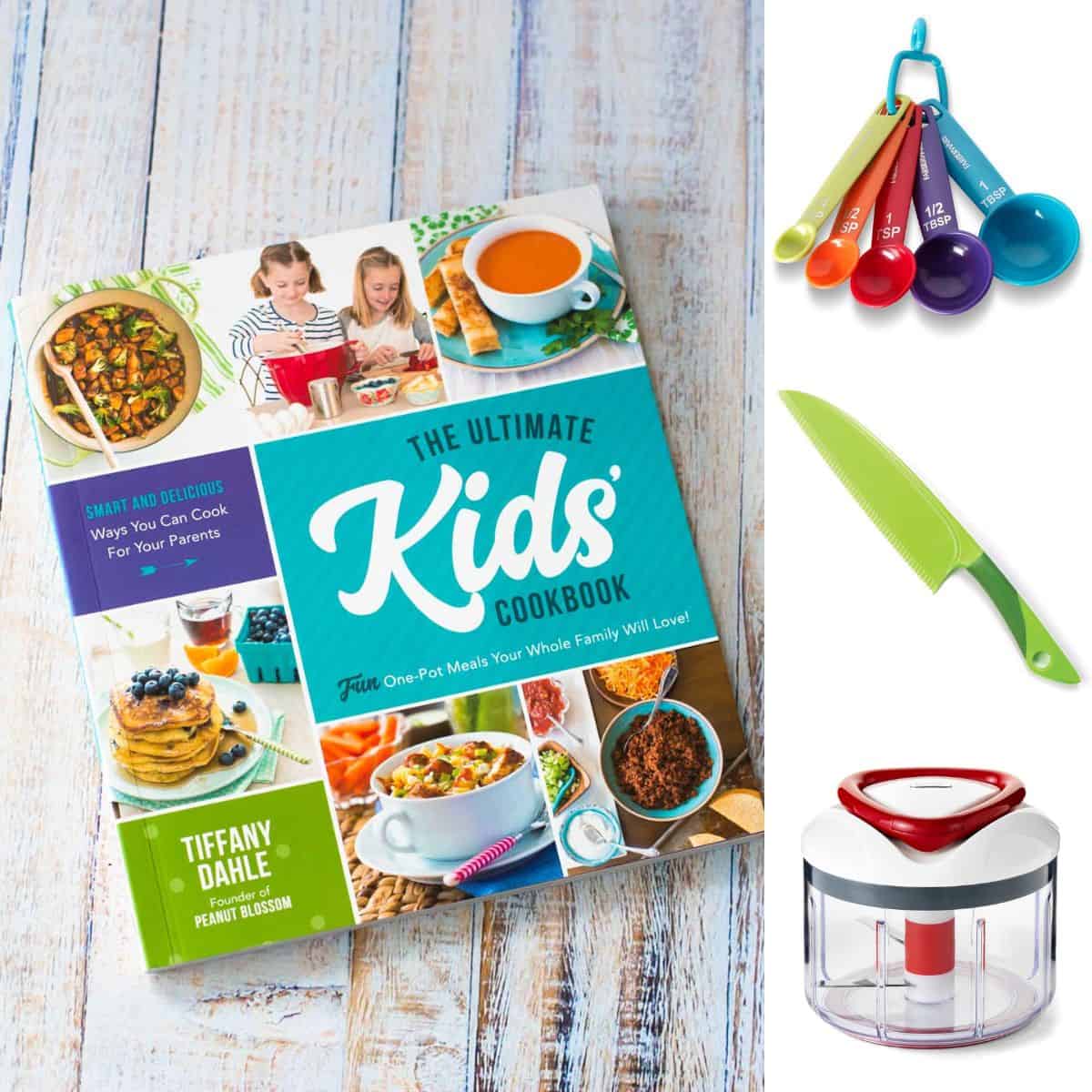 You scroll the pages of Amazon looking for a gift for the budding chef in your family. You spot a nice and simple boxed kit marked "FOR KIDS!"
That must be the one, right? The packaging says so!
I can't tell you how many times we've been disappointed with pre-packaged kids cooking sets. The utensils are cheaply made, too small for safety, and don't last long.
Don't be fooled, the best kitchen tools for kids aren't what you think.
I've taken the time to round up the very best of the best kitchen tools for kids to help you encourage a love of cooking with your kids.
Setting them up with the wrong tools will only stomp out their enthusiasm before they even begin.
Fumbling with a poorly designed kitchen tool will leave them more frustrated than thrilled.
Jump to:
What Makes the BEST Kitchen Tool for Kids?
If you're going to take the time to invest in your child and help them find their footing in the kitchen, start them off with the right tools.
The items that made this list had to meet the following expectations:
Strong durability
Safety features for little hands
Easy to use
Designed to be attractive to kids
You will notice several items are just regular kitchen tools meant for adults.
These are not toys, they are real kitchen tools for kids who want to learn actual cooking, not just play pretend chef.
I appeared on Charlotte Today this holiday season to demonstrate some of our favorites.
Check it out: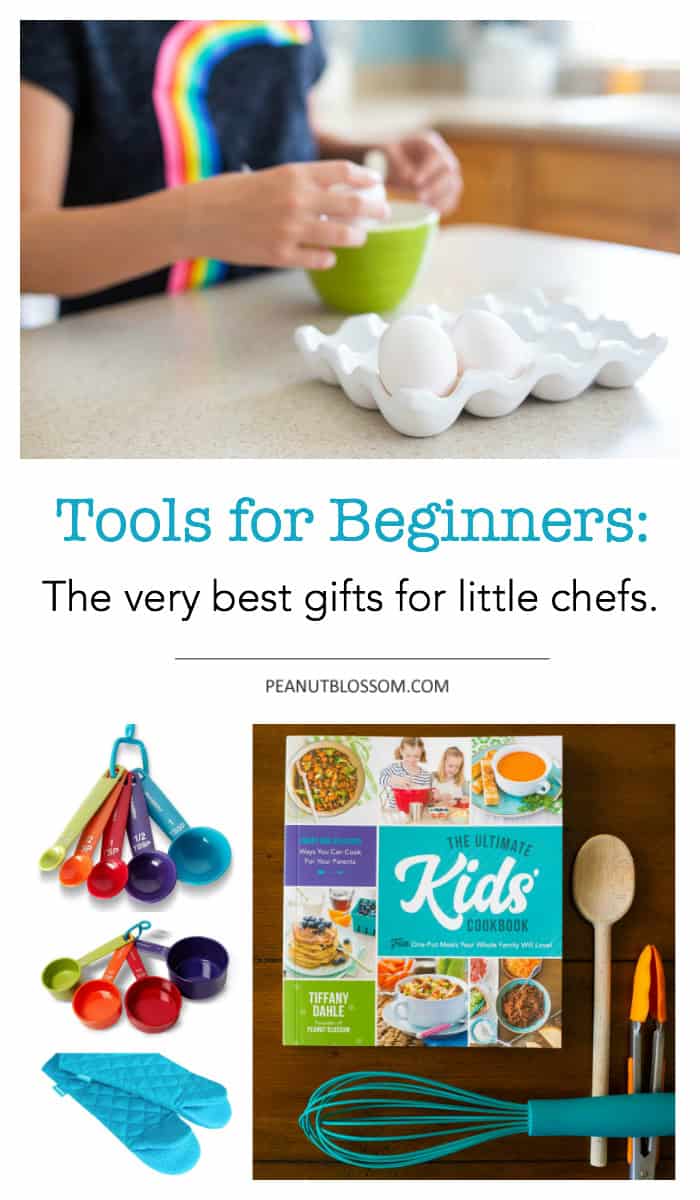 Extra-long oven mitts:
Yes, these very well might come up passed your child's elbows. That's the point!
Have them wear these when stirring near anything hot as well as handling anything from the oven.
They come in several color options, you can find them here.
Mixing bowl with sticky bottom:
Kids tend to be quite vigorous with their stirring and mixing, they need a bowl that can keep up!
The no-slip bottom of this mixing bowl helps keep things steady so that even if the food flies out the top, it shouldn't slip right off the counter.
You can find it here.
The Totally Awesome Ultimate Kids' Cookbook:
A must-have for any child who seriously wants to make real food for their family. This book walks the child through step-by-step exactly what to do and when for breakfast, lunch, and dinner recipes the whole family will love. We're talking orange-blueberry pancakes, vanilla spiced French toast, crustless chicken pot pie, mini meatball skillet, homemade pizza dough, and weeknight chicken fajitas.
Even the pickiest eaters will find something to love here.
Grab your copy of the book here.
The Ultimate Kids' Baking Book:
For a child who is excited to bake up delicious treats for their family, this book has fun and festive recipes for every season and holiday of the year.
All the best classic desserts from cookies to cupcakes are included, but don't miss the fun and unique inspiration for tortes, ice cream desserts, and donuts.
Grab your copy of the book here.
Gift presentation idea: Store the book, measuring tools, and oven mitts right in the mixing bowl. Wrap it up with tissue paper and a gift bag.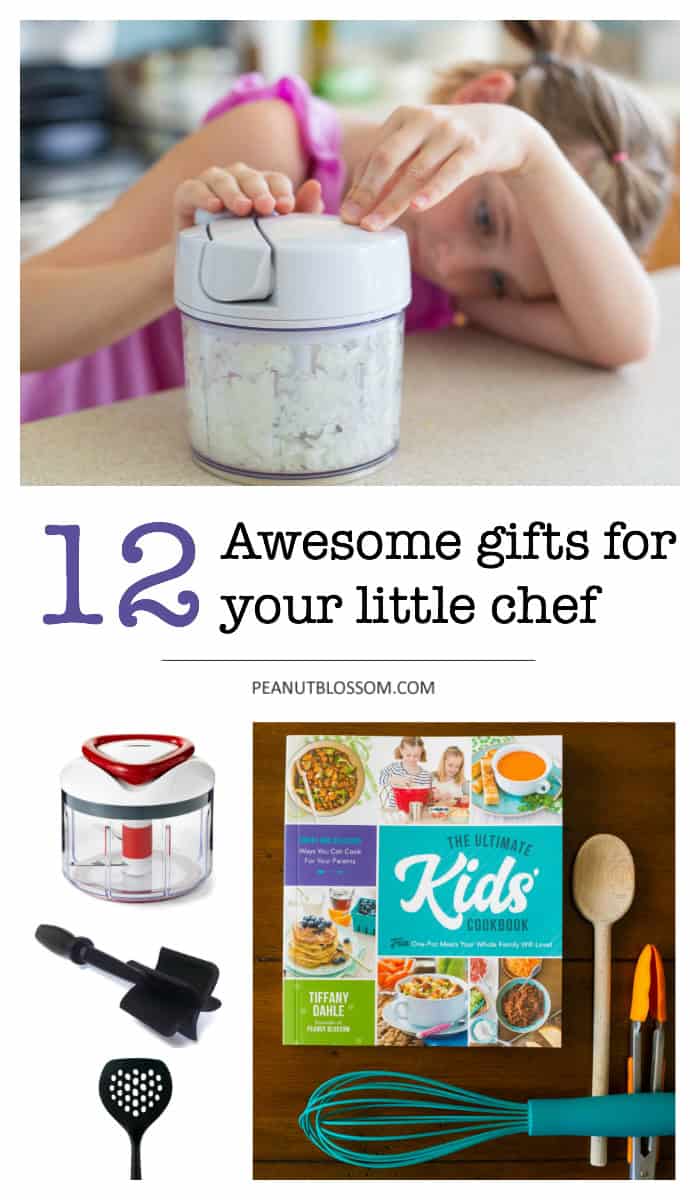 Tools for Moderate Skills
For the kids with a few basic skills ready for the next level:
Manual food processor:
When your child is ready to chop but you're still a little nervous about introducing a knife, this manual food processor is the perfect solution.
The whirling blade stays safe and sound away from little fingers but your child will feel like they were totally responsible for all the veggie chopping!
You can get a colorful one right here.
Mix N Chop Tool:
This might just be my kids' all-time favorite kitchen tool. Kids really struggle with breaking up ground meat for tacos into small enough pieces. This handy tool makes quick work of it and is super fun for your kitchen helper.
It might be a little pricey when you first look, but I swear we use it every single week. It makes a perfect gift.
You can get one right here.
Nylon spatula:
I'm very fussy when it comes to spatulas for kids. They need to be safe for non-stick surfaces so you don't get scratches on your pans, have long handles to keep hands away from the heat, and have a slightly flexible bend to them so kids can easily scoop it under the food they are trying to flip.
This is our favorite model by far.
Get one right here.
The Ultimate Kids' Cookbook:
This children's cookbook is NOT just for beginners. Real kitchen skills like how to brown meat, how to flip foods, how to cut and chop veggies are all included in detailed Skill Pages that will get your kid whipping up delicious dishes in no time.
Grab your copy of the book here.

Tools for Advanced Kid Chefs
For the kids who know their way around the kitchen but are looking for something fun for a gift:
Bright green lettuce knife:
When your kid is ready to use a knife but you're still a little nervous, start them out with this lettuce knife. It is much safer and less sharp than traditional cooking knives but still effective on the foods they need to prepare.
Get one right here.
Brightly colored paring knife with shield:
Before they are allowed to move on to the HUGE chef knife, I start my kids out with a real paring knife. It is just the right size for their hands and much easier to wield. I love that the color would stand out in a drawer and that it comes with a safety shield.
Available in a bunch of awesome colors, you can get one here.
The Ultimate Kids' Cookbook:
Though the book starts out with basic skills, it works right up to children cooking an entire meal all by themselves. There's an entire chapter called "Fearless Foodies" that features advanced flavor combinations for adventurous eaters that is also intended to encourage fussy kids to step out of their comfort zone.
Grab your copy of the book here.
Fun Gift Ideas for Kid Cooks
If you're looking to go beyond the basics and pull together an amazing present, don't miss this list of gifts for kid cooks.
Get on the List!
Here at Peanut Blossom we are passionate about getting kids in the kitchen.
If you'd like more ideas for inspiring your child to cook, be sure to get on my weekly email list where I share the latest family-friendly recipes and fun ways to celebrate the seasons together: