The best kitchen tools for kids are durable, easy to use, and most importantly COLORFUL! This is the perfect gift guide for your little chef, bundle a kid-friendly kitchen tool with the very best cookbook for kids for the best birthday party present idea ever!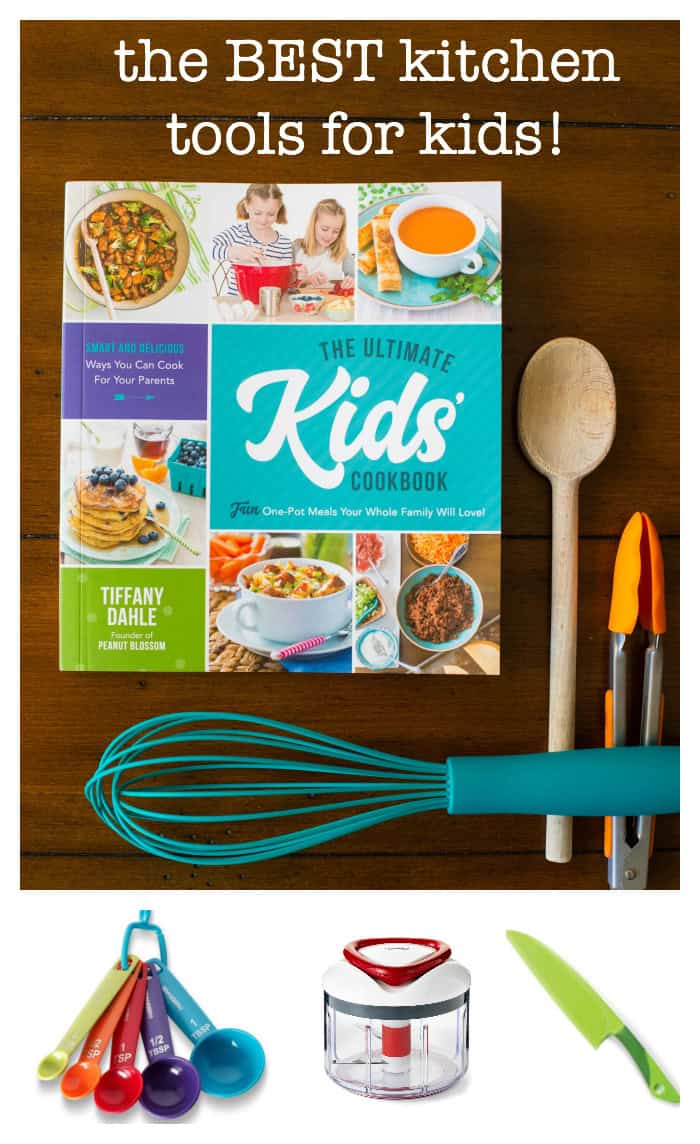 You scroll the pages of Amazon looking for a gift for the budding chef in your family. You spot a nice and simple boxed kit marked "FOR KIDS!"
That must be the one, right? The packaging says so!
I can't tell you how many times we've been disappointed with pre-packaged kids cooking sets. The utensils are cheaply made, too small for safety, and don't last long.
Don't be fooled, the best kitchen tools for kids aren't what you think.
I've taken the time to round up the very best of the best kitchen tools for kids to help you encourage a love of cooking with your kids. Setting them up with the wrong tools will only stomp out their enthusiasm before they even begin. Fumbling with a poorly designed kitchen tool will leave them more frustrated than thrilled.
Jump to:

Why Should Kids Cook?
When you teach your children to cook, you're sending the message that taking the time for self-care matters. You're setting the stage for healthy habits in the future.
When your kids are grown and flown, they will have a solid foundation for feeding themselves healthy, nourishing food rather than relying solely on take-out and frozen entrees.
But my favorite part about cooking with kids? The time it gives us to connect in an over-busy schedule. We're productively getting a much needed task accomplished but enjoying each other's company in the process.
RELATED: Why You Should Teach Your Kids To Cook
EXTRA CREDIT: When you teach your kids to cook, someday they will cook a whole meal FOR YOU! One less thing on your to-do and an amazing feeling to be spoiled with a delicious meal 100% made by your sweeties.
What to Look For:
If you're going to take the time to invest in your child and help them find their footing in the kitchen, start them off with the right tools. The items that made this list had to meet the following expectations:
Strong durability
Safety features for little hands
Easy to use
Designed to be attractive to kids
You will notice several items are just regular kitchen tools meant for adults. These are not toys, they are real kitchen tools for kids who want to learn actual cooking, not just play pretend chef.
(Though kitchen play has long been one of our favorite activities, those toys are for another post!)
I appeared on Charlotte Today this holiday season to demonstrate some of our favorites. Check it out:
[adthrive-in-post-video-player video-id="S7FaKopM" upload-date="2018-12-14T19:40:56.000Z" name="Great gift ideas for kids who love to cook" description="Don't be fooled by the cheap cooking tools for kids, give them these awesome ideas instead!"]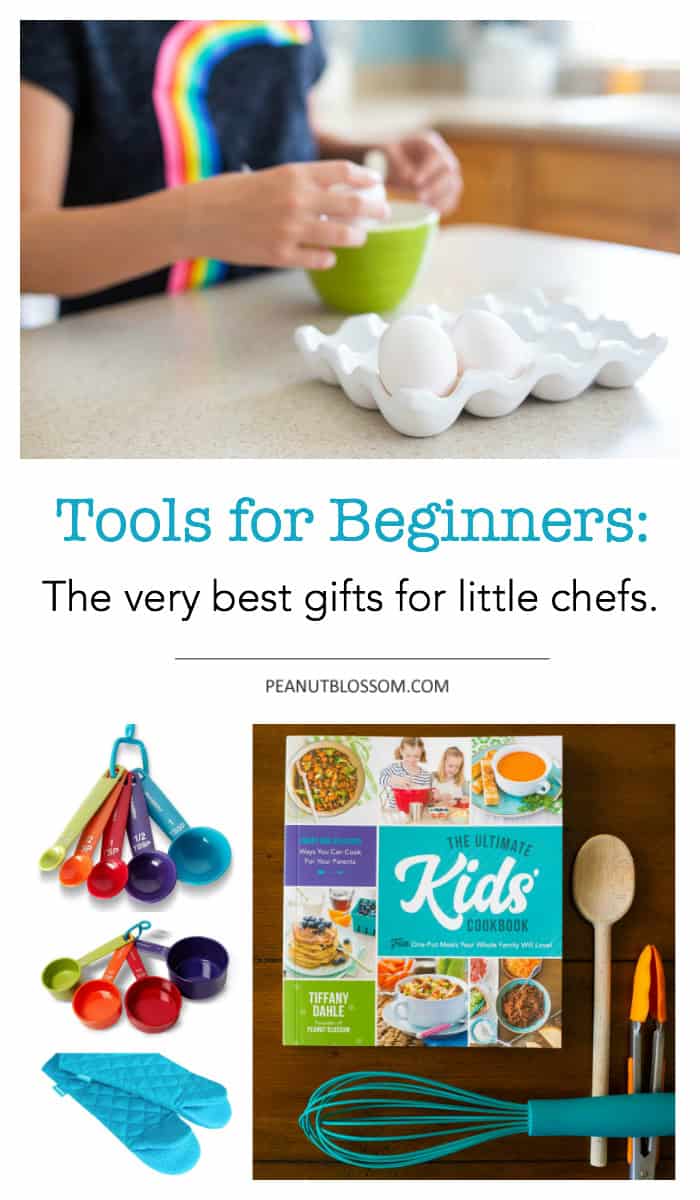 The First Tools Beginners Need:
For the kids just starting out in the kitchen, gear them up with:
Gift presentation idea: Store the book, measuring tools, and oven mitts right in the mixing bowl. Wrap it up with tissue paper and a gift bag.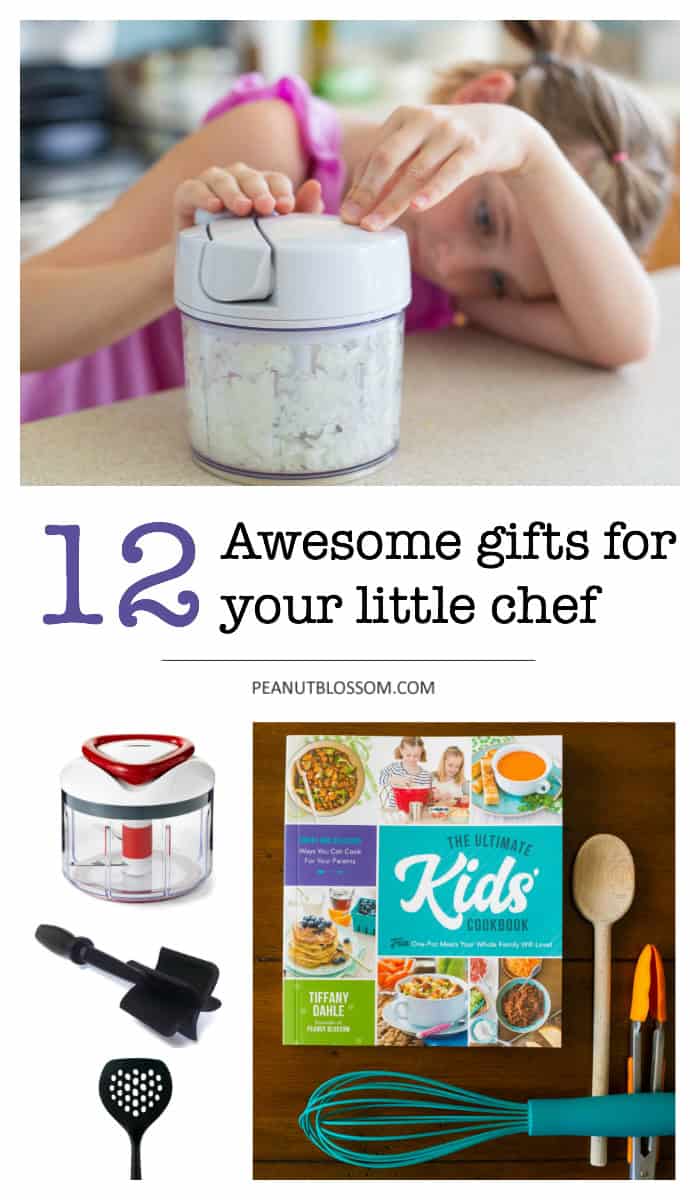 Tools for Moderate Skills:
For the kids with a few basic skills ready for the next level:

Tools for Advanced Kid Chefs:
For the kids who know their way around the kitchen but are looking for something fun for a gift:
Here at Peanut Blossom we are passionate about getting kids in the kitchen. If you'd like more ideas for inspiring your child to cook, be sure to get on my weekly email list where I share the latest family-friendly recipes and fun ways to celebrate the seasons together: