Order The Ultimate Kids' Baking Book and then check out the fantastic Cooking School eBook that will guide you through teaching your kids how to bake.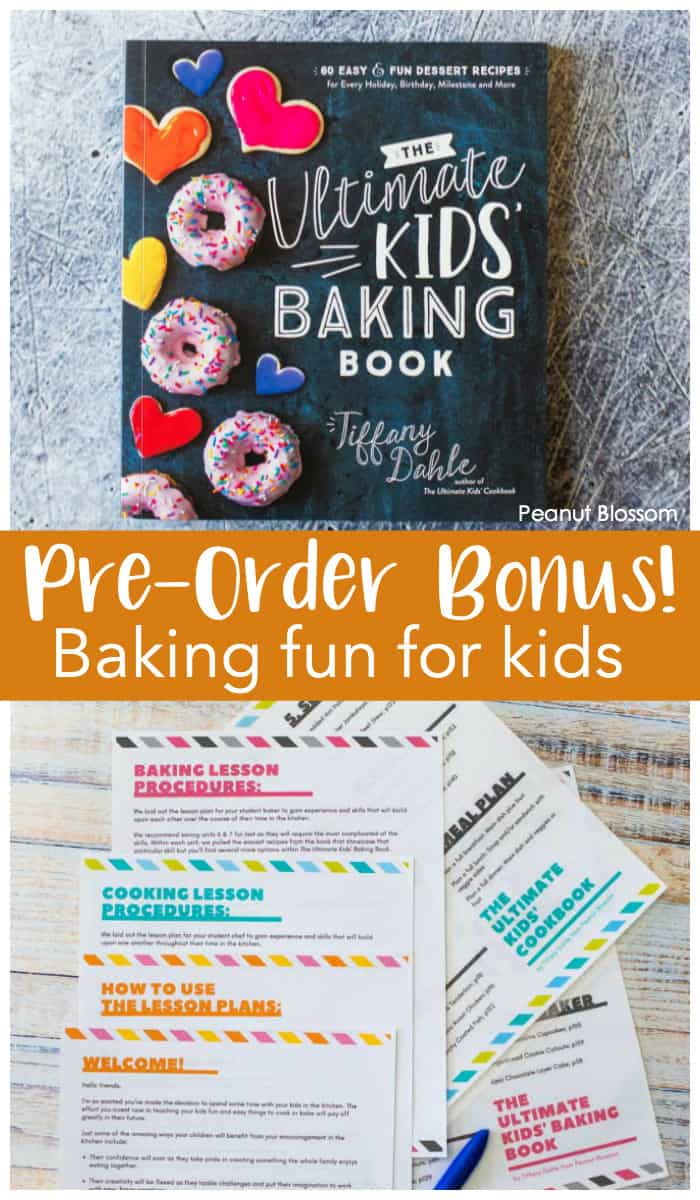 Note from the editor: The pre-order bonus is no longer available, but good news! You can now find the lesson plan bundle here.
Finally, my second book is now available! If your kids love to bake, you absolutely need to check out:
Parents have told me just how much they love the step-by-step format for the recipes in my first book The Ultimate Kids' Cookbook, so in order to celebrate the launch of my super-adorable holiday baking book, I wanted to take things one step further.
What's the easiest way to teach kids to bake or cook?
As a newbie homeschooling mom this year, I now have a whole new appreciation for kits that tell me absolutely everything I need to know to teach the kids something new.
I know a lot of parents are looking for a "home ec" element for their homeschool or have kiddos eager to whip up some delicious dishes in the kitchen but they don't know where to start. Maybe they buy a cookbook for kids but then the book sits on the shelf and they don't actually cook from it.
I want to make sure that your family can actually use and enjoy my cookbooks.
In order to make teaching your kids to cook or bake as easy as possible, I've created a very special companion for The Ultimate Kids' Baking Book. I developed a printable lesson plan kit for you to turn either one of our kids' cookbooks into a solid unit for homeschool or to just use for a little weekend family-time fun.
Here, take a little peek: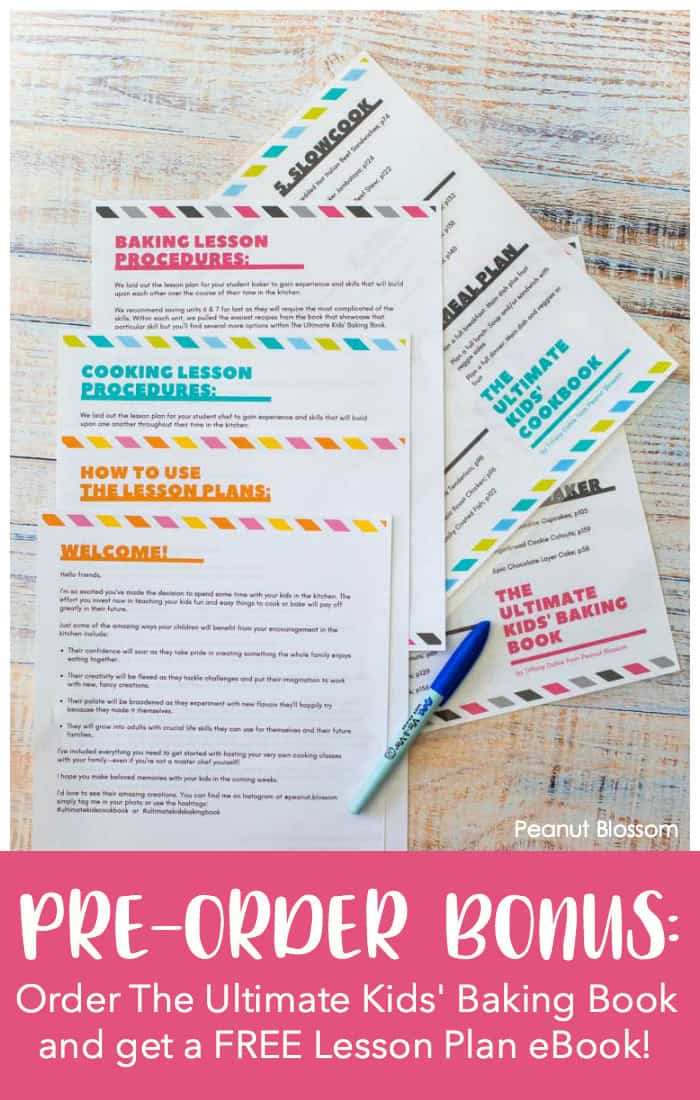 In the Cooking School Lesson Plans eBook, you will receive:
Complete instructions for using the lesson plans
A simple lesson procedure checklist for you to use every time your child cooks one of the recipes: This includes tips for YOU as the teacher to make the lessons as fun and enriching for your child as possible
A beginner's map to the easiest recipes in the book and which order to cook them in for the greatest sense of skill-building for the chef
You can print out the recipe maps and hang them on your fridge for the kids to chart their progress.
There's even a fun "Final Test" for each book where your new chef can really show off their skills!
GET YOUR COPY OF THE BAKING BOOK NOW
Want to take a peek inside the book??
Check out this little preview my girls and I put together for you:
GET YOUR COPY NOW
But here's the best news:
If you've got a child that would rather cook than bake, I get it. Sweet treats aren't for everyone. If you order a copy of The Ultimate Kids' Cookbook, these lesson plans are still for you.
GET YOUR COPY OF THE COOKING BOOK NOW

How do I get my Cooking School eBook??
Step 1:
Simply order a copy of The Ultimate Kids' Baking Book here or The Ultimate Kids' Cookbook here. If they are out of stock in print right now due to high demand, you can also order the Kindle version of either book.
Step 2:
Check out the cooking lesson plan bundle on my new shop here.
Step 3: (Optional)
I'd love to keep in touch with you! Subscribe to my email list where I'll be sharing festive ways to connect with your kids and easy family recipes that are just perfect for the coming holidays. You can subscribe right here:
GET ON THE LIST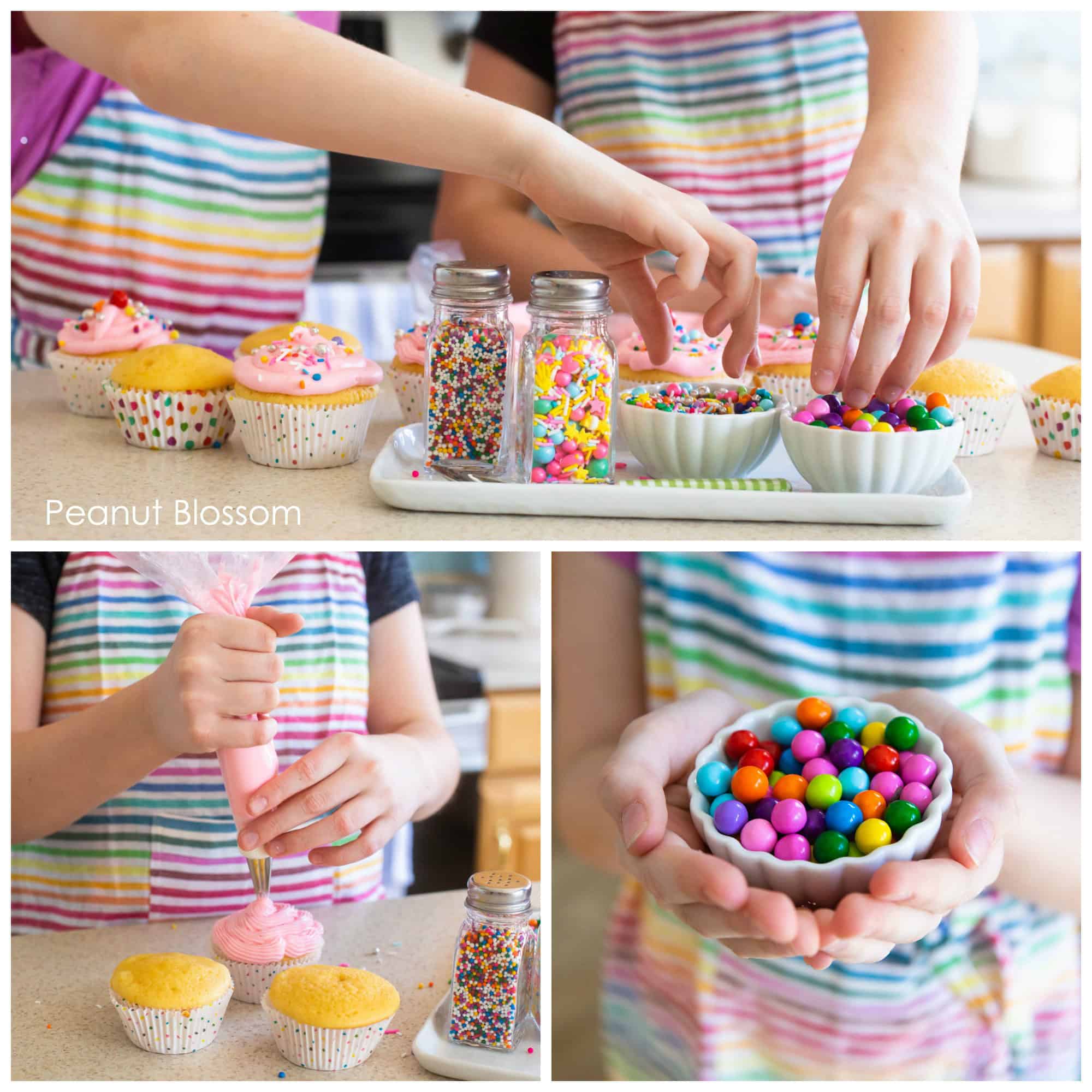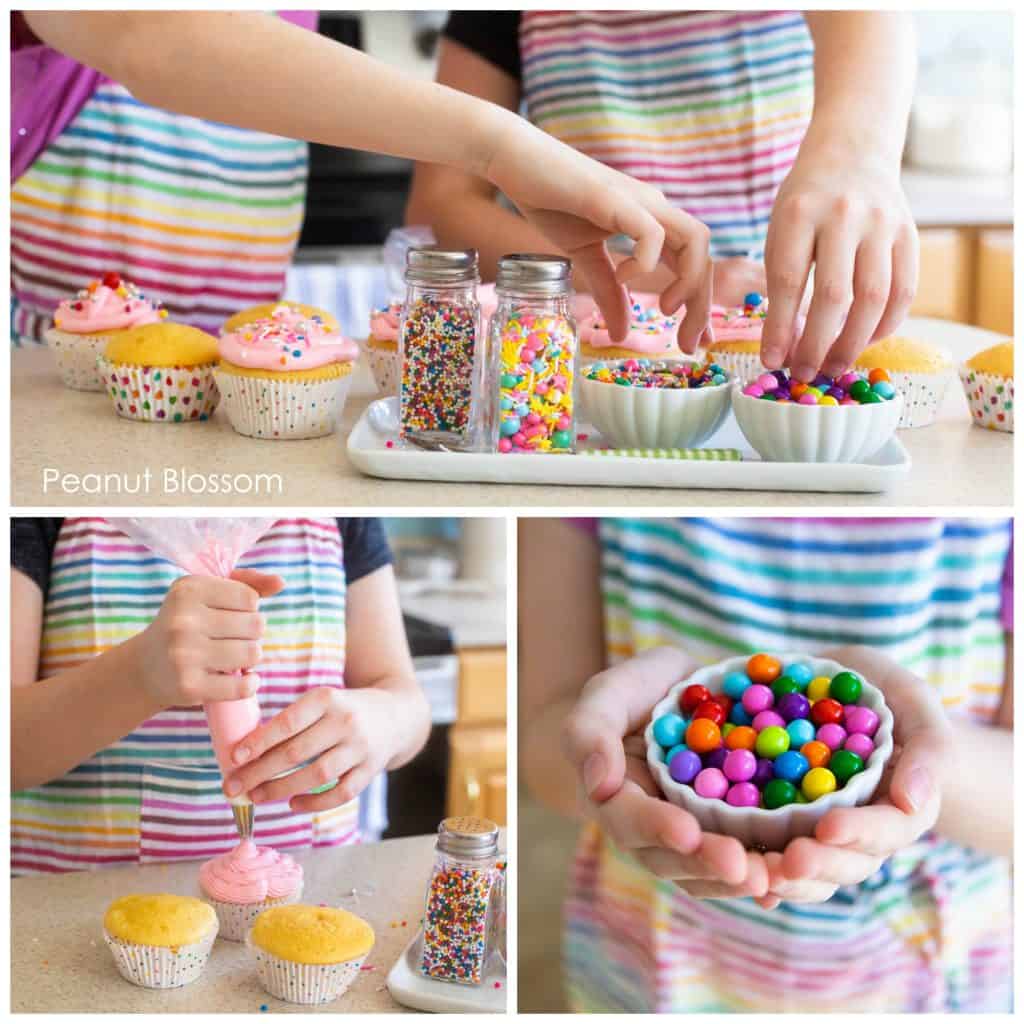 ABOUT THE ULTIMATE KIDS' BAKING BOOK
Now your kids can bake their cake and eat it too (with a little help from mom and dad). There are so many reasons for a kid to celebrate and this book has desserts for every milestone, from First Day of School Smart Cookies and Family Road Trip Muddy Buddies to Fall Break Snickerdoodles and the Best Birthday Cupcakes.
The Ultimate Kids' Baking Book makes it easy for your child to learn baking basics like how to use a mixer to cream butter and sugar, how to melt chocolate and make chocolate flourishes and how to make their own buttercream frosting. Tiffany Dahle was inspired by her two growing daughters to create recipes for young bakers. Suitable for children 6 and up this book modifies recipes with a little parental involvement, like preheating or taking cakes from the oven, so that little bakers can take on more responsibility as they grow. With recipes for Hot Cocoa Cookies, Movie Night M&M Sandwich Cookies and Snow Day Peanut Butter Cereal Bars, these desserts are something the whole family can be proud of.
WHAT PEOPLE ARE SAYING ABOUT THE ULTIMATE KIDS' BAKING BOOK:
"Tiffany's uniquely FUN cookbook inspires kids to get in the kitchen and start creating. How special to empower our children and spend quality time together crafting not only special treats, but memories too!"
– Sally McKenney, author of Sally's Baking Addiction
"It's not a party until there's a cookie or a cupcake tray! Whether they're hosting the party or bringing a treat to share, kids will love whipping up these super-fun and totally delicious recipes from Tiffany's new book."
– Jennifer Sbranti, founder of Hostess with the Mostess
"Tiffany's book is a fun intro to baking for kids and adults alike. The simple kid-friendly instructions will inspire kids to create fantastic desserts for their families while sparking a life-long love for baking."
-Amanda Hernandez, Kitchen Director at Suárez Bakery,
voted one of Food Network's Best Cookie Bakeries in the Country