The Totally Awesome Ultimate Kids' Cookbook: Simple Recipes & Fun Skills to Cook Fabulous Meals for your Family by Tiffany Dahle is coming soon! Filled with 95 delicious recipes for kids that will inspire young chefs to cook for their families, this book is a must-have for every home library.
PRE-ORDER YOUR COPY HERE:

Amazon | Barnes & Noble | IndieBound.org | Book Depository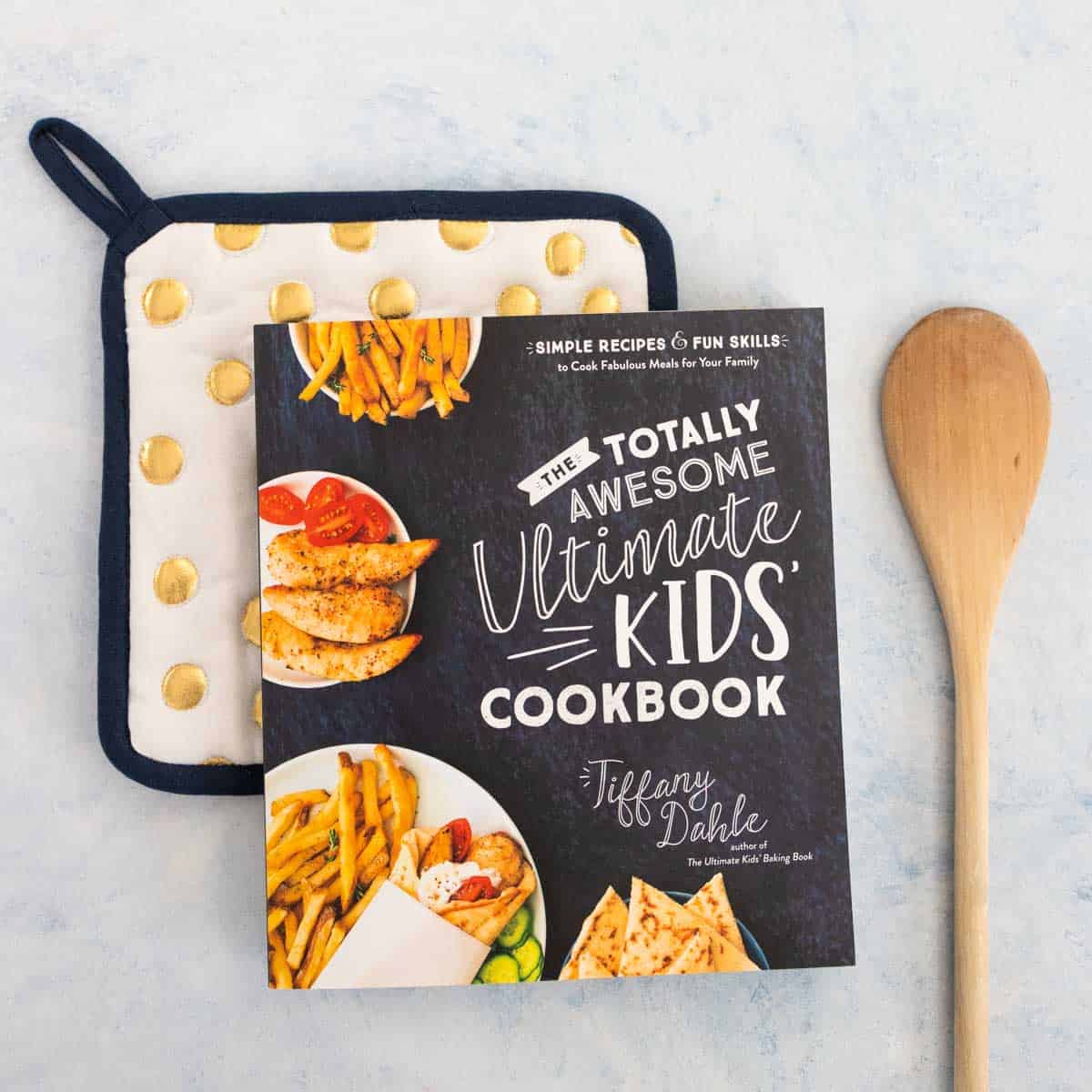 Jump to:
What Reviewers Say:
"In an age when children are more scheduled and technology-obsessed than ever, Tiffany Dahle offers us an appealing invitation to reconnect with them in the kitchen. With enticing recipes, concise, step-by-step instructions and captivating photos, families will experience the joy of engaging through culinary creation. A must-have for every parent and child!"
- Melissa Bernstein, Co-founder and Chief Creative Officer, Melissa & Doug
"A must-have book for parents that wish to help their kids learn to cook with simple and fun real-food recipes."
- Laura Fuentes, Founder MOMables
"This cookbook is beautifully designed with easy instructions to get parents and kids involved in the kitchen with family friendly dishes that will taste even better because they helped make it!"
– Gina Homolka, author of The Skinnytaste Cookbook and Skinnytaste Fast and Slow
"One of my biggest challenges as a mom is getting food to the table. Tiffany's blog has been a huge help over the years. I am so excited about this cookbook because not only does it solve my food problems, but doubles as quality time spent with my kids. A total win-win."
- Holly Homer, KidsActivities.com, co-author of 101 Kids Activities that are the Bestest, Funnest Ever! & The 101 Coolest Simple Science Experiments
"With easy to follow directions for both kids and adults, Tiffany Dahle's new cookbook makes teaching kids to cook easier and more fun than ever before. This is the cookbook that any child with an interest in cooking is going to love."
- Mary Younkin, Author of The Weeknight Dinner Cookbook and The Weekday Lunches and Breakfasts Cookbook from Barefeet In the Kitchen
What The Cookbook Is About:
Learn To Cook Amazing Meals with Tons of Fun Family Recipes
Are you ready to have a blast in the kitchen and learn how to make the best food you ever tasted? Step by step, this cookbook will show you how to cook the way grown-ups do, but with your favorite flavors!
These recipes are perfect for kids because they use simple ingredients, don't take a lot of work and most cook in just one pot or pan. Along the way, you'll learn important skills, such as how to cut foods with or without a knife, how to brown ground meat, how to cook noodles and how to use an oven safely.
With so many tasty choices, you can enjoy a laid-back weekend morning by cooking up a wonderful breakfast treat for everyone, such as:
Cinnamon Sugar & Pecan Monkey Bread
School Night Chicken Fajitas
Better than Buttered Noodles
Magic Crunchy Coated Fish
Chicken Finger Dunkers
Mix and Match Seasoned French Fries
The original Ultimate Kids' Cookbook has been a treasured resource for thousands of families.
This new and expanded edition features 20 brand-new recipes and a totally fresh makeover, now with stunning full-page photography for every recipe and hand-lettered illustrations.
With this cookbook at home, you will have a complete guide to making nutritious and delicious meals with confidence for the ones you love most.
When you order your own copy of The Totally Awesome Ultimate Kids' Cookbook you will have everything you need to host the BEST DIY kids cooking classes right in your very own home.
Teach your children lifelong skills that will improve their health and well being and connect with your children in a truly meaningful way. 
Best Cookbook for Kid Bakers
If your child loves The Totally Awesome Ultimate Kids' Cookbook, you really don't want to miss the companion book: The Ultimate Kids' Baking Book!
Your kid will learn how to bake 60 easy and fun dessert recipes for every holiday all year long:
The Original Kids' Cookbook
Tips for Cooking With Kids
More than just buying a cookbook for kids, I'm hoping to inspire your family to truly connect in the kitchen. You're making more than a meal, you'll be making memories and giving skills that will last a lifetime.
What Real Families Say:
Nothing matters more than to me than real family reviews. I LOVE getting photos of kids in the kitchen cooking from my book:
As Seen On:
The best cookbook for kids has been featured on these popular web sites: