The Ultimate Kids Cookbook: Fun One-Pot Meals Your Whole Family Will Love by Tiffany Dahle is now available! Filled with 75 delicious recipes for kids that will inspire young chefs to cook for their families, this book is a must-have for every home library.
NOW AVAILABLE:

Amazon | Barnes & Noble | IndieBound.org | Book Depository
Jump to:
What Reviewers Say:
"In an age when children are more scheduled and technology-obsessed than ever, Tiffany Dahle offers us an appealing invitation to reconnect with them in the kitchen. With enticing recipes, concise, step-by-step instructions and captivating photos, families will experience the joy of engaging through culinary creation. A must-have for every parent and child!"
- Melissa Bernstein, Co-founder and Chief Creative Officer, Melissa & Doug
"A must-have book for parents that wish to help their kids learn to cook with simple and fun real-food recipes."
- Laura Fuentes, Founder MOMables
"This cookbook is beautifully designed with easy instructions to get parents and kids involved in the kitchen with family friendly dishes that will taste even better because they helped make it!"
– Gina Homolka, author of The Skinnytaste Cookbook and Skinnytaste Fast and Slow
"One of my biggest challenges as a mom is getting food to the table. Tiffany's blog has been a huge help over the years. I am so excited about this cookbook because not only does it solve my food problems, but doubles as quality time spent with my kids. A total win-win."
- Holly Homer, KidsActivities.com, co-author of 101 Kids Activities that are the Bestest, Funnest Ever! & The 101 Coolest Simple Science Experiments
"With easy to follow directions for both kids and adults, Tiffany Dahle's new cookbook makes teaching kids to cook easier and more fun than ever before. This is the cookbook that any child with an interest in cooking is going to love."
- Mary Younkin, Author of The Weeknight Dinner Cookbook and The Weekday Lunches and Breakfasts Cookbook from Barefeet In the Kitchen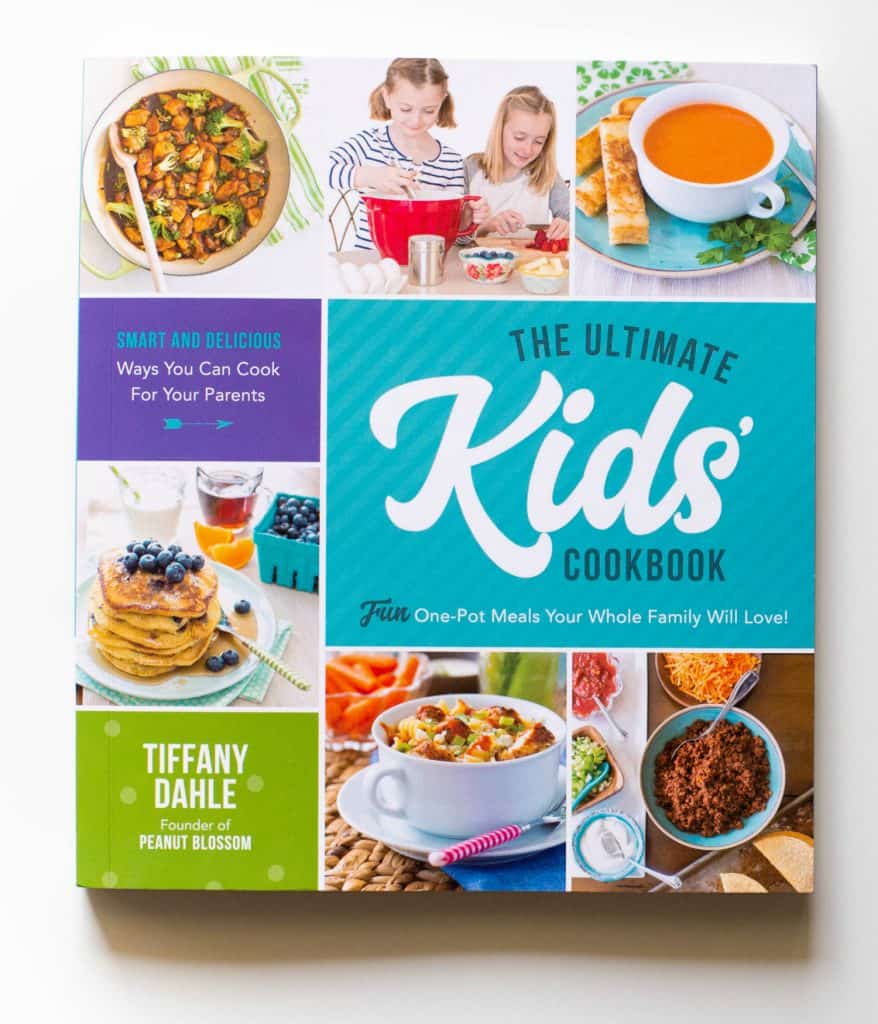 What The Cookbook Is About:
Imagine a world without meltdowns around mealtime, where kids actually get excited to eat their vegetables and try new foods because they made it. This cookbook turns mealtime into a fun family activity with kids at the center of the action chopping veggies, stirring the pot or adding ingredients. The recipes are made in one pot for less mess, less cleanup and less work, but big flavor. Get a nutritious home-cooked meal on the table that your kids will be thrilled to eat because they had a hand in creating it. No more arguments with picky eaters!
Kids ages 6 and up can grow into the recipes, with some parent involvement for tasks like cutting meat and handling boiling water, then gradually doing more and more parts on their own as they get older and build their skills. The recipes are built on familiar foods with interesting flavor twists and ideas for variations, which helps families avoid getting stuck in a rut making the same foods all the time. Example recipes include Cheesy Egg Breakfast Casserole, Pumpkin Spice Waffles, Pork Picadillo Burrito Bowls, Crustless Chicken Pot Pie and Potsticker Stir Fry. This cookbook will become a beloved treasure throughout the years, inspiring families to bond together in the kitchen.
When you order your own copy of The Ultimate Kids' Cookbook you will have everything you need to host the BEST DIY kids cooking classes right in your very own home. Teach your children lifelong skills that will improve their health and well being and connect with your children in a truly meaningful way.
Get Your Copy:
Tips for Cooking With Kids:
More than just buying a cookbook for kids, I'm hoping to inspire your family to truly connect in the kitchen. You're making more than a meal, you'll be making memories and giving skills that will last a lifetime.
What Real Families Say:
Nothing matters more than to me than real family reviews. I LOVE getting photos of kids in the kitchen cooking from my book:
As Seen On:
The best cookbook for kids has been featured on these popular web sites: