Easy Cuban sliders are a delicious way to use up cooked pork and deli ham. This party sized recipe makes a tasty pan of slider appetizers but could be scaled down for a yummy family dinner as seen in The Totally Awesome Ultimate Kids' Cookbook.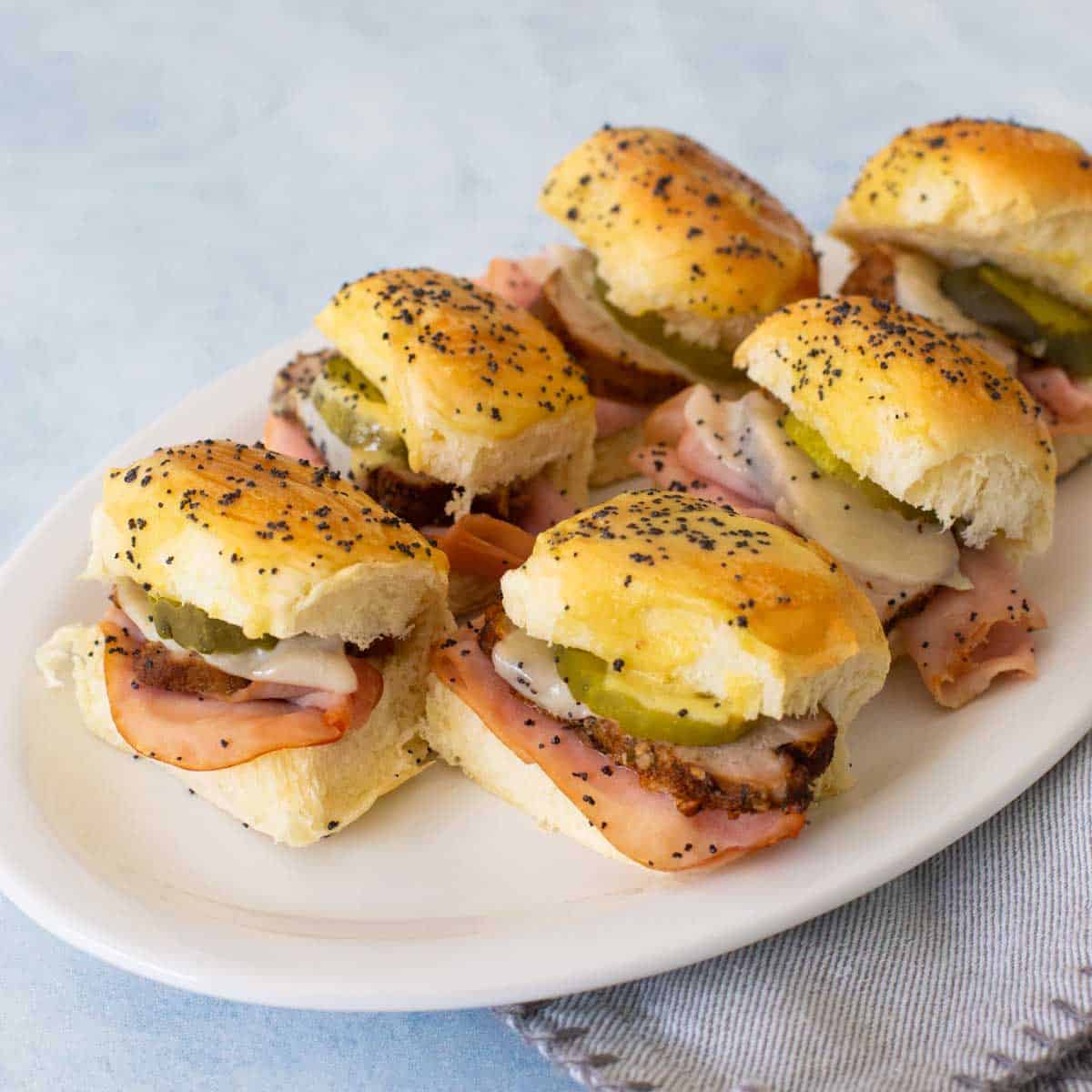 Pop quiz: Your kid announces they want to cook something for you, which would you rather eat??
A) A sandwich that looks like a turtle
B) An ooey-gooey Cuban slider made with savory pork, sweet deli ham, and melted cheese with a rich mustard sauce and poppy seeds
In my house, the choice is simple.
I believe it is one of my most important jobs as a parent to teach my kids to cook real food for real family meals. Things everyone at the table is going to be excited to eat.
So as I was choosing the recipes to include in the update to my best selling cookbook for kids, The Totally Awesome Ultimate Kids' Cookbook, these Cuban sliders were top of the list.
Today I'm sharing this sample recipe that has been doubled in size for a party but you can get the family-sized version for your kids to make for you right in the kids' cookbook.
Jump to:
Why This is the Best Recipe
My kids love to make easy dinners for the family but this is the best Cuban slider recipe because:
Uses Leftover Pork: The recipe is very easy because it uses pre-cooked pork and deli ham.
Bite Sized: Who doesn't love a tiny slider sandwich? My kids get so excited to make these with sweet Hawaiian rolls.
Totally Delicious: The kids get to decide--pickle or no pickle? Swiss or Provolone? More mustard or less? When they are in control, they can make these as delicious as they want!
Quick To Bake: Just 12 minutes in the oven and you're ready to eat. Perfect for hungry kiddos who are low on patience. Ha!
As Seen in the Best Cookbook for Kids
We love this recipe so much, it was one of the first recipes we added to the all new edition of The Totally Awesome Ultimate Kids' Cookbook.
95 of my very best, most popular family-friendly recipes have been carefully re-written so that they are easy for kids to make on their own.
Whether you want to cook with your kids or hand over the reins to your little chef completely, this updated version of my best selling cookbook for kids now features FULL PAGE photos for each and every recipe and an all-new streamlined recipe format that makes cooking real family meals even easier.
I'm confident you and your kids will LOVE this stunning new version of the cookbook and I wanted to share this sample recipe with you so you could give it a whirl before your copy arrives!
Ingredients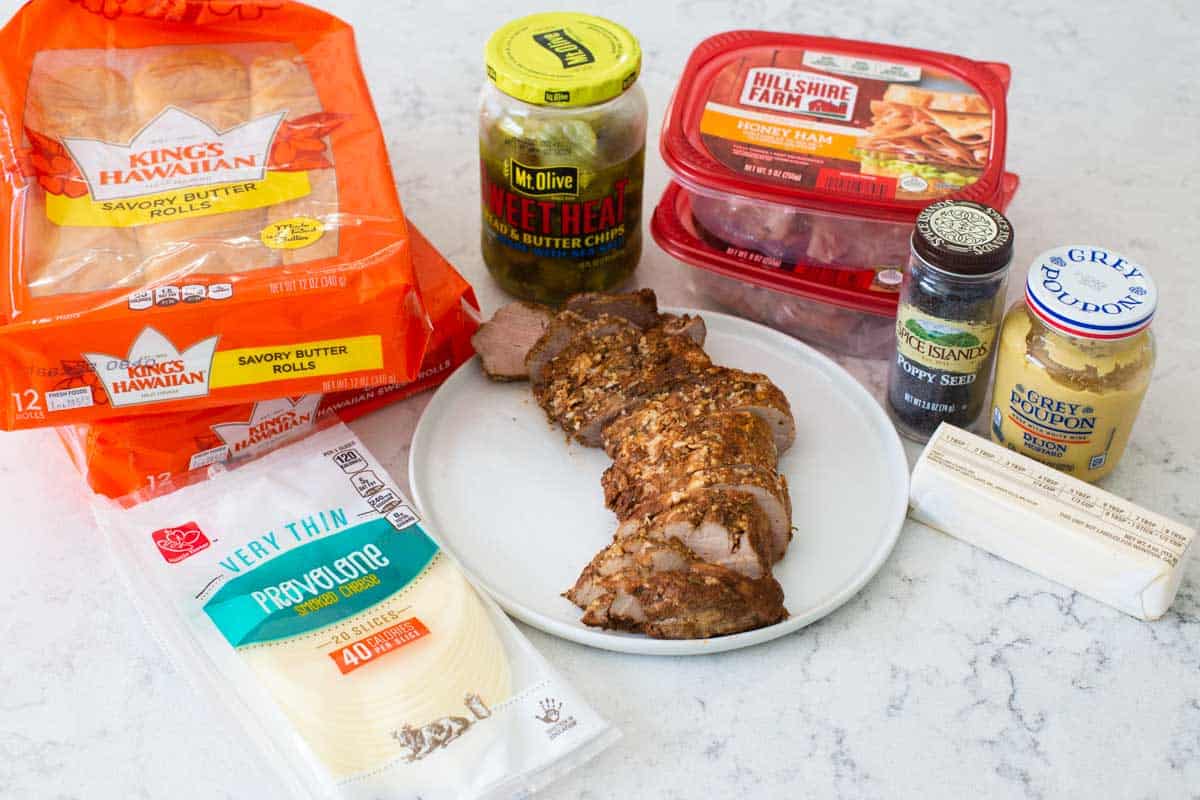 This delicious sliders recipe is surprisingly easy to make because it uses a few very simple ingredients:
Leftover Pork: You can use either leftover cooked Smithfield pork tenderloins or leftover pulled pork. No leftovers? You can actually buy cooked shredded pork in the refrigerated section of your grocery store.
Deli Ham: Thin slices of honey ham are my favorite, but any deli ham will do.
Hawaiian Sweet Rolls: These make the best slider sandwiches because they are the perfect size and add just a little sweetness to each bite. You can use any kind of small slider bun you prefer.
Sliced Cheese: Swiss cheese is a classic for a Cuban sandwich but we love to use sliced provolone sometimes because it melts so wonderfully.
Pickle Chips: These are an essential Cuban sandwich ingredient, but when you're cooking for yourself it is totally ok to leave them out if you're not a fan of pickles.
Dijon Mustard
Salted Butter
Poppy Seeds
Assemble the Sliders
Set out a large baking pan and line it with aluminum foil.
Slice each Hawaiian bun in half to form a "burger bun" and arrange them in 4 rows of 6 sandwiches.
Place 1 slice of ham on each bun, you may have to fold it to make it fit. Top each ham slice with a slice of pork tenderloin or pulled pork.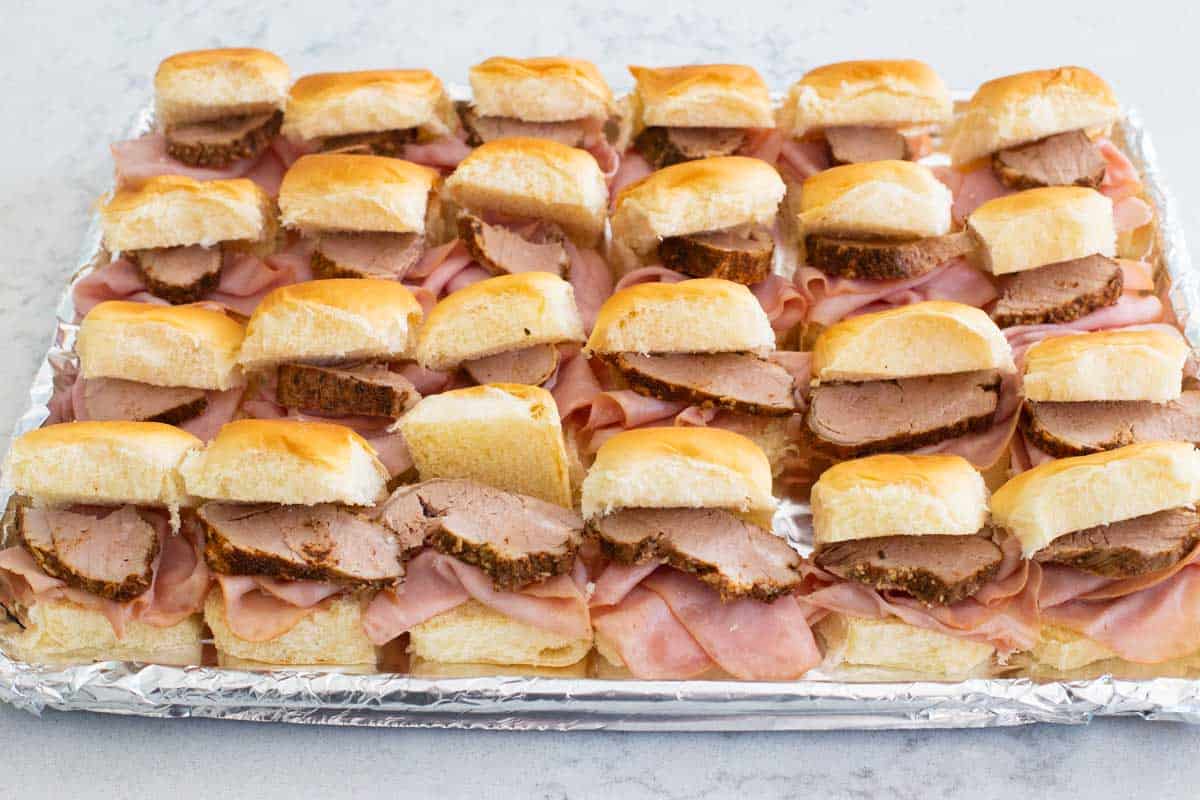 On tiny slider sandwiches, we like the perfect amount of cheese. I've learned that if you break a single cheese slice into quarters, it is just the right quantity for those tiny buns.
Add the sliced cheese on top of the pork and then follow up with one or two pickle chips like this: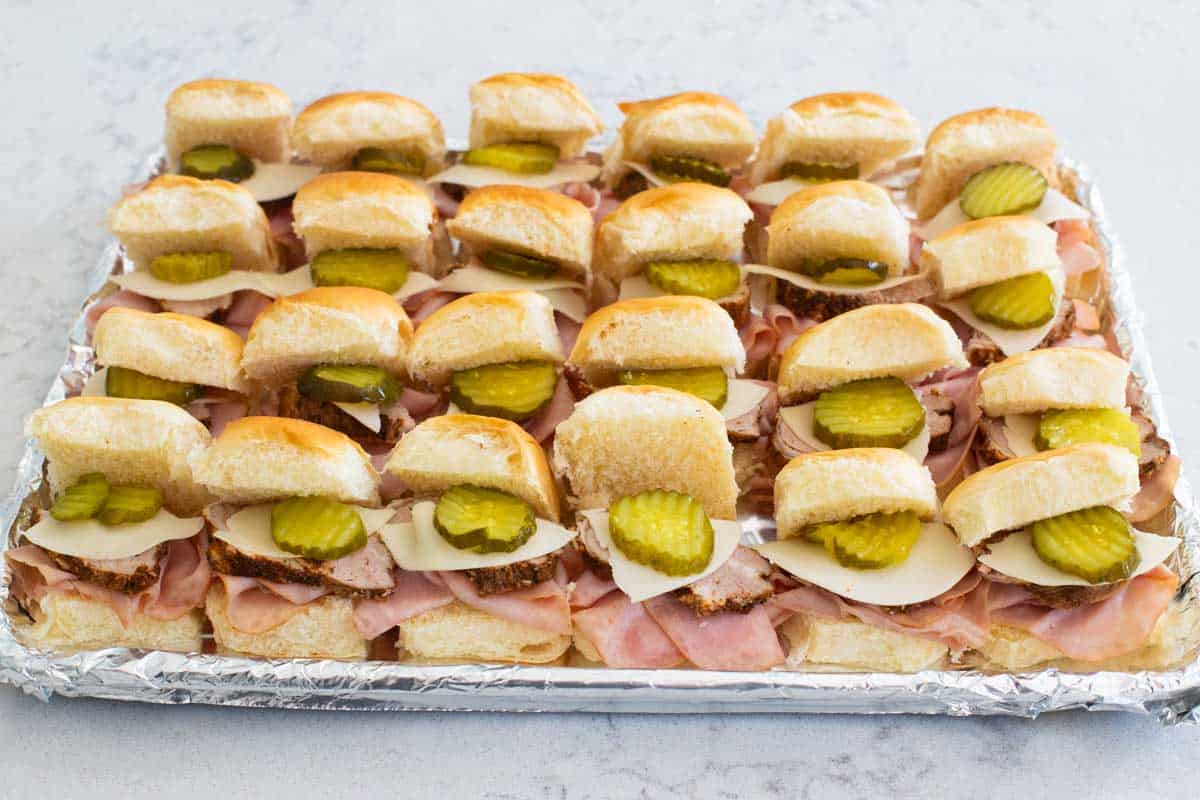 Prep the Mustard Sauce
The delicious savory mustard sauce is so easy to make.
Simply melt the butter in the microwave and stir in the Dijon mustard.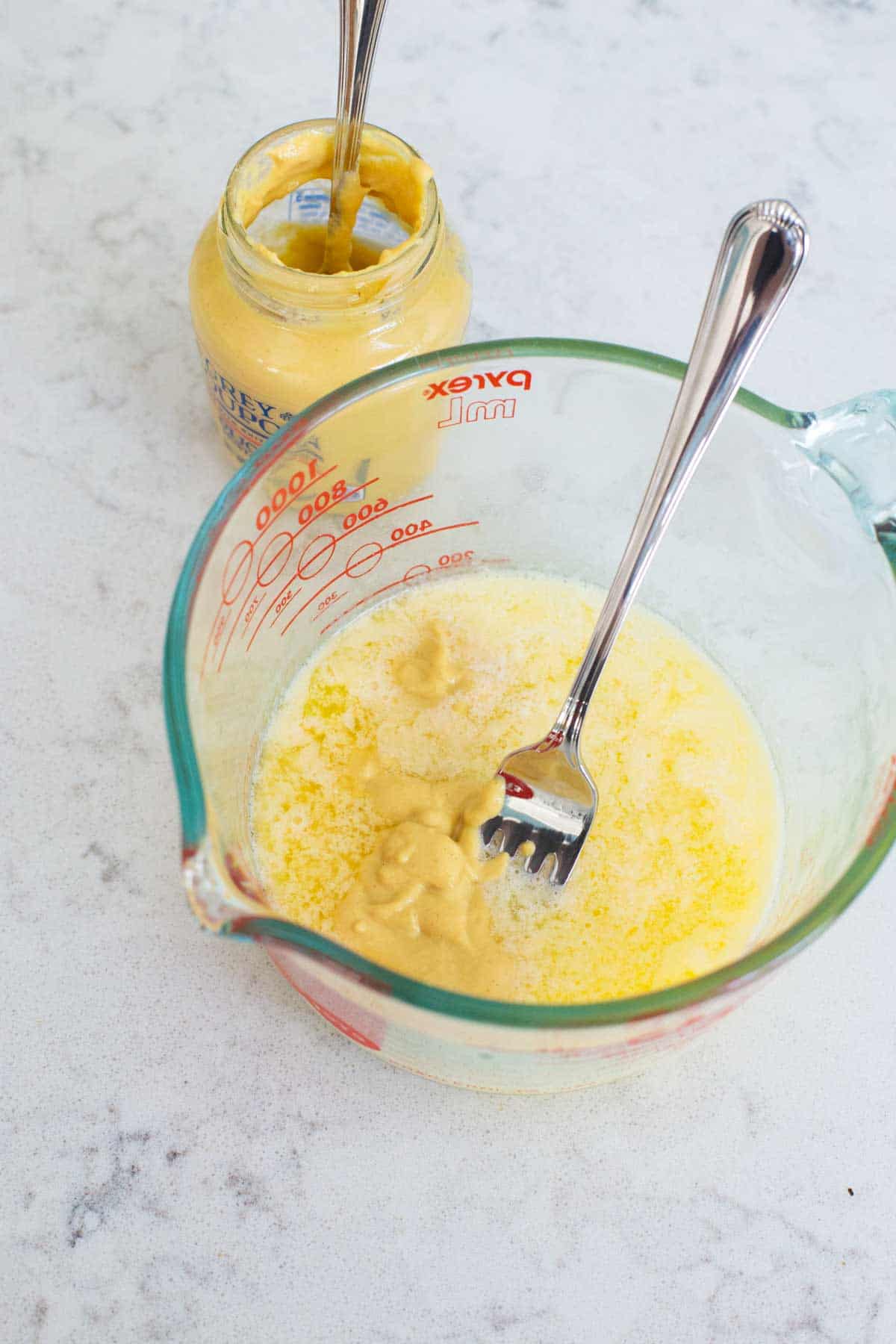 Brush the Tops and Bake
Preheat the oven to 350°F.
Use a pastry brush to "paint" the tops of the slider sandwiches with the prepared mustard sauce.
Sprinkle poppy seeds over the top.
Loosely cover the pan with aluminum foil and bake for 10 minutes.
Remove the foil and bake for 2 more minutes so the tops get crispy brown.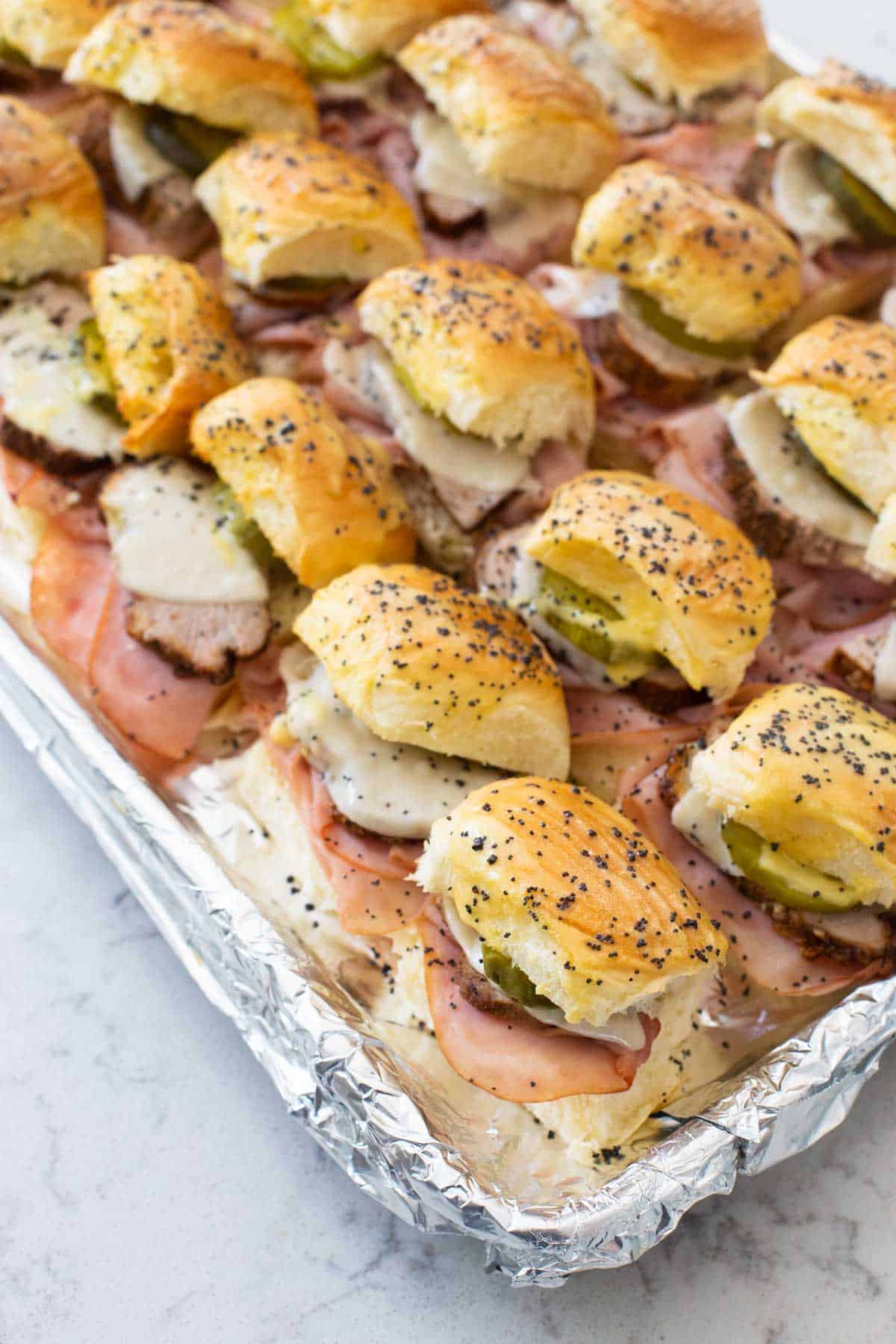 Variations
Once you know how to make sliders, there are so many delicious ways you can play with this recipe.
Serving Suggestions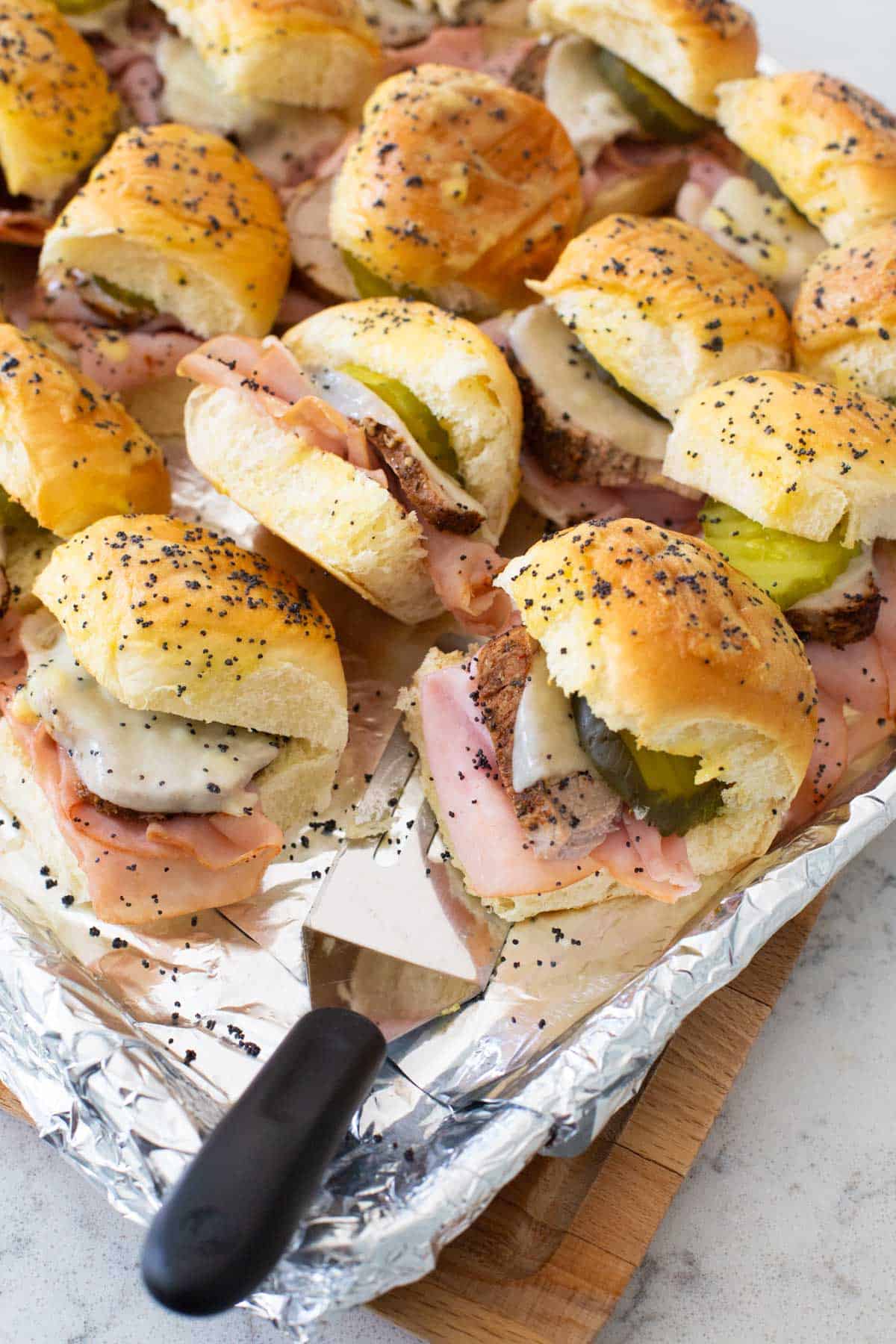 We love to serve Cuban sliders as a party appetizer, hearty weekend lunch, or tasty family dinner.
If you're making a full meal out of them, you could serve them alongside:
Potato Chips: Salt & Vinegar would be my choice, but your favorite flavor works great. Sweet potato chips would be amazing.
Baked French Fries
Baked Sweet Potato Fries
Roasted Mini Potatoes
Fresh Fruit with Creamy Piña Colada Fruit Dip
More Slider Recipes
Love little bite sized sandwiches? You won't want to miss these other easy slider recipes:
📖 Recipe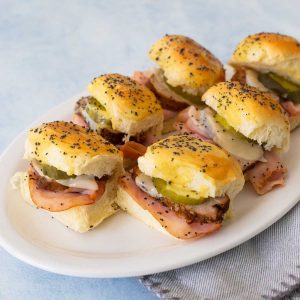 Cuban Sliders
Use up leftover pork to make these easy Cuban pork slider sandwiches with ooey gooey cheese and a crispy pickle. They make a delicious family dinner or easy appetizer for friends. This is the party size version of the smaller kid-friendly recipe featured in The Totally Awesome Ultimate Kids' Cookbook.
Ingredients
8

tablespoon

(1 stick) salted butter

¼

cup

Dijon mustard

24

Hawaiian sweet rolls

24

thin slices deli ham

24

thin slices cooked pork tenderloin or 2 cups shredded pork

6

slices of Swiss cheese

24

dill pickle chips

Sprinkle of poppy seeds

optional
Instructions
Preheat the oven to 350°F. Line a large baking sheet with aluminum foil.

Place the butter in a microwave-safe bowl, and heat it for 30 seconds or until melted.

Measure and add the Dijon mustard to the butter, and stir to combine.

Slice each slider bun in half like mini hamburger buns, and line them up on the prepared baking sheet.

Place 1 slice of ham on each bottom bun, folding the ham up to make it fit the bun if you need. Then add 1 slice of pork tenderloin or 1 to 2 tablespoons of shredded pork on top of the ham.

Working with 1 slice of cheese at a time, break each slice into flour quarters by folding it in half and then folding the halves in half again. Place one quarter of cheese on top of each piece of pork, and then repeat breaking up and placing the remaining cheese slices.

Add 1 pickle to each bun, and then close the buns with the tops to form sandwiches.

Use a pastry brush to paint the tops of the sandwiches with the melted butter mixture. Then sprinkle the poppy seeds over the top if you want to use them.

Cover the pan loosely with aluminum foil, and bake for 10 minutes. Remove the foil, and bake for 2 minutes more or until the cheese has melted and the tops of the buns are slightly toasted.
HELPFUL TOOLS
Save This Recipe to Your Recipe Box
Find this delicious recipe next time you visit by saving it to your very own recipe box on my site. All your favorites stored in one easy place!