Hawaiian roll ham and cheese sliders are the perfect party food: Bake a big tray of them and feed a crowd in just minutes.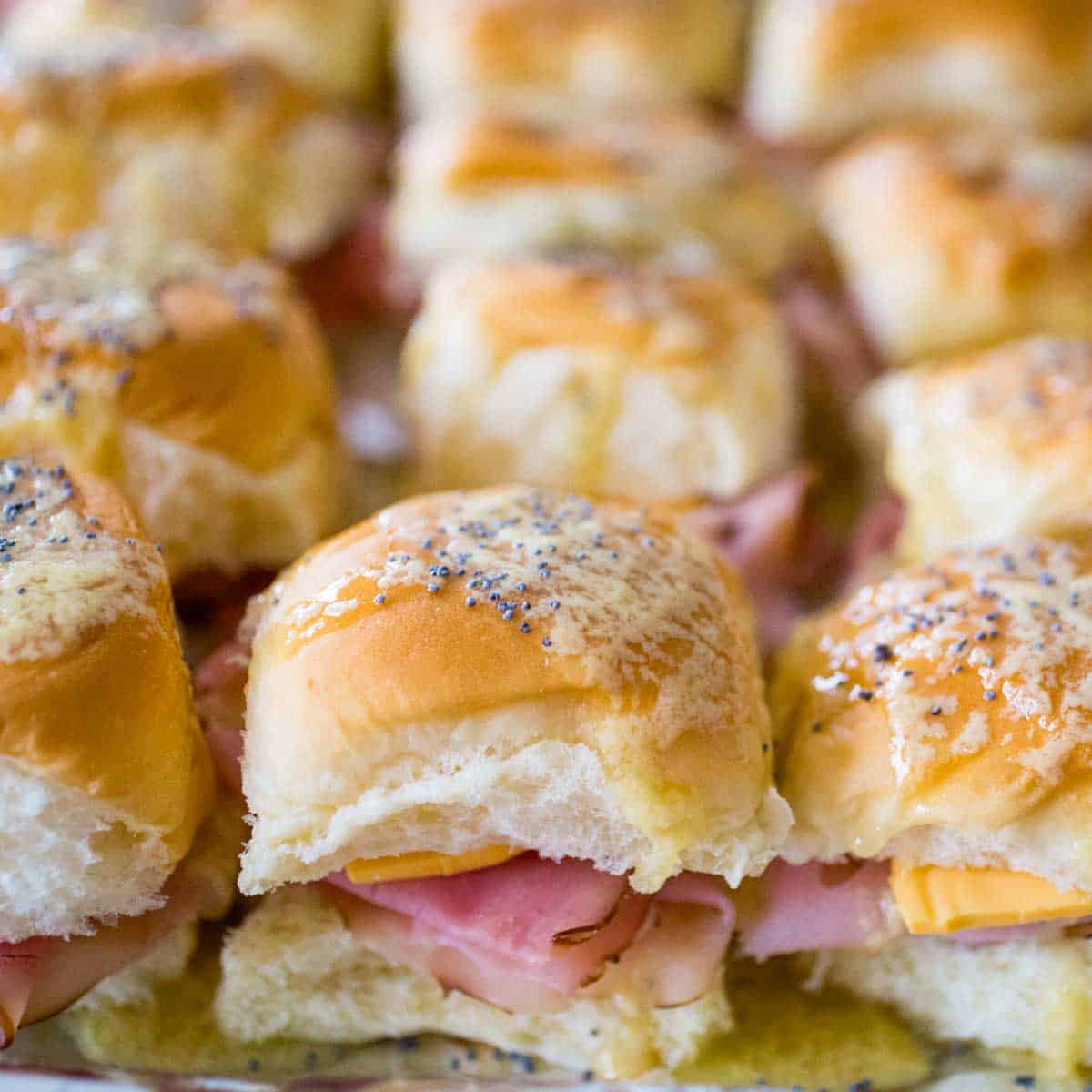 When I was little, my mom had a recipe she used at Christmas time and big graduation parties for these tiny ham and cheese sliders that were individually wrapped in tin foil and baked. They were insanely delicious but also insanely annoying to have to prep. Despite our love of them, we abandoned making the recipe for anything other than enormous crowds.
Then a few years ago, I discovered this oh-so-much easier method of preparing a very similar recipe! Instead of individually wrapping them, the ham and cheese sliders are prepared on one large baking sheet, slathered in a mouthwatering butter & mustard mixture, and then baked all together at once. This has become an absolute staple during the holiday season and for football parties. I thought you might appreciate it for the big game later this week!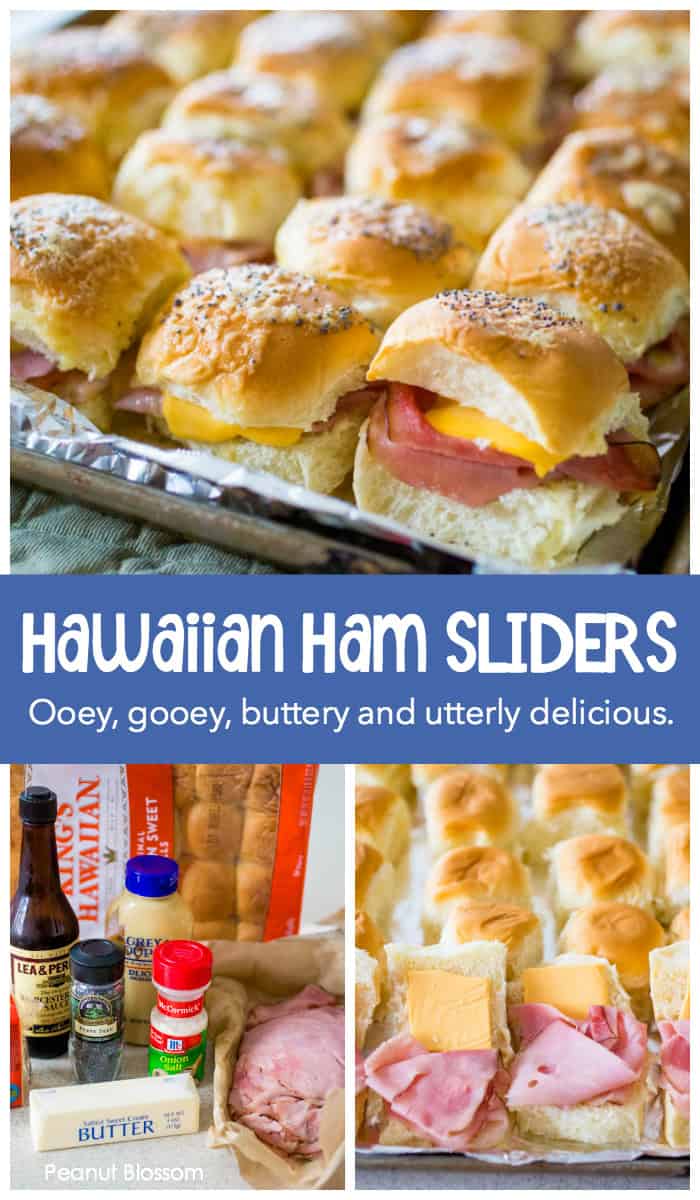 When to Make Them
My mom used to use plain white dinner rolls from a local bakery but I switched it up by using store-bought Hawaiian rolls. I love how easy they are to find no matter where we move. They come in packages of 12 or 24 which are perfect for making a bulk tray of sliders. I like to grab the 2-pack at Costco when I know I'll need a big batch of the sliders but it is an easy enough recipe to scale.
I add a single thin slice of deli honey ham, and pre-wrapped cheese slices broken into 4 smaller squares. I like my ratio of ham to cheese to bun to not fall on the overly meaty side of things and I don't like it when there's so much cheese it overpowers the slider. Using just a ¼ of the cheese slice and a single ruffled slice of ham keeps the ratio just perfect.
Handyman Tim can easily polish off a sizable portion of these gooey sliders all by himself. When I made it for the playoff games the other weekend, the kids had to fight to get a few for themselves! The whole platter disappeared in a blink.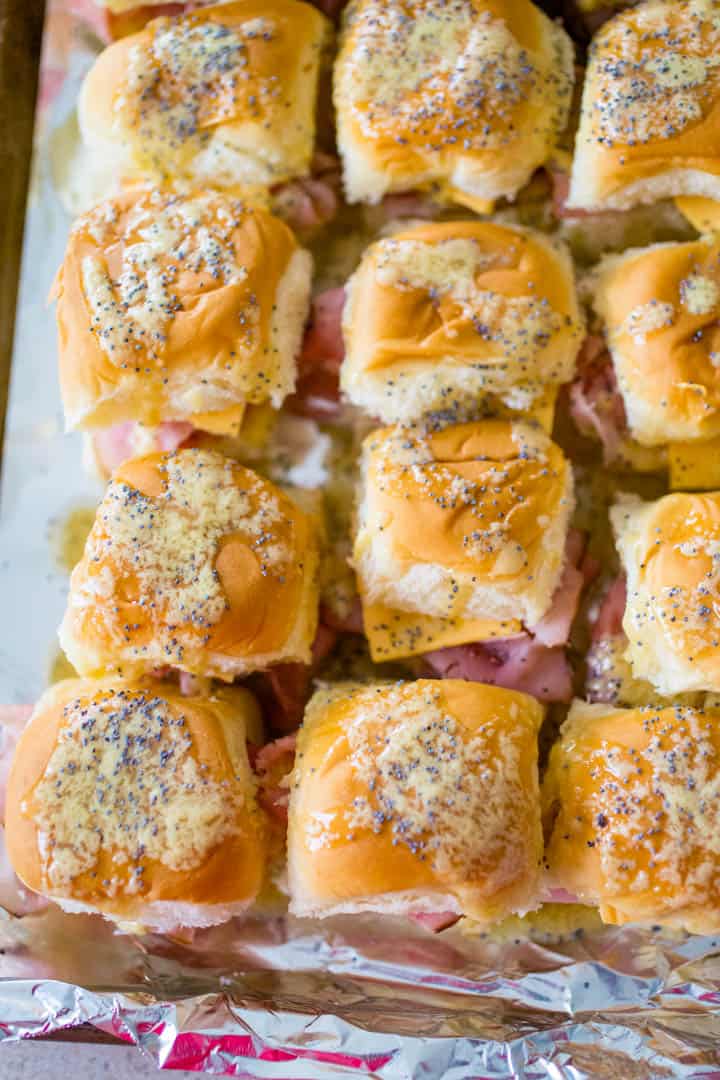 Brush the Tops
This part of the recipe is a big variation from my mom's old version. I use a pastry brush to paint the sliders with a melted butter-mustard mixture that looks like it's going to be an ooey-gooey mess when you prepare it. The butter has mustard, garlic salt, and a bit of dried onion and it is a drippy mess to pour over the buns but I swear it does absorb into the bun quite a bit as they bake.
They are still sticky to eat with your fingers, but totally worth it. Just keep lots of napkins ready for your guests. I've never had a single person complain.
More Party Recipes
These Hawaiian roll ham and cheese sliders are the perfect party food because they take just a few minutes to make and feed such a large crowd. Don't miss these other great party recipes that are just as easy!
📖 Recipe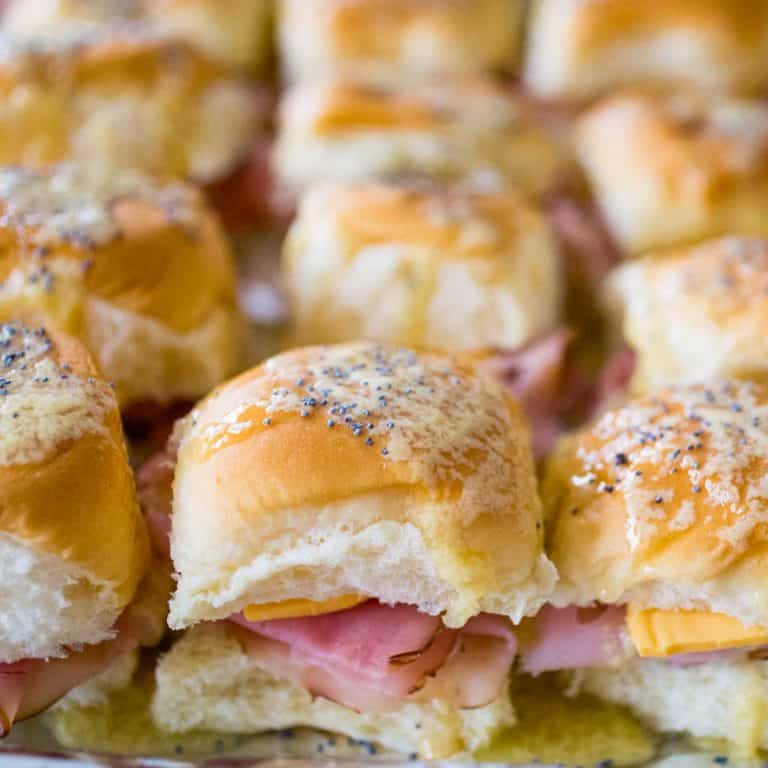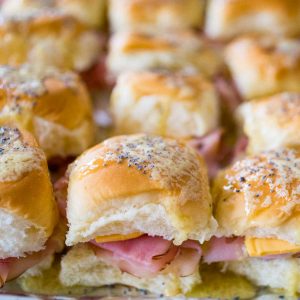 Gooey Ham and Cheese Sliders
These totally easy, utterly delicious, Hawaiian roll ham and cheese sliders are perfect for making for your next party. Make a big pan in minutes and watch them disappear.
Ingredients
24

Hawaiian rolls or small soft butter rolls

24

thin slices of deli ham

6

pre-wrapped slices of American or cheddar cheese

break each slice into 4 quarters
For the sauce:
1 ½

tablespoon

Dijon mustard

8

tablespoon

(1 stick) butter

melted

1

tablespoon

onion salt

½

teaspoon

Worcestershire sauce

Poppy seeds for sprinkling
Instructions
Preheat the oven to 350°F.

Line a large baking sheet with tin foil. Line up the 24 buns in a single layer and open them.

Lay one slice of ham and a quarter of cheese inside each bun and close.

To make the sauce, combine all the ingredients except the poppy seeds in a small bowl and whisk to combine.

Pour the sauce over the top of the buns. You can use a pastry brush to even it out as needed.

Sprinkle the tops with the poppy seeds and then cover with a sheet of tin foil.

Bake 10 minutes, remove the foil and bake 2 minutes longer. Serve warm.
Save This Recipe to Your Recipe Box
Find this delicious recipe next time you visit by saving it to your very own recipe box on my site. All your favorites stored in one easy place!