Easy to assemble BBQ chicken sliders take just 10 minutes to prep and 10 minutes to bake. They're the perfect finger food for your next party or family fun night. The assembly line method described below will help you get them baked before the buns can ever go soggy.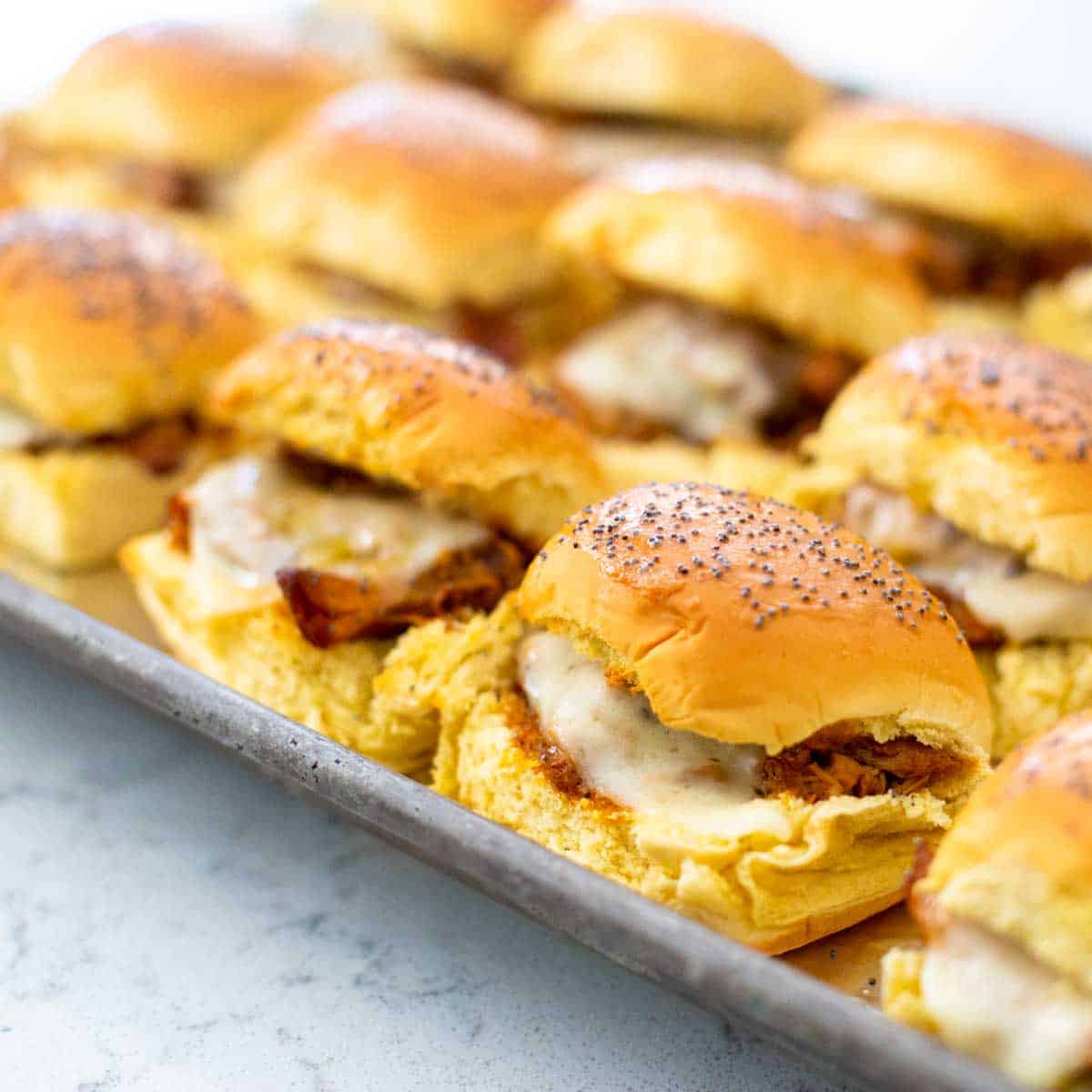 It's been a long standing joke in our family that my husband can make a tiny sandwich using just about any leftovers in the fridge. He is obsessed with dinner rolls.
When I make a pan of our classic gooey ham and cheese sliders during the holidays, every last one will disappear in a blink.
One lazy weekend while watching our beloved Badgers game at home, I decided to treat the family to a new variety of slider sandwich as a football snack.
It only took me 10 minutes to put these sliders together and another 10 minutes to bake them. I think they disappeared in even less time!
Jump to:
Ingredients
The ingredients for the baked BBQ chicken sliders is very easy: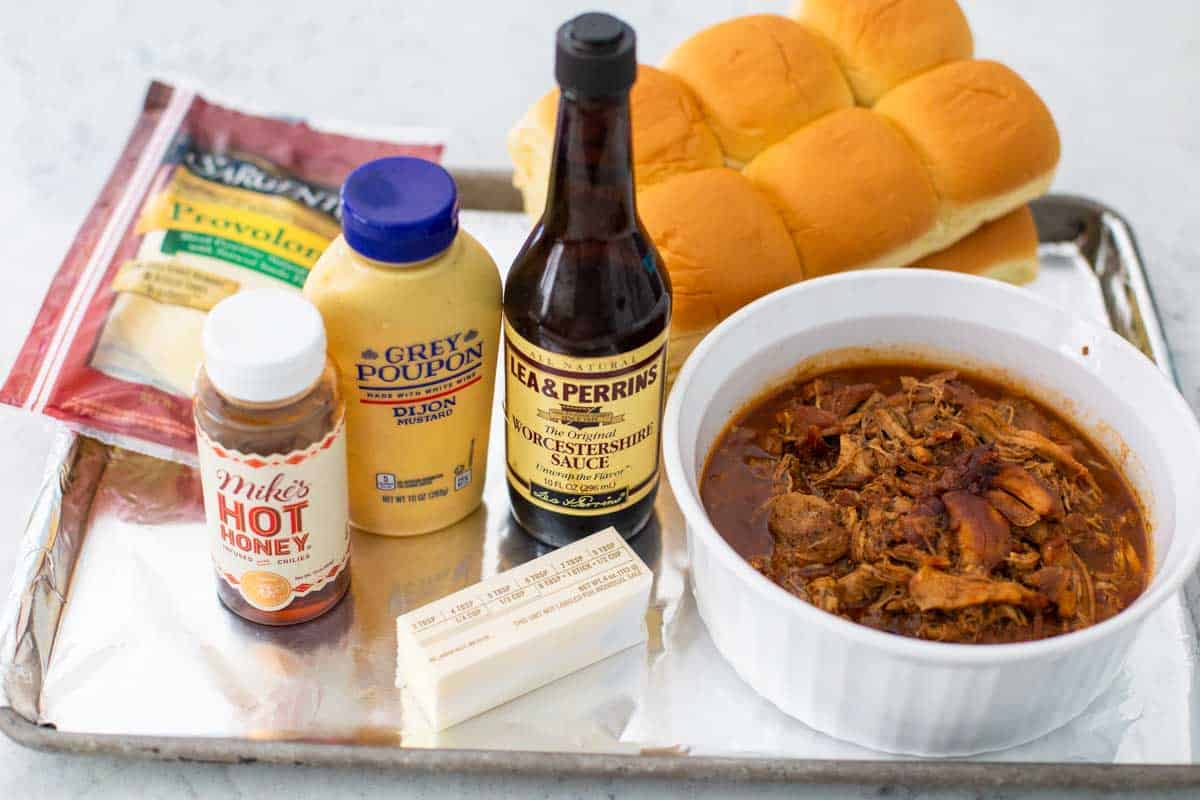 Prepared shredded BBQ chicken: You can buy tubs of BBQ chicken at the grocery store but my homemade BBQ Crockpot chicken recipe only took 5 minutes to prep. I put it in the slowcooker in the morning, and the chicken was ready to be turned into sliders by noon.
Slider buns: Usually I use Hawaiian dinner rolls for sliders. The store was out of them so we substituted potato dinner rolls instead. They ended up being an even better choice with the sweet BBQ sauce on our chicken. You can use whatever you like.
Butter
Worcestershire sauce
Dijon Mustard
Honey: You can use regular honey but I'm recently obsessed with Mike's Hot Honey. It added just a touch of heat to the butter sauce for the sliders and I highly recommend it. You can get a bottle here.
Slices of provolone cheese
Poppy Seeds *optional but recommended
See recipe card for quantities.
Instructions
The secret to perfectly crispy BBQ chicken sliders is to set up an assembly line. You want to put them together efficiently, pop them into the oven quickly, and serve them immediately.
If the mixture all sits too long, the sauce will soften the buns and you'll have a potential mess.
First, preheat the oven to 375°F.
Line a large baking pan with aluminum foil.
Slice the dinner buns in half most of the way, but not completely, through.
They should open on a hinge: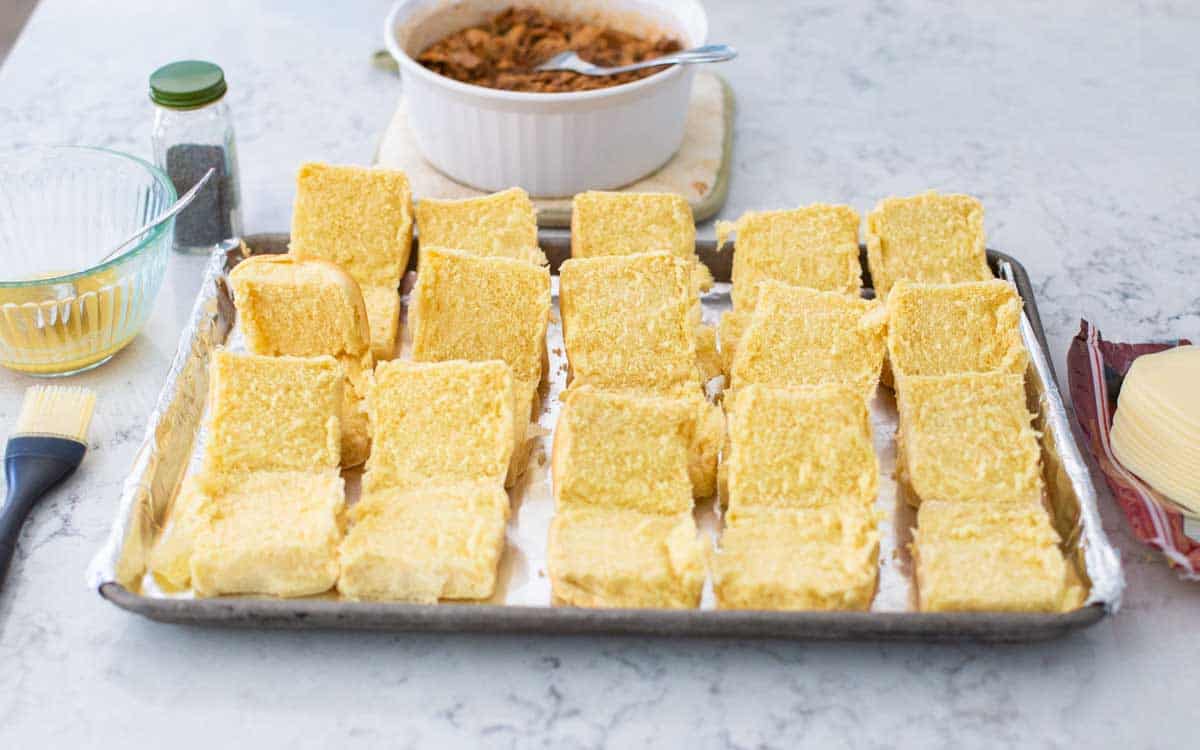 Line the buns up on your pan in neat rows.
Place the sliced provolone next to the pan.
Heat up the BBQ chicken and place it near the pan.
Then prepare the butter sauce for the topping: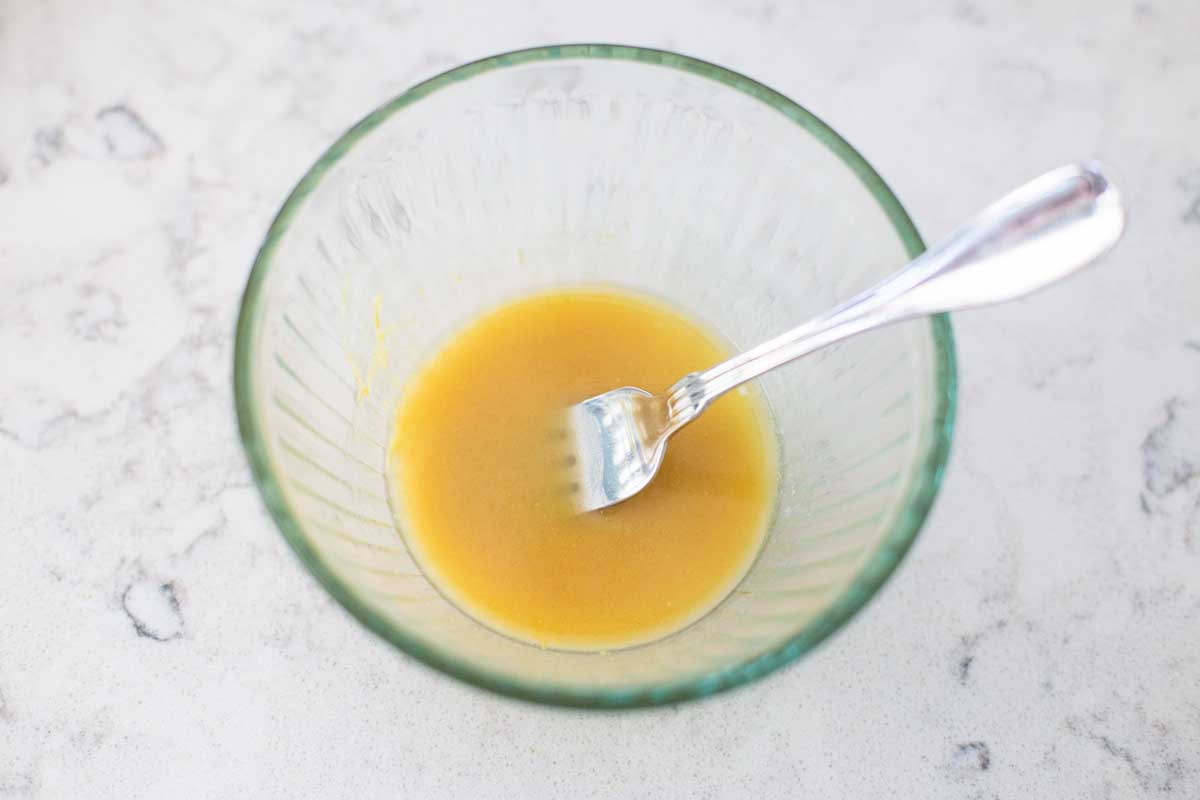 Mix together the melted butter, mustard, honey, and Worcestershire with a fork until the honey has been dissolved into the liquid. Set it near your assembly line.
Wait to assemble the sliders until your oven is ready to go.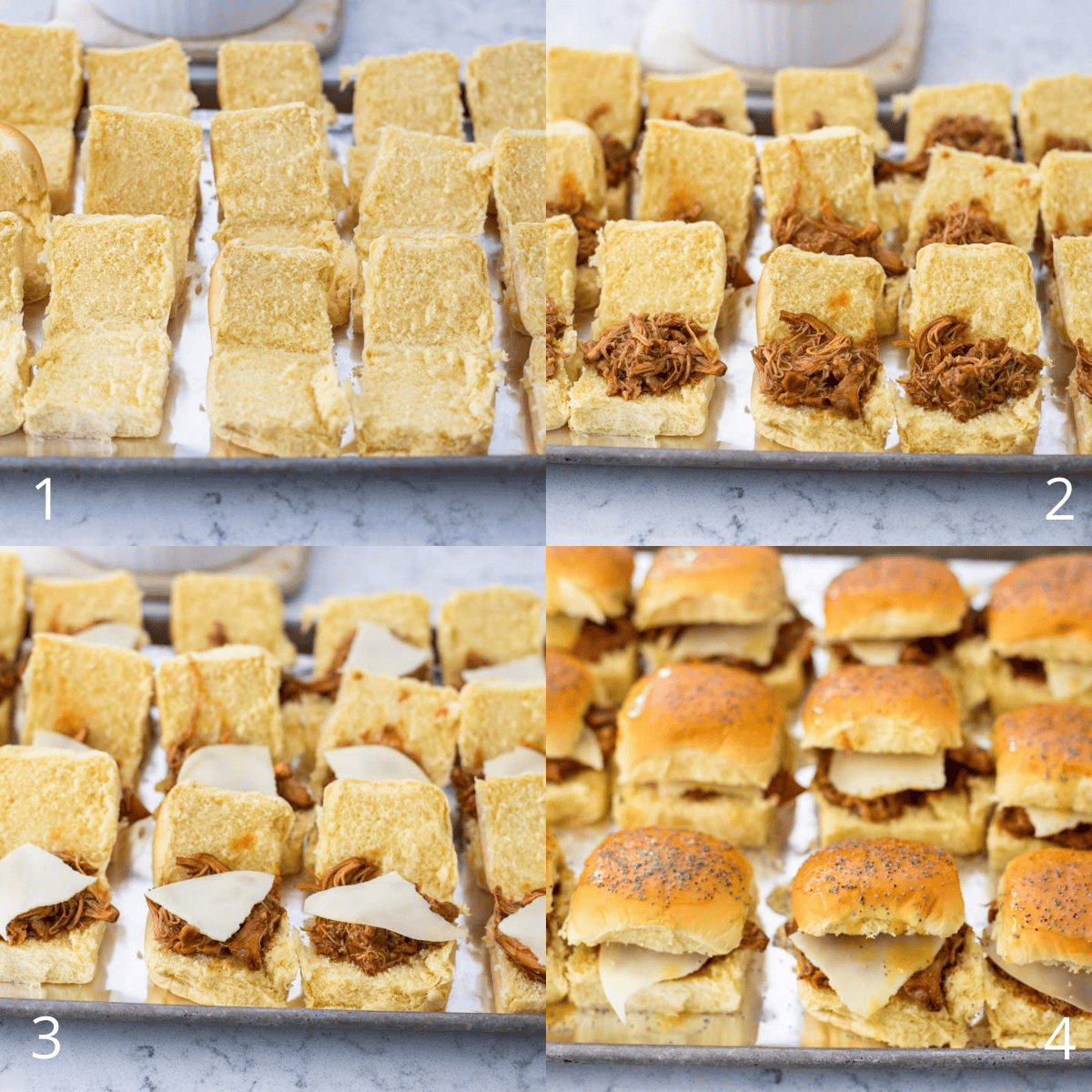 Top each open face bun with a spoonful of BBQ chicken, about 2 tablespoon or so.
Top each slider with ¼ of a piece of provolone cheese. It goes fastest if you fold the slice in half and tear, then fold each half again and tear.
Hint: We only use a smallish amount of cheese because we don't want it to overwhelm our sliders. If you're a huge cheese lover, go ahead and use more!
Close the buns and brush the tops with the prepared butter sauce. Sprinkle the poppy seeds over the top.
Cover the pan loosely with aluminum foil.
Bake for 6 minutes. Uncover the pan and bake for an additional 4 - 6 minutes or until the buns are toasted.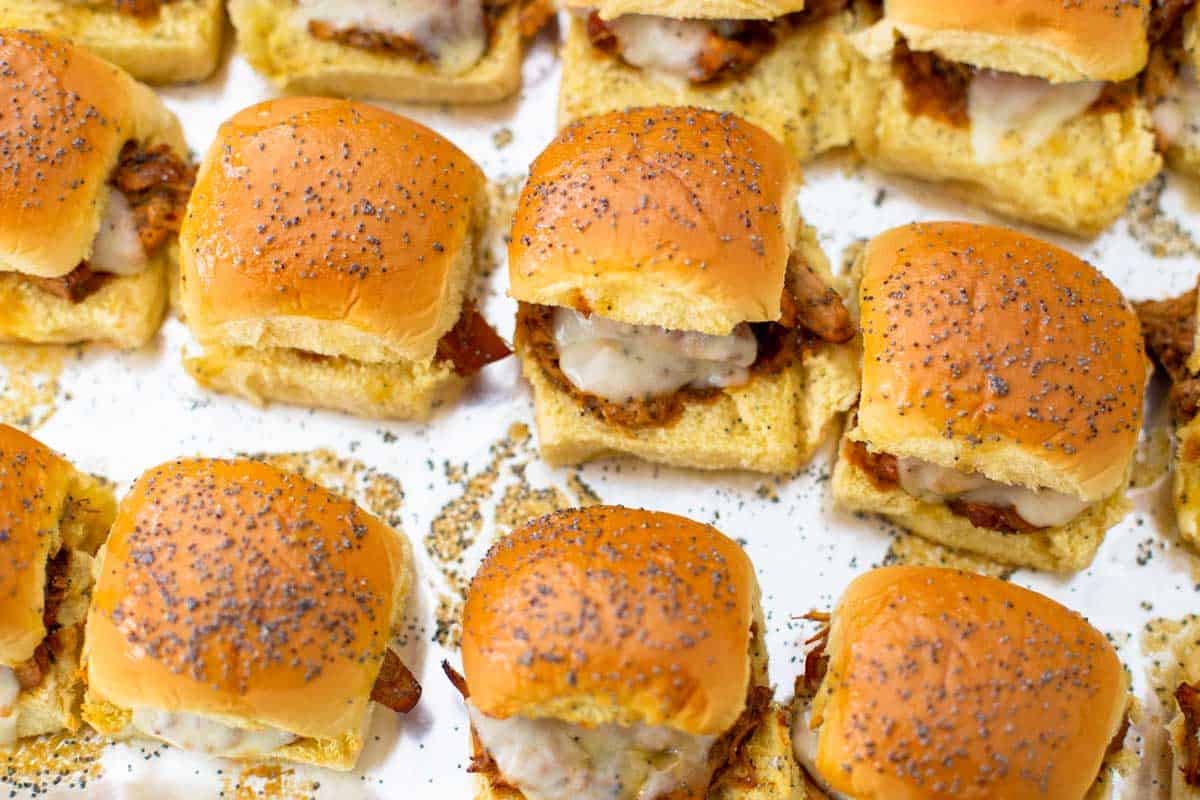 Variations
There are several ways to mix up these BBQ chicken sliders:
Spicy - change the original BBQ sauce you use to something with a big kick, use pepperjack cheese instead of provolone, and be sure to use the Mike's Hot Honey
Crunchy - serve the baked sliders with your favorite coleslaw or pickles
Epic BBQ & Mac - prepare a pan of my favorite baked mac and cheese and instruct your guests to add a spoonful of it right inside their sandwich
❄️Make Ahead Tips
These chicken sliders are definitely best served right after baking.
If you want to make them ahead, I recommend simply prepping all the ingredients and having them ready but storing them separately.
You could do these items in the morning before your party:
Slice the buns
Tear the cheese
Cook & shred the chicken
Then just prepare the butter sauce, heat the chicken, and assemble as directed before baking.
📖 Recipe