This chunky corn salsa is the perfect topping for fried chicken sandwiches for your next picnic. You can also scoop up all that sweet corn, spicy peppers, and fresh cilantro with warm tortilla chips.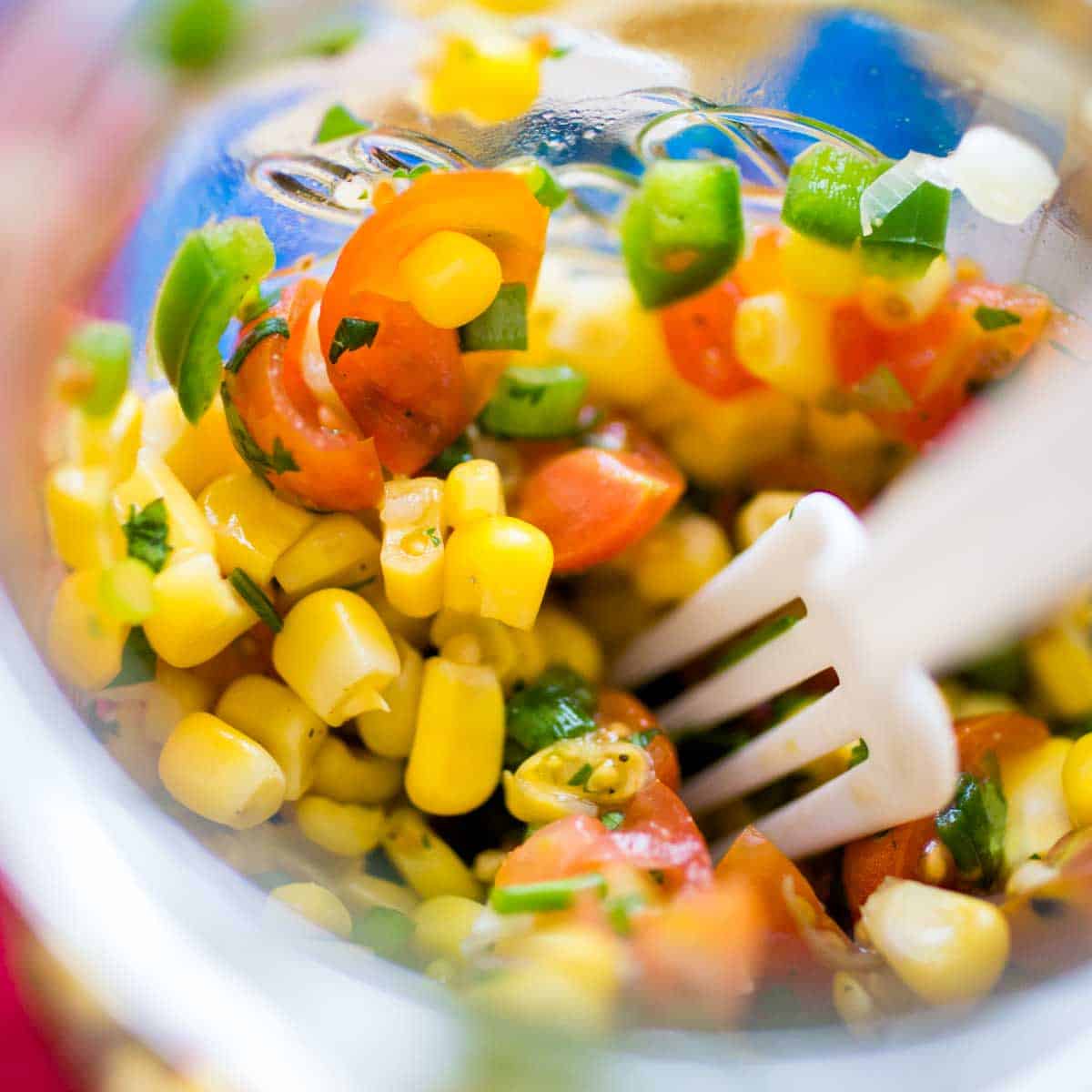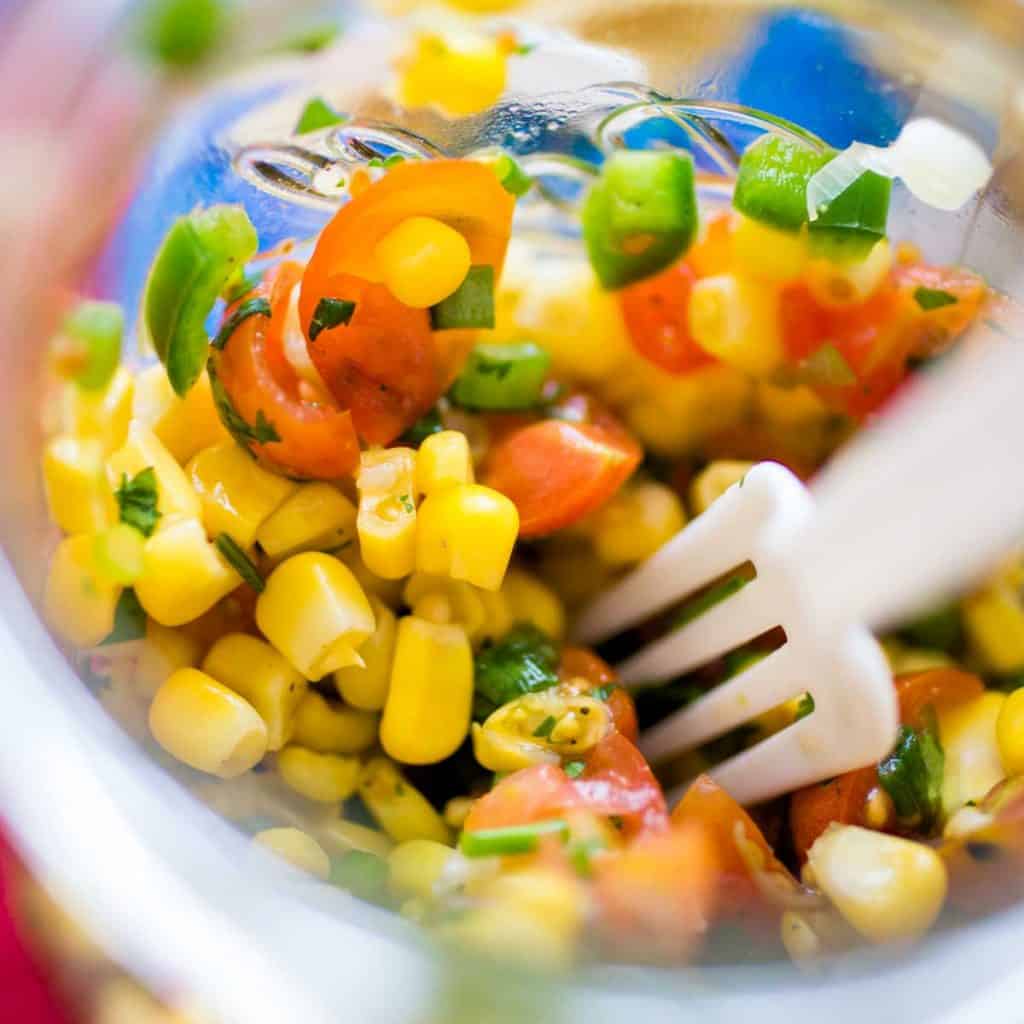 Warm weather is finally here! As a former midwestern girl, I LOVE how spring in Charlotte brings 70 degree days starting in March. As soon as we get the first run of mild days, my girls start to ask when we can head out on a picnic. It usually coincides with the Peanut's birthday date with me. One of our favorite things to do is to grab a picnic lunch and head to the Daniel Stowe Botanic Gardens.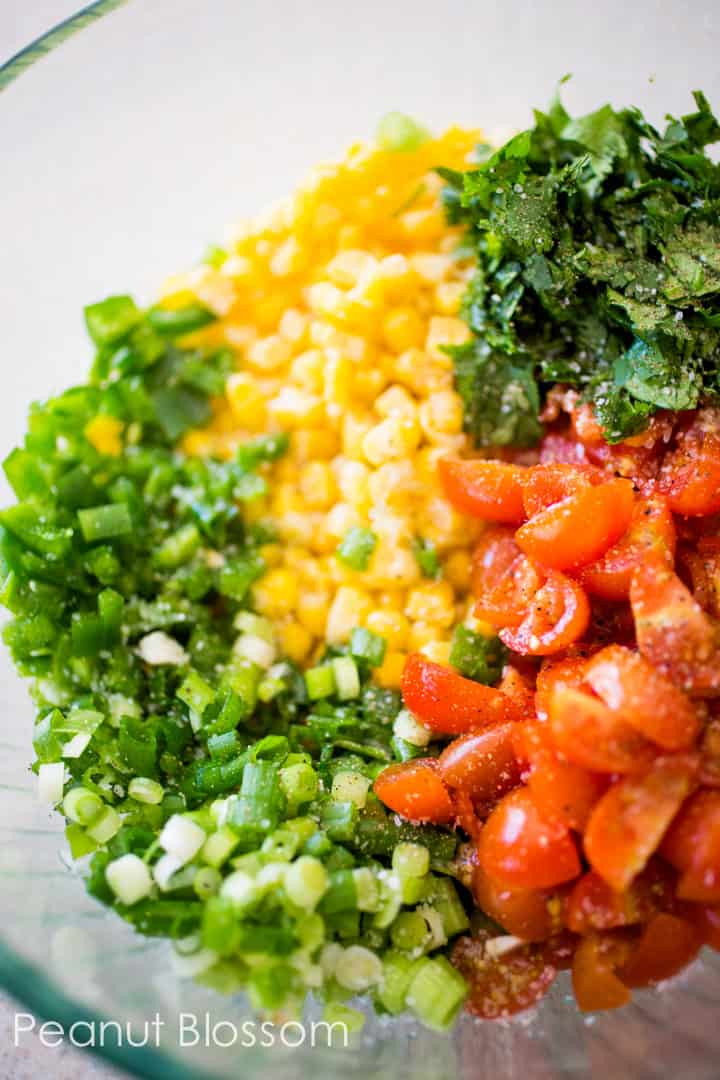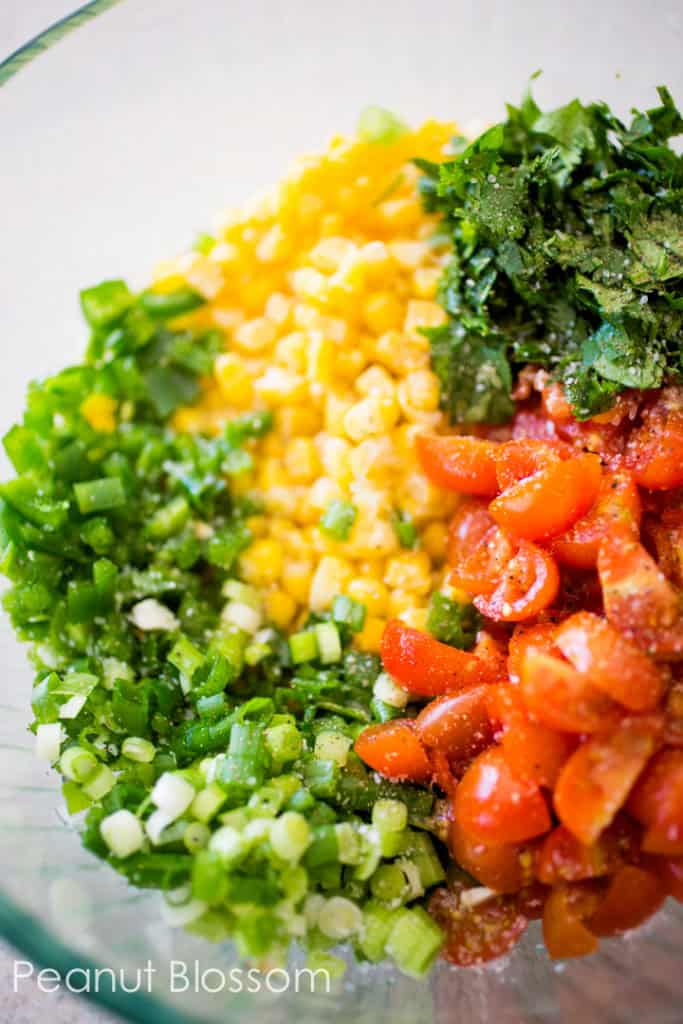 What I love about picnicking with the kids, is that they are impressed with the easiest of lunches. I rely on 95% store bought items and mix in just enough fresh food to make our picnic menu feel special.
This year, we decided to grab some chicken sandwiches for our picnic. To round out the menu, I packed:
the easiest batch of chunky corn salsa to serve with tortilla chips (recipe at the bottom!)
pre-cut watermelon from the grocery store
package of rice crispy treat bites
bottled pink lemonade
The chilled salsa is sweet and spicy and paired perfectly with the hot and crispy chicken. Be sure to scroll down to the bottom to get the simple salsa recipe!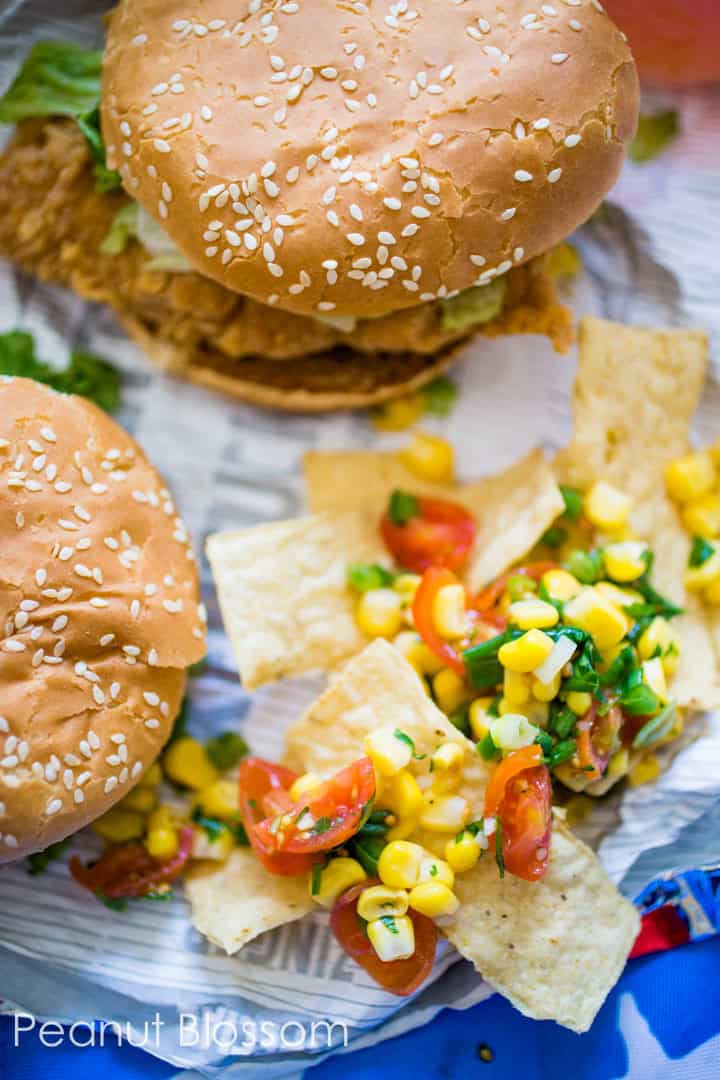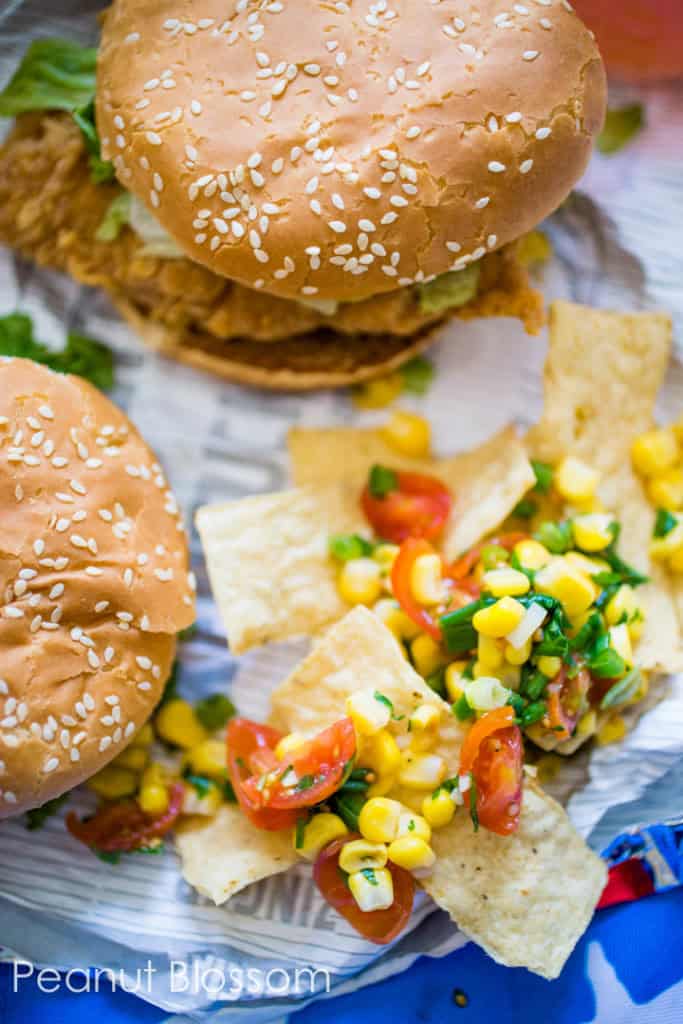 My kids devour watermelon by the pound all through the warm weather season. It makes the easiest fruit for a picnic! The rice crispy treats are shelf stable and you don't need to worry about them melting in the hot sun.
My favorite part of this lunch menu is that you can have all the side dishes prepped, packed, and ready to go the day before your picnic and then just grab the sanwiches on your way to the picnic spot. Then everything that should be cold is fresh and the sandwiches are nice and hot.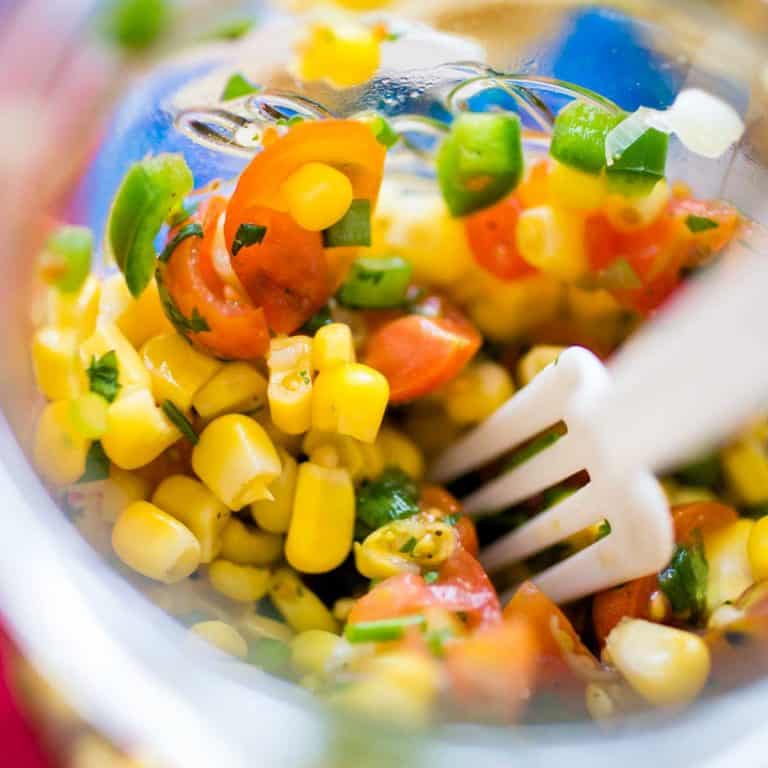 Chunky Corn Salsa
This fresh chunky corn salad is loaded with veggies and makes an excellent topping for fried chicken sandwiches or for dunking with tortilla chips.
Ingredients
1 small package of frozen corn, thawed and drained
1 punt cherry tomatoes, cut into quarters
½ bunch of green onions, chopped
1 jalapeño, seeds removed, minced
1 tsp minced garlic
Large handful fresh cilantro, chopped
Juice of one lime
Salt and pepper to taste
Instructions
Combine all the ingredients in a large bowl. Store in a mason jar in the fridge until ready to serve.
Goes great with salty tortilla chips or as a relish for your sandwich!