Easy homemade salsa made with canned tomatoes and fresh vegetables for flavor can be made ahead and frozen for later.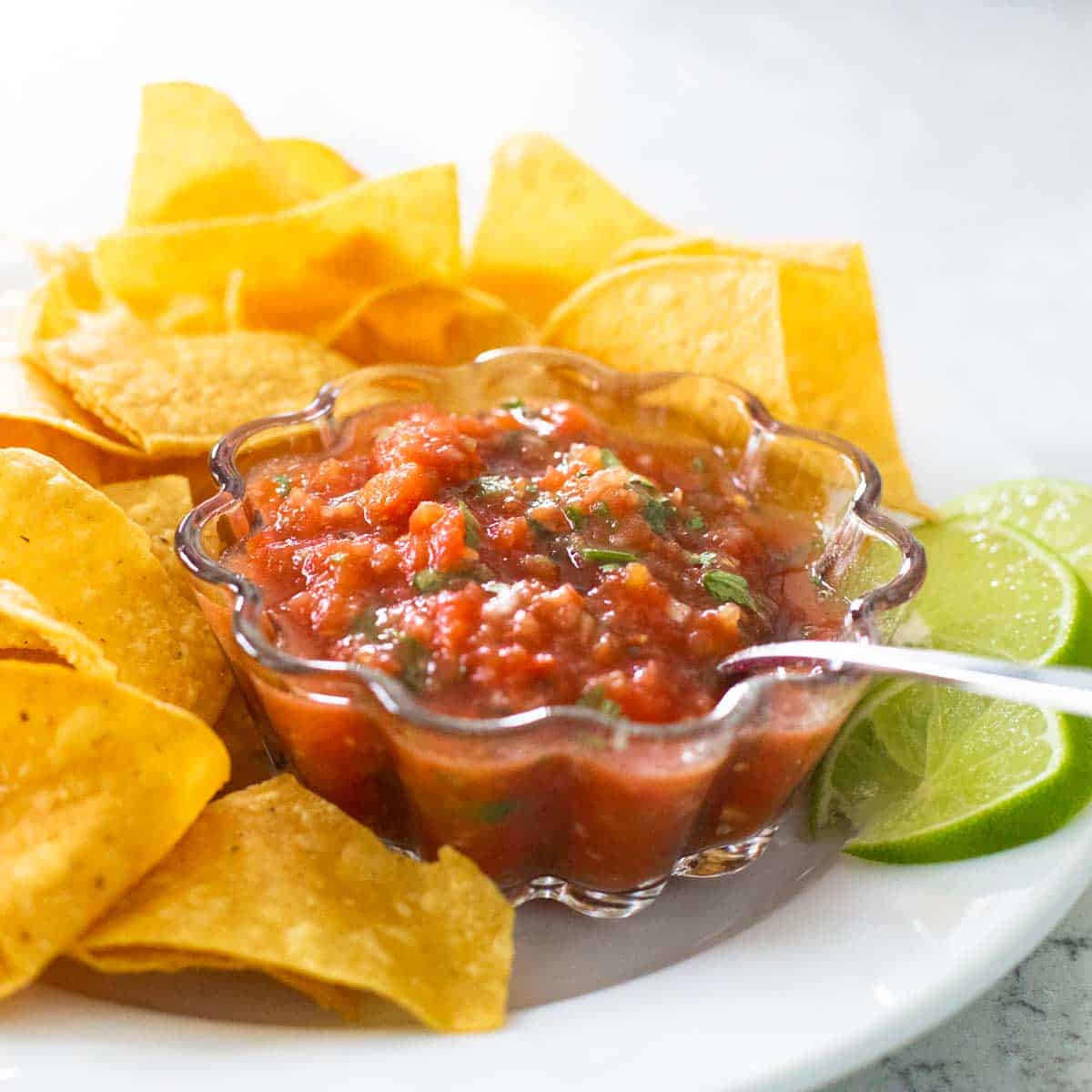 This easy homemade salsa recipe has been our family's go-to salsa recipe for over a decade. I've made it more times than I can count.
I used the mildly spicy tomato salsa as a way to introduce fresh tomatoes to my kids when they were very young. They just couldn't resist that siren call of a crispy tortilla chip dunked in this perfectly seasoned salsa.
If you keep a couple cans of whole tomatoes and diced tomatoes with chiles in your pantry, all that is standing between you and homemade salsa is grabbing an onion, a jalapeño pepper, a fresh lime, and some fresh cilantro at the market.
The recipe makes a big batch of salsa which is perfect when you're planning a big party or want leftovers to keep in your fridge for the week.
But you can also freeze the salsa, don't miss my instructions for storing it below!
Jump to:
Ingredients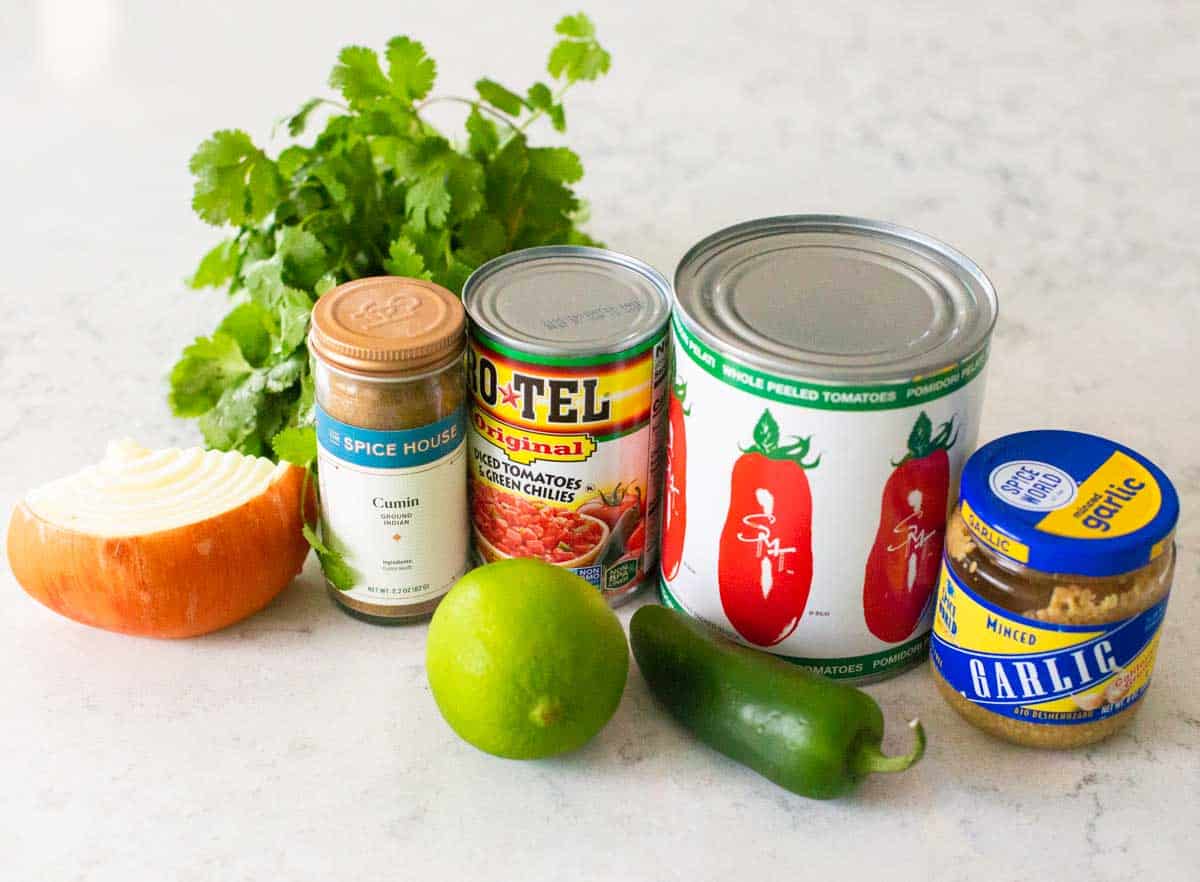 Canned tomatoes for convenience, fresh veggies for flavor and texture! The ingredients list for this easy salsa is simple:
Canned whole tomatoes
Canned diced tomatoes with green chiles (Like Rotel)
Onion
Jalapeño: Don't worry, we'll adjust the heat anywhere from mild to super-spicy, the jalapeño is still very important.
Minced garlic
Lime
Fresh cilantro: Don't skip the cilantro, without it the salsa just tastes like tomato sauce.
Cumin
Salt & Sugar
How Hot Do You Like Your Salsa?
How you prep the fresh jalapeño determines just how spicy your salsa turns out to be. All the heat from the pepper comes from the inside ribs and seeds. The flesh of the pepper is actually quite mild by itself.
Slice the jalapeño stem end off and discard. Then slice the pepper in half lengthwise.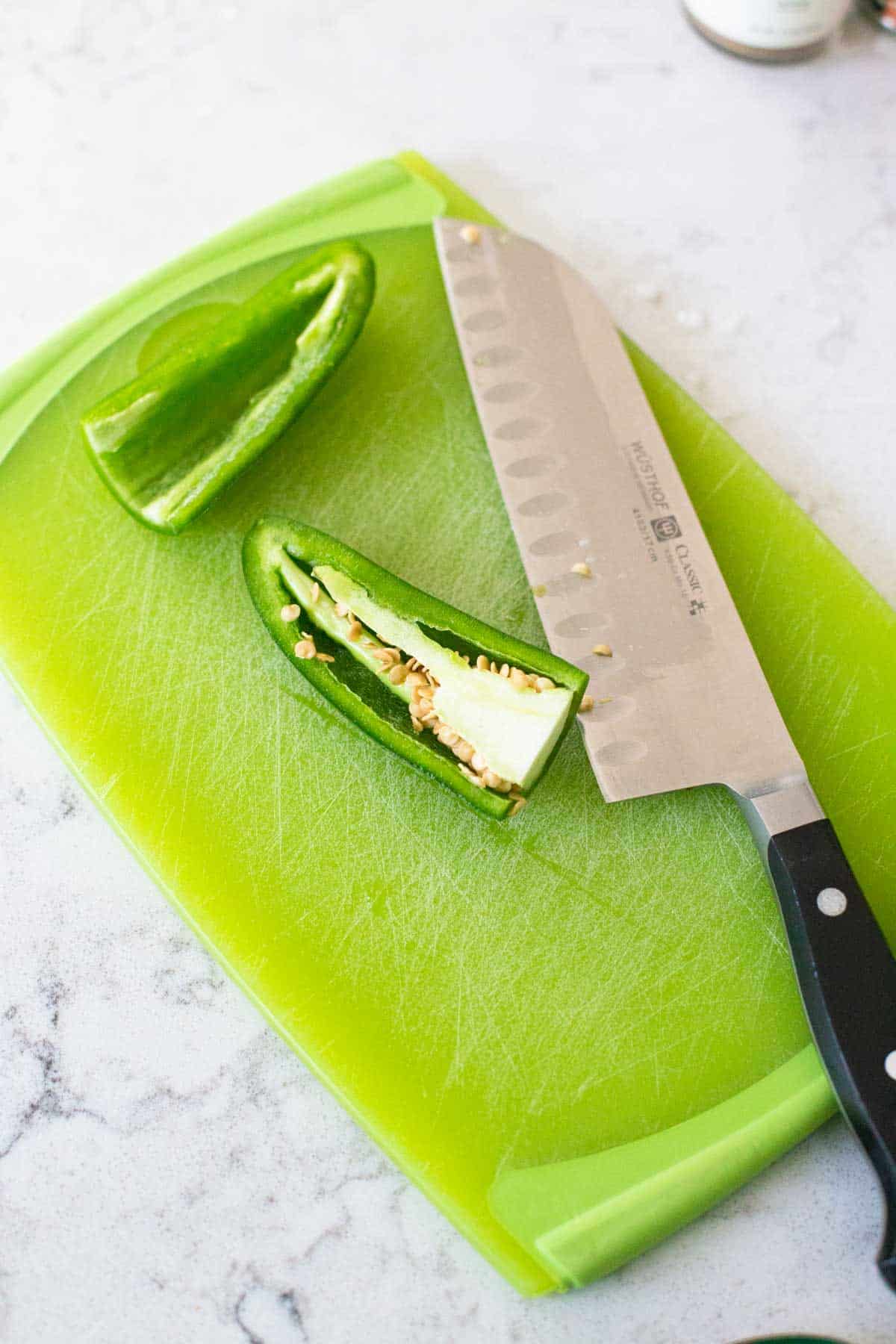 Mild Salsa
For a very mild salsa, use a teaspoon to scoop out the ribs and seeds from BOTH halves of the jalapeño and discard them.
Medium Salsa
For a medium salsa, use a teaspoon to scoop out the ribs and seeds from just ONE HALF of the jalapeño.
Hot Salsa
For a hot salsa, keep the ribs and seeds from both halves and add them to the salsa.
Prep Veggies for the Food Processor
Place the steel blade attachment into the bowl of your food processor. Add the half of onion to the bowl, cover and pulse about 5 times to get the onion started chopping.
Chop the jalapeño halves into large 1-inch sized chunks and add them, along with the ribs and seeds you decided to keep, into the food processor.
Cover and pulse another 5 - 10 times or until the onion and jalapeño have been minced like this: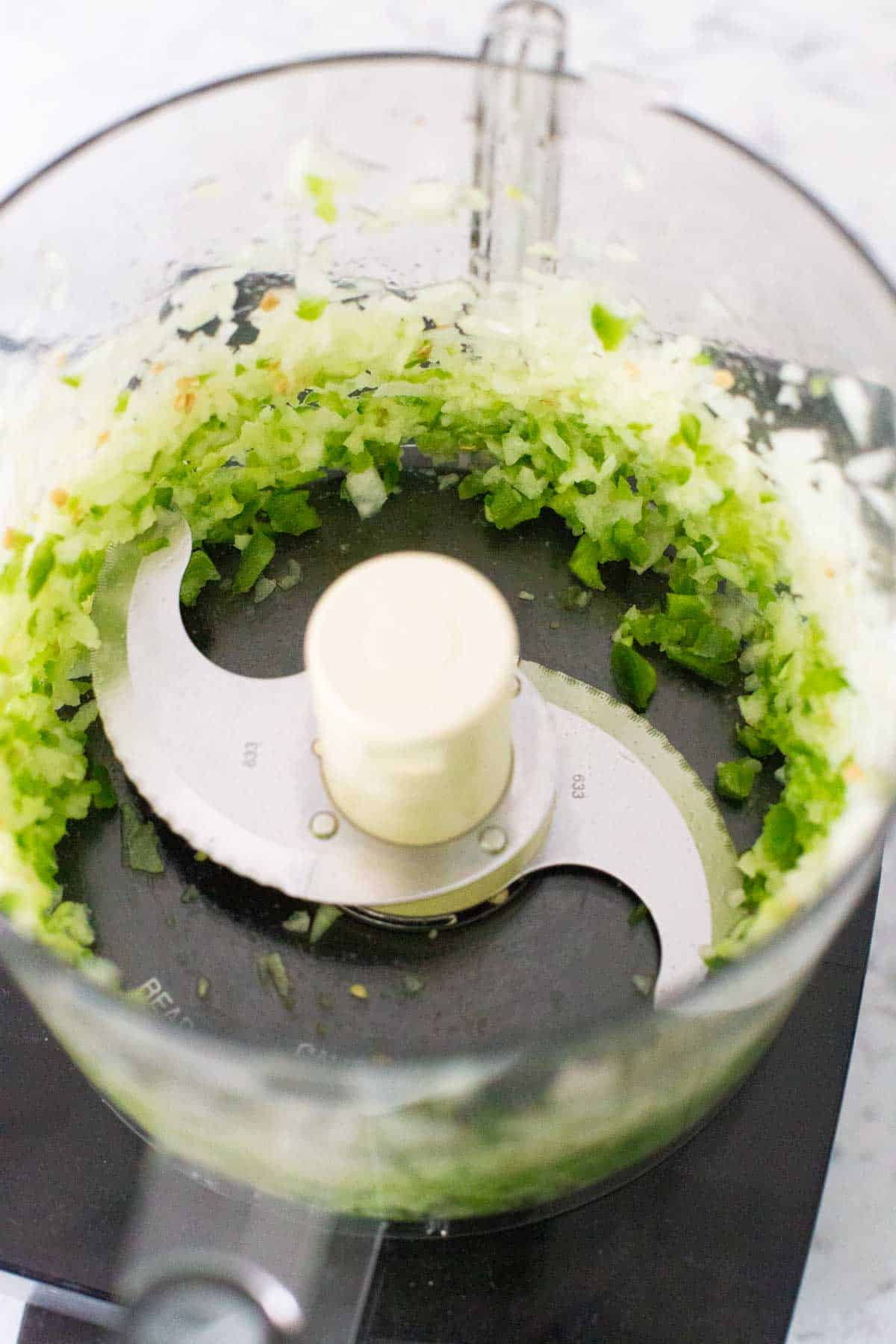 Add the can of whole tomatoes, diced tomatoes and green chiles, cumin, salt, sugar, and minced garlic to the food processor. Pulse another 5 times until the tomatoes have been chopped.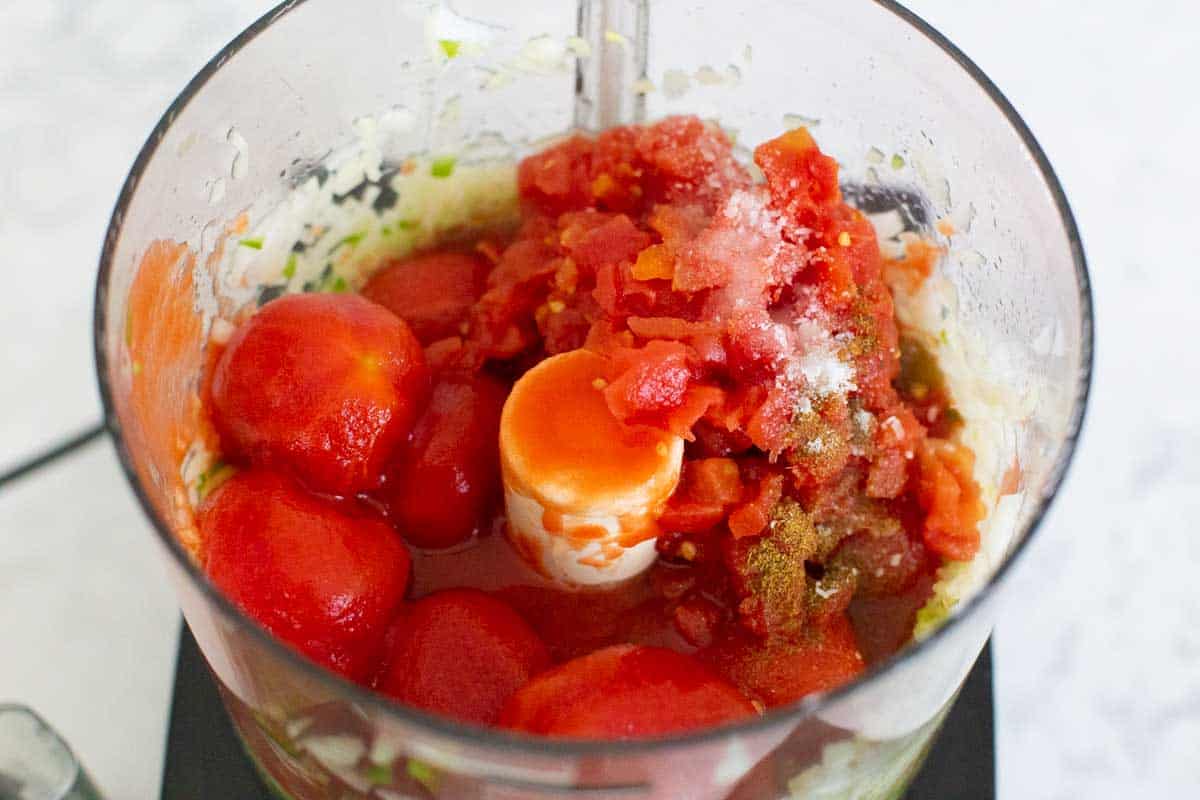 Add a large handful of fresh cilantro and the juice from half a lime and pulse for an additional 3 - 5 times or until the cilantro is incorporated.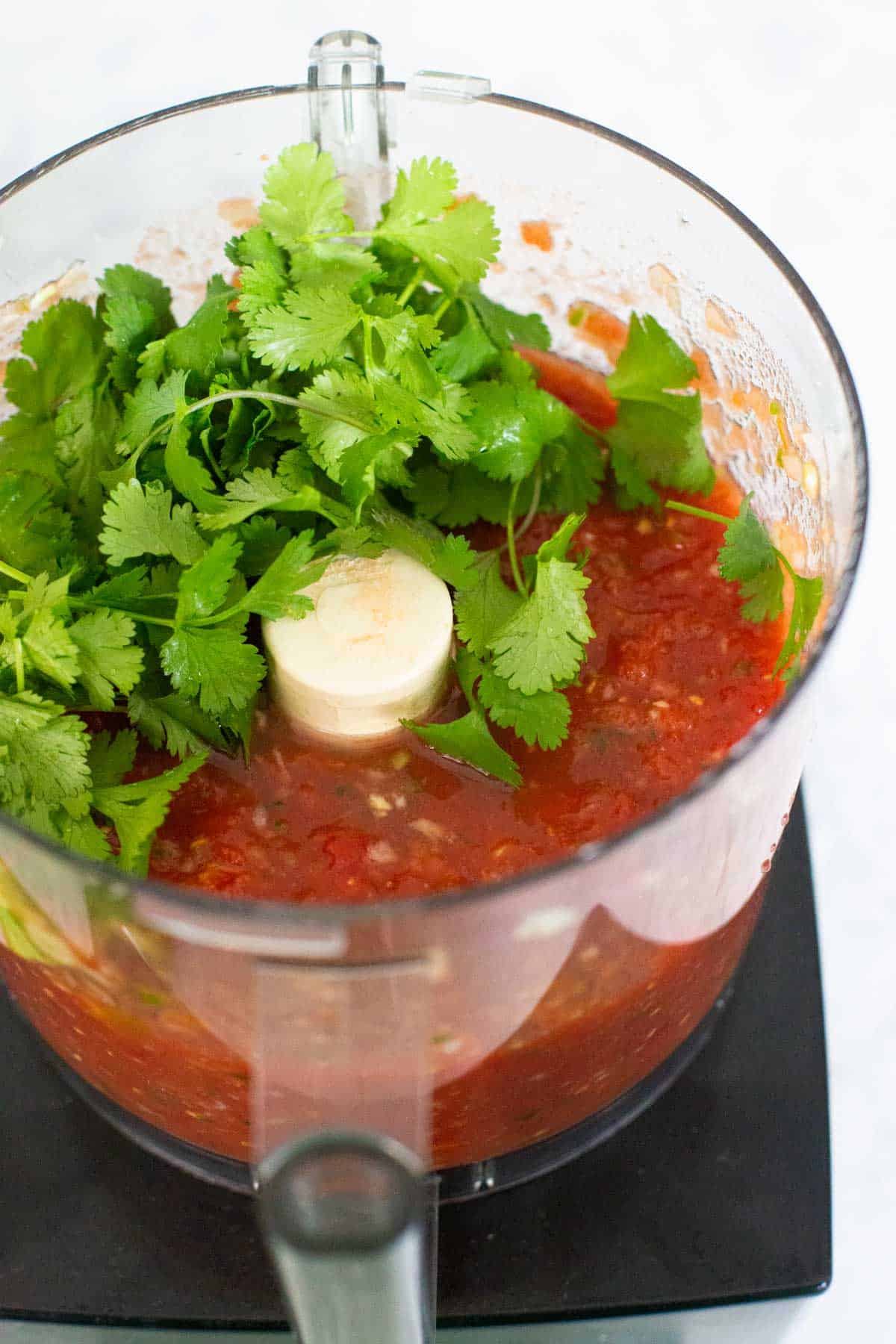 Don't forget to taste the salsa with a tortilla chip so you can adjust the seasonings as desired.
Chill for one hour before serving to let the flavors mingle.
Storage Tips
The homemade salsa will keep in a covered container in your fridge for up to one week.
You can freeze leftover salsa in a glass mason jar but be sure to leave at least 1 inch of room at the top of the jar before closing the lid to leave room for expansion as it freezes.
Without the additional space, your glass jar could break in the freezer.
Thaw the frozen salsa in the fridge overnight. You may want to stir it up before serving in case any liquid has separated during the thaw.
Serving Suggestions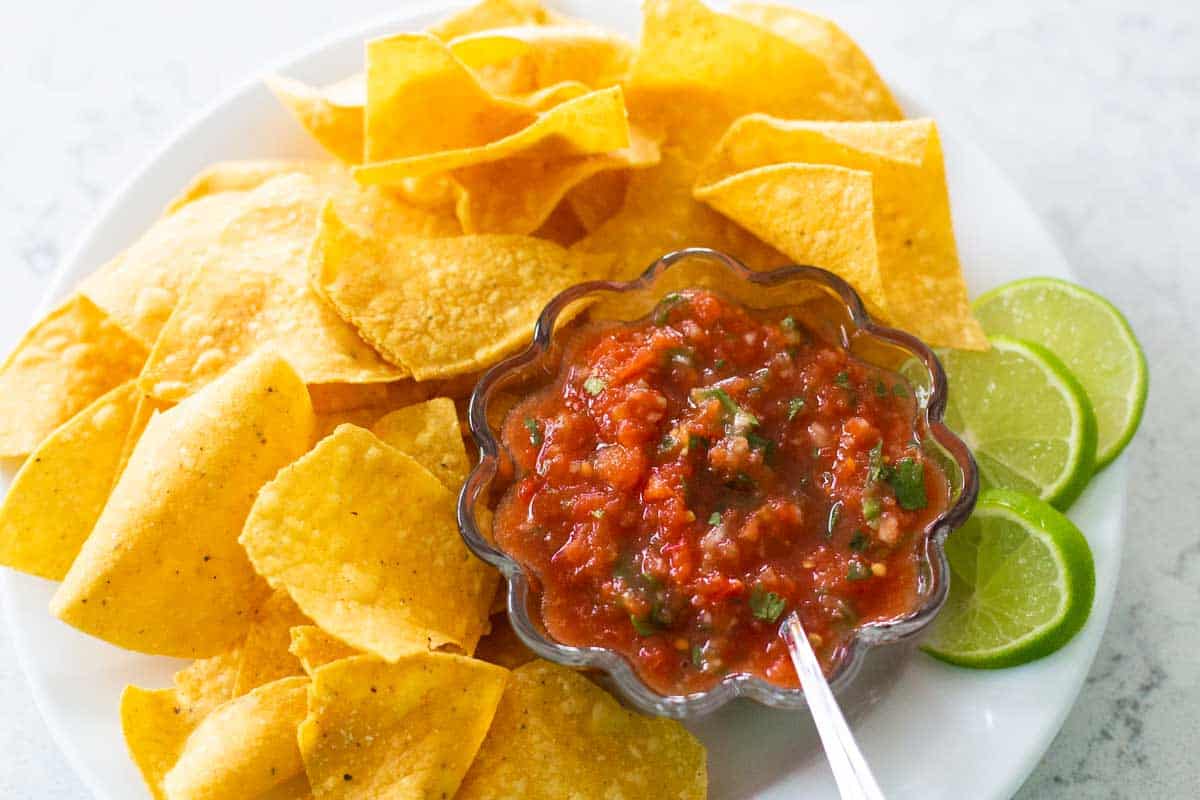 My kids can gobble up a plate of chips and salsa in no time flat. It is one of their very favorite snacks.
You can serve chips and salsa as an appetizer, a side dish for dinner, or as a movie night treat.
However, we use this salsa recipe for so much more than a snack! It is an essential part of taco night and many of our favorite recipes:
Recipes Taste Better with Fresh Salsa
You can use homemade salsa alongside our favorite taco skillet, top a warmed up breakfast burrito, enhance our favorite chicken tacos, or alongside a bowl of sour cream for our turkey taquitos.
More Salsa Recipes
Once your kids love a classic tomato salsa, why not introduce them to a fun new variation?
We love chunky corn salsa for topping tacos, but I also love fruity versions like sweet strawberry mango salsa, sweet and spicy peach salsa, and my favorite peach blueberry salsa bites.
📖 Recipe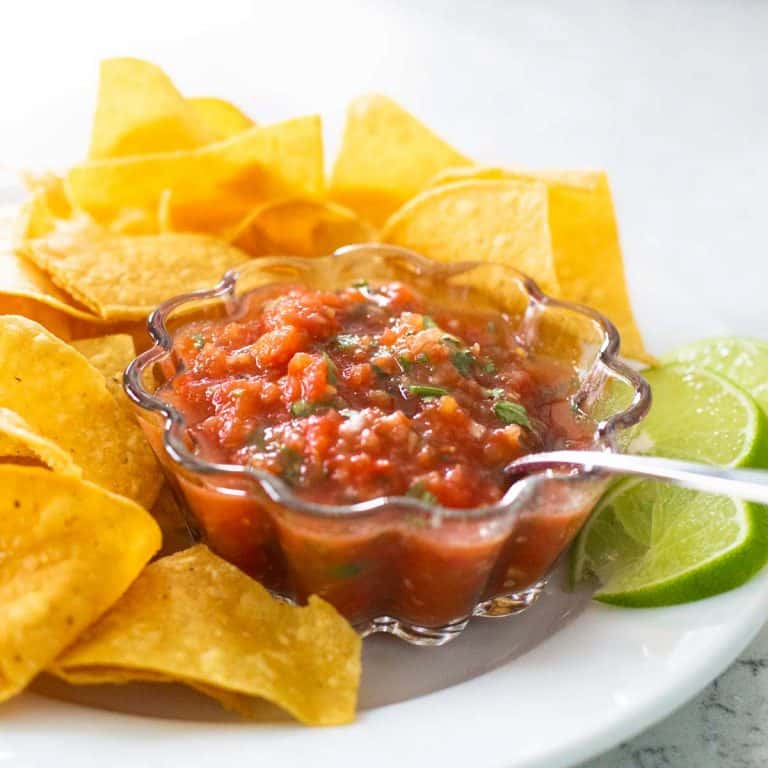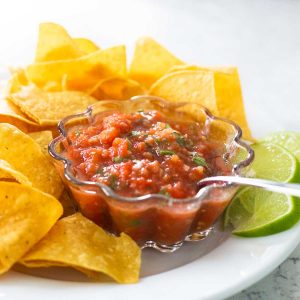 Easy Homemade Salsa
Homemade salsa is easy to make using canned tomatoes for convenience and fresh vegetables to add flavor and texture. Leftover salsa can be frozen for later.
Ingredients
½

onion

1

jalapeno

1

teaspoon

minced garlic

1

28 oz canned whole tomatoes

1

10 oz can Rotel, diced Tomatoes with green chilies

¼

teaspoon

sugar

½

teaspoon

salt

¼

teaspoon

ground cumin

½

lime

1

handful

about ¼ cup fresh cilantro
Instructions
Add the peeled half of one onion to the bowl of a food processor fitted with the steel blade attachment.

Cut the stem end off the jalapeno and then slice the pepper in half lengthwise. For a MILD salsa, use a spoon to scoop out the ribs and seeds from one half of the pepper. For a MEDIUM salsa, leave the ribs and seeds in both halves. Cut the jalapeno halves into larger chunks and add them to the bowl of the food processor.

Pulse the onion and peppers together for 15 - 20 pulses or until they have been finely chopped.

Add the garlic, can of whole tomatoes, diced Rotel tomatoes with green chiles, sugar, salt, and cumin to the food processor and pulse 5 - 7 more times or until the tomatoes have been chopped.

Squeeze the juice of half of the lime into the tomato mixture and add a large handful of fresh cilantro to the mixture. Cover and pulse 1 - 2 more times until the cilantro has been incorporated.

Taste the salsa with a tortilla chip and adjust the seasonings as needed.

Refrigerate salsa for at least an hour to let the flavors further blend together.
Recipe Notes
Storage Tips:
Salsa will keep in the refrigerator for 1 week.
Homemade salsa can be frozen in glass mason jars if you leave at least 1 inch at the top of the jar to make room for expansion as it freezes. Thaw in the fridge overnight and stir to reincorporate the salsa and any liquid that may have separated during the thaw.
Save This Recipe to Your Recipe Box
Find this delicious recipe next time you visit by saving it to your very own recipe box on my site. All your favorites stored in one easy place!