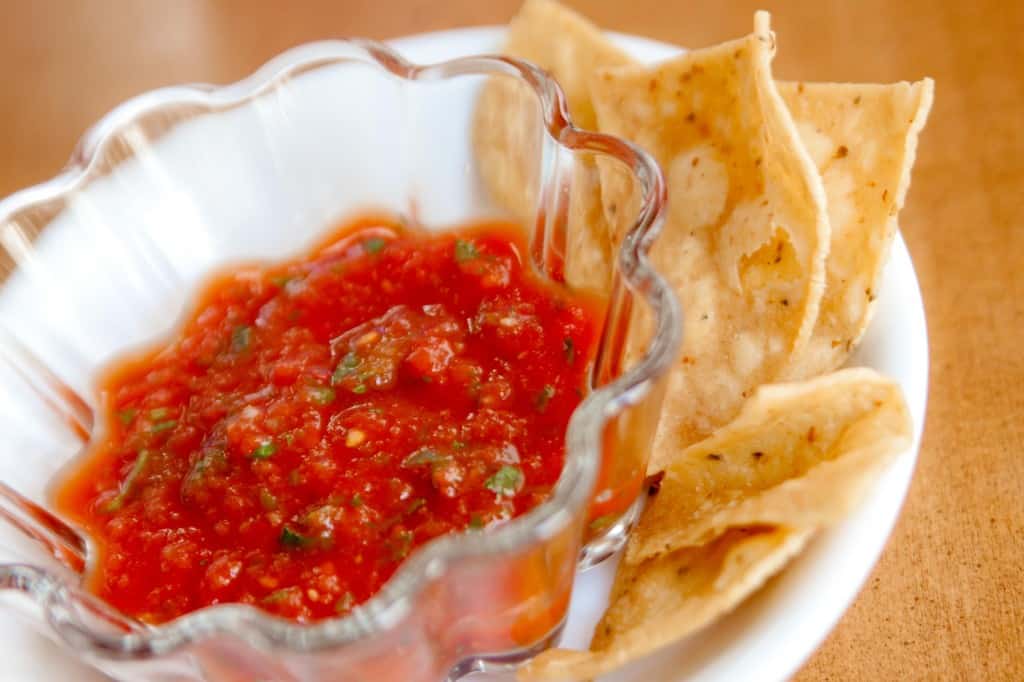 I have had very strong cravings for Mexican food lately. I think it has something to do with being D.O.N.E with winter stews and casseroles. We haven't had the time or money to go out to eat at a good Mexican restaurant for a while, so I finally decided to make some at home.
It happened almost by accident. We observe no meat on Fridays during Lent so I decided to experiment with Annie's Eats fish tacos. (Sorry Annie, but I think we're not fish taco people. The recipe wasn't bad, but we won't be making it again.) Annie showed a picture with her tacos being served next to fresh salsa and chips. It triggered my memory for Pioneer Woman's salsa so I started there.
I've been literally scooping up tablespoon after tablespoon of salsa ever since. I'm usually just a chip dipper, but this salsa has just the right amount of kick and has the perfect consistency. My chips are just a vehicle for the salsa in this scenario.
I adjusted PW's recipe because her batch is ginormous. I'm the only one who really eats it and I don't need 12 cups of salsa all to myself. You know what I discovered? The salsa is perfect if you leave all her seasoning quantities intact but halve the amount of tomatoes. When I made this recipe for the first time a year ago, I remember it just being too plain. So if you decide to make the full recipe on her site, I'd double all her seasonings.
_________________________________________
Restaurant Style Salsa
adapted from Pioneer Woman's recipe
1 can (16 Ounce) Whole Tomatoes With Juice
1 cans (10 Ounce) Rotel (diced Tomatoes And Green Chilies)
¼ cups Chopped Onion
1 clove Garlic, Minced
½ whole Jalapeno, Remove seeds and ribs, Quartered And Sliced Thin
¼ teaspoons Sugar
¼ teaspoons Salt
¼ teaspoons Ground Cumin
¼ cups Cilantro
½ whole Lime Juice
Method
Combine whole tomatoes, Rotel, onion, jalapeno, garlic, sugar, salt, cumin, lime juice, and cilantro in a blender or food processor. Pulse until you get the salsa to the consistency you'd like. Test seasonings with a tortilla chip and adjust as needed.
Refrigerate salsa for at least an hour.