These frozen breakfast burritos are perfect for busy school mornings or feeding a large crowd for a holiday or party. It's a great make ahead breakfast your kids can reheat all by themselves.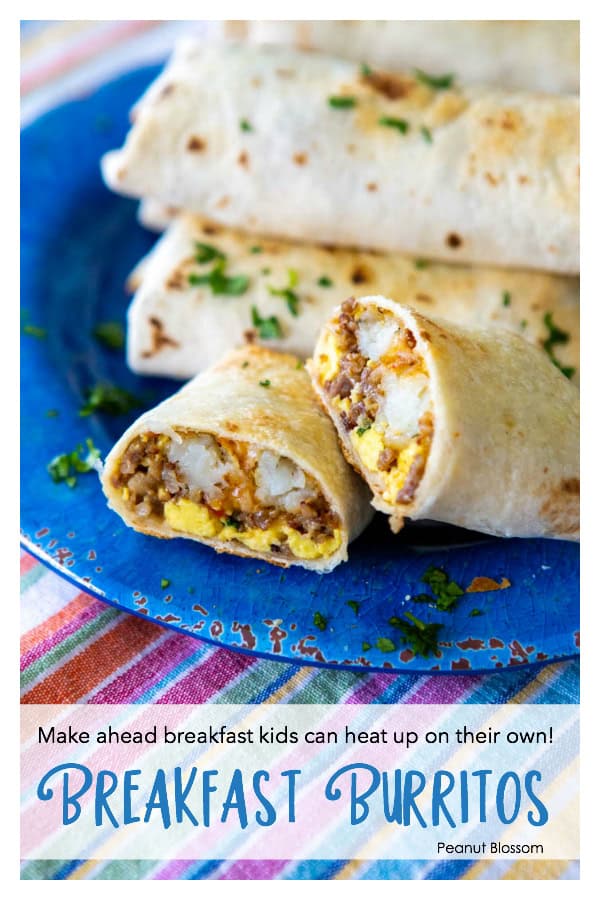 My kids desperately wish that every day was Taco Tuesday. It is the #1 most requested meal in our home. When I first introduced the girls to my version of mock huevos rancheros last summer, they nearly swooned with joy. It is now one of their favorite weekend breakfasts. (You'll find the recipe for it and instructions for the kids to make it all by themselves in my new book! Get the details here.)
But for busy school day mornings when we're barely getting out the door on time? I don't usually have the opportunity for making scrambled eggs. Not to mention the pile of dishes I don't want to have to clean up after. As a special treat, I decided to make up a big batch of homemade frozen breakfast burritos that we can pop in the microwave in a pinch.
Here in the Carolinas, kids are heading into their massive end of grade testing. I want the Peanut to get as much sleep as possible, so breakfast needs to be quick and easy but filled with enough protein to stick with her through the long testing day. I took some time over the weekend to prepare make ahead breakfast burritos to help us get through this season a little easier.
What are breakfast burritos?
You can decide exactly what to put in breakfast burritos and customize them for your family. You will find varieties that include scrambled eggs, beans, potatoes, assorted vegetables, cheese, and cilantro but the common feature is that they are all rolled up inside a large flour tortilla and then baked to get a crispy crust.
I used diced tomatoes and chili peppers in mine, but you can easily sauté any veggies you like after you've browned the sausage.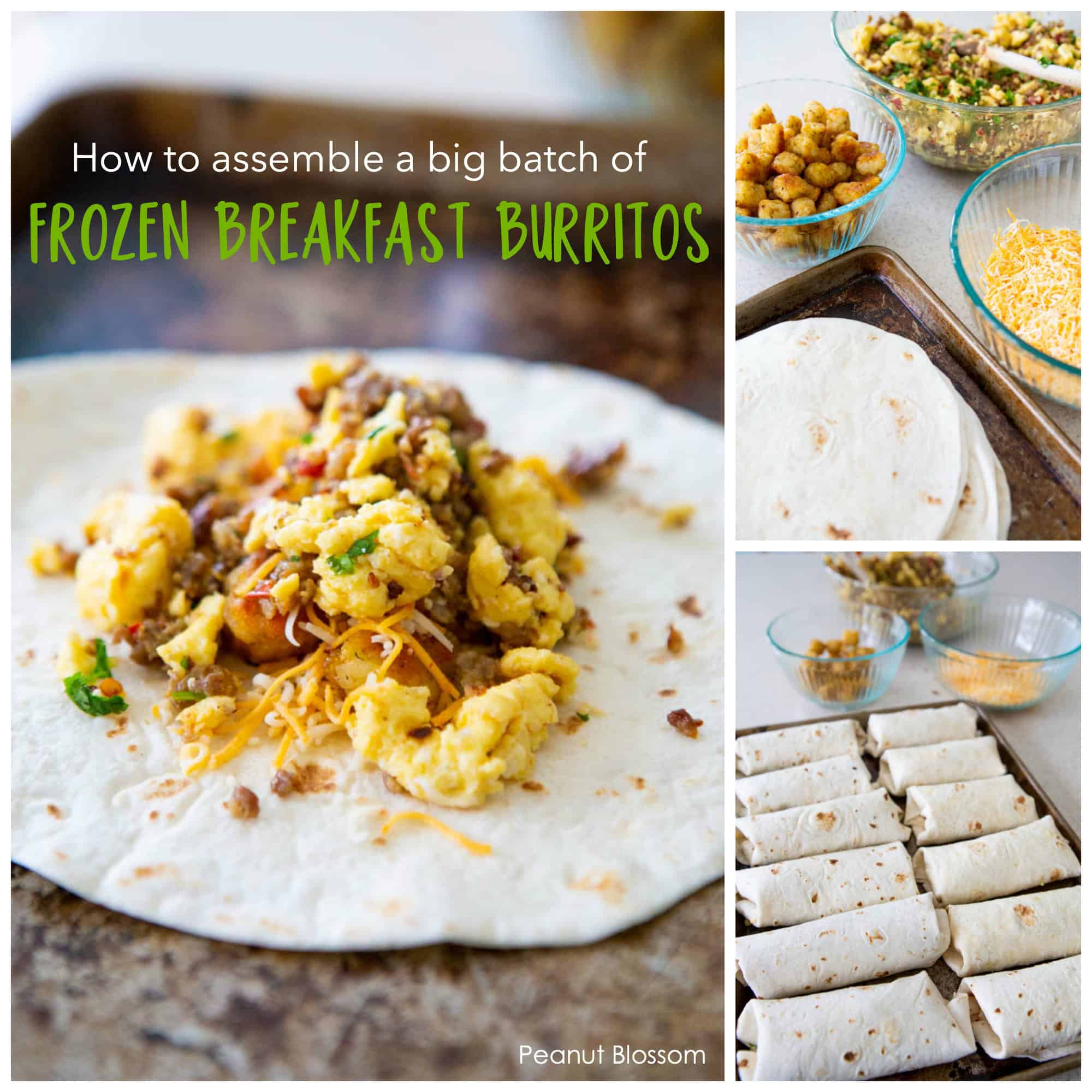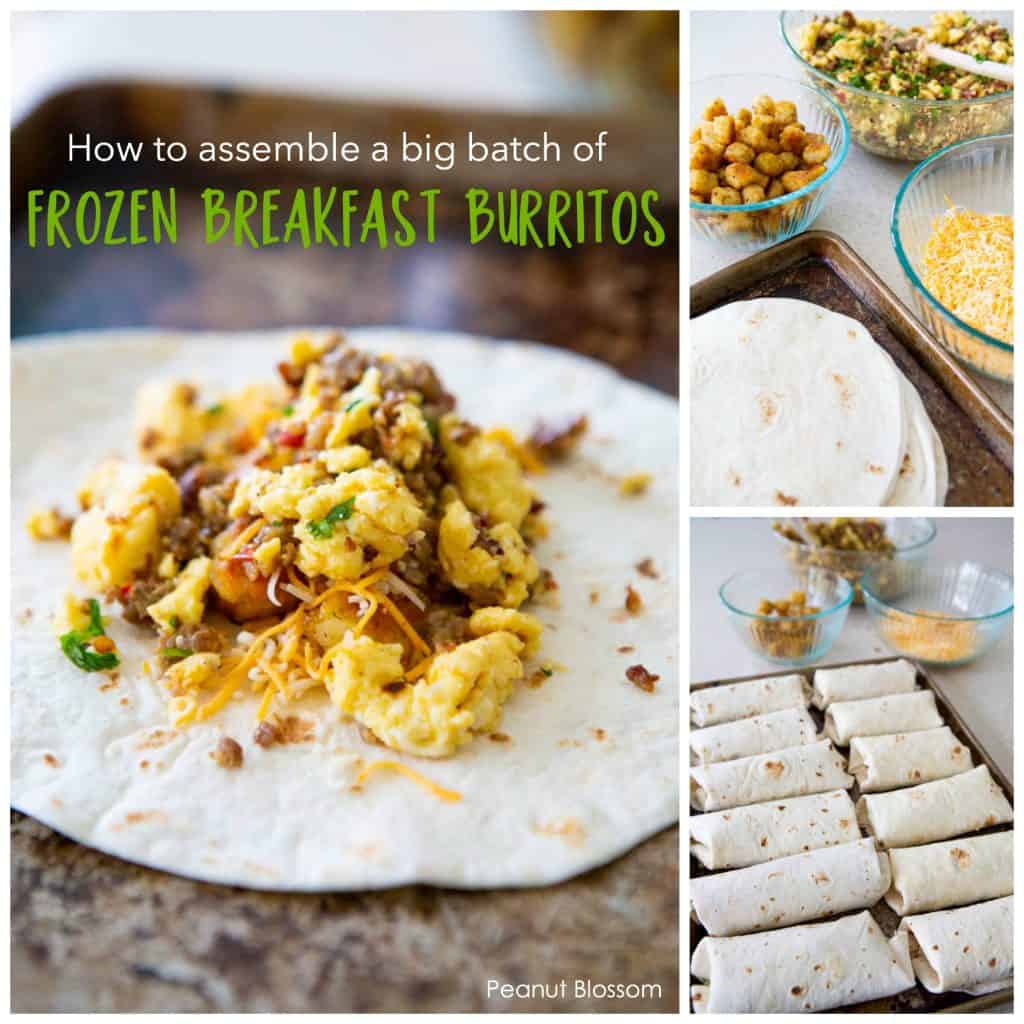 How to make a breakfast burrito:
This is the best breakfast burrito recipe because you can prepare all the different elements and gather them up for a simple assembly line. The entire batch of frozen breakfast burritos from start to stored in the freezer took me just 45 minutes on a Sunday afternoon.
Bake the tater tots first and let them cool on the stove top while you finish the other elements.
Brown the sausage and add the tomatoes, transfer them to a large bowl.
Scramble the eggs in the same pan with the sausage grease and then stir them into the sausage.
Place the shredded cheese in a bowl.
Set out a pile of tortillas and a large cookie sheet.
Assemble the burritos, spray with cooking oil and bake for 12 - 15 minutes.
Let the burritos completely cook before wrapping individually in aluminum foil before storing in the freezer.
How to make breakfast burritos for a crowd:
This egg and sausage breakfast burrito recipe makes 20 burritos that you can wrap individually and keep in the freezer. The bulk recipe is perfect for keeping on hand for busy school mornings but works just as well when you need to feed a large group for a holiday or celebration.
To serve the crowd, keep the frozen burritos in their individual foil wrappings and just bake them on large cookie sheets in the oven. The foil will keep the breakfast burritos warm while your guests load up their breakfast plates.

Can you freeze breakfast burritos?
YES! This is definitely why we love them so much. On a normal school day, the kids can take one individually wrapped frozen burrito out of the freezer and heat it up in the microwave all by themselves.
What goes with breakfast burritos?
Everything you really need for a hearty breakfast is already rolled inside these frozen breakfast burritos. But, if you want a side dish to go along with them, fresh fruit would be perfect. If you're serving breakfast burritos for a holiday or party, consider a large platter of fruit salad for the side dish with maybe a light fruit dip as a special treat.
I also like to set out pretty containers of sour cream, our favorite Mexican style hot sauce, and fresh cilantro or green onions for garnish.
Breakfast for Dinner on Cinco de Mayo!:
These breakfast burritos make a phenomenal breakfast for dinner idea. To bulk them up a little bit, you could make a batch of our favorite Mexican rice to go with them.
They are a perfect Cinco de Mayo party recipe since they feed a large crowd and you can make them ahead of time. Check out our other favorite Cinco de Mayo recipes here.
Tools to make frozen breakfast burritos:
How to wrap a burrito:
Wrapping a breakfast burrito is really easy if you remember to place the fillings just offset from the center. Check out this awesome video that shows you how.
More kid friendly breakfast ideas: