These make ahead breakfast burritos can be frozen and then served later for a large crowd for a holiday or party or as a busy school morning grab and go breakfast. It's a great healthy breakfast your kids can reheat all by themselves.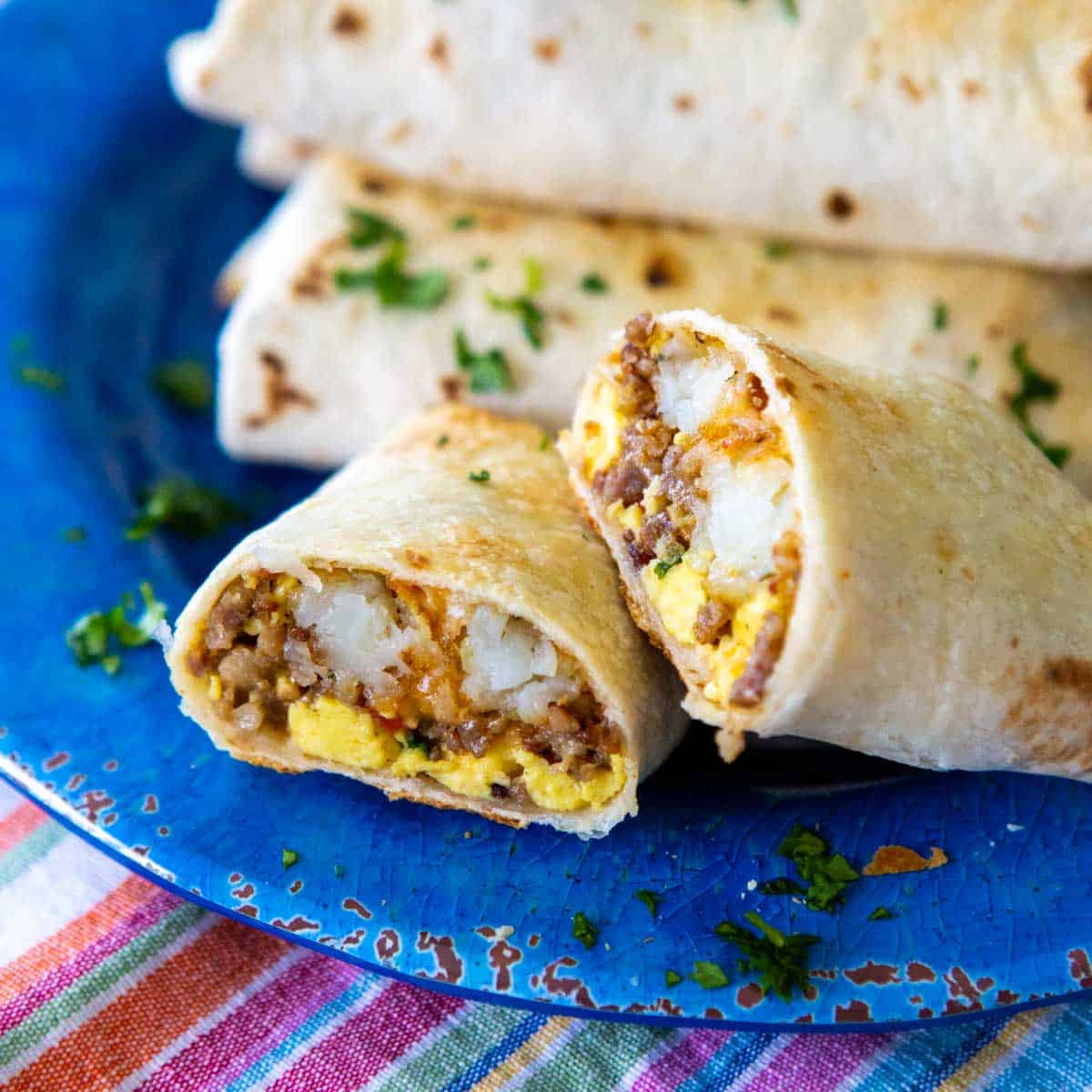 My kids desperately wish that every day was Taco Tuesday. It is the #1 most requested meal in our home.
Knowing their love of all things Mexican food, I knew these easy make ahead breakfast burritos were going to be a hit. Filled with scrambled eggs, savory sausage, and crispy tater tots, I think I love these even more than my kids!
I decided to make up a big batch of homemade frozen breakfast burritos that we can pop in the microwave in a pinch as we run out the door to school drop off.
The awesome thing? You can make a big batch of these burritos for serving to a large crowd for a party or special event, too. It is one of my favorite recipes for large groups on vacation like at a family reunion.
Jump to:
What are Breakfast Burritos?
You can decide exactly what to put in breakfast burritos and customize them for your family.
You will find varieties that include scrambled eggs, beans, potatoes, assorted vegetables, cheese, and cilantro but the common feature is that they are all rolled up inside a large flour tortilla and then baked to get a crispy crust.
I used diced tomatoes and chili peppers in mine, but you can easily sauté any veggies you like after you've browned the sausage.
Ingredients
The nice thing about breakfast burritos is that you can adjust the fillings for your family. My recipe is very kid-friendly, but you can definitely play with this.
All you need for a basic burrito is:
Eggs
Bulk Sausage: I use either mild or hot or sometimes one of each.
Frozen Tater Tots
Rotel Diced Tomatoes: Or you can substitute a can of diced tomatoes and a can of diced green chiles.
Burrito-Sized Tortillas: Look for the 10-inch size.
Shredded Cheese: You can use Mexican or cheddar cheese.
Half and Half
Seasoned Salt
Olive Oil: Or cooking spray
Supplies You Need
This is a very simple recipe but if you plan to make the burritos for your freezer, you will definitely want to have a few things on hand:
A very large skillet: A lot of eggs get scrambled at once, I love this simple and affordable 5qt skillet.
Mixing bowls for storing your prepped ingredients: This helps the assembly go much faster.
Aluminum foil for wrapping the burritos: Wrap each one individually to help reheating go easier.
Freezer bags for long term storage: So you don't have random burritos falling all around your freezer.
How to Make a Breakfast Burrito
This is the best breakfast burrito recipe because you can prepare all the different elements and gather them up for a simple assembly line.
The entire batch of frozen breakfast burritos from start to stored in the freezer took me just 45 minutes on a Sunday afternoon.
Get your kids to help you fold the burritos and wrap them in foil to make it go even faster!
Prep the Filling
First, preheat your oven for the tater tots according to the package directions.
You want to get the tater tots baking before you do anything else because they will take the longest. It is also important to let them cool before you try to wrap the burritos or you'll burn your fingers.
While the tots are baking, add the bulk sausage to your large skillet and brown it over medium-high heat. Break it up with your spoon as it cooks.
When cooking bulk sausage, it is important to cook it until it is almost toasted in appearance. You don't want to just brown it until it is no longer pink or it will be chewy.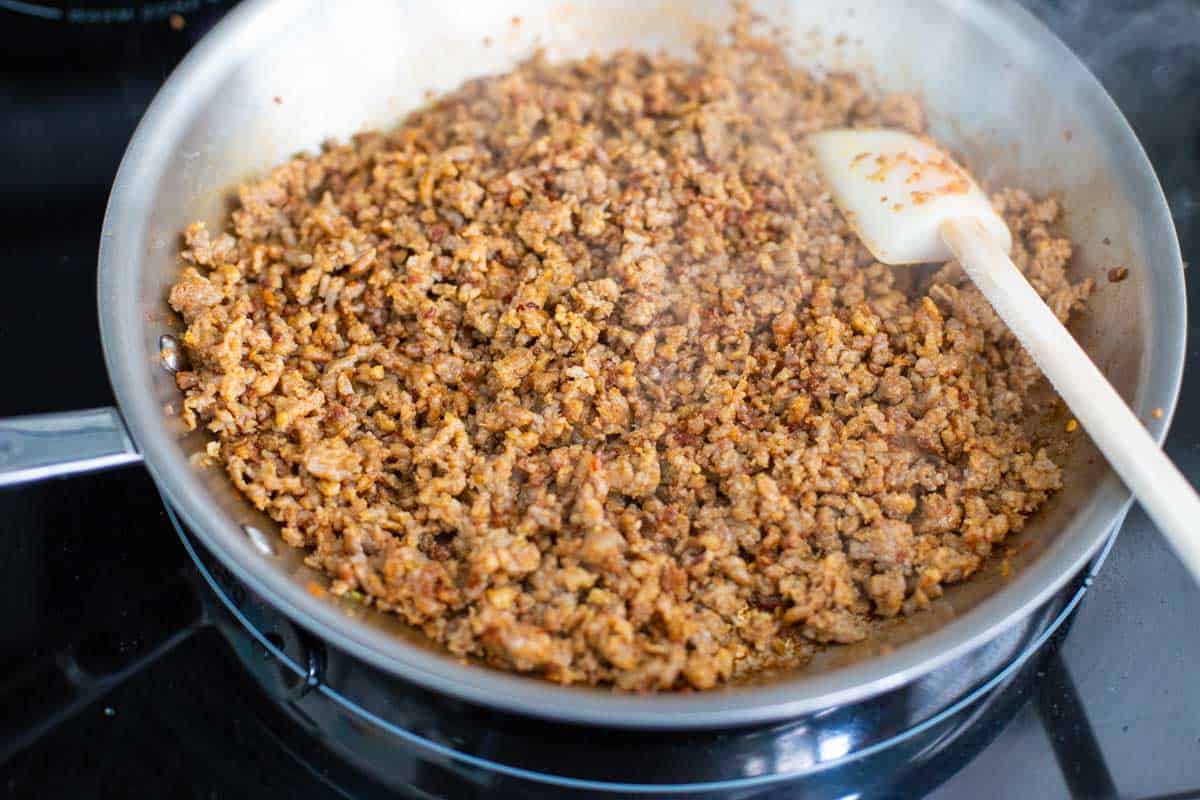 Once the sausage has browned, add the Rotel tomatoes and stir them together. Scrape them into a large mixing bowl and set aside.
Next, crack the eggs into a large bowl and add the half and half. Whisk them together until smooth.
Add the eggs to the same skillet that you cooked the sausage in and scramble them together.
Once the eggs are cooked, scrape them into the bowl of sausage and stir them together.
Add the entire egg-sausage mixture mixing bowl to your assembly line.
Place the shredded cheese in a bowl ad add it to the assembly line.
Set out a pile of tortillas near your work space along with a large cookie sheet for holding the assembled burritos.
Your final assembly line should have:
A bowl of baked tater tots
A bowl of the egg-sausage mixture
A bowl of shredded cheese
A pile of tortillas
An empty baking sheet to hold the assembled burritos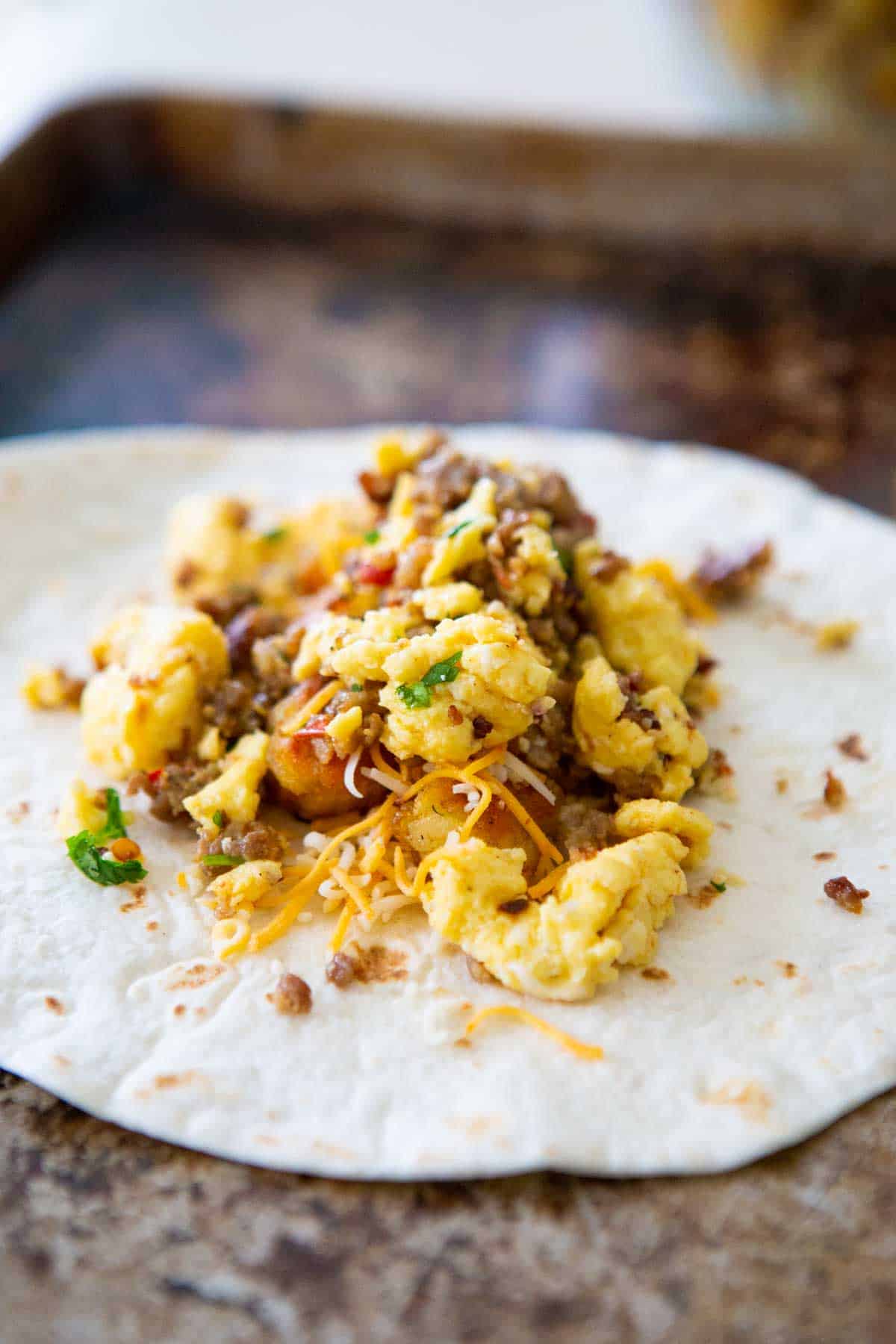 To fill each burrito, lay one tortilla on your working surface.
Add 5 - 6 tater tots to the center, top with ½ cup of the egg-sausage filling, and then sprinkle a large tablespoon of shredded cheese over the top.
Now you're ready to fold the burrito.
How to Wrap a Burrito
Wrapping a breakfast burrito is really easy if you remember to place the fillings just offset from the center.
I grabbed this next step-by-step photo from my air fryer chicken chimichangas recipe, which is another great make ahead recipe for your freezer.
The folding method is exactly the same for both wraps, never mind that you see the chicken filling here. Just imagine the egg filling from the photo above.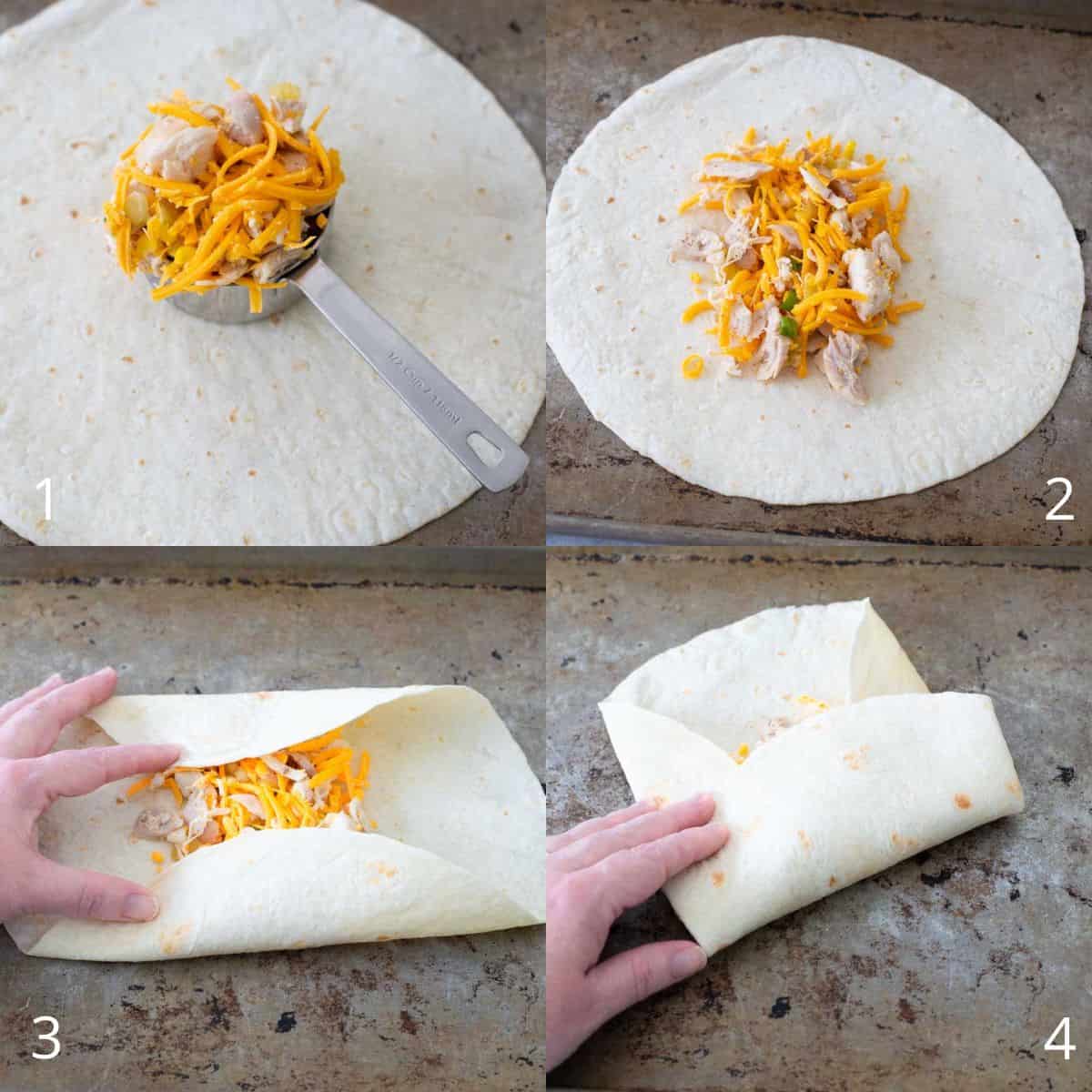 1. Add the filling just off center of the tortilla and spread it out a little bit (Photo 2.)
2. Pull opposite sides of the tortilla towards the center about 1 - 2 inches. The edges should not touch. (Photo 3.)
3. Rotate the tortilla and start to roll from one of the remaining sides across the filling, tucking in the folded edges as you go. Continue to roll until the burrito is closed. (Photo 4.)
If these instructions are still not clear, check out this awesome video that shows you how.
Lay the assembled burrito seam side down on your baking sheet.
Continue to fill the pan with burritos as you work.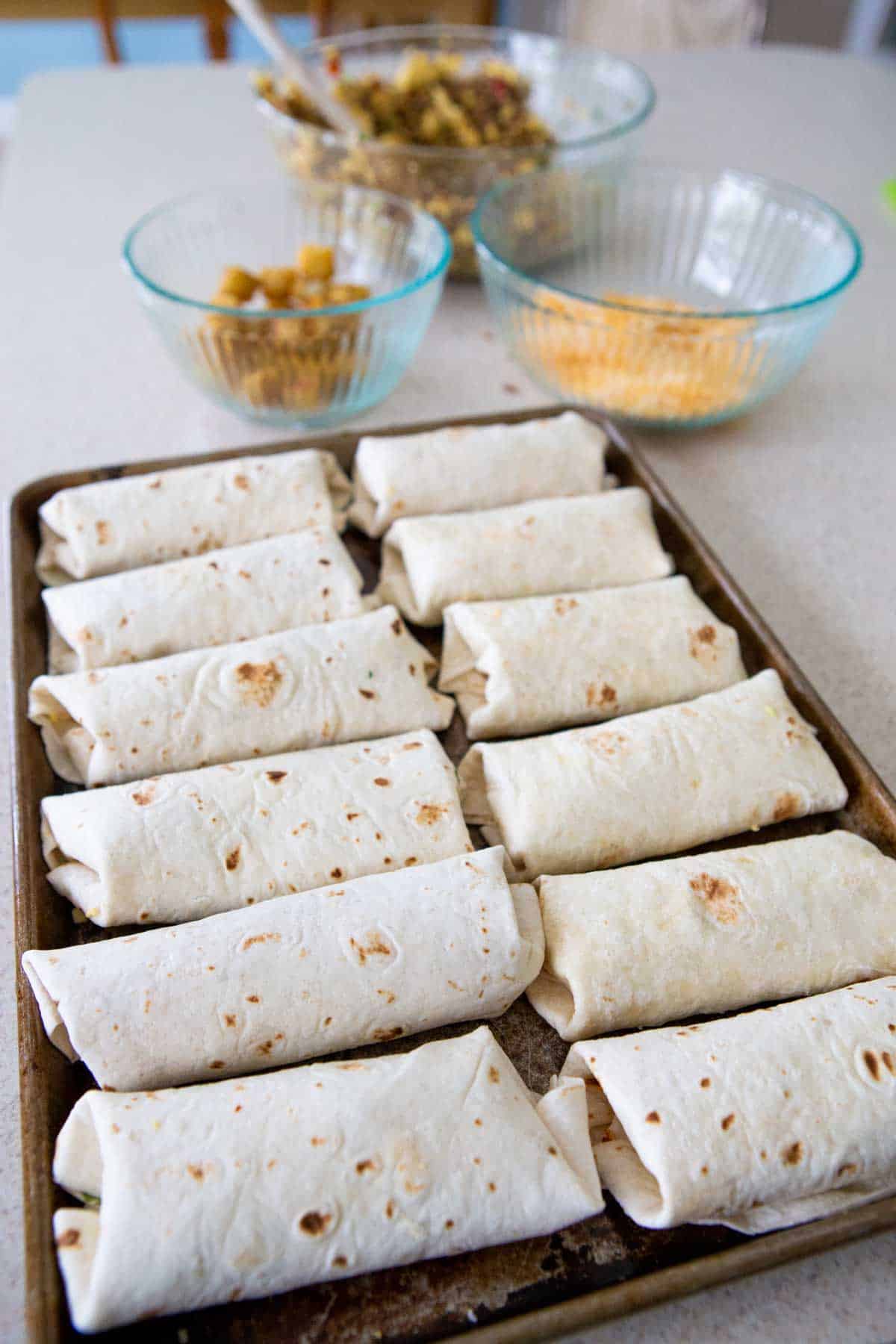 Baking Instructions
Whether you plan to eat the burritos right now or you're making them for the freezer, you still want to bake them at this point.
Preheat the oven to 400°F.
Brush the tops of the burritos with the olive oil or spritz them with a bit of cooking spray. This will help the tortillas crisp up in the oven.
Bake the burritos for 12 - 15 minutes.
Serve warm or let the burritos completely cool so you can wrap them individually in aluminum foil before storing in the freezer.
Air Fryer Instructions
If you want to bake your breakfast burritos in the air fryer, just be sure that you work in batches and don't overcrowd your air fryer basket.
Preheat the air fryer to 400°F and bake the burritos for 12 - 15 minutes.
How to Freeze Breakfast Burritos
This is definitely why we love them so much. On a normal school day, the kids can take one individually wrapped frozen burrito out of the freezer and heat it up in the microwave all by themselves!
To freeze the breakfast burritos, let the baked burritos completely cool and then wrap each one individually in aluminum foil.
This prevents the burritos from sticking together or falling apart in storage in your freezer and will allow you to just grab 1 or 2 at a time to reheat.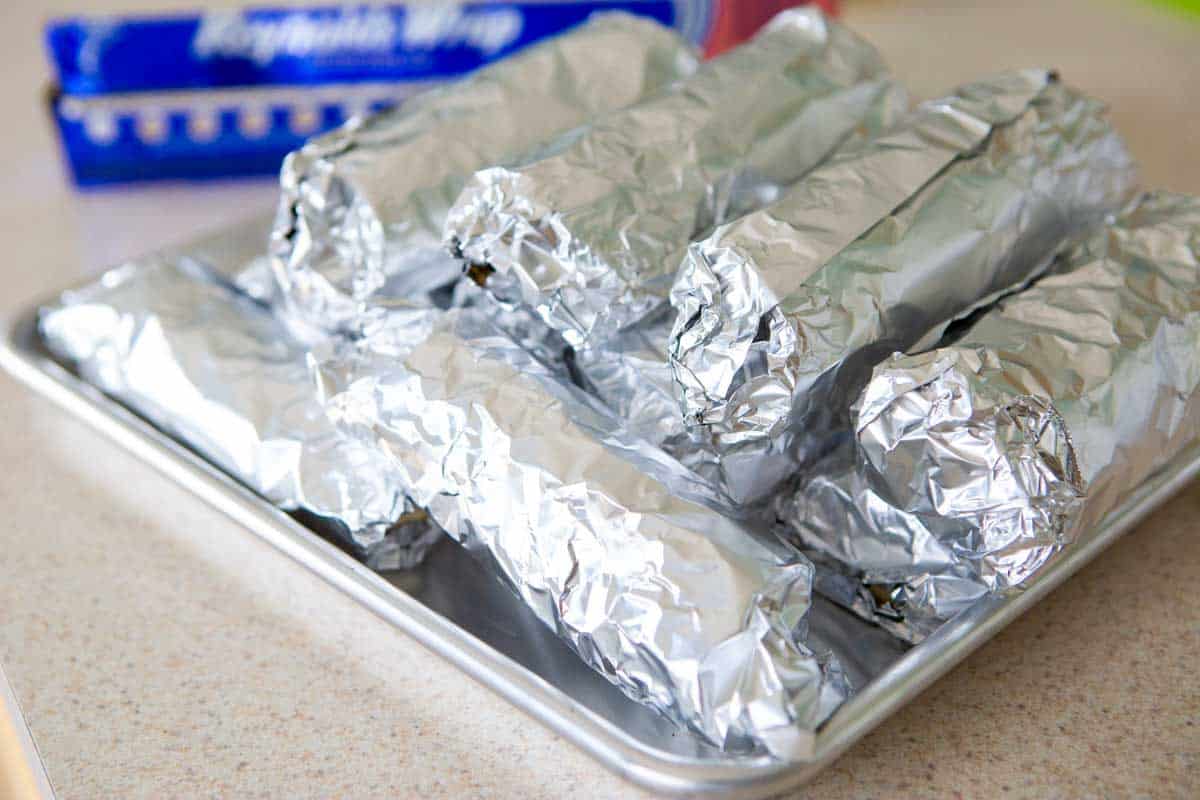 Reheating Instructions
To reheat frozen breakfast burritos, you have two options:
Microwave: This works great for a single burrito on a school morning. Unwrap the burrito from the foil, place it on a plate. Heat it on 50% for 2 -3 minutes.
Oven: You can reheat frozen burritos in the oven for a large crowd. Preheat the oven to 400°F. Keep them in their individual foils and place the burritos on a large baking sheet, they don't need to be in a single layer at this point, you can pile several up at one time. Bake the burritos for 30 - 40 minutes or until heated through. The time will depend on how many burritos you're trying to reheat at once.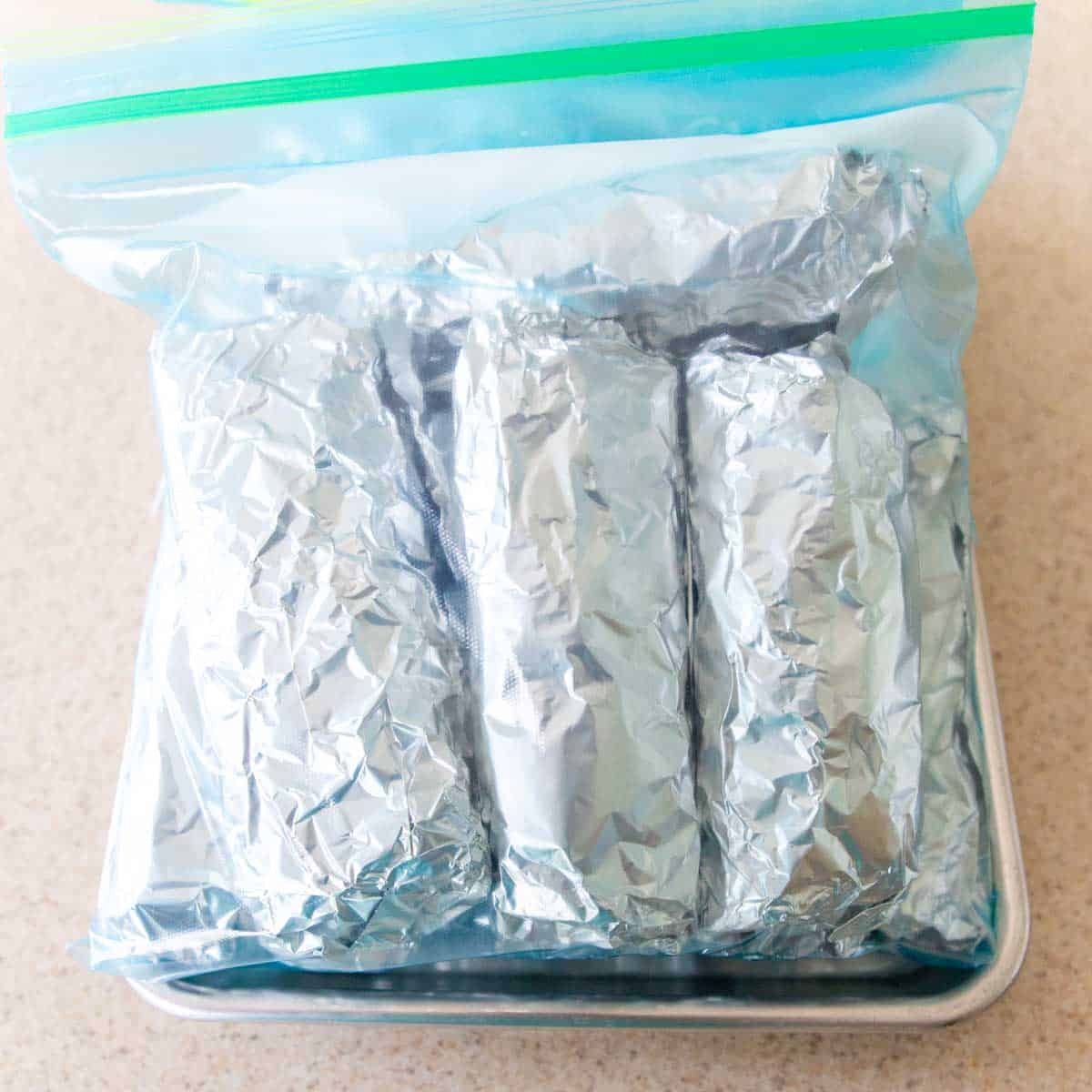 How to Make Breakfast Burritos for a Crowd
This egg and sausage breakfast burrito recipe makes 20 burritos that you can wrap individually and keep in the freezer.
The bulk recipe is perfect for keeping on hand for busy school mornings but works just as well when you need to feed a large group for a holiday or celebration.
To serve the crowd, keep the frozen burritos in their individual foil wrappings and just bake them on large cookie sheets in the oven until they are warmed through.
The foil will keep the breakfast burritos warm while your guests load up their breakfast plates.
Serving Suggestions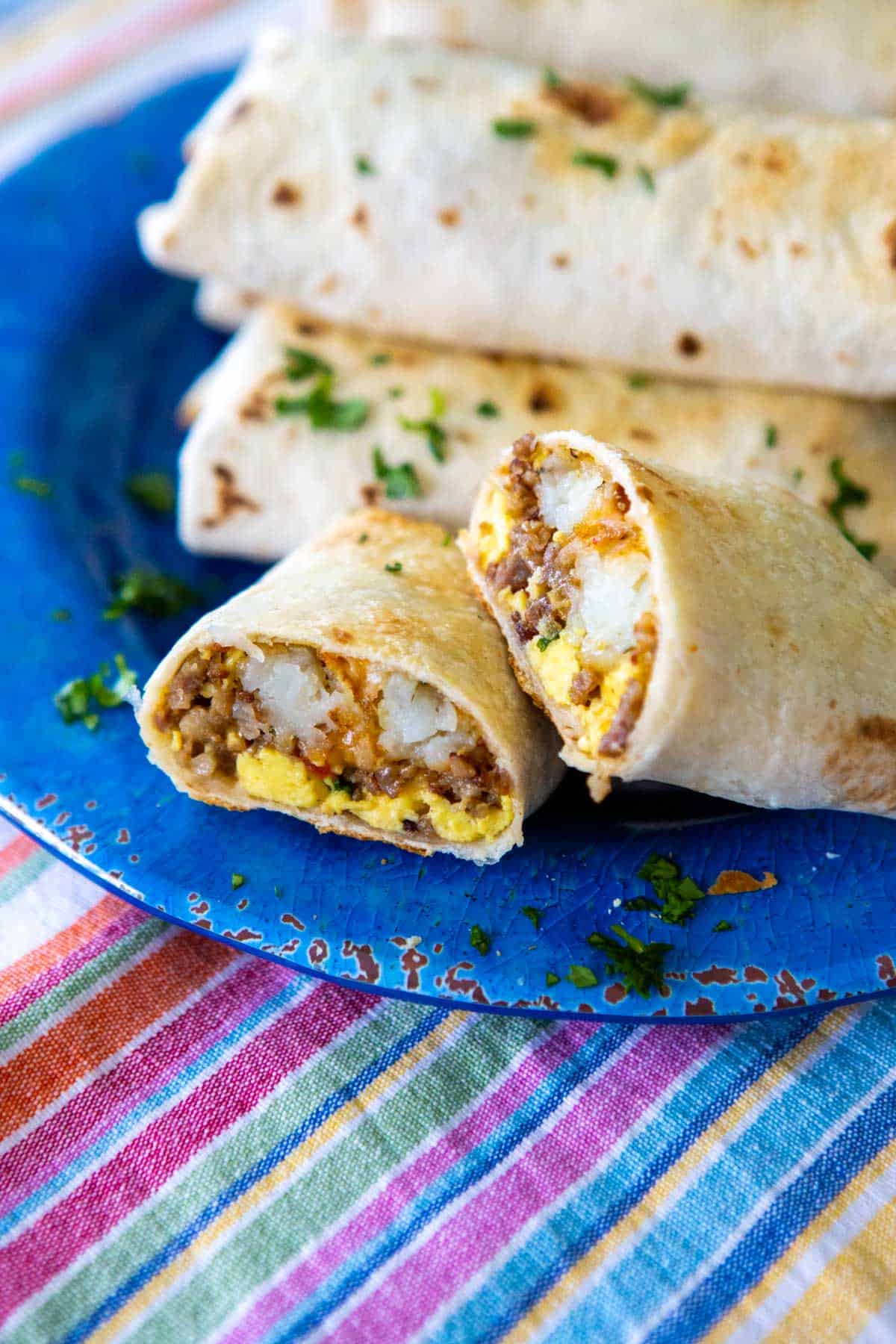 Everything you really need for a hearty breakfast is already rolled inside these frozen breakfast burritos.
I also like to set out pretty containers of sour cream, our favorite Mexican style hot sauce, and fresh cilantro or green onions for garnish.
But, if you want a side dish to go along with them, fresh fruit would be perfect.
If you're serving breakfast burritos for a holiday or party, consider a large platter of fruit salad for the side dish with maybe a sweet dip like my creamy pina colada fruit dip as a special treat.
My strawberry mango salsa with cinnamon pita chips would be a great breakfast version of "chips and salsa", too.
My fresh grape salad with cream cheese would also make a lovely addition to a holiday menu.
Breakfast for Dinner on Cinco de Mayo
These breakfast burritos make a phenomenal breakfast for dinner idea.
To bulk them up a little bit, you could make a batch of our favorite Mexican rice and Mexican street corn casserole to go with them.
They are a perfect Cinco de Mayo party recipe since they feed a large crowd and you can make them ahead of time.
📖 Recipe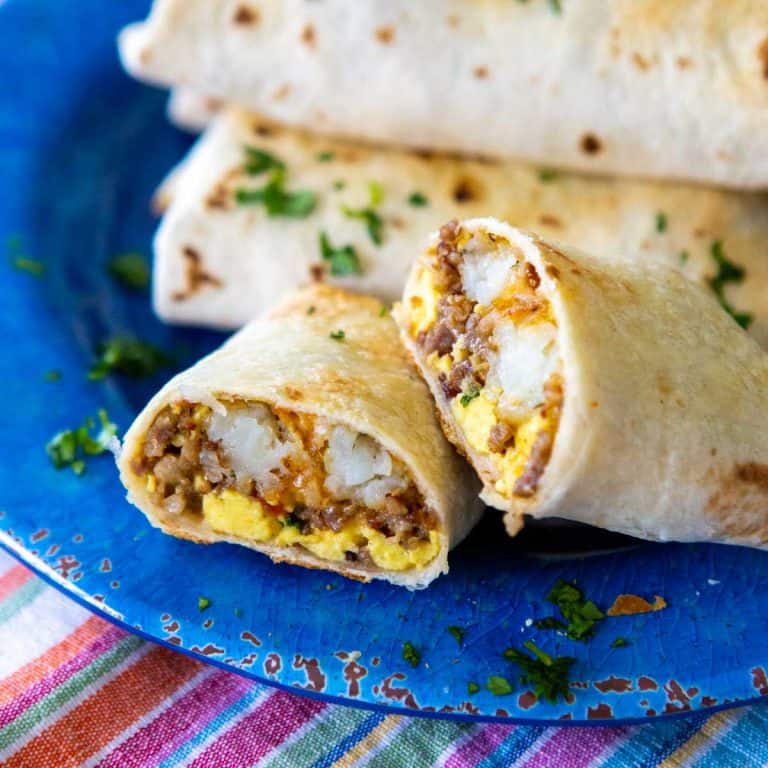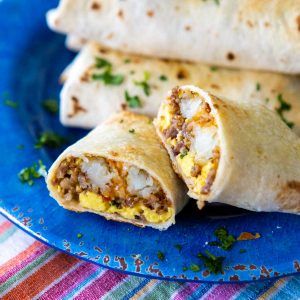 Make-Ahead Breakfast Burritos
This big batch of spicy egg and sausage breakfast burritos are perfect for feeding a crowd or keeping on hand for busy weekday mornings.
Ingredients
4

cups

frozen tater tots

Seasoned salt

2

tablespoon

olive oil

2

lbs

bulk sweet Italian sausage

or hot if you prefer

1

(10.5 ounce) can Rotel diced tomatoes

16

eggs

⅔

cup

half and half

Salt & Pepper to taste

20

8-inch flour tortillas

2

cups

shredded cheese

Cheddar, Pepper Jack, Colby Jack, whatever you prefer

Container of cooking spray
Instructions
Spread the tater tots in a single layer on a cookie sheet and sprinkle a little seasoned salt over the top. Bake them according to the package instructions. Let them cool on the stove top while you finish preparing the other fillings.

Preheat the oven to 400° F for the burritos.

Place a large skillet over medium-high heat and add the olive oil to the pan. Add the bulk sausage and break it up with the back of a spoon as it cooks. Continue to sauté the sausage until it begins to develop a deep toasted look, not just simply "not pink". Drain the fat off and return the sausage to the stove.

Drain the can of Rotel tomatoes to remove as much liquid as you can. Stir the tomatoes & chilies in with the sausage and saute for 1 minute. Remove the sausage and tomatoes to a large mixing bowl and set aside.

Whisk together the eggs and half and half. Sprinkle in a little salt and fresh cracked pepper and whisk to combine. Pour them into the same skillet you browned the sausage in and reduce the heat to medium. Stir the eggs and cook them until they are scrambled and no longer wet. 

Add the scrambled eggs to the bowl with the sausage and stir to combine. 
Set Up Assembly Line:
Your final assembly line should have separate bowls of baked tater tots, the browned sausage and egg mixture, the shredded cheese, and a pile of tortillas.

On each tortilla add 5-6 tater tots, 1 tablespoon of cheese, and ⅓ cup of the sausage + egg mixture.Fold the sides slightly towards the center and then roll the tortilla lengthwise. (See photos and video link in post if you need.)

Line up the assembled breakfast burritos on a large cookie sheet leaving a finger's width between each one. Lightly spritz some cooking spray or brush more olive oil over the top and bake for 12 - 15 minutes or until the tops are just lightly toasted.

Serve immediately.
To Freeze the Breakfast Burritos: 
Let the toasted breakfast burritos cool completely. Wrap each one individually in a bit of aluminum foil and then store the burritos in a large freezer bag for up to 1 month.
To Reheat Frozen Breakfast Burritos:
By Microwave: UNWRAP and discard the foil. Place the frozen burrito on a microwave safe plate. Heat on 50% power for 2 -3 minutes.

By Oven: Leave them in their foil wrappings and place on a cookie sheet. Bake at 400° F for 30 - 40 minutes or until heated through.
Save This Recipe to Your Recipe Box
Find this delicious recipe next time you visit by saving it to your very own recipe box on my site. All your favorites stored in one easy place!