How to make homemade restaurant-style Mexican rice (also known as Spanish rice) filled with sweet kid-friendly vegetables that give it extra texture and a healthy boost. So easy to make and tastes like it came straight from your favorite Mexican restaurant. This is the best side dish for any Mexican entree.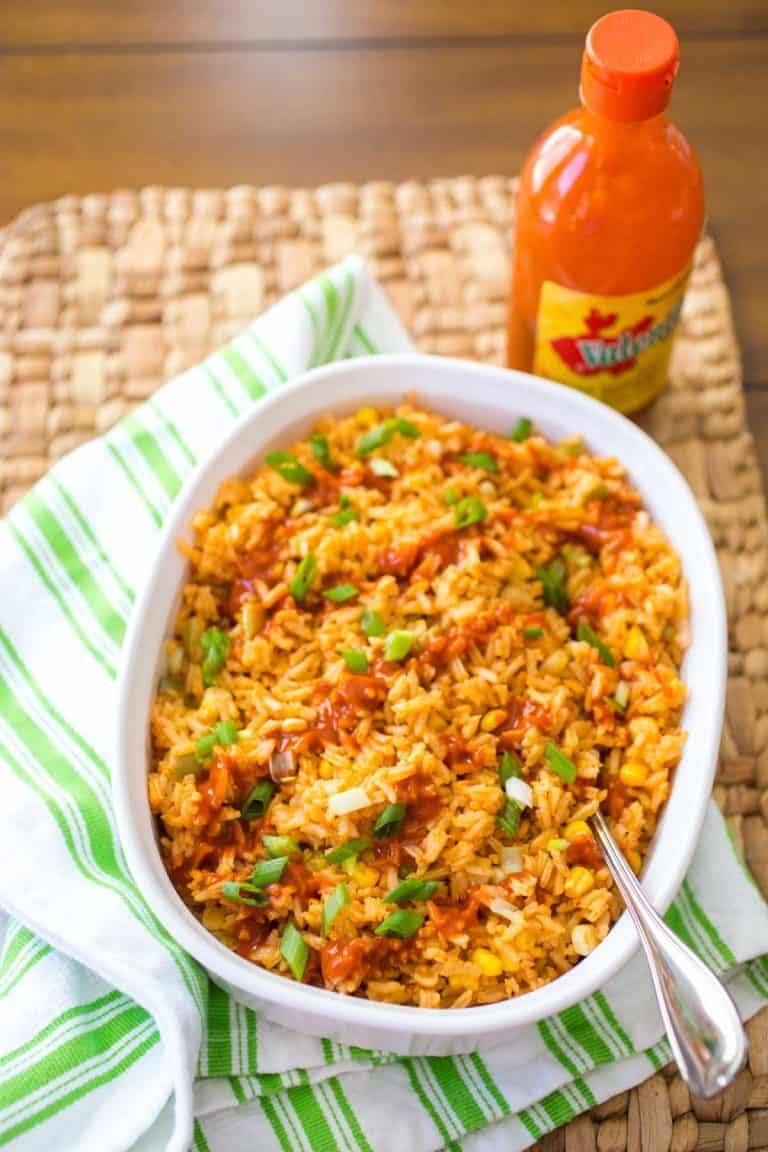 Every day could be Taco Tuesday according to my kids. Whenever I ask what they want for dinner, the answer is always TACOS! We've got a bunch of easy taco recipes I rotate but I wanted something a little more nutritious than chips and salsa to serve as a side dish on Mexican food night.
I love the Mexican rice (or Spanish rice if you prefer) side dish that comes with my enchiladas when we dine out. Our favorite Mexican restaurant serves their Mexican rice with sweet corn and onions mixed in. I love that little extra crunch with the hidden veggies!
I decided it would be easy enough to make a homemade version of the restaurant-style Mexican rice side dish. I used a few veggies that were hanging out in our fridge and just tossed them in. My kids and I love sweet red bell peppers, but you could easily swap it for green (or any other color) peppers, chopped tomatoes, bits of celery, fresh jalapeño, or whatever your family likes.
If you chop the veggies up finely enough, your kids will have a tough time picking them out of this festive side dish. We love to slather ours with our favorite Mexican hot sauce Valentina and some fresh chopped green onions. The recipe calls for a pinch of cayenne pepper for some heat but you can make this as spicy or as mild as you like.
Simple Mexican recipes that would pair really well with this rice:
Little Pea simply DEVOURED this homemade Mexican rice. It makes such a large batch, we had plenty for leftovers for a couple days. I simply sprinkled a few drops of water over the top and reheated it in the microwave--it warms up again so well.