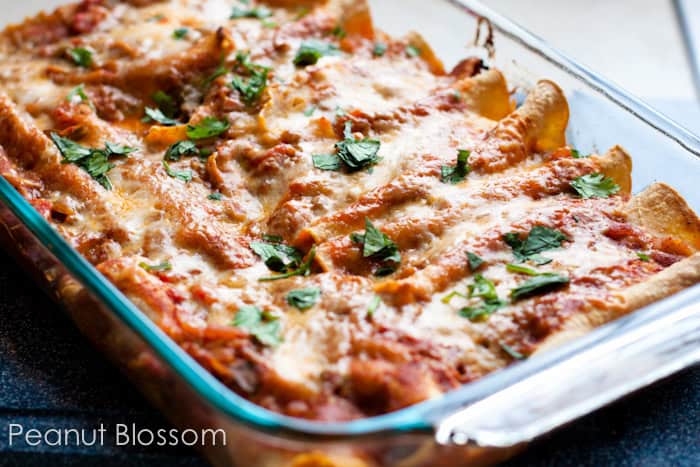 I have a love affair with rotisserie chickens. I use them in practically everything. When I'm looking to make a recipe easier and shorter and more likely to hit my table with the least amount of effort and planning, I rely heavily on this pre-shredded freezer staple.
As I was tossing together this family favorite recipe for the umpteenth billion time the other day I realized I have shortened this recipe beyond just substituting with my freezer chicken. If you're looking for a faster way to get enchiladas into your dinner rotation I promise this has all the flavor and texture of the full blown more detailed version featured over at Annie's Eats.
Her recipe has been my go-to source for enchiladas since she posted the recipe in 2010 while I was pregnant with Little Pea but somewhere along the lines I have made it my own. Thanks for the inspiration Annie!

______________________________________
Easy Chicken Enchiladas
Inspired by Annie's Eats
Ingredients:
1 medium onion, chopped fine
2 jalapenos, seeded and chopped fine
1 tsp. canola oil
3 cloves garlic, minced
3 tbsp. chili powder
2 tsp. cumin
1 tbsp. sugar
1 (15 oz.) can tomato sauce
1/2 (15 oz.) can of diced tomatoes
Salt and pepper
3 cups shredded rotisserie chicken
2 cups shredded Mexican blend cheese
½ cup minced fresh cilantro
12 8-inch corn tortillas
Cooking spray
Toppings, optional: Sour cream, chopped green onions, more cilantro for garnish
Method:
Heat oil in a large saucepan over medium heat. Add onion & jalapeño, cook until softened, 8-10 minutes. Stir in garlic, chili powder, cumin and sugar and cook until just fragrant.
Stir in the tomato sauce, diced tomatoes with juice and bring mixture to a simmer. If it is getting too thick, add up to a cup of water to loosen it up just a bit.  Reduce heat to low and add the rotisserie chicken, salt & pepper. Stir to combine and cover. Heat just a minute or two to warm the chicken a bit.
Preheat the over to 425 degrees. Spray a 9×13 baking dish with cooking spray.
Using a slotted spoon, remove the chicken from the sauce and put into a medium bowl. Add a ladle of the sauce, 1 cup of cheese, and the cilantro to the bowl. Stir to combine.
Stack the tortillas on a plate, cover with plastic wrap, and microwave for a minute. Spoon 1/3 cup of the chicken mixture evenly down the center of the tortilla. Roll tightly and place seam side down in your dish. Repeat with remaining tortillas & filling. I can usually fit 8 in one long row and the last 4 in 2 rows of 2 facing the other direction. It's ok to nestle them in there tightly.
This next step is the moment of brilliance that makes these enchiladas stand above every other recipe I've tried. Don't skip it:
Lightly spray the tops of the enchiladas with cooking spray. Place in the oven, uncovered, for 7 minutes until the tortillas start to brown slightly.
Reduce the oven to 400, remove the enchiladas from the oven, pour the sauce over the top, sprinkle with remaining cheese. Cover the dish with foil and bake for 20 minutes. Bake for a final 5 minutes to brown the cheese on top. Let stand 10 minutes before serving–just enough time to get your sour cream, some green onions, and your side dishes to the table!
Note: I have frozen this entire dish by assembling it up to the point where the sauce and cheese are put on the top and then just baked from there. I have also frozen it as just the chicken filling in the sauce and simply done the full assembly fresh the night of baking. Between using the rotisserie chicken and these other happy shortcuts, you'll find this is a very workable weeknight meal for a family.