These easy chicken enchiladas come together quickly with a pre-cooked rotisserie chicken.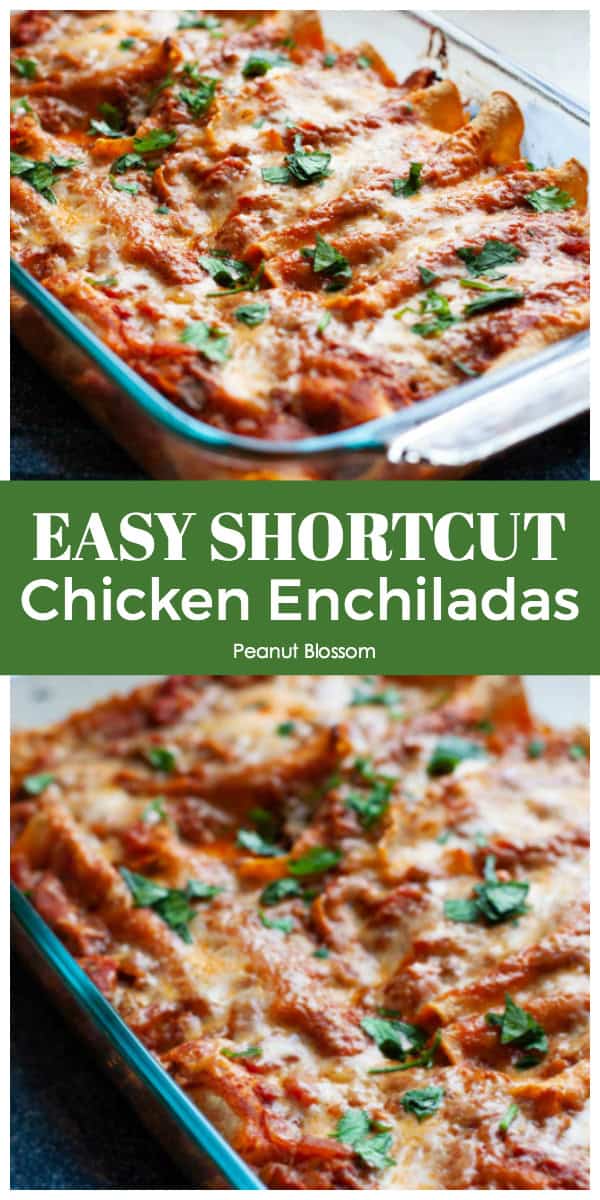 I have a love affair with rotisserie chickens. I use them in practically everything. When I'm looking to make a recipe easier and shorter and more likely to hit my table with the least amount of effort and planning, I rely heavily on this pre-shredded freezer staple.
One of my favorite recipes to use a rotisserie chicken is this delicious pan of chicken enchiladas. I have several shortcut tricks for making it an easy enough dinner for a busy weeknight. They are such a fun change of pace from our standard Taco Tuesday dishes.

The easiest shortcuts for making quick Chicken Enchiladas

Quick Tip #1: Use a shredded rotisserie chicken
I keep bags of pre-shredded rotisserie chicken in my freezer for tossing into recipes in a pinch.
If you don't use this awesome dinner shortcut, you can either:
add a rotisserie chicken to your grocery order and shred it.
order any boneless, skinless chicken you prefer: poach and shred it before making this dish.
Quick Tip #2: Prepare the chicken filling ahead of time
You can easily break this recipe up into stages. If you have extra time on the weekend, you can prepare the chicken filling and just store it in the fridge overnight or freeze it for later.
Simply thaw and warm the filling and all you'll need to do is assemble the enchiladas before baking.
Quick Tip #3: Prepare the entire pan of enchiladas and freeze
This is a great make-ahead dinner recipe for busy nights. You can prepare the entire pan of chicken enchiladas and then freeze.
Thaw them overnight and then just pop them in the oven the night you want to bake them.
Our favorite easy chicken enchiladas recipe: