Make this easy Instant Pot Mexican shredded chicken for salsa verde chicken tacos and you'll be thrilled to find it is the juiciest and most delicious recipe you will ever find. If you use chicken thighs, the whole meal is done in 15 minutes!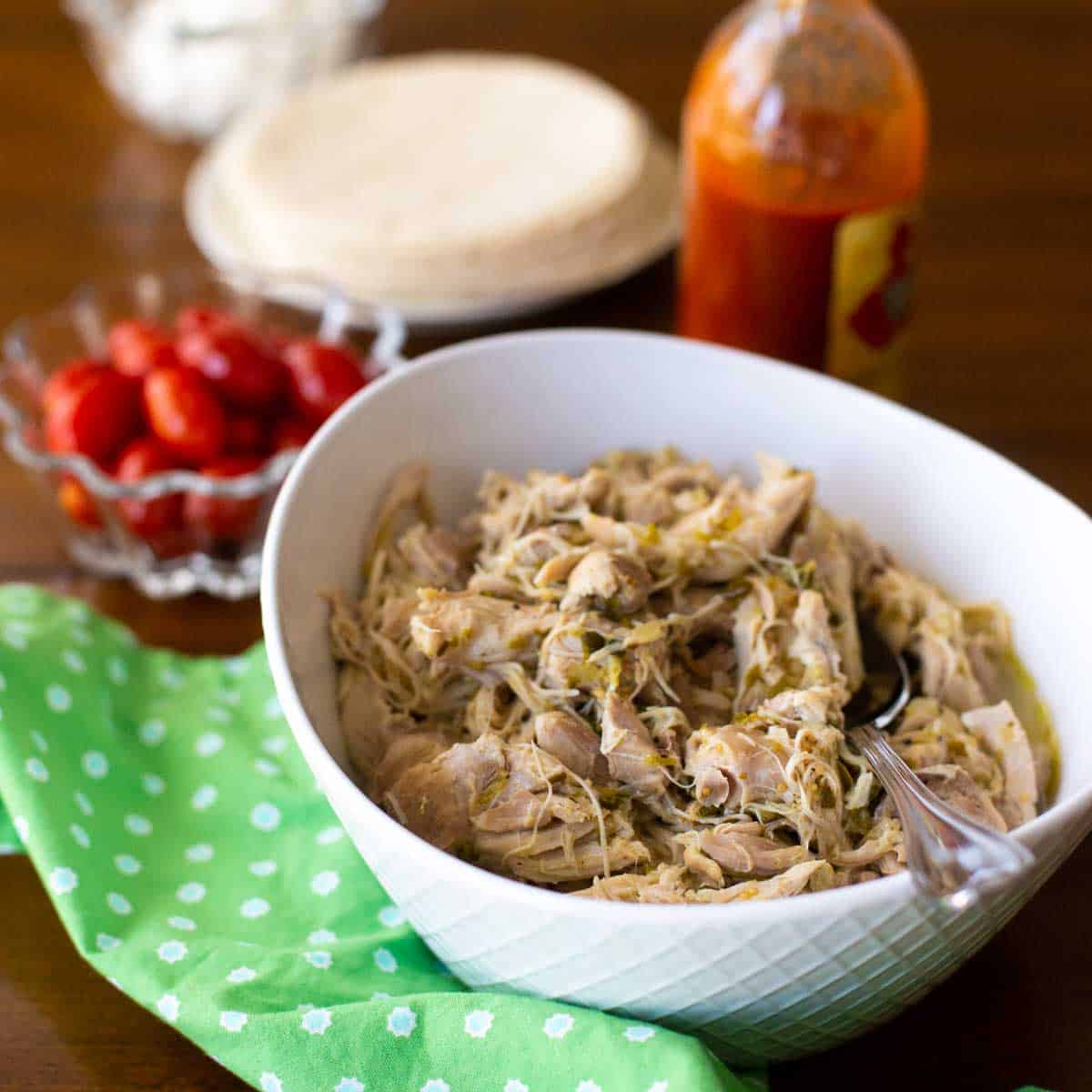 This easy Instant Pot Mexican shredded chicken recipe has been a family staple of ours for over 6 years because it is a huge hit with the kids, is so easy to make, and I can use it in a bunch of different dinners.
With just three ingredients, I use the salsa verde chicken in tortilla shells for tacos but also as part of a sandwich wrap, over salad greens, or even tossed into veggie soups.
This is the best Instant Pot Mexican chicken you'll find for Taco Tuesday or any night of the week.
Jump to:
Why This is the Best Recipe
There are a million taco recipes out there, but this Mexican shredded chicken is the best Instant Pot recipe because:
SUPER Easy: This is the perfect chicken recipe for people who don't like to cook. Just dump everything into your Instant Pot and you're done.
Flexible Prep: While I love to cook the chicken in my Instant Pot, I've included instructions for you to use your slowcooker, too.
Budget Friendly: With just 3 ingredients, you can use the chicken when it goes on sale to keep this very affordable for family dinner.
Not Spicy: This is super kid-friendly because though it is filled with flavor, it is not spicy at all. Like a bit of spice? That's an easy variation, just see my notes below.
Light and Healthy: This is a gluten-free, dairy-free taco recipe filled with veggies and light boneless, skinless chicken.
Easy to Double Batch: One taste and you'll probably want to make a big double batch because this is the juiciest, most delicious shredded chicken taco recipe you will ever find.
Just 3 Ingredients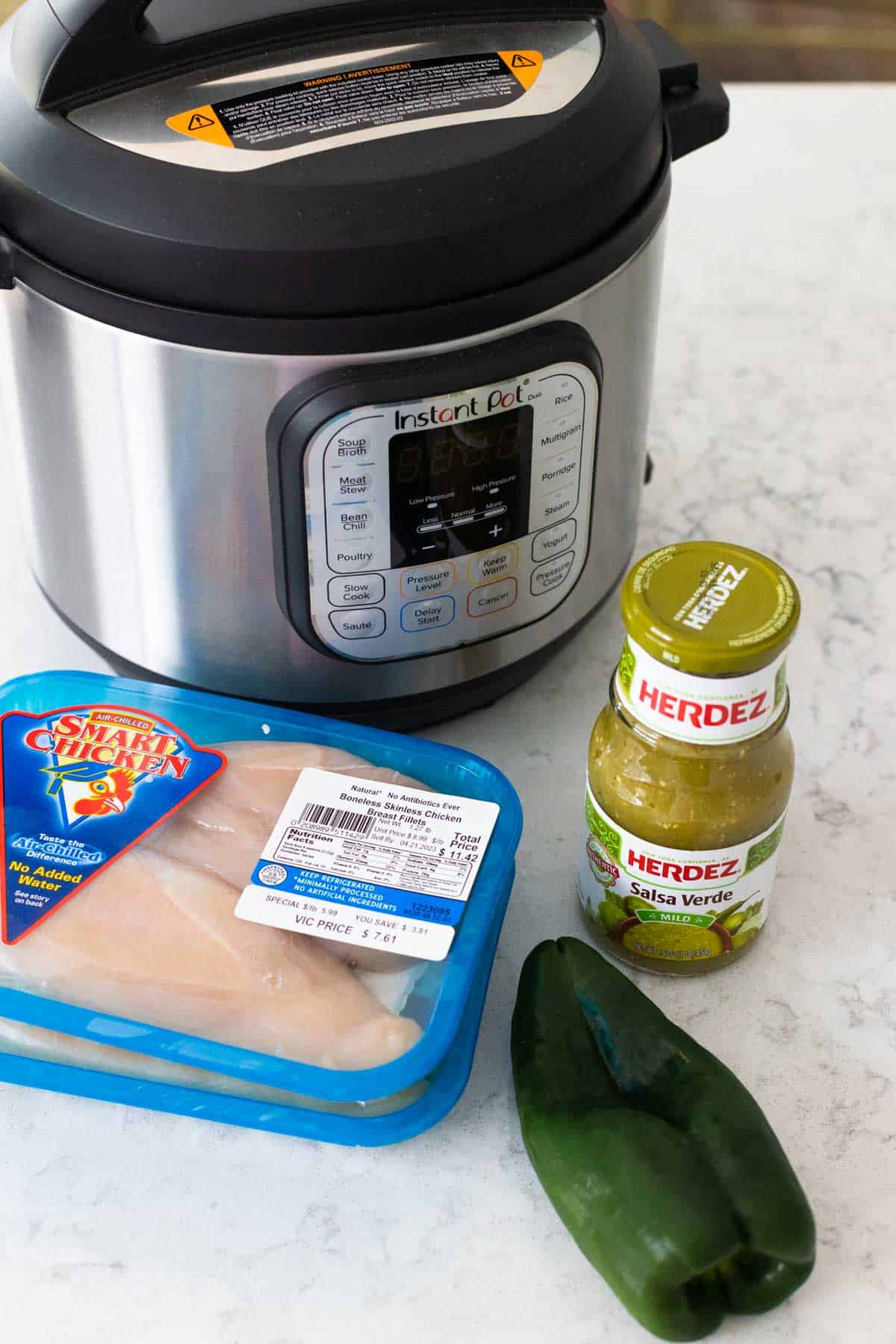 I mentioned this was budget-friendly, right??
This shredded chicken only needs 3 things from the store:
Boneless, Skinless Chicken: I strongly prefer chicken thighs because they cook more quickly and are so very tender. I also prefer the flavor and texture in my tacos. But, I've made this recipe with boneless skinless chicken breast halves and it works just great.
Green Tomatillo Salsa (Salsa Verde): We love the one from Trader Joe's but you can go with whatever you can find at the store. I've seen several different brand options at various spots.
Fresh Poblano Pepper: This large green pepper gives the chicken wonderful flavor but I promise it is not too spicy. It has a unique flavor but is similar in spice level to a green bell pepper, in my opinion. If you can't find one at the store, it is ok to make the recipe without it in a pinch.
Instant Pot Cooking Instructions
Wait till you see just how easy this is.
First, pour the entire jar of salsa verde into the Instant Pot.
Add the chicken and use a fork to turn it over so it is coated on all sides.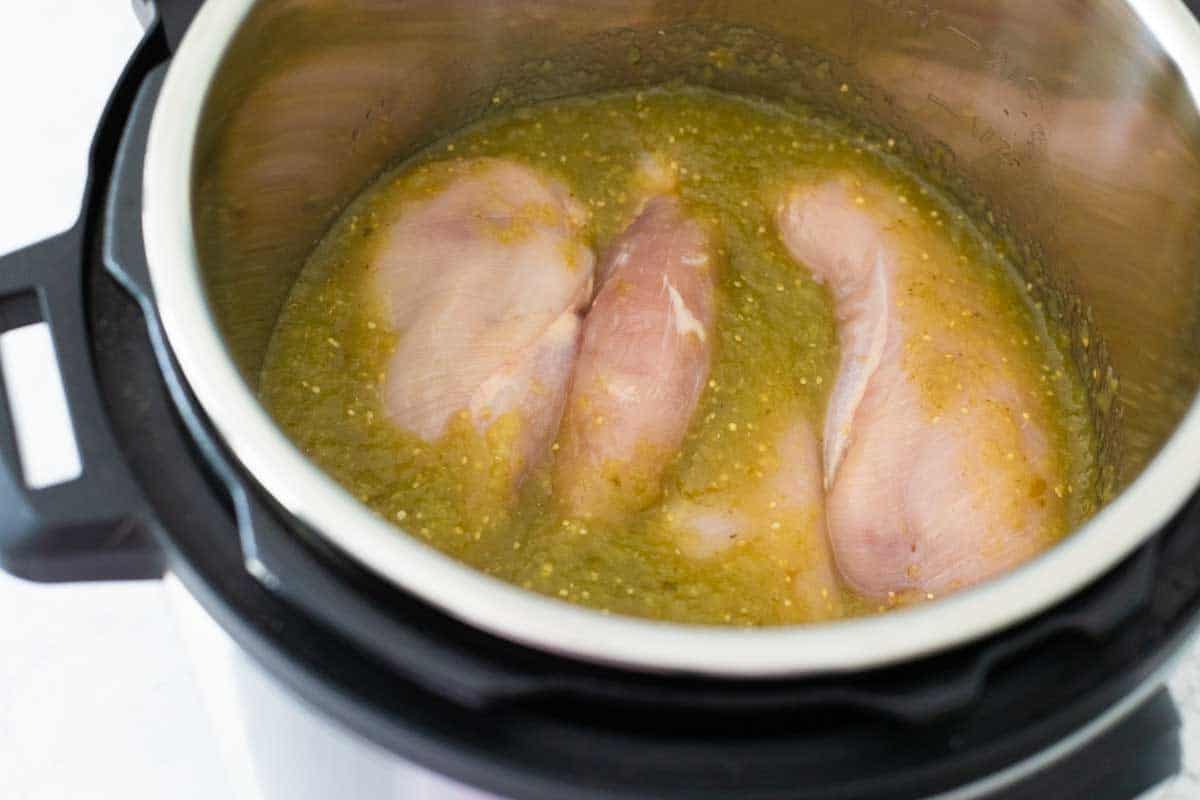 Cut the poblano pepper in half. See that bundle of seeds? Just use your fingers and rip that part of the pepper out.
Chop the remaining pepper halves into a small dice and add them to the Instant Pot.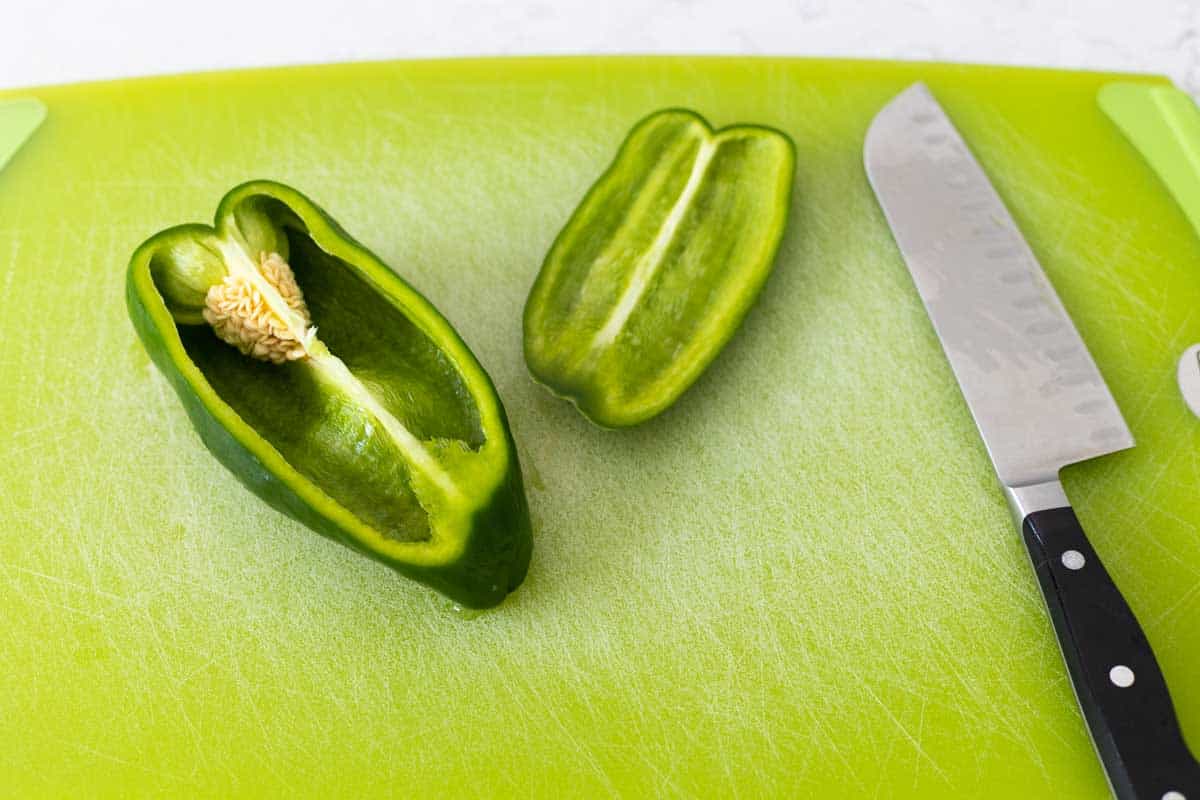 Use your fork to stir the pepper pieces all throughout the chicken and salsa. If you leave it on top like this it will cook but it won't flavor the chicken quite as well as if you mix it in.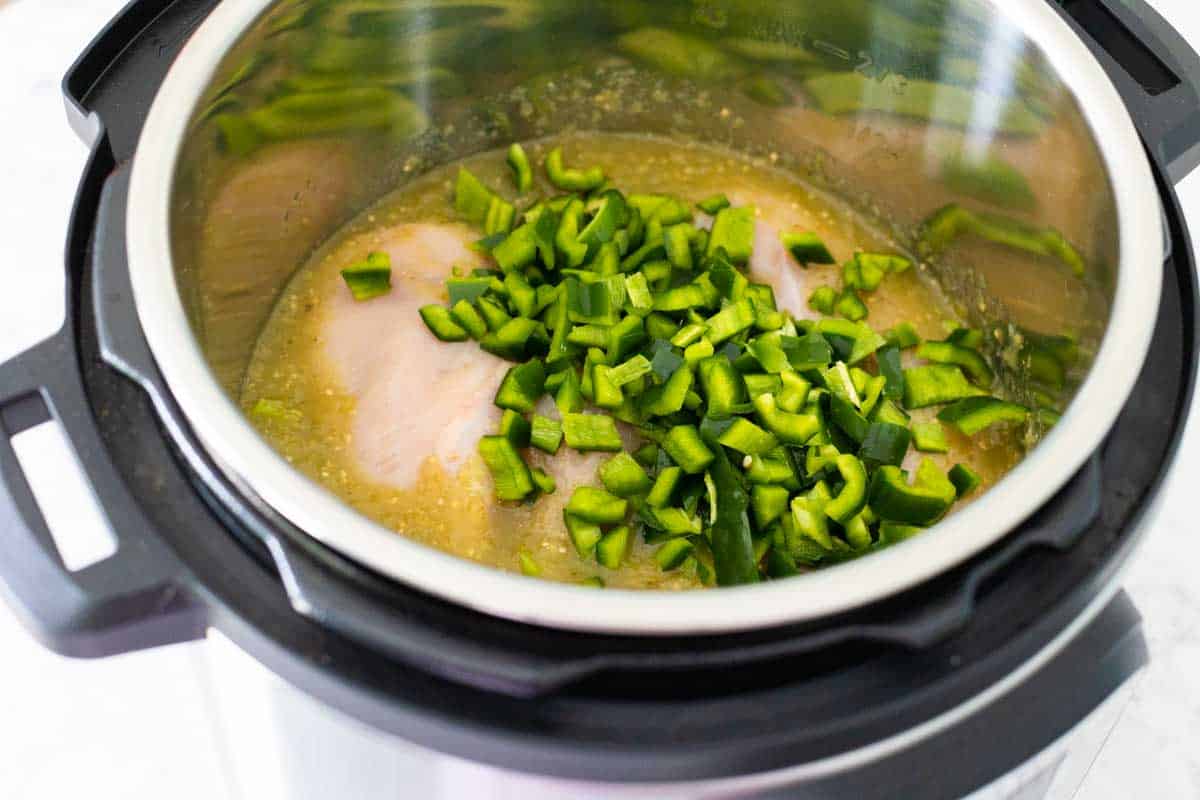 Chicken Thighs:
If you used boneless skinless chicken thighs, set the Instant Pot to cook on HIGH pressure for 15 minutes.
You can quick release or let it rest and natural release, either way.
Chicken Breasts:
If you used boneless skinless chicken breasts, set the Instant Pot to cook on HIGH pressure for 30 minutes.
There is no need to cut the pieces of chicken into smaller bits. Just toss the whole breast into the pot.
You can let the chicken natural release or quick release, either way is fine.
Shred the Chicken
The Instant Pot Mexican chicken is so tender by now that shredding it is going to be really easy.
I used to use two forks to do the shredding, but because the chicken is fall-apart tender, you can just use a pair of tongs to gently pinch at the meat and it will shred by itself.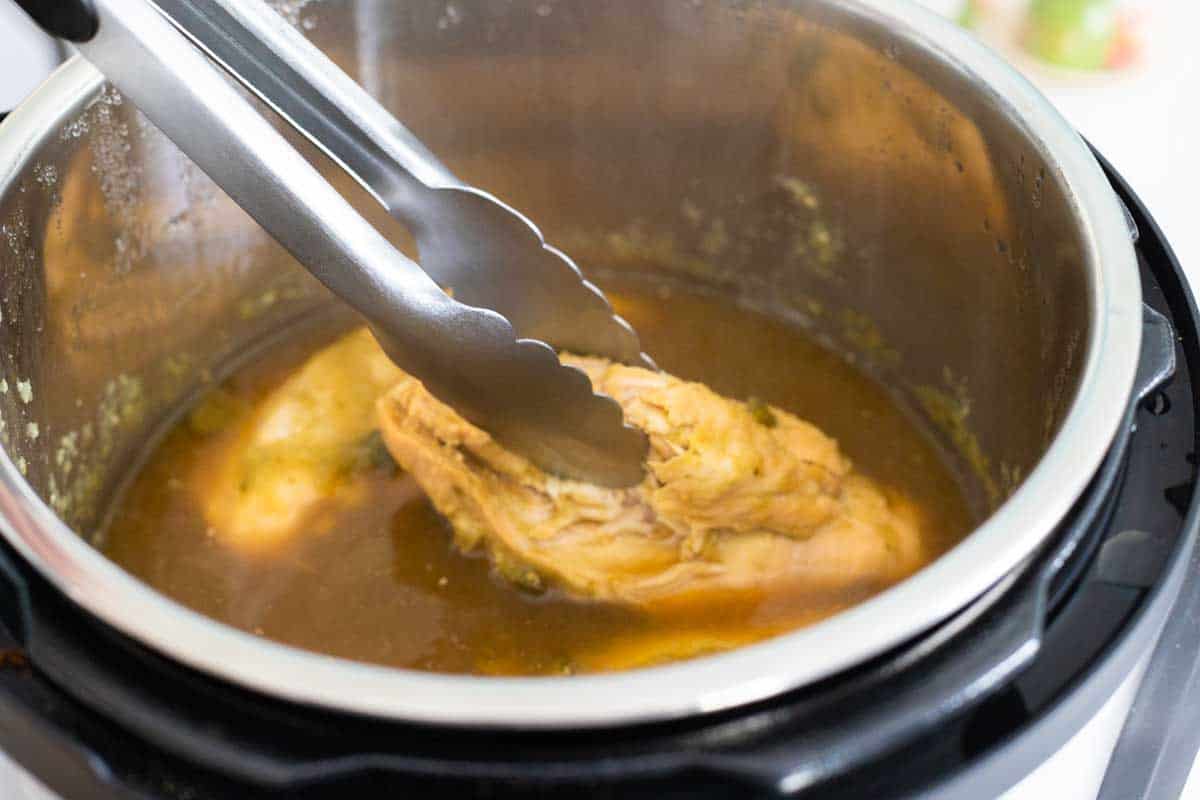 Use the tongs to gently toss the chicken in the delicious salsa verde sauce.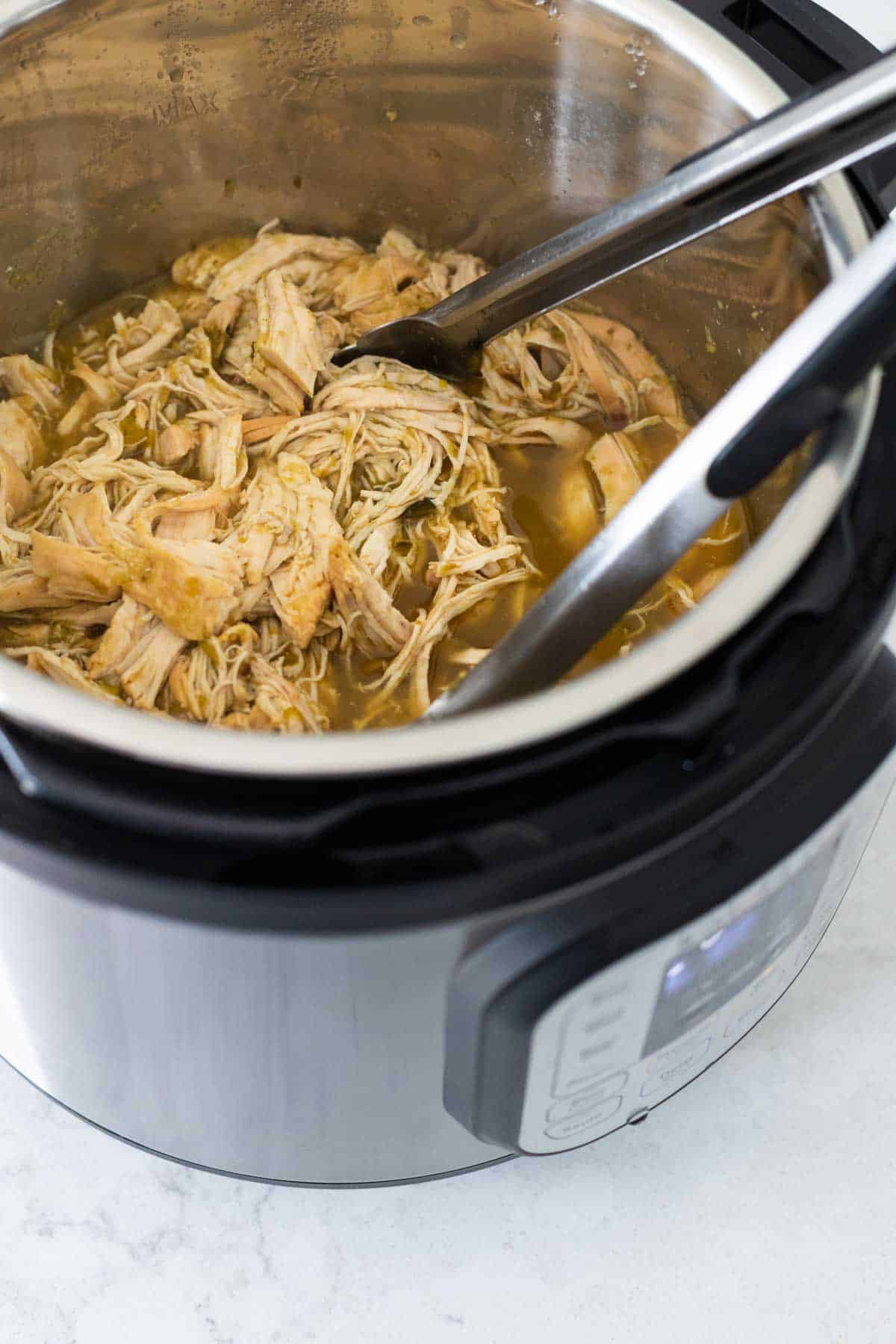 How to Avoid Overcooked Chicken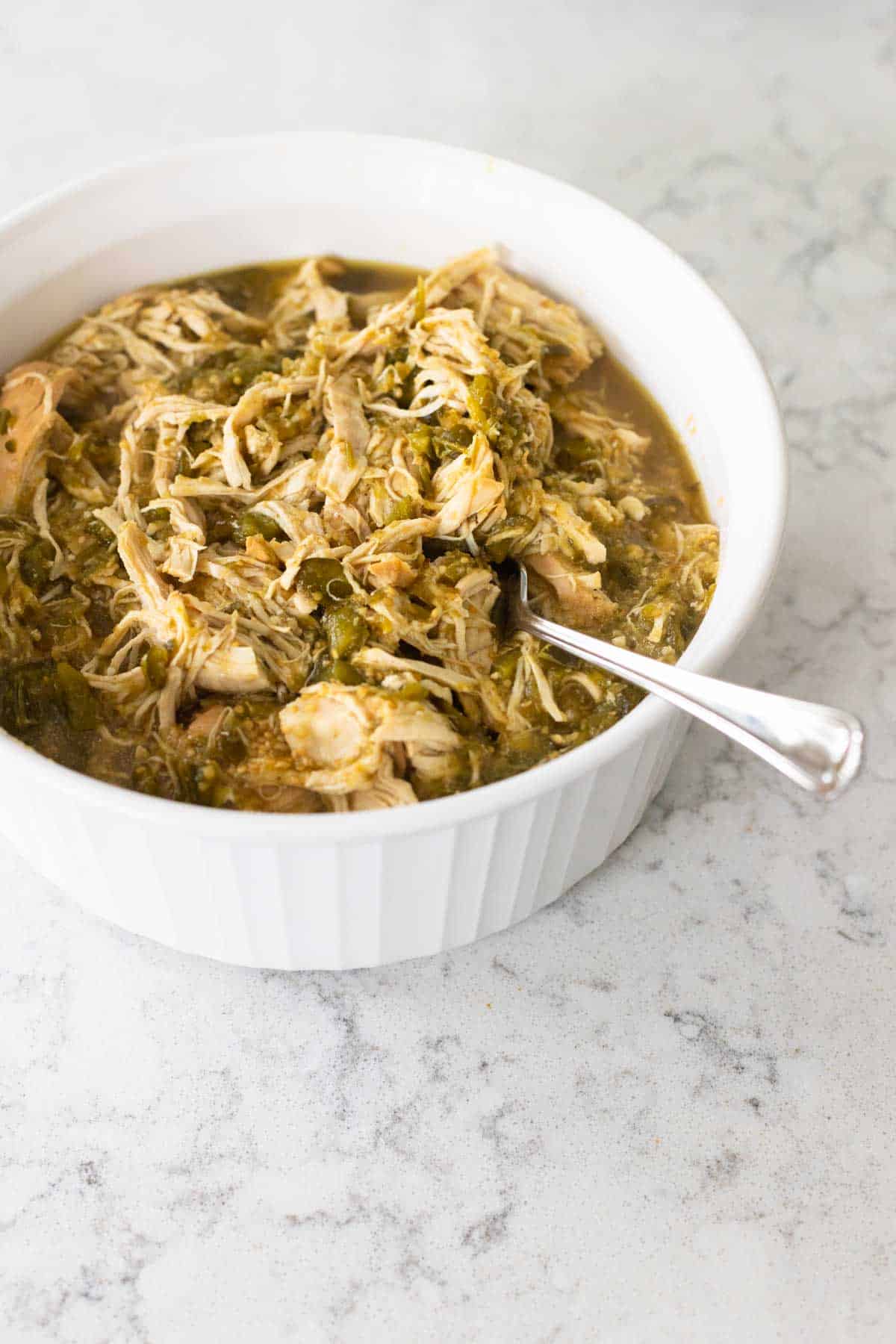 This shredded chicken taco recipe calls for using boneless, skinless chicken thighs.
I highly recommend you give it a try if you're used to using boneless skinless chicken breasts.
The thighs have so much more flavor and cook up much more juicy and tender than breasts do.
Chicken breasts can get overcooked and have an "off texture" really easily if you're not careful. The thighs are a lot more foolproof.
But if you need to use chicken breasts, just be sure that you don't let the Instant Pot natural release for too long. The longer the chicken cooks, the dryer it will be.
Make Ahead and Reheating Tips
In the last month, I've made this recipe twice for special events -- once for my daughter's youth group dinner and once for a make ahead family dinner.
I cooked the chicken early in the morning and let it rest in the juices in the fridge.
To reheat it all at once for a crowd, I put the shredded chicken and the juices in a disposable metal baking pan and covered it with aluminum foil.
Bake it in the oven at 350°F for just long enough to warm through.
For just our small family dinner, we simply placed the chicken in a microwave safe casserole dish with a lid and covered it. Microwave on HIGH for a few minutes till just heated through.
Variations
This delicious shredded chicken can be easily tweaked for several fun variations:
Spicy Mexican Shredded Chicken: As written, this recipe is not spicy. If you like things hot then I recommend adding a spicier pepper to the mix, several dashes of your favorite hot sauce, or even ½ teaspoon cayenne pepper.
Green Chiles Shredded Chicken: If you can't find a poblano, you could always use a can of diced green chiles instead.
Serving Suggestions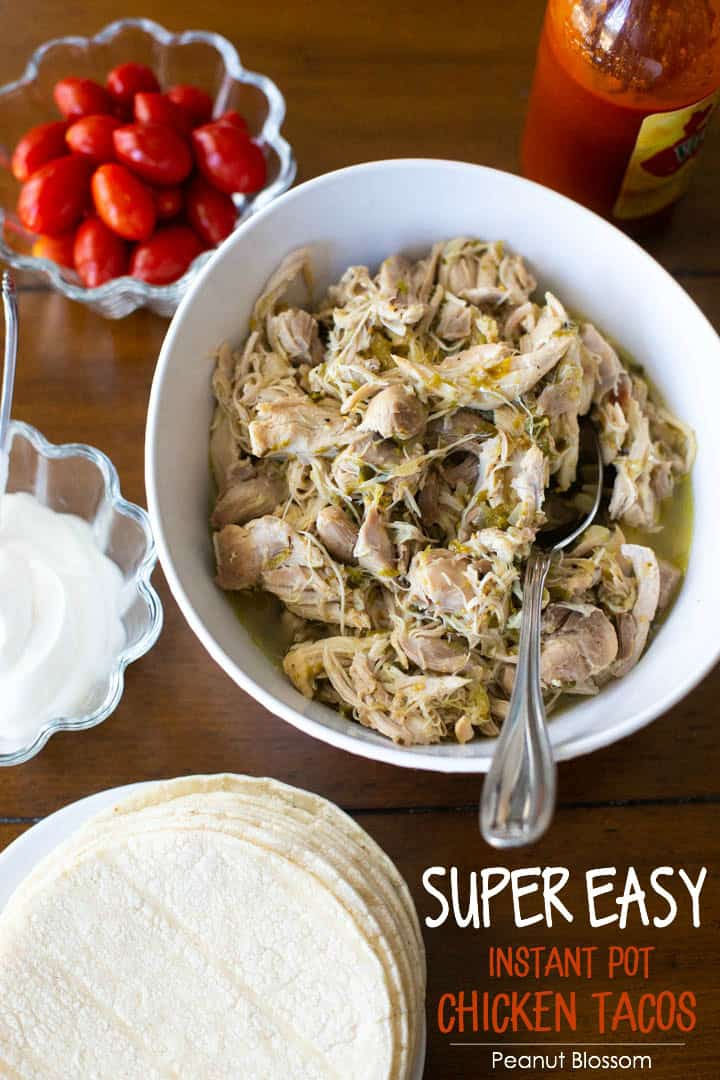 Whether you're hosting the gathering or bringing food to a potluck, I promise these shredded chicken tacos are party perfect.
Just lay them out with a bunch of prepared toppings and let your guests do the rest!
Of course, my family loves when I put out a bunch of topping options for family dinner, too.
More Chicken Taco Recipes
If you love chicken tacos as much as we do, you'll definitely want to add these other delicious recipes to your meal plan:
📖 Recipe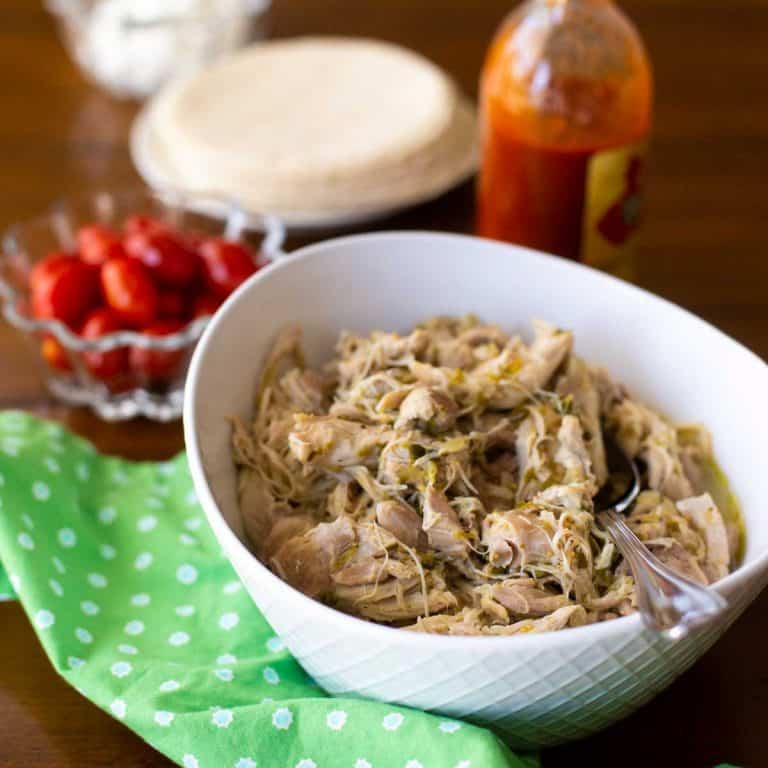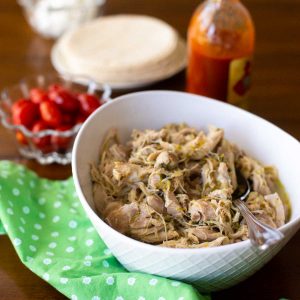 Instant Pot Mexican Shredded Chicken
This easy Mexican shredded chicken taco recipe is so ridiculously easy to make, even your kids could cook it! Dump everything in the Instant Pot (or slow cooker / crockpot) and you're ready to go. Leftovers freeze well, so be sure to make a big batch.
Ingredients
1

(12 oz) jar of green tomatillo salsa

8

boneless skinless chicken thighs

or 4 whole boneless, skinless chicken breasts

1

poblano pepper

seeded and chopped

Salt & pepper to taste
Instructions
Pour the entire jar of tomatillo salsa into the pot of your Instant Pot (or slow cooker). Add the poblano pepper chunks and stir. Add the chicken thighs, turning them each to coat in the salsa. Nestle them so they are submerged in the salsa as much as possible. Sprinkle a pinch of salt and pepper over the top.
INSTANT POT:
Cook the chicken thighs for 15 minutes on high pressure. If you're using whole chicken breasts, cook them for 30 minutes on high pressure. There's no need to cut them into smaller pieces, you can cook them whole. You can either manually or naturally release the pressure, as you wish. Shred the chicken with 2 forks or a pair of tongs and toss the meat in the juices to coat.
SLOW COOKER:
Cook on high for 2 - 3 hours or low for 4-5 hours. Use two forks to shred the chicken and toss in the juices.
Save This Recipe to Your Recipe Box
Find this delicious recipe next time you visit by saving it to your very own recipe box on my site. All your favorites stored in one easy place!