Instant Pot shredded chicken can be dry and flavorless if you don't have the right ingredients. This easy shredded chicken taco recipe is the juiciest and most delicious one you will find. This easy Instant Pot recipe can be used for so much more than Taco Tuesday! Serve it as sandwich wraps, over salad greens, or even tossed into veggie soups. It is the best Instant Pot or slow cooker Mexican chicken you'll find.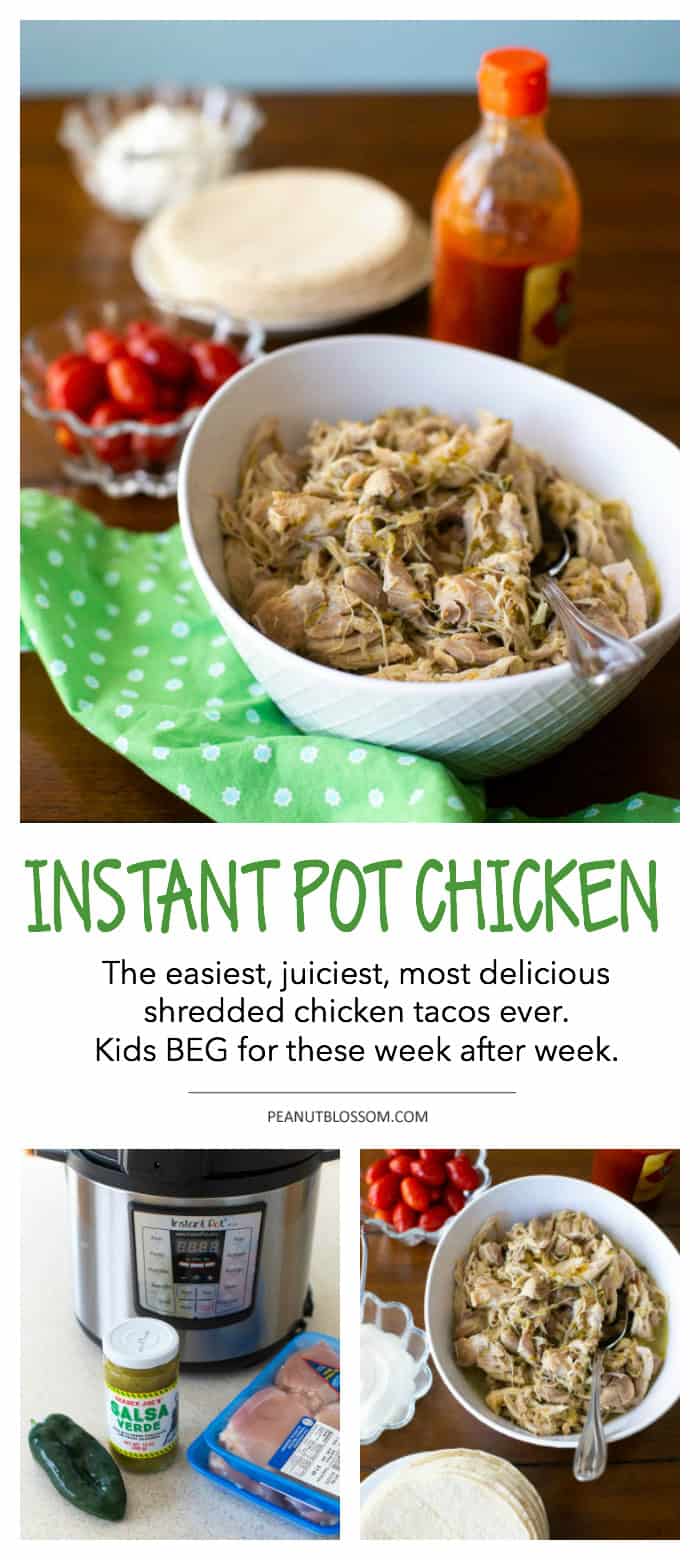 Last summer I enjoyed a special birthday luncheon with our friends from The Artful Parent in Asheville. Our friend Zina from Let's Lasso the Moon was traveling to North Carolina from Wisconsin. Since Zina and I are "birthday buddies" just a few days apart, Jean and her sweet girls made homemade birthday cakes for us and served an amazing dinner that featured what has lovingly been named "green chicken" in our house.
My kids and I could not believe what simple ingredients made up these shredded chicken tacos. Jean made them right in her oven but mentioned that it was originally a crockpot chicken tacos recipe. I've made the dish countless times since last August and we've perfected this Instant Pot shredded chicken for busy weeknights. Whether you do it in a slow cooker, Instant Pot, or in your oven, you'll probably want to make a big double batch because this is the juiciest, most delicious shredded chicken taco recipe you will ever find.
Whether you're hosting the gathering or bringing food to a potluck, I promise these shredded chicken tacos are party perfect! Just lay them out with a bunch of prepared toppings and let your guests do the rest!

Easy Instant Pot recipes: Green shredded chicken tacos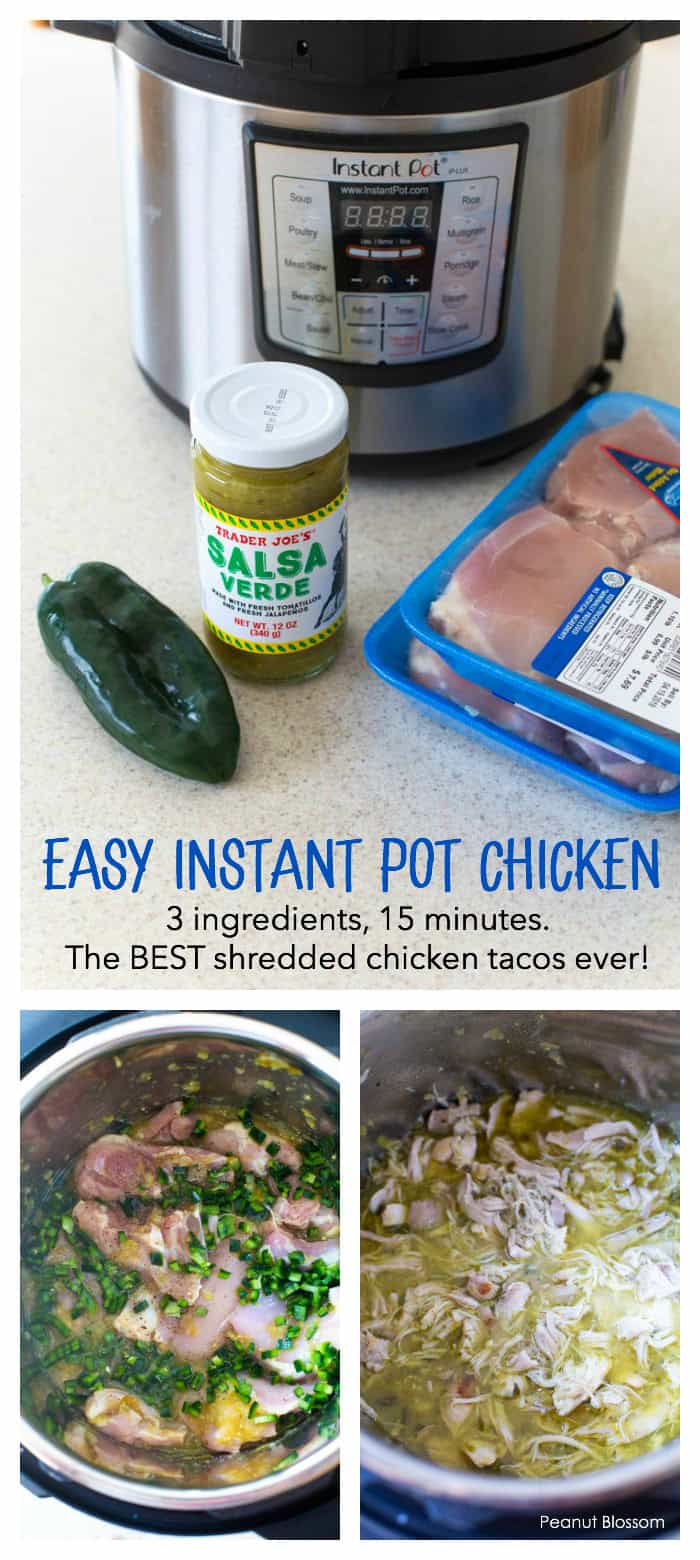 This is the perfect chicken recipe for people who don't like to cook. You simply dump everything right into the Instant Pot, give it a stir, and you're done. The "green" comes from green salsa and poblano peppers but the final dish isn't a scary green color, just our goofy kid-friendly nickname for it. My girls BEG for this recipe on a nearly weekly basis, so I swear it isn't too spicy. If you like extra heat, just add another pepper to the Instant Pot and some hot sauce to your taco.
First, you need a jar of your favorite green tomatillo salsa: we love the one from Trader Joe's but you can go with whatever you can find at the store. I've seen several different brand options at various spots.
Second, you will prepare a poblano pepper. Cut the stem end off, slice the pepper in half length-wise, use a spoon to scoop out and discard the seeds and ribs. Chop the poblano pepper finely if you or your kids object to large chunks of pepper in your chicken.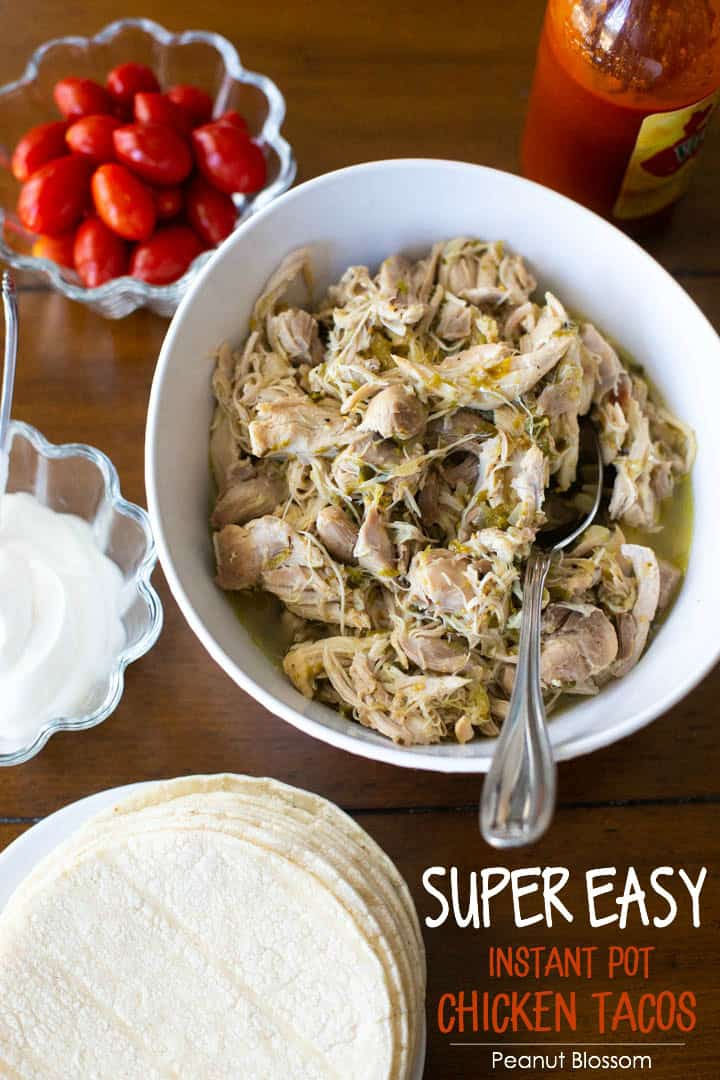 How to avoid overcooked Instant Pot shredded chicken:
This shredded chicken taco recipe calls for using boneless, skinless chicken thighs. I highly recommend you give it a try if you're used to using boneless skinless chicken breasts. The thighs have so much more flavor and cook up much more juicy and tender than breasts do.
Chicken breasts can get overcooked and have an "off texture" really easily if you're not careful. The thighs are a lot more foolproof.
You might also enjoy these other Mexican food recipes: