This Crockpot creamy chicken is filled with flavor from the fajita seasonings, diced tomatoes, refried beans, and sweet corn. The creamy sauce is thickened with cream cheese and tastes amazing in Mexican rice bowls, rice and bean burritos, or as a chicken dip for tortilla chips.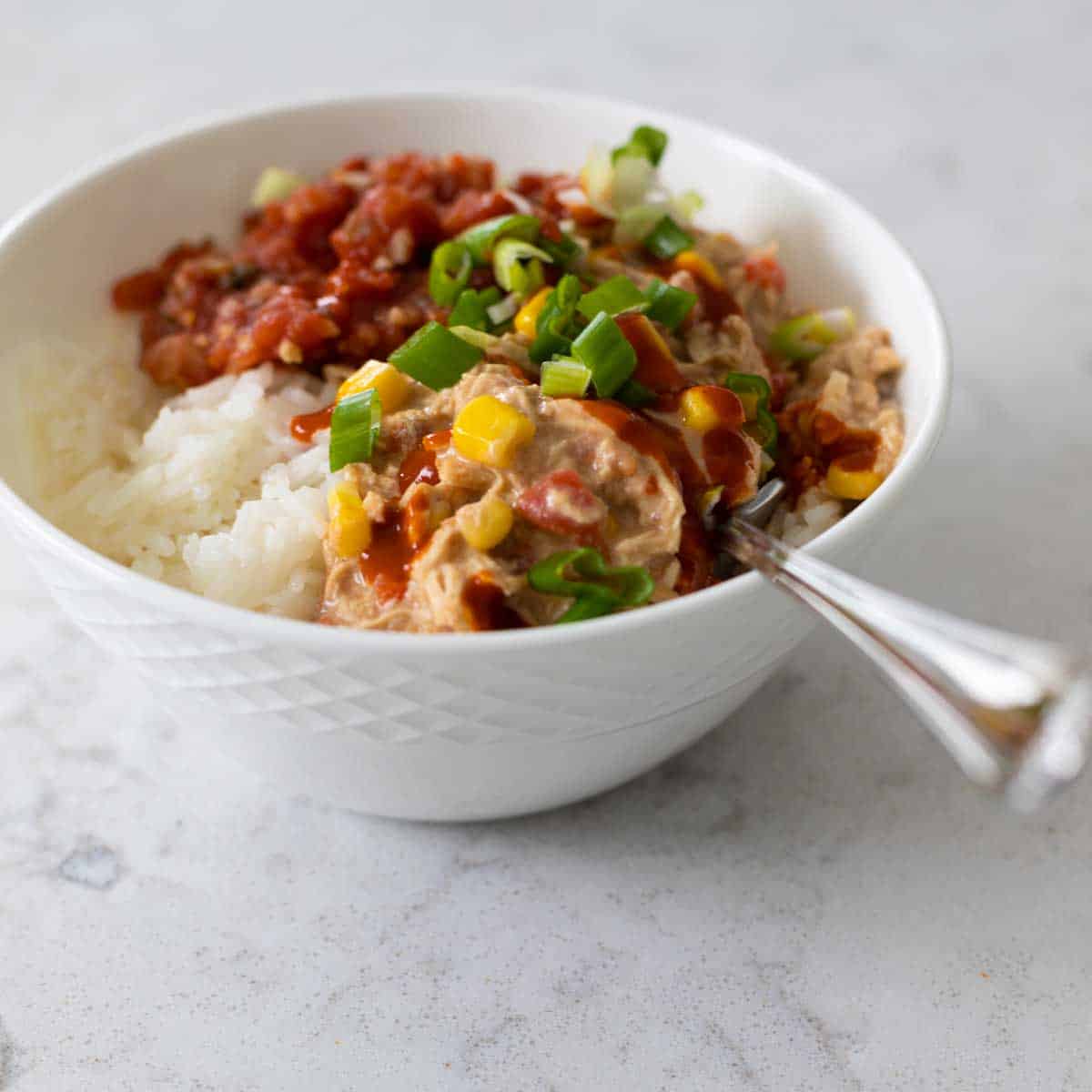 You know who has the best, most-frugal, most-delicious, and easiest dinners of all??
Busy moms of teen boys, especially teen boy athletes with huge appetites!
This deliciously easy Crockpot creamy chicken is my bestie's invention and she graciously shared it with me when I called her on the way to the grocery store.
"I served it to a whole party of starving teenagers and they gobbled it all up! It's a crowd favorite, budget-friendly, filled with protein, and easy to stretch."
With a description like that? We had to try it. One bite and I could instantly understand why it was so popular with her family.
Jump to:
Why This is the Best Recipe
Slowcooker recipes are always a great choice for a busy night but this Crockpot creamy chicken is the best recipe because:
Lots of Protein: With grocery prices gone wild, this budget-friendly recipe stretches your chicken by adding affordable refried beans, cream cheese, and shredded cheese. It will definitely stick to their ribs!
5-Minute Prep: Dump everything into the Crockpot and turn it on. That's about it!
Lots of Flavor but Not Too Spicy: The shredded chicken has lots of zesty Mexican spices and flavors but isn't too hot for picky eaters. For those that like to kick it up a notch? Just add hot sauce or cayenne to the individual servings.
Flexible Serving Ideas: Whether you want rice bowls, chicken burritos, or a creamy chicken dip with tortilla chips, you can turn this easy recipe into anything you want!
Ingredients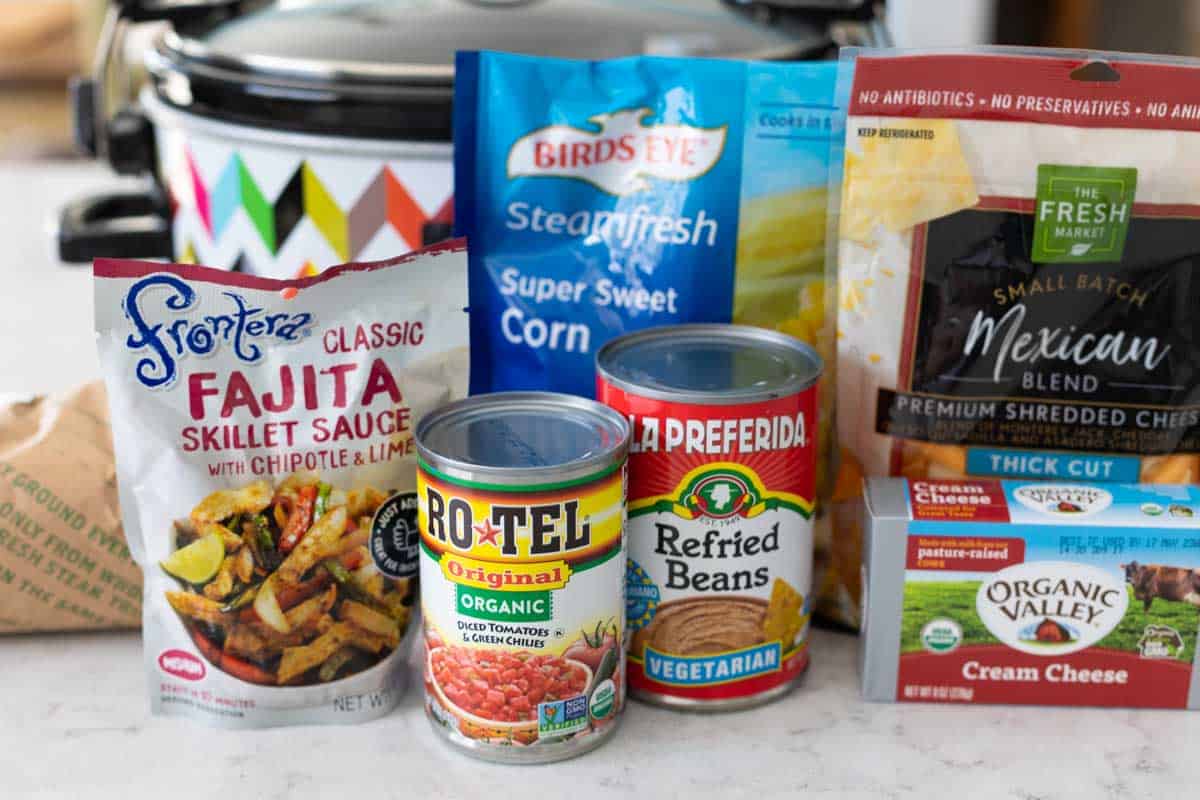 The list of ingredients is so easy for this recipe, I was able to listen to my friend tell me over the phone on my way to the grocery store and remember everything I needed when I got inside!
Chicken Breasts or Chicken Thighs: Whatever is on sale, go for it!
Fajita Skillet Sauce: You want the liquid in a packet, not the dry seasoning.
Diced Tomatoes with Green Chiles: Like Rotel. You could also just use a can of plain diced tomatoes and add a separate can (or 2) of green chiles.
Canned Refried Beans: I have a bean aversion but my friend pinkie-swore that I wouldn't taste the beans in the final dish. They just add a rich thickness to the creamy sauce and add extra protein. She was totally right, go for it.
Cream Cheese
Mexican Blend Shredded Cheese: You could also use sharp cheddar if you prefer.
Cook the Chicken in the Crockpot
Wait till you see how easy the prep is for this recipe.
First, pour the fajita sauce packet into your Crockpot. Add the chicken and use a fork to toss the meat in the sauce so it is all coated in seasoning.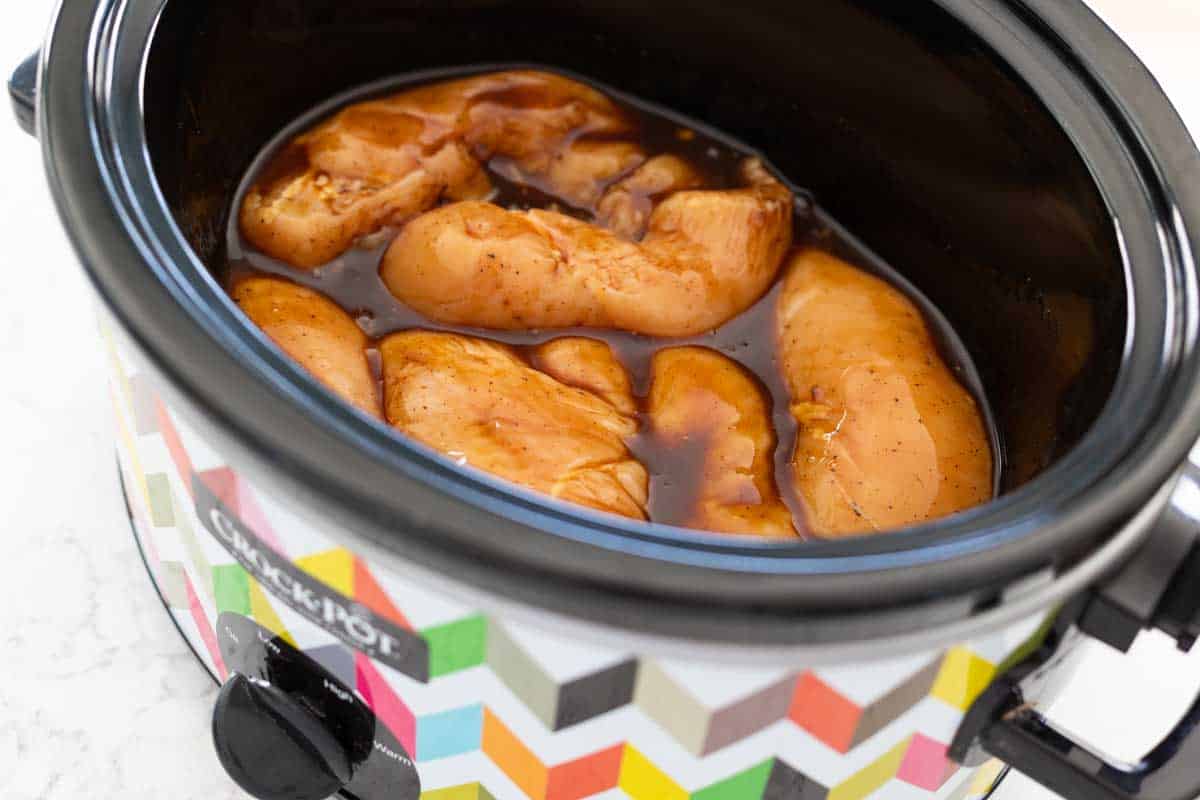 Then, pour the entire can of diced tomatoes with chiles over the top. Use all the juices and everything.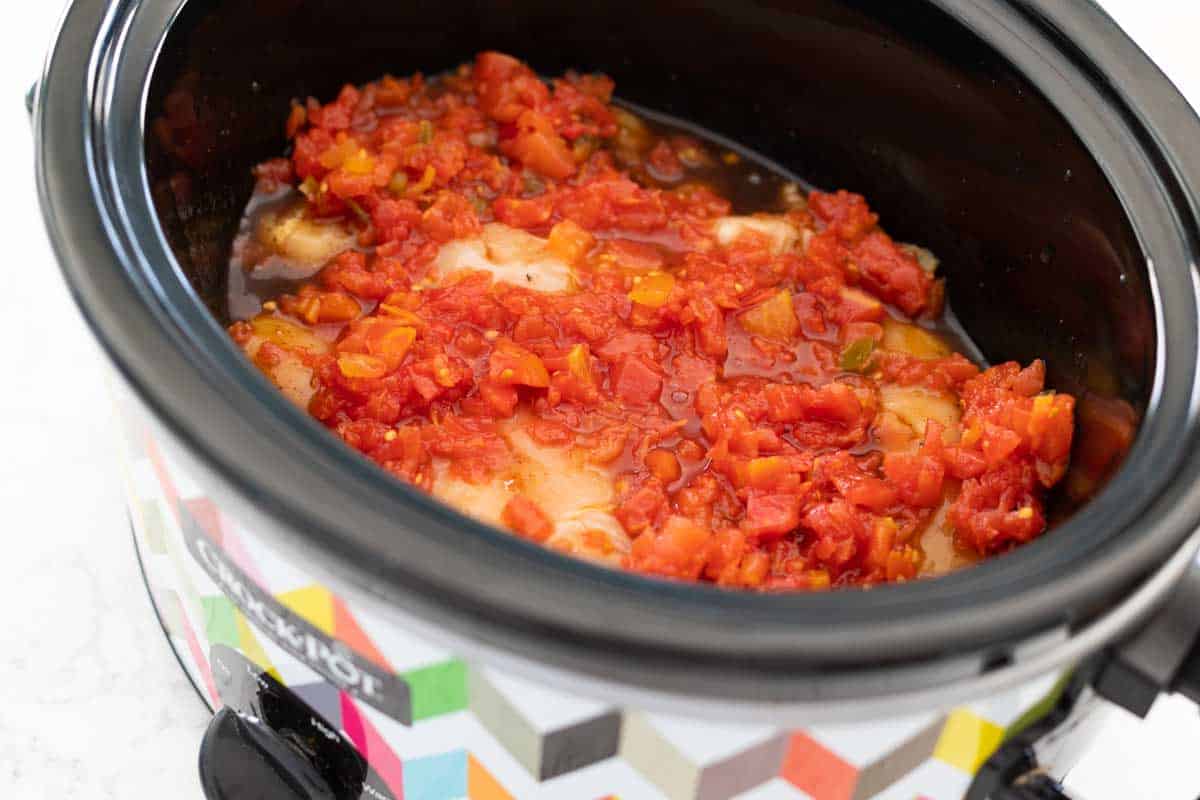 Then, spoon the refried beans over the top and spread it into a layer as best you can.
This helps seal in some moisture as the chicken cooks.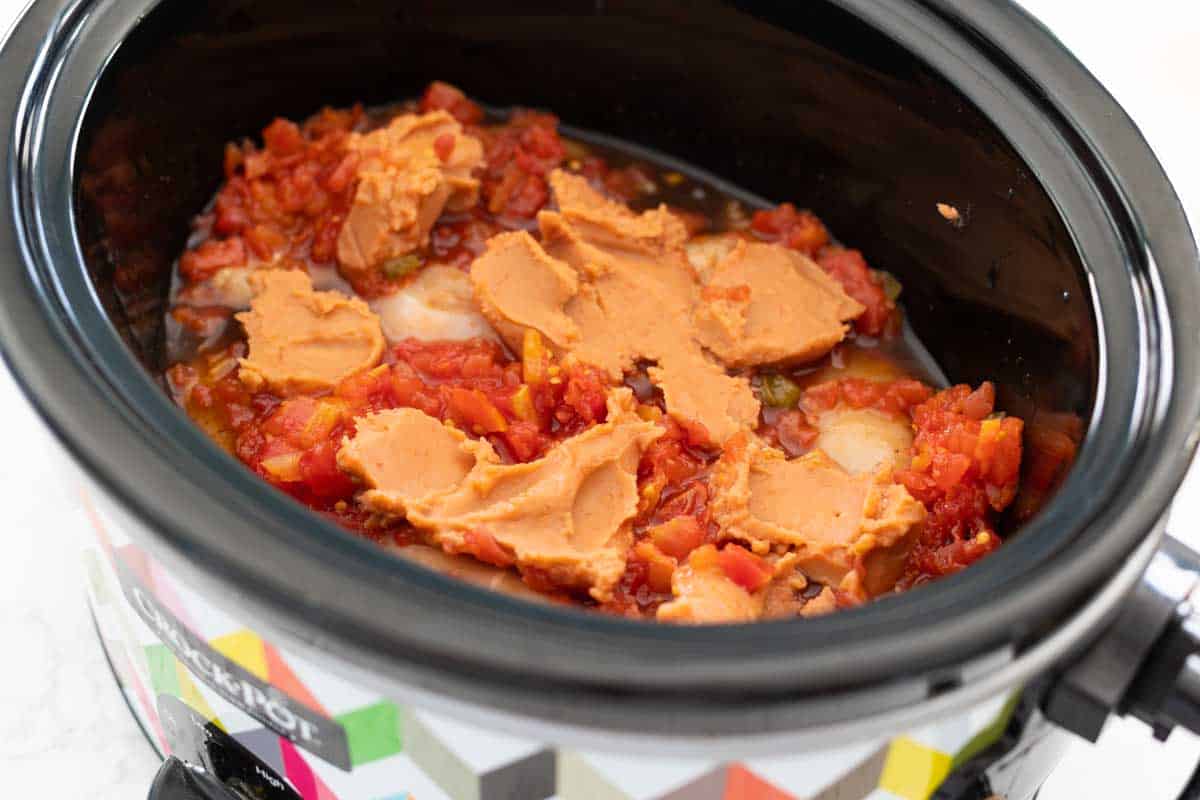 Finally, chop the cream cheese into cubes and scatter them evenly over the top.
I also added some diced red peppers that were in my fridge, optional.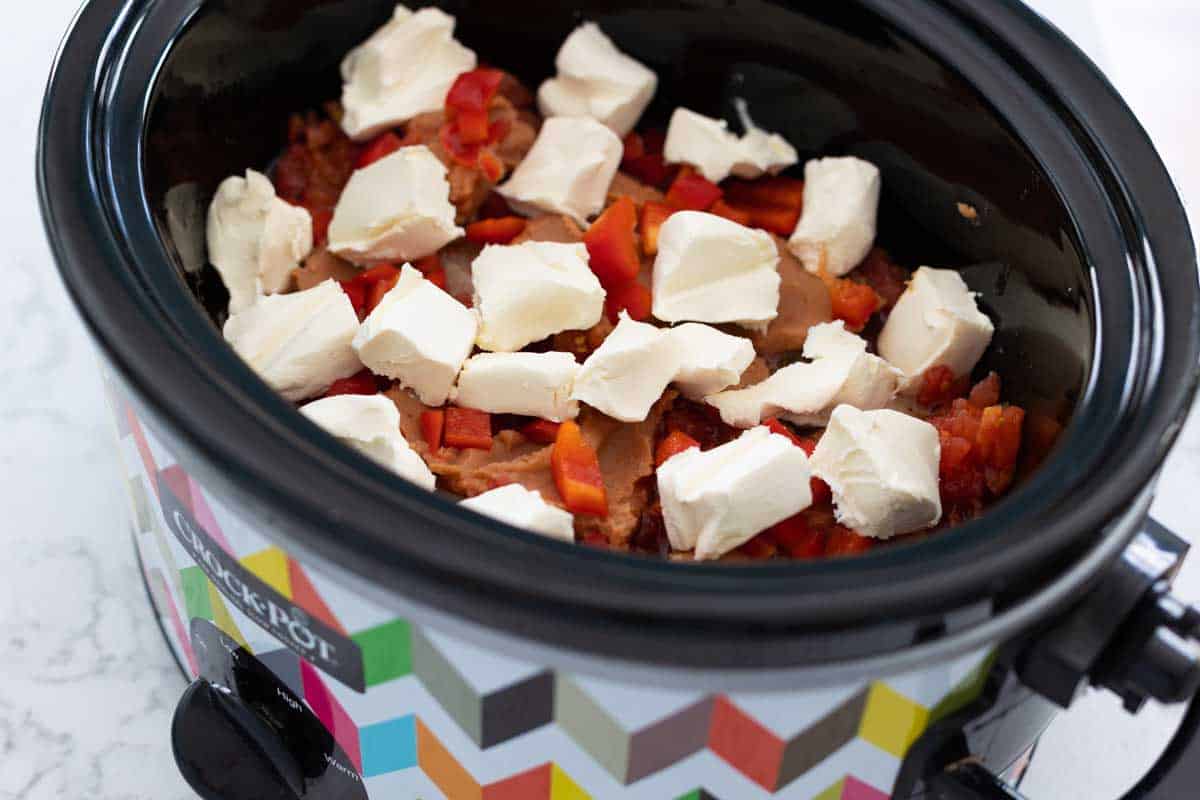 That's it! Easy, right??
Cover the Crockpot and cook the chicken on HIGH for 3 - 4 hours or until it is so tender it breaks apart when you stir it with a cooking spoon.
Finish the Creamy Chicken
Stir the chicken with your spoon until it has become completely shredded.
Add the frozen corn over the top and then sprinkle the shredded cheese over that.
Cover the slowcooker again and continue to cook for 30 minutes to heat up the corn and melt the cheese.
Stir the corn and cheese into the shredded chicken before serving.
Serving Suggestions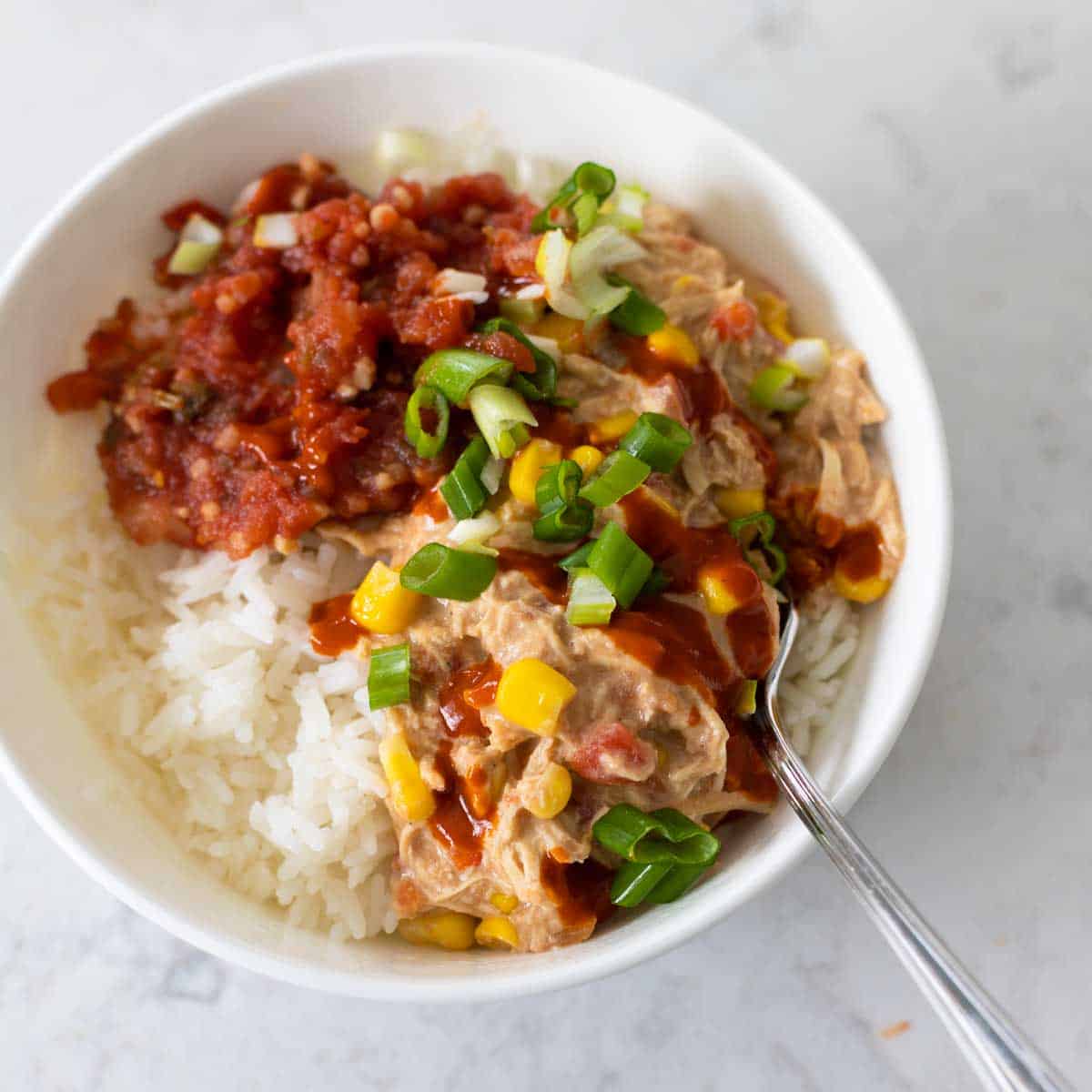 This Crockpot creamy chicken base can be used for so many different serving ideas!
1. Creamy Chicken Rice Bowls
This was how we enjoyed it for dinner that first evening.
I made a batch of our favorite jasmine rice and then spooned the creamy chicken over the top. You could also use our homemade Mexican rice.
We topped our bowls with restaurant style salsa, fresh green onions, and Mexican style hot sauce.
Absolutely delicious!
2. Creamy Chicken Burritos
The creamy sauce for the chicken would make a drippy taco, so I recommend making chicken burritos with cilantro lime rice and the shredded chicken on top!
Top your burrito as you normally would and enjoy. Super yum.
3. Creamy Chicken Dip
If you're feeling snacky and want to eat your meal with crispy tortilla chips, this Crockpot creamy chicken makes an excellent chicken dip! Consider adding a little more sweet corn for crunch.
You could keep the dip warm right in the crockpot and set out a big bowl of tortilla chips and salsas for an easy party buffet, too.
📖 Recipe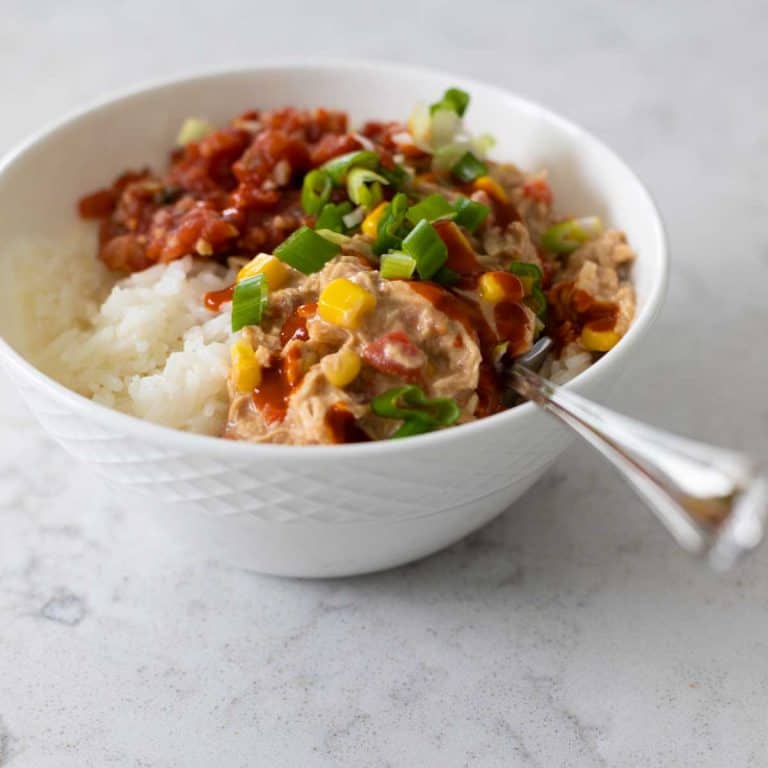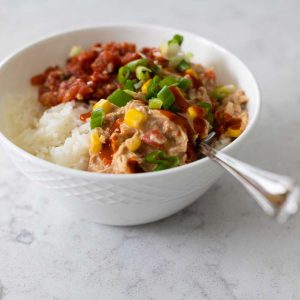 Mexican Style Crockpot Creamy Chicken
Use this easy Crockpot creamy chicken spooned over a bowl of rice and top it with salsa and green onions for a spicy Mexican rice bowl to feed a crowd! This easy dinner is the perfect party buffet item when you offer plenty of toppings like chopped jalapeños, fresh cilantro, avocado, and a variety of salsas, hot sauces, and sour cream.
Ingredients
2

pounds

chicken breasts or chicken thighs

be sure to buy boneless, skinless

1

(8 oz) fajita skillet sauce packet

like Frontera Classic Fajita Sauce with Chipotle & Lime

1

(10 oz) can diced tomatoes with green chiles

like Rotel OR 1 can diced tomatoes with a small can of diced green chiles

1

(16 oz) can refried beans

1

(8 oz) brick of cream cheese

1

(10 oz) bag of frozen corn

2

cups

Mexican blend shredded cheese
Instructions
Pour the fajita sauce into the bowl of your Crockpot. Add the chicken breasts or thighs and use a fork to toss to coat in the seasonings.

Add the entire can of diced tomatoes with chiles with their juices over the top of the chicken. Use a large spoon or spatula to spread the can of refried beans over the top of the tomatoes. Cut the block of cream cheese into large cubes and scatter them evenly over the top of the beans.

Cover and cook the chicken for 3 - 4 hours on HIGH or until the chicken is tender. Use a large spoon to stir the chicken and break it up into shredded pieces. If it doesn't shred easily, it needs more cooking time.

Pour the frozen corn over the top of the shredded chicken. Sprinkle the shredded Mexican cheese over the top. Cover the slowcooker and continue to cook for 30 minutes or until the cheese has melted.

See Notes for serving suggestions.
Recipe Notes
A Note on Flavor:
The base version of this recipe is very mild so that it is kid-friendly. You can easily add more flavor to an individual serving with hot sauce or a hot salsa. 
If your family prefers things more spicy, you can choose a spicier fajita seasoning packet, select a spicy Rotel mix, add hot sauce to the crockpot, or use a sharper cheddar cheese instead of the Mexican blend. 
Crockpot Creamy Chicken Mexican Rice Bowls
Use the creamy chicken as a protein-heavy topping for delicious homemade Mexican rice bowls. Simply place the white rice in a bowl, spoon the cheesy chicken over the top, and add your favorite rice bowl toppings.
Our favorites include salsa, green onions, and Mexican style hot sauce. 
Fresh

jalapeños, avocado, cilantro, fresh limes, and/or sour cream would also be delicious.
Crockpot Creamy Chicken Tacos or Burritos
This creamy shredded chicken would make an excellent taco or burrito filling but is saucy enough you might want to consider stirring it into some cooked rice before loading your burrito.
Crockpot Creamy Chicken Dip
If you prefer to eat crispy tortilla chips, this cheesy shredded chicken would make a fantastic party dip for a big crowd. Keep the chicken dip warm in the Crockpot on your buffet table and let your guests spoon small dipping bowls for their plate of chips.
Save This Recipe to Your Recipe Box
Find this delicious recipe next time you visit by saving it to your very own recipe box on my site. All your favorites stored in one easy place!