Easy jerk chicken quesadillas make a great weeknight meal when you start with the seasoned chicken filling prepped and ready in the fridge. Make a big batch and serve them family-style by keeping them warm in the oven as you finish assembling each quesadilla.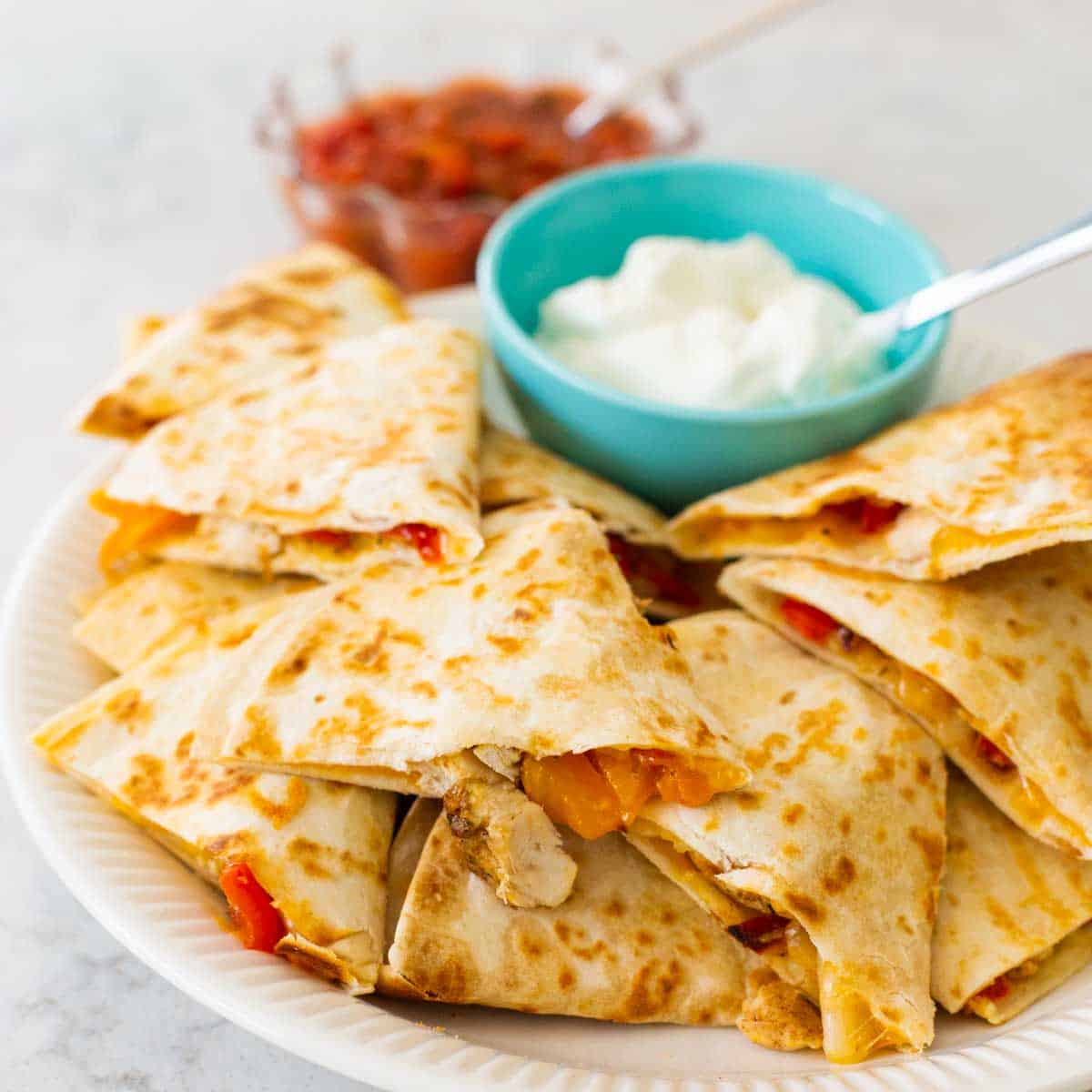 My daughter ordered jerk chicken quesadillas at a restaurant recently and totally fell in love with this dish.
She came home raving about it and when I told her we could make them, she was totally blown away.
I made the entire recipe one night and she swore they were just as good as, if not better than, what she had at the restaurant.
I froze half of the jerk chicken filling for another night, so now we'll get a second meal in half the time on a busy night!
Jump to:
Ingredients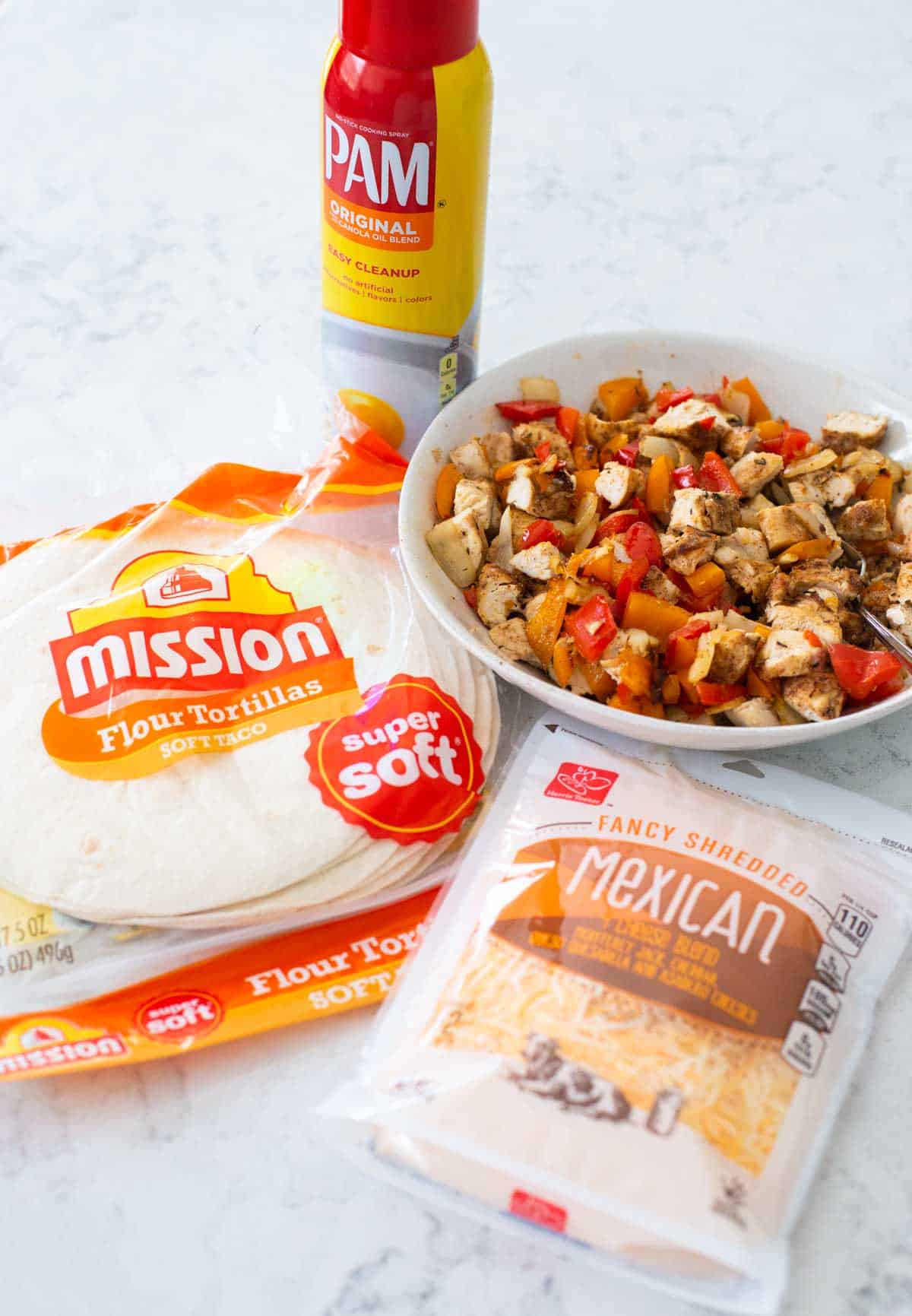 This quesadilla recipe is the easiest when you start with already prepared jerk chicken filling.
If you need to make the entire thing to start, you'll need:
Chicken Tenderloins
Bell Peppers
Onion
Olive Oil
Caribbean Jerk Seasoning
You can use a store bought jerk seasoning blend, but if you have everything on hand it is even easier to mix your own Caribbean jerk seasoning right at home.
Then, to finish with the assembly of the quesadillas, you'll also need:
Medium Sized Tortillas
Mexican Cheese
Cooking Spray
Toppings: Sour cream, salsa, green onions, etc.
How to Make It
Once your jerk chicken and peppers and onions mixture is cooked, you simply chop them up into small bite-sized pieces.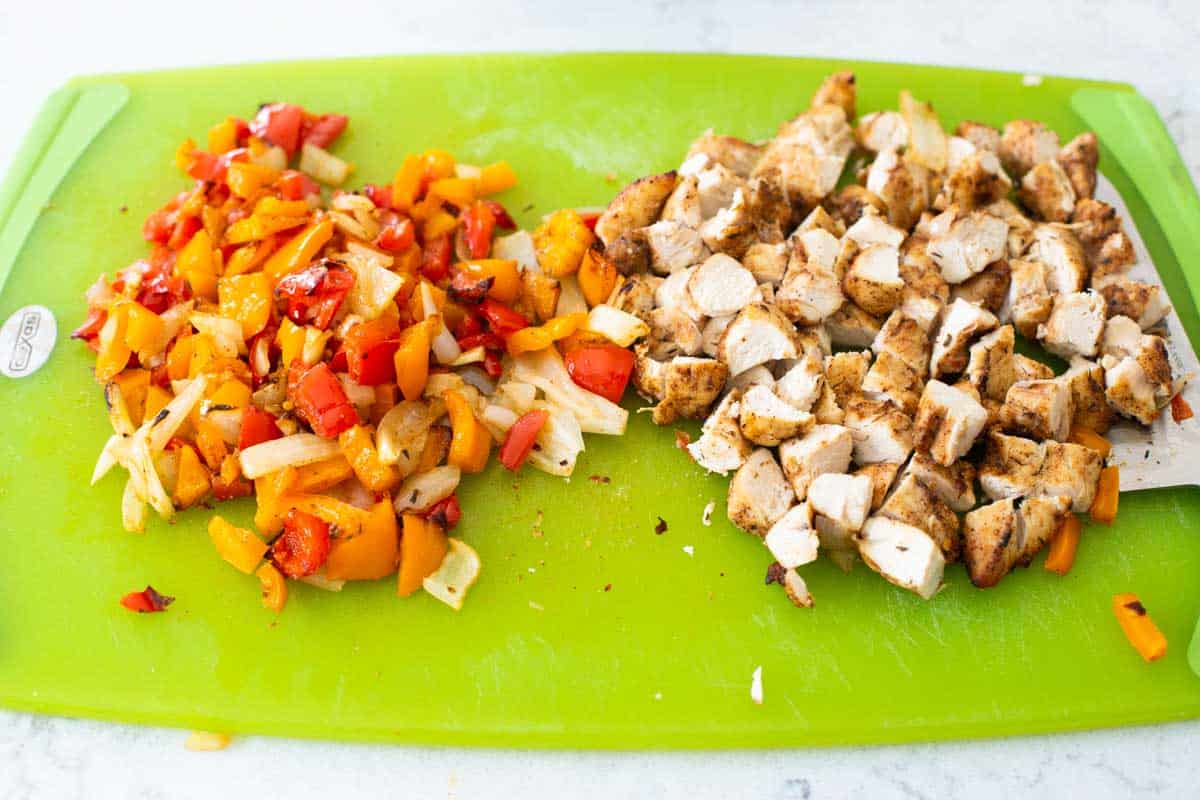 Then place a large skillet over medium-high heat.
Spray the surface with cooking spray.
Place one tortilla on the skillet and sprinkle the entire surface with about 2 tablespoons of shredded cheese.
Sprinkle about 2 tablespoons of chicken mixture on ONE HALF/SIDE of the tortilla.
When the cheese begins to melt, use a spatula to fold the quesadilla into a half-moon shape and press it together.
Cut the quesadilla into 3 triangles with a pizza wheel and serve.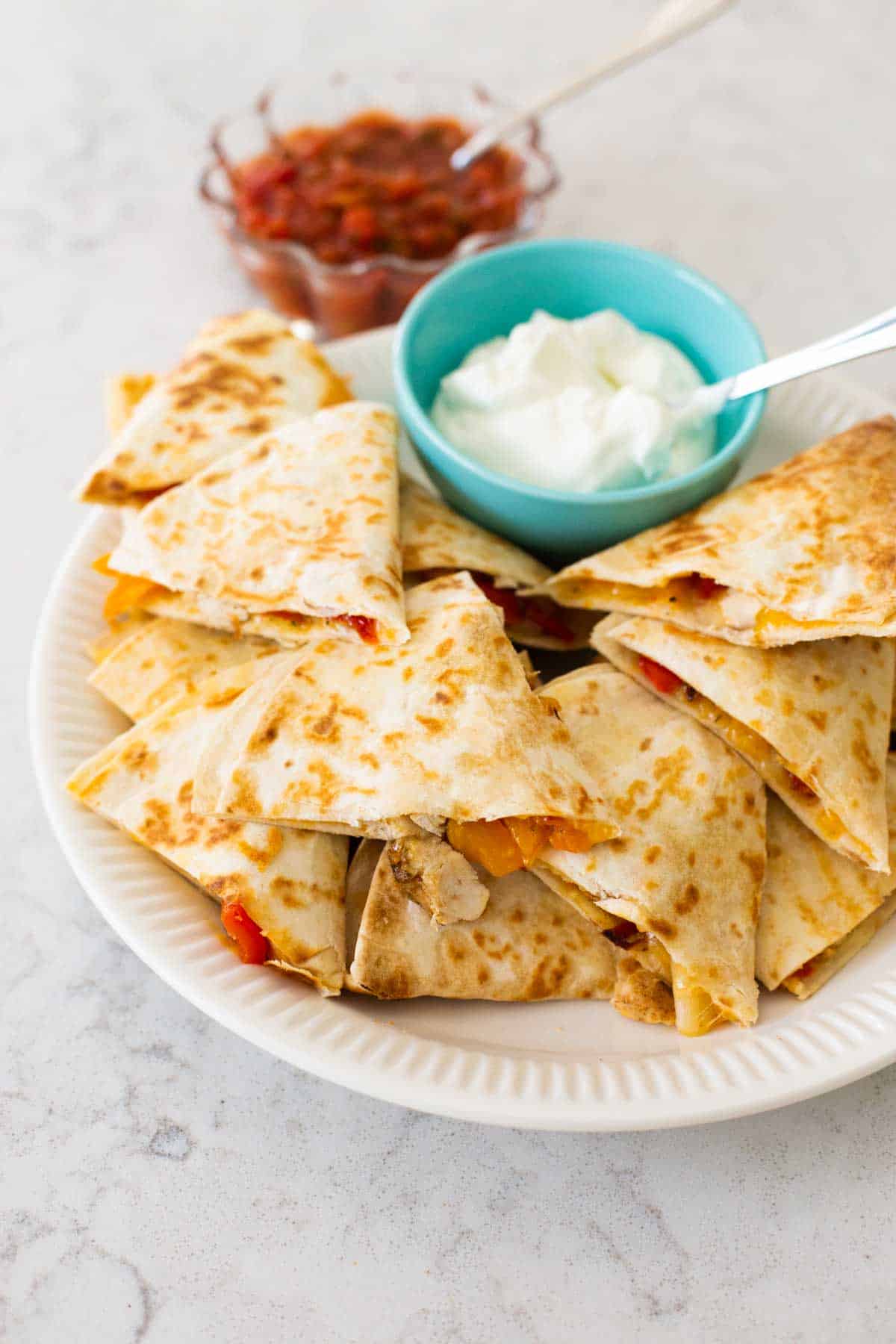 How to Make Quesadillas in a Big Batch
Unless you want to serve the quesadillas warm, one by one as they are made, you'll want to make a big pan of them for serving family-style.
Preheat your oven to 300°F and place a large baking sheet on the center rack.
Place each prepared quesadilla on the pan to keep warm while you finish assembling the rest.
For full instructions on how to cook quesadillas family-style, be sure to check out the step by step photos here:
Make Ahead Freezer Tips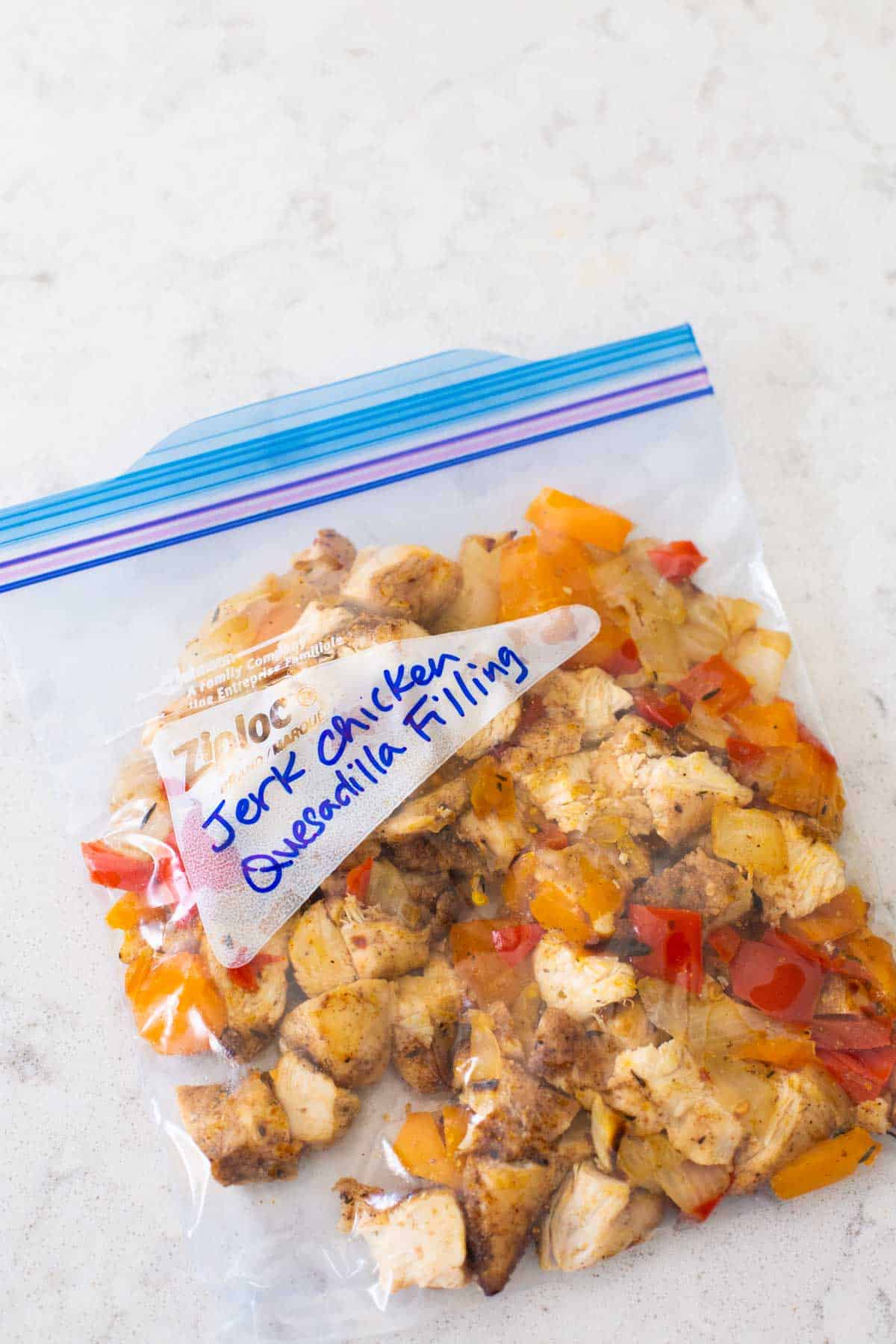 This is truly one of the easiest dinners to prepare in a pinch on a busy weeknight if you've got the quesadilla filling cooked and ready to grab from the fridge.
One batch of my jerk chicken recipe is enough for two dinners for 4 people when you turn it into quesadilla filling.
You could prep the chicken and then split it in half. Freeze both for two nights down the road or use 1 for dinner that night and freeze the second half.
Simply add the prepped chicken to a plastic zip top bag and freeze for up to 6 months.
Thaw in the fridge overnight or reheat gently in the microwave before adding to the quesadillas.
Serving Suggestions
Jerk chicken quesadillas have a slightly sweet and mildly spicy flavor.
They pair really well with my fresh pineapple salsa but the sweet and spicy peach salsa could be a super fun variation, too.