Learn how to cook quesadillas for a big batch for a family dinner or for prepping for the freezer. This simple sheet pan trick ensures everyone gets a hot quesadilla at the same time when dinner is served!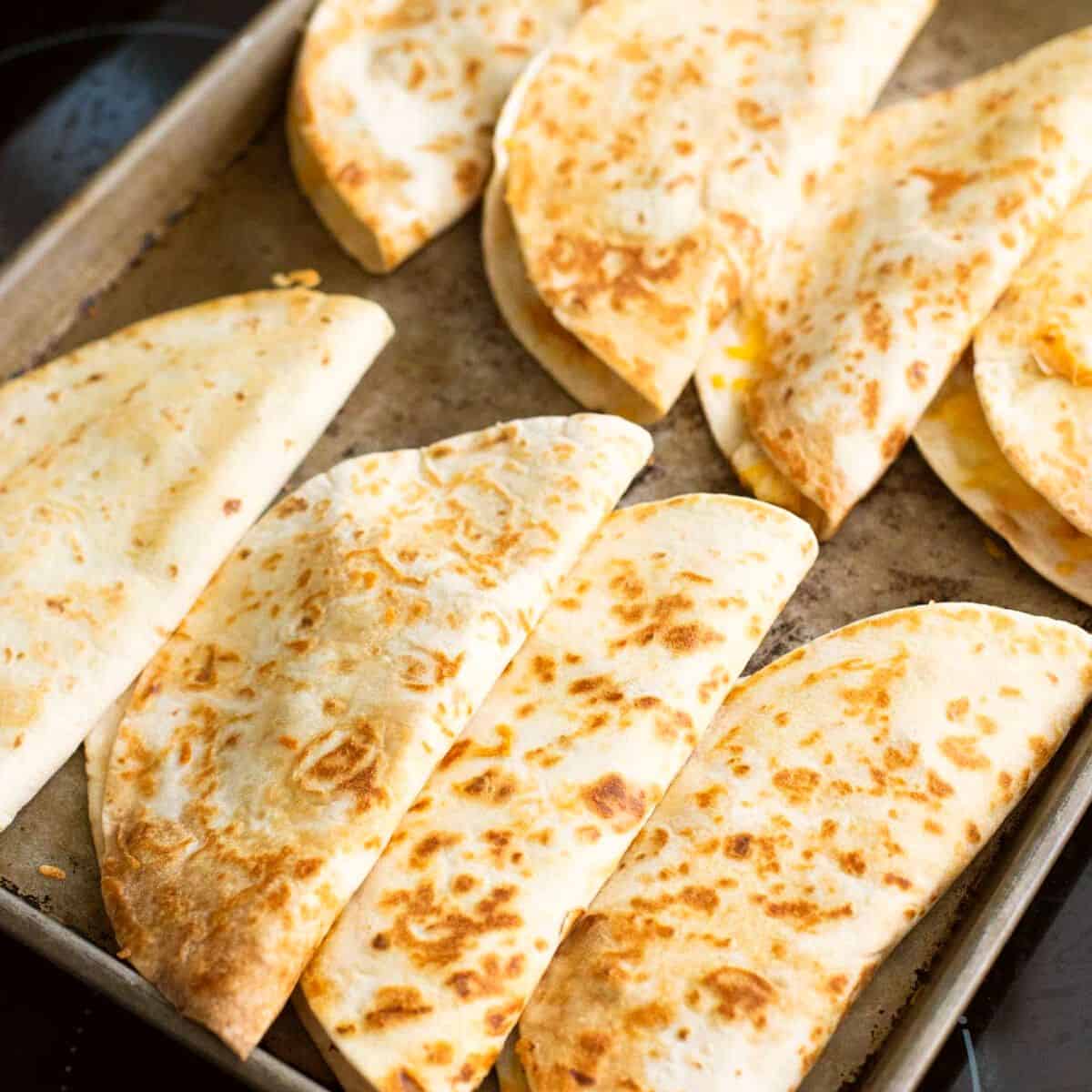 When my girls were just toddlers, I would happily make just one or two quesadillas for their lunches or a light dinner.
Now that they are grown, I vastly prefer to serve quesadillas family-style in one big batch at the table rather than feeling like a short-order cook at a restaurant.
I've learned how to cook quesadillas in a big batch and keep them warm on a sheet pan in the oven until I'm ready to serve our dinner.
This trick works great for prepping quesadillas for a freezer meal for later, too!
Jump to:
Preheat the Oven
The first step is to preheat your oven so you have a place to keep the cooked quesadillas warm.
Preheat the oven to 300°F which is just enough to keep them warm without cooking them more.
I once accidentally preheated the oven to 350°F and it made the quesadillas slightly puffy and extra crispy. My girls actually loved them this way, too. The choice is yours.
Assembly Line Set-Up
Next, set up your assembly station near the stove top.
Place a large skillet on a burner over medium-high heat.
Place the pile of tortillas, bowl full of meat or veggie filling, and shredded cheese near the stove for easy grabbing.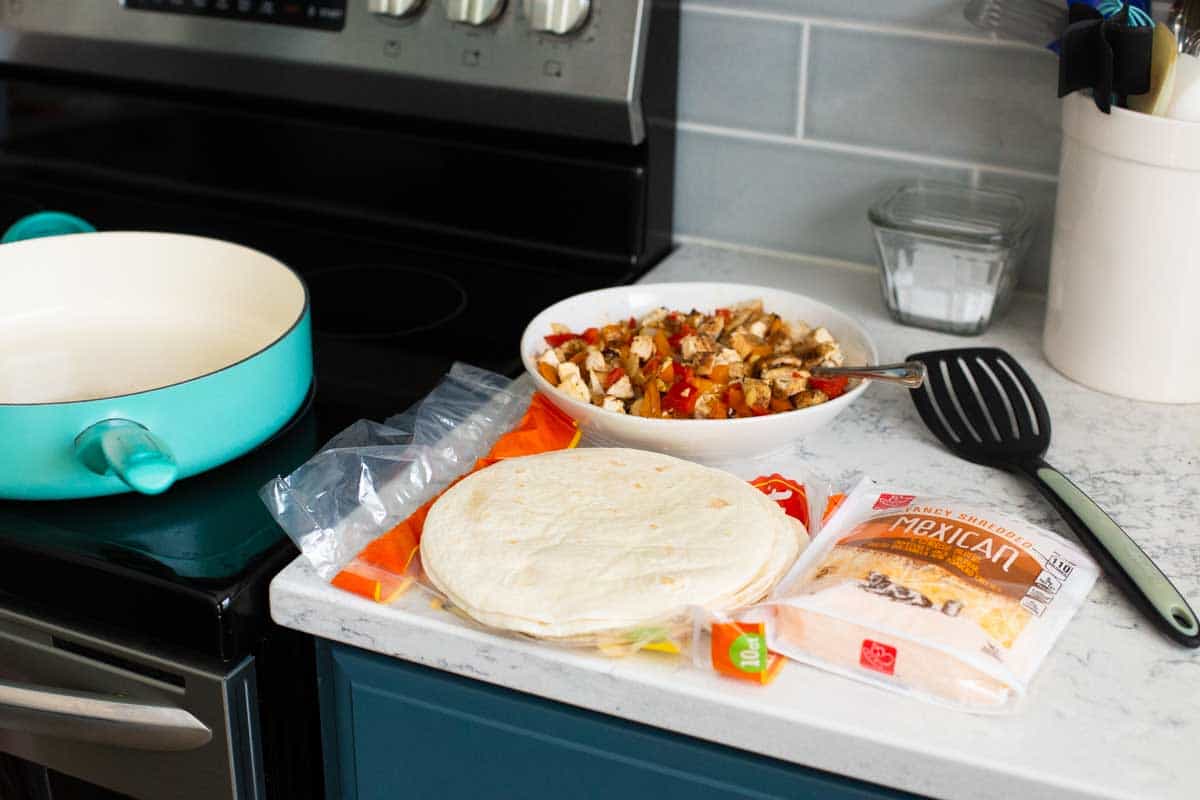 How to Make Quesadillas
Spray the skillet with cooking spray.
Place one tortilla in the pan and sprinkle it with shredded cheese all over the top.
Add a few tablespoons of the chopped chicken or veggies on just one side of the tortilla like this: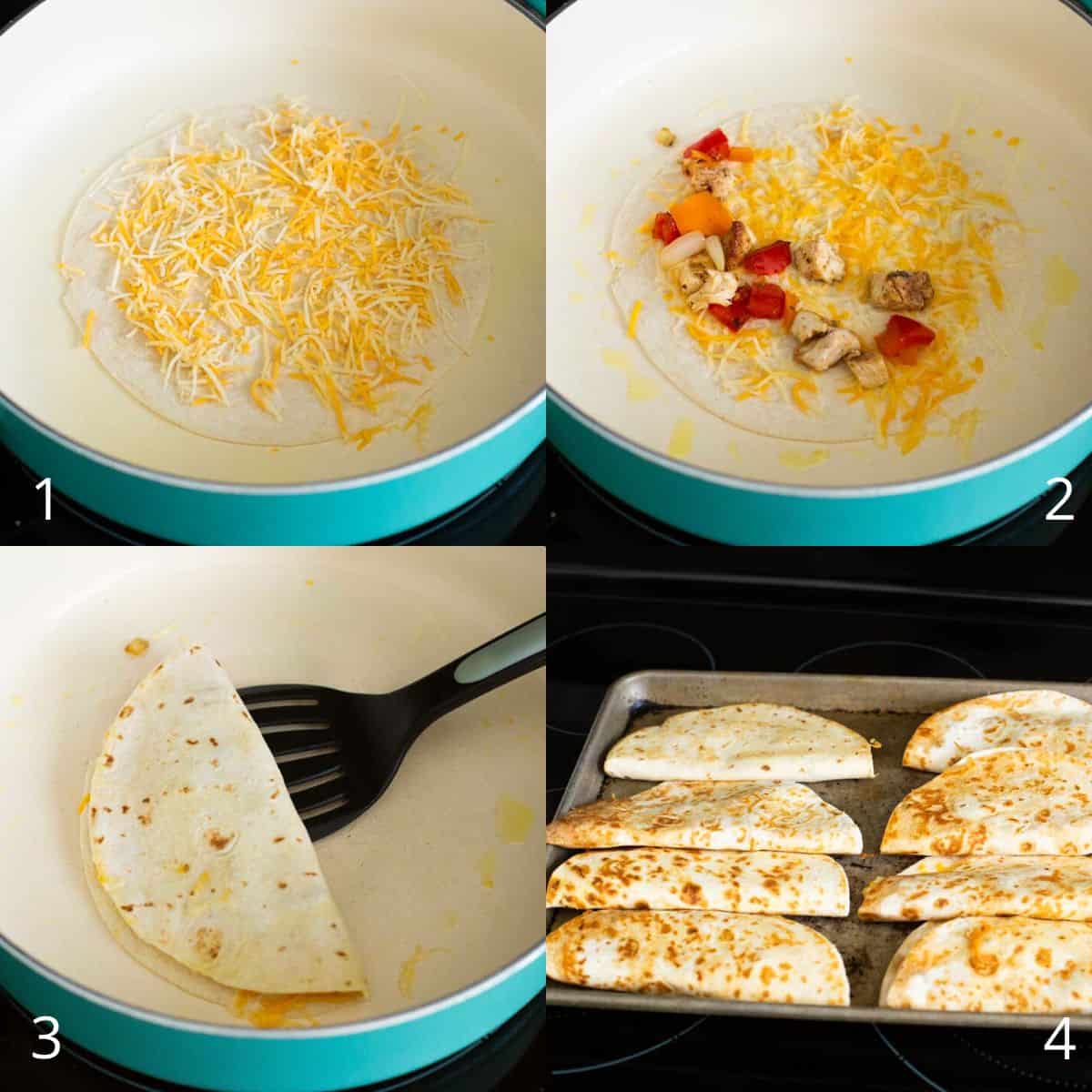 When the cheese begins to melt, use the spatula to fold the tortilla over in half to form a half-moon shape.
If it isn't toasted enough yet, let the quesadilla cook for another minute on each side.
Keep the Quesadillas Warm
Transfer the cooked quesadilla to the baking pan in the warm oven to keep toasty while you finish assembling the remaining quesadillas.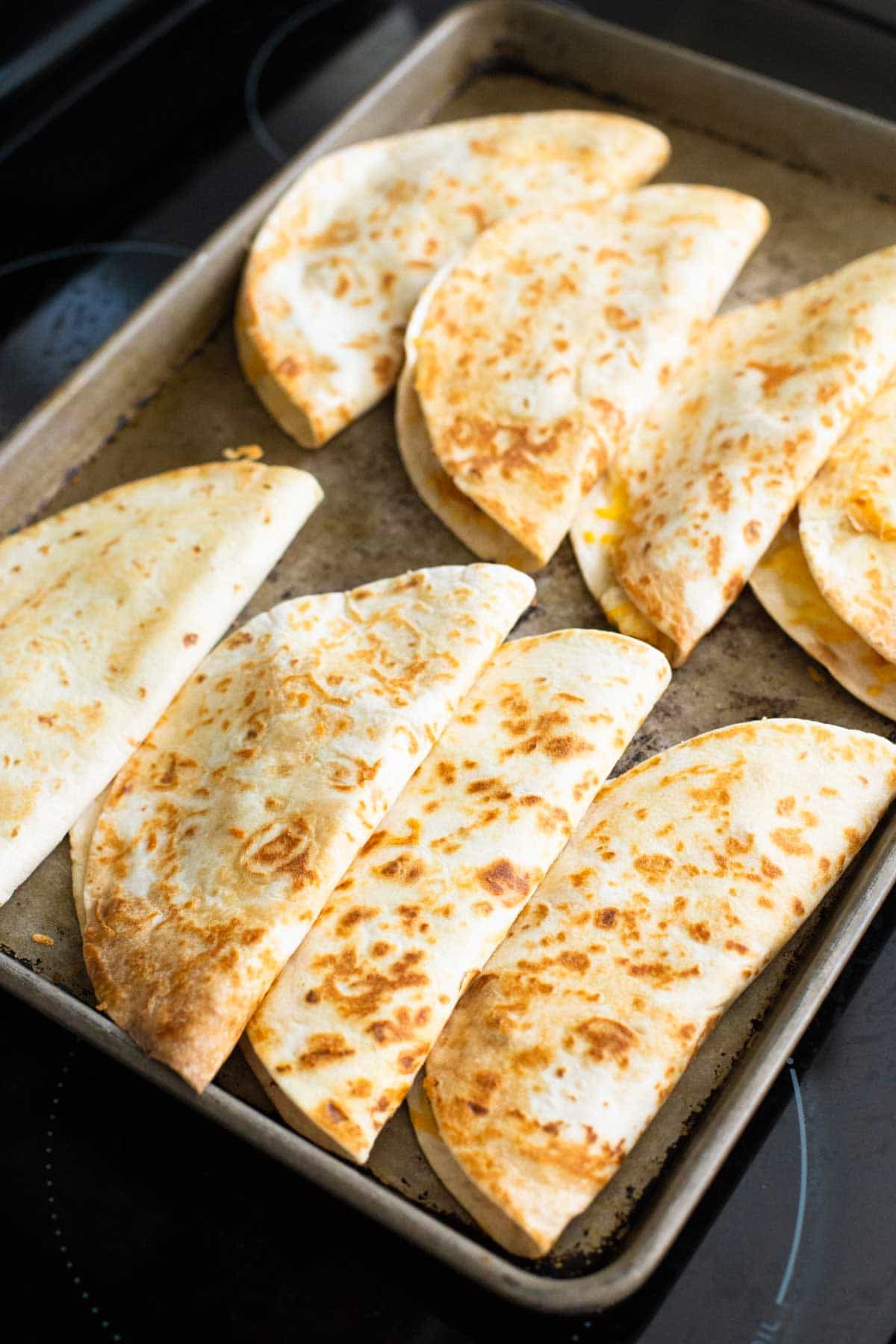 The next ones will cook much faster than the first so you may want to reduce the heat to medium or medium-low when they start to brown too quickly.
Once the quesadillas are completely cooked, you can remove the entire pan at once and cut them directly on the baking sheet before serving.
How to Cut a Quesadilla
To keep the mess contained, I usually cut the quesadillas directly on the baking pan but I wanted to show you a close-up of how I use my pizza wheel to cut them into 3 triangles: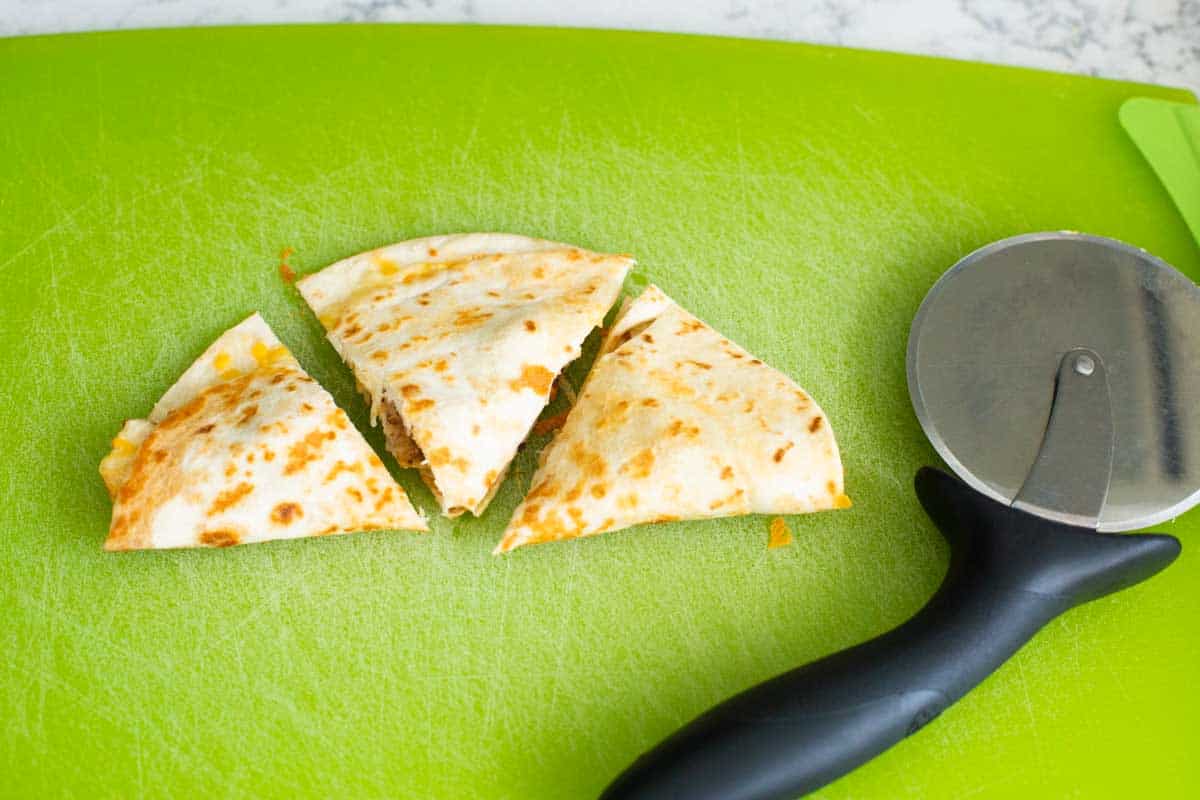 Make Ahead and Freezer Tips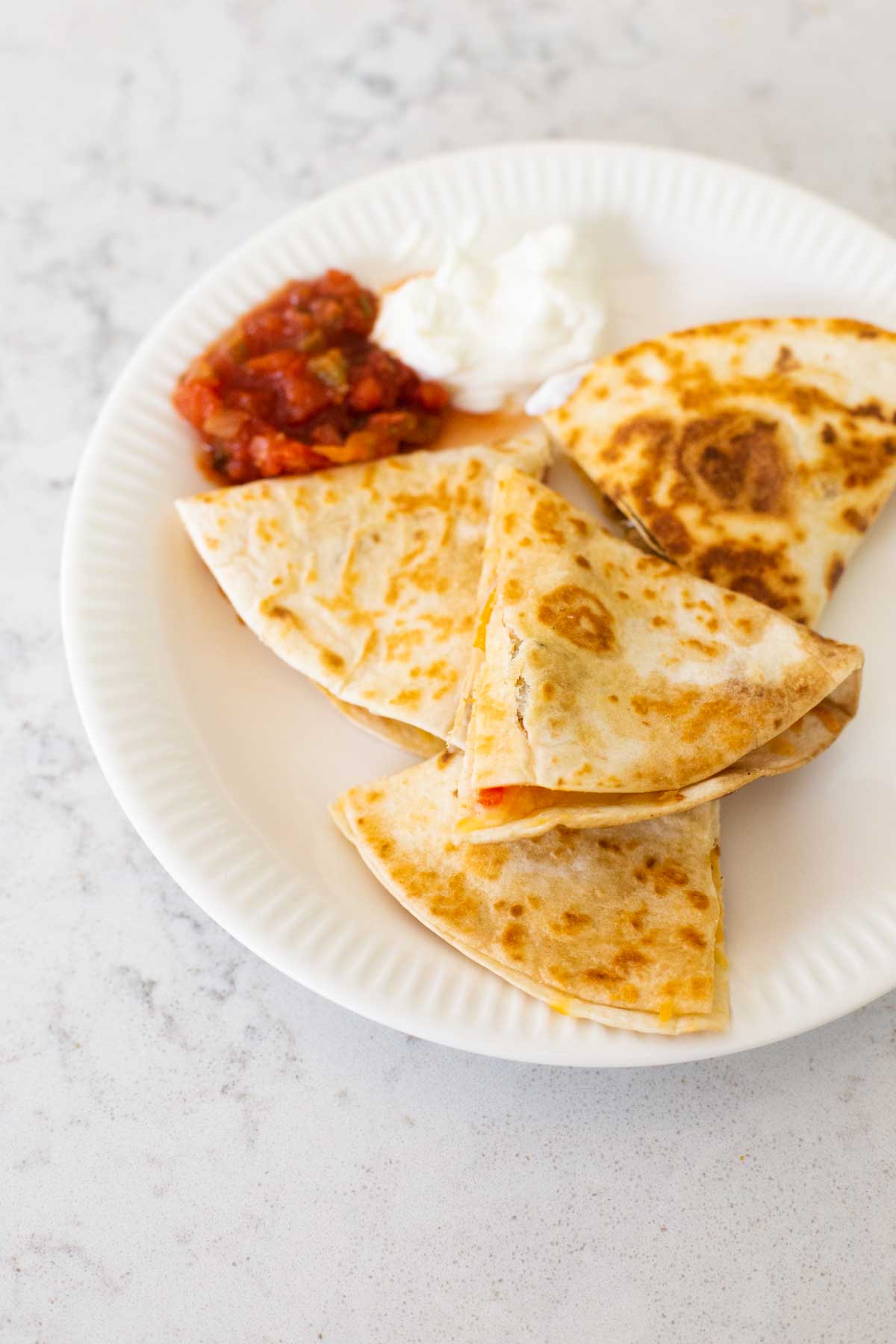 You can store cooked quesadillas in the fridge for up to 3 days. They reheat really well using the sheet pan trick in the oven and get nice and crispy.
You could also cool the quesadillas and freeze them between layers of waxed paper for a future dinner.
Thaw them in the fridge overnight or reheat directly from frozen at 350°F until heated through.
Quesadilla Filling Ideas
A plain cheese quesadilla is a great meatless recipe for Lent or Meatless Monday.
However, I love to add a little chopped up, cooked and seasoned protein to our quesadillas.
Some of our favorites included jerk chicken quesadillas, spicy shrimp quesadillas, shredded chicken quesadillas, and pulled pork quesadillas.