This quick and easy spicy shrimp recipe takes 5 minutes to cook and is perfect for a simple appetizer or for topping pasta or salad for dinner.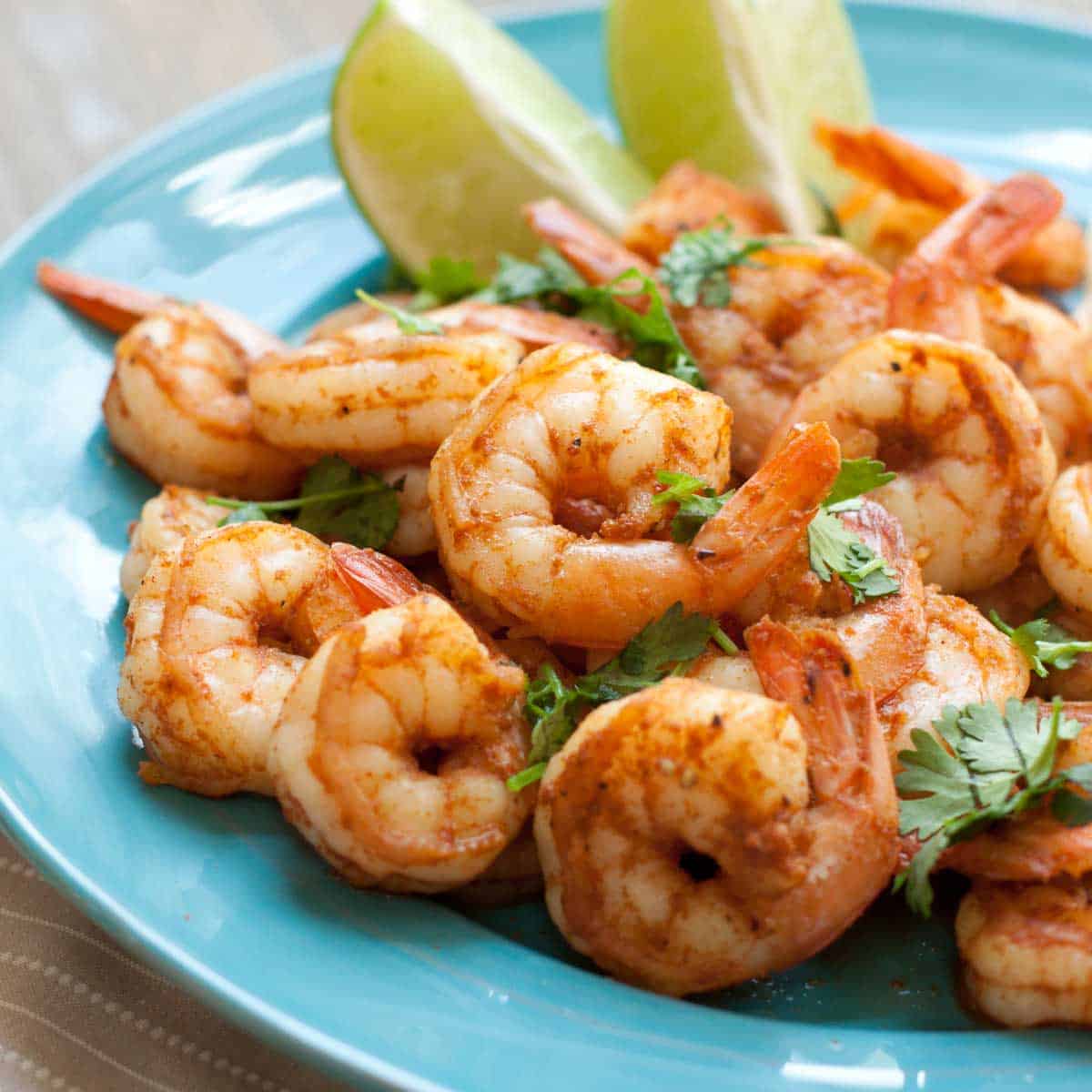 My kids and I love shrimp recipes and they always come in handy every Friday during Lent in the spring.
This spicy shrimp recipe uses both lime and cilantro--one of my favorite flavor pairings! The seasonings add heat but aren't so overpowering and you can adjust them as needed for your own family.
Simply sprinkle on the homemade shrimp seasoning blend and saute the shrimp in butter. The whole dish takes 5 minutes to cook!
You can use it as an appetizer or turn it into a full blown dinner in just minutes. Be sure to check out my menu ideas below!
Jump to:
Ingredients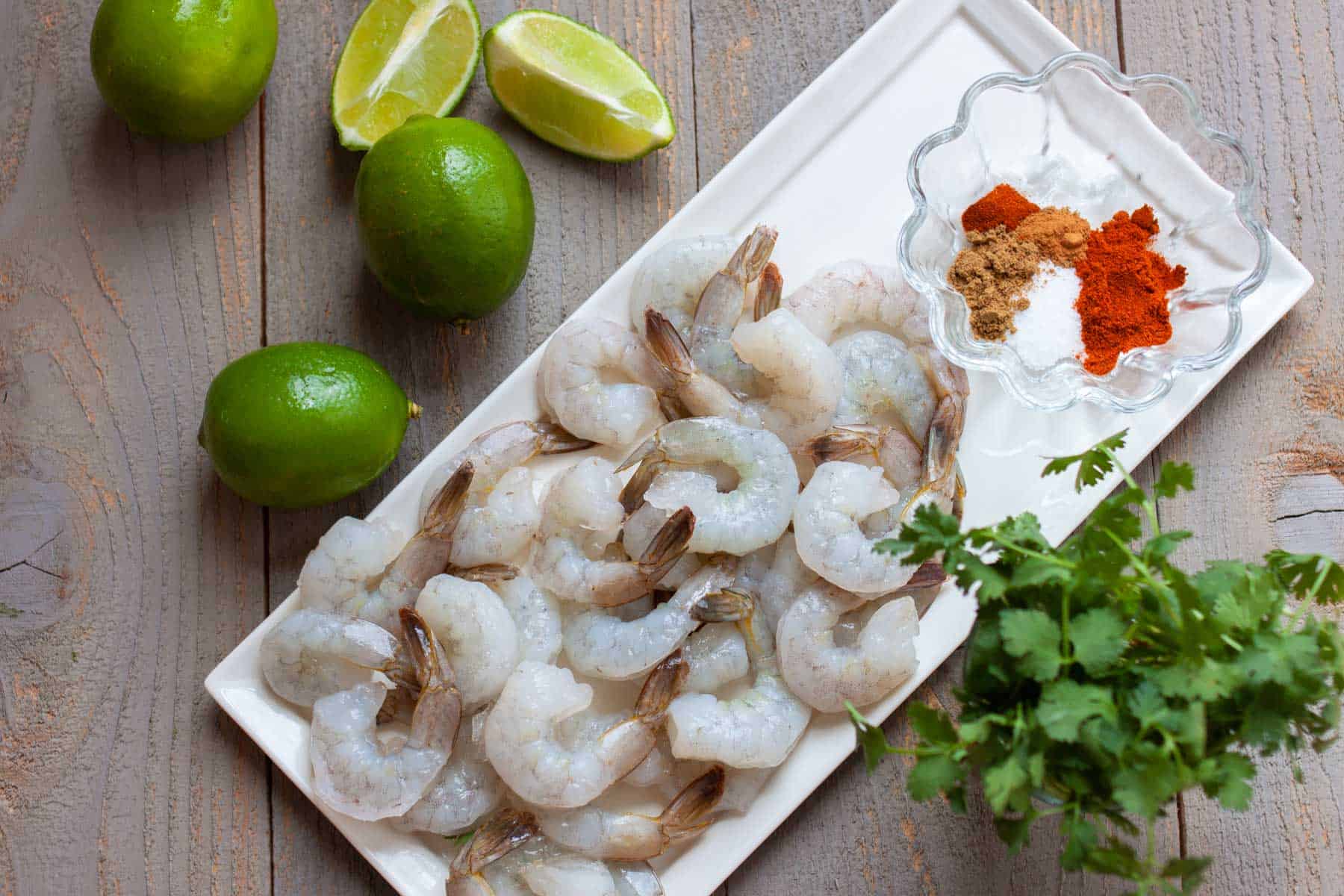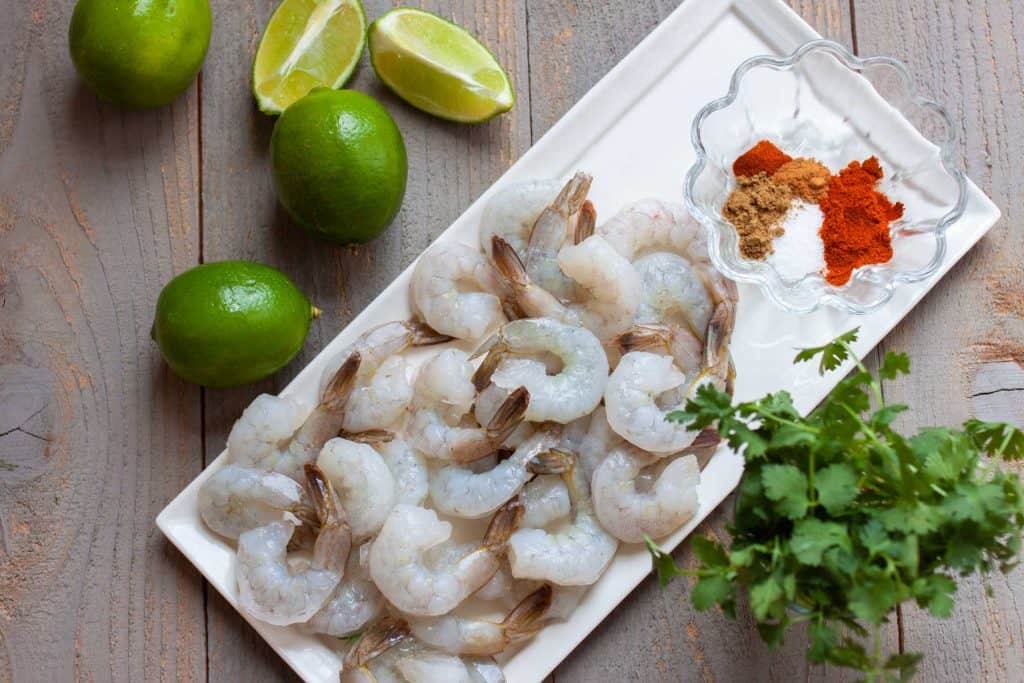 The shopping list for this recipe is super easy. You probably already have most of it in your pantry right now, just add the fresh or frozen shrimp!
1 ¼ pound large raw shrimp, peeled and deveined
Fresh cilantro
Fresh lime wedges for serving
butter
paprika
cumin
cayenne pepper
cinnamon
Can I Use Frozen Shrimp?
I love to buy frozen shrimp when it is on sale and then use it for dinner on my own timetable. It is one of my favorite dinner shortcuts.
You can absolutely use frozen shrimp for this recipe, but you'll want to be sure to follow these instructions for how to thaw shrimp before you start to cook. Don't throw still-frozen shrimp into the pan or it won't cook properly.
Serving Suggestions
This spicy shrimp would make an amazing appetizer served with cilantro lime ranch sauce for dipping.
But, if you want to make it a full dinner, all you need to add is a few simple side dishes. Try baking a batch of our favorite homemade garlic bread and then top the sautéed shrimp on a simple Caesar salad.
Or, you could simply toss the cooked shrimp on top of this easy fresh tomato pasta.
This simple Mexican rice recipe has similar flavors and would make the perfect rice bowl topped with this pineapple salsa and the spicy shrimp, too.