Frozen shrimp are perfect for delicious, easy dinner recipes. Learn how to thaw them properly so they don't get waterlogged or rubbery.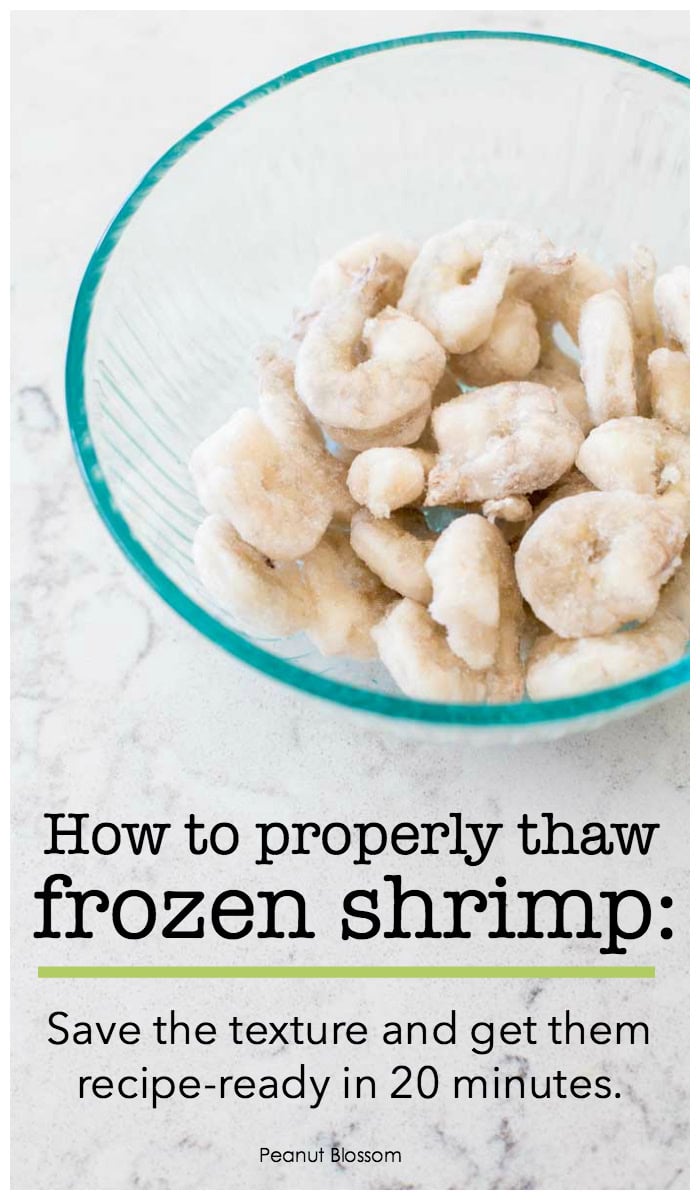 It is so tempting to toss frozen shrimp right into your saute pan or onto your baking sheet when you want a quick and easy dinner.
In a pinch, there's nothing wrong with using shrimp direct from frozen, but with just a few more minutes of time and a teeny-tiny bit of effort, you can ensure your shrimp are properly thawed and recipe-ready while preserving their delicate texture and delicious taste.
How to easily thaw frozen shrimp quickly:
STEP 1: Place the frozen shrimp in a large bowl. Add COLD water from the tap until the shrimp are covered. Let sit for 20 minutes.
STEP 2: Drain the shrimp from the bowl into a wire strainer. Gently rinse them with COLD water from the tap for 5 - 10 seconds.
STEP 3: Lay a double layer of paper towels on a plate. Pour the shrimp onto the paper towels and carefully pat dry. Removing this additional moisture ensures that your dinner recipe won't have excess water which can ruin the sauce or prevent the shrimp from proper browning.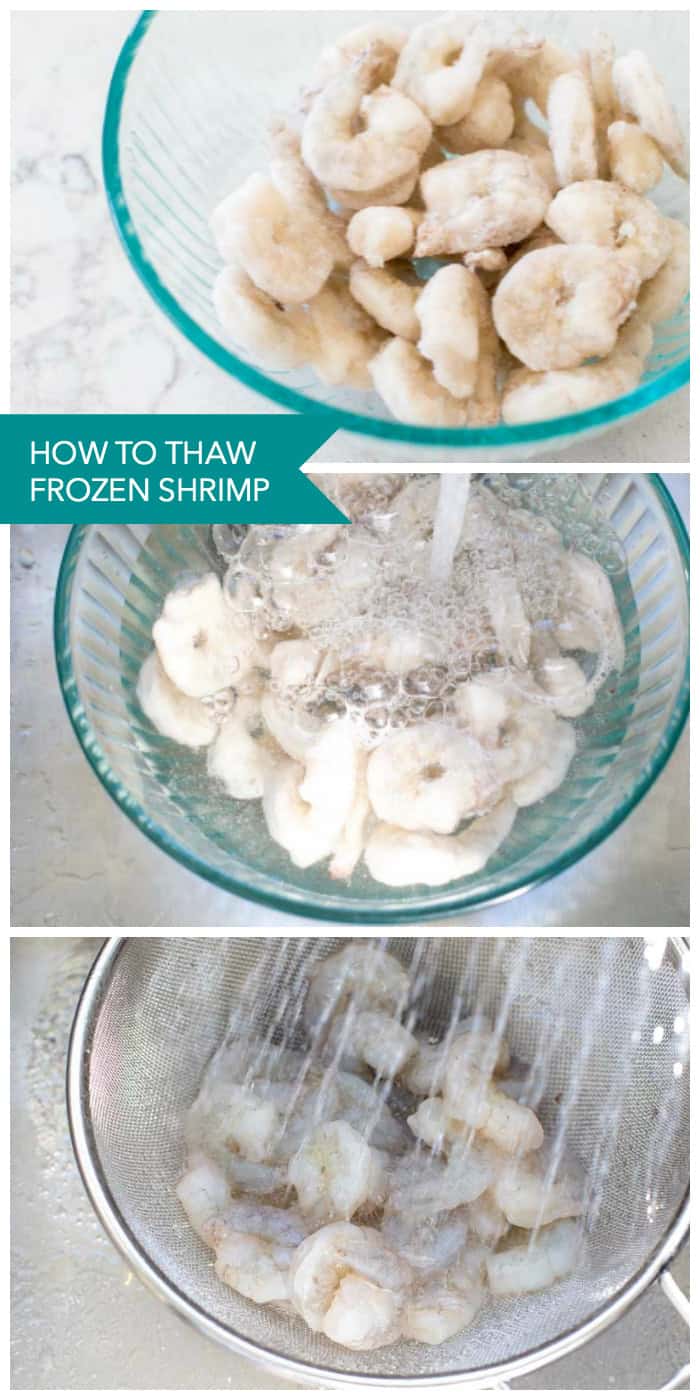 Be sure to avoid these simple mistakes:
Do NOT use hot water to thaw the shrimp. They are so delicate, this could actually begin the cooking process. You want to keep them cold the entire time.
Do NOT let the shrimp soak in the cold water bath longer than 20 minutes or they will begin to soak up the water and become chewy.
Do NOT skip the patting-dry step if you plan to roast the shrimp or use it in a stir fry pan with veggies. The extra water on the shrimp will cause steaming in your recipe and make the rest of your dish overly soggy.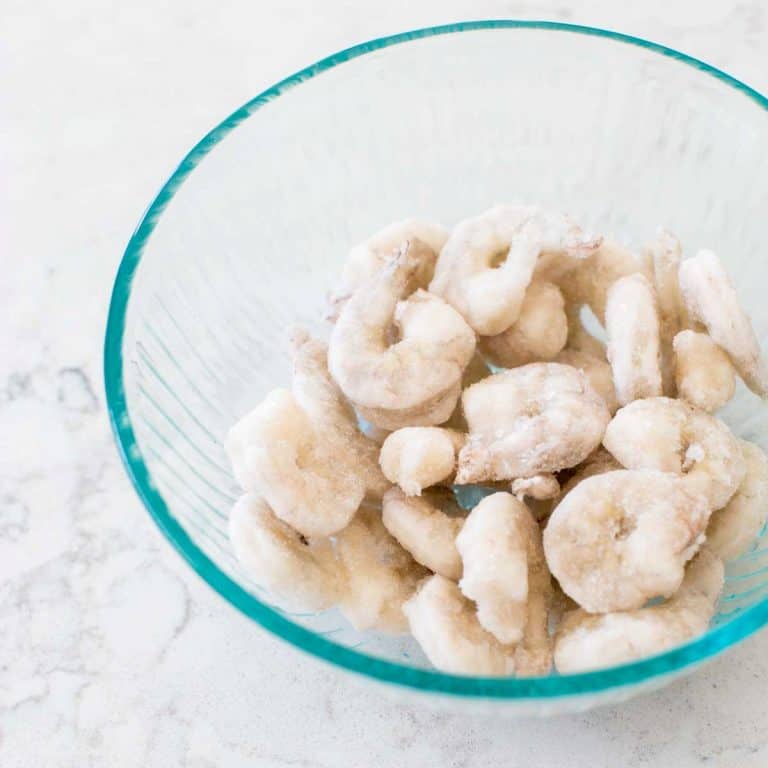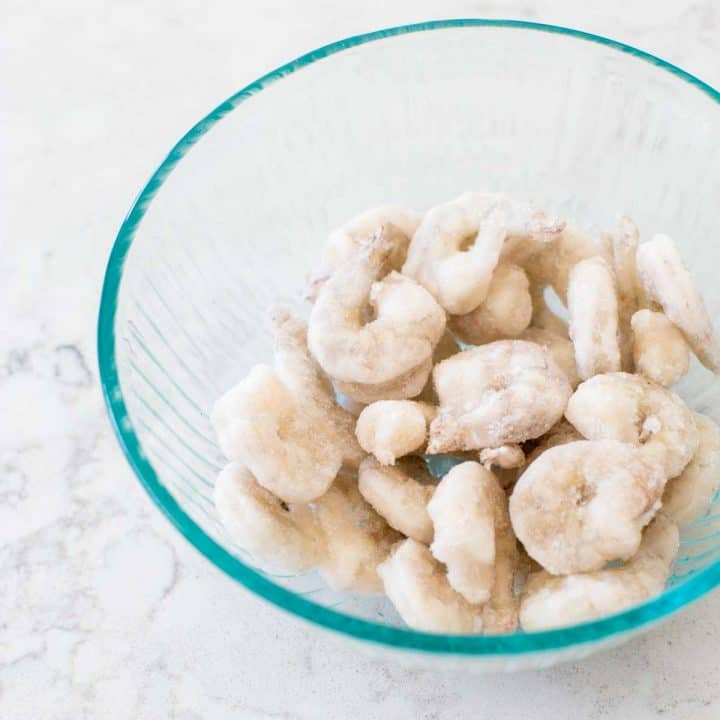 How to Thaw Frozen Shrimp
Learn how to thaw frozen shrimp so your recipe doesn't end up a watery, soggy mess.
Ingredients
1 package of frozen shrimp (We used a 12 oz. package of 31-40 size peeled and deveined raw shrimp.)
Tools:
Large bowl
Wire Mesh strainer
Paper Towels
Instructions
Place the shrimp into the large bowl. Fill with cold water from the tap. Let rest for 20 minutes.
Drain the shrimp in the wire strainer and rinse with cold water for 5 - 10 seconds. Shake off excess water. through the more open weave.
Pour shrimp onto a layer of paper towels and pat dry. A wire mesh strainer works better than a metal colander because the water drains out better. If you don't have a wire strainer, simply use a little more paper towel to pat the shrimp dry.
Use in your favorite shrimp recipe.
Notes
Be sure to discard the paper towels when done, they are no longer safe for other food handling.