If you cook frozen shrimp directly from frozen, they can make your entire dish watery. Learn how to make perfect roasted shrimp for shrimp cocktail or a dinner dish in just minutes.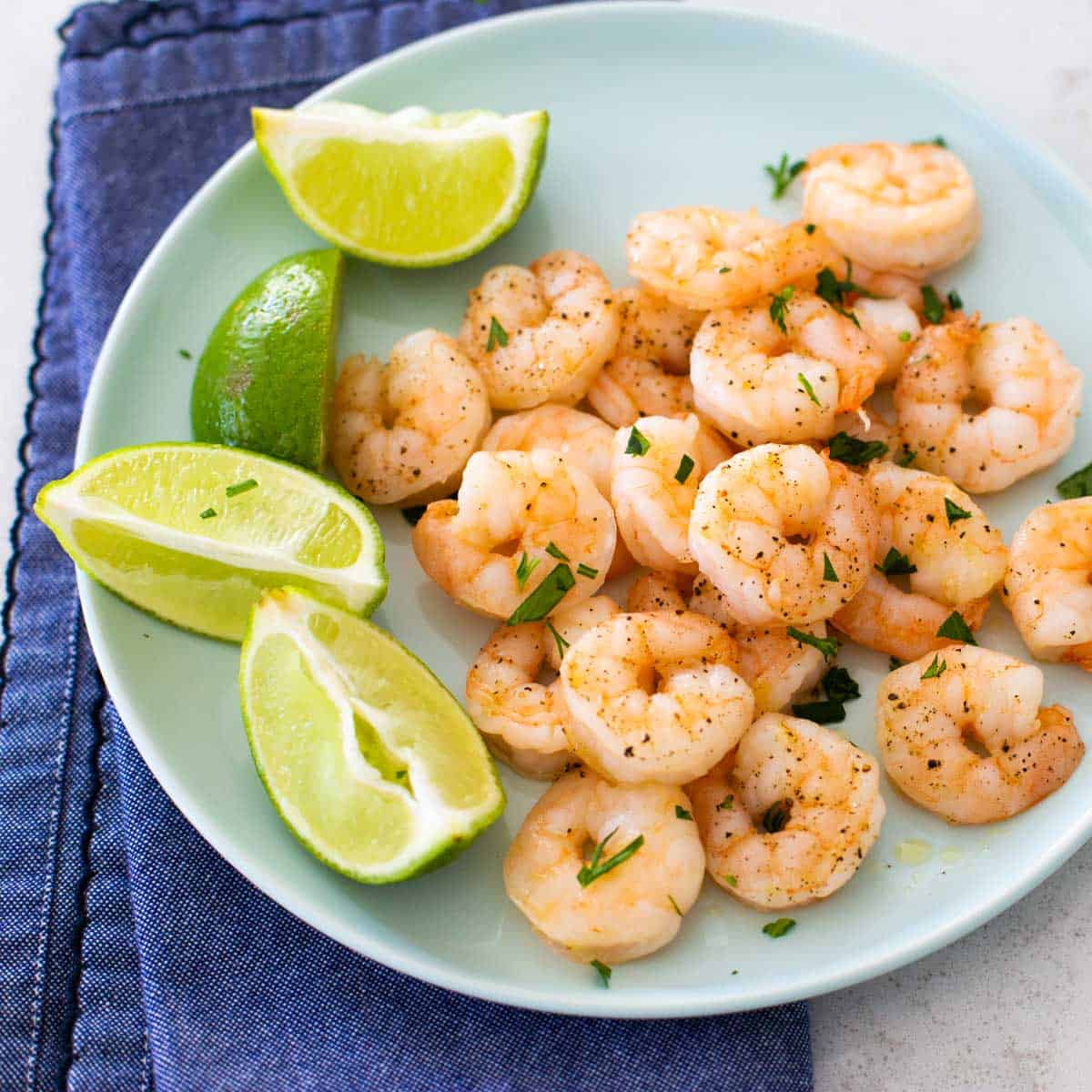 I have come a long way since my early picky-eating days as a young kid. One of the greatest examples is my current love of all things shrimp.
I remember being just horrified when my parents would cook peel-and-eat shrimp for their Christmas Eve dinner. The meal seemed like such an odd choice and no matter how they coaxed me, I was just not brave enough to try them.
Now as an adult, I totally regret all those missed years of shrimp cocktail heaven that I missed out on!
But, better late than never. Now they are one of my favorite appetizers to order, especially on vacation. Nothing beats shrimp cocktail as big as your head in Vegas.
When I want to channel that vacation vibe at home, roasted shrimp cocktail is my go-to party appetizer. Ideally, I'd make it with fresh shrimp from our favorite local seafood shop but family budget and time constraints often mean I have to turn to frozen shrimp instead.
It took a few tries to perfect the recipe using frozen shrimp instead of fresh, the initial attempts had too much water. Now I've nailed the easiest method that turns our excellent tender shrimp every time.
Jump to: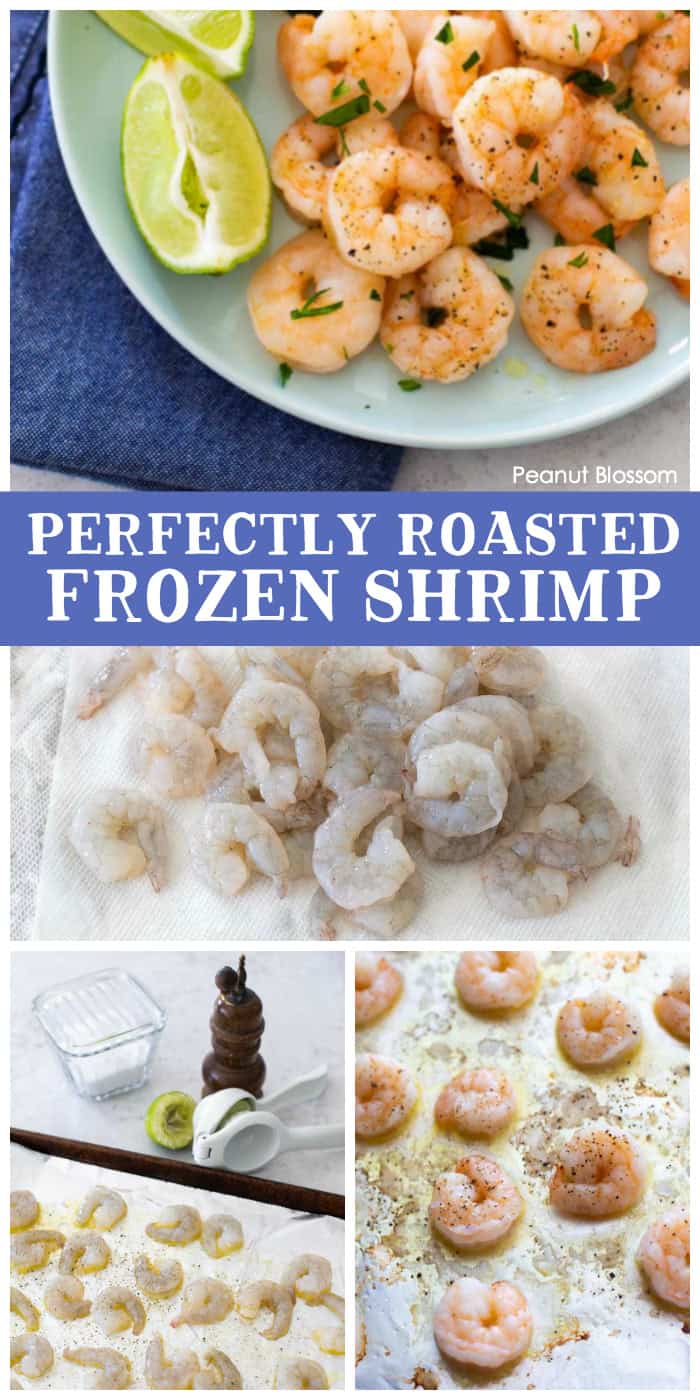 Which Shrimp To Buy
Before you begin, be sure to have the right kind of shrimp.
This recipe calls for frozen shrimp that have been peeled and deveined. Read the package carefully to be sure the shrimp do not have their shells.
You may notice they still have the tails, that's ok. Some frozen shrimp have had the tails removed, either version will work for this recipe.
Frozen Shrimp Sizing
Did you know that frozen shrimp come in different sizes? You'll see a set of numbers on the bag that reference how many shrimp equal a certain weight.
I tested my recipe on a package of shrimp that is 31 - 40 ct per 12 oz. That means there are between 31 and 40 shrimp in a 12 oz package.
Fewer shrimp by weight means you'll have larger shrimp. More shrimp by weight means the shrimp will be smaller.
You may need to adjust your cook time if your shrimp are larger or smaller than the ones we tested.
Larger Shrimp: Add a minute or two to the total cooktime.
Smaller Shrimp: Subtract a minute or two from the total cooktime.
First Defrost the Shrimp
You will find some recipes that say you can just cook shrimp straight from frozen, but when making roasted shrimp the extra ice and frost on the shrimp will cause them to steam instead of brown up on the pan.
When you start with thawed shrimp, you can pat them dry and ensure that they get the pretty browned bits here and there that signal they've been roasted.
I promise thawing frozen shrimp doesn't add on a lot of time to the dish at all. Learn how to defrost frozen shrimp so they don't get waterlogged.
NOTE: In a pinch, you could still cook them from frozen and just add a little extra time for them to heat up but the texture will be different and you risk having them turn out a little rubbery.
How to Cook the Shrimp
This is not a "low and slow" recipe, it's a "hot and fast" one!
Shrimp only take 8 - 10 minutes to roast in a 400°F oven.
When your shrimp are thawed from frozen, they will heat thoroughly and evenly with that hot heat. You won't have to worry about the outside having more cooking time than the inside as they come up to temperature. The delicate shrimp will just cook in a pinch and be ready to go in minutes.
The Best Shrimp Seasoning
This is the fun part! My favorite base recipe calls for just the simplest of ingredients: olive oil, lime juice, and salt and pepper.
They have a fun little zip to them and are perfect when paired with your favorite cocktail sauce or dip recipe.
However, you can season your shrimp however you prefer. Got a new seasoning blend you're eager to try out? Sprinkle it on!
Here are some fun suggestions to consider using basic spices from your pantry or the grocery store:
Quick and spicy shrimp: the seasoning blend on this is the perfect blend of not-too-spicy.
Cajun seasoning blend: would be great for a smokier twist to your shrimp cocktail
Lemon-pepper: an all-in-one jar of this from the store would be tasty
Italian seasoning + garlic: wonderful if you plan to turn this into an easy dinner with pasta
Jerk seasoning: with a sprinkle of this seasoning you'll be ready for homemade shrimp po'boys for dinner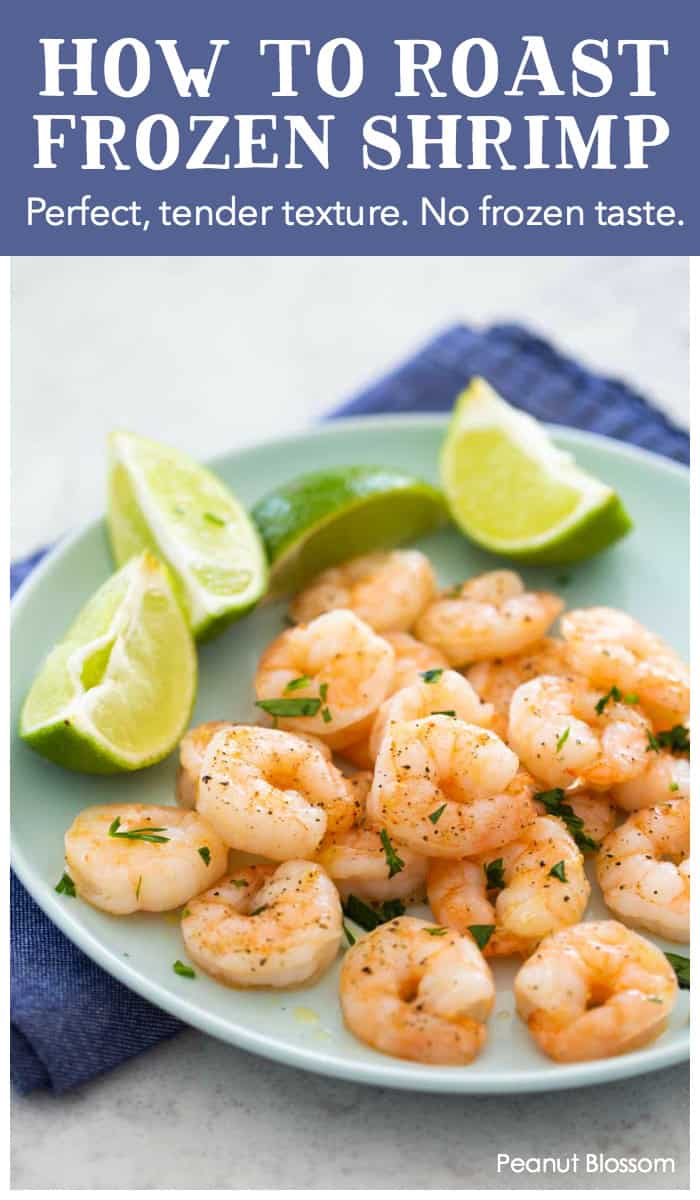 Use the Shrimp for Dinner
If you want to use the roasted shrimp for an entree for super-easy quick dinner, you could add some quick-cook veggies to the pan like asparagus or cherry tomatoes along with a touch of garlic and your favorite seasonings.
I love this sheet pan shrimp and vegetables with lemon garlic sauce.
You could also toss them with some pasta or over a bed of rice. This easy herb butter rice is a perfect match and don't miss this zippy lemon orzo salad.
Alternatively, you could use the thawed shrimp in this delicious and easy garlic butter shrimp skillet recipe.
📖 Recipe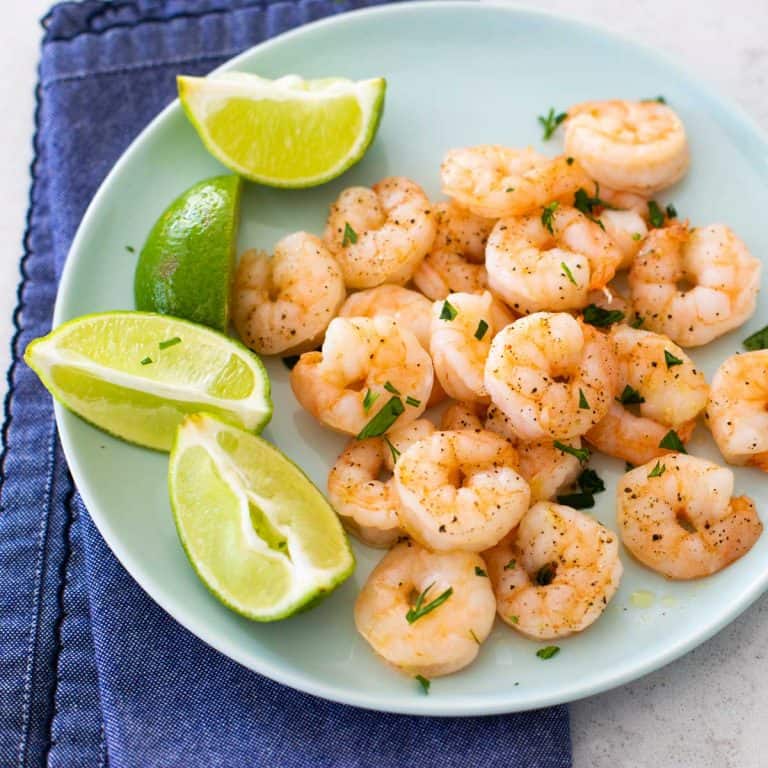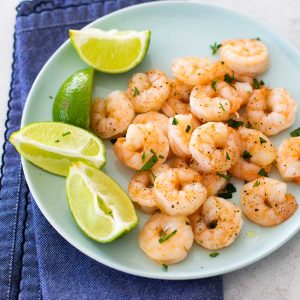 Roasted Shrimp
This quick and easy method for cooking frozen shrimp is the perfect way to prepare shrimp cocktail or an elegant but easy shrimp dinner.
Ingredients
1

package of frozen peeled and deveined shrimp

thawed

2

tablespoon

olive oil

Juice of 1 lime

Salt and pepper
Instructions
Be sure to thoroughly thaw the frozen shrimp before you begin. If you cook them directly from frozen, they will steam instead of roast.

Preheat the oven to 400°F.

Pat the drained, thawed shrimp dry on paper towels and add them to the roasting pan.

Drizzle the olive oil and lime juice over the shrimp. Use a spatula or cooking spoon to gently toss the shrimp to coat. Spread them into an even single layer.

Sprinkle salt and pepper over the shrimp. Bake for 8 - 10 minutes or until the shrimp are firm and pink.

Serve warm or the shrimp can be cooled and served cold.
Recipe Notes
The shrimp make an excellent shrimp cocktail served warm or cold. Just arrange on a platter with a dipping bowl of your favorite cocktail sauce.
Save This Recipe to Your Recipe Box
Find this delicious recipe next time you visit by saving it to your very own recipe box on my site. All your favorites stored in one easy place!