Delicious boiled shrimp make the perfect peel and eat shrimp recipe for making right at home. Seasoned with bay leaves and caraway seeds, the flavorful shrimp can be served with your favorite cocktail sauce.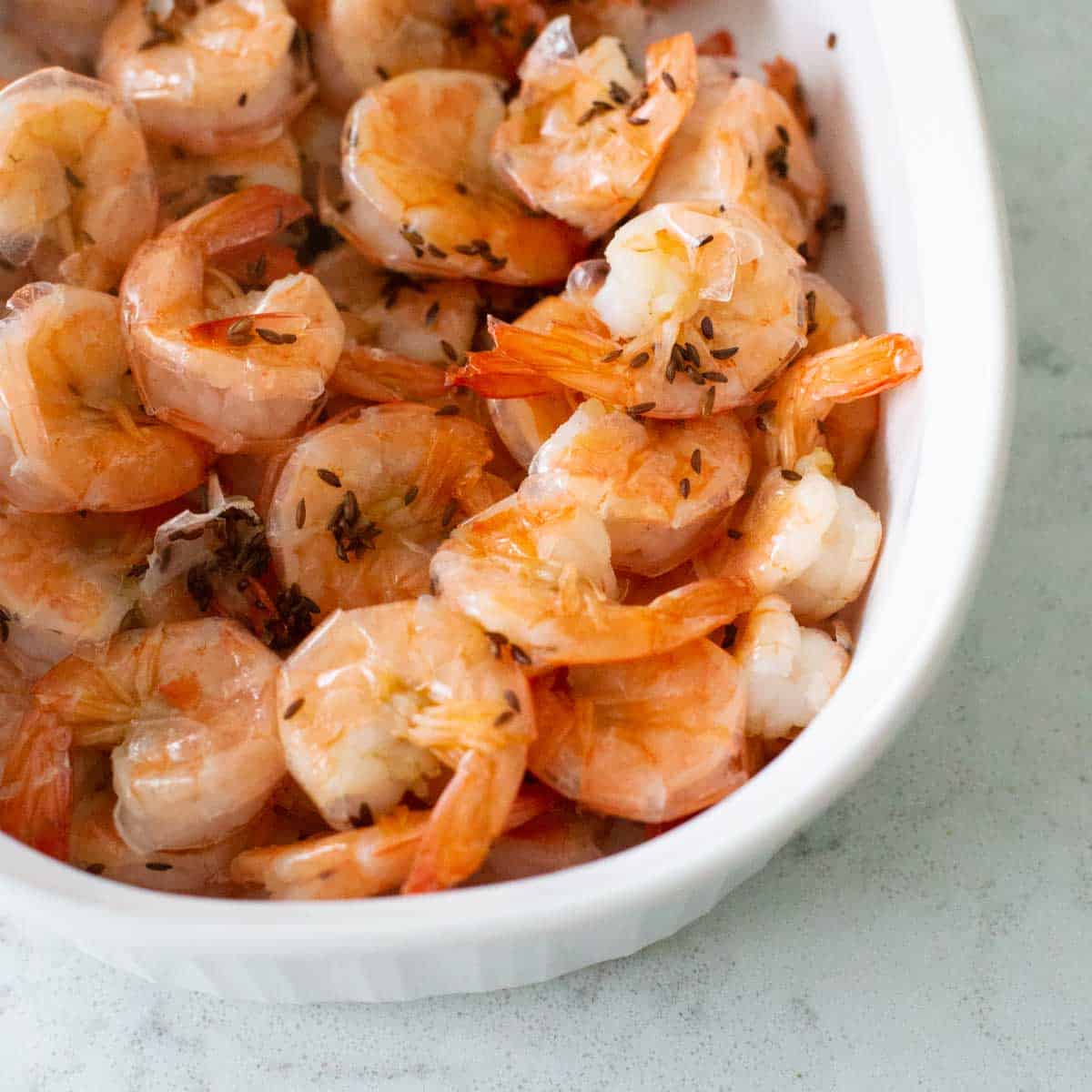 My mom made this easy 3-ingredient boiled shrimp recipe every single Christmas Eve for as long as I can remember.
The smell of the caraway seeds immediately tells my memory that it is time for a celebration.
This year, she finally taught me her easy recipe. I always thought it was more complicated and that's why she saved it for the holiday, but in truth it takes just 3 minutes to make! Unbelieveable!
Serve the delicious peel and eat shrimp alongside your favorite cocktail sauce or shrimp dipping sauce for an easy meal or appetizer.
Jump to:
Ingredients
This whole recipe has just THREE ingredients!
Raw Shrimp: Buy the "easy peel" shrimp that has the tail on, head removed, shell still in place. Can be fresh or frozen shrimp.
Bay leaves
Caraway seeds
That's it! Easy peasy.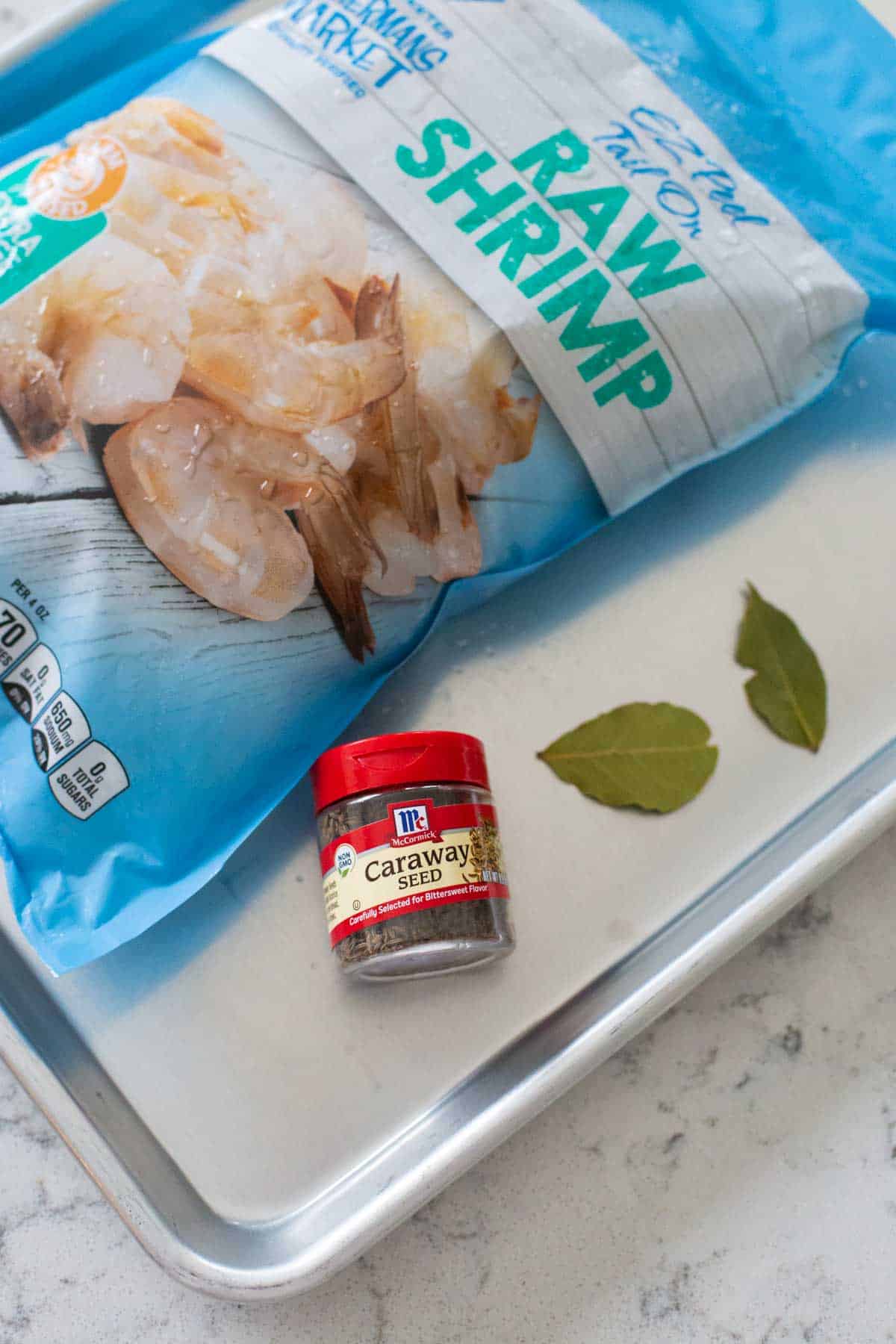 Season the Water
The secret to the most delicious boiled shrimp is seasoning the boiling water before you add the shrimp to cook.
In my largest pasta pot, I fill it about ⅔ full with water.
Sprinkle in the caraway seeds and bay leaves and bring the water to a boil.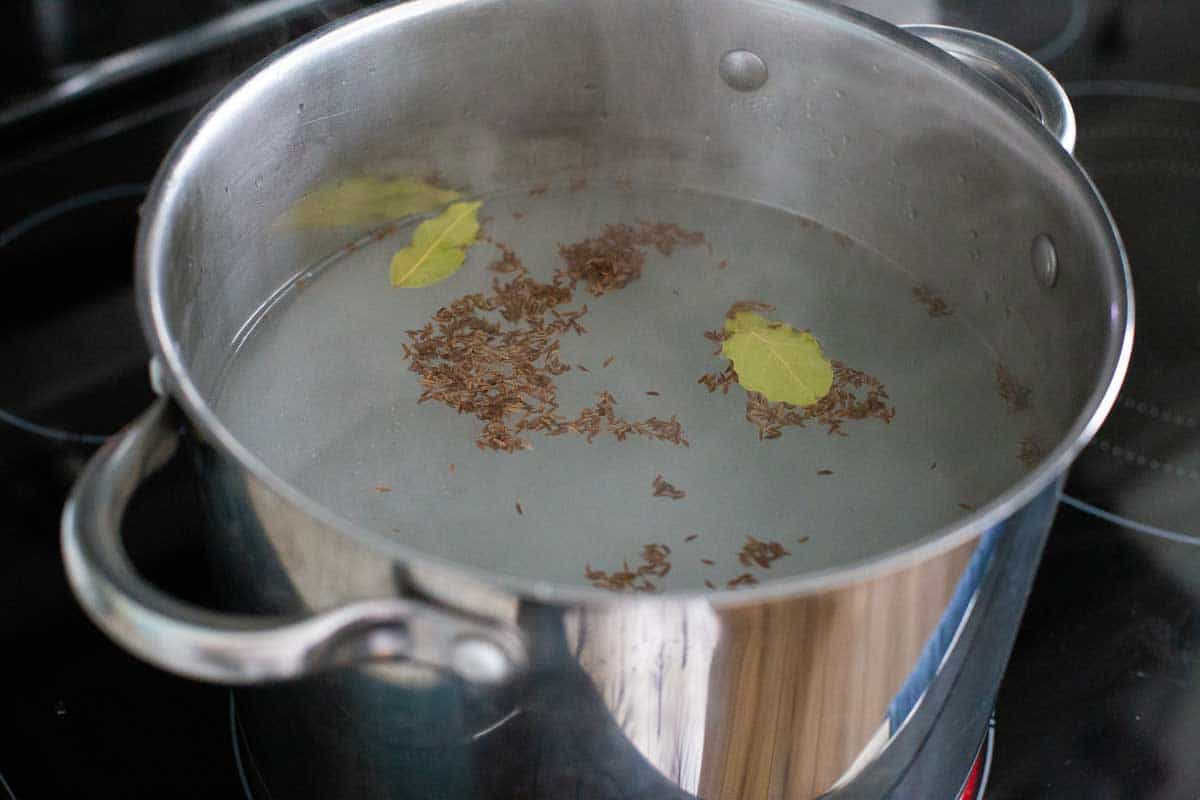 The Proper Boil Method
The hardest part of this recipe is finding your patience to wait for the water to properly boil. You cannot rush this step or the shrimp will not cook properly.
The water should be at a full, raging, rolling boil with large bubbles breaking the surface of the water like this:
Add the shrimp to the water and cook for just 3 minutes.
A Note on Frozen Shrimp
BUT if you are using frozen shrimp for this boiled shrimp recipe, please know that the cold shrimp will reduce the temperate of the water and stop your boil: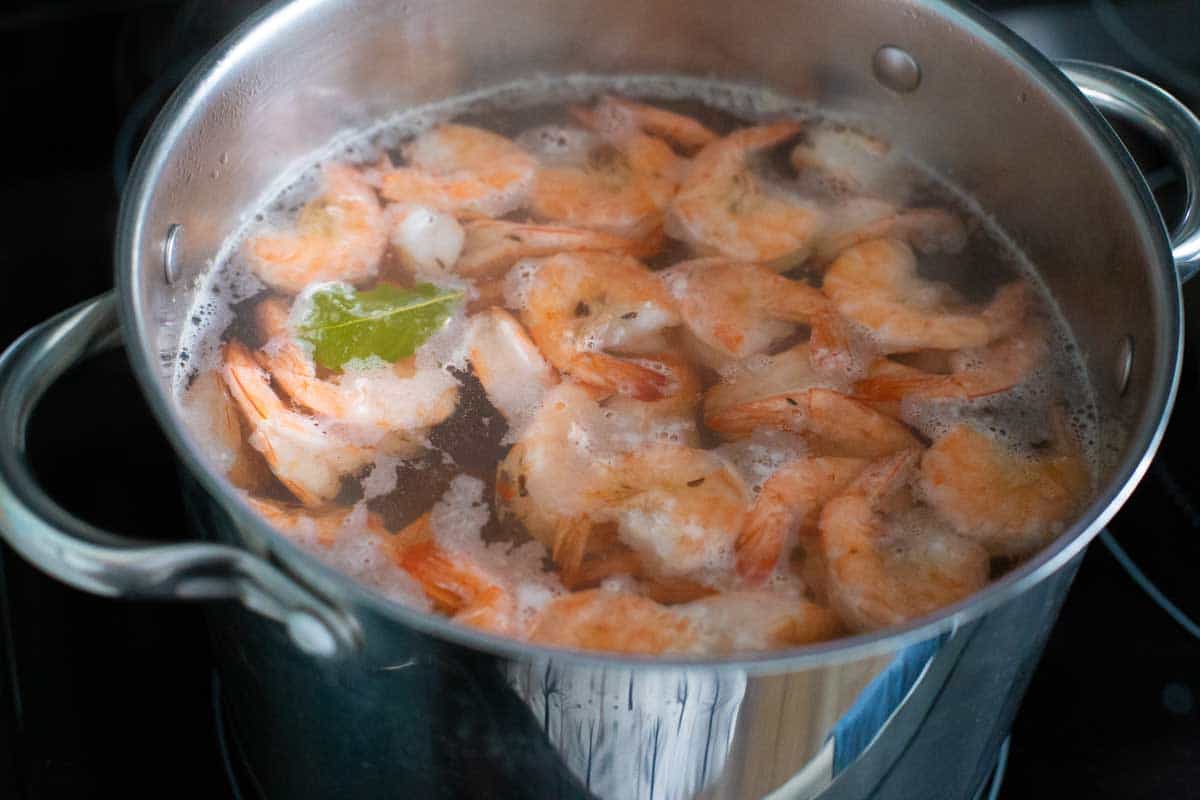 DO NOT start the cooking timer until the water has reached another full raging boil and looks like this: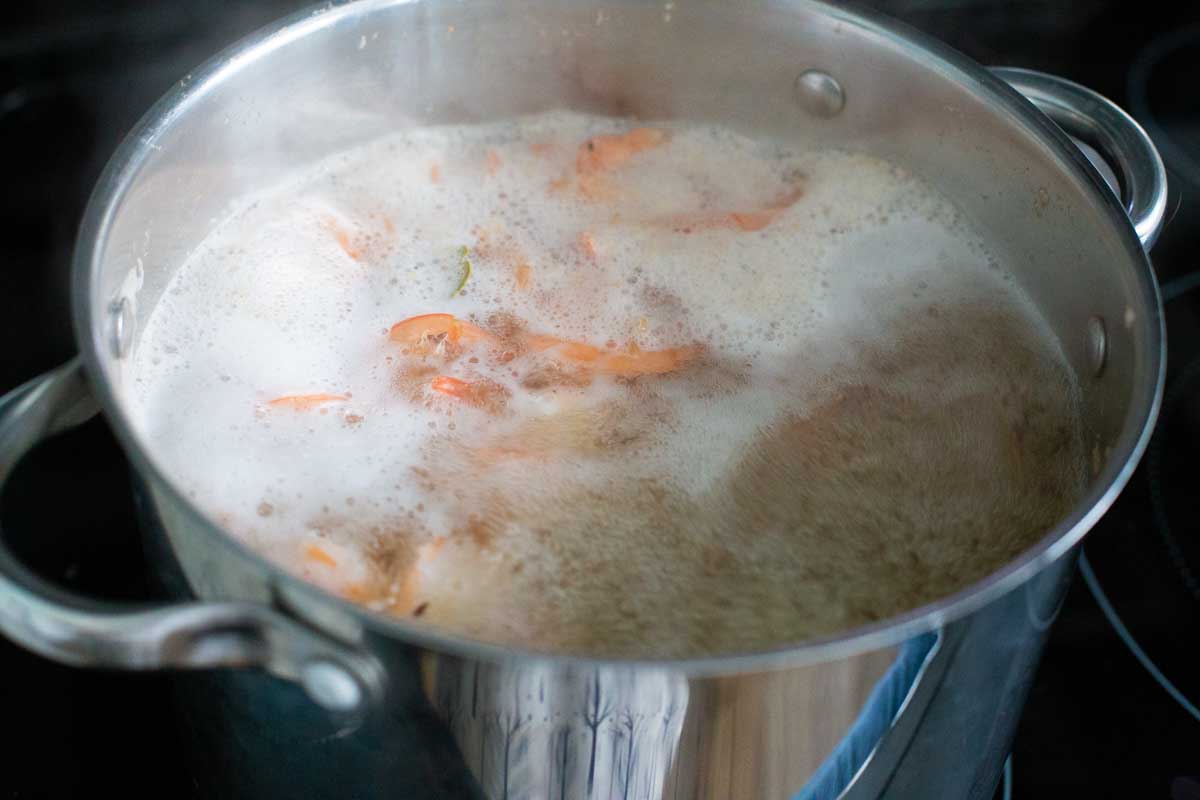 Strain the Shrimp & Chill
Once the shrimp are pink all the way through and floating at the top of the water, you can strain them in a colander.
Scrape all the caraway seeds from the pot onto the shrimp and keep them together. You can remove and discard the bay leaves.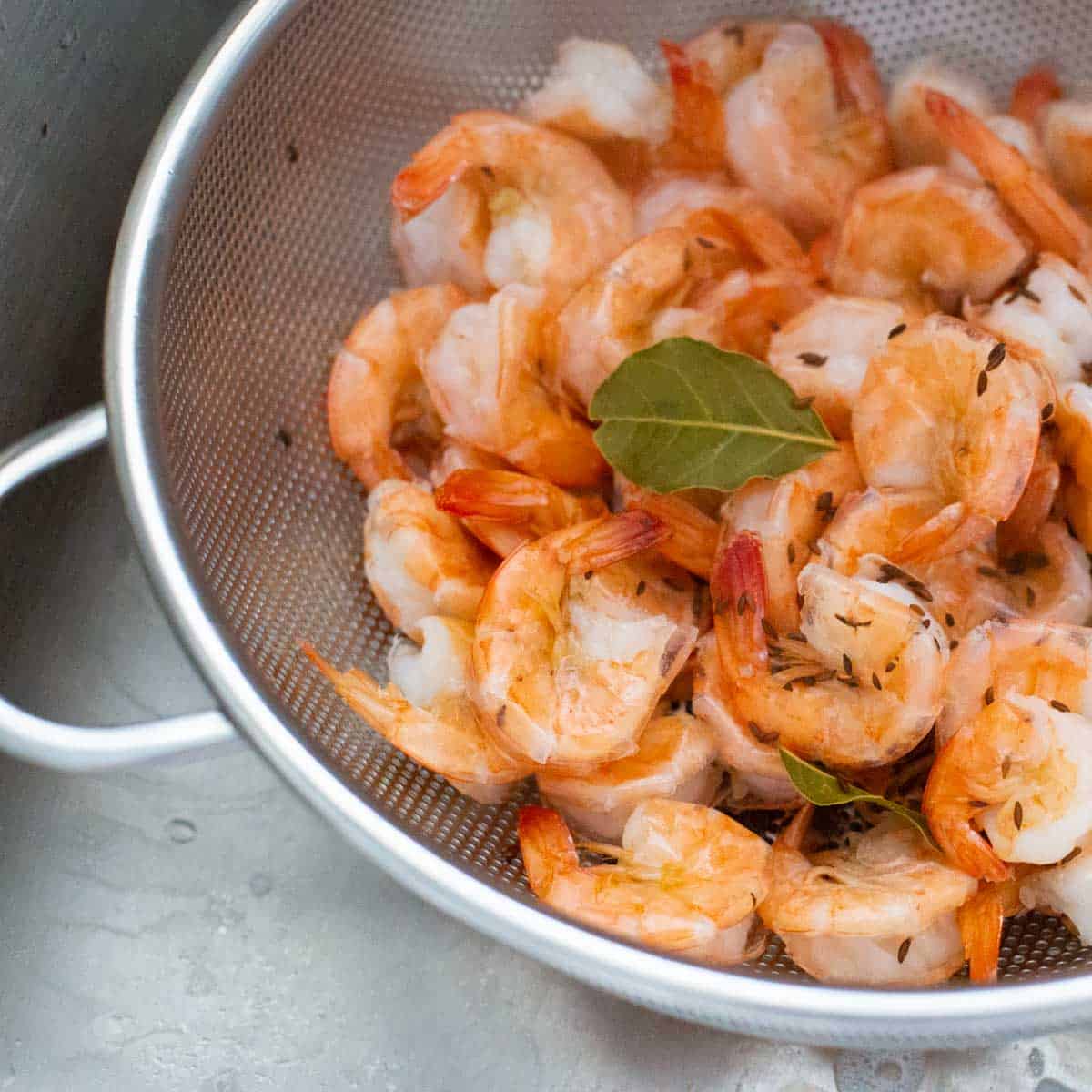 Serve the shrimp immediately or place them in a container and chill them in the fridge.
The shrimp can be boiled up to 24 hours in advance but then should be eaten immediately.
Serving Suggestions
Place the boiled shrimp in a pretty bowl for serving. Make sure to also set out a second empty bowl for your family to place the discarded shrimp shells in. It is a nicer way to enjoy them than piling the shells on your dining plate.
The caraway seeds will get in and around the shrimp as you peel and eat them. They add a delicious crunch to the dish.
These boiled shrimp are utterly delicious as is, but you can serve them with your favorite cocktail sauce or one of these yummy recipes: